Your Go-To Wedding Stationery Shopping List
Ready to purchase your paper? Here's your complete wedding stationery list, from save-the-dates to thank you cards.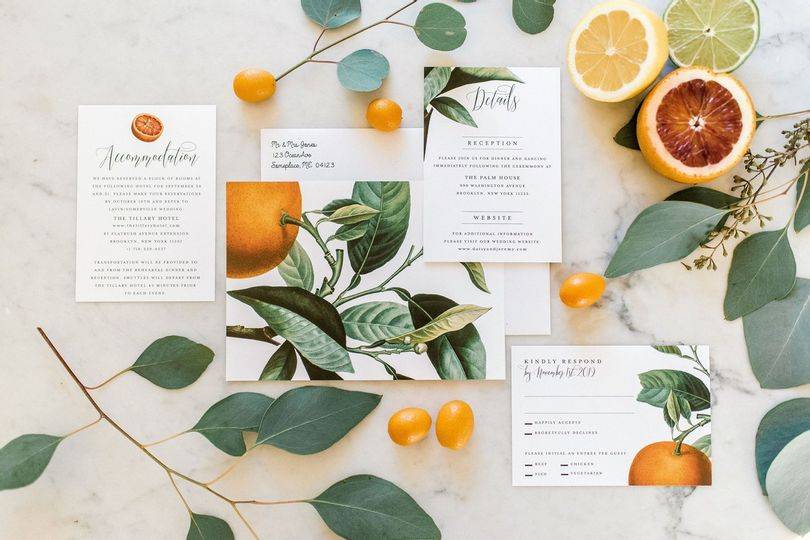 Planning a wedding comes with a lengthy to-do list. You have to consider your venue, your vendors, your outfit and more. But another component you'll want to plan for is your save-the-dates, invitations, programs and thank-you notes. To help get you organized, we created a full wedding stationery list you and your partner can use while shopping.
We recommend ordering your wedding stationery all together so that you have everything you need to get planning. Plus, you'll be able to ensure you get your preferred designs and colors. (Read: you won't have to deal with any sold-out stress). Another benefit? You can check "purchase stationery" off your wedding planning checklist entirely. Ready to get shopping? Here's a comprehensive wedding stationery list.
What is a wedding invitation suite?
A stationery suite consists of all your wedding-related paper goods. It should definitely include your save-the-dates and invitations, as well as your thank you cards, response cards and other important information (like programs, travel information and hotel options).
Wedding Stationery List
If you're ready to get shopping, keep this checklist handy. Here's all the stationery needed for your wedding.
Save-the-dates
Invitation Suite
Wedding ceremony programs
Escort cards
Place cards
Menu cards
Thank-you cards
What to Include in a Wedding Invitation Suite
If you don't know what stationery you need for a wedding, we're here to help. Below, we go through each element so you can fully understand what you need to purchase for your event. Consider this your wedding stationery guide.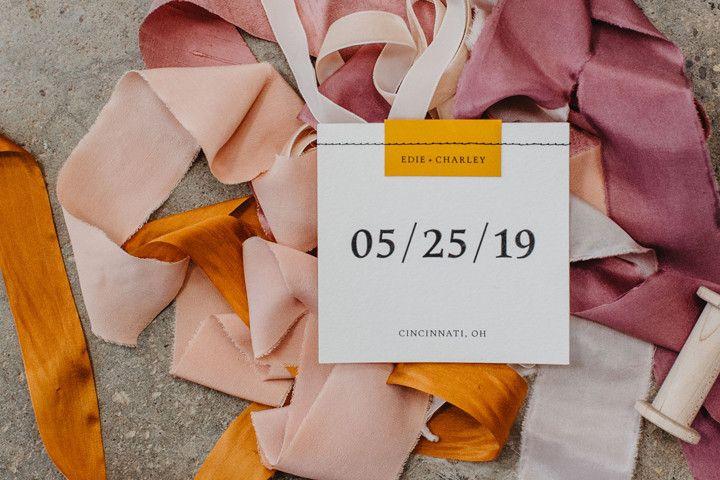 Save-the-dates
A save-the-date card is a helpful reminder for guests to keep the day of your wedding free. As a general rule, you'll want to send these out at least six months before the wedding date, although if you're hosting a destination wedding eight months' or even a year's notice is recommended. When you're sending out your save-the-dates, you likely won't know all of the key wedding details—and that's OK. Your save the date should include the wedding date (or dates if you're hosting a wedding weekend with multiple events), a city and state, and a note that an invitation will follow.
If you have a wedding website you'd like guests to know about, this is a great place to include the URL address as well. Since you don't have all of your wedding details planned out, don't worry about making the save the date card match the wedding theme or colors. Use these cards as an opportunity to get creative and have fun. Show off your engagement photos, make a reference to a movie you both love, or add a fun pattern or color.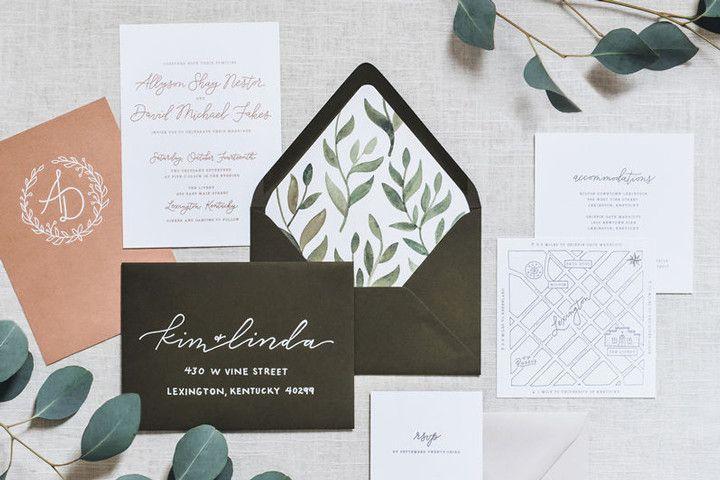 Invitation suite
Invitations are the most well-known piece of your wedding stationery, and with good reason. Your wedding invitation is the piece of stationery that will convey the most important information. You want to make sure your invitation includes key details for guests like the date, time, and ceremony and reception locations.
You'll want to send your invitations, and the rest of your invitation suite, out to your guests about six weeks before the wedding date. Keep in mind it's going to take some time to design, proof, and receive your invites. Choose a wedding invitation designer early (or place your order online early), so they'll have plenty of time to design your invites. This is especially true if you want to do a custom design, like a monogram, a watercolor image of your venue, or a sketch of the two of you. Your invitation is one of the first glimpses that guests will get of your wedding day and will set the tone for them, so don't shy away from being creative. You want your invitations to wow your guests and get them excited for what's to come.
There's a lot of information your guests will need to know, and you don't want to squish everything onto the invitation itself. That's where inserts come into play. Inserts give you the option to let your guests know some of the nuances of the big day. One popular wedding invitation insert is a reception card. The reception card will indicate to your guests the formality of the event, the location (if it's different than the ceremony location) and any special attire requests. Couples who are hosting out-of-town guests or a destination wedding will want to send out directions and an accommodations card. Those will give guests the information they need about your wedding hotel block, booking flights, and transportation. The inserts are also a great place to include a link to your wedding website so guests will know where to go to get more info about the big day.
The last element you'll need in your invitation suite is a response card. Providing RSVP cards allows your guests to easily respond to your invitation. Typically, you'll ask guests to write their names and if they will or won't attend your wedding—either by checking a box or by simply leaving the card blank to allow for a personal message. You should also note when responses are "due" (usually two or three weeks before your wedding). Some couples ask their guests to choose their meal for the wedding reception on their RSVP card, but that's up to you and your caterer. Don't forget to include self-addressed envelopes and appropriate postage with your RSVP cards. It not only makes your guests' lives easier, but also makes it more likely that you'll get the cards back in a timely fashion. If you're concerned about the cost of the additional postage, a postcard RSVP card will cost less to send than one with an envelope.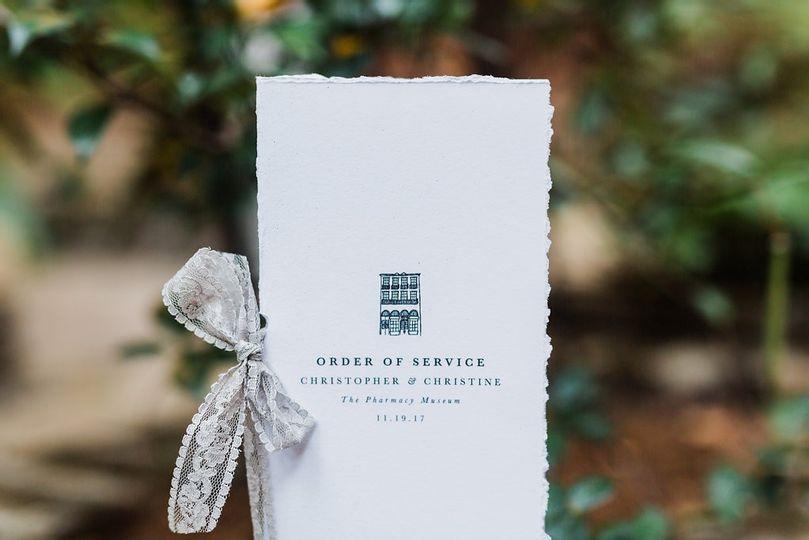 Wedding ceremony programs
A ceremony program introduces your wedding party and gives guests a sense of what to expect during the ceremony. Most wedding programs include a list of the couple's wedding party members' officiant's and parents' names, along with a "run of show" for the ceremony—or a list of the different traditions, readings, and other portions of the ceremony in the order in which everything will proceed. There are other optional additions to a ceremony program, including a thank-you note from the couple, an "in memory of" section listing names of close relatives or friends who have passed away, and a section explaining any religious or cultural traditions that guests might not be familiar with.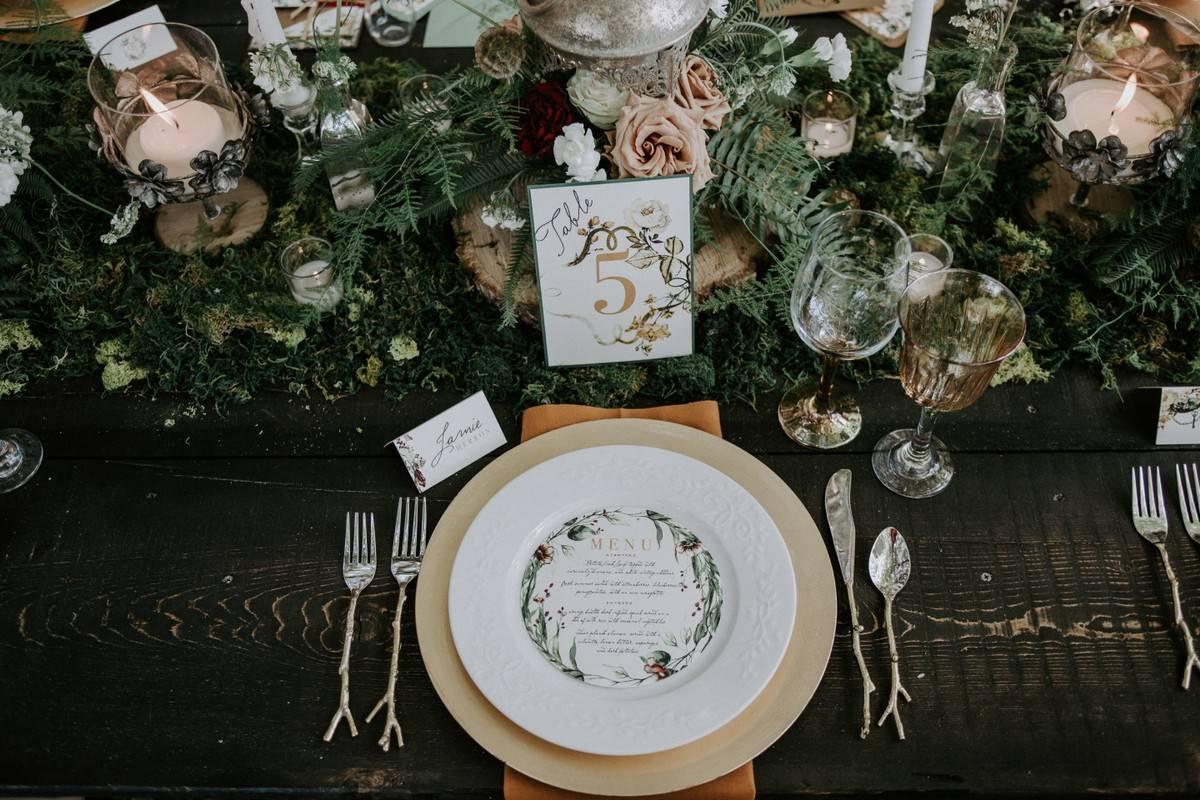 Escort cards and place cards
Yes, escort cards and place cards are two different things, even though the words are often used interchangeably. The escort cards will be placed near the entrance of your reception (usually in an ultra-creative display) and will tell guests what table they're sitting. Once they arrive at the table, they'll find the place cards which tell them which seat at the table is theirs. Place cards aren't mandatory, but they're incredibly helpful if you're having a big wedding or a plated dinner. Even if you chose not to have place cards, you should have escort cards that will assign guests to a table. It takes the stress off your guests of finding a seat and you don't have to worry about anyone accidentally sitting at the wedding party table.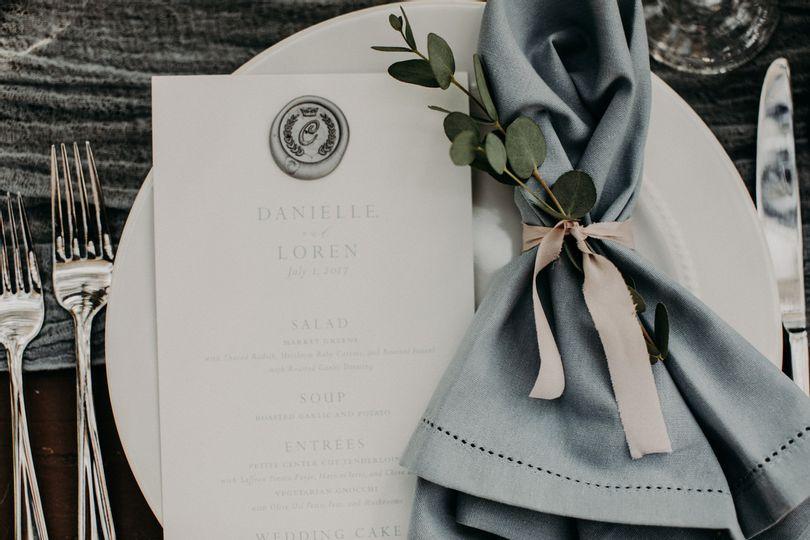 Menu cards
Whether you're having a plated dinner or a buffet style meal, your guests likely want to know what they're eating. For plated dinners, your guests have already selected their meal on the RSVP, so use the place card as a way to remind them of what they're getting and what will accompany it. For a buffet style, you can opt for either individual menu cards or a couple of menu boards near the buffet line. The menus will give guests something to look at while they wait for the food and will help speed up the buffet line since they can figure out what they want before they get there. Pro tip: If you have guests with any allergies or food sensitivities, menu cards can be a lifesaver.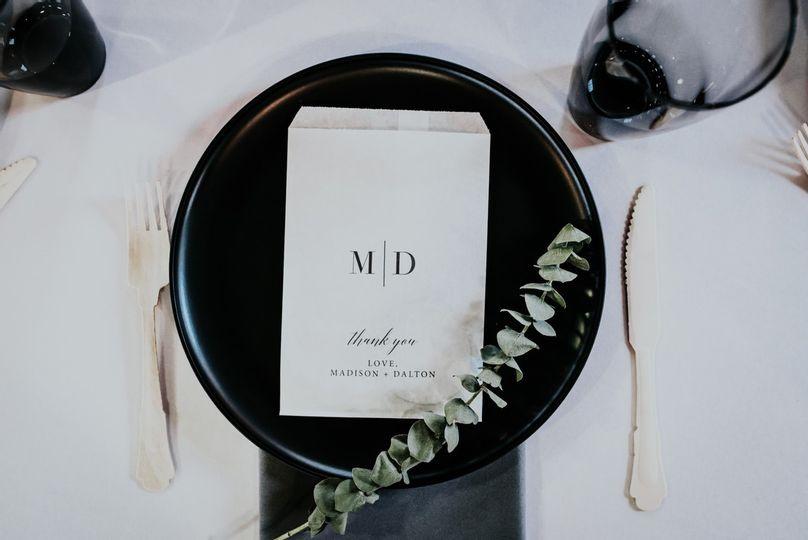 Thank-you cards
After your big day is over, thank your guests for celebrating with you and for the gifts they gave. Although it's a general rule that you have a year after the wedding to send out thank you notes, it's better to send them sooner rather than later. Aim for getting all of your thank-you cards out two months after the wedding. We recommend ordering your thank you cards when you purchase the rest of your wedding stationery. It will help keep the theme consistent, and then you'll have one less thing to think about when you get back from your honeymoon. You may be dreading writing out all of the thank-you notes, especially if you had a big wedding, but remember to make each one personalized by specifically mentioning the gift the person gave you or a memory from the wedding day. Remember: part of what makes your day so special is sharing it with your friends and family–thank them for being there for this special moment in your life.