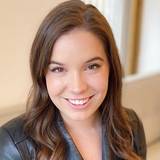 As WeddingWire's Associate Editor of Digital content, Maddy covers all things weddings, with a focus on beauty, sustainability, trends, planning and mental health. She joined the WeddingWire team in 2019, but her love affair with weddings began well before that. When she was younger, Maddy spent her weekends flipping through wedding magazines and watching Say Yes to the Dress with her mom. Originally from Chicago (Go Hawks!), Maddy lives in New York City. As a former competitive swimmer, she loves staying active–specifically doing anything that involves the great outdoors (hiking, biking, kayaking) and sweating it out on her Peloton. She's passionate about clean beauty products, delicious vegan food, and making the wedding industry a more inclusive space.
Experience
Maddy got her start in 2017 writing for Bustle, where she quickly discovered her interest in beauty, astrology and mental health. She then interned for Real Simple, covering everything from breaking beauty launches to shoppable gift guides. She's also worked as a contributing writer for Insider, Apartment Therapy, and Better Chicago, where she wrote about relationships, mental health, weddings, travel and beauty. Currently, she uses her wedding expertise to contribute content to The Knot as well.
Education
Maddy attended Northwestern University, where she received her Bachelor of Science in magazine journalism at the Medill School of Journalism and Integrated Marketing. After, she was accepted into an accelerated graduate program at Medill, where she earned her Masters of Science in health, science and environmental reporting. During her time at Northwestern, she interned for three magazine publications, worked for a luxury public relations firm and regularly contributed to two different online publications.
Accolades
Maddy had the prestigious honor of receiving the
Harrington Award
for Magazine Writing and Editing, Medill's highest graduate student award. As the skin care industry took social media by storm, Maddy wrote about which
skin care trends people shouldn't be following
. When
Project Runway announced it will feature size-inclusive models
, Maddy covered the breaking news. At a time when cyber-bullying was capturing the attention of the nation, Maddy penned an article about
how bullying helped actress Bella Thorne learn about self esteem
. Upon graduating from the Medill School of Journalism, Maddy was inducted into Kappa Tau Alpha, a college honor society that recognizes academic excellence and promotes scholarship in journalism and mass communication. Maddy graduated Cum Laude in 2018 and Magna Cum Laude in 2019. She was on the Dean's List throughout her entire academic career. As a Division I student athlete in the Big Ten Conference, Maddy was recognized as Academic All-Big Ten all the years she competed.
WeddingWire Q&A with Maddy
What is your ideal wedding style?
I'm always drawn to boho-chic, laid-back events. Simple colors, outdoor spaces filled with greenery and flowers, airy decor and twinkle lights! Twinkle lights everywhere.
Dream honeymoon location?
Anywhere with a beach! One place at the top of my list is Positano, Italy. It's so gorgeous (seriously, check out what the sunsets look like there). Plus there's so much to explore and so much good food to eat.
What was (or would be) your first dance song?
I hope my first dance song would be something my partner and I pick out together. But if I had to choose a song right now, I'd say "The Great Northwest" by The Mighty Oaks. It's a folky acoustic song that I've loved since I was in high school. Plus, the lyrics are so sweet.
Favorite celebrity wedding look?
I'm still obsessing over Hailey Bieber's custom gown designed by Virgil Abloh. With its off-the-shoulder neckline, delicate lace pattern and low back detail, it was the perfect combination of classic and modern.
Articles published by Maddy Sims