43 Father-Daughter Dance Songs You and Your Dad Will Love
Here are the very best father-daughter dance songs to make sure you savor that special wedding moment with your dad.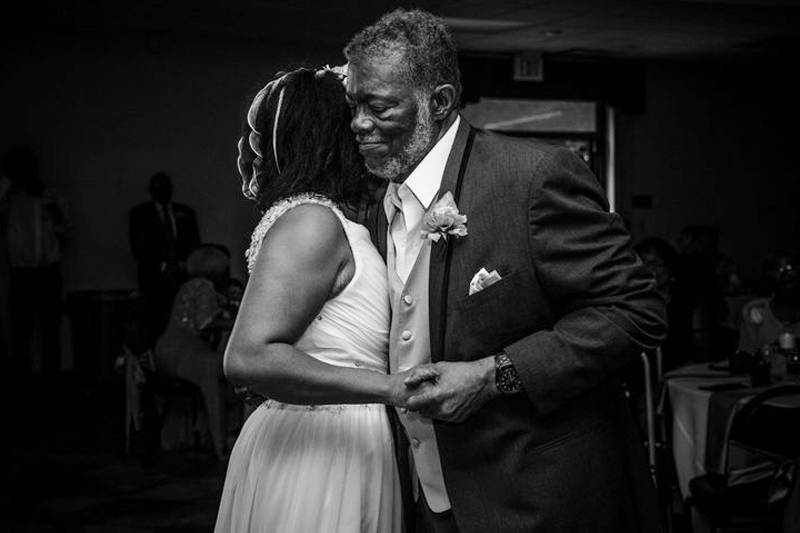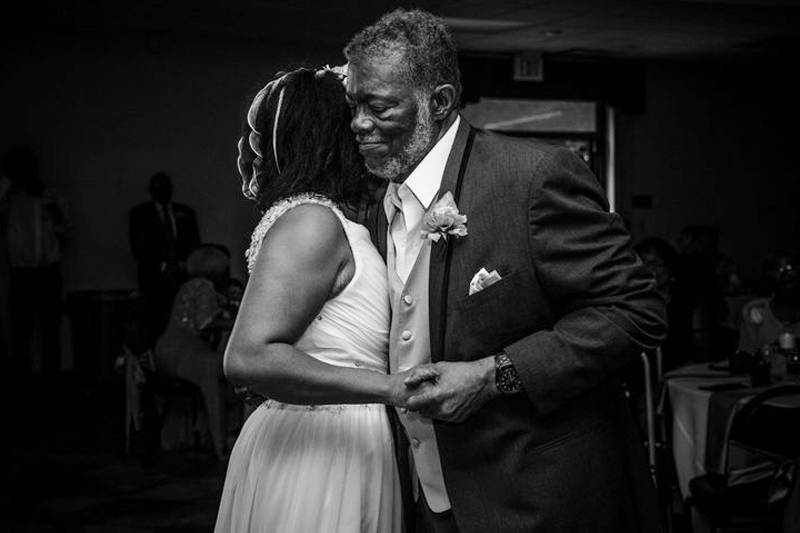 Selecting your wedding reception music can definitely be a challenge during wedding planning—especially when you're narrowing down potential father-daughter dance songs. As you reminisce on all the sweet moments you've had with your father or father-figure, choosing a song that reflects your relationship can be a difficult task. To help, we rounded up the very best father-daughter dance songs for you two to sway and spin to during your wedding reception. Whether you're looking for something that's upbeat and easy to dance to or a song that will tug at everyone's heartstrings, these top father-daughter dance songs are perfect for any wedding day.
Check out the top father-daughter dance songs that are bound to make you and your dad shed a tear or two.
Father-Daughter Dance Songs: Country
Get your tissues ready. This new Zac Brown Band track will melt everyone's hearts. The song, which was released in June 2020, was inspired by Brown's own experience with fatherhood. "As a father to four girls myself, I know firsthand how special the father-daughter bond is," said Brown in a statement. The heartfelt lyrics follow a father and daughter through different life stages (even referencing the daughter's wedding day) and include a sweet reminder: That no matter who you end up marrying, your father will always love you the most.
"Humble and Kind" by Tim McGraw
In this iconic country song, Tim McGraw lists all the important lessons parents want their children to remember when they grow up.
"My Wish" by Rascal Flatts
"My Wish" is the ultimate father-daughter dance song because it includes all of the hopes and dreams fathers have for their daughters as they start this new chapter in their life.
"Prettiest Girl In the World" by Logan Mize
In this sweet song, Logan Mize talks about how beautiful he thinks his daughter is. To him, she's absolutely perfect.
"Lady" by Brett Young
If you also want to pay tribute to your mom, consider "Lady" by Brett Young. It's about the impeccable example a mother sets and how Young hopes his daughter will follow in his wife's footsteps.
"No Such Thing As a Broken Heart" by Old Dominion
This sweet song sounds just like a pep talk from your dad.
"My Little Girl" by Tim McGraw
Tim McGraw captures exactly what it's like to watch your daughter grow up during this lovely country tune.
"Just Fishin" by Trace Adkins
This country hit is sure to bring you back down memory lane. "Just Fishin" talks about the special bond between a father and his little girl and is a great pick if you're looking for a sentimental song.
Unique Father-Daughter Dance Songs
"Cecilia and the Satellite" by Andrew McMahon in the Wilderness
McMahon wrote this gorgeous alternative song for his own daughter. The message? That he'll always be there for her—no matter what.
"Let It Be Me" by Ray LaMontagne
In this beautiful song, LaMontagne sings about being there for the ones you love whenever they're feeling down.
"Daughter" by Loudon Wainwright III
With lyrics such as, "That's my daughter in the water / Everything she knows, I taught her," and "That's my daughter in the water / Every time she fell, I caught her," we think your dad will love dancing to this chill folk song.
"Before You Know It (Something Borrowed) by J.B. Boone & Sofia Franco
Looking for an indie folk father-daughter dance song? Consider this heartfelt acoustic tune, which was created for J.B. Boone's sister.
"Daughters" by John Mayer
This song beautifully articulates how important a father's love really is. The pretty acoustic sound will set the tone for a lovely, sentimental slow dance.
"Father and Daughter" by Paul Simon
A sweet tune by Paul Simon, this song choice will definitely give you and your father all the feels during your father-daughter dance.
"What A Wonderful World" by Louis Armstrong
A timeless classic, this father-daughter dance song will definitely make your guests teary eyed. The mix of Armstrong's gravelly voice and soft musical accompaniment will surely put a smile on both of your faces.
Modern Father-Daughter Dance Songs
"First Man" by Camila Cabello
Told from the perspective of the daughter, this beautiful song pays tribute to the first man who loved you: your dad.
"Emmylou" by Vance Joy
If your dad was there when you had nightmares, this pretty song will be perfect for your father-daughter dance.
"Better Together" by Jack Johnson
This adorable tune talks about how much fun you and dad have when you're together.
"The Way That I Love You" by Passenger
This pretty acoustic ballad is filled with well wishes ("Pursue what you love / Embrace how you feel") and sweet reminders ("You're lovely just the way that you are").
"The Best Day" by Taylor Swift
While this sentimental tune was originally written for Swift's mother, we love the idea of using it as your father-daughter dance song.
"Count On Me" by Bruno Mars
If your dad is the most dependable guy in the world, this is the perfect song for you to dance to. It'll bring a smile to everyone's face—especially his.
"One Call Away" by Charlie Puth
If you're hoping to find a modern father-daughter dance song, then Charlie Puth's pop hit is a great choice.
"Butterfly Fly Away" by Miley Cyrus
This pretty acoustic song is especially perfect for to-be-weds who have a single father or single father-figure.
Rock Father-Daughter Dance Songs
"Landslide" by Fleetwood Mac
Stevie Nicks folk rock song is a beautiful and classic pick for a father-daughter dance song. If you think it's a little too slow for your dance, you can opt for a slightly more upbeat version, like the cover by The Chicks.
"Sweet Child of Mine" by Guns N Roses
Slow dancing to an epic rock song will make your father-daughter dance absolutely unforgettable.
"She's A Rainbow" by The Rolling Stones
A lively father-daughter dance song, you can easily own the dance floor with this rock hit.
"You Are My Sunshine" by Johnny Cash
Johnny Cash's cover of this timeless sing-along is definitely an oldie but a goodie that works wonderfully as a father-daughter dance song.
Upbeat Father-Daughter Dance Songs
"The Best of Me" by Andy Grammar feat. Elle King
Whether you want to bust a move or just rock back and forth to a fun beat, "The Best of Me" is a fantastic father-daughter dance song.
"Sweet Pea" by Amos Lee
This happy-go-lucky tune is a great choice for a father-daughter dance song. Amos Lee's mix of folk, rock, and soul creates a lighthearted beat that will have everyone swaying along as they watch you twirl around the dance floor with your dad.
"My Girl" by The Temptations
Throw it back to the '60s for your father-daughter dance song with this classic hit by The Temptations. It has a great beat that's easy to dance to, even if you two aren't pro dancers.
"I'll Be There For You" by the Remembrandts
Whether you're both fans of the show Friends or you just love the message of the song, this upbeat tune will have everyone clapping.
"How Sweet It Is" by James Taylor
A great choice for your father-daughter dance because it's easy to sing along to!
"Where You Lead" by Carole King
With lyrics like "All you have to do is call my name / And I'll be there on the next train," this sweet song will make everyone smile.
Sentimental Father-Daughter Dance Songs
"Isn't She Lovely" by Stevie Wonder
Stevie Wonder actually wrote this song for his daughter, Aisha. So, if you and your dad love to dance, then this upbeat and meaningful tune is the perfect pick for a father-daughter dance song.
"You've Got a Friend in Me" by Randy Newman
Selecting your father-daughter dance song from the soundtrack of Toy Story is a sweet way to pay tribute to the movie nights you had together when you were younger.
"Unforgettable" by Nat King Cole
Nat King Cole's vocals in this classic hit makes this father-daughter dance song choice a definite crowd pleaser.
"The Way You Look Tonight" by Frank Sinatra
What can be said about Sinatra that you haven't heard before? The classic crooner is the perfect father-daughter dance song for a formal affair or if you're hosting a vintage-inspired soirée.
"In My Life" The Beatles
A recognizable song choice with a tender melody, it'll be hard to fight off happy tears while dancing to this Beatles classic.
"Because You Loved Me" by Celine Dion
Trying to figure out the perfect way to thank your dad for everything? Dance to "Because You Loved Me," which details how powerful love really is.
"I'll Be There" by Jackson 5
How many times have you called your dad for advice or help? If the answer is A LOT, then this soulful hit is the perfect pick for your father-daughter dance song.
Spanish Father-Daughter Dance Songs
"Hermoso Cariño" by Vicente Fernandez
These lyrics describe the love a father has for his daughter and explain what a treasure she is to him.
"Tu Guardian" by Juanes
In this moving song, the singer explains that he will be his daughter's guardian forever and ever.
"Yo Primero La Ame" by Martin Tremolada
"Yo Primero La Ame" is the spanish version of the classic father-daughter dance song "I Loved Her First."