The Ultimate Wedding Songs List You Need to Choose From
Can't decide on wedding songs list? It's not an easy decision, but we've prepared a full list of the best wedding party song options to choose from.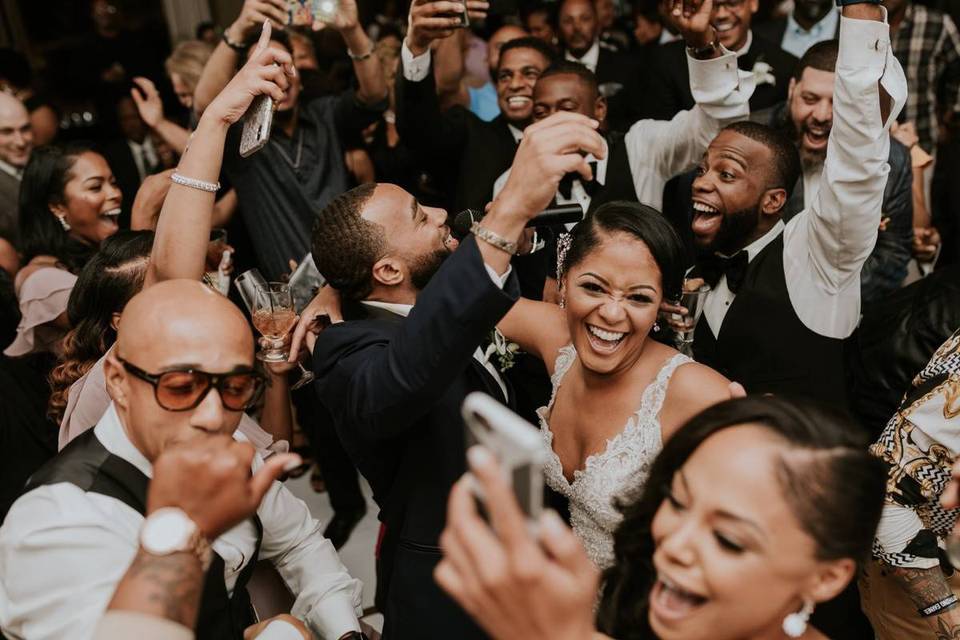 No two weddings are exactly the same, but most of them have one thing in common: music. Regardless of your style, budget, wedding season, or the size of your guest list, it's likely that you're going to need wedding music, and that's where we come in. There are thousands (okay, millions?) of wedding songs to choose from—not to mention that the number of times during your wedding when you'll need music is surprisingly high. We've put together this guide that breaks down exactly what you need for your wedding songs list, plus some of the best wedding party songs for every moment, all in one place. And if you've already hired a wedding band or a professional DJ, the hardest part is over! Your music vendors will be able to provide their expert advice when it comes to keeping your guests entertained throughout the event. In the meantime, keep reading for a list of the best wedding party songs for every moment.
Before the Wedding
You're already thinking about your day-of wedding music, but what about the music for your pre-wedding events? There are several occasions, such as your engagement party, bridal shower, and even the morning of your wedding when having an awesome playlist will make all the difference.
1. Engagement party
Our pick: "Let's Stay Together" by Al Green
Get the romantic vibes going with a variety of love songs and classic crowd-pleasing hits.
2. Bridal shower
Our pick: "How Sweet It Is (To Be Loved By You)" by James Taylor
A playlist of cheerful melodies and acoustic tunes works wonderfully as background music.
3. Bachelorette party
Our pick: "Side to Side" by Ariana Grande ft. Nicki Minaj
It's ladies night! Whatever your plans are, these tunes will get you ready to party with your girls.
4. Wedding week
Our pick: "You Make Loving Fun" by Fleetwood Mac
Only one week to go until the big day (OMG!). Minimize any last-minute stress with this mood-boosting playlist.
5. Morning of the wedding
Our pick: "Uptown Funk" by Bruno Mars
Whether you're getting ready with the girls, the guys, or both, check out these playlists to start your wedding day off on the right note.
Wedding Ceremony
The ceremony is the pinnacle of your wedding day. After all, this is everything that you (and all of your guests) have been waiting for: the moment when you officially marry your spouse! There are few major moments during the ceremony when your wedding music is absolutely essential.
1. Prelude
Our pick: "Lover" by Taylor Swift
Compile a soundtrack that matches the vibe of your wedding to entertain guests as they're entering the ceremony venue and taking their seats.
2. Processional
Our pick: "Only You" by Joshua Radin
You'll need to choose a few songs to accompany your family members and wedding party as they make their way to the altar.
3. Bride entrance
Our pick: "Can't Help Falling in Love" by Kina Grannis
It's time for the big moment. If you're walking down the aisle, "Canon in D" isn't your only option—trust us!
4. Interlude
Our pick: "From This Moment" by Shania Twain
If there's a break during your ceremony when no one will be speaking (during a candle lighting or other ceremony ritual, for example), you can enhance the moment with a brief interlude song.
5. Recessional
Our pick: "God Only Knows" by The Beach Boys
You're finally married! A high-energy song celebrates the momentous occasion as you walk past your loved ones, but it's also a great way to get everyone excited for the party to follow.
6. Postlude and exit
Our pick: "You've Got the Love" by Florence + The Machine
After you and your wedding party have recessed out of the ceremony, a postlude song (or two) will keep the energy going as guests are standing up and leaving.
Wedding Reception
Now that the butterflies are gone, it's time to let loose and have fun! From hitting the dance floor to cutting the cake, the right wedding songs list will help you turn your reception into the best party ever.
1. Cocktail hour
Our pick: "Oye Como Va" by Santana
Whether you're enjoying drinks with your guests or off taking pictures with your wedding party while friends and family hang at the bar, a fabulous playlist is the key to any great cocktail hour.
2. Grand entrance
Our pick: "I Gotta Feeling" by The Black Eyed Peas
Your guests will be waiting in anticipation for you and your spouse to make your official 'married couple' debut—take this special moment the next level with an epic grand entrance song that reflects your personalities (coordinated dance moves optional).
3. First dance
Our pick: "Blessed" by Thomas Rhett
The first dance is another big moment of the reception, and it's also one of the most symbolic. The wedding song that you choose for your first dance should be one that you both love, whether it's a song by your favorite artist, a song that was on the radio when you first started dating, or a song that showcases your interests (like Disney movies!).
4. Parent dances
Our pick: "Forever Young" by Rod Stewart
Show your parents some much-deserved love by taking them for a spin around the dance floor. Whether you're looking for tear-jerking wedding music that has sentimental meaning, or you'd prefer to keep the mood laid-back and cheerful, we have plenty of options.
5. Party starters
Our pick: "Good As Hell" by Lizzo
After the traditional dances and speeches are out of the way, it's time to invite all of your guests to the dance floor. Get people on their feet with a mix of crowd-pleasing hits, from the top songs of the year to familiar old-school tunes that everyone will appreciate.
6. Wedding anniversary songs
Our pick: "(I've Had) The Time of My Life" by Bill Medley & Jennifer Warnes
This is one of the less common categories when it comes to wedding music, so if you're not familiar, let us explain: you ask all of the married couples to come onto the dance floor, and your band leader or DJ then excuses couples one by one based on the length of their marriage. At the end, you'll see who's been married the longest!
7. Bouquet toss
Our pick: "Ladies' Night" by Kool & The Gang
Coax all of your single female guests onto the dance floor—and find out who will be next to get married, according to tradition—by playing a catchy tune to help one lucky lady snag the bouquet.
8. Garter toss
Our pick: "SexyBack" by Justin Timberlake ft. Timbaland
Break the ice during this cheeky tradition by choosing an upbeat, lighthearted wedding song.
9. Cake cutting
Our pick: "Brand New" by Ben Rector
Cake smash or not, slicing into your wedding cake is a memorable moment, because dessert. Kick it off with a playful song that entices people to gather 'round and watch.
10. Slow dances
Our pick: "Coming Home" by Leon Bridges
Your coupled-up guests will appreciate the opportunity to share a romantic dance with their partner, and we've got the perfect slow songs for the occasion.
11. Last dance
Our pick: "Last Dance" by Donna Summer
The party has to end eventually, but that doesn't mean you can't go out with a bang. If your goal is to get everyone on the dance floor one last time, these tunes will do the trick.