10 Wedding Interlude Songs to Personalize Your Ceremony
Here's a list of our 10 very favorite wedding interlude songs to make your ceremony even more special.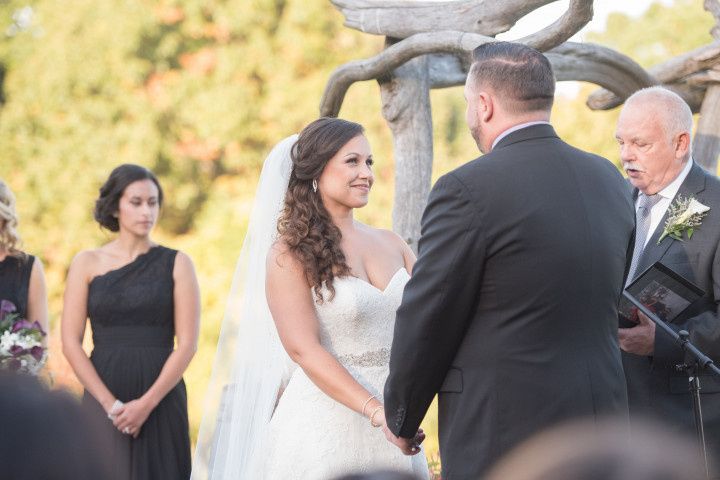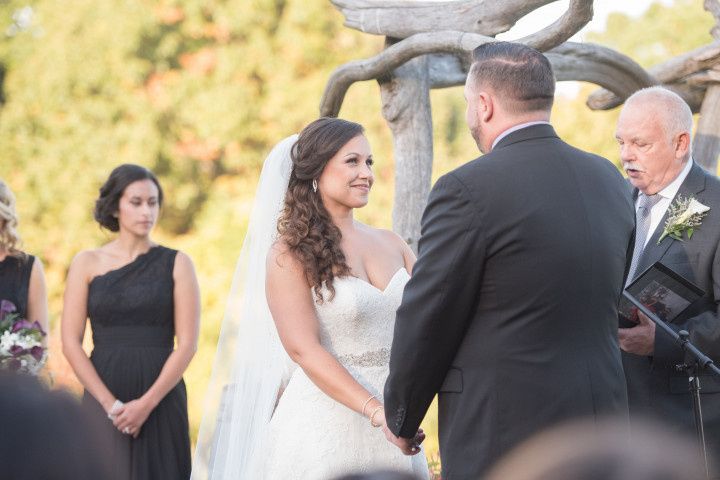 Photo: DelConte Photography/Day for Night Productions
The music you choose for your ceremony will help set the tone for the proceedings. While the processional and recessional will be the two biggest musical moments during your ceremony, wedding interlude songs also play an important role. These wedding ceremony songs are played during parts of the proceedings when there is no talking—for example, if you're doing a candle lighting, sand ceremony, or other ritual. These slower songs serve as "filler music," during these times. Interlude songs can also be performed just because—if there's a particular song that's special to you, you may take a "break" in the ceremony to play it. Wedding interlude songs are also an opportunity for a loved one with musical talent to perform.

Talk to your officiant and ceremony musicians to determine if a musical interlude is appropriate for your ceremony. Also note that some of the wedding interlude songs listed below contain vocals. If you're having a DJ play recorded music during your ceremony, they can play the song as is, but ceremony musicians will have to learn an instrumental version of your chosen song.
Consider adding these wedding interlude songs to your big day.
"One Hand, One Heart" by Leonard Bernstein from West Side Story
If you've ever seen the classic movie or Broadway musical West Side Story, you'll know that this song is sung during the pretend wedding of young lovers Tony and Maria. One of the most popular wedding interlude songs, it has an utterly romantic feel and can be easily played as an instrumental.
"Clair De Lune" by Claude Debussy
This dramatic piece can be performed by variety of different classical ensembles. It would sound particularly beautiful at a formal wedding in a house of worship or other grand space.
"From This Moment" by Shania Twain
If you're looking for more modern wedding interlude songs, this country favorite is ideal for a ceremony. The lyrics are perfect for a wedding ("From this moment life has begun/From this moment you are the one/Right beside you is where I belong/From this moment on"), so it's best performed or played with vocals.
"The Prayer" by Andrea Bocelli & Celine Dion
If you're having a religious ceremony and your officiant is flexible with musical selections, this song can work well. We love the dramatic, operatic feel.
"First Time Ever I Saw Your Face" by Roberta Flack
One of our favorite wedding ceremony songs, we adore this tune's soft, almost haunting vibe. It also makes a beautiful processional song.
"Ribbon in the Sky" by Stevie Wonder
While of course we love this song's lyrics ("Oh so long for this night I prayed/That a star would guide you my way/To share with me this special day/Where a ribbon's in the sky for our love"), it also sounds so pretty as an instrumental.
"The Luckiest" by Ben Folds
Ideal for a low-key ceremony, this tune isn't overly dramatic, but it's simple lyrics get squarely to the point—"I love you more than I have/Ever found the way to say/To you."
"Storybook Love" by Mark Knopfler
Fans of the movie The Princess Bride will immediately recognize this tune. This light and airy wedding interlude song sounds lovely with vocals, but many ceremony music ensembles can perform it as an instrumental. It sounds particularly beautiful at an outdoor garden ceremony.
"What a Wonderful World" by Louis Armstrong
Wedding interlude songs don't have to be super-romantic. In fact, this tune is a fabulous pick for a ceremony—it has a positive, uplifting message that will put your guests in an even happier mood. It can be played with vocals, but it's such a well-known song that the instrumentals will have your guests swaying and singing along, too.
"A Moment Like This" by Kelly Clarkson
If a more modern pop song is more your speed, consider this tune from the original American Idol. The lyrics couldn't be more perfect for this special, once-in-a-lifetime moment.