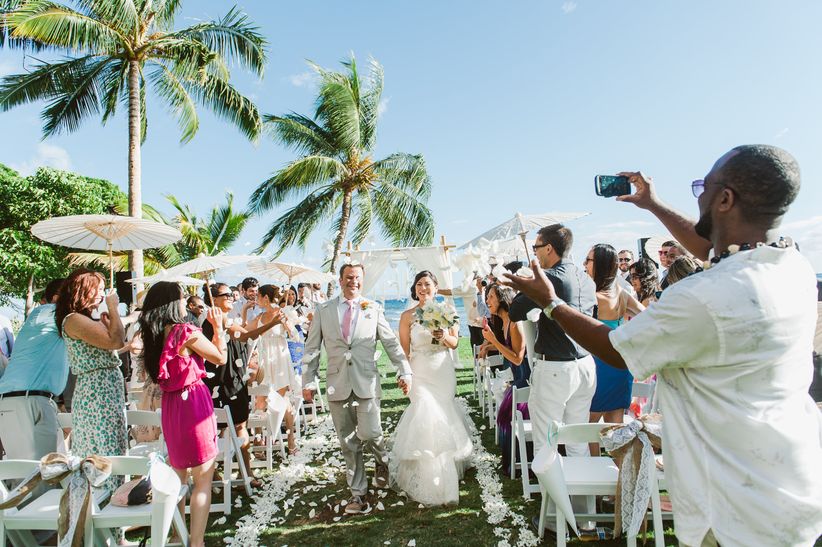 Photo: Ahava Studios
The processional and recessional are among the most anticipated moments of your wedding day—and they need background music to match their importance. We asked ceremony music pros from around the country to share the songs that are currently most popular and on the rise. We weren't surprised to find that the classical favorite Pachelbel's "Canon in D" is still the most popular processional song, with Christina Perri's "A Thousand Years" coming in a close second, while Mendelssohn's "Wedding March" and "All You Need is Love" by the Beatles share the top spot for the most popular recessional. But there are many more songs to choose from!


Just check out theses these music pro-approved modern processional songs that are being requested more and more.
The Pro:
Crystal Yuan of
Premiere Wedding Music
in Las Vegas, Nevada
The Processional:
"Thinking Out Loud" by Ed Sheeran
The Recessional:
"Style" by Taylor Swift
The Pro:
James Beauchamp of
Strings Attached
in Houston, Texas
The Processional:
"Turning Page" by Sleeping at Last
The Recessional:
"Uptown Funk" by Bruno Mars
The Pro:
Mugurel Radu of
Philadelphia String Quartet
in Philadelphia, Pennsylvania
The Processional:
"Gone, Gone, Gone" by Phillip Phillips
The Recessional:
"Dear Future Husband" by Meghan Trainor
The Pro:
Mitchell Drury of
Puget Sound Strings
in Seattle, Washington
The Processional:
"Your Hand in Mine" by Explosions in the Sky
The Recessional:
"Married Life" by Mark Northam from the movie "Up"
The Pro:
Nancy Maio of
Elegant Music Services
in Racine, Wisconsin
The Processional:
"Secrets" by OneRepublic
The Recessional:
"Viva La Vida" by Coldplay
The Pro:
Antonio J. Briceño Jr. of
AMI Entertainment Co.
in Miami, Florida
The Processional:
"Halo" by Beyonce
The Recessional:
"Sugar" by Maroon 5
The Pro:
Eric Jay of
Soli Studios Music
in Laguna Hills, California
The Processional:
"I'll Be" by Edwin McCain
The Recessional:
"I Gotta Feeling" by the Black Eyed Peas
The Pro:
Demetria Koninis of
Spa City Duo
in Saratoga Strings, New York
The Processional:
"Hallelujah" by Leonard Cohen
The Recessional:
"You're My Best Friend" by Queen
The Pro:
Shawn Boucke of
Shawn Boucke-Violinist/DJ
in Waterford, Michigan
The Processional:
"All of Me" by John Legend
The Recessional:
"A Thousand Years" by Christina Perri