45 Modern Wedding Processional Songs That Cue All the Tears
Your wedding entrance is such a momentous part of the ceremony—and an emotional wedding processional song is the best way to set the romantic tone for your 'I do' moment.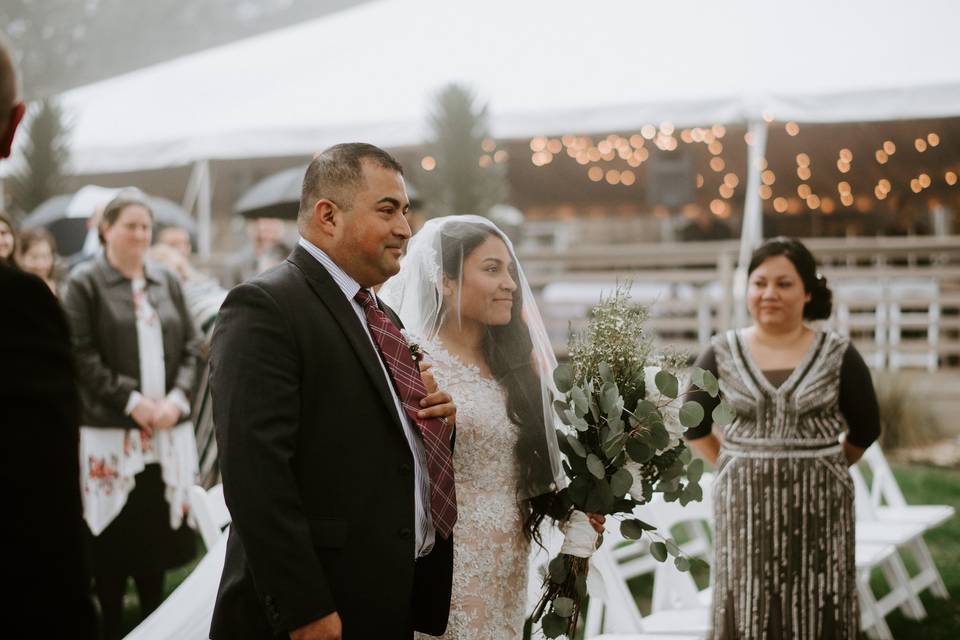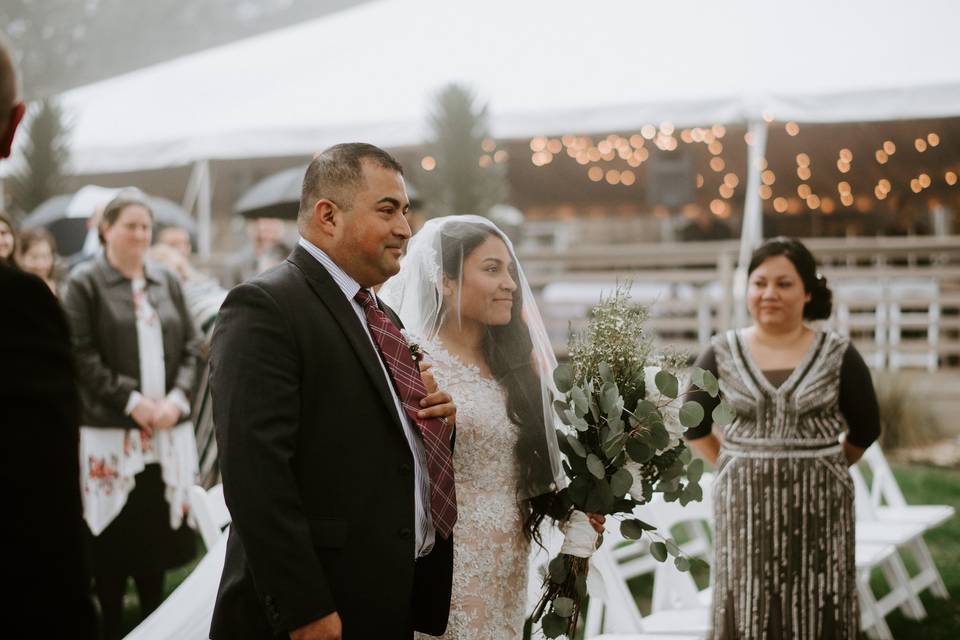 Choosing the perfect wedding processional song can be quite the task, especially if you want to give your guests—and more importantly, your partner—all the feels when they see you for the first time during the wedding ceremony. Of course there are the traditional wedding songs like "Canon in D Major" by Pachelbel or the ultra-popular "A Thousand Years" by Christina Perri, but if you're really aiming for a wedding processional song to give your loved ones goosebumps, we suggest thinking a little bit outside the box. This wedding ceremony playlist is filled with tear-inducing love songs from the 2000s, 2010s, and current favorites that will definitely set the tone for a memorable, emotional wedding ceremony.
"All Love Everything" by Aloe Blacc
We can't get over how cute the lyrics of this song are: "'Cause I don't need no money when I'm walkin' with a diamond / Lookin' like a million bucks and you ain't even tryin' / First class lovin', mile high like we flyin' / That's how it be with you and me." Pick this underrated tune if you want a happy wedding processional song.
"The Bones" by Maren Morris
This song is all about making it through the good and the bad with your partner. The start of the chorus at 0:37 is the perfect moment to make your wedding entrance, especially if you're walking down the aisle in a house of worship or other venue that has doors you can open for dramatic effect.
"Adore You" by Miley Cyrus
We love Miley for her fun pop tunes, but this slow, romantic ballad proves that she can do it all.
"How Would You Feel" by Ed Sheeran
It's almost impossible to go your entire wedding day without playing an Ed Sheeran song—he's the unofficial king of wedding music. "How Would You Feel" is a great alternative if you love his other hits but want something a little more unique.
"Sending My Love" by Chloe x Halle
This contemporary cover of Zhané's original song from the '90s has all of the same catchy vibes and emotional undertones. We'd recommend this as a wedding processional song if you and your partner were ever in a long-distance relationship.
"Poetry" by Wrabel
Looking for a wedding ceremony song that your guests won't have heard a million times before? "Poetry" is a unique but totally romantic choice.
"Deserve You" by Justin Bieber
This sweet wedding processional song will definitely make your guests shed a tear or two. The lyrics, "And now my eyes are locked on you (yeah) / As you dance around the room / And finally I'm right where I belong, oh, oh-oh" prove that Hailey and Justin Bieber are total couple goals.
"Invisible String" by Taylor Swift
If you believe in soulmates and fate, this song from Folklore will definitely resonate with you.
"Blessed" by Thomas Rhett
Thomas Rhett's music is a popular choice when it comes to first dances and other wedding songs. "Blessed" will remind you and your partner how lucky you are to have found each other.
"Collide" by Tiana Major9
The original version of this song is from the Queen & Slim soundtrack, but we love this stripped-down acoustic version for your wedding entrance.
"Beginning Middle End" by Leah Nobel
Channel your inner Lara Jean and Peter Kavinsky with this wedding processional song from the To All the Boys: Always and Forever soundtrack.
"Easy" by Camila Cabello
They say that when you find the right person, you'll realize why it never worked out with anyone else—and "Easy" is the perfect song to capture that emotion. The lyrics, "Always thought I was hard to love / 'Til you made it seem so easy, seem so easy" will let your partner know just how grateful you are to have them.
"River" by Leon Bridges
For a modern-day take on Motown and old-school soul music, no one does it better than Leon Bridges. This slow but sultry ballad is a romantic pick for a wedding ceremony song.
"Butterflies" by Kasey Musgraves
Play this wedding processional song for your walk down the aisle to let your partner know that they still give you butterflies, even after all this time together.
"All My Days" by Alexi Murdoch
While we love the lyrics of this indie favorite, the instrumental guitar intro alone is beautiful enough to give you (and your guests) chills during your wedding entrance.
"Black & White" by Niall Horan
Niall Horan has us in our feels big-time with this sweet and happy tune. With the lyrics, "See you standing in your dress / Swear in front of all our friends / There'll never be another / I promise that I'll love you for the rest of my life," this song was practically made for a wedding ceremony.
"One Man Band" by Old Dominion
Bring a relaxed vibe to your wedding ceremony with this grand entrance song that's a perfect fit for country music fans.
"pov" by Ariana Grande
Where are our Arianators? Pick this wedding processional song if your S.O. is always giving you a confidence boost and lifting you up when you need some extra love.
"The Only Exception" by Paramore
If your relationship with your partner caught you completely by surprise in the beginning, this well-known Paramore song might be a fitting addition your wedding music.
"Best Part" by H.E.R. ft. Daniel Caesar
Choose this gentle, soulful acoustic duet if you want a low-key R&B song for your wedding processional.
"First Day Of My Life" by Bright Eyes
This song's sweet and catchy beat is ideal if you want an upbeat wedding processional song. The lyric "Yours is the first face that I saw" is perfect for when you and your S.O. first lock eyes during the processional (an emotional moment for sure!).
"Fix You" by Boyce Avenue
Fans of this classic Coldplay song will love the acoustic cover by Boyce Avenue. It's a stripped-down version with Tyler and Boyce's soulful vocals, an acoustic guitar, and all the feels.
"Better Together" by Us The Duo
A cover of Jack Johnson's iconic tune, this sweet song is perfect for showing how it really *is* always better when you and your partner are together.
"Flightless Bird, American Mouth" by Iron & Wine
This indie love tune is a great choice if you want a wedding march song that's filled with emotion. This folk music favorite can be performed by live musicians for a bigger impact—and yes, you might recognize it from the Twilight soundtrack!
"Here Comes The Sun" by Colbie Caillat
A timeless classic by The Beatles, this happy song is a perfect match for Colbie Caillat's cheerful vocals. We'd play this wedding processional song for an outdoor ceremony in a garden or at the beach.
"Higher Love" by James Vincent McMorrow
If you love Steve Winwood's upbeat song from the 1980s, definitely take a listen to this acoustic version. With just the vocals and a soft piano, it'll be hard not to reach for a tissue.
"Amarillo" by Shakira
We love this wedding processional song if you're looking for an option with lyrics in Spanish. Inspired by the color yellow, the melody of "Amarillo" is as happy as its name sounds, and the lyrics are a sweet way to show your forever dedication to your partner.
"Beneath Your Beautiful" by Labrinth ft. Emeli Sandé
If you're looking for a song that's emotional and moving, this ballad is the perfect balance of soul and upbeat pop.
"Hoppipolla" by Sigur Rós
Even though the lyrics are sung in Icelandic, this playful song definitely makes you feel like you are in a dream. The piano intro and upbeat, ethereal melody will make you feel like you're on cloud nine as you walk to the altar.
"Make You Feel My Love" by Adele
Between Bob Dylan's lyrics and Adele's sultry vocals, we can't help but get teary-eyed whenever this wedding processional song starts playing.
"Marry Me" by Train
The title alone says everything we need to know about this wedding entrance song. Train's slow and pretty love song is a great choice for any type of wedding ceremony, venue, or theme.
"The One" by Kodaline
If you're looking for an upbeat love song that still gives you goosebumps, we suggest this modern wedding processional song by Kodaline. The lyrics, "The first day that I met you I was never gonna let you / Let you slip away" couldn't be more perfect for a wedding entrance.
"Somewhere Over the Rainbow" by Israel Kamakawiwo'ole
We adore this lighthearted cover of Judy Garland's famous song from The Wizard of Oz. Thanks to the ukulele intro, "Somewhere Over the Rainbow" is a perfect wedding ceremony song for a summertime event or a beach wedding venue.
"Unchained Melody" by Lykke Li
This ultra-romantic acoustic cover of the famous Righteous Brothers ballad definitely gives us all the feels. It's a wedding processional song that's sure to make hearts skip a beat as you enter your ceremony.
"She Is Love" by Parachute
We love the opening of this wedding processional song. This tune can be easily covered by live musicians or played through speakers.
"Only You" by Joshua Radin
Joshua Radin's hit is more of an upbeat wedding processional song, but it still works well for a walk down the aisle. His soft and raspy voice will have both you and your S.O. wiping away tears.
"Shallow" by Bradley Cooper and Lady Gaga
If you're like us and you still love A Star is Born, consider adding this powerful song to your wedding ceremony playlist. The tune also works well for the bridesmaid or wedding party processional.
"I Choose You" by Sara Bareilles
Wedding processional songs don't have to be ultra-slow to be ceremony-appropriate. This sweet Sara Bareilles song is upbeat and peppy, yet still romantic enough to set the scene for your walk down the aisle.
"Good Life" by OneRepublic
We'll never grow tired of this feel-good wedding processional song—it's guaranteed to make you want to dance your way down the aisle.
"Wild Horses" by The Sundays
Even though this is technically a '90s song, we couldn't resist including it on our playlist of the best wedding processional songs. You've probably heard the original version of "Wild Horses" by the Rolling Stones, but this stripped-down version is oh-so romantic for your wedding ceremony.
"God Gave Me You" by Blake Shelton
If you'd like country music to be a theme throughout your big day, "God Gave Me You" is a powerful choice for a wedding processional song.
"Can't Help Falling in Love" by Kina Grannis
We audibly gasped during the wedding processional scene in Crazy Rich Asians, and not just because of the show-stopping decor. The song, a cover of the Elvis Presley classic, brings such an emotional and romantic element to the moment.
"Marry You" by Bruno Mars
If you want a modern wedding processional song that's sure to bring out all the good vibes, this joyful Bruno Mars song is our top pick. Feeling creative? We've seen couples and wedding parties boogying down the aisle to this song with synchronized dances.
"All of Me" by John Legend
This tune is repeatedly named as one of the best wedding first dance songs, but it also makes a fantastic wedding ceremony song. You can choose to have it played with the lyrics or as an instrumental wedding song that's just as beautiful.
"Somewhere Only We Know" by Lily Allen
Remember this iconic 2000s hit by Keane? We love the dreamy, magical quality of Lily Allen's cover and could imagine it sounding particularly lovely at an outdoor wedding ceremony.