The Ultimate Guide to Wedding Ceremony Music
Create the soundtrack for your big moment.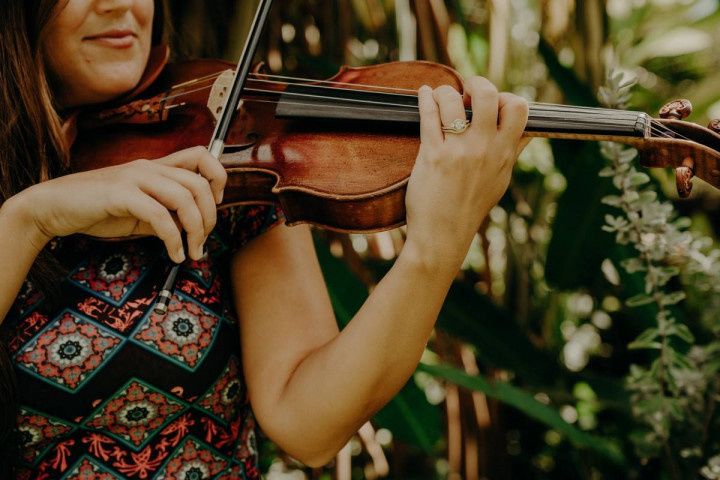 Your wedding day will feel like the ultimate romantic movie. And just like any good movie, the music sets the tone. That's why choosing wedding ceremony music is so crucial—it creates a soundtrack for every important moment, from the walk down the aisle to the first kiss and more.
"My motto is: before the vows, before cake, the first thing your guests will experience is the music," says Carla Fabiani of Chantal Music NYC in New York City. "A couple's ceremony music should reflect their theme and vision."
But how do you choose the right wedding ceremony music for the big day? Well, the first step is finding the right ceremony musicians—the pros who will bring your ceremony score to life. Then, you'll work with these talented vendors to choose the playlist that will create a vibe for your nuptials. Let's get started:
How Do I Choose My Wedding Ceremony Music Pros?
First things first: It's time to find the people who will provide the musical accompaniment to your ceremony. But how do you go about finding these talented pros? Here's a step-by-step guide to selecting your ceremony music professionals.
Decide on live vs. recorded music.
Yes, if you've already hired a DJ to perform during your reception, there's a good chance they can also provide music for your ceremony. However, there are certain advantages to hiring live musicians to perform during the ceremony, both practical and aesthetic.
Timing is everything at a wedding ceremony, and live musicians can ensure everything is timed to a tee. According to Alison Lawson of Corda Entertainment in Colfax, North Carolina, "recorded music can't time arrivals of the wedding party down the aisle in the same way live musicians can. Musicians have the ability to make music seamless for entrances. There is nothing more dramatic than to have a bride come down the aisle at her own pace and have the music end as though the piece was written just for her."
And then there's the general vibe that live music creates. Says Andrew Mille of Charleston Entertainment in Charleston, South Carolina. "Live music shows up at the moments in life we never forget. Hearing, along with seeing musicians in person, along with their instruments, makes for the ideal sensory experience. Your guests will appreciate at least some aspect of live music at your wedding, even if it's just to add an intimate touch to your ceremony with a fine soloist or duet."
Envision the types of musicians you'd like at your ceremony.
If you've decided to hire live musicians for your wedding ceremony music, it can be tricky to decide exactly which types of instruments and how many musicians to book. But how do you decide between a string quartet, a solo guitarist, harpist, pianist, or another type of ensemble? These are the factors you'll want to take into consideration:
The venue: Will your ceremony take place outdoors or inside? This plays a major role in the type and number of musicians you'll want to "Most outdoor weddings like rooftop, beaches, and gardens spaces do well with larger ensembles like string quartets or guitar or drums as they provide a full bodied sound without needing amplification and still maintain an organic outdoor feel," says Fabiani. "Indoor venues like a barn or tent area can do well with a duo or trio with harp, flute, and cello, or violin and guitar, as the venue can provide outlets for amplification."
The size of your wedding: "Typically a small, intimate indoor space with 50 guests or less would lend itself to a solo instrument like violin, cello or harp," says Lawson. "For a ceremony with up to 100 guests, a string duo works nicely. And for a ceremony with up to 150 guests, a trio works best, and over 150 guests, a quartet is recommended."
Your wedding style: Will your wedding be a grand ballroom affair or a more laid-back outdoor event? Different instruments evoke a different vibe, and there are lots options to choose from. A string ensemble tends to feel more formal, while a guitarist or keyboard player reads a bit more casual.
Still not sure? Look into an entertainment company that offers a variety of different types of musicians and ensembles. They can help point you in the right direction.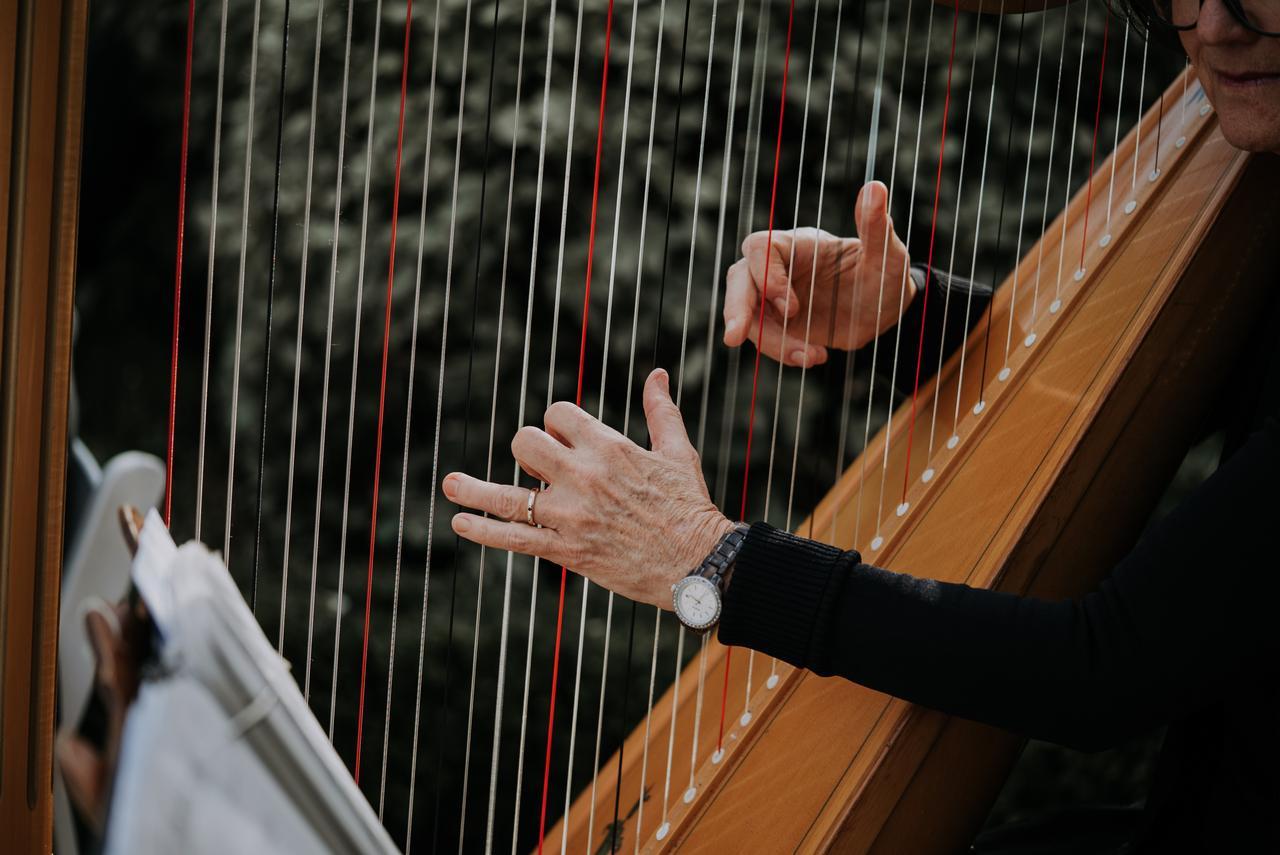 Think about the type of wedding ceremony music you'd like to hear.
It's a common misconception that live ceremony musicians can only play classical music. While, yes, classical is played at many traditional weddings, most ensembles can perform instrumental versions of popular songs (to get an idea of what that sounds like, check out music by the Vitamin String Quartet).
"Good companies with professional musicians can play anything so long as it is written for their instrument," says Lawson. "For weddings, music styles can include light classical, Broadway, pop, tangoes, rags, country, jazz, hymns, contemporary music, and more."
It's a good idea to consider any specific types of wedding music and/or songs you'd like to hear at your ceremony so you can discuss them with any ensembles you interview.
Set a budget.
According to the WeddingWire Cost Guide, the average couple spends about $500 on their wedding ceremony music. However, this cost varies widely depending on the type of ensemble you're booking (more musicians = higher cost), the location of your wedding, and the time of year. Be sure to set a budget before starting your search.
Start the search early.
"The process of booking ceremony music should be one of the exciting and fun aspects of your wedding planning, so do not wait," says Mille. "Reach out as early as possible. The very best musicians don't typically cost much more than the mediocre ones, but the great ones do get booked first."
We recommend starting the search for wedding ceremony music pros at least eight months before the big day.
Read online reviews and listen to samples.
To start your search, check out sites like WeddingWire, where you can read reviews of ceremony music pros in your wedding location. You can also filter by the type of ensemble, instruments, and pricing to find exactly the types of music pros you're looking for.
Many ceremony musicians offer videos of performances on their WeddingWire Storefront or website. Give these a close listen to get a sense of a music pro's skill and sound.
Ask the right questions.
Once you've narrowed down the list of music pros to a couple of favorites, schedule interviews with your top picks. According to Fabiani and Lawson, these are a few questions to ask wedding ceremony music pros:
Are you available on my wedding date?
Have you ever performed at my wedding location?
What are the your song list options?
Can we be creative in the ceremony music we choose or do you just play what's on the list? "A company that is willing to help you make the ceremony uniquely your own is the company that has your best interest at heart and is open to ideas," Lawson says.
Are there any package deals with adding a cocktail hour to the ceremony? (Adding live music to your cocktail hour is a nice touch.)
Tell me about your musicians' experience.
Do you provide liability insurance?
What does your pricing include? Is travel/transportation included?
Do you use a contract? "Everything should be put into writing with the date, the time, the location and the fee," says Lawson.
When are payments due?
How do we finalize our ceremony music? What's that process like?
Book your music pros and find out what's next.
Once you've found the musician or ensemble you'd like to hire, ask for a contract, read it carefully, and if you're satisfied with the terms, sign away. Make sure you understand what information your music pros need from you in advance of the wedding day (ceremony start time, music selections, contact information for your venue coordinator/wedding planner, etc.), and when and how you'll communicate next.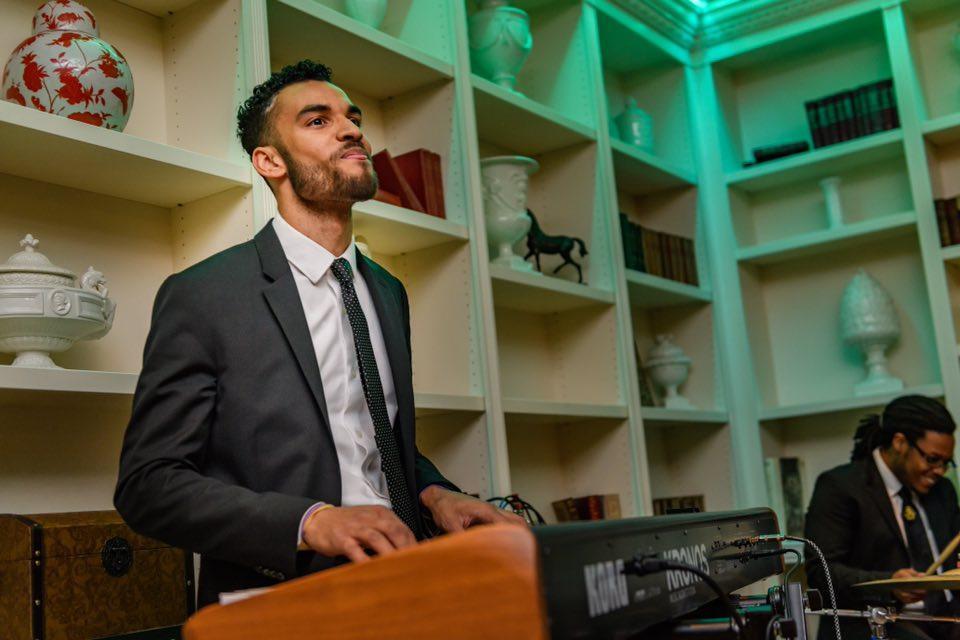 What Wedding Ceremony Songs Do I Need to Choose?
Now it's time to choose the specific songs that will be played during your ceremony. There are five main musical opportunities at a wedding ceremony. Here's more information on each, plus some favorite wedding-song picks, both classical and modern.
Prelude Songs
The prelude music will play while guests are entering and taking their seats. This music aims to welcome the guests to your wedding, and sets the tone for the rest of the ceremony, so be sure to choose wisely. Whether you prefer classical or more modern music, we recommend choosing tunes that have a romantic and upbeat feel—and yes, you'll need to choose multiple songs as the prelude will last about 20 to 30 minutes as guests are arriving. A few options to listen to include "Air on a G String" by Bach, "The Four Seasons (Spring)" by Antonio Vivaldi, "Can't Help Falling in Love" by Elvis Presley, "Your Song" by Elton John, and "Somewhere Over the Rainbow/What a Wonderful World" by Israel Kamakawiwo'ole (this song is particularly nice for an outdoor beach wedding).
Wedding Party Processional Songs
The processional song is the wedding ceremony music that is played while the wedding party (bridesmaids, groomsmen, etc.) is walking down the aisle. Our rule of thumb here is to choose music that's neither too fast nor too slow. Select a song that has a rhythm that matches a natural walking pace. A few of our favorite wedding processional songs: "Canon in D" by Pachelbel, "All of Me" by John Legend, and "Ribbon in the Sky" by Stevie Wonder.
Bride's Processional Songs
After the wedding party has taken their places, there is a brief pause before the bride's grand entrance (if there is no bride, the couple may enter separately or together at this point). Traditionally, all of the guests stand up and a new song—typically one with a bit more drama—is performed. You can go in a variety of directions with the bridal processional, from something grand and traditional to a song that's sweet and lively, but just be sure that it matches the magnitude of the moment. A few popular bridal entrance songs include: "Air" by Handel, "Bridal Chorus" by Richard Wagner, "Here, There, Everywhere" by The Beatles, and "A Thousand Years" by Christina Perri.
Interlude Songs
While you don't have to have interlude music during your ceremony, it may be necessary play music during a particular ritual or to transition from one portion of the ceremony to another. Interludes can also be a nice addition if you have a friend or relative with musical talent who you would like to perform during the ceremony. Interlude songs are usually have an ultra-romantic and emotional feel. Some examples include: "Ave Maria" by Schubert and "In My Life" by The Beatles.
Recessional Songs
You're married, and it's time to celebrate! The recessional song should be very upbeat and joyful to help lead guests into the celebration to follow. You can even be a little cheeky and humorous if you so desire. Some recessional songs you might enjoy include: "Love on Top" by Beyonce, "Ode to Joy" by Beethoven, "Wedding March" by Mendelssohn, "Marry You" by Bruno Mars, and "I Do" by Colbie Caillat.
Postlude Songs
Guests may linger for a bit after the proceedings ends, so you'll want to have some wedding ceremony music lined up to be played after the recessional. The postlude songs should have a similar celebratory feel to your recessional song. Examples include: "Beautiful Day" by U2, "Here Comes the Sun" by The Beatles, and "Happy" by Pharrell Williams.