39 Bride Entrance Songs For an Epic Walk Down the Aisle
There are so many options out there for bride entrance songs, which is why we made it easier for you with our top picks for bride walking down the aisle songs.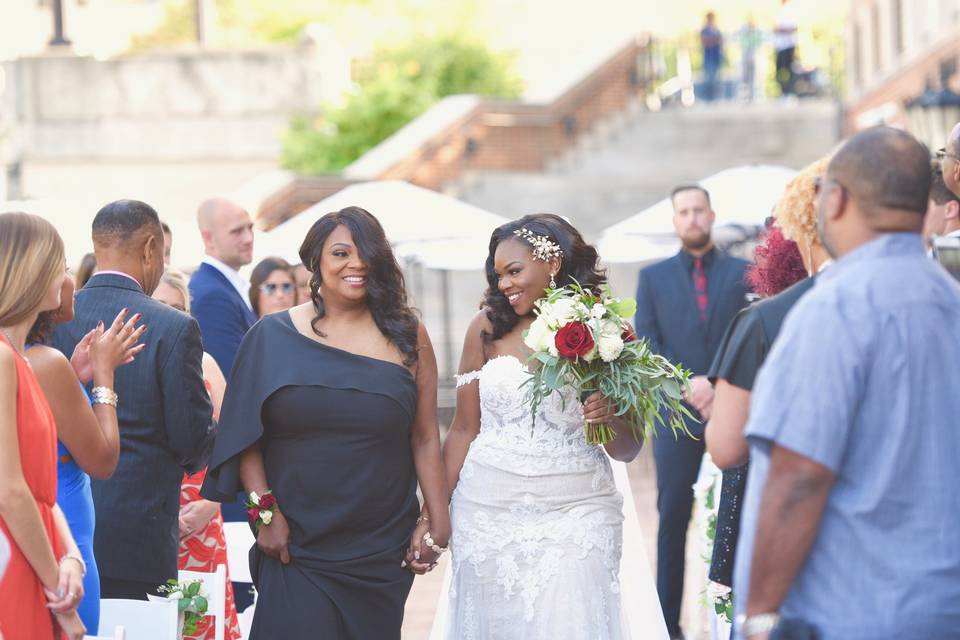 Music is a key factor for many different parts of your wedding: cocktail hour, the first dance, the father-daughter dance and more. But the bride entrance song is one of the most important songs, as it will set the tone for the ceremony. You definitely want to choose a song that best suits your love story. Have you two been picturing a classic, organ melody to serenade you down the aisle? Would a soft, acoustic tune capture your love the best? Are you looking for something more light-hearted and upbeat?
We know it can be tough to browse through so many wedding entrance song selections, so we did the work for you. Check out these bride ceremony songs that will make the moment everything you've dreamed of and more.
Best Bride Entrance Songs
"Can't Help Falling in Love" by Kina Grannis
Recreate the jaw-dropping bride entrance scene from Crazy Rich Asians with this lovely acoustic cover.
"XO" by Beyonce
Want to switch it up from acoustic guitar or piano? Consider this classic love ballad with gorgeous vocals and beats.
"Somewhere Over The Rainbow" by Israel Kamakawiwo'ole
This Hawaiian cover is a dreamy pick that will definitely set a romantic tone for your ceremony. If you're having an outdoor wedding and want a song that's a bit nontraditional but has a beautiful melody, then this wedding entrance song is perfect for you.
"All Of Me" by John Legend
This John Legend tune has everything you're looking for in a bride entrance song: gorgeous piano, pretty melodies and heart-warming lyrics.
"Thinking Out Loud" by Ed Sheeran
A popular pick for first dance songs, Ed Sheeran's love song can also be played as a wedding entrance song.
"One Love" by Bob Marley
This song is perfect for a destination beach wedding or an oceanfront ceremony. Bob Marley's happy-go-lucky tune will match a laid back tropical vibe and make you feel relaxed as you make your way down the aisle.
"Best Part" by Daniel Caesar and H.E.R.
This slow R&B song is sweet and a little bit sultry.
"I'm Yours" by Jason Mraz
Jason Mraz's catchy hit gives off major island vibes, making it a great beachy bride entrance song choice.
"A Thousand Years" by Christina Perri
A popular bride entrance song choice if you wish to have a pop song to walk down the aisle to. Christina Perri's vocals will make guests remember your entrance for years to come.
"Marry You" by Bruno Mars
Looking to have some fun with your entrance? Consider playing this cheeky, upbeat song to get everyone on their feet and excited.
Traditional Bride Entrance Songs
"Here Comes the Bride" by Wagner
If you're searching for the ultimate traditional bride entrance song, look no further. "Here Comes the Bride" is a foolproof choice.
"Canon in D" by Pachelbel
A timeless classic that everyone will recognize, Canon in D is a beautiful (and one of the most popular!) bride entrance song to play as you make your way down the aisle. The violins and piano are at a slow pace that makes it easy for both you and whoever is walking you down the aisle to match. So, if you're worried that you may rush down the aisle and are browsing wedding ceremony songs, this is a perfect choice.
"Butterfly Waltz" by Brian Crain
This bride entrance song is the perfect happy medium between a classical tune and something just a bit more modern. It's definitely more upbeat than some of the more solemn classical tunes, and is particularly ideal for an outdoor, garden ceremony.
"Ave Maria" by Schubert
This is another classical pick that works best for a traditional wedding ceremony. You can opt for just an instrumental version or you can have someone cover the vocals to really set the mood for your vows.
"Somewhere Only We Know" by Vitamin String Quartet
Your guests will surely be delighted to hear this classical spin on the popular Keane song. It's absolutely perfect for a processional—definitely worth a listen!
"Hallelujah" by Pentatonix
Of course, the Leonard Cohen original is a beautiful, emotional song, but we love this a cappella cover by Pentatonix as a bride entrance song. It's simple, yet powerful—and may cause your guests to shed a few tears.
"Make You Feel My Love" by Adele
Soft piano and sweet lyrics make this Adele tune a perfect choice for an unforgettable walk down the aisle.
"Your Song" by Elton John
You can't go wrong with this classic song. Elton John's earnest lyrics and pretty piano will serenade you down the aisle to your partner.
"At Last" by Etta James
At last...the moment is finally here! Celebrate accordingly by walking to the tune of this popular ballad.
"Here Comes the Sun" by The Beatles
We love this Beatles classic that will definitely put a smile on everyone's face. It's a great pick if you're browsing bride entrance songs for an outdoor ceremony, too.
"Songbird" by Fleetwood Mac
The piano and vocals of this Fleetwood Mac love song will definitely make everyone swoon as you walk down the aisle.
"Marry Me" by Train
If the title hasn't sold you already then the lyrics definitely will of this sweet song. "Promise me/You'll Always be, happy by my side/ I promise to/Sing to you, When all the music dies," is one of our favorite verses that will a hundred percent have both you, your partner and your guests shedding tears.
Top Bride Entrance Songs
"Lover" by Taylor Swift
The slow beat and meaningful lyrics will help guide you down the aisle for a sweet, unforgettable entrance.
"Beyond" by Leon Bridges
This ultra-romantic ballad by Leon Bridges will make everyone in the room smile.
"Tenerife Sea" by Ed Sheeran
If you're looking for a song that's as romantic as "Perfect" by Ed Sheeran but not quite as mainstream, consider this sweet tune.
"Rich Man" by Hearts & Colors
Let this simple song be a reminder of how lucky you are to have found each other.
"Alone with Me" by Vance Joy
The gorgeous guitar and heartfelt lyrics in this song will make your bride entrance beautiful and emotional.
"Truly Madly Deeply" by Yoke Lore
This folk-style cover is perfect for brides who want an alternative song. It would be especially perfect for an outdoor, rustic-style wedding.
"The Few Things" by J.P. Saxe
For a more modern vibe, consider this simple, slow tune. Saxe's smooth vocals, quiet guitar and slow beat will make the moment magical.
"Real Peach" by Henry Jamison
Consider this sweet, folky tune for your bride entrance song. It's a warm-hearted tune that will elevate the love in the room.
"Better Together" by Jack Johnson
If you're having a beach wedding or backyard wedding, this sweet, simple song will make your entrance absolutely lovely.
"Sea of Love" by Cat Power
If you're hosting a beach wedding ceremony, this may be the perfect bride entrance song for the occasion. With sweet and simple lyrics like "Come with me/My love/To the sea/The sea of love," it's ideal for a wedding by the water.
Country Songs For Bride to Walk Down Aisle To
"The Bones" by Marren Morris
The folky guitar and sentimental lyrics will create a magical moment as you walk towards your partner.
"Speechless" by Dan + Shay
For an absolutely epic entrance, play this wedding-inspired Dan + Shay tune.
"Change Your Name" by Brett Young
Young actually used this song for his own wedding video, so you know it's romantic. It's slow and sweet—and perfect if you're planning on changing your last name.
"Good As You" by Kane Brown
This funky country song has an upbeat feel that's still slow enough to walk to.
"Golden Hour" by Kacey Musgraves
We love the idea of playing this song if you're having your ceremony at golden hour.
"Big, Big Plans" by Chris Lane
Your guests will feel the love you have for each other while this sentimental song fills the room.
"Cowboy Take Me Away" by The Chicks
If you're planning a barn wedding ceremony or something rustic and having been looking for country bride entrance songs, then this hit is just for you.