43 Wedding Prelude Songs to Kickstart Your Ceremony
Greet your guests with a soundtrack of wedding prelude songs as they begin arriving to your ceremony. Here are some of the best tunes to set the mood for your I do's.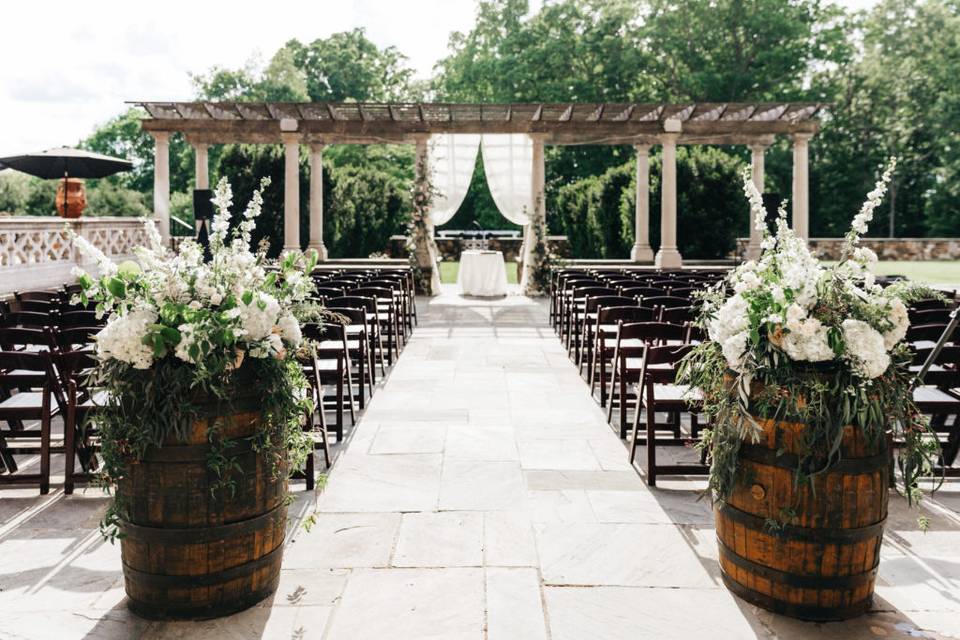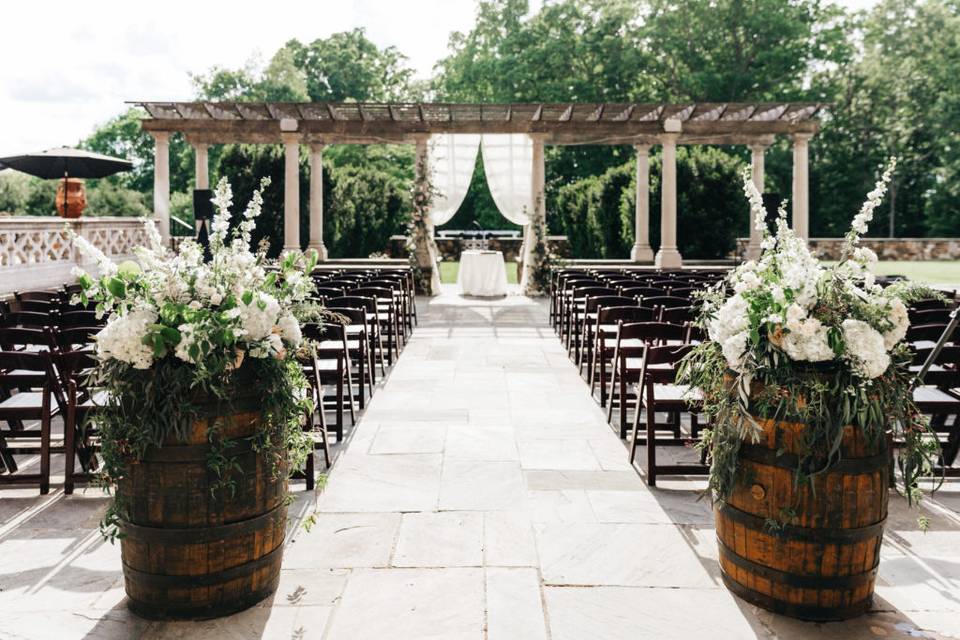 As guests arrive to your ceremony and take their seats, the wedding prelude songs will be among the first elements to set the mood and tone of your big day. When it comes to your wedding playlist, think of the prelude songs as mainly background music. They aren't quite as monumental as the grand entrance song or the processional song for your bridesmaids and wedding party, but they should still reflect your personal style as a couple. When in doubt, instrumental tracks and soft acoustic songs are usually failsafe options for your prelude music. You don't want anything that will overpower your guests' conversations while they're waiting for the ceremony to begin, and you can save the fun party tunes for your recessional and wedding reception. Need a few suggestions? Take a listen to some of our favorites and kickstart your ceremony with these wedding prelude songs.
"Clair de Lune" by Claude Debussy
Welcome your guests to the ceremony with this slow, gentle piano arrangement that's understated and sophisticated.
"You Are the Sunshine of My Life" by Stevie Wonder
The title of this song says it all—you and your guests will be in a happy, sunshine-y mood as soon as it starts playing. We'd recommend this wedding prelude song if you're having an outdoor ceremony in the spring or summer.
"Jesu, Joy of Man's Desiring" by Johann Sebastian Bach
You'll recognize this classical arrangement as one of the most famous instrumental wedding songs of all time. It's ideal for a traditional ceremony, especially in a house of worship, and brings a beautiful, timeless element to your special day.
"Better Together" by Luke Combs
The sweet lyrics of this country ballad make it a great addition to your wedding music: "Sometimes we're oil and water / But I wouldn't have it any other way / And if I'm being honest, your first and my last name / Would just sound better together and probably always will."
"Ave Maria" by Franz Schubert
Traditionally used for Catholic ceremonies, this wedding prelude song is always a moving choice, whether you play a recording or enlist a vocalist to sing it live.
"What a Wonderful World" by Louis Armstrong
It's hard to imagine a more fitting song for your wedding day. Louis Armstrong's lyrics about appreciating all of the little details in love and life, like trees blooming and rainbows in the sky, are a sweet reminder to treasure every moment.
"Water Music (Hornpipe)" by George Frideric Handel
With this classical prelude song, your guests will feel like they're walking through the gardens of Versailles, especially if you hire a string quartet to play it in person.
"Wedding March" by Felix Mendelssohn
From the opening trumpet fanfare to the dramatic strings, this famous composition is one of the best wedding songs to build up the excitement ahead of your ceremony. It's also a popular wedding recessional song.
"Over the Rainbow" by Israel Kamakawiwo'ole
Especially popular for beach weddings, this wedding ceremony song is a soothing, mellow choice to play while your guests are taking their seats.
"Can't Help Falling in Love" by Elvis Presley
We love the original version of this iconic song by the King of Rock and Roll. But if you're looking for a more modern rendition, consider using one of the many covers, including versions by Twenty One Pilots, Andrea Bocelli, Haley Reinhart, Boyce Avenue, Pentatonix, or Kina Grannis.
"Canon in D" by Johann Pachelbel
Although this is one of the most popular wedding processional songs, it's also a lovely arrangement for your prelude playlist. This performance by a cellist and a pianist is elegant and simple.
"I Do" by Colbie Caillat
Set the mood for a happy, lighthearted ceremony with this bubbly wedding prelude song.
"The Four Seasons (Spring)" by Antonio Vivaldi
The first movement of Vivaldi's famous violin concerti is a must-play if you're having a formal wedding ceremony.
"A Thousand Years" by Christina Perri
Looking to bring the waterworks? This emotional wedding prelude song always gives us the chills.
"Endless Love" by Luther Vandross ft. Mariah Carey
This dramatic '90s ballad is an ultra-romantic option for your wedding prelude playlist. It would sound amazing at a glamorous ballroom venue or performed live in a house of worship.
"Main Title from The Notebook" by Aaron Zigman
Hopeless romantics, you won't be able to resist including this track from The Notebook in your wedding ceremony music. Anyone who loves Allie and Noah's story as much as we do will appreciate this soothing piano arrangement.
"My Only One (No Hay Nadie Más)" by Sebastián Yatra ft. Isabela Merced
This romantic Latino pop duet is a catchy and oh-so-sweet wedding prelude song. The bridge lyrics "I don't know why / But every time I look into your eyes / I see a thousand falling shooting stars and yes I love you / I can't believe that every night you're by my side" are perfect for your wedding day.
"There You Are" by Zayn
If you're in search of upbeat prelude songs, this one is sweet without sounding too sappy (the verdict is still out on whether or not it's about Zayn's longtime love, Gigi Hadid, but our hopeless romantic selves are saying yes).
"Good As You" by Kane Brown
This song is like the embodiment of the phrase "better half"—and if nothing else, we recommend watching the music video for some gorgeous wedding day inspo.
"Easy" by Camila Cabello
"Easy" is all about loving everything about someone despite their flaws and quirks, which is a spot-on message for your special day.
"Golden Hour" by Kasey Musgraves
We picture this song kicking off a summer wedding ceremony taking place somewhere by the water. Give it a listen even if you're not a country music fan—and just try to resist the song's cheery, folky vibe.
"The One" by Kodaline
You may not have heard of this indie Irish band yet, but "The One" is definitely worth a listen if you're looking for romantic wedding prelude songs. It was specifically written as a wedding song for one of the band member's friends, and these lyrics totally prove it: "'Cause you make my heart feel like it's summer/When the rain is pouring down / You make my whole world feel so right when it's wrong / That's why I know you are the one."
"God Only Knows" by John Legend & Cynthia Erivo ft. yMusic
We hope that Beach Boys fans appreciate this soulful cover of the band's classic hit "God Only Knows." This version by John Legend and Cynthia Erivo is slower and more stripped-down than the original, but it's just as special.
"Your Hands Are Cold" by Dario Marianelli
If you've ever seen the Keira Knightley version of Pride & Prejudice, you'll immediately recognize the famously romantic scene that accompanies this instrumental track. It gives us chills, and not just because we love Mr. Darcy. The entire movie is full of tracks that work as wedding ceremony songs, including a shorter version of this arrangement ("Liz on Top of the World"), "Georgiana," and "Dawn." How beautiful would this be performed by live musicians?
"Invisible String" by Taylor Swift
This song reminds us of Old Taylor in the best way. "Invisible String" is about believing in fate and how you'll always end up with the one you're meant for, no matter what you have to go through to get there.
"Angel of Mine" by Monica
Here's another '90s throwback that we couldn't resist including. Twenty years later, "Angel of Mine" still hits us with all the feels about falling in love and finding The One.
"Magic" by Coldplay
This song features Coldplay's signature melodic sound, combined with sweet and simple lyrics: "And I don't, and I don't, and I don't, and I don't / No I don't, it's true / I don't, no, I don't, no, I don't, no, I don't / Want anybody else but you."
"Tenerife Sea" by Ed Sheeran
One of Ed Sheeran's more underrated songs is "Tenerife Sea." It has all of the classic Ed elements that his fans love: acoustic guitar, poetic lyrics, and a catchy beat. The tune feels especially romantic when he sings these lyrics: "And should this be the last thing I see / I want you to know it's enough for me / 'Cause all that you are is all that I'll ever need / I'm so in love, so in love." Pass the tissues, please.
"Beyond" by Leon Bridges
We love Leon Bridges for his soulful, timeless sound. "Beyond" is a great choice for your prelude playlist, but it could also work as a romantic first dance or slow dance song.
"Maestro" by Hans Zimmer
The Holiday is a must-watch movie around Christmastime, but the soundtrack is something you can enjoy all year long. "Maestro," a cheerful instrumental arrangement, is the movie's main theme song. It's one of our favorite wedding prelude songs to play as your guests are arriving for the ceremony.
"Me Enamora" by Mau y Ricky
Start your wedding on an energetic note with this upbeat song by Venezuelan duo Mau y Ricky. The song combines Latin and Reggaton influences, so don't be surprised if you see guests dancing their way to their seats!
"Love" by Lana Del Rey
Lana does it again with her signature hauntingly beautiful style. "Love" is a slow-paced but completely soulful song about, well, being in love. It's a must-listen in terms of wedding prelude songs for modern couples, and we think it would also make an excellent choice for a first dance song.
"Die a Happy Man" by Thomas Rhett
Country music fans know that "Die a Happy Man" is one of Thomas Rhett's most popular songs. Rhett wrote this song about his wife, and is there honestly anything more romantic than that? This laid-back song would be perfect for a beach or country wedding venue.
"All of My Days" by Alexi Murdoch
"All of My Days" is a mellow, chilled out tune to add to your list of wedding prelude songs. It will set the mood for a relaxed, low-key ceremony—we love these romantic lyrics about being together for the rest of your life: "Now I see clearly / It's you I'm looking for /All of my days / Soon I'll smile / I know I'll feel this loneliness no more / All of my days."
"La Vie En Rose" by Louis Armstrong
If you love jazz music, you're probably already a fan of this Louis Armstrong classic. This timeless song would be ideal for a historical or vintage wedding venue, such as a ballroom, theater, estate, or museum—especially if you're getting hitched in New Orleans.
"The Only Exception" by Paramore
Not into over-the-top love songs? This Paramore song is iconic because it gets the message across without being in-your-face mushy (and even better, it's bound to stir up some 2000s nostalgia for your millennial guests).
"XO" by Beyoncé
Queen Bey needs no explanation. This is one of her more romantic songs, but it still has the catchy pop/R&B vibe of hers that we love so much. The song starts out slow and then builds up beautifully, which is why it's also a popular wedding processional song in addition to being one of our favorite wedding prelude songs.
"Still Fallin'" by Hunter Hayes
Another modern country wedding ceremony song is "Still Fallin'" by Hunter Hayes. You really can't get more sentimental than these lyrics: "I still reach for your hand because I need it / Your kiss is still the spark that lights a fire / You're still laughing with me / And we're still making memories / I'm still a fool for you, and there's a million reasons why."
"Moon River" by 2Cellos
This instrumental rendition of "Moon River" (famously sung by Audrey Hepburn in Breakfast at Tiffany's) is perfect for a traditional wedding ceremony. We love the timeless sound of the violins and envision this arrangement being played by a string quartet at a gorgeous house of worship, ballroom or garden wedding.
"Falling in Love in a Coffee Shop" by Landon Pigg
Set the mood with this relaxing, acoustic wedding prelude song. If you've never heard this tune, it sounds exactly like you imagine it would based on the title—chill and a little bit indie, like your favorite coffee shop soundtrack.
"Ever Ever After" by Carrie Underwood
If you're having the ultimate fairytale wedding, look no further than this song from the Enchanted movie soundtrack for your ceremony playlist. "Ever Ever After" is a little bit country (thanks to Carrie Underwood's killer vocals) but the romantic message of this Disney tune is something that everyone can relate to.
"The Theme from 'The Search for Everything'" by John Mayer
The instrumental theme from Mayer's 2017 album, "The Search for Everything," doesn't include any words, just 1 minute and 53 seconds of musical perfection. We can definitely envision it being played at an outdoor bohemian-style wedding.
"Real Love" by The Beatles
Our wedding prelude songs list wouldn't be complete without including rock music royalty. "Real Love" was originally written by John Lennon, but it wasn't recorded until 1995, more than a decade after his death. It's one of the last singles ever released by The Beatles, and we love it for its playful and upbeat vibe.