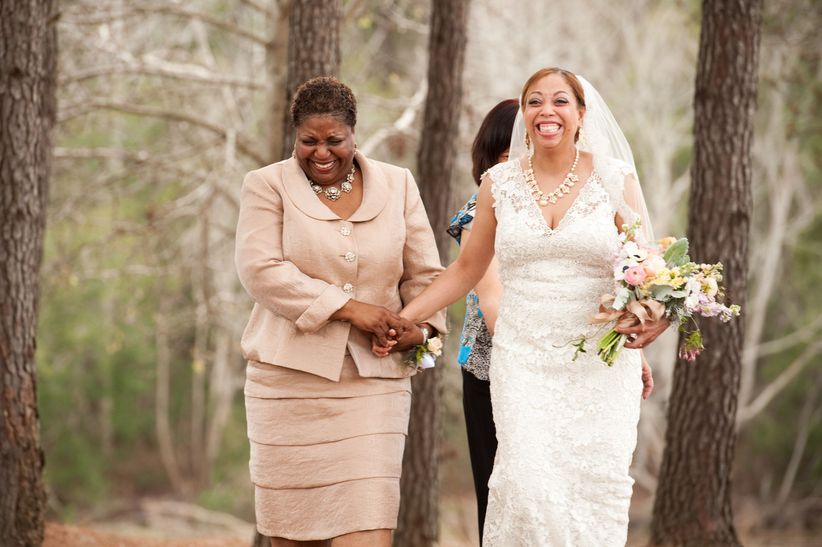 Photo: Reese Moore Weddings
The processional, or walk down the aisle, is such an important part of the wedding day, and the music played should feel special, romantic, emotional, and dramatic, all rolled into one. There are several classic selections for the processional, including "Canon in D" by Pachelbel, Wagner's "Bridal Chorus," and Clarke's "Trumpet Voluntary," but you can also choose a more modern song to play as you walk down the aisle.


Here are a few of our more contemporary processional favorites.
"Ave Maria" by Beyonce
Preview Song »
She was lost in so many different ways
Out in the darkness with no guide
I know the cost of a losing hand
Never thought the grace of god go high
I found heaven on earth
You were my last, my first
And then here this voice inside
Ave maria
"Feels Like Home" by Chantal Kreviazuk
Preview Song »
Somethin' in your eyes, makes me wanna lose myself
Makes me wanna lose myself, in your arms
There's somethin' in your voice, makes my heart beat fast
Hope this feeling lasts, the rest of my life
If you knew how lonely my life has been
And how long I've been so alone
And if you knew how I wanted someone to come along
And change my life the way you've done
"Make You Feel My Love" by Bob Dylan
Preview Song »
When the rain is blowing in your face
And the whole world is on your case
I could offer you a warm embrace
To make you feel my love
When the evening shadows and the stars appear
And there is no one there to dry your tears
I could hold you for a million years
To make you feel my love
I know you haven't made your mind up yet
But I would never do you wrong
I've known it from the moment that we met
No doubt in my mind where you belong
Photo: Sugar + Soul Photography
"A Thousand Years" by Christina Perri
Preview Song »

Heartbeats fast
Colors and promises
How to be brave
How can I love when I'm afraid to fall
But watching you stand alone
All of my doubt suddenly goes away somehow
One step closer

I have died everyday waiting for you
Darling don't be afraid I have loved you
For a thousand years
I'll love you for a thousand more

"Bless the Broken Road" by Rascal Flatts
Preview Song »

I set out on a narrow way many years ago
Hoping I would find true love along the broken road
But I got lost a time or two
Wiped my brow and kept pushing through
I couldn't see how every sign pointed straight to you

"In My Life" by the Beatles
Preview Song »

There are places I'll remember
All my life though some have changed
Some forever not for better
Some have gone and some remain
All these places have their moments
With lovers and friends I still can recall
Some are dead and some are living
In my life I've loved them all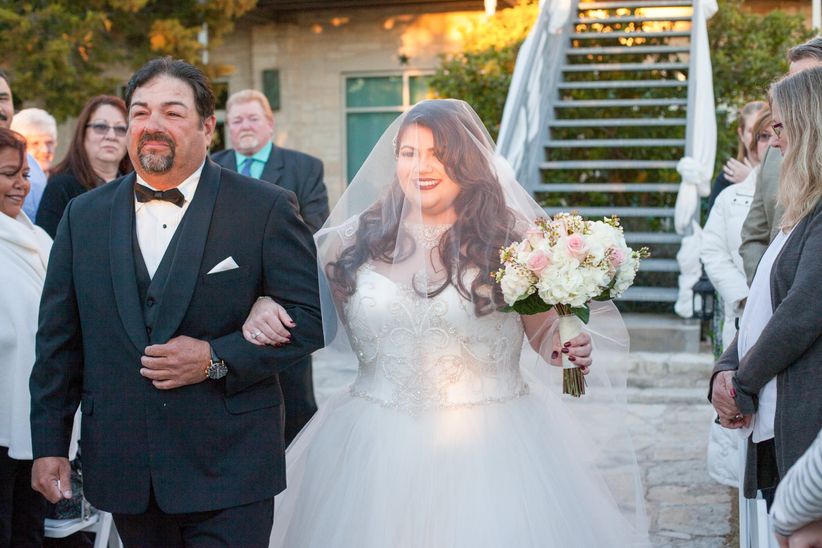 Photo: George Street Photo & Video
"Over the Rainbow" by Israel Kamakawiwo'ole
Preview Song »

Somewhere, over the rainbow, way up high,
And the dreams that you dreamed of,
Once in a lullaby.

Oh, somewhere over the rainbow,
blue birds fly, And the dreams that you dreamed of,
Dreams really do come true.

"A Ribbon in the Sky" by Stevie Wonder
Preview Song »

Oh so long for this night I prayed
That a star would guide you my way
To share with me this special day
Where a ribbons in the sky for our love

If allowed may I touch your hand
And if pleased may I once again
So that you too will understand
Theres a ribbon in the sky for our love

"First Day of My Life" by Bright Eyes
Preview Song »

This is the first day of my life
I swear I was born right in the doorway
I went out in the rain suddenly everything changed
They're spreading blankets on the beach

Yours is the first face that I saw
I think I was blind before I met you
Now I don't know where I am
I don't know where I've been
But I know where I want to go

"I Do" by Colbie Caillat
Preview Song »
It's always been about me, myself, and I
I thought relationships were nothing but a waste of time
I never wanted to be anybody's other half
I was happy saying I had a love that wouldn't last
That was the only way I knew 'til I met you