These Are The 20 Most Romantic Piano Wedding Songs
Piano music sets the tone for the most romantic day of your life.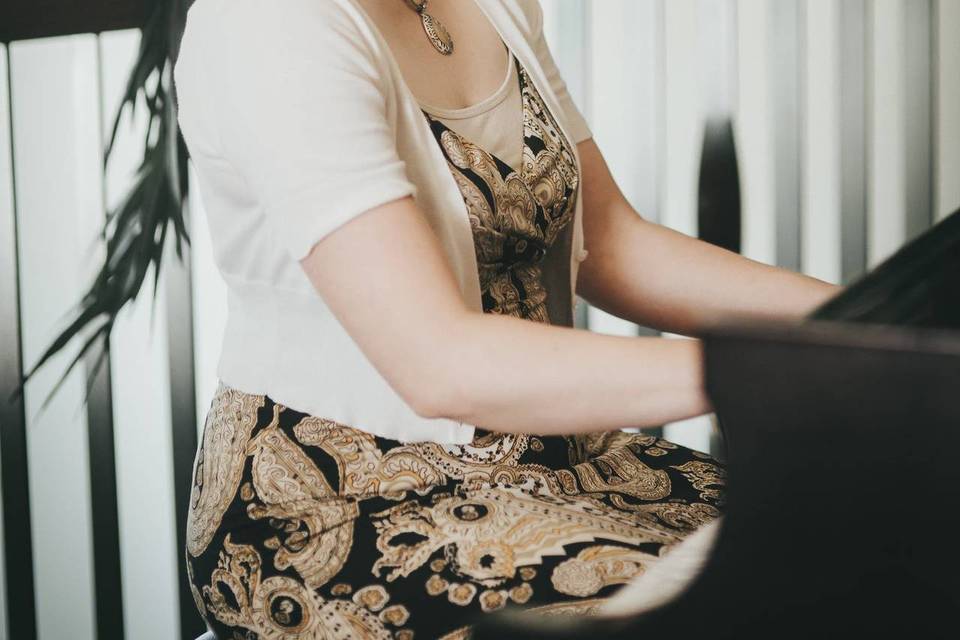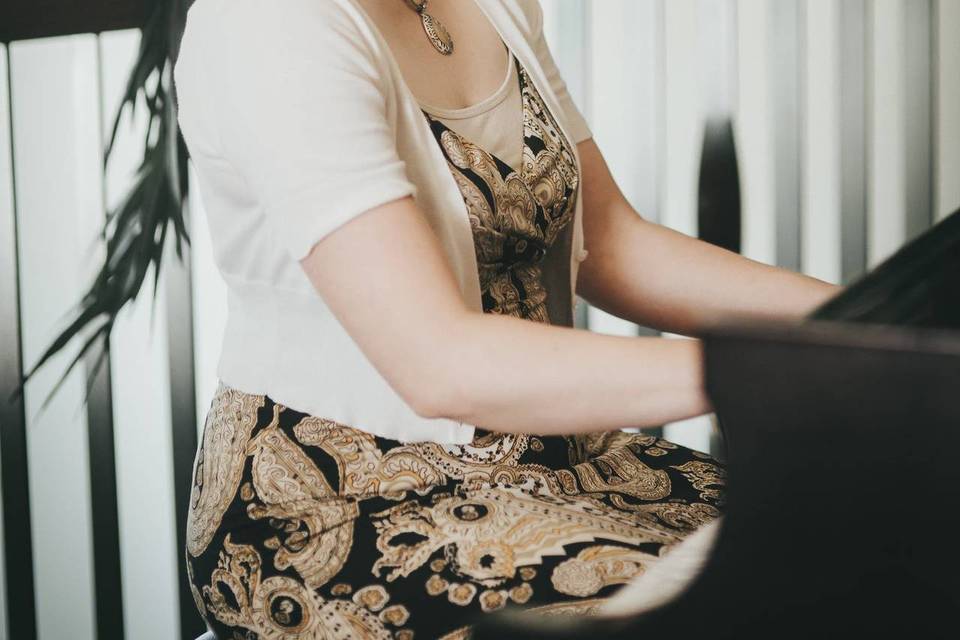 In addition to the stunning decorations and elaborate floral arrangements, wedding music is another element of your big day that really helps set the scene and vibe for the occasion. In addition to string quartet wedding songs, piano wedding songs, in particular, enhance the tone and experience for the couple and their guests, from the wedding ceremony to the processional and the recessional to the first dance and wedding reception.
If you're stumped on what piano wedding songs to choose for your wedding day, this is for you. Below, find 20 love songs that make magical piano music for your wedding day, whether you're having a traditional wedding or a unique celebration—hello, elopement!— there's a little something for every couple's style (including Ed Sheeran because, of course). Consider this your wedding playlist. Now, all you have to do is share it with your pianist so they can bring these piano covers to life. You, your partner, your wedding party and your guests are in for a treat.
"If I Ain't Got You," Alicia Keys
Lyrics you'll love: "Some people want it all/But I don't want nothing at all/If it ain't you, baby/If I ain't got you, baby/Some people want diamond rings/Some just want everything/But everything means nothing/If I ain't got you, yeah"
If you're looking for a piano piece that really lets the (piano) keys shine, look no further than this romantic R&B track from her album, The Diary of Alicia Keys.
"Perfect," Ed Sheeran and Beyonce
Lyrics you'll love: "'Cause we were just kids when we fell in love/Not knowing what it was/I will not give you up this time/But darling, just kiss me slow/Your heart is all I own/And in your eyes, you're holding mine"
You can't have a list of best wedding songs without Ed Sheeran, who has a knack for creating the most romantic songs. This wildly popular first dance song has been a hit for weddings for years but we're betting it will truly stand the test of time in terms of love songs.
"Thinking Out Loud," Ed Sheeran
Lyrics you'll love: "So honey now/Take me into your loving arms/Kiss me under the light of a thousand stars/Place your head on my beating heart/I'm thinking out loud/Maybe we found love right where we are"
Again, Ed Sheeran can do no wrong when it comes to love songs. If you still want to include his songs into your wedding day, but rather skip "Perfect," this song is a great option.
"Can't Help Falling In Love," Elvis Presley
Lyrics you'll love: "Wise men say/Only fools rush in/But I can't help falling in love with you/Shall I stay?/Would it be a sin/If I can't help falling in love with you?"
Whether it's for a first dance on the dance floor or to be played during your wedding reception, "Can't Stop Falling In Love" is a popular choice for a reason: It's a classic.
"All of Me," John Legend
Lyrics you'll love: "What would I do without your smart mouth?/Drawing me in and you kicking me out/You've got my head spinning, no kidding/I can't pin you down/What's going on in that beautiful mind/I'm on your magical mystery ride/And I'm so dizzy, don't know what hit me/But I'll be alright"
John Legend's beautiful song (written for his wife Chrissy Teigen) tops the list of first dance songs its heartfelt lyrics and gorgeous piano music.
"Can You Feel the Love Tonight," Elton John
Lyrics you'll love: "And can you feel the love tonight?/It is where we are/It's enough for this wide-eyed wanderer/That we got this far/And can you feel the love tonight/How it's laid to rest?/It's enough to make kings and vagabonds/Believe the very best"
This beautiful classic from The Lion King movie never gets old. It's a particularly romantic choice for Disney-loving couples.
"I'm Yours," Jason Mraz
Lyrics you'll love: "Well open up your mind and see like me/Open up your plans and damn you're free/Look into your heart and you'll find/Love, love, love, love/Listen to the music of the moment, people dance and sing/We're just one big family/And it's our God-forsaken right to be/Loved, love, love, love, loved"
This fun, upbeat song makes a great recessional song, and it sounds especially beautiful set to piano music.
"Isn't She Lovely," Stevie Wonder
Lyrics you'll love: "Isn't she lovely?/Isn't she wonderful?/Isn't she precious?/Less than one minute old/I never thought through love, we'd be/Making one as lovely as she/But isn't she lovely? Made from love"
We love this Stevie Wonder classic as a wedding processional song, but it also works great as a first dance song.
"A Thousand Years," Christina Perri
Lyrics you'll love: "I have died every day waiting for you/Darling, don't be afraid/I have loved you for a thousand years/I'll love you for a thousand more"
You may recognize this song from the Twilight movie saga, but you don't have to be team Jacob or Edward to love this song and play it on your big day.
"Somewhere Over the Rainbow" Israel Kamakawiwo'ole
Lyrics you'll love: "Somewhere over the rainbow/Way up high/And the dreams that you dreamed of/Once in a lullaby/Oh, somewhere over the rainbow/Bluebirds fly/And the dreams that you dreamed of/Dreams really do come true ooh-oh-oh, oh-oh-oh"
If this sweet, romantic tune sounds familiar, you've likely heard it from the hit movie "50 First Dates."
"Canon in D," Johann Pachelbel
When you think of classical wedding songs, this instrumental piece by German composer Johann Pachelbel is often the first to come to mind. It's been a go-to wedding song for decades and shows no signs of slowing down.
"Ave Maria," Franz Schubert with lyrics by Beyonce
Lyrics you'll love: "I found Heaven on earth/You are my last, my first/And then I hear this voice inside/Ave Maria"
Couples who want their wedding day to be infused with classical songs that their guests will recognize and love can opt for "Ave Maria."
"Wedding March," Felix Mendelssohn
Typically performed without vocals, the "Wedding March" is the song for walking down the aisle. It doesn't get more classic than that.
"Bridal Chorus," Richard Wagner
You can't hear this song and not think "here comes the bride", though it's usually played without singing. It's forever a classic wedding song and a great bride entrance song choice.
"Just the Way You Are," Bruno Mars
Lyrics you'll love: "When I see your face/There's not a thing that I would change/'Cause you're amazing/Just the way you are/And when you smile/The whole world stops and stares for a while/'Cause, girl, you're amazing/Just the way you are"
Sweet and upbeat, this song is a winner. Also, fun fact: It was Paris Hilton's first dance song.
"How Deep Is Your Love," Bee Gees
Lyrics you'll love: "I believe in you/You know the door to my very soul/You're the light in my deepest, darkest hour/You're my savior when I fall"
Add this to the list of most romantic wedding songs of all time. You can't go wrong with this Bee Gees hit.
"Happy Together," The Turtles
Lyrics you'll love: "I can't see me lovin' nobody but you/For all my life/When you're with me, baby the skies/l'll be blue/For all my life"
Consider this a lovely option for your big exit once you've officially become a married couple and happily together.
"Clair de Lune, L.32" Claude Debussy
There's no doubt about it: Debussy's "Clair de Lune" sets the scene for love. Whether it's for the wedding ceremony or reception, it's a piano wedding song you won't regret having on your special day.
"You're Still the One," Shania Twain
Lyrics you'll love: "You're still the one I run to/The one that I belong to/You're still the one I want for life/You're still the one that I love/The only one I dream of/You're still the one I kiss goodnight"
This Shania Twain soulful love song is beautiful as a piano cover. It's perfect for your first dance with the person you've chosen to be The One.
"A Moment Like This," Kelly Clarkson
Lyrics you'll love: "A moment like this/Some people wait a lifetime for a moment like this/Some people search forever for that one special kiss/Oh, I can't believe it's happening to me/Some people wait a lifetime for a moment like this"
For a moment as dream-like and special as your first dance as a married couple, we can't think of a more fitting piano wedding song.