16 Romantic Christmas Wedding Songs You'll Want to Play on Repeat
If you're getting married during the month of December, it's the perfect time to add a few Christmas wedding songs to your playlist. Get started with these romantic, festive tunes.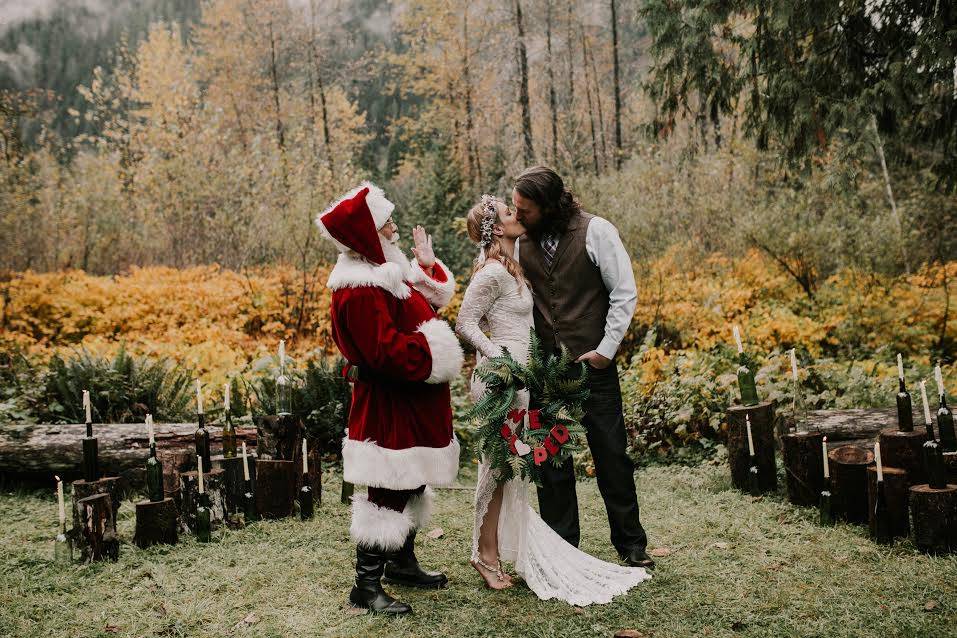 Christmas is an incredibly romantic time of the year to get married (it's not called the season of love for nothing!). If you're having a December wedding, the magic of the holiday season will only add to the excitement surrounding your big day, but a playlist of Christmas wedding songs will be the icing on top. Luckily, there are plenty of romantic Christmas songs about love that will complement your wedding ceremony, cocktail hour, and reception. One piece of advice? To keep things balanced, we recommend playing a mix of Christmas and non-Christmas songs at your wedding—your DJ or band leader will be able to help you find the right mix. In the meantime, here are our must-play tunes for any Christmas wedding theme or winter wedding during the holiday season.
Classic Christmas Wedding Songs
Love the golden oldies? These beloved, timeless Christmas songs will appeal to wedding guests young and old.
"I've Got My Love to Keep Me Warm" by Ella Fitzgerald
With its jazzy melody, this Christmas wedding song would be a good tune to play in the background during your cocktail hour or dinner. The lyrics are all about getting stuck in a winter storm but not being bothered by it at all, because you're with the one you love.
"You Make It Feel Like Christmas" by Neil Diamond
Classic rock fans will appreciate this slow and romantic song. While it's not one of the most famous Christmas wedding songs, we think it's a hidden gem, especially for your first dance. If you've been with your partner for a long time, you'll definitely relate to the lyrics: "When people ask how we stay together / I say you never let me down / And you make it feel like Christmas / Even when things go wrong / I hear the sound of Christmas in your song / All year long."
"The Christmas Song (Merry Christmas to You)" by Nat King Cole
It wouldn't be a Christmas wedding song playlist without the most famous Christmas song of all time. We'd suggest playing this for your first dance, cake cutting, or as the last song of the reception.
"A Christmas to Remember" by Kenny Rogers & Dolly Parton
This classic country duet is filled with playful lyrics that are all about falling in love. It's a sweet choice for twirling around on the dance floor and getting all of the other couples out of their seats.
"Christmas Through Your Eyes" by Gloria Estefan
If you're looking for Christmas wedding songs you can use for a parent dance, "Christmas Through Your Eyes" is a perfect pick. With the lyrics, "Til I had you I didn't know / That I was missing out / Had to grow up and see the world / Through different shades of doubt / Give me one more chance to dream again / One more chance to feel again / Through your young heart," this song is a thoughtful choice for a mother-son dance or father-daughter dance.
"Kissin' by the Mistletoe" by Aretha Franklin
You'll put a smile on everyone's face with this happy Christmas song by the Queen of Soul. Play "Kissin' by the Mistletoe" for your first dance, ceremony recessional, or cake cutting.
"Baby It's Cold Outside" by Dean Martin
Here's another famous Christmas wedding song we couldn't resist including. You can use this song at any point during your reception, like the cocktail hour, bouquet toss, or anniversary dance—and if you prefer a more modern version, there are dozens of different covers to choose from.
Modern Christmas Wedding Songs
Round out your holiday wedding playlist with these romantic Christmas songs from the '90s, 2000s, and 2010s.
"Have Yourself a Merry Little Christmas" by Luther Vandross
Slow down the pace during your reception with this soulful rendition of "Have Yourself a Merry Little Christmas." Guests will enjoy slow dancing or singing along to this classic Christmas tune—the lyrics, "Faithful friends who are dear to us / Gather near to us, once more / Through the years / We all will be together / If the fates allow," are especially fitting for 2020.
"All My Christmases" by Jillian Edwards
If you haven't heard this song before, we highly recommend giving it a listen! This acoustic pop song was made for a Christmas wedding, and we think it's a perfect choice for your ceremony processional or reception entrance. The lyrics are all about the joy of finding someone to spend the rest of your life (and holidays) with: "There will be days / There will be cold... / There will be times when we won't know... / What life will throw, but / I'll be beside you / Every Christmas from now on / I'll be here, by your side."
"This Christmas" by Mary J. Blige
We love Mary J. Blige's version of this iconic feel-good Christmas song, and we're pretty sure your guests will be dancing and singing along in no time.
"You Make It Feel Like Christmas" by Gwen Stefani ft. Blake Shelton
No, we didn't accidentally include this song on our list twice! Gwen Stefani's duet with Blake Shelton may share a name with the Neil Diamond song we mentioned earlier, but this duet is much more upbeat and lively. Plus, this newly-engaged couple are even cuter when they're singing together.
"Merry Christmas, Happy Holidays" by *NSYNC
This is one of the best Christmas wedding songs to get the party started. Consider playing it during your wedding party entrance or anytime you want to encourage guests to get onto the dance floor. If you're getting married right after Christmas or on New Year's Eve, we think you'll also love "Kiss Me at Midnight" from the same *NSYNC holiday album.
"Underneath the Tree" by Kelly Clarkson
It's impossible not to want to dance to this song! We love the recorded version, but we also think it would sound incredible performed by a live band at your wedding reception.
"Like It's Christmas" by The Jonas Brothers
This cheerful Jo Bros song is a great choice for your wedding processional, cocktail hour, or an upbeat first dance.
"Christmas Isn't Christmas" by Dan + Shay
Whether you're lucky enough to be celebrating together or you're spending the holidays apart, this Dan + Shay Christmas wedding song is all about being thankful for your spouse and your loved ones.
"All I Want for Christmas Is You" by Mariah Carey
Last but definitely not least, don't forget to add this crowd favorite to your wedding playlist—and be prepared for a packed dance floor sing-along!