The 62 Upbeat Wedding Songs That Will Get the Party Started
Your union is a joyful event, so be sure to play lots of upbeat wedding songs to add to that happy mood. Here are a few of our favorites.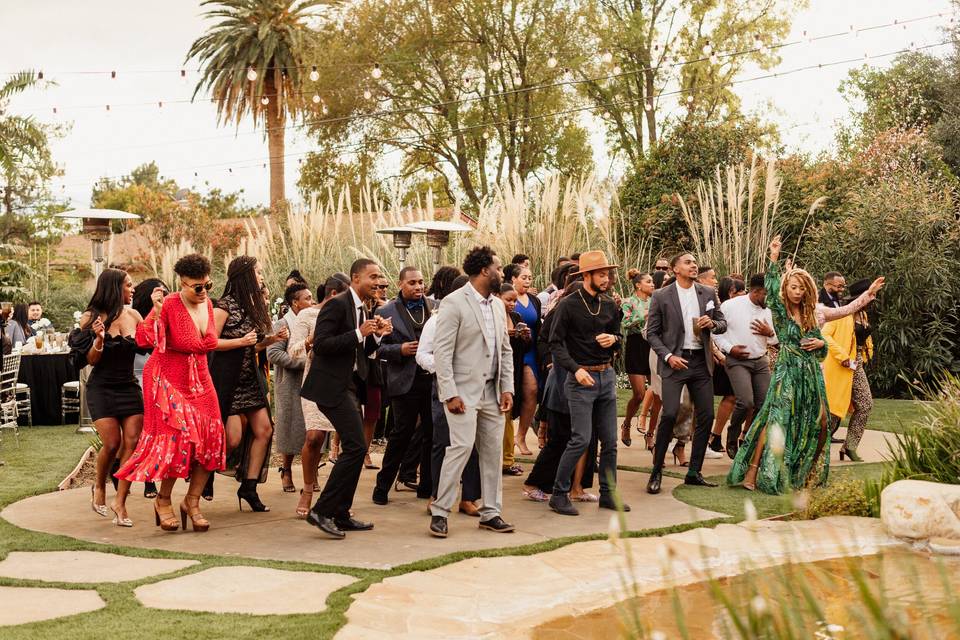 If you've booked your band or DJ for your reception, you're likely thinking about your wedding playlist. You'll need slower songs for your first dance, father-daughter dance or mother-son dance, but you'll also want to get everyone else up out of their chairs. Playing upbeat songs during your reception is a surefire way to get guests to dance the night away. From classic favorites to hot new tracks, a playlist filled with high-energy, upbeat songs will help kickstart the party. So, if you're looking for a killer lineup to get everyone dancing on your big day, check out this roundup of feel-good, groove-worthy songs.
Your guests are sure to crowd the dance floor when you play these upbeat songs at your wedding.
Upbeat Love Songs
You can still have a sweet and sentimental moment while jamming out to an upbeat song. Here are a few of our favorite picks.
"P.Y.T. (Pretty Young Thing)" by Michael Jackson
This Michael Jackson classic will get everyone up out of their chairs right away.
"Adore You" by Harry Styles
This modern tune has an extremely catchy beat that your guests won't be able to resist. Plus, the lyrics are super sweet.
"Somebody Loves You" by Betty Who
There is nothing more romantic than pop icon Betty Who singing about love.
"The Fighter" by Keith Urban and Carrie Underwood
"The Fighter" might just be the quintessential upbeat love song. In this popular country duet, Urban and Underwood promise to protect each other.
"I Like Me Better" by Lauv
This cute song says exactly what you want to say to your partner: that you're the best version of yourself with them.
"I Only Wanna Be With You" Hootie & The Blowfish
This '90s throwback will bring out your parents, their friends and your friends. Plus, the lyrics are adorable.
"Crazy Little Thing" by Queen
Everyone knows the words to this classic upbeat love song. It's a great song to swing dance to.
"Sucker" by Jonas Brothers
The Jonas Brothers returned from their hiatus with this smash hit, which will get everyone out of their chairs.
"A Good Night" by John Legend featuring BloodPop
Set the tone for the night by playing this feel-good jam by John Legend.
"Hey Leonardo (She Likes Me For Me) by Blessid Union of the Souls
If you or your partner love a grunge throwback, this tune is the perfect choice.
"We Found Love" by Rihanna featuring Calvin Harris
Rihanna's vocals and Calvin Harris's beat make this dance song a perfect track to play during your reception.
"Brown Eyed Girl" by Van Morrison
Whether you have brown eyes or not, Van Morrison's "Brown Eyed Girl" is a classic upbeat love song to play to get the party started.
"You're the One That I Want" by Olivia Newton-John and John Travolta
Whether you're a movie-musical buff or just want to play an upbeat wedding song with some nostalgic flair, this song from Grease should definitely find a spot on your playlist.
"Kiss" by Prince
Throwback songs are always favorites during wedding receptions, and this upbeat song is a fun choice to keep the party going.
Upbeat Wedding Entrance Songs
Start your reception off right by choosing an upbeat wedding entrance song that'll get the whole crowd excited to dance.
"Marry You" by Bruno Mars
When it comes to upbeat wedding entrance songs, this one's a no-brainer. With its infectious beat, catchy melody and timely lyrics, "Marry You" will make everyone at your wedding smile.
"Everybody (Backstreet's Back)" by Backstreet Boys
You and your besties will definitely get up and dance together as soon as this '90s throwback comes on.
"Ain't No Mountain High Enough" by Marvin Gaye
This classic tune has a sweet and sentimental message and a beat that's easy to groove to.
"I Believe In a Thing Called Love" by The Darkness
Calling all rock fans. "I Believe In a Thing Called Love" will create the most epic wedding entrance of all time.
"I Want Crazy" by Hunter Hayes
This country song has sweet lyrics (like "Love don't know what distance is") and an infectious rhythm that will get everyone ready to party.
"Feel So Close to You" by Calvin Harris
Get the party started with this upbeat wedding entrance song.
"You Sexy Thing" by Hot Chocolate
Looking for a song that's both silly and sweet? "You Sexy Thing" is perfect for you.
"Cheerleader" by Omi
For couples searching for a more unique pick, consider "Cheerleader"
"Love On Top" by Beyonce
Who better than Queen Bey to get the party started? Plus, the lyrics of the song are perfect for newlyweds.
"Wagon Wheel" by Darius Rucker
This classic country tune will draw in wedding guests of all ages.
"All I Do Is Win" by DJ Khalid featuring T-Pain, Ludacris, Snoop Dogg & Rick Ross
Make everyone smile by walking into your reception to the tune of "All I Do Is Win."
Upbeat Wedding Recessional Songs
You just said yes! Time to play the perfect song to capture the moment. Here are 10 of our favorite upbeat wedding recessional songs.
"You Make My Dreams Come True" by Daryl Hall & John Oates
We love this lively and upbeat song, which appeals to wedding guests of all ages. The Hall & Oates tune has been featured in many a rom-com, including The Wedding Singer and (500) Days of Summer, so it's definitely a favorite for many.
"ABC" by The Jackson 5
"ABC" is easy and fun to sing along to, so your guests will have no problem joining in the fun.
"Signed, Sealed, Delivered (I'm Yours)" by Stevie Wonder
You made it official! "Signed, Sealed, Delivered" is the perfect song to celebrate that.
"Dog Days Are Over" by Florence + The Machine
For a unique upbeat wedding recessional song, consider "Dog Days Are Over." The infectious beat captures the excitement you'll be feeling perfectly.
"You Shook Me All Night Long" by AC/DC
Have the most epic wedding recessional ever by blasting "You Shook Me All Night Long" as you head down the aisle together.
"(Your Love Keeps Lifting Me) Higher and Higher" by Jackie Wilson
This sweet tune will make guests of all ages smile.
"Home" by Edward Sharpe and the Magnetic Zeros
The lyrics "Home is wherever I'm with you" sum up your relationship in a lovely way.
"God Only Knows" by The Beach Boys
The refrain of this song ("God only knows/What I'd be without you") is a sweet way to capture your love.
"A Sky Full of Stars" by Coldplay
This pretty dance song will make you feel like your wedding is straight out of a movie.
"Happy" by Pharrell Williams
Capture just how happy you are to be married by playing this feel-good tune.
Upbeat Wedding Exit Songs
This is it: the grand finale. Choose an upbeat wedding exit song from this list of epic tunes.
"Bigger Love" by John Legend
Legend released this song during the coronavirus pandemic to remind everyone just how powerful love really is. With its heavy beat and happy lyrics, it's perfect for your final wedding moment.
"September" by Earth, Wind and Fire
As soon as the lyrics "Do you remember?" come on, it will be hard for you or your guests to sit still during this soulful track.
"Don't You (Forget About Me)" by Simple Minds
End your festivities with this iconic tune from The Breakfast Club. Fist pump optional but encouraged.
"Got to Be Real" by Cheryl Lynn
This groovy tune will get everyone up and clapping as you and your partner dance off into the night.
"Lovin' On You" by Luke Combs
In this fast-paced country song, Combs describes all the ways he can't get enough of his partner.
"Freedom" by Kygo
Searching for an unexpected song? Try out "Freedom" by Kygo, which will create the most epic wedding farewell.
"Follow You Down" by Gin Blossoms
After hearing the opening chords to "Follow You Down," everyone will recognize this classic rock tune.
"What a Man Gotta Do" by Jonas Brothers
"What a Man Gotta Do" has the perfect balance of old-school vibes with modern sound. Plus, the lyrics are super sweet.
"Don't Take the Money" by Bleachers
With lyrics right, "You steal the air out of my lungs/You make me feel it," this cute alternative rock song will capture the joy of your wedding.
Upbeat Wedding Reception Songs
One of the best parts of your wedding will be jamming out with friends and family. Get everyone out on the dance floor with these catchy upbeat wedding reception songs.
"I Wanna Dance With Somebody" by Whitney Houston
Seriously though, who wouldn't want to grab a dance partner once they hear this classic song?
"Can't Stop The Feeling" by Justin Timberlake
Justin Timberlake kills it every time when it comes to pumping up the crowd—especially with this feel-good party song.
"Cupid Shuffle" by Cupid
What's better than a song that spells out the steps of a dance? "Cupid Shuffle" will get everyone up and moving.
"Don't Stop Believin'" by Journey
Cue the lip synching and air guitar. Journey's classic rock song is an upbeat song for all ages.
"Rain on Me" by Lady Gaga and Ariana Grande
We dare anyone to sit still while this dance anthem plays on the speakers.
"Take It From Me" by Jordan Davis
This infectious country tune will have everyone rocking on the dance floor.
"Boo'd Up" by Ella Mai
You just married your boo! Celebrate with Ella Mai's catchy R&B tune.
"Shut Up and Dance" by WALK THE MOON
"Shut Up and Dance" basically tells your guests (in a nice way, of course) to get out on the dance floor.
"Say So" by Doja Cat
Time for your guests to show off their TikTok dance skills. This viral hit is easy to dance and sing along to.
"Taki Taki" by DJ Snake featuring Selena Gomez, Ozuna & Cardi B
This super-sultry party song is ideal for either late-night or the after-party. We love the song's Latin flavor too—it's sure to draw your guests to the dance floor.
"No Such Thing as a Broken Heart" by Old Dominion
These sweet lyrics remind you to love with everything they have—the perfect message for your wedding night.
"(I've Had) The Time Of My Life" by Bill Medley and Jennifer Warnes
Calling all Dirty Dancing fans. This upbeat song will make your guests dance like Swayze.
"Closer" by The Chainsmokers featuring Halsey
This popular hit by The Chainsmokers and Halsey is a surefire way to get guests on the dance floor. Why? Because everyone knows the words to it.
"Lost in Japan" by Shawn Mendes
If you're a Justin Timberlake fan, you'll love the smooth vocal stylings of Shawn Mendes in this upbeat song. It's a tune that will definitely be frequently played at 2020 weddings.
"Come on Eileen" by Dexy's Midnight Runners
There's nothing better than a wedding singalong. This is a popular choice if you want your guests to belt out some fun lyrics while jumping around the dance floor.
"Sugar" by Maroon 5
Sweet lyrics mixed with a feel-good beat makes "Sugar" a fool-proof pick for your wedding reception playlist.
"Crazy in Love" by Beyonce featuring Jay-Z
Beyonce and Jay-Z are relationship goals, so prepare to watch your guests do their best Bey and Jay impressions on the dance floor when your DJ or band play this upbeat song.
"Uptown Funk" by Bruno Mars
It's literally impossible to resist dancing when "Upbeat Funk" starts to play. The old-school vibe will have everyone jamming out.