12 Best Spanish Father-Daughter Dance Songs to Dance to at Your Wedding
Whether you're looking for an old classic or a newer hit, there are plenty of Spanish father-daughter dance songs to choose from.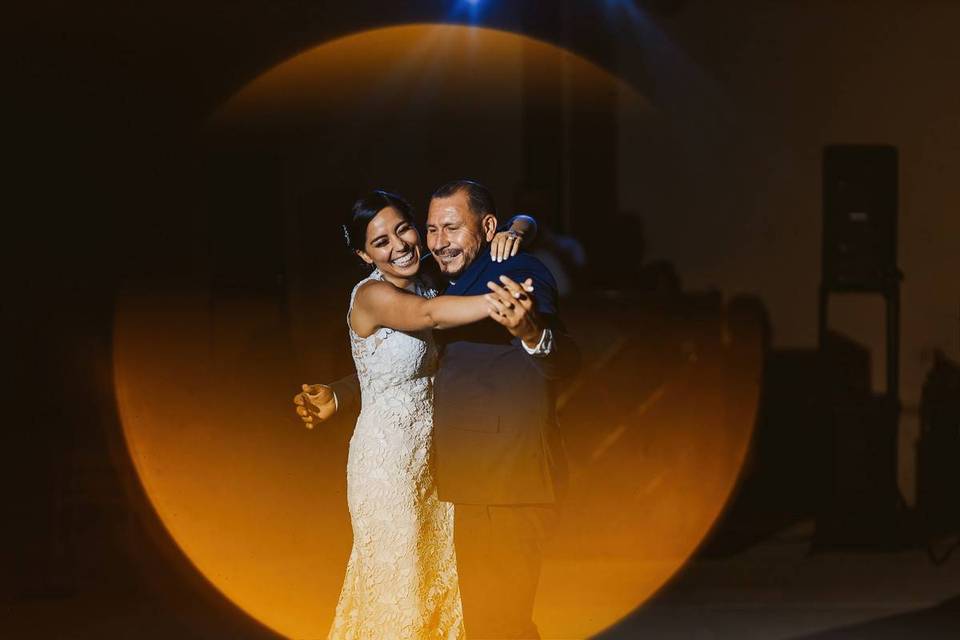 Whether you're of Spanish or Latina heritage or not, it's no surprise if you're a big fan of the swoon-worthy and passion-fueled lyrics and rhythmic and bouncing beats that accompany Spanish songs—especially those that evoke certain emotions. That's why some of the most popular songs for weddings fall under the category of Spanish music.
So if you're looking for the perfect song for your father-daughter dance and are hoping that it carries some eclectic Spanish flair, you're in luck. There's certainly no shortage of Spanish father-daughter dance songs that beautifully capture the pure, boundless and ever-lasting bond between a father and his daughter, and would make the most fitting song for you two to dance to on what is sure to be one of the most memorable days of your life.
Here, we're sharing a list of some of the most beloved Spanish father-daughter songs, both old and new, to dance to with your dad at your wedding.
"Hija" by Abraham Valezquez
There are few father-daughter songs more perfect than this one, seeing as it talks about a father walking his daughter down the aisle into the arms of the love of her life. Some of the lyrics like, "ya no eres una niña," which translates to "you're not a girl anymore" are quite literally tear jerkers!
"Tu Guardian" by Juanes
This peaceful and slow-moving song, which translates to "your guardian," carries listeners through the singer's experience of loving and protecting his daughter for her entire lifetime and beyond, whether she's nearby or far away.
"De Niña A Mujer" by Julio Iglesias
This Spanish father-daughter dance song takes you through the journey of a father and a daughter through the years and captures the closeness of a father and his child and how that soon becomes the closeness of a father and his friend.
"Si Tuviera Que Elegir" by Ricardo Montaner
If you watch this music video, you will clearly see that the lyrics are all about a father reminiscing on the years he spent caring for his daughter and how sad he is about having to give her away. It is so sweet, and so is this beautiful, heartfelt song.
"Yo Primero La Ame" by Martin Tremolada
You might recognize the tune of this song and that's because it's actually the spanish version of the classic father-daughter dance song "I Loved Her First" by Heartland, which talks about how a father is the first love in his daughter's life.
"Hoy Se Casa Mi Niña" by Honorio Flores
The title of this beautiful Spanish father-daughter dance song translates to "Today My Girl Is Getting Married," making it an ideal father-daughter dance song. It's slow, but not too slow, so you can add your own dancing flair to it.
"Hermoso Cariño" by Vicente Fernandez
If you're looking for a Spanish father-daughter dance song that's not too fast, but also not too slow, this beautiful song may be just the ticket. The lyrics describe the deep love that a father holds for his daughter and how she is a true treasure to him in every way. Aww!
"Papa Quiero Decirte" by Lali Torres
While many of the father-daughter dance songs out there are sung by a man, this one is unique in that it is sung by a female singer. From the daughter's perspective, it talks about how everything her father has given her has been given with love and how her father is her hero.
"Stand By Me" by Prince Royce
Here's another song that you might recognize from its English origin. Prince Royce's Spanglish version of Ben E. King's classic "Stand By Me" is just as beautiful and makes the perfect father-daughter song.
"Vals Para Una Novia" by Alejandro Jaén
With an elegant and sophisticated flair, this song talks about what it was like for the father to witness how beautiful his daughter looks in her white dress and how he remembers everything from her first cry to her first steps.
"El Reloj" by Luis Miguel
Though not necessarily a song written about a father and his daughter, it is very fitting for the occasion of a wedding where a father has to "give" his daughter to someone else where she will start a new family.
"Para Tu Amor" by Juanes'
One of the first few lyrics of this song is "Para tu amor que es mi tesoro," which translates to "For your love that is my treasure," which just couldn't be sweeter. It is heartfelt, it is powerful and it is the perfect song to dance to with your father at your wedding.