23 Anniversary Dance Songs to Get Married Guests Out of Their Seats
Get all of the married couples onto the dance floor (and find out who's been married the longest) with these wedding anniversary dance songs.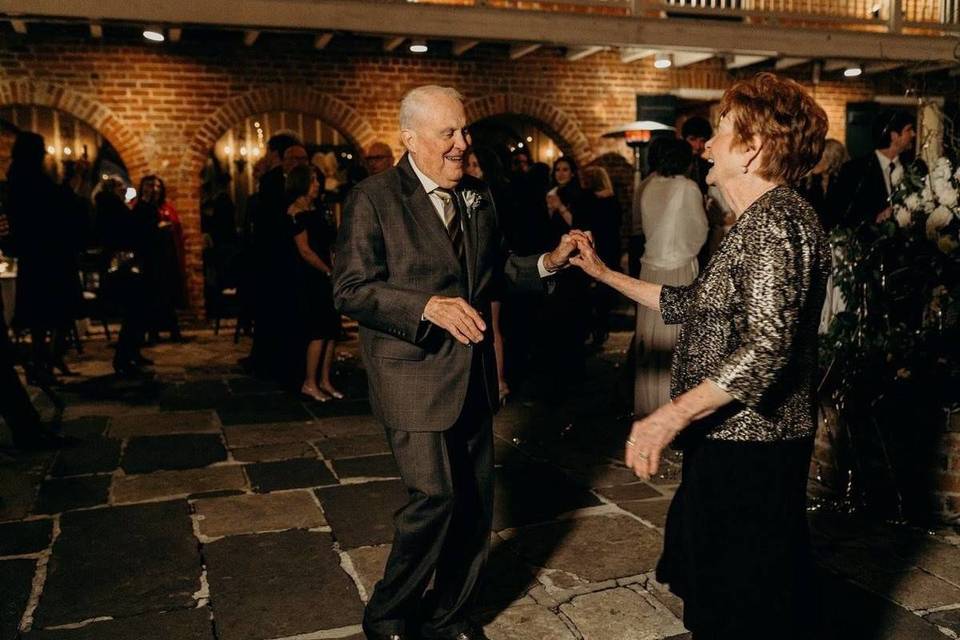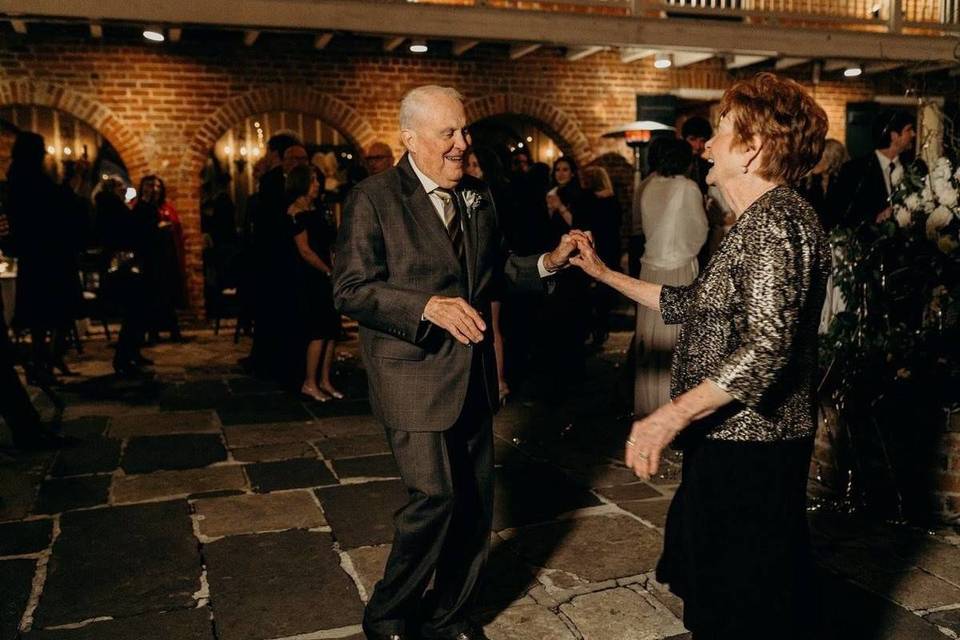 At some point during your reception, usually not long after your first dance and the parent dances, it's a fun tradition to honor all of your married guests by inviting them onto the floor for the anniversary dance song (or songs, if you want!). The point is to spotlight the couples who are already married, whether they're celebrating the one-month mark or have been hitched for decades, and ultimately find out who has been together for the longest amount of time. If you're planning to skip the bouquet and/or garter toss, the anniversary song is a good alternative for getting people onto the dance floor.
Your band leader or wedding DJ will know exactly how to handle this sweet tradition, but a popular way to approach it is by first asking all married couples—including you, the newlyweds—to take the floor. Then, couples are excused by their length of marriage: one month, one year, five years, 10 years, and so on. By the end, you'll see who has been married the longest. It's a touching moment, especially for grandparents or other loved ones as everyone celebrates their marriage.
Ready to share the spotlight at your reception? Here are some of our favorite wedding anniversary dance songs.
"Here We Are" by Gloria Estefan
If you have relatives who grew up or married in the late '80s, this sweet love song is likely to bring back some memories. The lyrics "There's nothing I can do / I'm helpless in your arms / Oh baby what you do / I'm in love, this is it / There's no turning back this time" are perfect for an anniversary dance.
"Can't Help Falling in Love" by Elvis
We don't need to say much about this song—it's a classic. Older generations especially will want to slow dance and sing along to this Elvis tune.
"Boo'd Up" by Ella Mai
If the majority of your married guests are on the younger side, you can use a more recent song for your anniversary dance. This one brings all the positive, romantic vibes to the dance floor.
"Wonderful Tonight" by Eric Clapton
This wedding anniversary song is one of the best options for slow dancing (or your first dance, for that matter). It also sounds great when performed by a live band.
"How Will I Know" by Whitney Houston
Houston is known for her powerful ballads, but this upbeat '80s tune is so fun to dance to. If you're trying to avoid overplayed wedding songs, skip some of her more famous hits in favor of this one instead.
"Crash Into Me" by Dave Matthews
If your married guests are mostly on the younger side, this DMB song will fit right in for your anniversary dance. Don't be surprised if you see your single millennial guests singing along on the sidelines!
"(I've Had) The Time of My Life" by Bill Medley & Jennifer Warnes
Your coupled-up guests may not be re-creating the iconic lift scene from Dirty Dancing, but we don't think they'll be able to resist sitting in their seats for this song.
"When I Said I Do" by Clint Black
"When I Said I Do" is a guaranteed throwback for old-school country music fans. The lyrics have a universal message about marriage and staying by each other's side through it all: "When I said I do / I meant that I will / 'Til the end of all time / Be faithful and true, devoted to you / That's what I had in mind, when I said I do."
"I Count the Minutes" by Ricky Martin
This is a slightly more upbeat option for your anniversary dance song, making it perfect if you have a lot of guests who love to dance and twirl.
"Back At One" by Brian McKnight
Here's another '90s song that we couldn't resist including in our list. It's a sweet reminder for married couples to always express their love to each other, no matter how long they've been together.
"I Don't Want to Miss a Thing" by Aerosmith
This Aerosmith hit has been one of the most popular first dance songs ever since it was released more than 20 years ago. If any of the married couples on your guest list played it at their wedding, they'll love the sentimental reminder.
"Coming Home" by Leon Bridges
We'll keep it simple: this song is soulful, timeless, and romantic. If you don't use it as your anniversary dance song, consider it as your first dance song instead.
"In Case You Didn't Know" by Brett Young
If you're a country music fan, this one should be at the top of your anniversary dance song list. The lyrics probably speak for a lot of your married guests who might be past that honeymoon phase of constantly spoiling each other: "In case you didn't know / Baby I'm crazy 'bout you / And I would be lying if I said / That I could live this life without you / Even though I don't tell you all the time / You had my heart a long, long time ago / In case you didn't know."
"My Love" by Paul McCartney and Wings
Beatles fans and older married couples will love swaying to this slow-paced song. It's underrated but so worth a listen—Paul wrote the ballad for his wife, Linda.
"You & I (Nobody in the World)" by John Legend
Move over, "All of Me"—this John Legend song is just as romantic. The lyrics are spot-on for an anniversary dance song: "All of the stars, you make them shine like they were ours / Ain't nobody in the world but you and I / You and I / Ain't nobody in the world but you."
"Faithfully" by Journey
Married couples who love classic rock won't be able to resist coming to the dance floor for this anniversary song (chances are, they played it at their wedding too!).
"You Make Loving Fun" by Fleetwood Mac
Any guest who grew up in the '70s will appreciate this Fleetwood Mac hit, which we can always count on as an instant mood-booster. It's the perfect way to remind your married guests what love is all about: having fun.
"(Everything I Do) I Do It for You" by Bryan Adams
This passionate '90s ballad is about lifelong commitment and loving someone else with all your heart. It's one of the most romantic anniversary dance songs, especially if you have a number of couples who have been married for several decades.
"Forever and For Always" by Shania Twain
Slow it down with this classic country hit. "Forever and For Always" is one of our favorite Shania songs, and the slow beat makes it easy for anyone to sway along.
"You've Made Me So Very Happy" by Brenda Holloway
Call your married guests to the dance floor with this soulful Motown song. The lyrics about finding true love are spot on: "I'd spend my whole life with you/'Cause you came and you took control/You touched my very soul/You always showed me that/Loving you was where it's at/You made me so very happy/I'm so glad you came into my life." Brenda Holloway's 1967 version is the original, but covers have been released by many artists over the years, including Blood, Sweat & Tears, Lou Rawls, and Gloria Estefan.
"This Magic Moment" by Jay & The Americans
We couldn't resist adding another 1960s classic to our list of wedding anniversary songs. "This Magic Moment" was originally released by The Drifters, but the faster version by Jay & The Americans is perfect for letting loose on the dance floor. It would be a great choice if you're having a live band perform at your reception!
"The Rest of Our Life" by Tim McGraw & Faith Hill
This country music duo have been married for more than two decades, so we won't hesitate to say that they probably know a thing or two about love. "The Rest of Our Life" is a sentimental song about growing old together, and it might even have your guests shedding a tear or two (happy ones, we promise!). The icing on the cake? It was co-written by Ed Sheeran, king of romantic lyrics.
"You Send Me" by Sam Cooke
Whether you play a recording of this song or ask your live band to cover it, "You Send Me" is guaranteed to get your guests dancing and twirling.