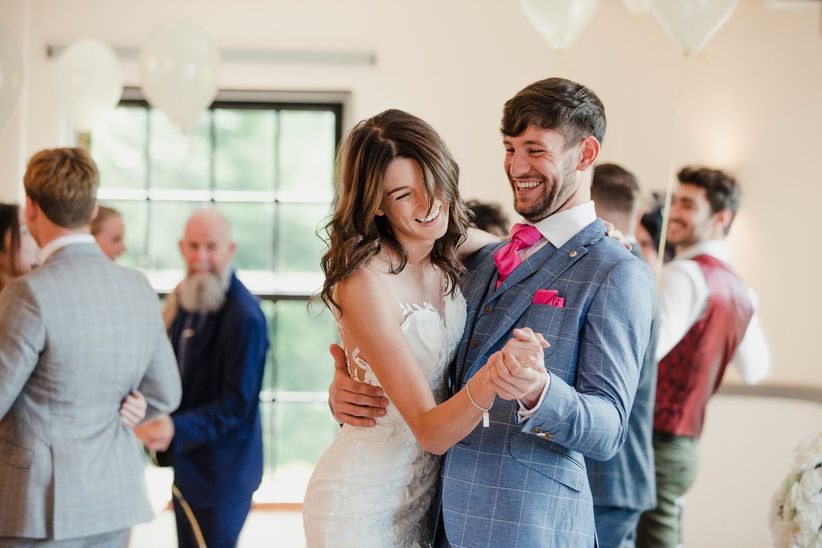 At some point during your reception, usually not long after the first dance and parent dances, it's a fun tradition to honor all of your married guests by inviting them onto the dance floor. These wedding anniversary songs are a great way to spotlight the couples who are already married, whether they're celebrating the one-month mark or have been hitched for decades.
Your band leader or wedding DJ will know exactly how to handle the anniversary dance, but a popular way to approach it is by first asking all married couples (including you, the newlyweds) to take the floor. Then, couples are excused by their length of marriage — one year, five years, 10 years, and so on. By the end, you'll see who has been married the longest. It's a touching moment, for sure!
Get inspired for your own anniversary dance with some of our favorite wedding anniversary songs.
"It Had to Be You" by Harry Connick Jr.
Jazz and swing music fans already know that Harry Connick Jr. is a master when it comes to dance-worthy songs. His cover of "It Had to Be You", originally sung by Frank Sinatra, will have married couples of all ages twirling on the dance floor. We also love the version by Tony Bennett, and the duet between Michael Buble and Barbra Streisand.
"(Everything I Do) I Do It for You" by Bryan Adams
This passionate '90s ballad is about lifelong commitment and loving someone else with all your heart. It's one of the most romantic wedding anniversary songs, especially if your guests inclue a number of couples who have been married for several decades.
"You Make Loving Fun" by Fleetwood Mac
We can always count on this happy Fleetwood Mac tune to get everyone singing and dancing along. It's the perfect way to remind your married guests what love is all about: having fun! The opening lyrics are our favorite: "Sweet wonderful you/You make me happy with the things you do/Oh, can it be so/This feeling follows me wherever I go."
"Forever and for Always" by Shania Twain
Slow it down with this classic country hit. "Forever and For Always" is one of our favorite Shania songs, and the beat makes it easy for anyone to dance to.
"I Was Made for Loving You" by Tori Kelly ft. Ed Sheeran
Not only did Ed Sheeran, King of Romance Songs, contribute his vocals to this acoustic track, but he also wrote all of the lyrics — a surefire sign that it's going to be a hit. Singer-songwriter Tori Kelly takes the lead on this beautiful wedding anniversary dance song.
"You've Made Me So Very Happy" by Brenda Holloway
Call your married guests to the dance floor with this soulful Motown song. The lyrics about finding true love are spot on: "I'd spend my whole life with you/'Cause you came and you took control/You touched my very soul/You always showed me that/Loving you was where it's at/You made me so very happy/I'm so glad you came into my life." Brenda Holloway's 1967 version is the original, but covers have been released by many artists over the years, including Blood, Sweat & Tears, Lou Rawls and Gloria Estefan.
"This Magic Moment" by Jay & The Americans
We couldn't resist adding another 1960s classic to our list of wedding anniversary songs. "This Magic Moment" was originally released by The Drifters, but the faster version by Jay & The Americans is perfect for letting loose on the dance floor. It would be a great choice if you're having a live band perform at your reception!
"Dreamlover" by Mariah Carey
Give your guests all the #throwback feels with 90s-era Mariah. We love this pop/R&B song as a lighthearted, playful choice for your anniversary dance.
"The Rest of Our Life" by Tim McGraw & Faith Hill
This country music duo have been married for more than two decades, so we won't hesitate to say that they probably know a thing or two about love. "The Rest of Our Life" is a sentimental song about growing old together, and it might even have your guests shedding a tear or two (happy ones, we promise!). The icing on the cake? It was co-written by — you guessed it — Ed Sheeran.
"Swept Away" by The Avett Brothers
If you're looking for off-the-radar wedding anniversary songs, this one by The Avett Brothers might do the trick. The folky tune is perfect for a laid-back reception at a rustic or outdoor venue, and the lyrics are quirky-meets-sweet: "Well life is ever changing but I/Can always find a constant and comfort in your love/With your heart my soul is bound/And as we dance I surely know that/Some kinda of heaven will be found."
"Our House" by Crosby, Stills, Nash & Young
Although it's on the slower side, we think this Crosby, Stills, Nash & Young classic makes for a great anniversary dance song choice, even if only for these lyrics: "Life used to be so hard/Now everything is easy 'cause of you."