The Best 2021 First Dance Songs to Kick Off Your Reception Right
The 2021 first dance songs come from a variety of genres—you're sure to find one to suit your style and personality.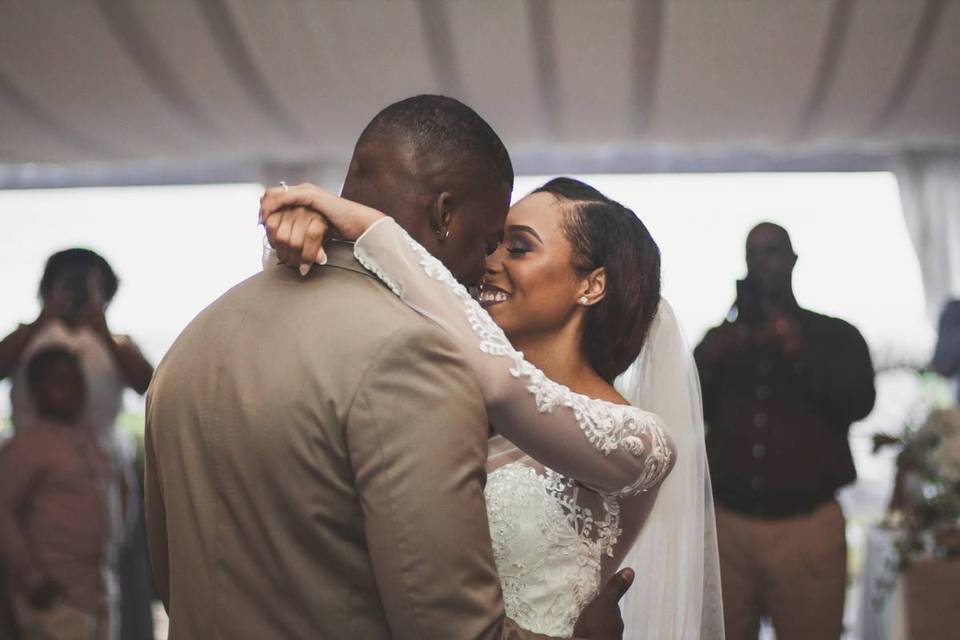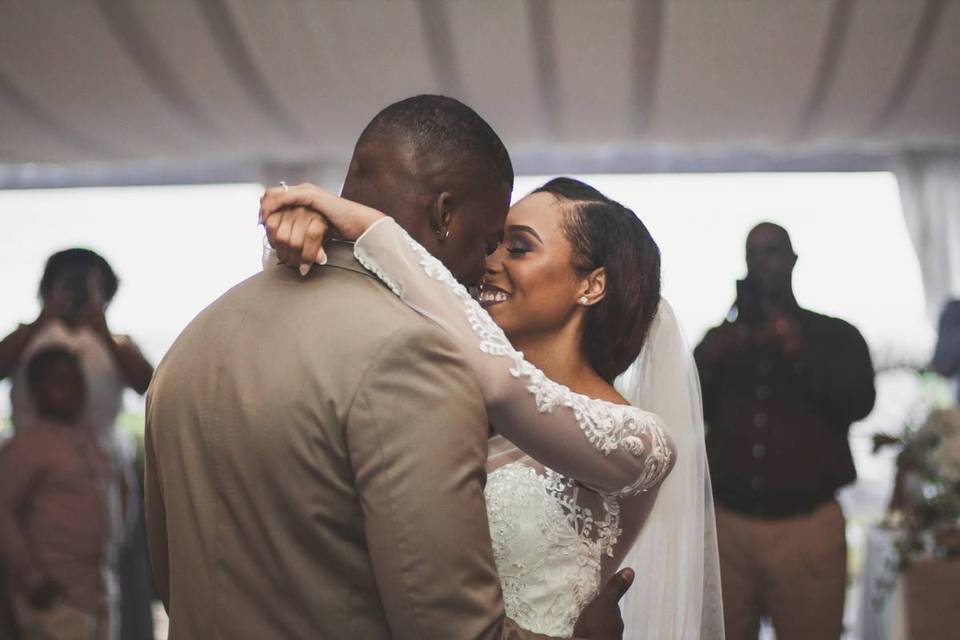 The first dance is a wedding tradition that remains popular—according to a WeddingWire study, 90% of couples performed a first dance at their wedding last year. Couples looking for a contemporary way to start their reception should definitely consider these 2021 first dance songs, as suggested by DJs and music professionals from around the country. The best 2021 first dance songs range from R&B to country, so no matter what your musical taste may be, you're sure to find a tune to suit your style. Check out these DJ-approved 2021 first dance songs and choose your top tune. Note that because so many 2020 weddings were postponed due to the COVID pandemic, expect to see some holdovers from last year on this list.
"Conversations in the Dark" by John Legend
This song has replaced "All of Me" as John Legend's top first dance song—we love its upbeat vibe and sweet lyrics. "This song is everything that a modern love song should be," says DJ D. Jones of Spark Entertainment Group in Chicago. "From the flawless piano rhythms provided by John Legend to the vocals that take you away from everything except the person that you are sharing your first dance with." Adds Shaina Windsor of DJ Lady Shay in Tampa, Florida: "John Legend does it again, creating a song that makes all of us think about our vows to our loved one."
"Anyone" by Justin Bieber
"I love how Justin starts with soft vocals and meaningful lyrics that feel and sound so sincere," says DJ D. Jones. "The build up in the hook and transition to the second upbeat verse will give any couple an opportunity to show off their dancing skills while displaying the love that they have for each other."
"Only You" by Selena Gomez
We're hearing from a lot of DJs that nostalgic songs from the '80s and '90s will be big as 2021 first dance songs. "This is a lovely modern rendition of the debut 1982 single by the British synth pop band Yaz," says Jane Elizabeth of Stylus DJ Entertainment in New York City. "The title says it all." The haunting yet romantic Selena Gomez version was first featured on the Netflix series, 13 Reasons Why.
"Anything for You" by Ledisi feat. PJ Morton
"This duet is absolutely a personal favorite for me—it still gives me goosebumps," says Shaina Windsor. "It was just released in late 2020 and gives you that classic soul/R&B feel with a modern twist."
"Lover (First Dance Remix)" by Taylor Swift
"Everyone loves some T-Swift," says Romin Zandi of Zandi Entertainment in Reston, Virginia. "This song has a very downtempo, easygoing vibe that makes it easy to dance to." Another bonus: Swift came up with a "first dance remix" of this tune that was specifically remixed for weddings. "The remix has a great pace to it, with dynamic sections to twirl and dip your partner," says Rob Ferre of Life of the Party in Salt Lake City, Utah. "This would also be a fun song to invite your guests to join you on the dance floor. After the second chorus she sings: 'Ladies and Gentlemen, will you please stand?' which would be perfect to have your guests join you on the dance floor."
"Crazy Kind of Love" by Tamar Braxton
Again, we're feeling the '80s vibes on this song, which samples Whitney Houston's 1985 "Saving All My Love for You." "Tamar Braxton really did a great job on this one," says Shaina Windsor, "This 2021 first dance song has great soulful vibe."
"New Love Cassette" by Angel Olsen (Mark Ronson Remix)
"Another great first dance choice with its tender, sweeping tempo—the lyrics are all about being support for a loved one," says Mona Dehghan of Mon Amie Events in Brooklyn, New York. She specifically calls out the lyrics: "When you're out of touch and you don't know how, Gonna give you my hands, gonna show you now, Gonna show you love all of the time, Gonna be your breath when you're out of life"
"Beyond" by Leon Bridges
R&B fans will love the smooth vocals and romantic lyrics on this track. "This song is a tasteful choice for a first dance," says James Thomas of Peach & Gold in Culver City, California. "The lyrics detail the excitement of discovering true love, and Bridges' musical style will please friends, parents and grandparents alike."
"Consider Me" by Allen Stone
We love this new tune from this quirky soul singer—the lyrics are perfect for a first dance, and it has a great beat for dancing. In fact, the music video illustrates how amazing this song is to play at a wedding. We also like it to play during your ceremony, as a unique processional or recessional song.
"Mi Persona Favorita" by Alejandro Sanz and Camila Cabello
You're marrying your favorite person—why not express that through song! We love how this Latin 2021 first dance song isn't super slow so you and your partner can show off your dancing skills.
"Better Together" by Luke Combs
If you're looking for a 2021 country first dance song, look no further than this Luke Combs tune. "This song may definitely be the top first dance song of 2021," says Jesse Palencia of DJ Persist in Chicago. "The lyrics are so fitting for the occasion." If you'd prefer another Luke Combs tune, Shaina Windsor also recommends "Forever After All."
"I Am Yours" by Andy Grammer
This is a personal favorite of the editors here at WeddingWire—and it's definitely growing in popularity as a 2021 first dance song. What could be more special than Grammer crooning "I am yours, I am yours, I am yours" while you take a turn on the dance floor.
"Yours" by Russell Dickerson
Sometimes a song that's a few years old experiences a reemergence, and that's definitely the case with this 2021 country first dance song. Says Fred Tian of MixPro Events in Marietta, Georgia. "This song has been on the radio since April of 2017, but since Russell Dickerson is new to the country scene, it has really picked up as a popular first dance song choice by couples recently."
"Homesick (First Dance Version)" by Kane Brown
Kane Brown's "Good As You" was a popular first dance song in 2019, and we expect this newer song to hit in big in 2021. We love that Brown released a first dance remix of this song. "For those who love country ballads, this is a great song by Kane Brown that has that country flavor," says Rob Ferre. "He weaves a tale that connects couples for their longing to be together. For couples that have been planning their wedding from long distance, this fits perfectly into that narrative."