The 20 Best Country First Dance Songs of All Time
Want to add a little twang to your special day? Your first dance can be extra memorable if you choose to play one of these country first dance songs.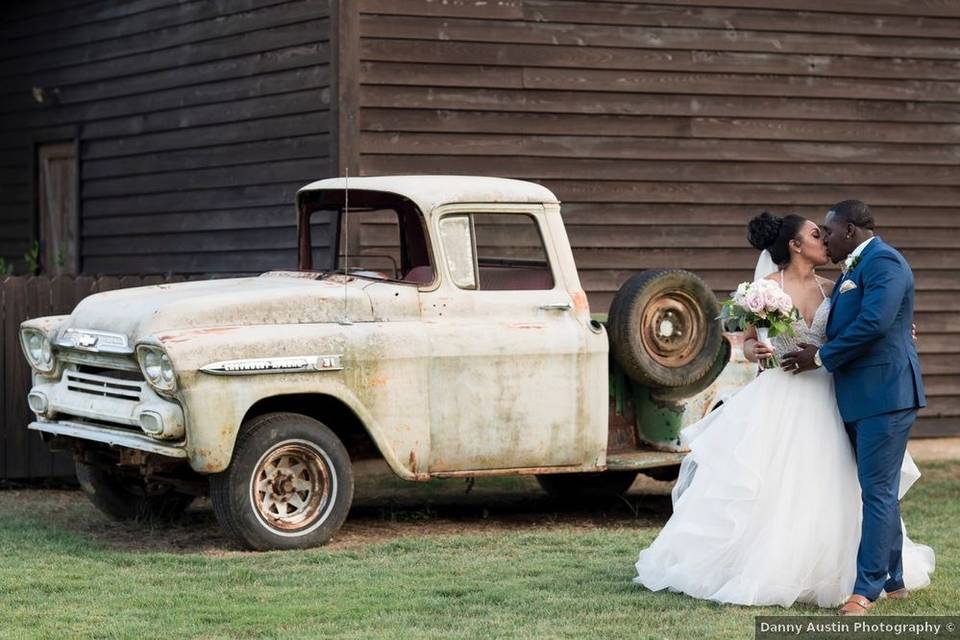 Couples who are planning their reception music and have an obsession with Nashville artists like Brad Paisley, George Strait, and Kacey Musgraves, should consider these country first dance songs. Country music is known for having a feel-good, laid-back vibe, which makes it a great genre to play at weddings—especially during the first dance! So, if you and your future spouse have been trying to find a love song to dance to at your wedding, we've got you covered.
These country first dance songs are filled with sweet lyrics, twangy guitars, and romantic vocals.
"Then" by Brad Paisley
Looking for a tear-worthy country first dance song? Brad Paisley's song about how much his love has grown for his partner is a fabulous choice.
"I Don't Dance" by Lee Brice
If your future spouse isn't a big dancer, then we think you'll love this country first dance song.
"Come a Little Closer" by Dierks Bentley
Dierks Bentley's ballad is made for couples wanting to dance to a sultry number.
"Making Memories of Us" by Keith Urban
With sweet lyrics, like "I'm going to love you like nobody loves you / And I'll earn your trust making memories of us," Keith Urban's 2005 love song will definitely give your guests goosebumps.
"Butterflies" by Kacey Musgraves
Kacey Musgraves' 2019 Grammy-winning hit is a fab pick for couples wanting to dance to a country song.
"Forever and Ever Amen" by Randy Travis
A classic country love song, Randy Travis' hit is an easy number to dance to and includes sweet lyrics about loving someone forever.
"Cowboy Take Me Away" by The Chicks
With a mid-tempo beat and killer vocals, you can easily spin around the dance floor to this sentimental tune.
"I Cross My Heart" by George Strait
For an old-school country first dance song, George Strait's tune about being in love will definitely pull at your heart strings.
"Crazy Girl" by Eli Young Band
Don't let the title fool you. Eli Young Band's "Crazy Girl" is actually a charming song about loving one's partner unconditionally.
"God Gave Me You" by Blake Shelton
Who doesn't love Blake Shelton? "God Gave Me You" is one of Shelton's top love songs and is a lovely choice for a first dance song with a slower tempo.
"Bless the Broken Road" by Rascal Flatts
Rascal Flatts have a ton of country first dance songs, but the band's cover of "Bless The Broken Road" is definitely our favorite. It features harmonizing vocals paired with a lovely piano and is definitely made for twirling.
"Hey Pretty Girl" by Kip Moore
With the lyrics "Hey Pretty Girl, Can I Have This Dance?" this country hit is another one of our favorite first dance songs.
"You're Still The One" by Shania Twain
Couples who love the '90s should definitely opt for Shania Twain's ultra-romantic country first dance song.
"I Just Call You Mine" by Martina McBride
This mid-tempo country first dance song features an electric guitar and emotion-filled lyrics, making it a great pick for country music fans.
"Love Someone" by Brett Eldredge
Browsing upbeat country first dance songs? We think you'll love Brett Eldredge's faster-paced hit.
"When the Stars Go Blue" by Tim McGraw
With lyrics such as, "Dancin' when the evening fell / Dancin' in your wooden shoes / In a wedding gown," Tim McGraw's cover of this alternative country song is a romantic choice for your first dance.
"Remember When" by Alan Jackson
This slow country throwback features touching lyrics about being in love and will definitely have your guests tearing up throughout your first dance.
"Wanted" by Hunter Hayes
Hunter Hayes' country hit is guaranteed to make your S.O. smile as you two dance the night away together.
"Heaven" by Kane Brown
With a moderately slow tempo, Kane Brown's "Heaven" is great pick for couples wanting to dance to a modern country song.
"Breathe" by Faith Hill
Another one of our favorite '90s country first dance songs, Faith Hill's vocals in this sweet tune will make you and your S.O. swoon.