First Dance Songs Dance Instructors Wish You'd Pick
Having trouble picking a first dance song? Here, dance instructors provide a unique perspective into the tunes that work best.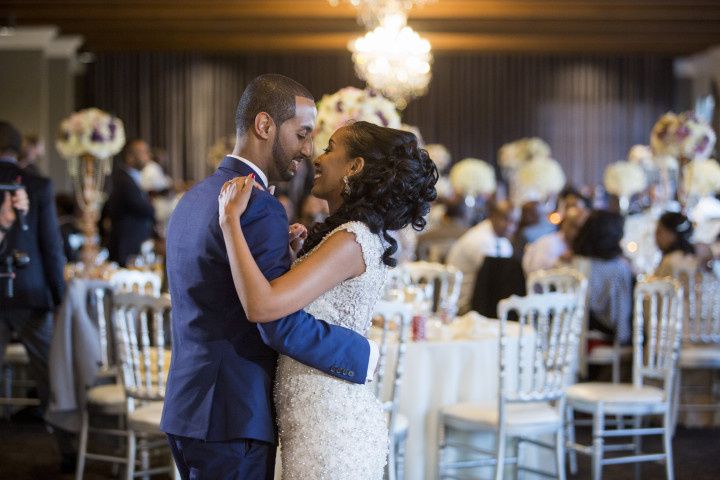 So, you're struggling to pick a first dance song that not only feels personal and meaningful, but is easy to dance to.
We asked dance instructors from around the country to share the first dance songs that they wished more couples would pick (especially if they're dancing newbies), and tell us why.

The Pro: Francis Teri of Dance Fever Studios in Brooklyn, New York
The Song: "(You Don't Know) How Glad I Am" by Nancy Wilson
Why it Rocks: "This song is beautiful, a classic, perfect for a wedding and has a very clear beat which makes it easy for non dancers to dance to."

The Pro: Frank Rende, Jr. of Arthur Murray Studio of New Britain, in New Britain, Connecticut
The Song: "Can't Take My Eyes Off You" by Frankie Valli
Why it Rocks: "This song is upbeat, and most everyone has heard it and knows the words."

The Pro: Nikki A. McElvain of Dance Pizazz in St. Peters, Missouri
The Song: "Grow Old with You" by Adam Sandler from The Wedding Singer
Why it Rocks: "The song is a great rumba, which represents love and passion. It's also very catchy, and predictable with…a clear concise patterns, making it easy for most people to better remember their choreography. Lastly the song leaves a lot of room for acting and fun quirky gestures which makes the dance more enjoyable."

The Pro: Kat Kinnunen of All About Dancing in Arlington, Virginia
The Song: "I Choose You" by Sara Bareilles
Why it Rocks: "I think this song really captures the common saying, 'I'd marry you over and over again,' as well as the importance of actively loving one another every day. The beat is obscure, but there are many fun dance styles to fit it, all you have to do is find the right instructor!"

The Pro: Caitlin Milhimes of First Dance in Littlestown, Pennsylvania
The Song: "Fly Me to the Moon" by Frank Sinatra
Why it Rocks: "These songs have stood the test of time for a reason - they are effortlessly romantic! I once had a groom sing the first half of 'Fly Me to the Moon' to his bride, pick her up, and dance the second half of the song with her—it was elegant, romantic, and an all-around breath of fresh air for the guests!"

The Pro: Delphine Leroux of First Dance Vancouver in Vancouver, British Columbia
The Song: "Can't Help Falling in Love With You" by Elvis Presley
Why it Rocks: "It is a true classic, and its timeless, elegant charm goes straight to the heart."

The Pro: Kathleen Nanni Sullivan of KN Dance in Collingswood, New Jersey
The Song: "Crazy Little Thing Called Love" by Queen
Why it Rocks: "It's unexpected, fun, upbeat with great lyrics! I love it because it's one of those songs you can't help singing and dancing along to. Such a crowd pleaser and wonderful tune to get the party started!"

The Pro: Lucy Fitzgerald of Just Dancing West in St. Peters, Missouri
The Song: "How Sweet It Is (To Be Loved by You)"
Why it Rocks: "It contains such a classic sentiment and it's also extremely danceable! The various versions of the song, by artists such as Marvin Gaye, James Taylor, and Michael Buble, can be great for dancing foxtrot, rumba, West Coast swing, and east coast swing, depending on the couple's style and personalities. The lyrics also make it a fun and appropriate option for parent dances."

The Pro: Diana Daniel of Anchor Dance Studio in Oradell, New Jersey
The Song: "It's Your Love" by Faith Hill and Tim McGraw
Why it Rocks: "I love that this song is a beautiful duet that has romance and love at its core. The tempo of this song is great too. I like that this song is not a perfect foxtrot or rumba. It is a combination of both dance styles, and by tweaking the perfect timings of both the foxtrot and rumba you allow more opportunities to play with the choreography."

The Pro: Susan Palmer of Palmer Dance Studio in Greenville, South Carolina
The Song: "With This Ring" by The Platters
Why it Rocks: "This song has a great 1960's Motown type tempo that is quite catchy…And, at only 2:40, it is not a long song to dance to so even shy or inexperienced couples can get through it and not feel like they will be boring their guests. Finally, East Coast Swing or South Carolina Shag are two of the dances that can be used with it and lends itself nicely to easy or complex footwork."