25 First Dance Songs for Same-Sex Weddings
Check out these ideas for wedding tunes that don't specifically mention men or women but talk about true love in a way that all couples can relate.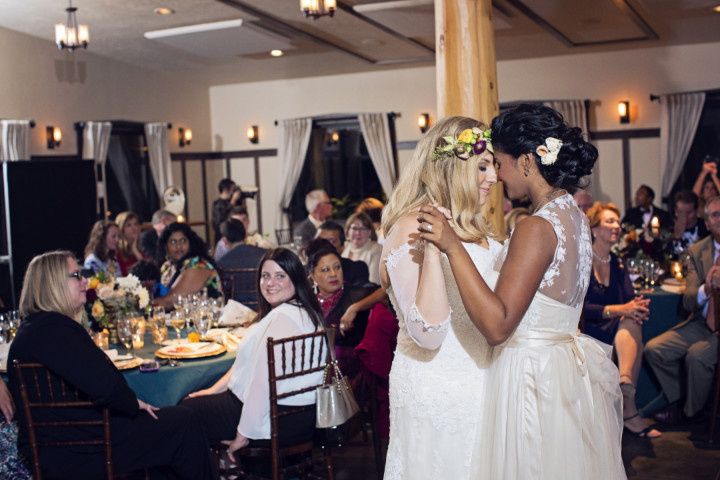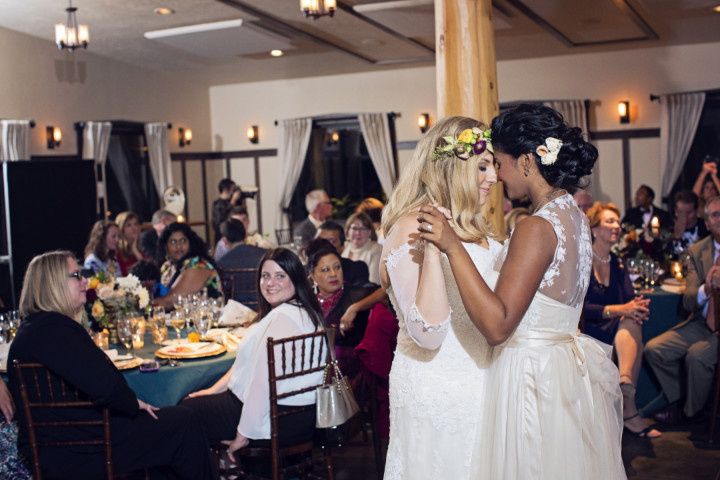 Photo: Willow Noavi Photography
Take it from us, you don't want to leave your wedding music selections to the last minute, especially the all-important first dance song. As a same-sex couple, you're probably looking for gay wedding songs that aren't unnecessarily gendered or are in line with the gender identities of you and your partner. Whether your preference is more for a classic love song, a more modern take on partnership or something in between, you'll find lots of options with this list.


Listen to 25 of our favorite gay wedding songs for first-dance inspiration!
"Stand By Me" by Ben E. King

Slow, sweet and perfect for swaying, this 1961 classic has stayed relevant for decades of couples. As a gay wedding first dance song, it's perfect because epithets like "darling" stand in for gendered pronouns.

"If I Should Fall Behind" by Bruce Springsteen

The Boss is always a good choice for a wedding and this sweet metaphor to life's walk is just right to start a new life together.



"All Mine" by Portishead

You may not be familiar with this indie gem, but it's well-worth the listen as you create your same-sex songs playlist. Sparse words and an intense theme make this ode to undying love great for the first twirl.

"In Your Eyes" by Peter Gabriel

80s kids won't ever forget this song's appearance in the teen drama Say Anything. Others will appreciate the tender message of this timeless love song.


"This Will Be Our Year" by The Zombies

Leave it to 60s British pop to create this impossibly sweet and progressively gender-neutral ode to living your best life, together.


"Perfect Day" by Lou Reed

If there was a synonym to "wedding day" it would most definitely be "perfect day," so enjoy one of the cutest gay wedding first dance songs.


"At Last" by Etta James

Nothing could culminate a long year of (sometimes stressful) wedding planning better than Etta's relieved voice in this wonderfully genderless song. This classic 60s ballad is one of our all-time favorite gay wedding songs.


"Unforgettable" by Nat King Cole

Nat King Cole's rich baritone and jazz accompaniment was practically made for first dances at weddings.


"What a Wonderful World" by Louis Armstrong

This velvety and optimistic song definitely deserves to be in the canon of super great same sex wedding songs.

"You Are the Best Thing" by Ray LaMontagne

Who but gruff and sentimental Ray LaMontagne could deliver such a sweet and inspiring tribute to love? This song's lyrics and melody make it perfect for the first turn around the dance floor as as newly minted newlyweds.


"You are the Sunshine of My Life" by Stevie Wonder

The title of this 70s love song says it all! It's also the perfect message to project to your new spouse, family and friends as you kick off your reception.


"A Thousand Years" by Christina Perri

As wedding songs for gay couples go, this sentimental tune became an instant favorite, especially for two bride couples.


"Stay With You" by John Legend

The perfect lyrics to start off life as a married couple — and to remember when pesky things like filing taxes as a married couple arise!


"Amazed" by Lonestar

This Country music gem is ideal for couples who like a bit of twang with their love anthems.



"I Swear" by All-4-One

After a wedding ceremony full of passionate swears to each other, seal the deal with this tune.


"Because You Loved Me" by Celine Dion

Remembered for being the theme song of Robert Redford and Michelle Pfeiffer's one and only romantic drama together, this soaring Celine ballad is always a good idea.


"It Had to Be You" by Harry Connick Jr.

If it's not going to be Frank Sinatra singing his classic hit, this Harry Connick Jr. cover is just as lovely.


"A Simple Love" by Melissa Etheridge

As an out-and-proud celeb herself, nearly all of Melissa Etherdige's songs have become queer anthems fitting for LGBTQ weddings.


"Everything I Have is Yours" by Billie Holiday

If you're really looking to cue the tears, fire up some Lady Day for your first dance song. Just. Watch. The. Tears. Fall.


"The Luckiest" by Ben Folds

How lucky are you to be celebrating your union with the love of your life? This Ben Folds classic is the musical version of your ecstatic heart.


"I'll Cover You" from the musical Rent

What symbolizes love more than keeping your partner warm? This wistful song from "Rent" describes the lifelong desire to keep your love safe and happy.


"Come Away with Me" by Norah Jones

Norah's light, but strong vocals, along with the jazz piano stylings, make this sweet love song just the right amount sentimental and hopeful.

"That's How Strong My Love Is" by Otis Redding

Frankly, we approve of any opportunity to treat your wedding guests to a bit of Otis Redding. Go for it.

"Sea of Love" by Cat Power

This sweet alternative ode is an unexpected, but gorgeous choice for the first dance.


"Can't Help Falling in Love" by Ingrid Michaelson

Ingrid Michaelson's pop love song ditty is wonderfully sweet and works well for couples of all stripes.