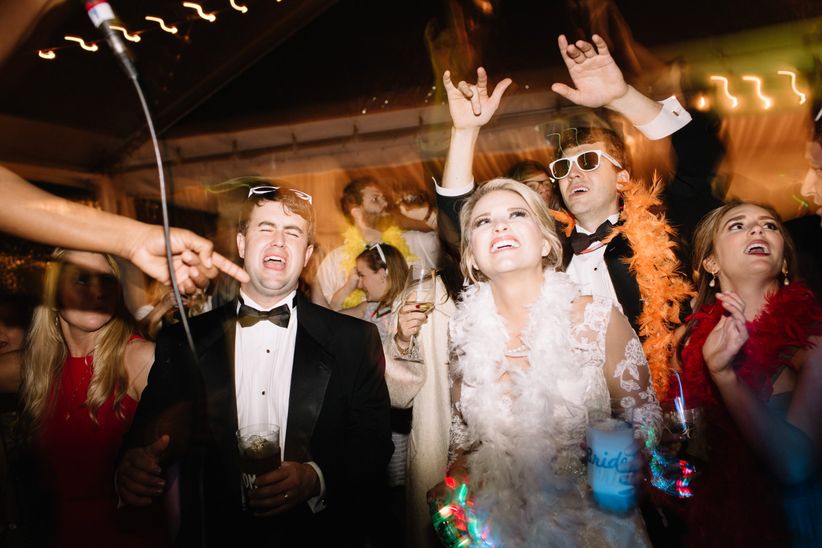 Photo: b. flint photography
There's often a lot of focus on choosing a first dance song, but it's often the last dance wedding songs that your guests will remember the most. Your last dance wedding song will affect how your guests feel when they leave your reception. Do you want them to be energized and ready for the after-party? Or perhaps in a quieter, more romantic mood? The choice is yours (and your bandleader's or DJ's)!


"Take Me Home Tonight" by Eddie Money
"It's that classic 80s song that is often requested and everyone sings along to!" says Matt Martindale of 
Amore' DJ Entertainment, Lighting, Décor and Interactive Photo Booth
 in Colorado.
"The Time (Dirty Bit)" by The Black Eyed Peas
"This song samples lyrics from "I've Had the Time of My Life" from 
Dirty Dancing
. Thematically, the song says everything you want to say in a last dance wedding song, but is still upbeat enough to
get everyone moving
," says Jeffrey M. Hester of 
Music by Design
 in Geneva, Illinois.
"Ho Hey" by The Lumineers
"A step away from the heard-at-every-other-reception closing songs, with a melody and lyrics so sweet it'll feel like honey coating your heart strings," says Julie Leslie of 
Sounds Unlimited
 in Seattle, Washington.
"Last Dance" by Donna Summer
"It starts out slow to give guests one last chance to get close, but one-third of the way into the song it gets going and it's a great classic groove," says Rich Siebert of 
Beach Boyz Entertainment
 in Cuyahoga Falls, Ohio.
"Don't Stop Believin'" by Journey
"It has everything you look for in a last dance wedding song: a slow part, a fast part; it's a timeless, mainstream classic that you can dance to, but more importantly, it's a sing-a-long! There's something about it that
brings people together
, and I can't think of a better time to do that than at the end of the night," says Bryan George of 
Bryan George Music Services
 in Washington, DC.
"It seems to be one of those songs every generation knows and likes to sing. I've never seen so many people hug, jump, and dance too!" says Ryan Girgis of 
DJ Tempoe
 in Long Beach, California.
"No Hay Cama Pa Tanta Gente" by El Gran Combo 
"This is of one of the most popular Latin last dance wedding songs here in the Miami area. Translated, it means 'There are not enough beds for so many people.' In other words, it's time for you to go!" says Jorge Hernandez of 
Vision DJs, Lighting & Photo Booths
 in Fort Lauderdale, Florida.
"We like to do two last dance wedding songs – a slow one so all the older folks feel comfortable dancing to one more meaningful song, followed by a really upbeat fun song. We encourage our clients to pick songs that they love for these two last dance songs. 
However, upon request, we often will recommend songs such as 'All of Me' by John Legend or 'Wonderful Tonight' by Eric Clapton for the slow one and the fast one can really be any fun song from any genre or decade," says Joel Giorgio of Greenbelt DJ Productions in Austin, Texas.

"XO" by Beyonce
"I have seen this song used during this wedding season. It's a great song that breaks away from the traditional last dance wedding songs," says Cedrick W. Harris of 
Big Dreams Entertainment Inc.
 in Chesapeake, Virginia.
"Into the Mystic" by Van Morrison
"If you want to end on a moderately
slow note
, this is one of my all-time favorite songs, and one I end some weddings on," says Bryan Kaylor of 
Bee Entertainment
 in Novi, Michigan.