31 Wedding Last Dance Song Ideas from the Experts
We asked music pros from around the country to share their favorite last dance wedding songs—and share some of our own favorites!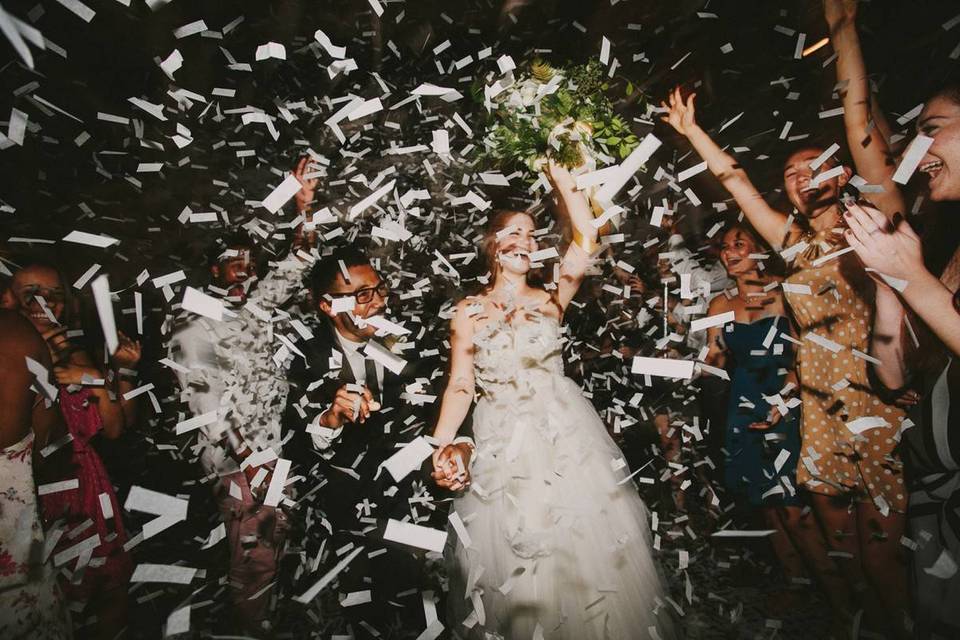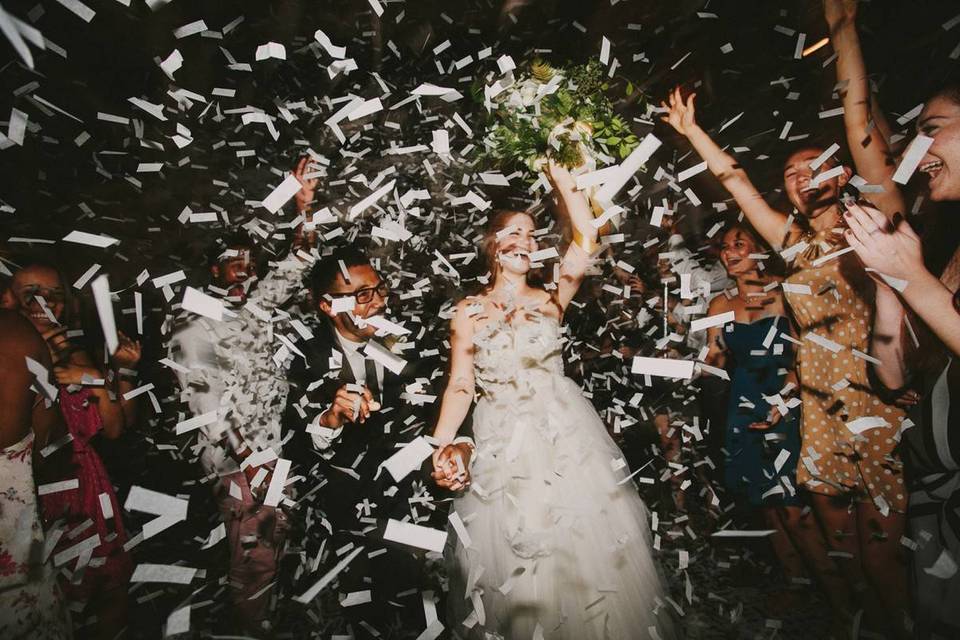 There's often a lot of focus on choosing a first dance song, but it's often the last dance wedding songs that your guests will remember the most. Your last dance wedding song will affect how your guests feel when they leave your reception. Do you want them to be energized and ready for the after-party? Or perhaps in a quieter, more romantic mood? The choice is yours (and your bandleader's or DJ's)!
If you can't decide between all of these fabulous tunes, take a unique twist on the last dance song by choosing two! "We like to do two last dance wedding songs – a slow one so all the older folks feel comfortable dancing to one more meaningful song, followed by a really upbeat fun song. We encourage our clients to pick songs that they love for these two last dance songs. However, upon request, we often will recommend songs such as 'All of Me' by John Legend or 'Wonderful Tonight' by Eric Clapton for the slow one and the fast one can really be any fun song from any genre or decade," says Joel Giorgio of Greenbelt DJ Productions in Austin, Texas.
We picked some of our favorite last dance wedding songs, and ask some music pros for their own personal picks. Give them a listen and start planning your reception playlist.
"Take Me Home Tonight" by Eddie Money
"It's that classic 80s song that is often requested and everyone sings along to!" says Matt Martindale of Amore' DJ Entertainment, Lighting, Décor and Interactive Photo Booth in Colorado.
"The Time (Dirty Bit)" by The Black Eyed Peas
"This song samples lyrics from "I've Had the Time of My Life" by Bill Medley and Jennifer Warnes from Dirty Dancing. Thematically, the song says everything you want to say in a last dance wedding song, but is still upbeat enough to get everyone moving," says Jeffrey M. Hester of Music by Design in Geneva, Illinois.
"Ho Hey" by The Lumineers
"A step away from the heard-at-every-other-reception closing songs, with a melody and lyrics so sweet it'll feel like honey coating your heart strings," says Julie Leslie of Sounds Unlimited in Seattle, Washington.
"Last Dance" by Donna Summer
"It starts out slow to give guests one last chance to get close, but one-third of the way into the song it gets going and it's a great classic groove," says Rich Siebert of Beach Boyz Entertainment in Cuyahoga Falls, Ohio.
"Don't Stop Believin'" by Journey
"It has everything you look for in a last dance wedding song: a slow part, a fast part; it's a timeless, mainstream classic that you can dance to, but more importantly, it's a sing-a-long! There's something about it that brings people together, and I can't think of a better time to do that than at the end of the night," says Bryan George of Bryan George Music Services in Washington, DC.
"It seems to be one of those songs every generation knows and likes to sing. I've never seen so many people hug, jump, and dance too!" says Ryan Girgis of DJ Tempoe in Long Beach, California.
"No Hay Cama Pa Tanta Gente" by El Gran Combo
"This is of one of the most popular Latin last dance wedding songs here in the Miami area. Translated, it means 'There are not enough beds for so many people.' In other words, it's time for you to go!" says Jorge Hernandez of Vision DJs, Lighting & Photo Booths in Fort Lauderdale, Florida.
"XO" by Beyonce
"I have seen this song used during this wedding season. It's a great song that breaks away from the traditional last dance wedding songs," says Cedrick W. Harris of Big Dreams Entertainment Inc. in Chesapeake, Virginia.
"Into the Mystic" by Van Morrison
"If you want to end on a moderately slow note, this is one of my all-time favorite songs, and one I end some weddings on," says Bryan Kaylor of Bee Entertainment in Novi, Michigan.
"Livin' on a Prayer" by Bon Jovi
​One of our favorite party songs also makes a great last dance wedding song. Expect your guests to rush to the dance floor when they hear the opening chords of this song start to play.
"Marry You" by Bruno Mars
This song can be played at various points during the wedding day, but it makes a particularly fun and sweet last dance song.
"What a Wonderful World" by Louis Armstrong
​Looking for a last dance wedding song that appeals to all ages? This song adds a meaningful touch to the close of your wedding reception.
"Stand by Me" by Ben E. King
Your wedding is all about celebrating love—the love between you and your new spouse, of course, but also the love you share with family and friends. The lyrics of this song emphasize that no matter what, your loved ones will be there for you in good times and bad.
"Sweet Caroline" by Neil Diamond
​If you're getting married in the Boston area, this song is a wedding reception must-play. Anywhere else, it's a great singalong song to end the evening.
"At Last" by Etta James
Whether you and your new spouse have been waiting months or years to celebrate your big day, the sentiment of "At Last" is sure to ring true.
"Bohemian Rhapsody" by Queen
Things are bound to get a little silly when this song starts to play. Unlike slower songs, this Queen favorite is sure to get your guests revved for an after-party to come.
"Don't Stop Me Now" by Queen
If the wedding reception leads into an after-party, there's no need to stop the dancing. This song encourages your guests to keep going!
"My Way" by Frank Sinatra
For a more classic wedding, this Frank Sinatra tune is perfect ending to the evening. After all, throughout your wedding planning process, we've encouraged you to do things your way!
"Thinking Out Loud" by Ed Sheeran
​While this song is a popular first dance pick, it also makes a super-sweet last dance wedding song.
"(Good Riddance) Time of Your Life" by Green Day
This song doubles as a thank-you message to your wedding guests: "I hope you've had the time of your life."
​"Save the Last Dance for Me" by Michael Buble
If you and your new spouse want to cut a rug for your last dance, this romantic song is a perfect choice.
​"Never Forget" by Take That
Take a trip back in time (to the '90s) with this Brit Pop hit.
​"You Can't Stop the Beat" from Hairspray
For Broadway buffs, there may be no better last dance wedding song than the finale from Hairspray. Bonus points if you can break out the moves from the show—or the movie.
"Shut Up and Dance" by Walk the Moon
Your guests will love singing and dancing along to this last dance wedding song pick.
"The Way You Look Tonight" by Frank Sinatra
Fans of Father of the Bride will definitely want to consider this Frank Sinatra song for the last dance.
"Closing Time" by Semisonic
​When your guests hear the opening strains of this song, they'll know its time to hit the dance floor for the last song of the evening.
"New York, New York" by Frank Sinatra
Whether you're getting married in NYC or just love a kick line, this last dance song is a surefire hit.
"We Are Family" by Sister Sledge
On your wedding day, you and your new spouse's families will come together as one. Celebrate your united family with this '70s favorite.
"American Pie" by Don McLean
If you don't want the evening to end, this song gives you nearly 9 extra minutes of dance floor time!
"I Don't Want to Miss a Thing" by Aerosmith
Perhaps you're looking for a love song to close out the evening. This Aerosmith song is a sweet goodbye song to say farewell to your loved ones as they depart the reception.
"Let's Get It On" by Marvin Gaye
For couples with a sense of humor, this is a, er, interesting pick for a last dance wedding song!
"All You Need is Love" by The Beatles
​This Beatles classic is a great tune to play as guests are exiting the reception—or as a relaxed last dance song that encourages guests to wrap their arms around each other and sway.