8 Tips to Ace Your Wedding After-Party
These must-know wedding after-party ideas and tips will guarantee you end your wedding day with an epic finale.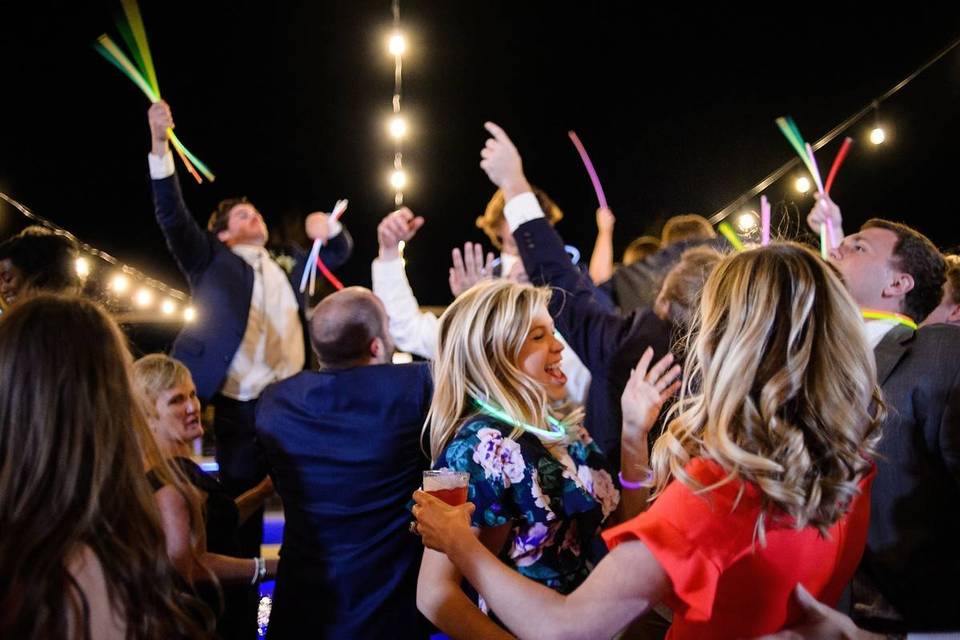 The one tip you'll hear again and again during wedding planning that will turn out to be 100% true? "The entire day will fly by in an instant!" Your big day will be so cram-jammed full of activities, appointments, photo sessions, speeches, hugs and kisses, tears and dancing, it'll be the last dance before you even realize it—even if you've got the reception venue until midnight. If this makes you feel a little bummed (and why wouldn't it—you've only planned your wedding for the past 12-18 months!), consider some wedding after-party ideas. These days, the wedding after-party has become as de rigueur as photo booths and doughnut bars (read: kind of over-the-top but indispensably fun).
Your wedding after-party can be as done-up or low-key as you want, but whether you choose to host it at the hotel pool or a backyard fire pit, there are a few hot wedding after-party ideas you should know to ensure it goes swimmingly… or, bonfire-ing-ly. Here's everything you need to plan the ultimate wedding after-party:
Plan it—even the tiniest bit.
Even if the thought of planning another full-blown party after you just finished planning a wedding makes your head want to explode, you do have to get a few logistics locked down to ensure your wedding after-party is the fun, stress-free get-together you want it to be. After all, even if all you want to do is show up at a bar with 15 loved ones—it's possible the bar will be packed and unable to accommodate you all at 11 p.m., and then what will you all do? A what-do-we-do-now cluster-you-know-what is not the ideal way to end the best day of your life. So, do some legwork ahead of time to make sure you can slide into your post-reception celebration drama-free, either by planning it with the coordinators of your wedding venue (see if they have a less-formal venue, like pool, patio or backyard), calling up your desired bar or club to see if you can book a back room, or simply informing your wedding hotel that you and your guests will be invading the hotel bar and would like to reserve a few tables. You definitely don't have to make your after-party a huge production, but even the littlest bit of prep will get it started on the right foot.
Be invite agnostic.
In a perfect world, you and your brand new spouse could teleport only your besties from your wedding reception to your after-party, and leave out your clingy college-age cousins. But it's not incredible etiquette to keep the party going and only invite a select few from Party A to Party B. So, make sure your wedding after-party, whatever it ends up being, is a setting that can accommodate (both size-wise and thematically) a cross-section of your guest list demographic. You can probably account for a good 60-80% of your wedding guests (particularly older family members) to tap out and head to bed by the end of your reception, so there's a good chance only your faves will stick around for the after-party anyway, but in the name of graciousness, you should extend the invite to everyone (meaning, include details on your wedding website)—unless you and your wedding party are CIA-level secret-keepers.
Provide safe transportation to and from.
If you're hosting the after-party anywhere but your wedding venue, you must have a transportation plan for your (likely inebriated) guests to get there, and get home safely when the party finally ends. They're still your guests after all, which means they're still your responsibility—and adding more cocktails into the mix means absolutely no one should be behind the wheel. Either extend your wedding transportation rental, or check to see if the city where you'll be partying has cabs, Uber, Lyft, or any other on-demand car service. If any of these options are available, spread the word liberally to all your after-party guests—you can even call a lineup of cars yourself and herd your guests into them one-by-one, like an extremely well-dressed bellhop. Safety first! (Seriously.)
Include an activity.
Yes, many of your guests will want to keep hitting the dance floor at your post-wedding celebration, but some may want to switch up the activities. We love the idea of including karaoke, casino games, or other entertainment as just a few wedding after-party ideas. Your guests will enjoy having an alternative to dancing, especially if their feet are tired from rocking out for hours straight.
Offer food.
Along with making sure your guests arrive and depart safely, another key wedding after-party ideas is making sure they have some food in their bellies, considering they probably 1) have been drinking for six hours or more and 2) haven't eaten in four hours or more. (Wedding math!) Don't worry about offering a budget-busting farm-to-table menu here, though—simple, affordable, diner-inspired late-night snacks are the perfect antidote to too much champagne, and exactly what late-night partiers crave. Consider some of our favorite wedding finger food ideas, like mini grilled cheeses, paper cones full of french fries, sliders, tacos, or even a bunch of delivery pizzas served by the slice. Anything salty, yummy and fuss-free! Depending on your after-party venue, you may even be able to hire a food truck for a couple of hours and have them park on premises. Whatever you choose, your slightly-less-hungover self (and friends) will thank you in the morning.
Change up your look.
When the wedding finally wraps and the promise of a laid-back, stress-free party with your pals beckons, the last thing on your mind is probably going to be wriggling out of your wedding dress or attire and into another outfit. But trust me on this: You'll be glad you did when you're not at the dry cleaners a week later reviewing pizza sauce stains on your $3,000 beaded wedding gown. So, before you hit the after-party, scoot into the bridal suite one last time with a 'maid and a trusted Adult (that's a trustworthy Adult-with-a-capital-A, like your mom, auntie, mother-in-law—you get the picture), de-gown yourself, hang and bag it, and have the Adult whisk it away to safety. Even better, is a perfect opportunity for you to don one last fun 'n' flirty bridal-white look—so go crazy! Maybe a crop top-and-skirt combo, or a comfy-cute romper. The only rules for after-party dressing? No Spanx, no boob tape, no stress!
Don't forget the after-after-party.
We're talking about the post-wedding brunch. While it may seem extra to have both an after-party and a next-day brunch, remember that these two events serve different purposes. The wedding after-party is to continue the celebration, while the post-wedding brunch is to help your guests recover from the previous night (hello, hangover!) and to say farewell to guests who may be heading home. This is particularly important if you're hosting a destination wedding, but it's also a good idea to throw a brunch for a hometown wedding as well.
Be you and have fun.
Yes, you're expected to follow a few formalities at your wedding (namely, don't drink too much, and be sure to chat with every guest), but at your wedding after-party bash, you should feel free to relax and decompress. Enjoy your first night "out" as newlyweds, and don't get caught up in making sure everything is perfect, or everyone is having the best time—just let the pressure melt away and focus on soaking in those last few hours of your wedding day. If you feel like hosting an after-party is something that might cause undue stress that you simply won't be able to disconnect from, consider asking your bridesmaids and groomsmen to plan it for you, or, if you'd rather simply celebrate your evening alone with your spouse in your honeymoon suite, you shouldn't even feel pressured to throw an after-party at all—the guests who wish to continue the revelry will find a way with or without you, trust me. However you choose to close out your night, make sure it's something that makes you happy and won't cause anxiety, because that's so not the point! One more thing? Feel free to leave your after-party whenever you like—there's no need to be the last people there!