How to Reserve Hotel Room Blocks for Your Wedding
We answer all of your burning questions about blocking hotel rooms for your wedding, from finding the right hotels to deciphering those contracts.
We have included third party products to help you navigate and enjoy life's biggest moments. Purchases made through links on this page may earn us a commission.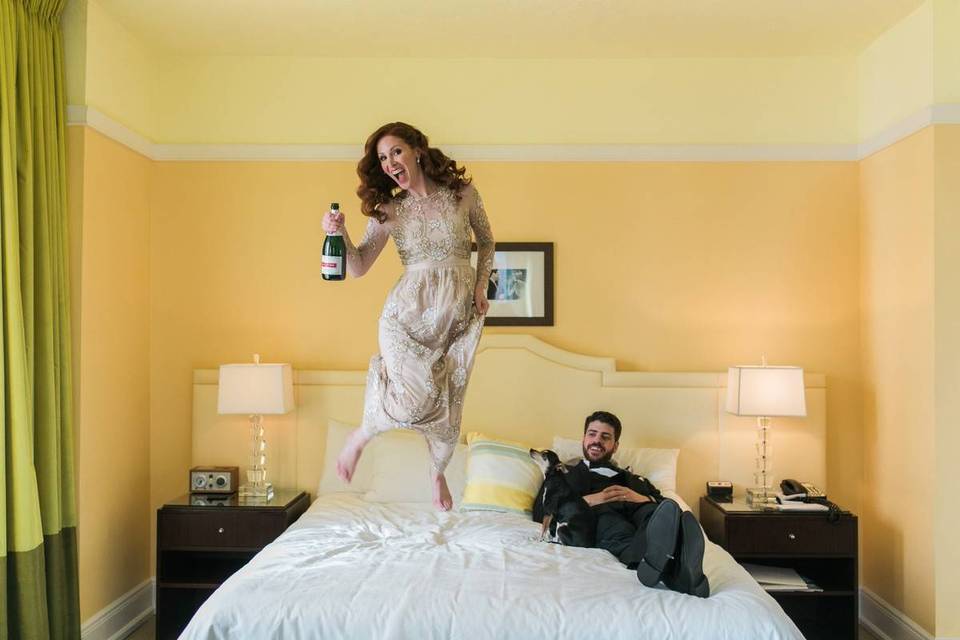 Whether you're hosting 20 or 200 out-of-town guests, booking hotel room blocks for your is definitely an important step in your planning process—especially if you're hosting a destination wedding. Basically, you'll be able to reserve a block (or group) of rooms for your wedding guests at the same hotel. No one else can book these rooms while they're on hold for your event. It's really a win-win—your guests won't have to endlessly research where to stay for your wedding (and will often receive a discounted room rate), and you'll love the convenience of having all of your loved ones at the same one or two hotels. Here's everything you need to know about booking hotel room blocks for your wedding, from getting started to timing to communicating with your guests.
Should you block hotel rooms for your wedding?
If you're hosting more than 20 out-of-town guests, we definitely recommend blocking hotel rooms for your wedding. By blocking hotel rooms, you're essentially promising to fill the rooms for the agreed-upon timeframe (often the night before and the night of your wedding). Most hotels have a 10-room minimum to reserve a room block, so you'll want to make sure that at least 10 groups of guests will stay at a hotel for your wedding weekend. Many hotels will also offer your guests a discounted room rate for booking within the room block.
How do you find hotels where you can book room blocks?
Couples who are hosting a smaller wedding (150 guests or fewer), likely only need to reserve room blocks at one hotel. Those hosting larger weddings may want to book room blocks at two or more hotels at different price points, making sure that one, if not both, is affordable for your budget-conscious guests. If you're getting married at a hotel or other wedding venue that has accommodations, talk to the venue manager about reserving a block of rooms for your wedding guests—and giving those who reserve early a discounted rate.
If you're getting married elsewhere, look for hotels near your venue and give them a call to learn more about their pricing and room block policies—there are also online room block services that can do some of this legwork for you. Once you've narrowed down the list, you may want to visit these hotels in person to make sure the rooms and facilities are to your liking. There are also online room block services, like HotelPlanner, that can help you connect with hotels near your venue and does much of the legwork for you in terms of booking room blocks.
What are the most important things to look for in a hotel where you'll be booking room blocks?
If possible, you'll want to try to tour a few hotels in person as part of your wedding planning process. While there, be sure to look for and ask about the following details:
How far away is this hotel from your wedding venue? Walking distance is ideal, but if that's not possible, a short car or shuttle ride also works.
What's the pricing like, and does the hotel provide a discounted group rate?
How many rooms does the hotel have? Is it enough for your guest count?
How does the hotel room block process work for weddings?
Does the hotel have availability for our wedding weekend?
What's the parking situation?
Can the hotel provide transportation to and from your venue?
Does the hotel have space for your rehearsal dinner, post-wedding brunch, or other events?
What do the rooms look like? Are they clean and well-appointed?
Can the hotel distribute welcome bags to your guests, or leave them in your guests' rooms?
What other perks and amenities does this hotel offer that are important to you and your guests? Is there WiFi, a pool, restaurants, airport shuttles, etc.?
What's the difference between courtesy and contracted room blocks?
As you're researching hotels, you might hear the terms "courtesy" and "contracted" tossed around—but what do they mean? Well, it's all about the amount of rooms you need to book. A courtesy room block is a group of rooms that are held for your guests for a set period of time—you may or may not have to sign a contract and you don't have to put down a deposit to reserve these rooms. After a predetermined cut-off date passes, the rooms will be released to the public. Courtesy blocks are often reserved for smaller groups of under 30 rooms.
If you're hoping to reserve more than 30 rooms at a single hotel for your wedding, you'll probably end up with a contracted room block. This means that you'll sign a contract and put down a deposit guaranteeing that your family members and friends will book a certain number of rooms for a certain number of nights. If you fall short, you can lose your deposit and/or be charged for unbooked rooms—that's why we recommend starting with a small number of rooms, and adding more rooms if needed.
What does all of this language in a hotel room block contract mean?
Before signing a contract to block hotel rooms for your wedding, make sure to read the terms closely—and ask about any phrases you don't understand. One of the most-used phrases in hotel room block contracts is the attrition rate or attrition clause. This refers to the percentage of rooms in the reserved block you're promising to fill, usually between 70 and 90 percent. If you don't fill that percentage of rooms, you'll be charged. You may also see the phrase "allowable shrinkage clause" which refers to the percentage of rooms that can be left unfilled. Especially during the time of COVID, you'll want to find out if there are penalties for a postponement or cancellation.
When should you block hotel rooms for a wedding?
We recommend blocking hotel rooms for your wedding shortly after booking your venue, at least six months before your wedding. If you're getting married during a busy time of year in your wedding location and are particularly concerned about hotels filling up, it's not uncommon for couples to reserve room blocks nine months (or longer!) before the big day.
When and how should you tell your guests about your room blocks?
A wedding room block isn't useful unless your guests are aware of it. Therefore, you should definitely include room block details on your wedding website before your save-the-date goes out. That way, when guests check out your wedding website after receiving your save-the-date, they'll see all of the details on the room blocks. You might also want to email your out-of-town guests directly to provide room block information, if you're concerned they won't look at your wedding website. If your room block has a cut-off date, don't be afraid to send out email reminders as that date nears. Your guests won't want to lose out on that discounted group rate if they can help it!
What if you have to postpone or cancel your wedding due to COVID or for other reasons?
It depends on whether you have a courtesy or a contracted room block. For a courtesy room block, since there was no contract signed or cost associated with booking the room blocks, simply postponing or canceling should be no problem. However, if you have a contracted room block, a postponement or cancellation may be a bit more complicated. Be sure to read your contract carefully before signing—try to negotiate a cut-off date. If you cancel your wedding before the cut-off date, you won't have to pay a penalty. And if you've booked your room block through a service like HotelPlanner, they can handle a postponement or cancellation for you (major bonus).