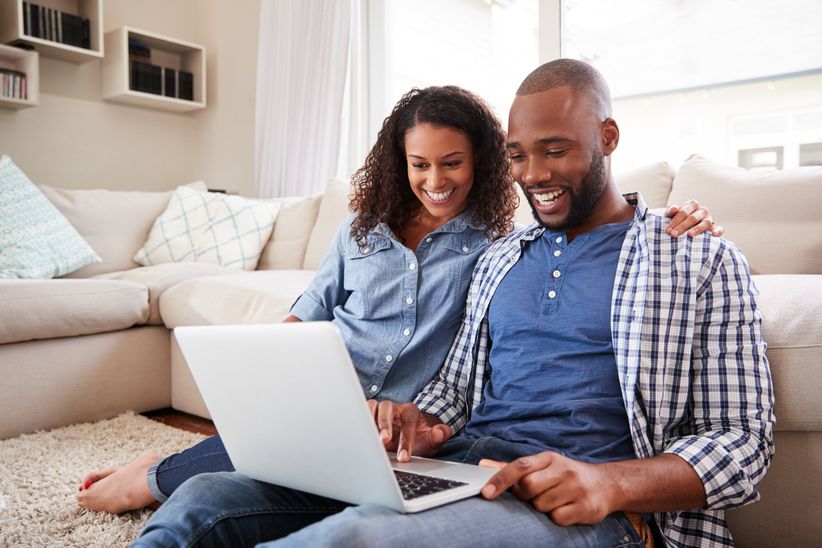 Figuring out how to create a wedding website is one of the most important steps in planning your big day. A wedding website is an essential tool for your guests to find out all of your event's details, so you'll need to make sure it's well organized and fully updated, and that it matches the theme and style of your wedding celebration. Fortunately, WeddingWire's Wedding Website Tool makes it super-easy to create a personalized (and free!) wedding website.
Follow our six simple steps and learn how to create a wedding website.
Pick the right design.
Step one in your "how to create a wedding website" quest is to find a custom design that works with your wedding's theme and style. Are you modern or classic? Romantic and vintage, or fun and funky. WeddingWire will help you find the wedding website template that best speaks to your color scheme and style. And if you're looking to create a website that's totally "you," you can feature one of your engagement photos or a favorite snapshot as your website backdrop!
Customize.
To keep things consistent, it's a good idea to match your wedding website to your color scheme. After you've selected a wedding website design, you can customize the colors to fit your palette. You can even change the fonts and website layout to make your site even more personalized.
Start with the basics.
When figuring out how to create a wedding website, you may think that you need to have all of your wedding info and details set in stone in order to get started. Not true. All you really need to know to make a wedding website is your wedding date and the location. Create a save-the-date page where you welcome your guests to your website, share the basic information on your wedding, and let everyone know that more details are coming soon.
Add more information.
As you start to solidify more details about your wedding, use a wedding website builder to add more information to your site. The most important details are the wedding date, time, and location, but you'll also want to add travel information, hotel details (especially if you've reserved a room block), rental car information (you can even share discount codes from rental car companies like Budget), and directions to the venue to help your out-of-town guests. Be as clear as possible to avoid confusion.
Don't forget to include your registry.
When considering how to create a wedding website, remember that it's an etiquette no-no to share your registry information on your wedding invitation, so your wedding website is the prime place to let guests know where you've registered and link to those retailers. You can also add other sections to your website, from allowing your guests to search for flight information and RSVP directly from your website, to asking your friends and family to submit song requests for the reception.
Make it personal.
You wedding website should reflect your personality! Include lots of photos (and set up a photo album too!). Share details about your occupations, hobbies, and how you met in the About Us section - and tell your proposal story, too! Introduce your VIPs in the Wedding Party section. And don't forget to include a Guest Book page so your friends and family members can share their good wishes!
Set up a unique URL.
When it comes to how to create a wedding website, you can even personalize the URL! With WeddingWire's Wedding Website Tool, you can add your names to the website address (for example: www.weddingwire.com/jillandevan) or you can purchase a custom domain if you wish.
Spread the word.
Share your wedding website address in your save-the-date cards or via email to your guests. Make sure your close family members and wedding party know about your website so that they can refer guests to it if any questions should arise.
Keep it updated.
One of the most important parts of creating a wedding website is making sure it stays updated throughout your engagement. If details change, be sure to add them to the site and notify your guests. You can even add information and details about your honeymoon, and use your wedding website to share photos from your big day! Remember, the more up-to-date your wedding website is, the more helpful it will be to your guests!
Disclosure: This post contains affiliate links, some of which may be sponsored by paying vendors.