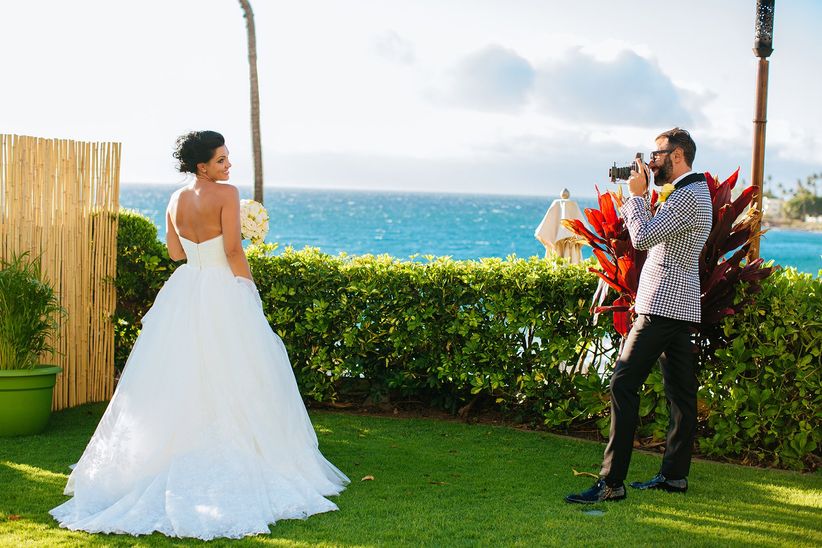 Photo: Chris J Evans Photography
After your big day has finally come to an end, it may feel like it went by fast—way too fast. If wedding withdrawal sinks in, don't fret. You will soon find comfort again when you get your wedding photos back from your photographer! Sharing photos is a great way to relive all of your special moments from your day, but you don't want to bombard your friends, family and Instagram followers.


In order to keep looking back on your big day over and over again, here are seven ways to subtly share your wedding photos without going overboard.
Sneak Peek
One of the best parts right after your wedding is receiving a sneak peek from your photographer. This might include detail shots or portraits that your photographer sends along as a teaser of what's to come. Sharing your sneak peek photos will get your followers excited to see the full album.
Throwback Thursdays
We love a good #TBT as much as the next person, but try not to overdo it. Not every Thursday requires you to post a photo from your wedding. Limiting your wedding-related throwback posts to once every few weeks ensures that each one feels special, not overdone.
Anniversaries
When your anniversary rolls around, share a never-before-seen wedding photo—and when we say anniversary, we don't just mean the date when you got married. Anniversaries can include many things, such as the first time you two met or the first time you said "I love you." Think out-of-the box and you will be sure to surprise your followers.
Birthdays
Share a photo of a loved one from your wedding on his or her birthday. That sweet photo of you and your MOH or best man can be definitely be posted as a birthday wish to them!
Life Events
Was your S.O. awarded a major promotion at work? Or did you two finally make the big move into a house and out of your old apartment? A special way to break the news would be to use one of your wedding photos.
Reusing Your Wedding Decor
Perhaps you had a vintage lounge area at your reception and decided to use the same coffee table in your living room at home. Snap a photo to show everyone how you re-purposed the furniture. If your custom wedding canvas is now hanging up on your kitchen wall, share a before-and-after photo of how you displayed it at your wedding versus how it is looks in your home now.
Getting Published
Submitting your photos for potential publication on a website like
WeddingWire
is a great way to relive the memories of your special day. It also lets others become inspired by your story and give a shout-out to all the vendors who were involved. Want your wedding to be considered for a feature on our site? Visit
RealWeds.com
for more information.