The Perfect Wedding Color Palette for Every Style
Are you boho, nautical, vintage, classic, or something else? Whatever your style, we've got the perfect wedding color palette for you!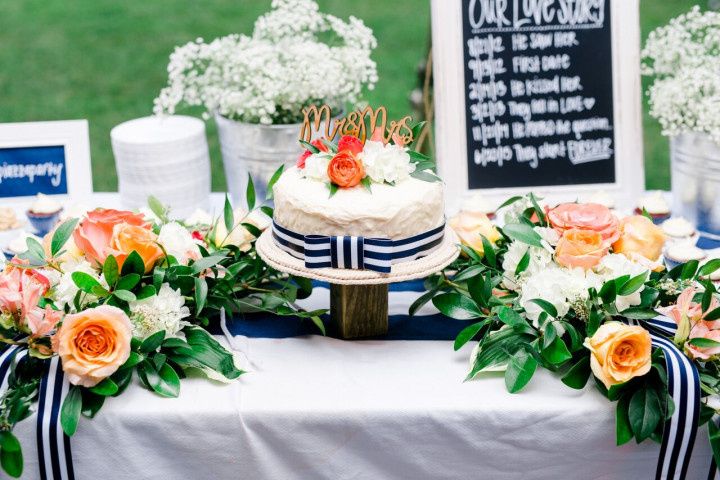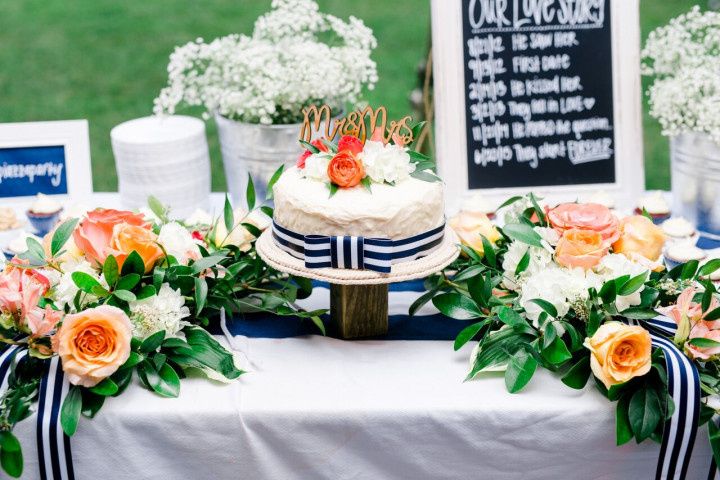 Photo: Anna Kardos Photography
The wedding color palette you choose plays an important role in your big day, from indicating the mood of your wedding (formal, relaxed, upbeat, etc.) to reflecting your own personal style. Whether you already have your heart set on the perfect colors and are looking for some visual inspo to match, or you need a little help finding the right combination for your style, we (and the WeddingWire Color Palette Generator) are here to help.


Find the perfect wedding color palette for your style, and then use our fave details to inspire your own big day.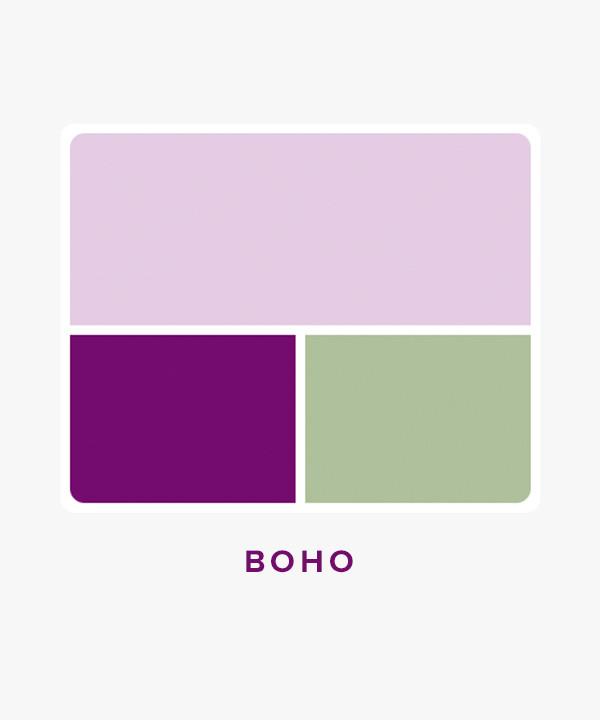 Boho
The colors: Lavender, plum and sage green

Going for a boho look? Earthy colors, like green or brown, are good starting points. Add an accent color or two, such as lavender and plum purple, to keep your wedding color palette from becoming too monochromatic.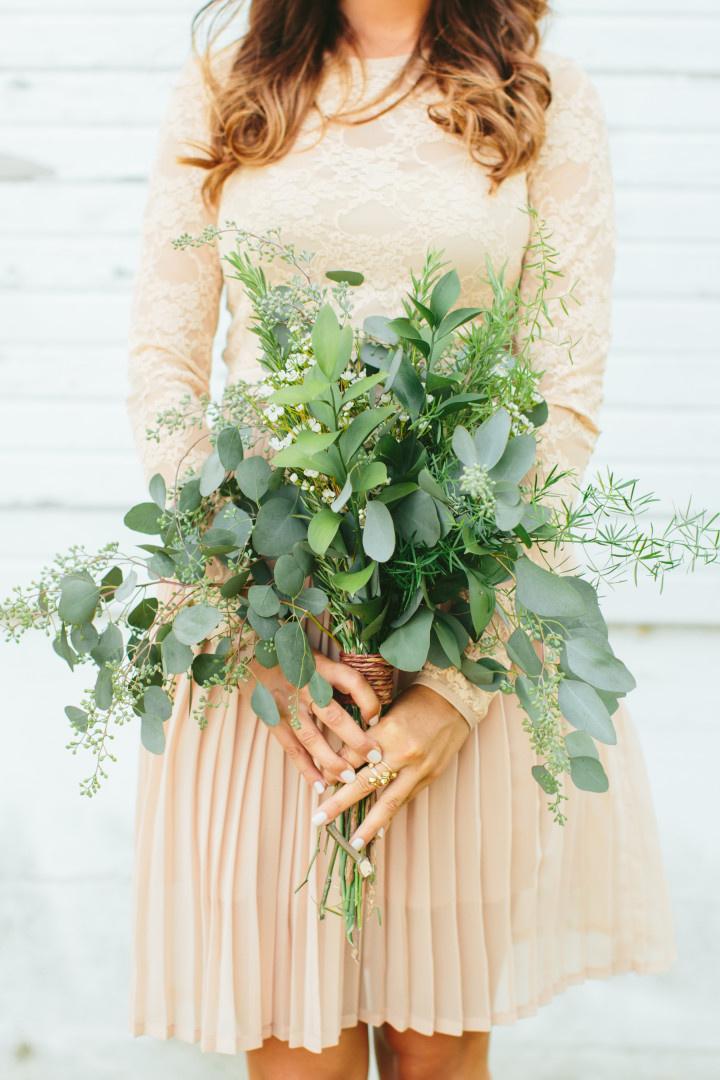 Photo: Kismet Visuals & Co. Photography & Design
A greenery-filled bouquet is a boho wedding staple. Even with minimal flowers, fresh greens like eucalyptus look gorgeous and romantic.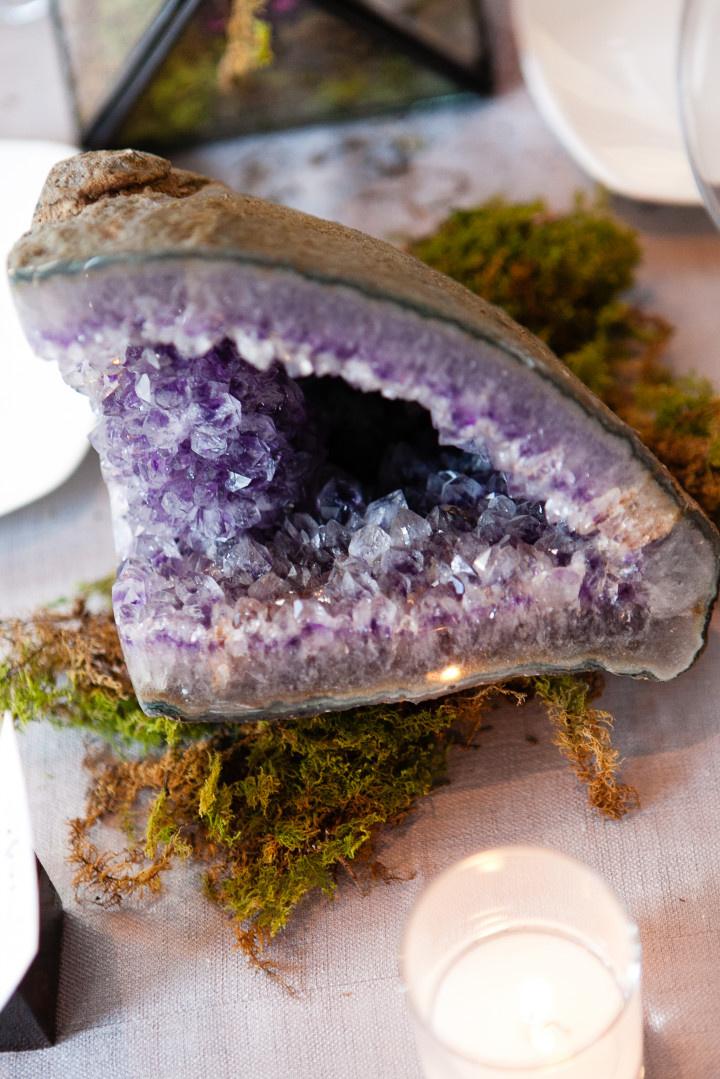 Photo: Melissa Kelsey Photography
Rocks, geodes and crystals add texture and detail to a bohemian tablescape. We're loving this cool centerpiece featuring a geode-moss combo.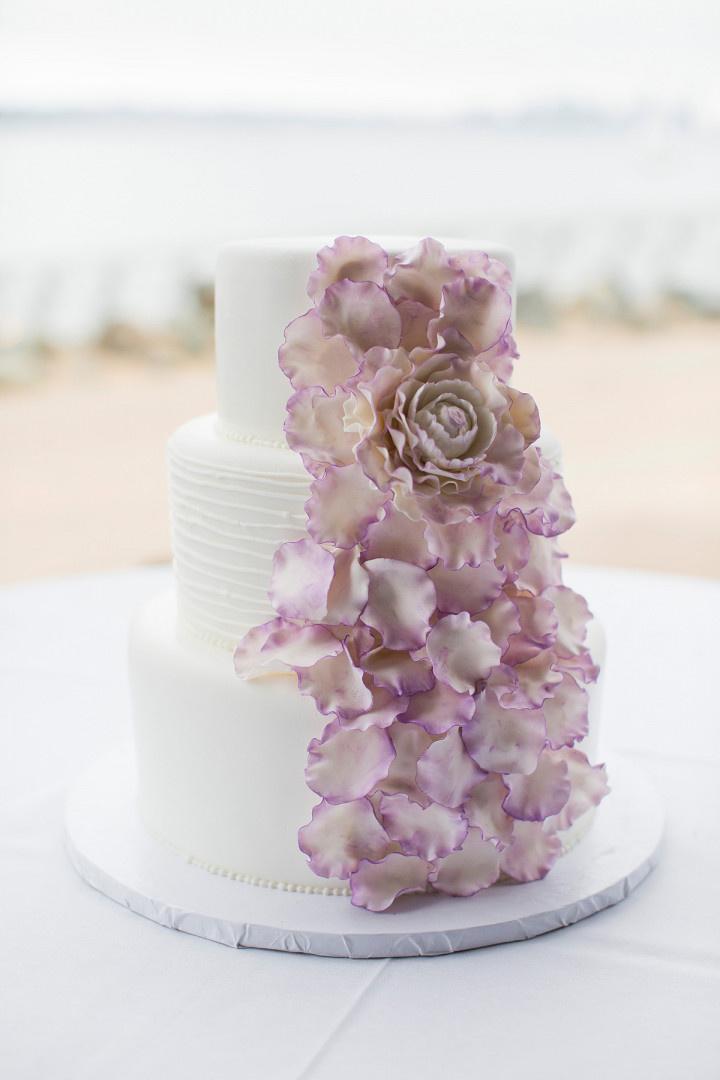 Photo: Alyssa Marie Photography
Sure, you can use actual flowers to decorate your wedding cake, but an entirely sugar creation like this looks equally stunning. The ombré-style petals are so intricate!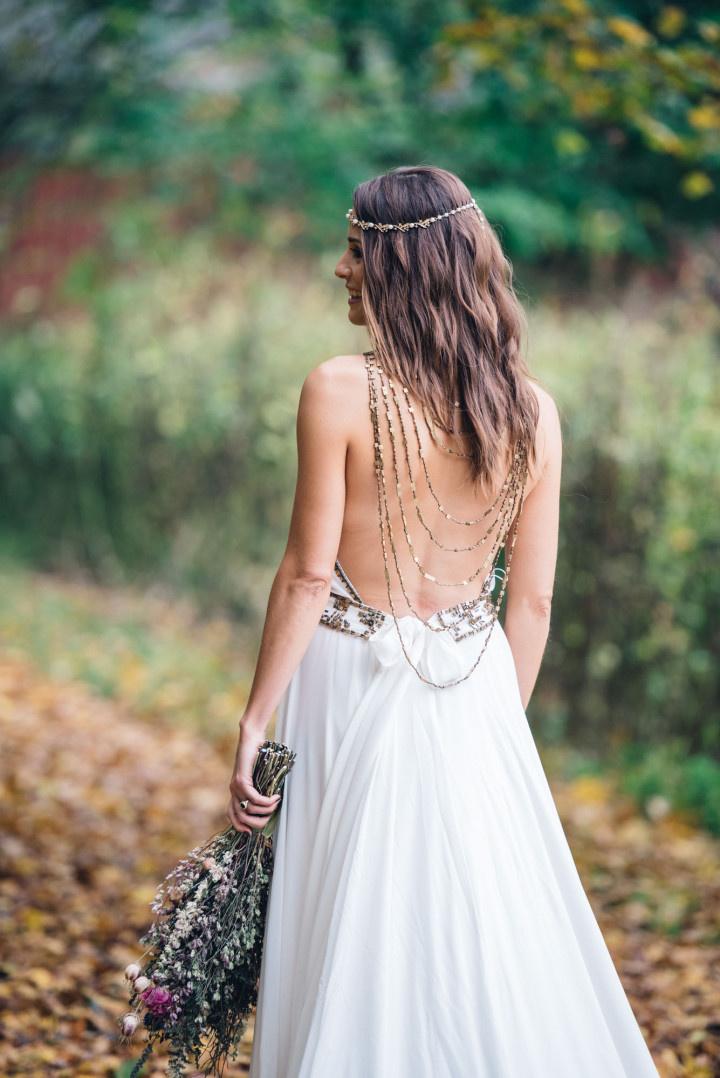 Photo: Imagen Photography & Videography
An ethereal backless dress will totally wow the crowd at your bohemian wedding. Wear your hair loose and slightly undone, and carry a bouquet of dried lavender and wildflowers to complement the enchanted woodland wedding vibe.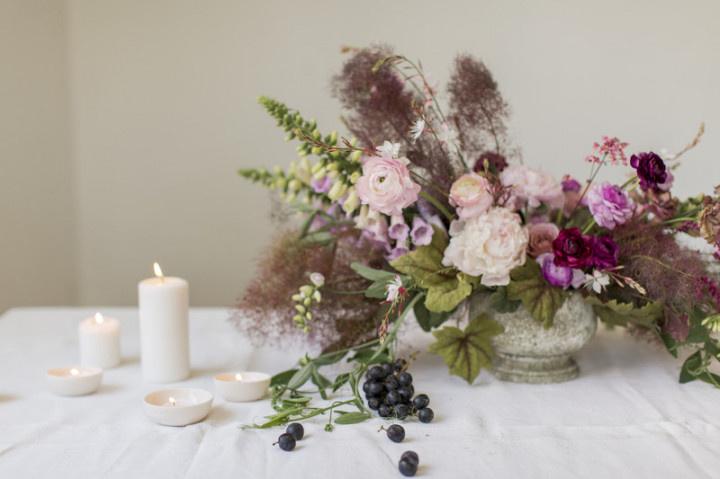 Photo: Wild Pollen Design
Your centerpieces don't have to be symmetrical — in fact, the "undone" look goes along perfectly with bohemian wedding style, since it creats a natural, garden-inspired effect. The trick to really nailing this look is to use plants you'd find growing in the wild, such as foxglove, ivy, and jasmine.
Photo: Kreate Photography & Design
Treat your guests to wedding favors that won't go to waste. We love these miniature bottles of gourmet olive oil. Look for a locally-made option to give out at your wedding, or create your own infused blend for a truly personal touch!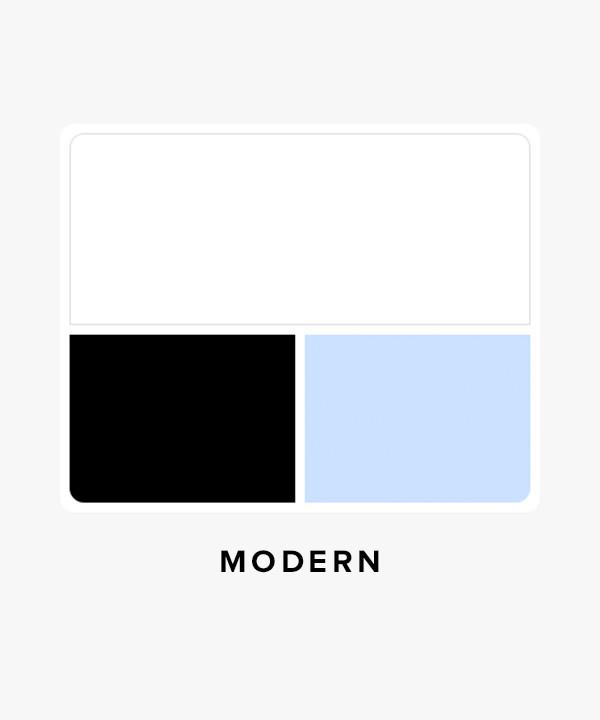 Modern
The colors: White, black and light blue
Black and white are always a stylish duo, but this wedding color palette feels especially chic when you add cool blue as an accent color. While navy blue is typically associated with formal or nautical styles, lighter shades of this primary color feel airy, fresh and modern.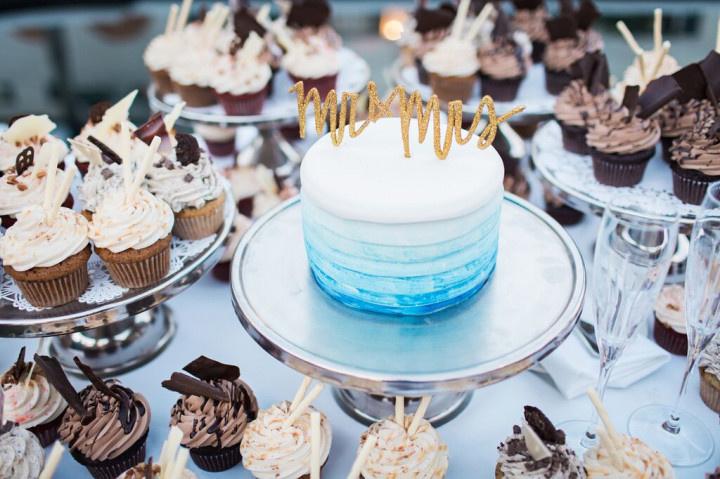 Photo: Brooke Images
Add a dose of color to your wedding cake with bright blue ombré buttercream. The watercolor-inspired effect is so pretty, and a sparkly gold topper is the perfect finishing touch.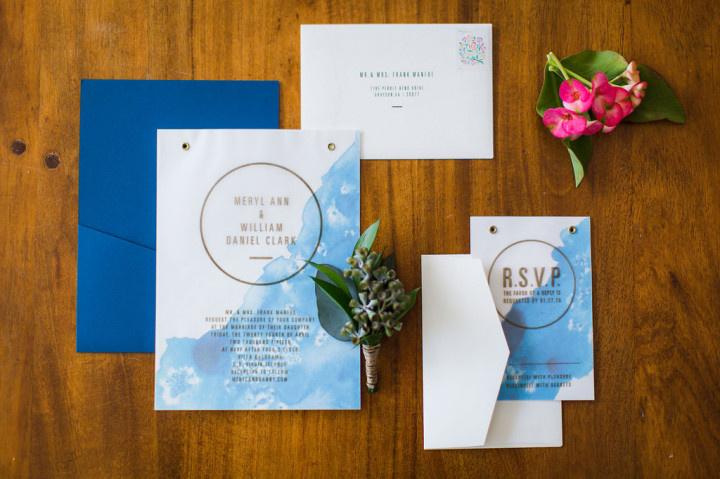 Photo: Lindsay Vann Photography
Decorate a white stationery suite with an abstract blue watercolor wash. Each invitation and reply card will look like a unique piece of art.
Photo: Jennifer Lourie Photography
Illusion sleeves provide coverage in a modern and sexy way. These floral appliqués are just one take on the botanical wedding dress trend that we're loving so much right now.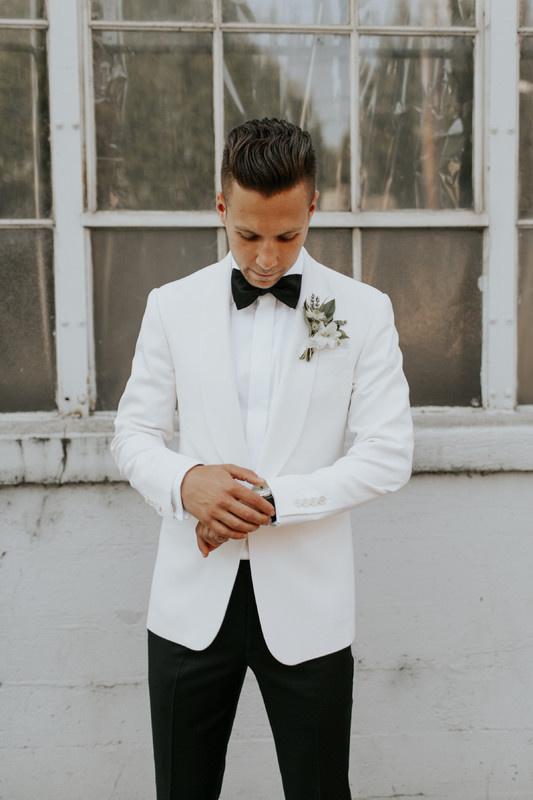 Photo: Luxe Event Productions
Traditional with a twist: this white tuxedo jacket and black bow tie. Keep the look from feeling too formal by optiong for a slimmer fit and trendy accessories, like a greenery boutonniere or oversized watch.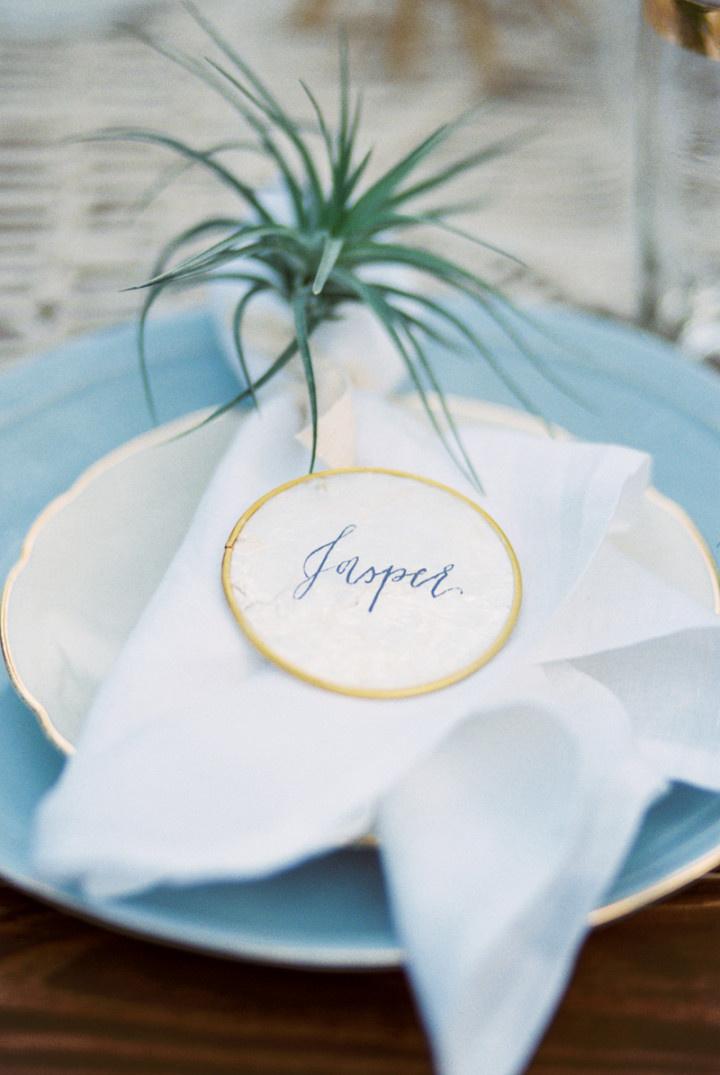 Photo: Callie Manion Photography
Blue chargers bring a splash of color to an otherwise neutral wedding tablescape. We love how the rest of this place setting is subtle and minimal, with an air plant, calligraphy place card and gold details added for visual interest.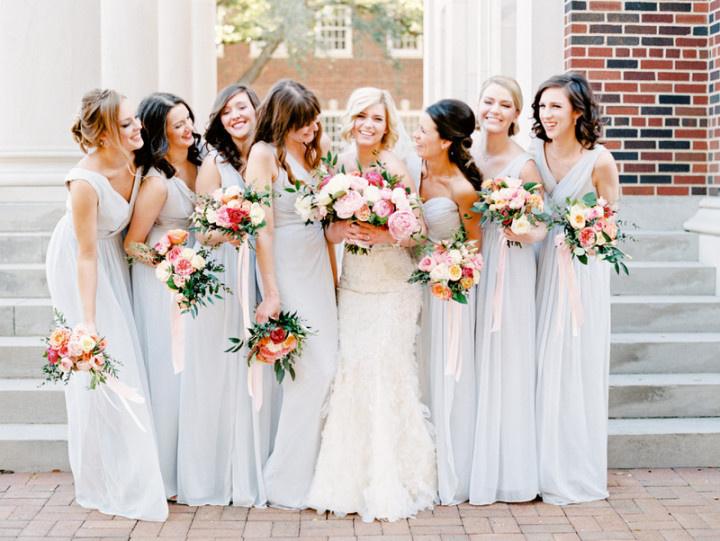 Photo: Patsy's, A Bridal Boutique
These long, light blue chiffon bridesmaid dresses are almost too pretty. We love how the barely-there hue creates a clean and bright wedding color palette against the bride's dress and the pink bouquets.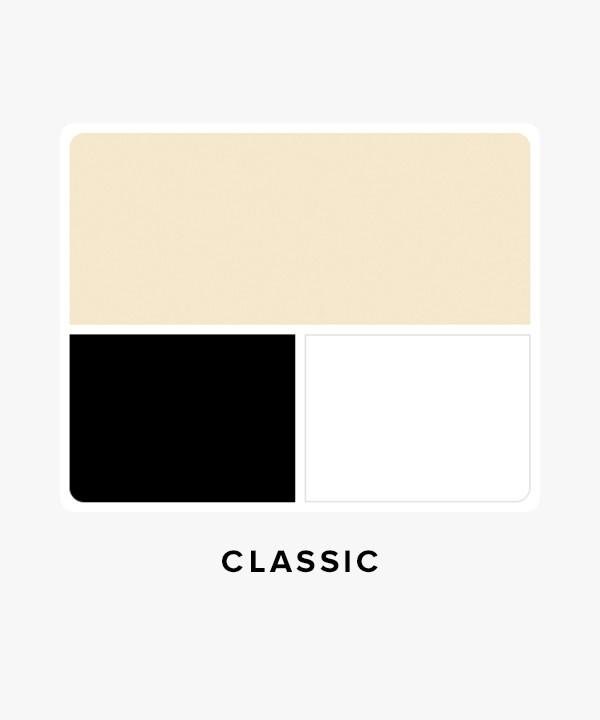 Classic
The colors: Champagne, black and white
If a classic, formal affair is what you're after, then you can't go wrong with neutral colors. Black and white create the perfect base for a touch of sparkle: metallic champagne and gold.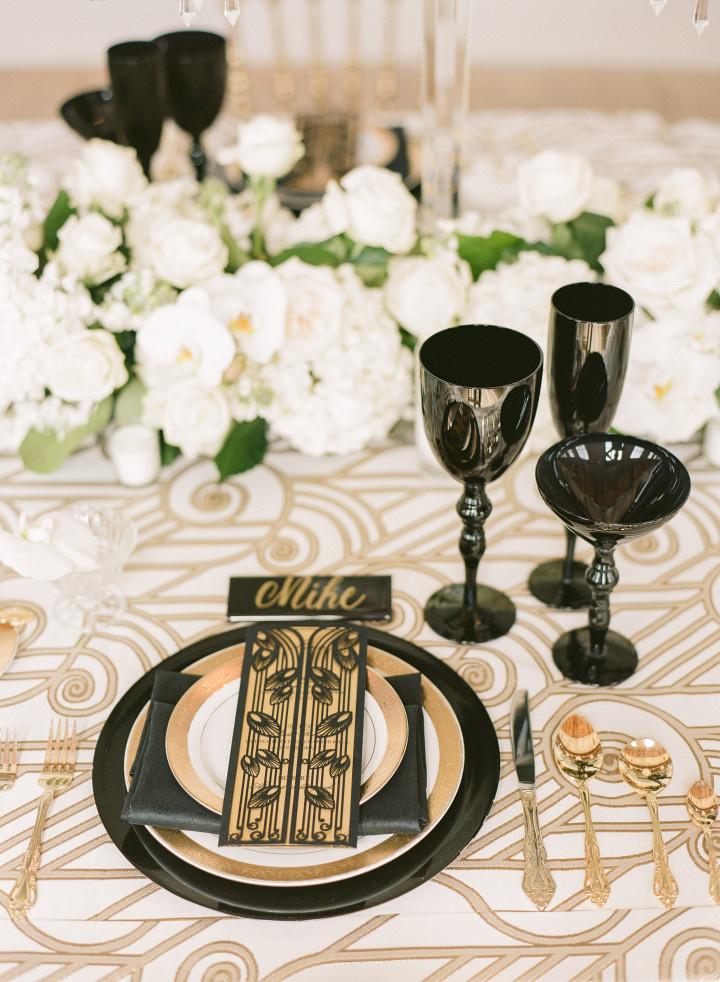 Photo: Arte De Vie
Your guests will feel like royalty with detailed place settings that feature opulent gold accents and individual laser-cut menu cards.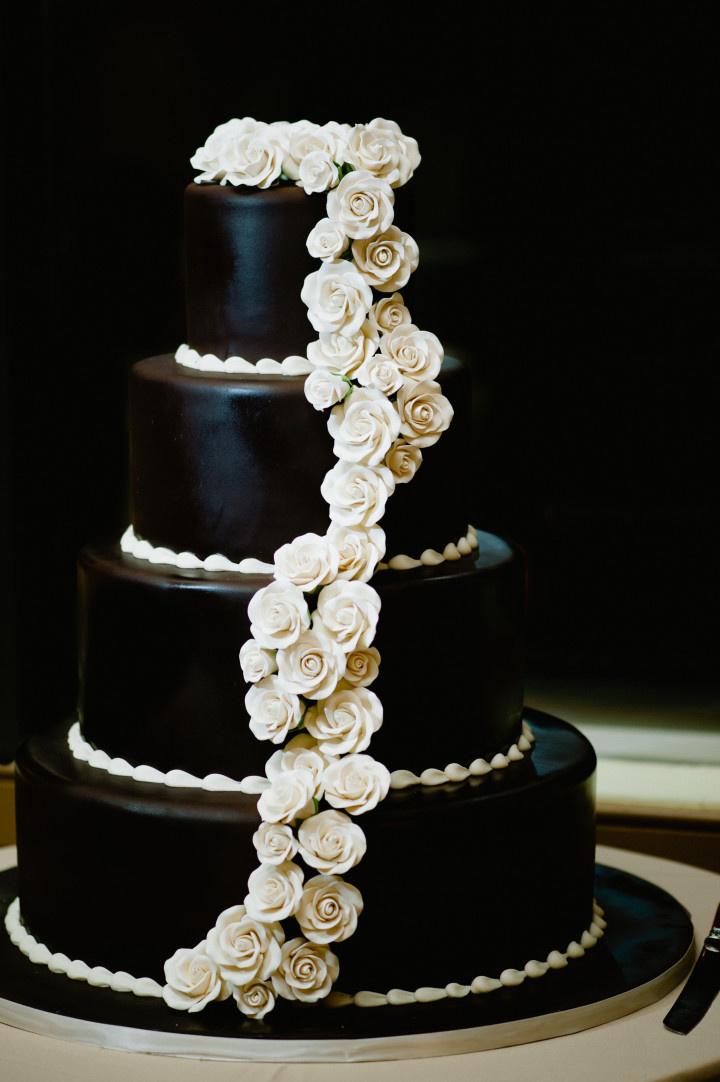 Photo: Off BEET Productions
A black fondant wedding cake makes a major statement. The white rosettes and piping keep this four-tiered cake from looking too edgy.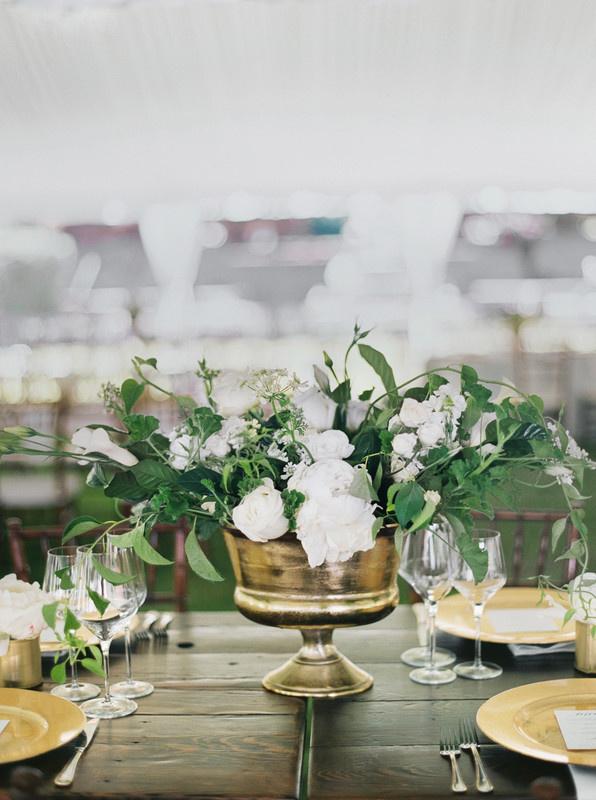 Photo: Luxe Event Productions
Classic wedding centerpieces don't have to be perfectly shaped or symmetrical. This gorgeous garden-inspired arrangement feels totally elegant and sophisticated, thanks to the simple green, white and gold color palette.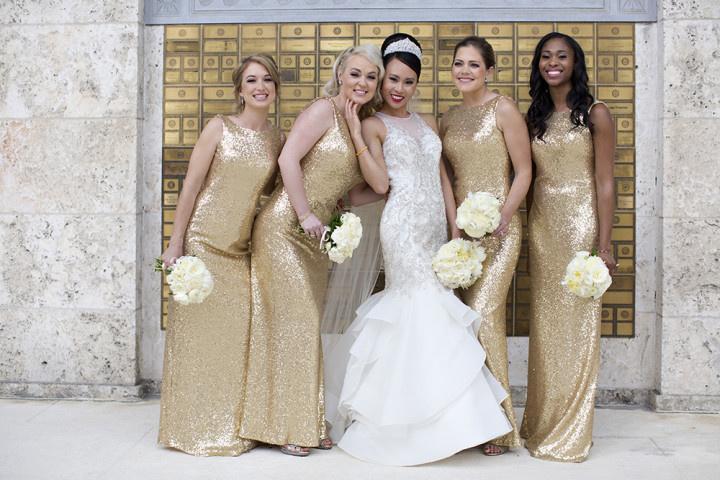 Photo: Djamel Wedding Photography
Dress your 'maids in sequined gold gowns for an ultra-formal look. Not a fan of sparkles? Dresses in a matte, champagne-colored fabric, like chiffon or tulle, are equally chic.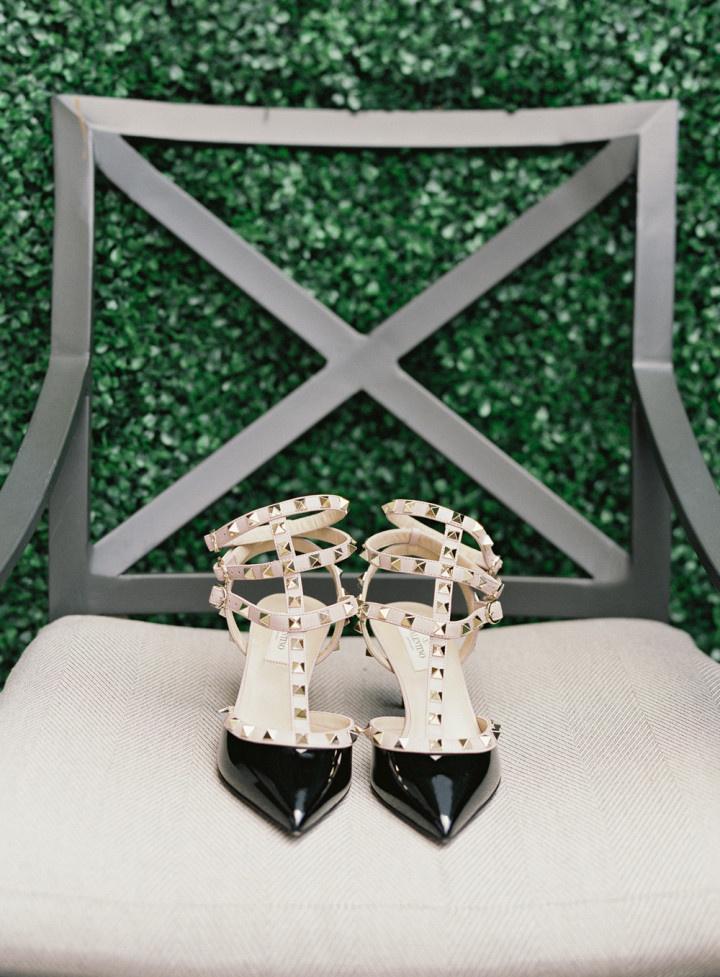 Photo: Vicki Grafton Photography
No bride's ensemble is complete without her wedding day accessories, including a stunning pair of shoes. They don't have to perfectly match your wedding color palette, but it doesn't hurt either!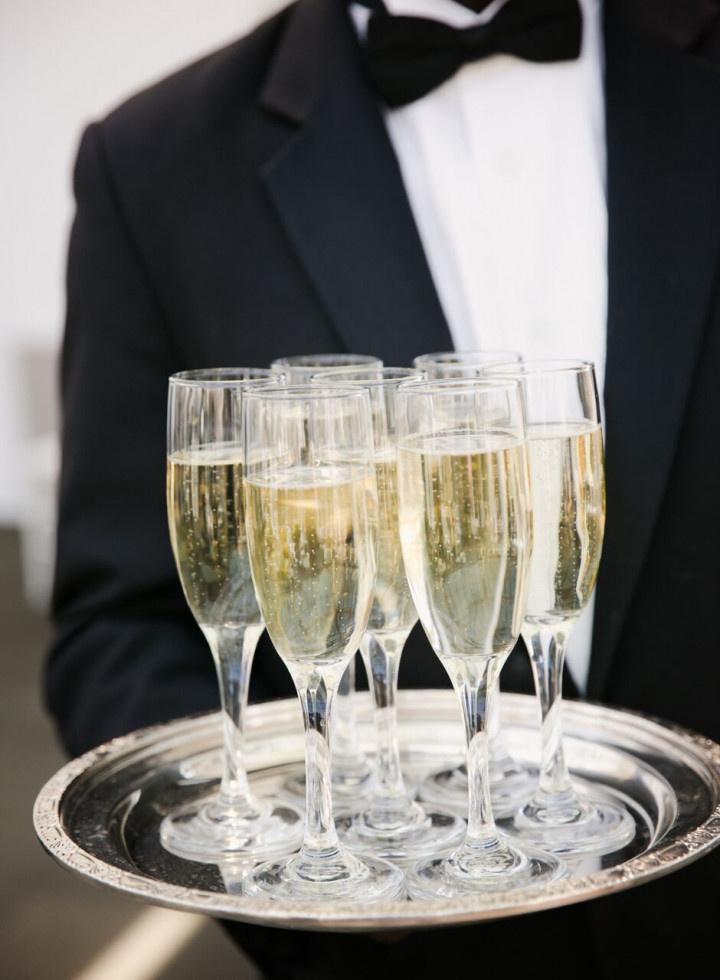 Photo: Rebecca Yale Photography
Lastly, what would a classic wedding be without the classiest drink of all? Keep the champagne flowing during your cocktail hour, or knock tradition and treat your guests to pre-ceremony drinks (like Lauren Conrad did at her wedding) to start celebrating even sooner.
Nautical
The colors: Navy, mint and coral
Whether you're hosting a relaxed beachfront wedding or a preppy country club reception, nautical wedding style is versatile, classic and fun. Our favorite wedding color palette for this style includes navy blue (a must-have for any nautical wedding), mint green, and coral.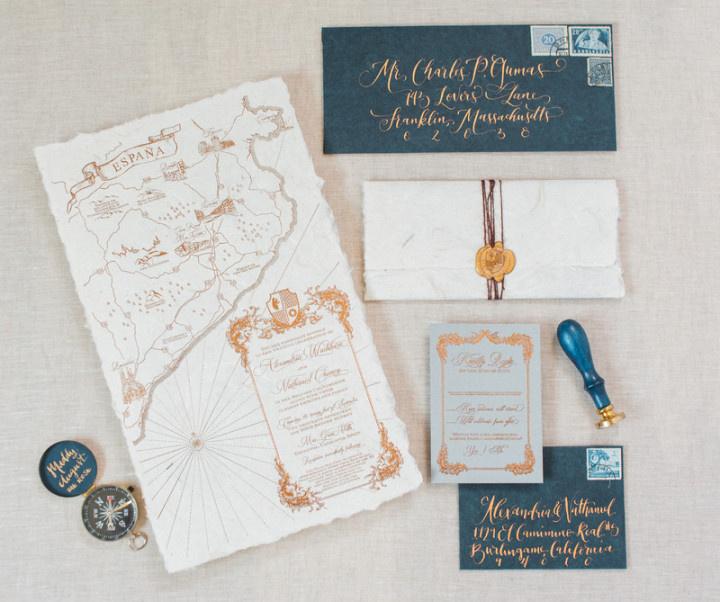 Photo: Wouldn't It Be Lovely
A hand-illustrated map, wax seal and gold calligraphy all bring a nautical, seafaring vibe to this invitation suite.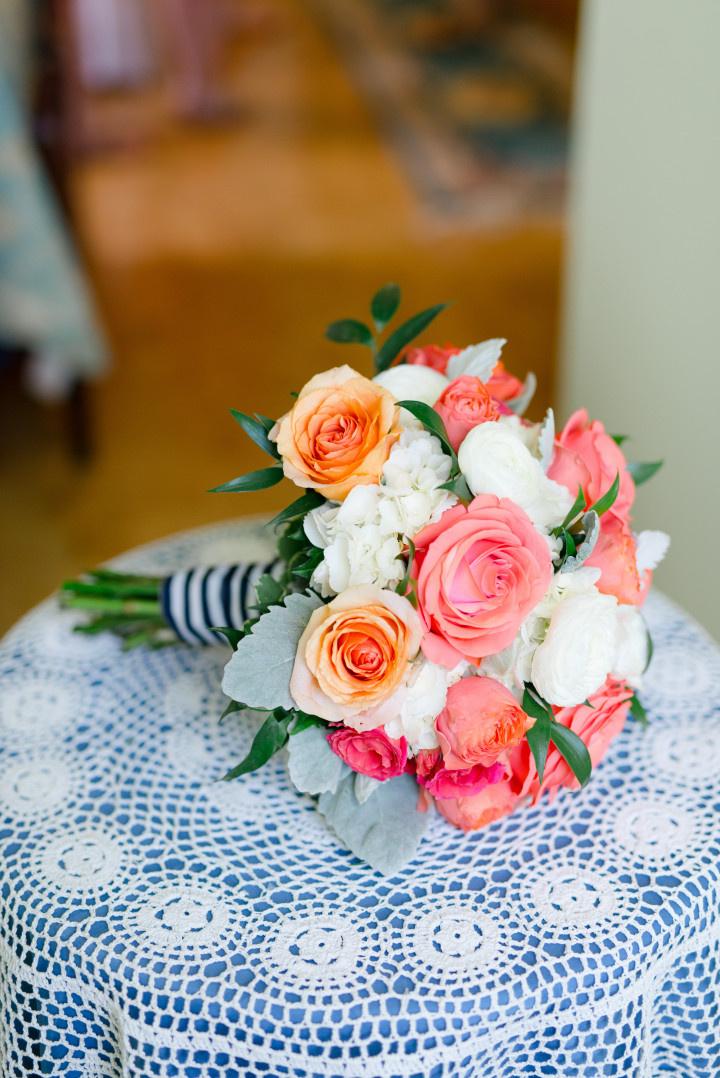 Photo: Anna Kardos Photography
Pair coral and orange roses with hydrangeas and peonies for a nautical-meets-classic bouquet. Soft dusty miller and a navy blue striped bouquet wrap balance out the brighter colors.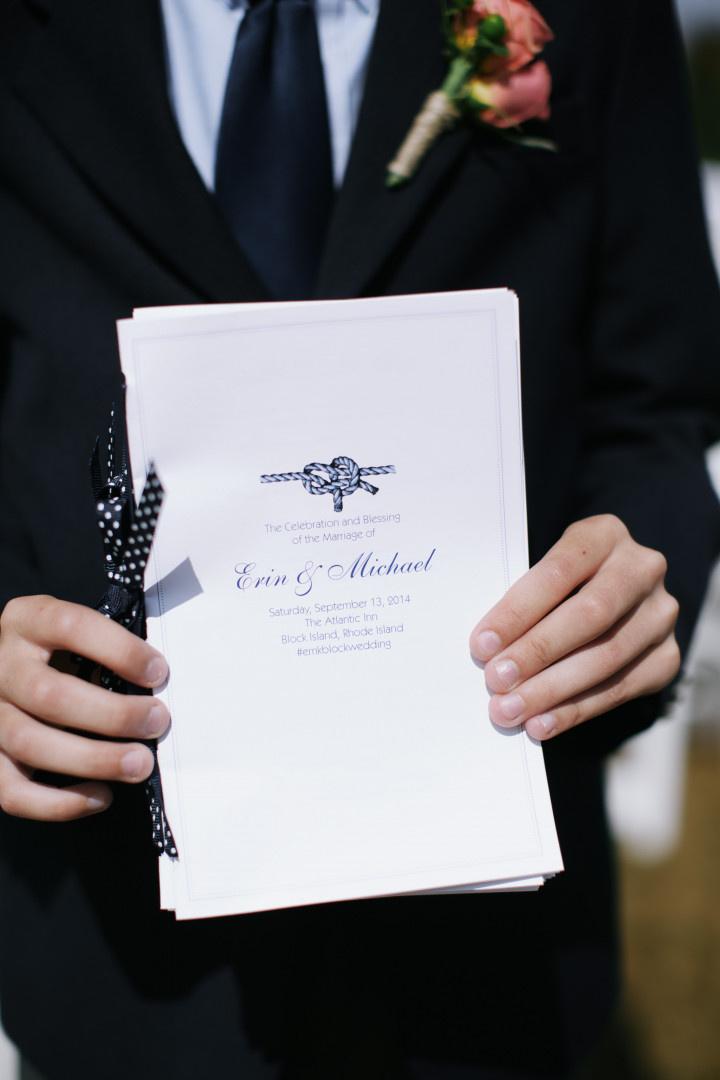 Photo: Anna Kardos Photography
Incorportate subtle nautical details throughout your wedding stationery suite, like this rope knot motif adorning a ceremony program.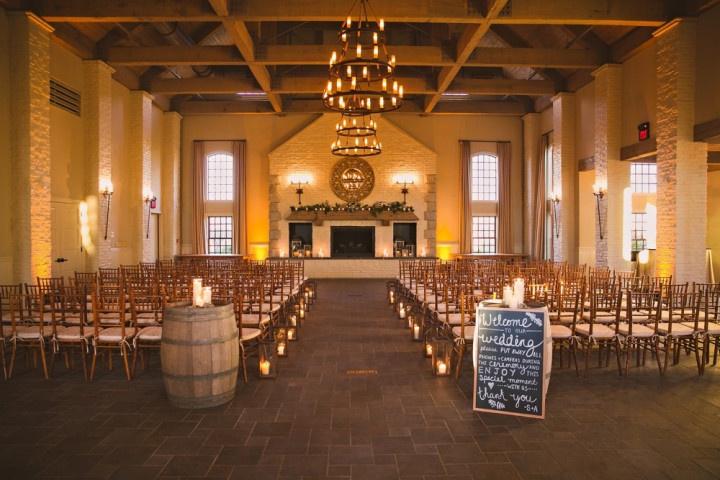 Photo: Megan Vaughan Photography
Looking to switch things up from the oh-so popular blush or navy blue bridesmaid dresses? Mint green (or "seafoam" if we're keeping things nautical) is a lovely option. It's elegant and whimsical at the same time.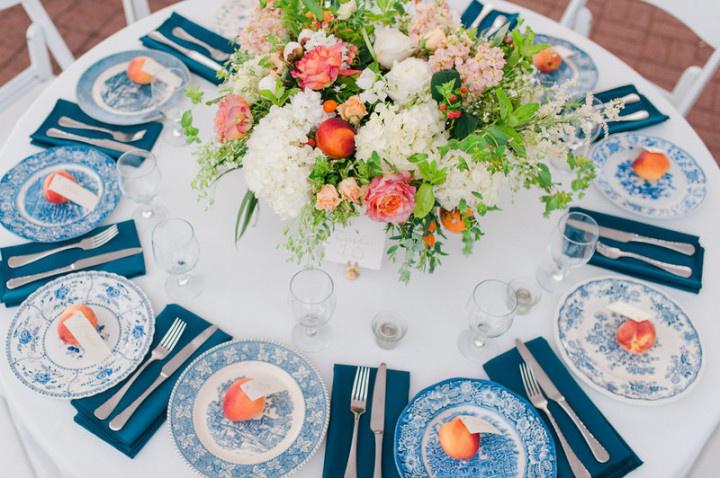 Photo: Vintage Floral Design
We're loving the bright, crisp combination of blue, coral and white on this tablescape. The mix-and-match china is great if you're going for a "vintage beach" theme, or you can opt for matching chargers instead to create a more traditional look.
Photo: Violet Rose Floral
You might think of a navy blue tuxedo as being strictly for black tie, but when you add a polka-dot bow tie and matching pocket square, the ensemble takes on a playful and relaxed vibe.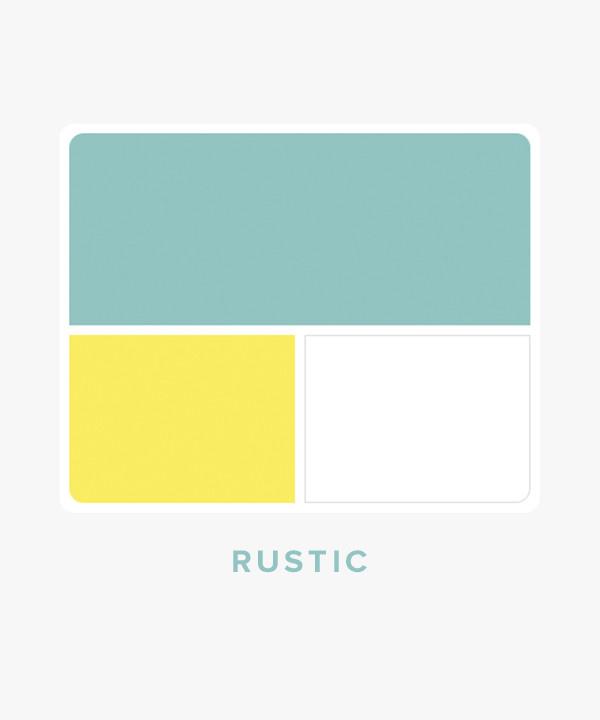 Rustic
The colors: Turquoise, yellow and white
This classically rustic trio is cheerful and inviting. If you're going for "modern rustic" style, use muted versions of these hues for your wedding color palette, and add earthy tones, like cream or tan to balance everything out.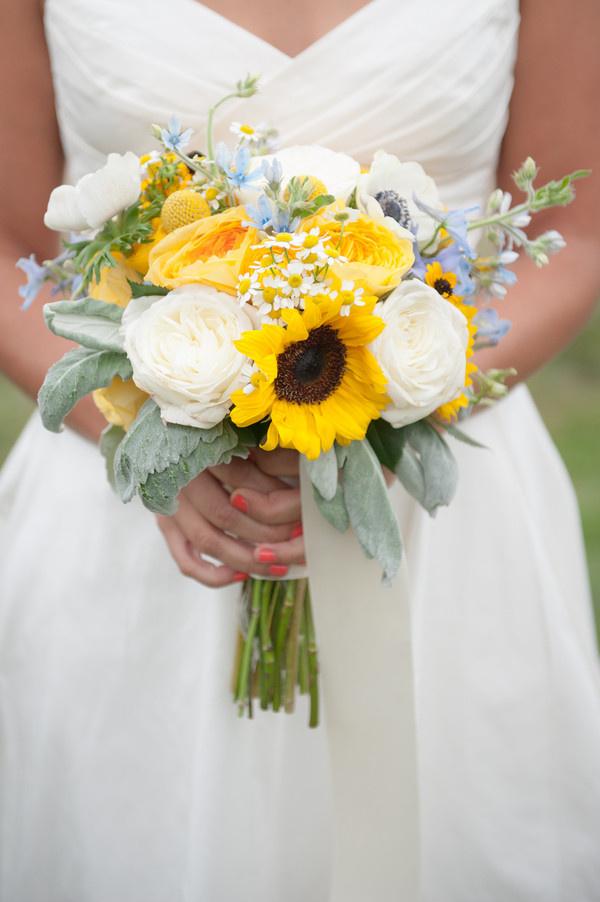 Photo: Carly Abbott Photography
Sunflowers are a quintessentially rustic choice. Carry a bouquet of standalone sunflowers, or pair them with roses, baby's breath, delphinium, and dusty miller for a charming countryside look.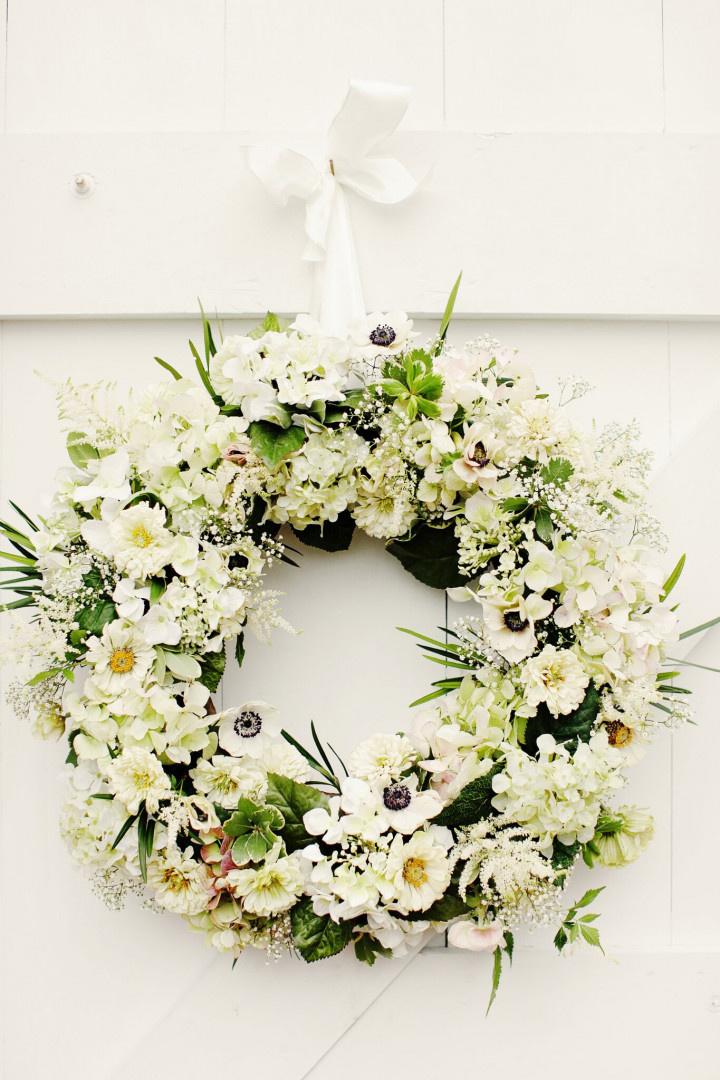 Photo: Jeri Houseworth Photography
Decorate your rustic wedding venue with wildflower-inspired wreaths. They look great displayed on barn doors, gates, sign posts, or even grouped together as a ceremony or sweetheart table backdrop.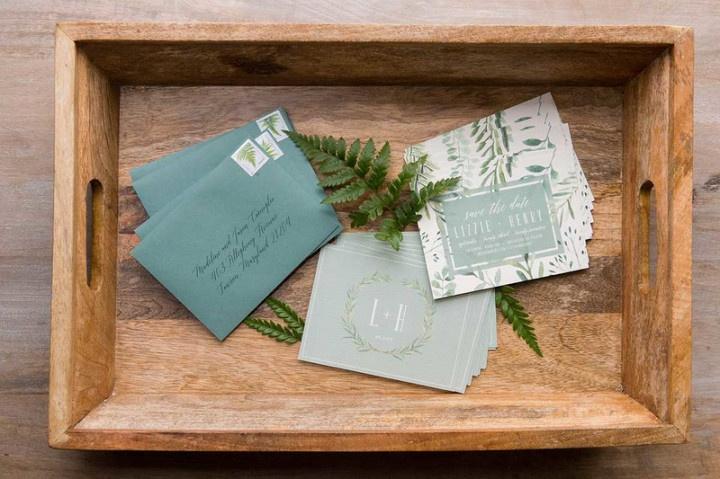 Photo: mlc designs
Go for "modern rustic" with save-the-dates featuring watercolor greenery motifs. The soft green is an unexpected (and chic) take on our traditional rustic wedding color palette.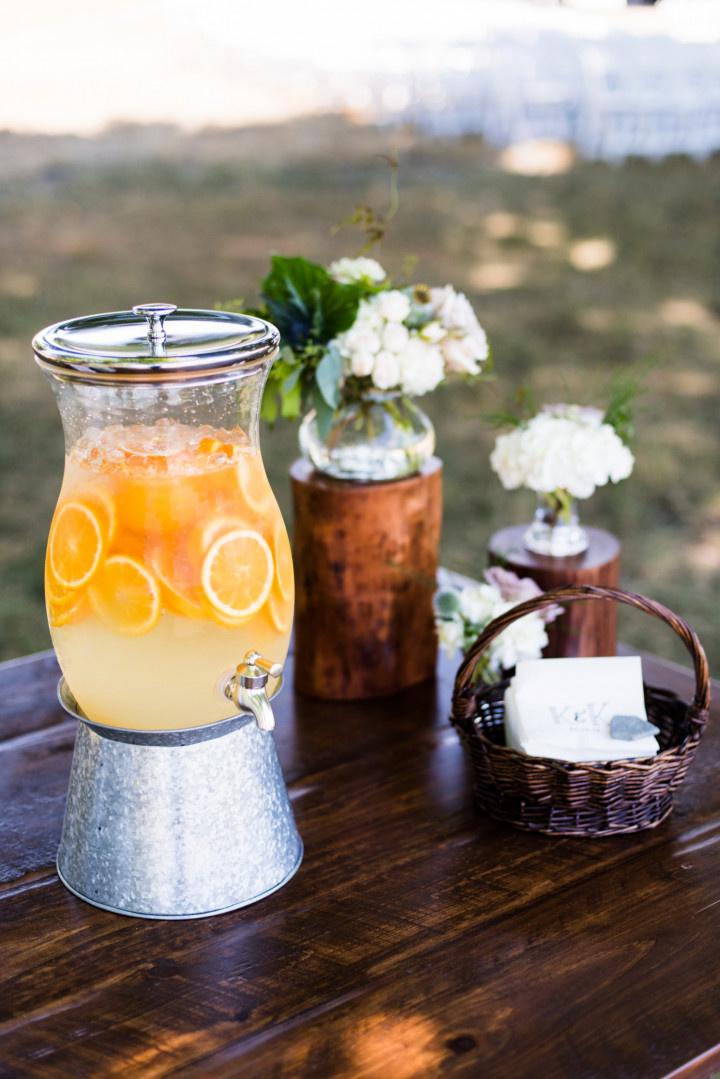 Photo: Mark Davidson Photography
A self-serve refreshment station is a welcome sight for thirsty guests, especially during the summer months. Offer your favorite cold drinks, like Southern sweet tea or lemonade, as guests are taking their seats before the ceremony or mingling during cocktail hour.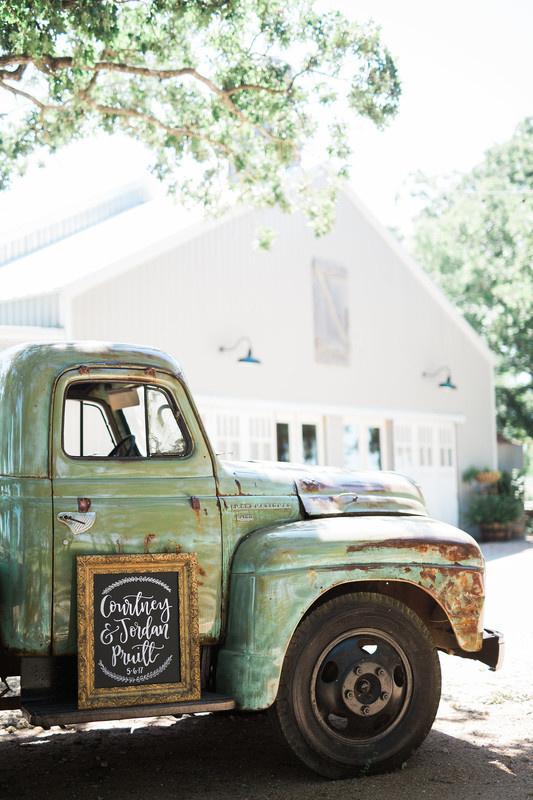 Photo: Vintage Oaks Ranch Wedding and Event Venue
Is it a true rustic wedding if there isn't a vintage pickup truck involved? If your venue doesn't already have one on the property, renting a truck is a unique way to personalize your rustic wedding.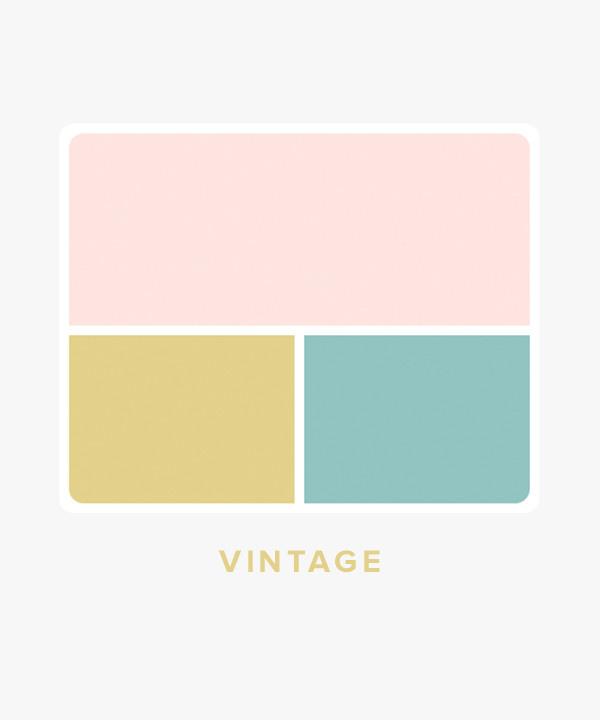 Vintage
The colors: Blush, gold and turquoise
This vintage wedding color palette is all about soft pastel tones to inspire a romantic setting. Blush pink is still going strong when it comes to vintage weddings — accent it with gold and a hint of turquoise for a totally dreamy vibe.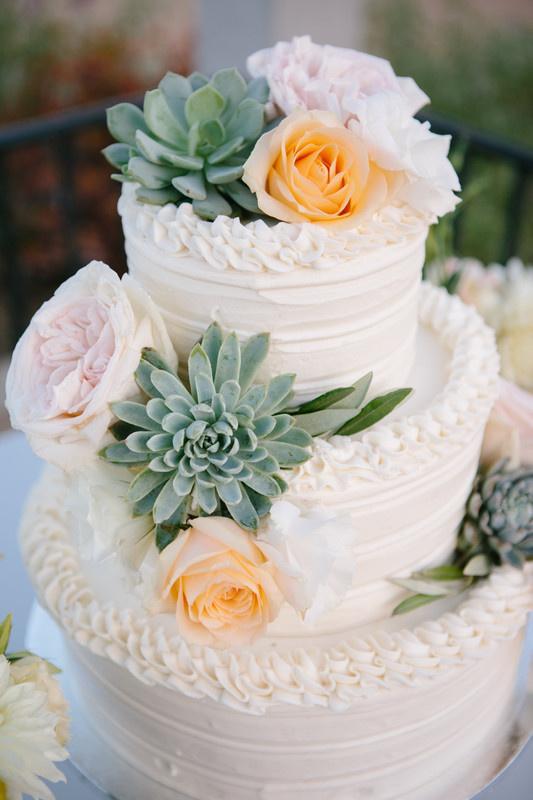 Photo: Crushcakes Cafe
We can't imagine this type of cake ever going out of style. A simple white buttercream wedding cake is easily transformed when fresh flowers and succulents are added into the mix. Those roses = swoon!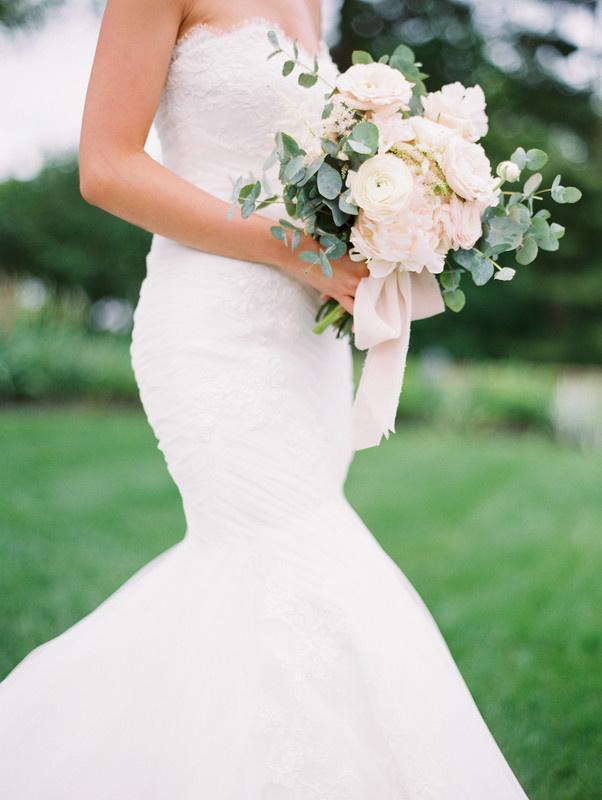 Photo: Designs by Ahn
This tone-on-tone bouquet is the stuff that our vintage wedding dreams are made of. Fluffy light pink peonies, garden roses, astilbe, ranunculus, and eucalyptus were all tied together with raw edge ribbons to create this pastel beauty. We can totally envision this arrangement at a springtime garden wedding.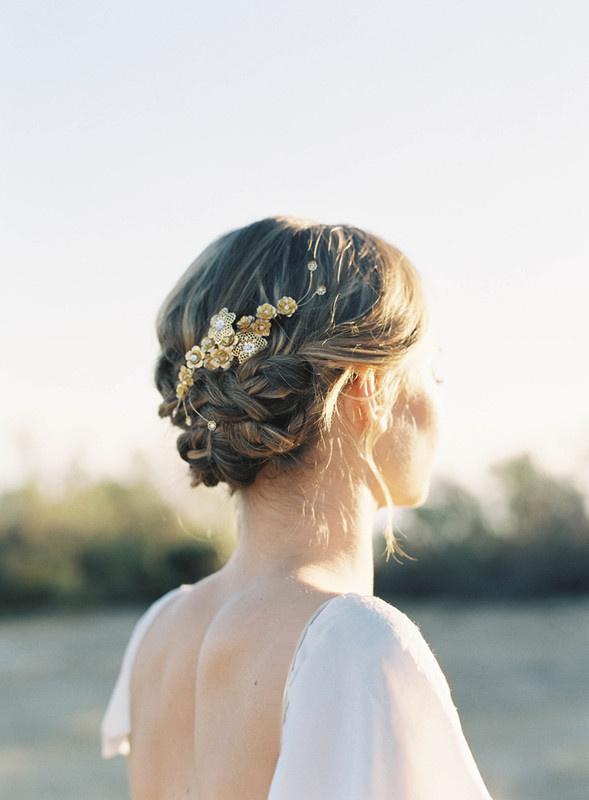 Photo: Hushed Commotion
Bring a touch of shimmer to a loose updo by accessorizing with a floral gold hair comb.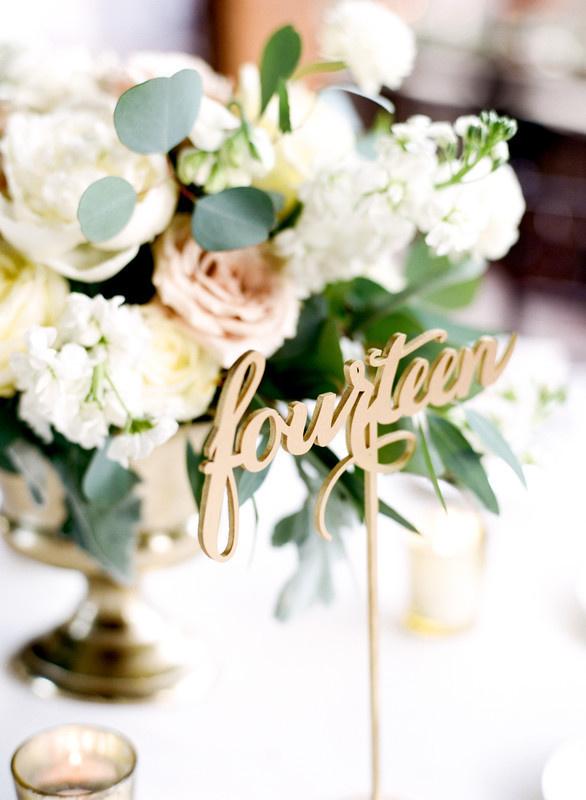 Photo: J'aime Events
There's something about these elegant script table numbers that we can't resist — maybe it's because they look so pretty paired with a floral centerpiece and a collection of votives.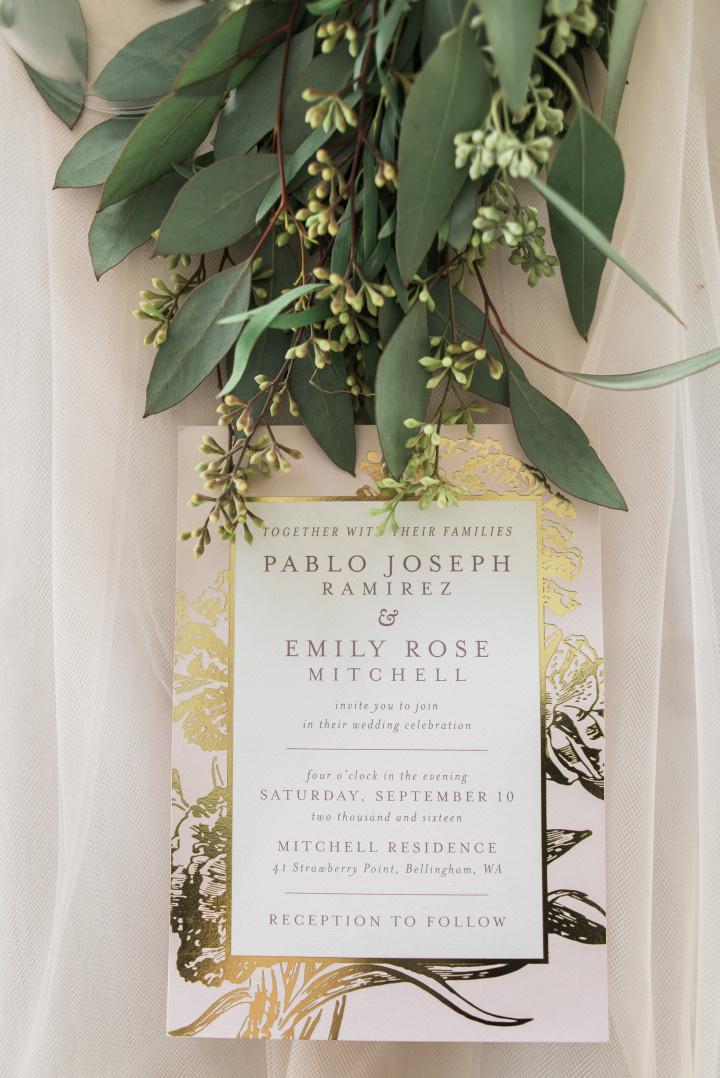 Photo: B. Jones Photography
Take a blush wedding invitation to the next level by adding gold foil in a botanical pattern. The hint of metallic detail is just enough to wow your guests as soon as they open the envelope.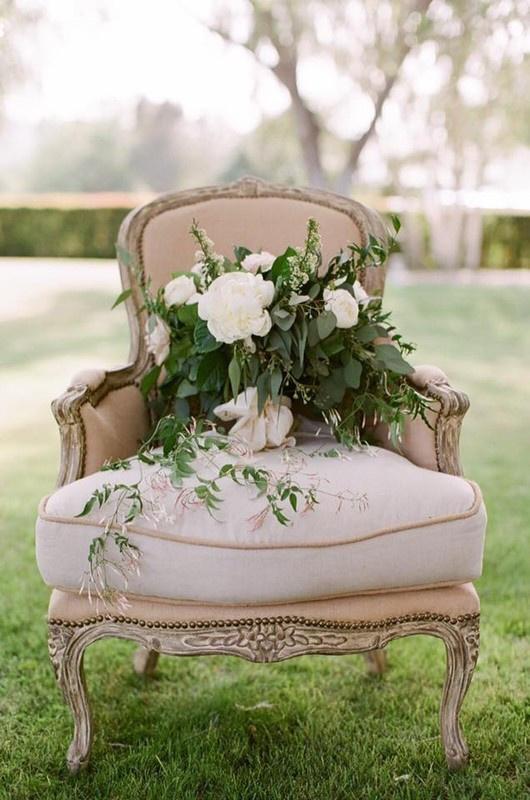 Photo: The Tent Merchant
Dine in style by renting a pair of vintage chairs for your sweetheart or head table. The chairs are a special way to differentiate you and your spouse's seats from everyone else at the reception (you are the VIPs, after all). Personalize them even more by adding signage or greenery.