How to Throw a Rose Gold Wedding
Rose gold isn't going away anytime soon. If you want to create a romantic setting for your big day, a little bit (or a lot) of rose gold is just what you need.
The rose gold wedding aesthetic started as a trend nearly 10 years ago, but this pinkish color has since become a mainstay for romantic themes—and the pretty hue still has us swooning after all this time. Compared to traditional metallic tones, like silver and yellow gold, rose gold feels trendier and more modern. It's also super versatile and can be used for any season, plus a variety of different wedding venues, whether you're hosting a garden soirée or an industrial-chic wedding. From engagement rings to wedding stationery, flatware, attire, and even wedding cakes, there are so many ways to embrace rose gold wedding decor, and we're sharing some of our favorite ideas below. If you're planning to have a rose gold wedding theme, we've got a few tips that will help you with the logistics to ensure that this color works with the rest of your wedding details flawlessly.
Keep reading for everything to know about throwing a rose gold wedding (plus some gorgeous inspiration).
What color is rose gold?
Rose gold is a dark shade of pink with warm golden undertones. Rose gold is an alloy (a metal created by mixing two different elements) made from copper and yellow gold. It can vary from extremely pink to slightly more brown, depending on the amount of copper that is used.
What does rose gold symbolize?
Rose gold is often associated with vintage and romantic styles, especially when it comes to engagement rings (Lauren Conrad and Blake Lively both wear rose gold rings). Its pink hue makes rose gold feel very feminine and sophisticated, but it can also look edgy and trendy when paired with black or silver accents. For the ultimate pink engagement ring, look for a morganite stone in a rose gold setting. If you're considering rose gold for your engagement ring or other wedding jewelry, you'll be glad to know that it's a fairly durable metal—even more durable than yellow gold. The copper element in rose gold makes it less likely to bend or scratch with everyday wear.
What color flowers go with rose gold?
Since rose gold is such a statement color, it doesn't need much else to shine! White, blush, light blue, burgundy, and purple flowers are all complementary options, along with greenery, which is a beautiful addition to any rose gold wedding.
What colors go with rose gold for a wedding?
Jewel tones and pastels are two popular color palette options for rose gold wedding decor. In general, most colors will look great when paired with rose gold, except for those that are very similar in tone, such as orange and yellow. If you're planning to use either of these colors for your rose gold wedding, we recommend incorporating another accent color, like white or blush, to prevent the palette from looking too monochromatic.
Rose gold wedding decor ideas
Ready to plan your rose gold wedding? These ideas will help you visualize exactly how to incorporate the color into your decor and beyond.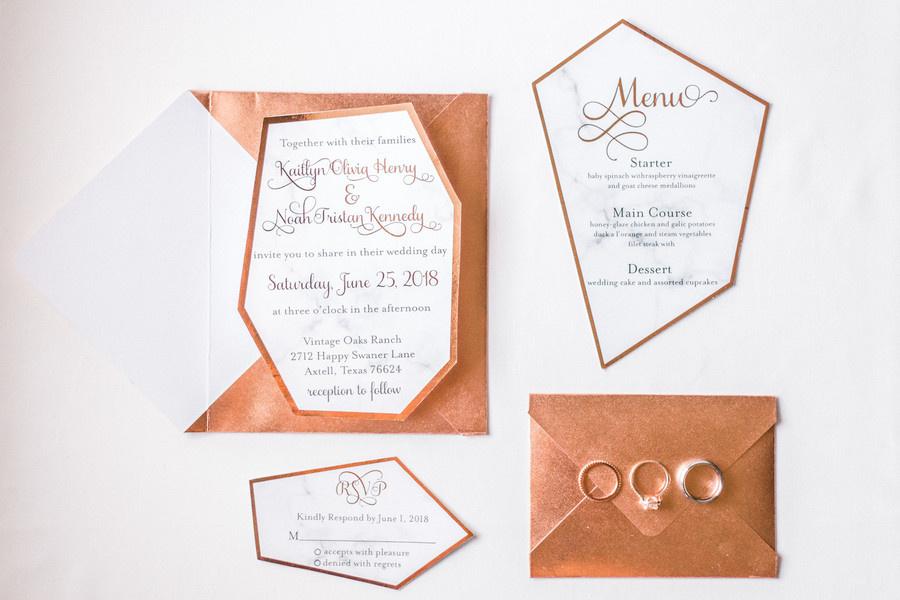 Stationery by Palmer Lettering Co. and ByCuddles
Rose gold wedding invitations
Your wedding invitations are one of the first wedding details your guests will see, and they're the perfect opportunity to provide a little sneak peek of your color palette. Adorn your stationery suite with metallic rose gold foil on the envelopes, RSVP cards, menu, or all of the above!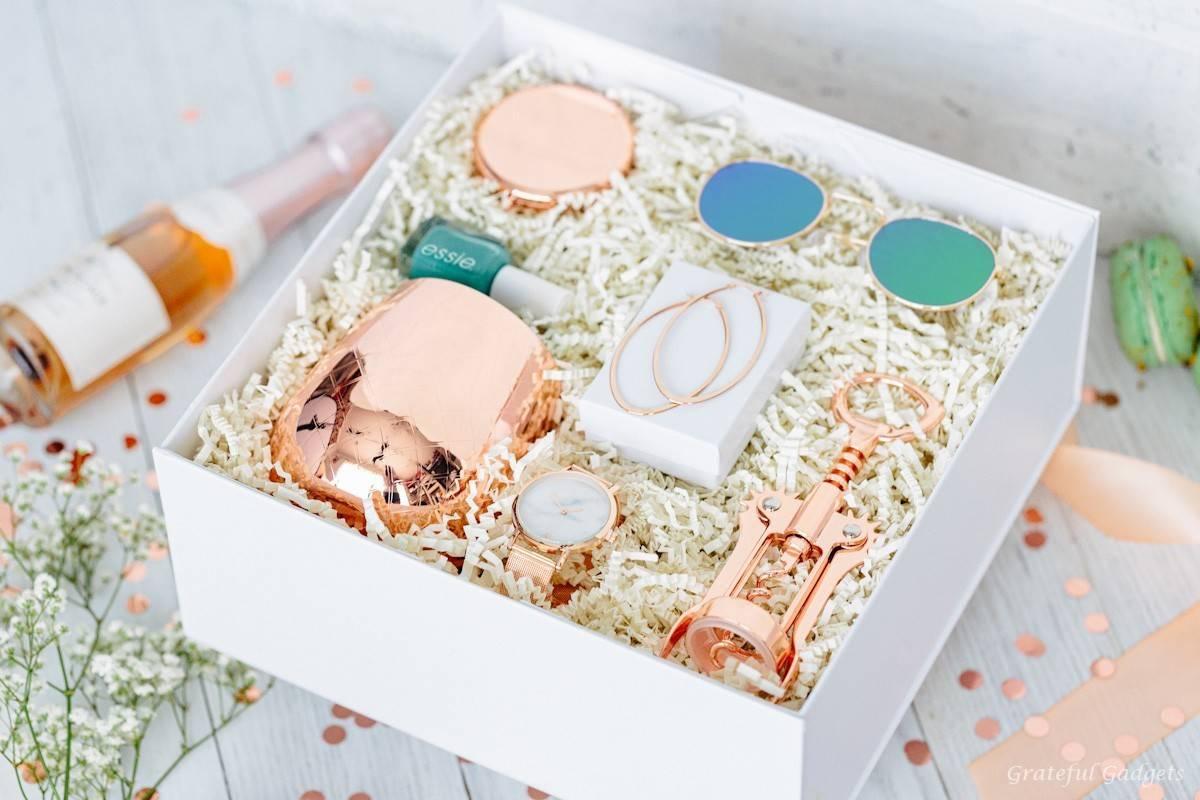 Bridesmaid gift box
If you're treating your bridesmaids to curated gift boxes, you can match them to your wedding theme by including some rose gold items. Wine tumblers, sunglasses, and jewelry are just a few options (check out the WeddingWire Shop for even more ideas).
Rose gold bridesmaid dresses
Rose gold sequined gowns are a fan favorite for glam bridesmaids. And if you're feeling particularly fashionable as the bride, why not ditch the traditional white dress in favor of a rose-hued style instead?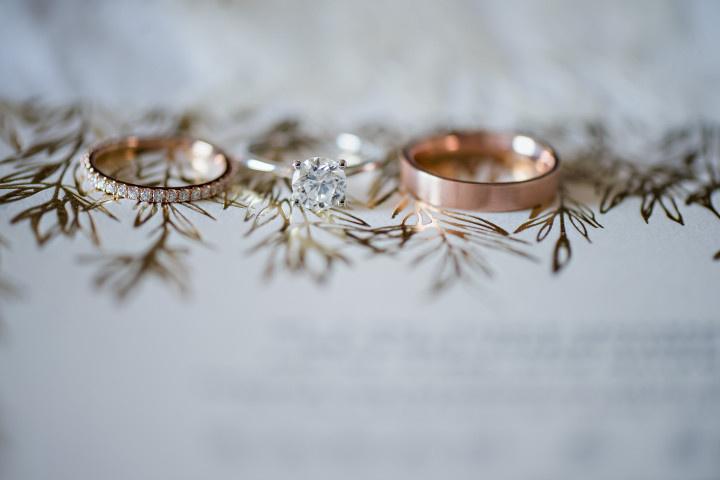 Rose gold wedding bands
We're pretty sure rose gold wedding bands are here for the long haul, but mixing metals is an option, too. Don't be shy about pairing platinum silver and rose gold pieces together—the end result is gorgeous.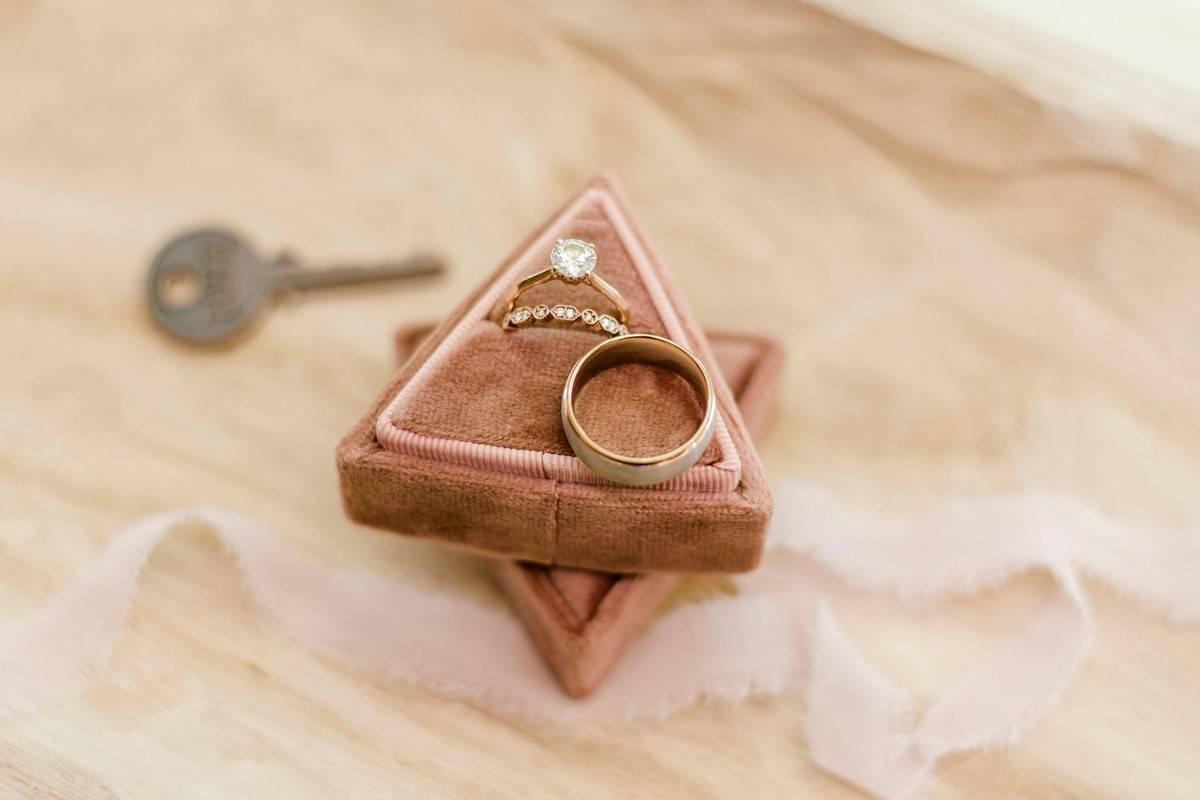 Velvet engagement ring box
You need a safe place to store your engagement ring or wedding band whenever you're not wearing it, so you might as well find a stylish box that you'll love looking at all the time. A rosy velvet keepsake box looks pretty in wedding flat lay photos and long after the big day.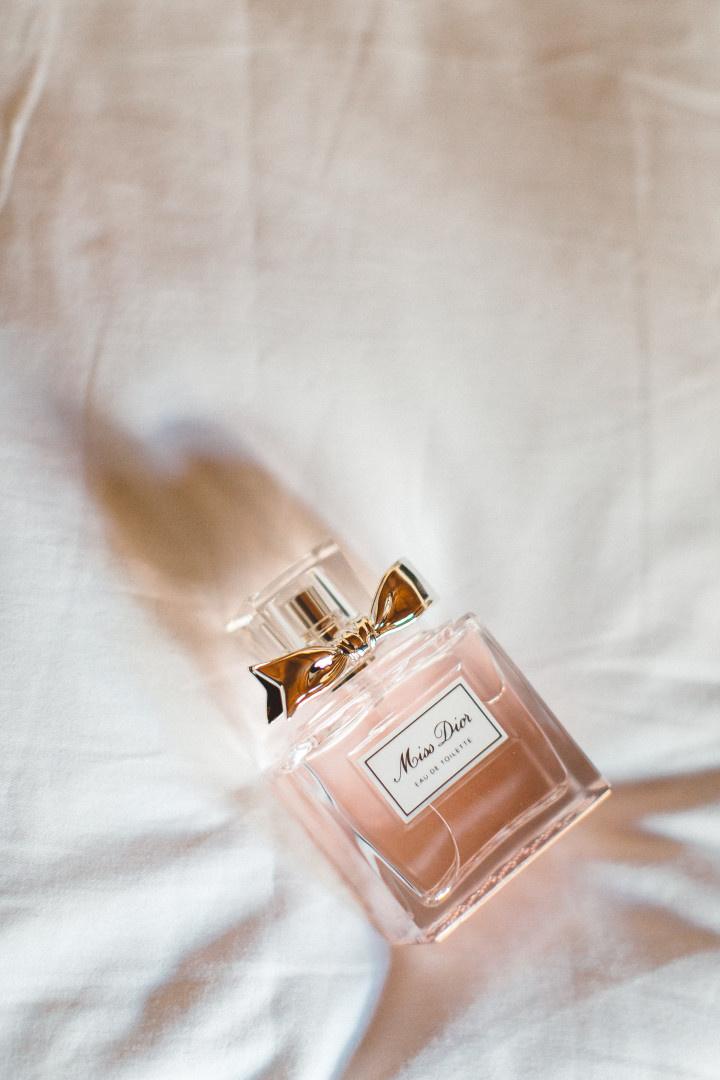 Wedding day perfume
When your wedding day perfume looks as pretty as it smells, is there anything better? This rosy pink bottle (complete with a dainty bow) is a timeless choice.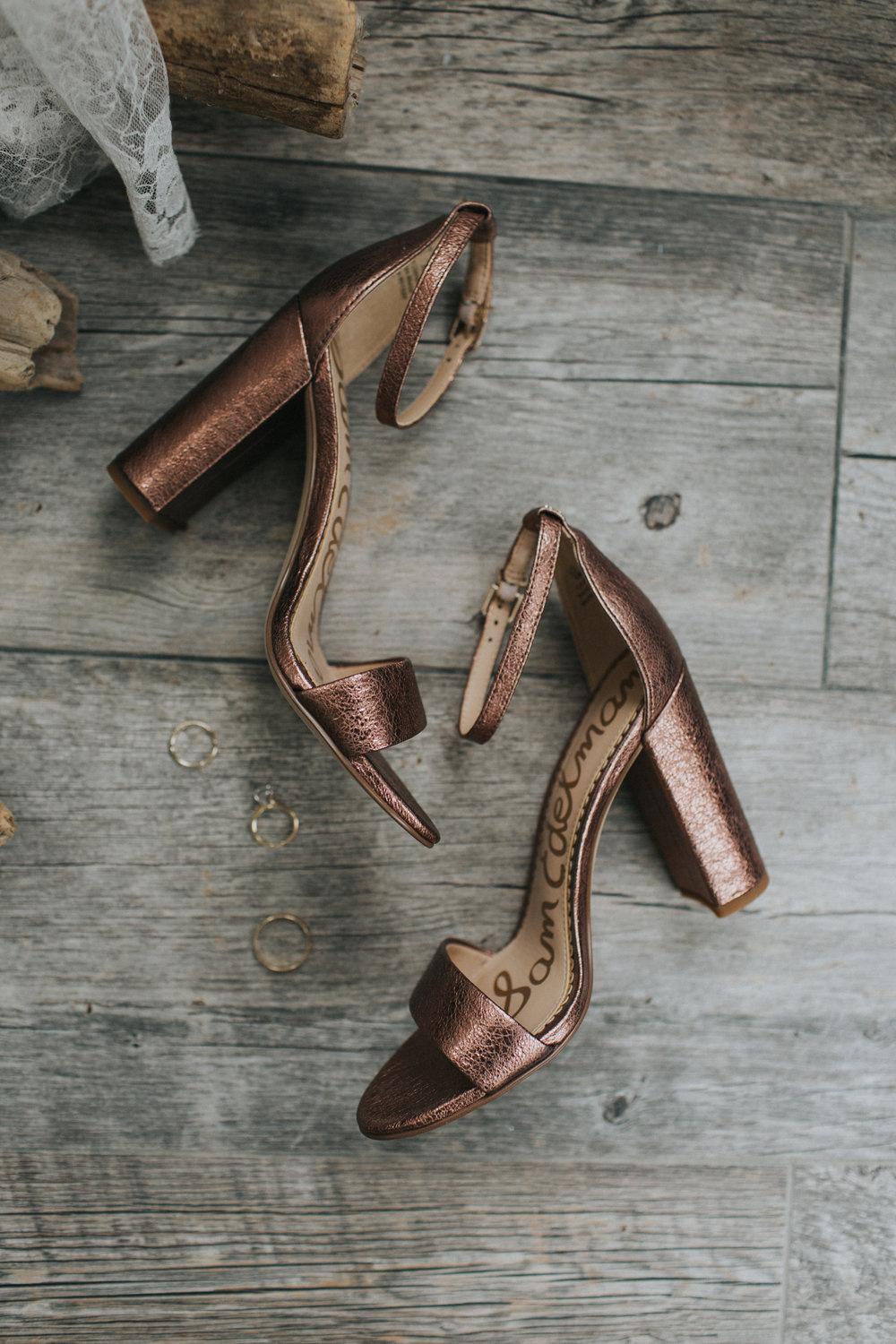 Rose gold wedding shoes
Gone are the days of only wearing classic shoes for your nuptials—now, your wedding day kicks are just another chance to show off your personal style. Heeled rose gold sandals are a stylish choice for any bride who wants to add a little bit of sparkle to her look.
Stationery by Copper Willow Paper Studio
Wedding ceremony programs
Look for little details where you can showcase your rose gold wedding theme. These simple ceremony programs are adorned with embossed rose gold initials and matching twine.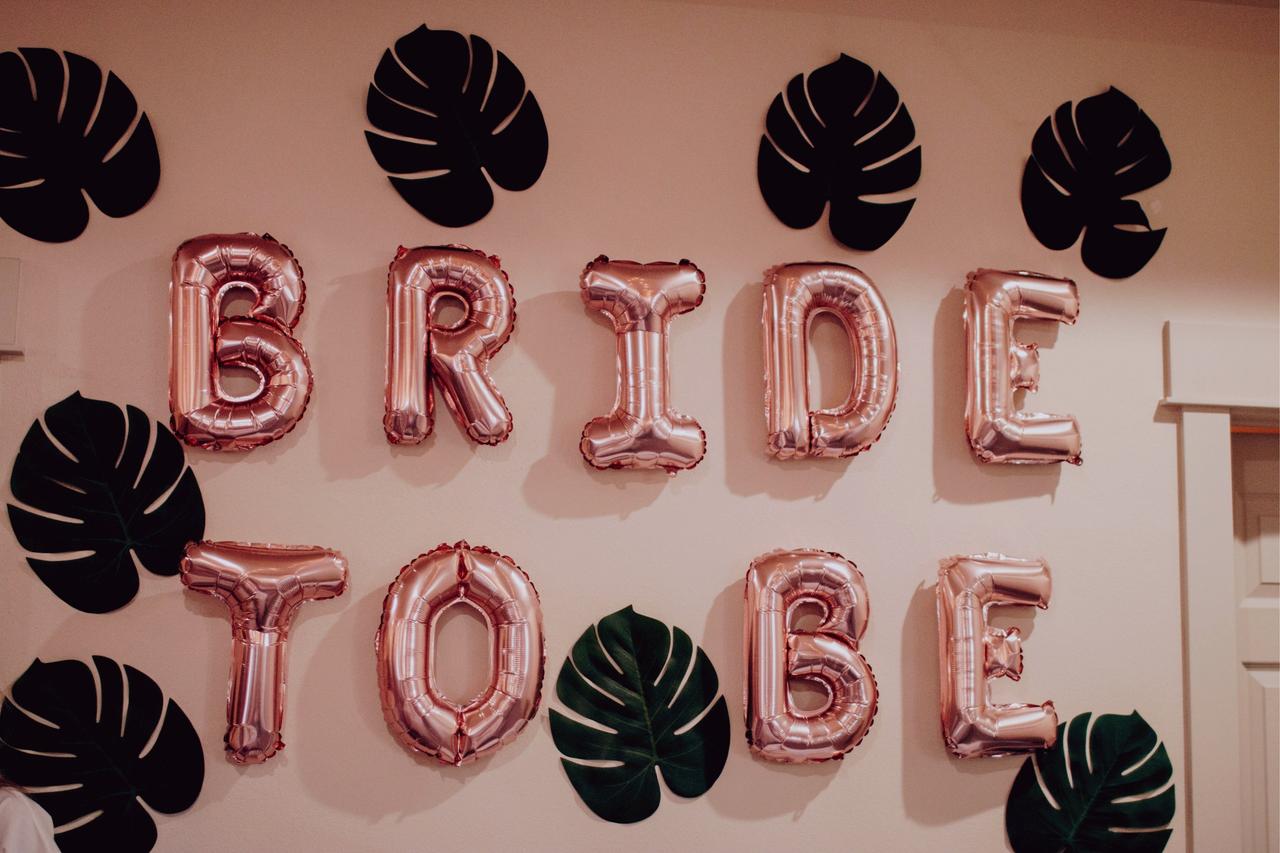 Rose gold letter balloons
Not only are these letter balloons a fun wedding photo prop, they're also an easy way to add rose gold into your decor. Spelling "bride to be" is an option for a bachelorette party or bridal shower, but for your wedding, you could display your date, hashtag, or other welcoming phrase.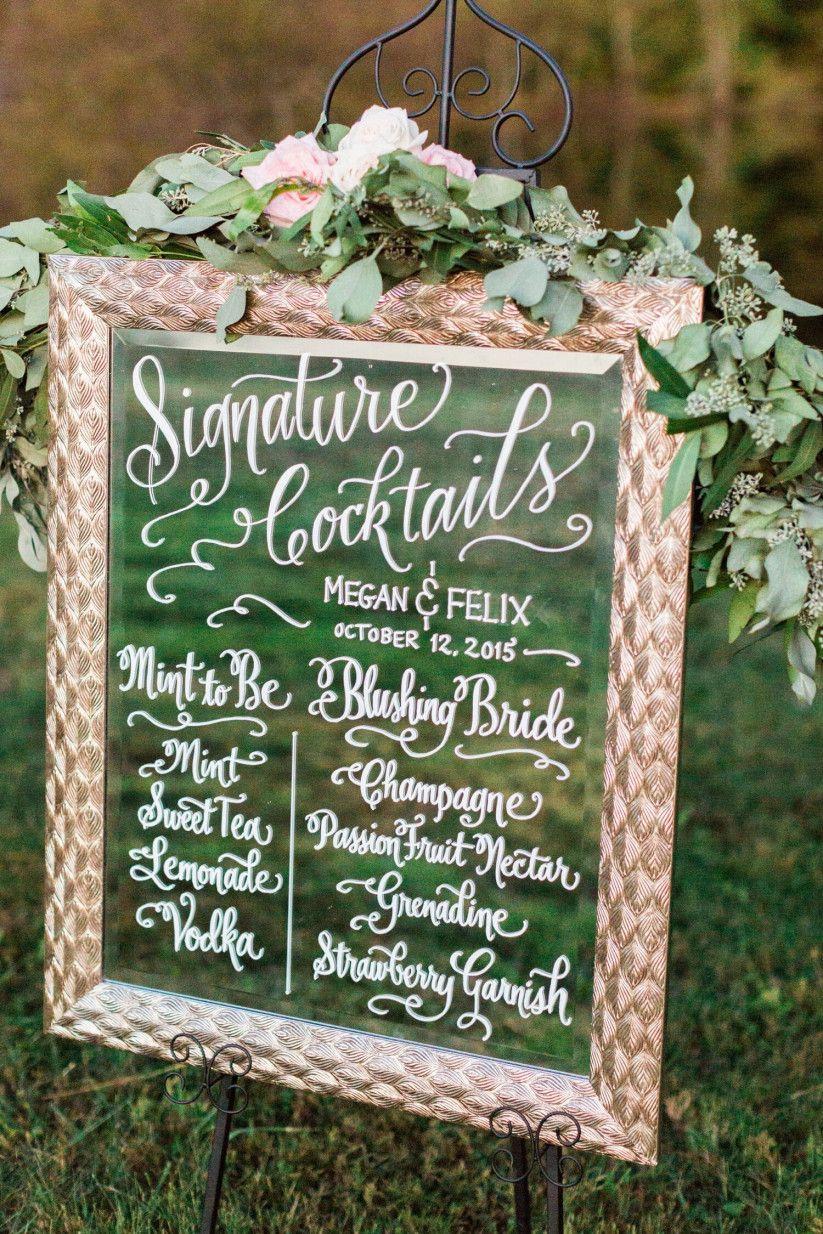 Framed wedding sign
If signage is playing a big role in your wedding decor, finish the look with a rose gold frame and a touch of fresh greenery.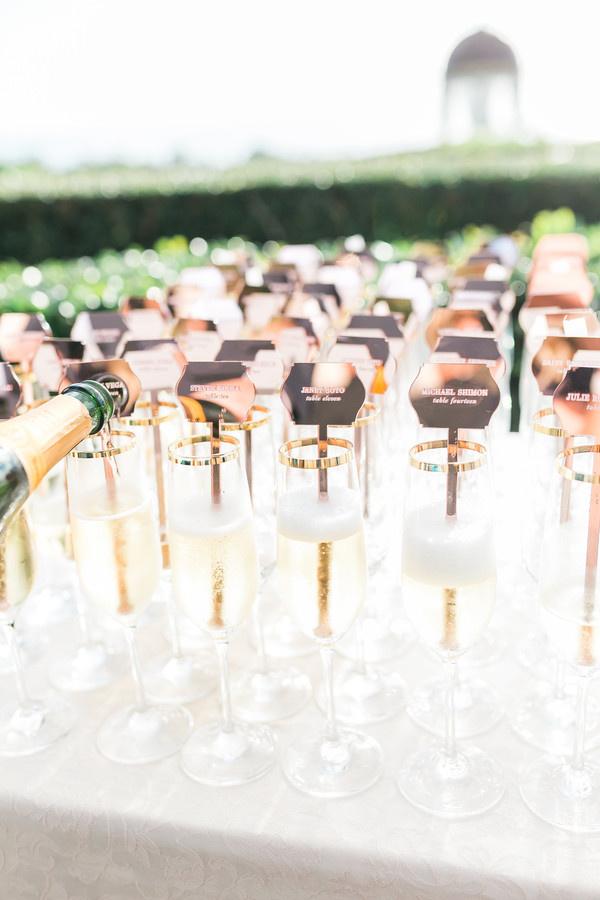 Event design by Angelica Rose Events, Escort cards by ShePaperie
Champagne wedding escort cards
Drinkable escort cards are a fun way to let guests know where they'll be sitting during the reception. Use glasses of champagne (or your beverage of choice) and add custom rose gold stirrers engraved with guests' names and seating assignments.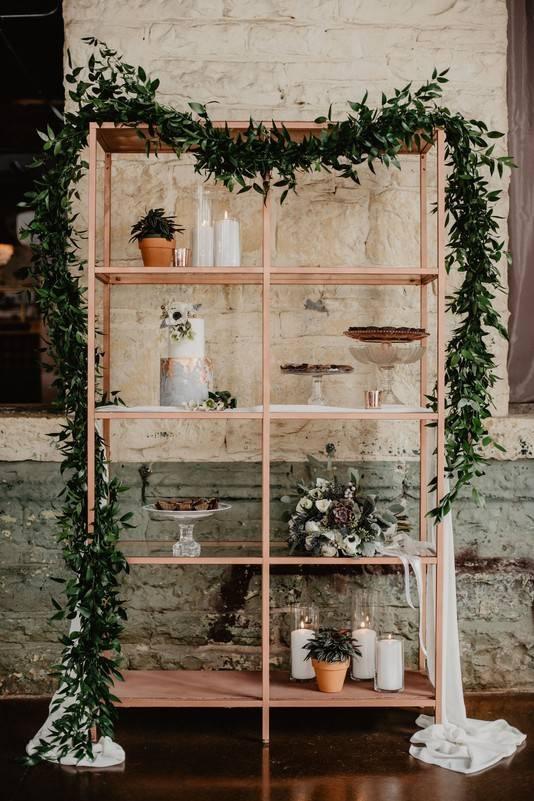 Event design by She Rents Vintage
Decorative rose gold shelf
Fill an empty area at your wedding venue by renting a rose gold shelf or table, then add candles, flowers, greenery, and sweet treats for a quick (but stylish) accent wall.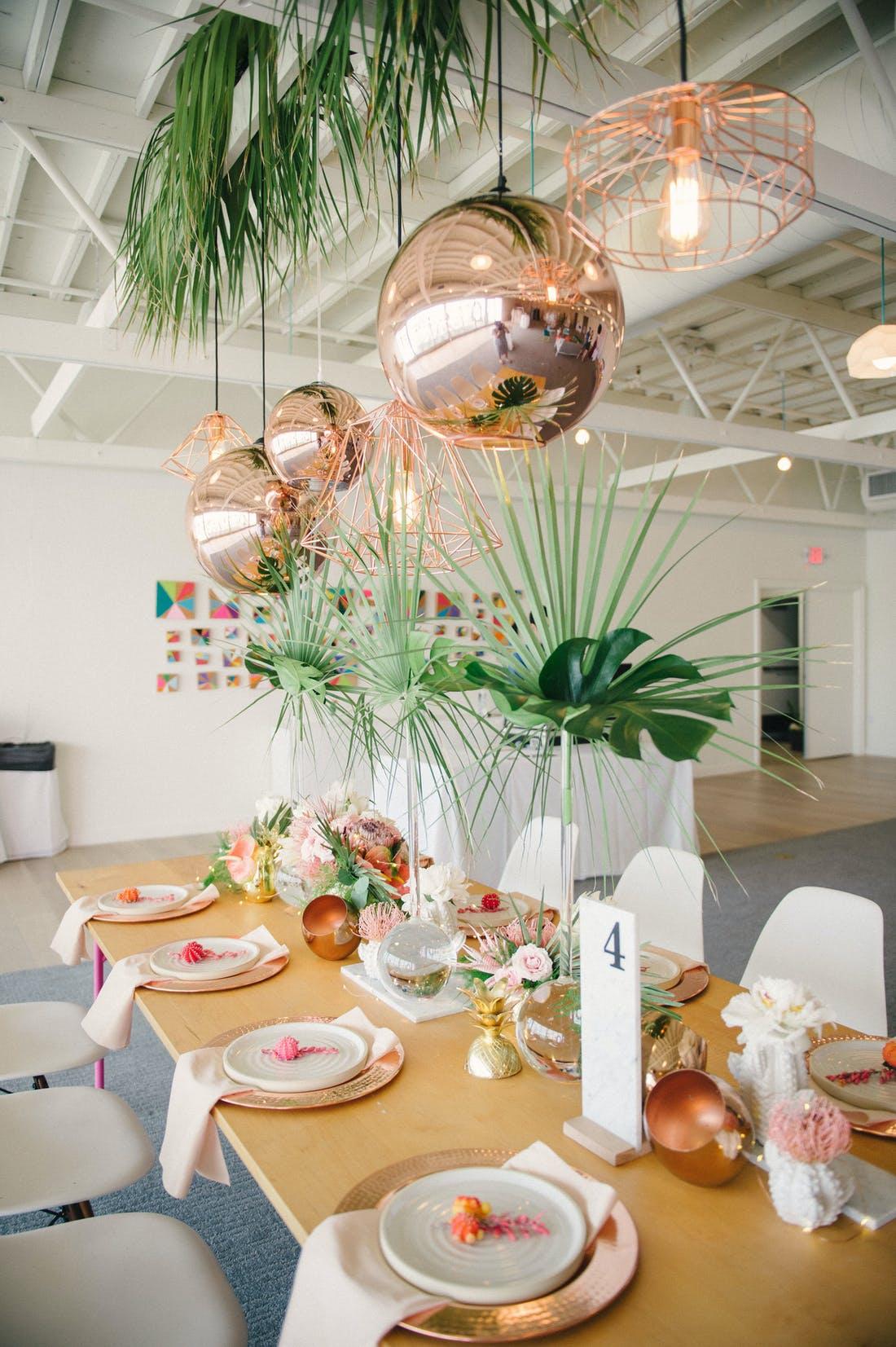 Rose gold lighting fixtures
Creative lighting is one of the best ways to personalize a wedding venue and make it your own. We love these mix-and-match fixtures for a whimsical rose gold wedding.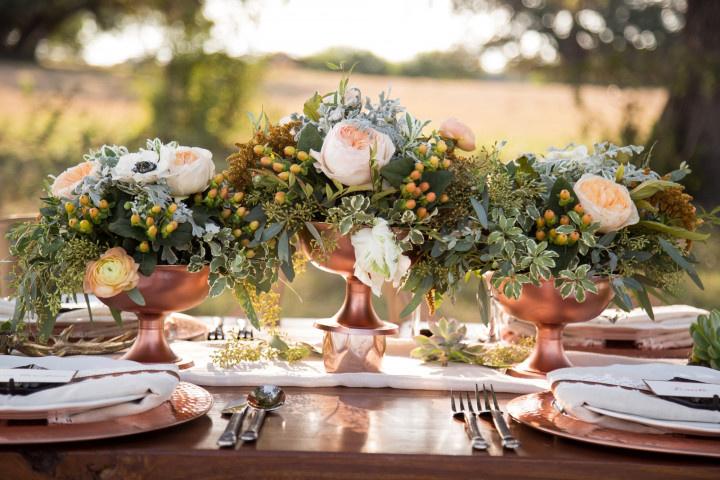 Wedding centerpiece vessels
Rose gold compote vases create a pretty backdrop for blush and greenery centerpieces, especially if you're having a rustic theme or outdoor wedding.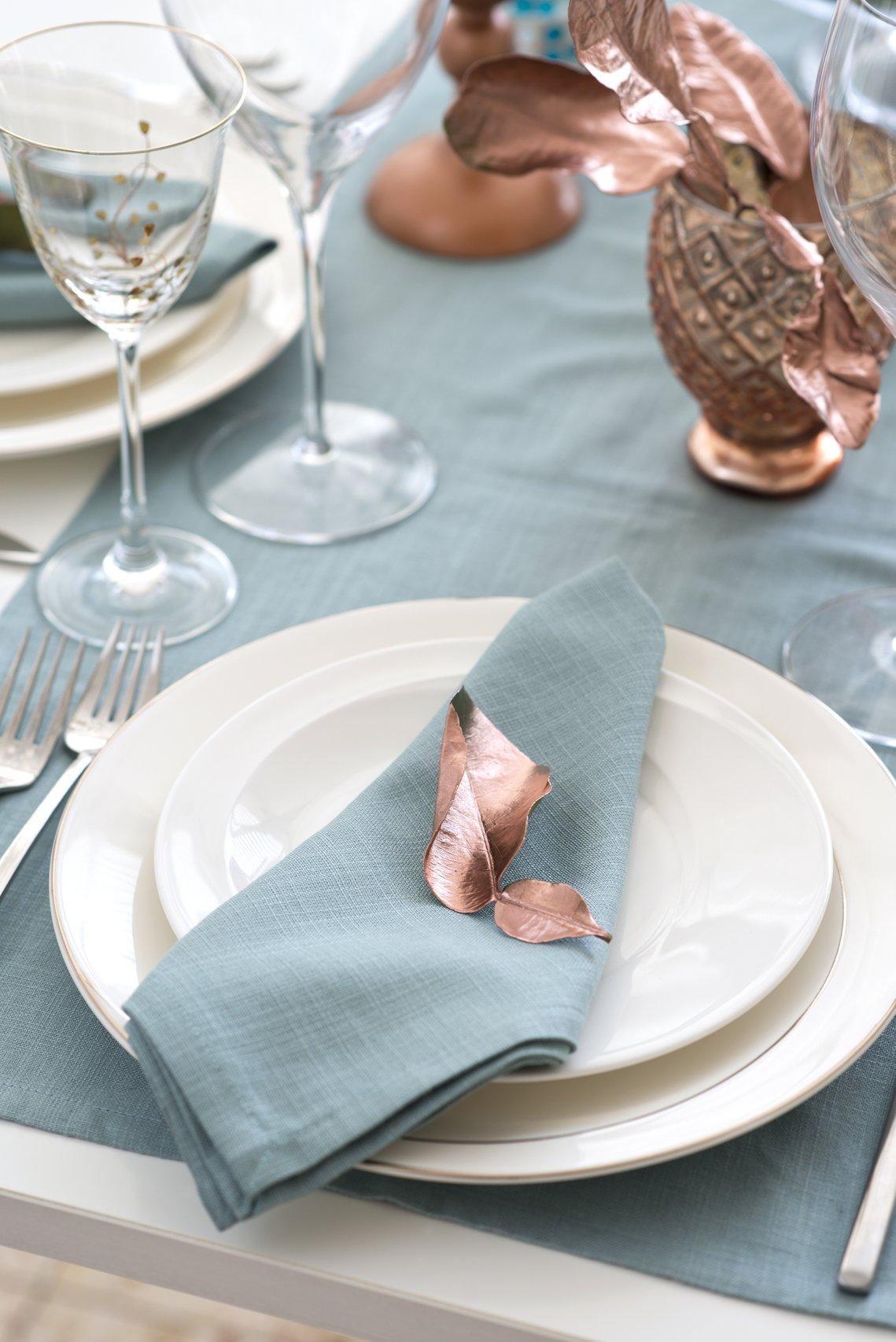 Rose gold place setting decor
For a fall wedding, spruce up your reception place settings by completing them with painted rose gold leaves. You can write guests' names on the leaves to create seasonal place cards, but we think they look just as pretty without any calligraphy.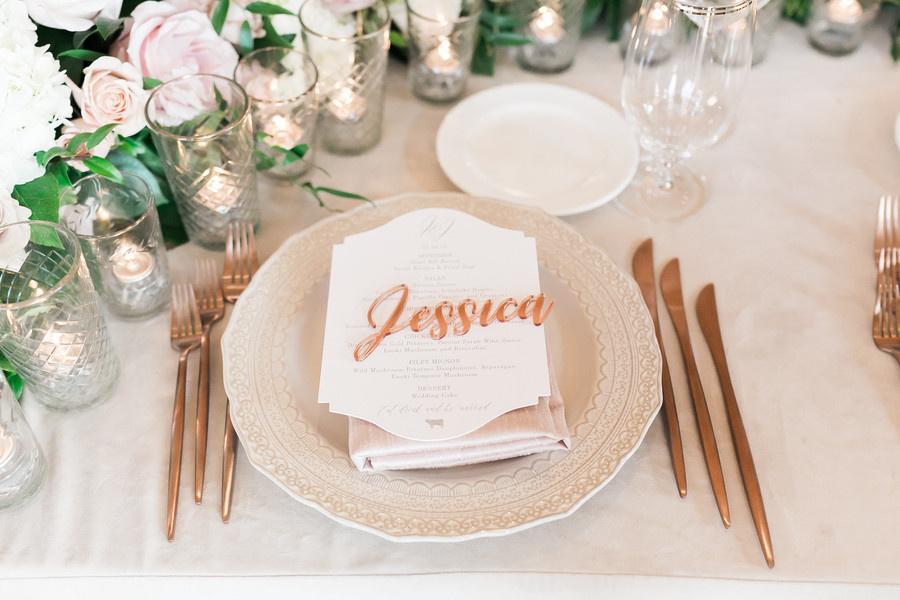 Event design by Angelica Rose Events, Place cards by ShePaperie
Laser-cut wedding place cards
These ultra-chic place cards are a gorgeous option if you're looking to take your rose gold wedding to the next level, or if you want to bring a highly-personalized element to an intimate wedding reception.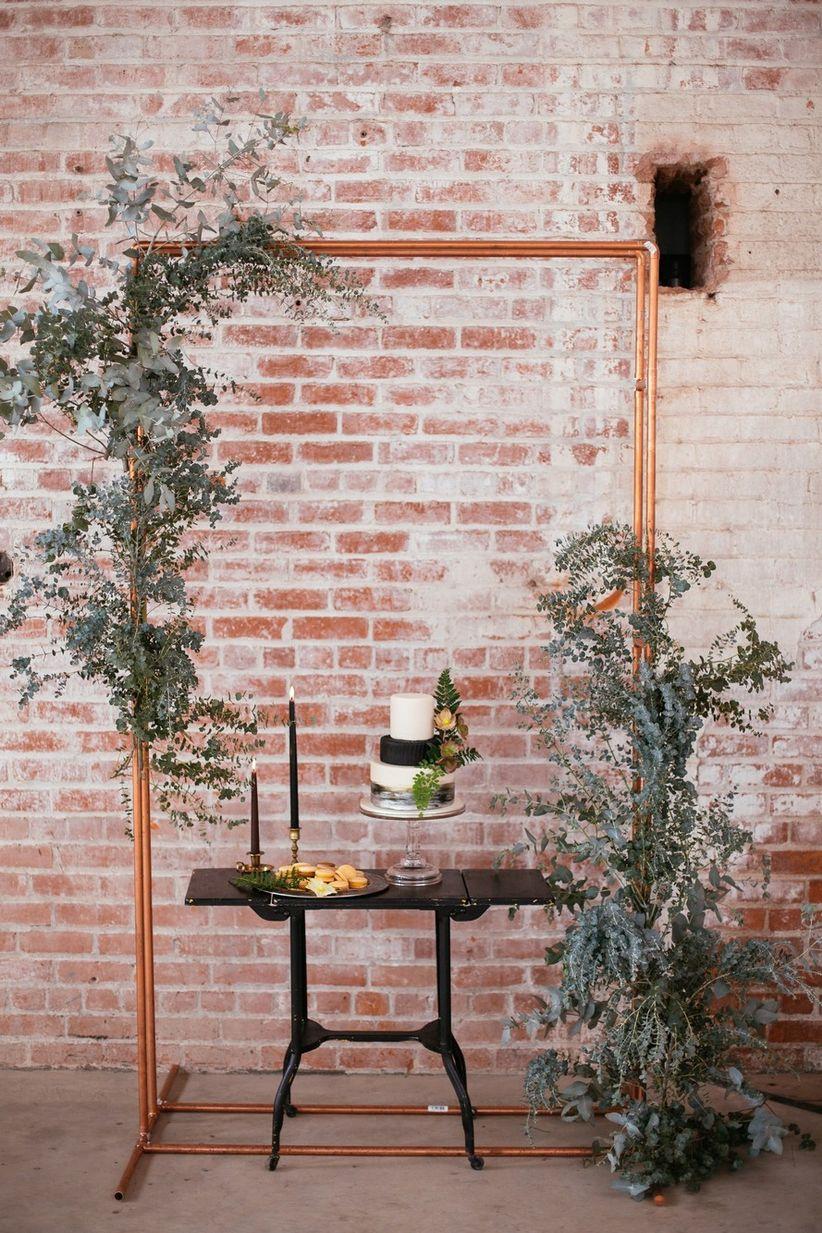 Copper pipe wedding backdrop
Since copper and rose gold look so similar and color, we say go ahead and incorporate both into your rose gold wedding decor. A copper pipe structure can be personalized with flowers and greenery to match your specific wedding vision—ask your venue or check local event rental companies to find one. The end result is an industrial chic wedding look.
Wedding reception chairs
While many wedding venues offer chairs, it can be fun to play around with decorative wedding chair options to give your wedding a unique look, such as these rose gold metal chairs. Costs can add up depending on the types of chairs you rent and how many you need, so consider renting special chairs for just you and your spouse if you're looking for ways to save.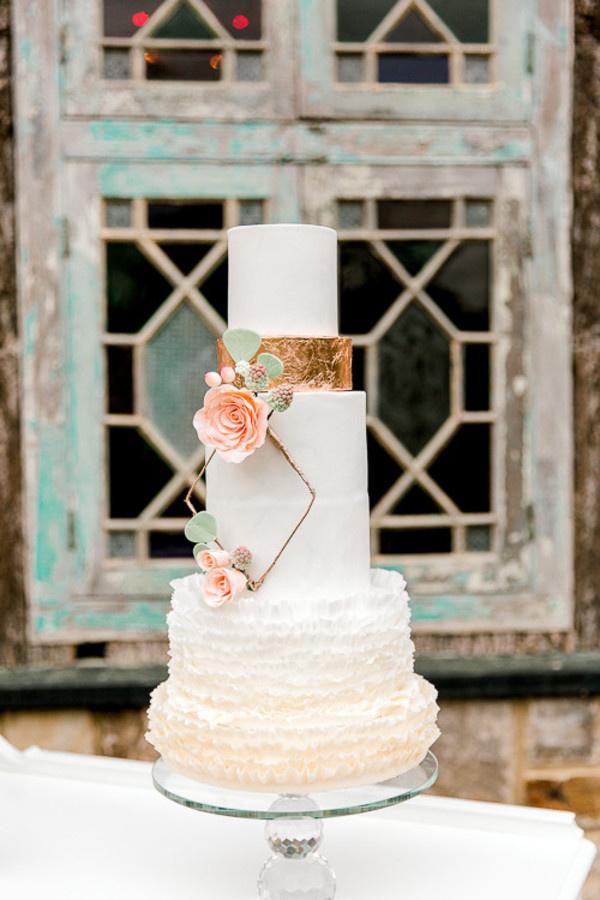 Cake by A Joy Cakes
Rose gold wedding cake
Edible foils and paints are just a few ways you can add touches of rose gold to your wedding cake.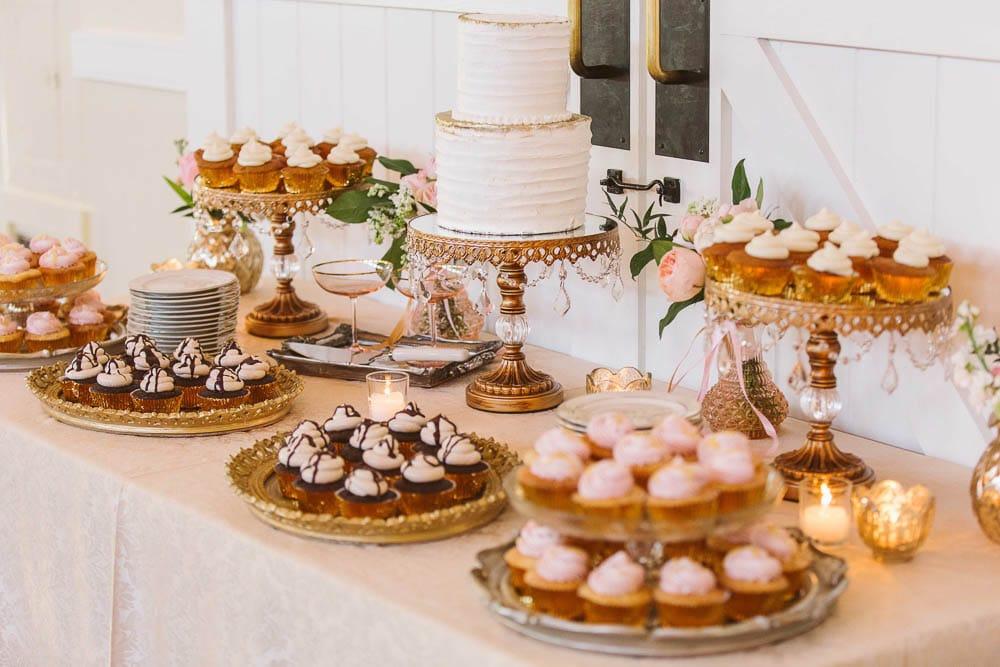 Wedding cake stands
If your actual wedding cake isn't decorated with rose gold details, you can still incorporate the color into your dessert display by using cake stands, votive candles, or rose gold table linens.