Everything's coming up roses—rose gold, that is! The rose gold wedding ideas trend is nothing new, but this pinkish color still has us swooning years after making its way onto the wedding scene. Lauren Conrad sparked the rose gold craze in 2013 with her engagement ring, and nowadays this pretty, peachy hue can be seen in details at the chicest of weddings, from sparkling tabletop decor to stationery and even giant balloons. Rose gold is perfect for a garden soirée or classic ballroom venue, and it brings an instant dose of romance to any wedding.
Get inspired by these beautiful rose gold wedding ideas.
Attire and Accessories
Take your rose gold love affair to the next level by adding the color to your wedding day look through attire and accessories.
These rose gold sequined Badgley Mischka dresses are a fan favorite for glam bridesmaids. If you're feeling particularly fashionable as the bride, why not ditch the traditional white dress for a style like this instead?
We're predicting that rose gold will stick around as a major engagement ring trend, but mixing metals is stepping into the spotlight, too. Don't be shy about pairing platinum and rose gold styles together—the result is gorgeous!
Pear-cut stones are the new oval. These rose gold earrings add just the right amount of sparkle to your bridal accessories.
When your wedding day perfume looks as pretty as it smells, is there anything better? This rosy option by Miss Dior is a timeless choice.
Beaded sandals are a sensible option for brides getting hitched outdoors, such as a beach or vineyard wedding. This sparkly rose gold pair by Mystique feels chic and elegant.
Decor and Details
Whether you go all out and dress your venue in head-to-toe rose gold or keep things understated with subtle touches of the color, there's no doubt that it makes for one of the prettiest accent hues.
If you don't want your entire wedding stationery suite to be covered in rose gold, a simple envelope liner with foil accents does the trick.
Put a modern spin on your rose gold decor with tropical wedding signage and whimsical calligraphy.
Not only are these giant balloons a fun wedding photo prop, they're also one of the most versatile ways to include rose gold into your decor. Use them at your venue's entrance, and then repurpose them for the reception or post-wedding brunch!
Fresh greenery is the sweetest accent to a rose gold frame.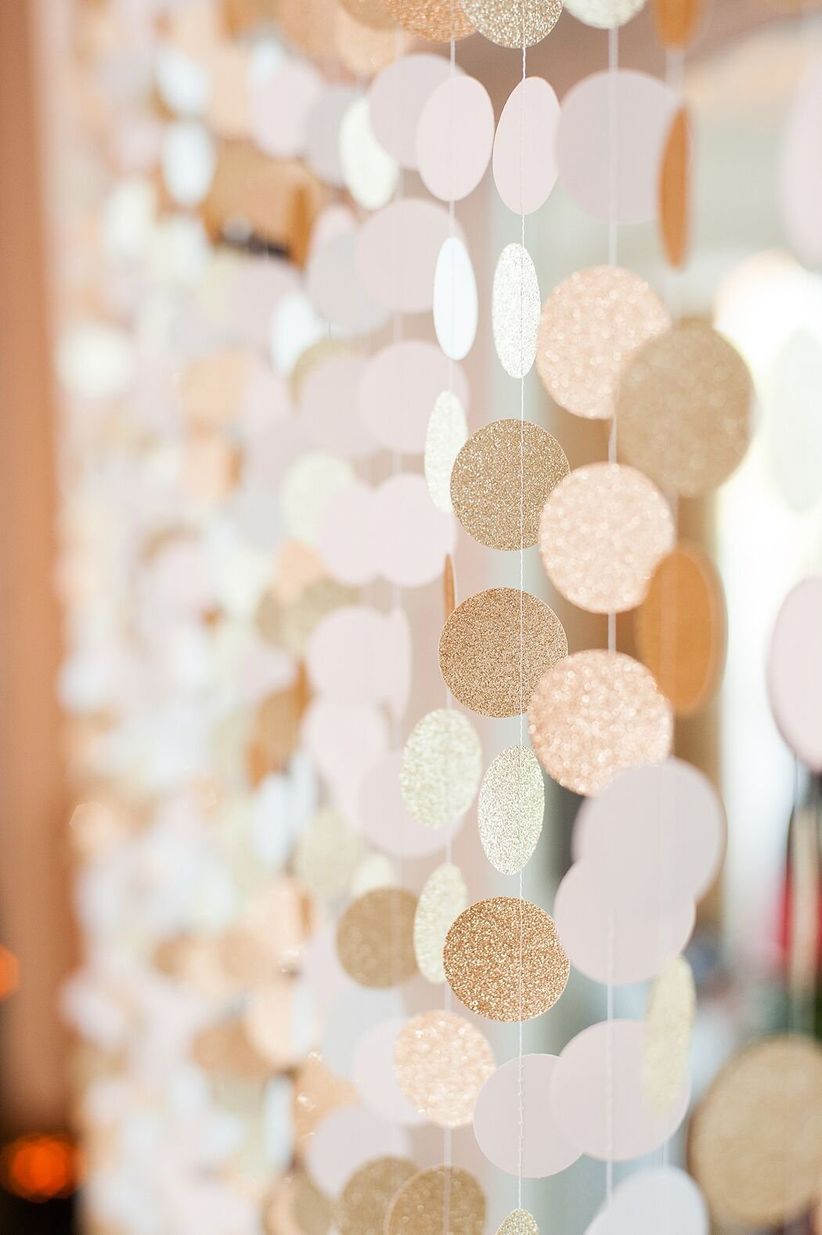 Combine rose gold with soft blush pink for an effortlessly romantic effect.
If you're getting married outdoors, darker rose gold hues (like this coppery shade) work great in natural settings.
Centerpieces and Tablescapes
Instead of traditional gold or silver, accent your banquet tables with rose gold details. It offers a fresh take on the metallic trend and looks gorgeous at nearly any type of event, from rustic chic barn weddings to formal estate room receptions.
Dress up a rustic wooden table with a row of gorgeous rose gold jars. Add a few votives here and there—voilà.
Don't just stop at one tablecloth—layer a shimmering rose gold cloth on top of a blush one for a look that's ultra-glam. Add a showstopping centerpiece to completely wow your guests.
A chevron sequin runner is a playful addition to an otherwise classic tablescape.
Rose gold compote vases create a pretty backdrop for blush and green centerpieces.
Incorporate rose gold in an understated way by taking a cue from this elegant place setting.
Dessert Displays
Since rose gold wedding ideas are relatively trendy, they make a perfect pair when matched up with other trends. Case in point: dessert! From laser-cut toppers and drip cakes, to our personal favorite, doughnut bars, your wedding cake or dessert display is the perfect opportunity to incorporate a touch of rose gold.
If you're going to spoil your guests with a wedding doughnut bar, this is the way to do it. We're loving these rose gold balloons so everyone knows exactly where to go.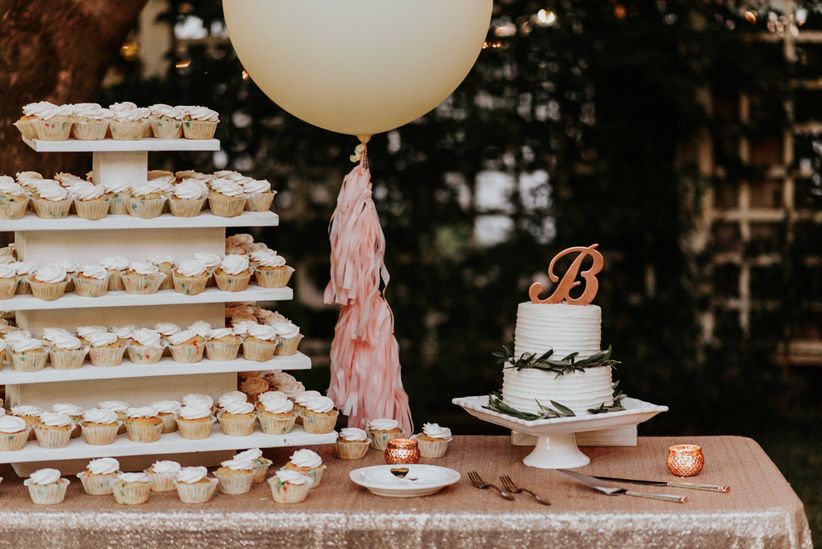 Start with your wedding cake, add a rose gold tablecloth and tassel balloon, and you have an instant dessert display.
Pair a laser-cut creation with whimsical figurines for an oh-so-adorable wedding cake topper.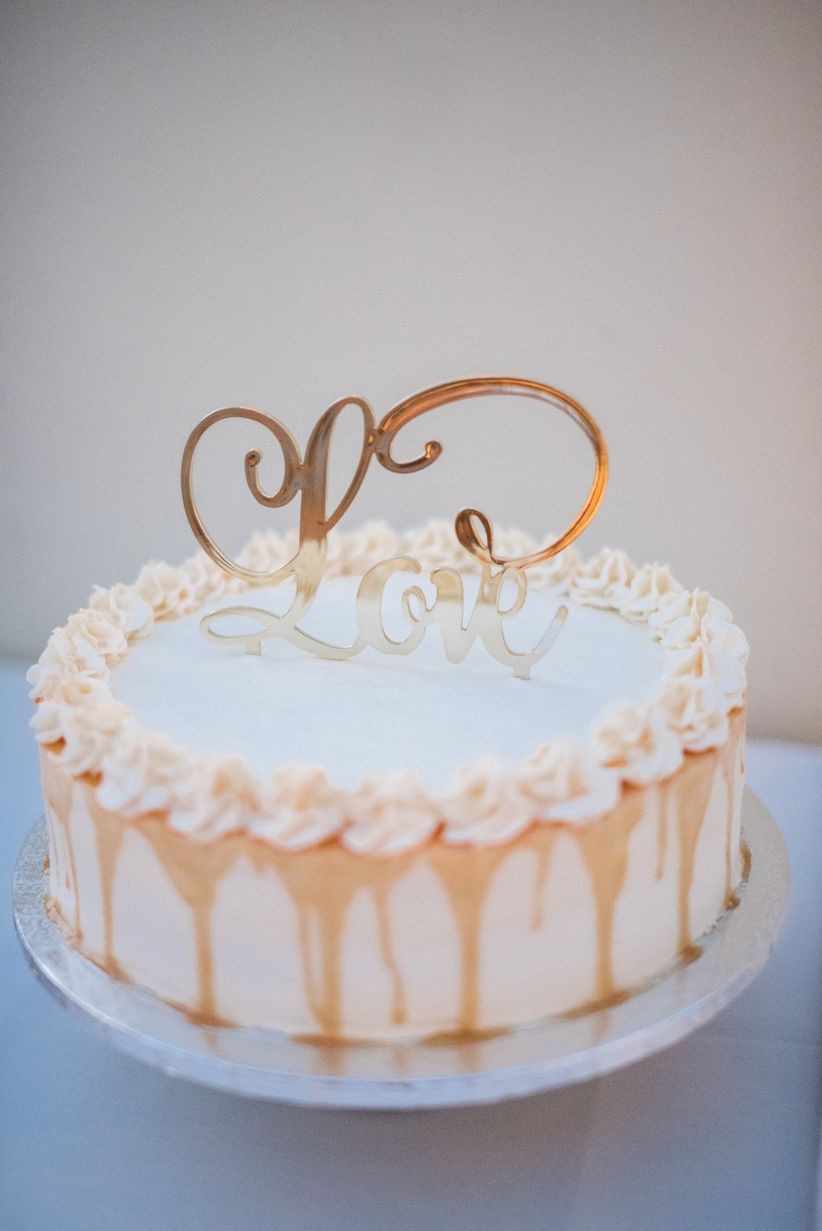 A classic buttercream cake is updated with a rose gold topper and drip frosting.