40 Bridal Shower Decoration Ideas for Every Budget and Style
Planning an upcoming party for a special soonlywed? To make shopping for supplies simple, we've organized our favorite bridal shower decoration ideas by theme.
We have included third party products to help you navigate and enjoy life's biggest moments. Purchases made through links on this page may earn us a commission.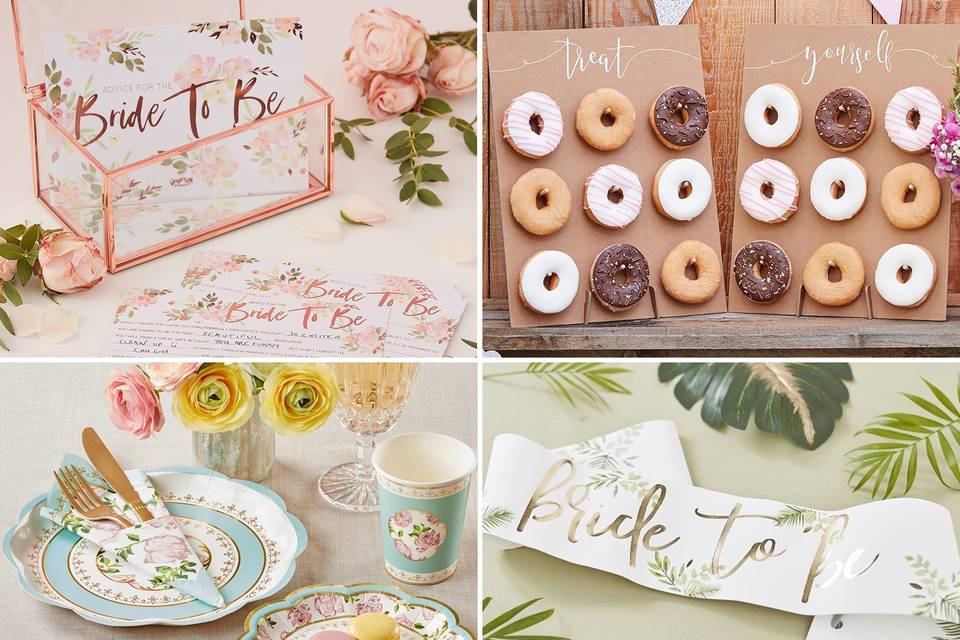 After choosing your party's theme, shopping for decorations is the next step if you're planning a bridal shower. Get excited, because this is where the fun starts! No matter your style or budget, we've got so many bridal shower decoration ideas to inspire you, from fancy balloons to playful drinkware and personalized signage. To help you wow the bride when the party day arrives, we've hand-picked decor for five of our favorite bridal shower themes—but don't let us stop you there! Even if you're not hosting a bash with one of these exact themes, these fun ideas can be used interchangeably, so don't be shy about mixing and matching products to suit your needs. Happy shopping!
Where to Buy Bridal Shower Decorations
Finding nice bridal shower decorations can be tricky, but they go a long way in creating a fun atmosphere, whether you're planning an indoor, outdoor, or virtual event. Knowing where to look can make shopping for decorations a hundred times easier. That's why we're sharing our top three places to gather supplies right here.
WeddingWire Shop: Our WeddingWire Shop has so many awesome (and affordable!) decorations for pretty much any wedding-related event. You'll find everything from tableware to photo props in lots of different styles.
Etsy: Etsy is a great place to hunt for slightly more unique items as well as pretty banners and backdrops. If your bridal shower theme is a little more niche, we suggest looking here.
Local craft stores: When in doubt, pay a visit to your local craft shop to see what they've got in stock. You'll be surprised at what you can do with some kraft paper and jute ribbon, especially if you're planning a rustic or vintage shower.
Our Favorite Bridal Shower Decoration Ideas by Theme
Ready to get started? Check out our favorite wedding shower centerpieces, signs, backdrops, and more for some of the most popular themes below.
In this article:
Rustic bridal shower decoration ideas
Tropical bridal shower decoration ideas
Lemon bridal shower decoration ideas
Garden bridal shower decoration ideas
Champagne bridal shower decoration ideas
Rustic bridal shower decoration ideas
Going for country-chic style? Rustic bridal shower decorations typically incorporate outdoorsy elements (think: burlap bunting or a faux bois backdrop) to create a laid-back aesthetic.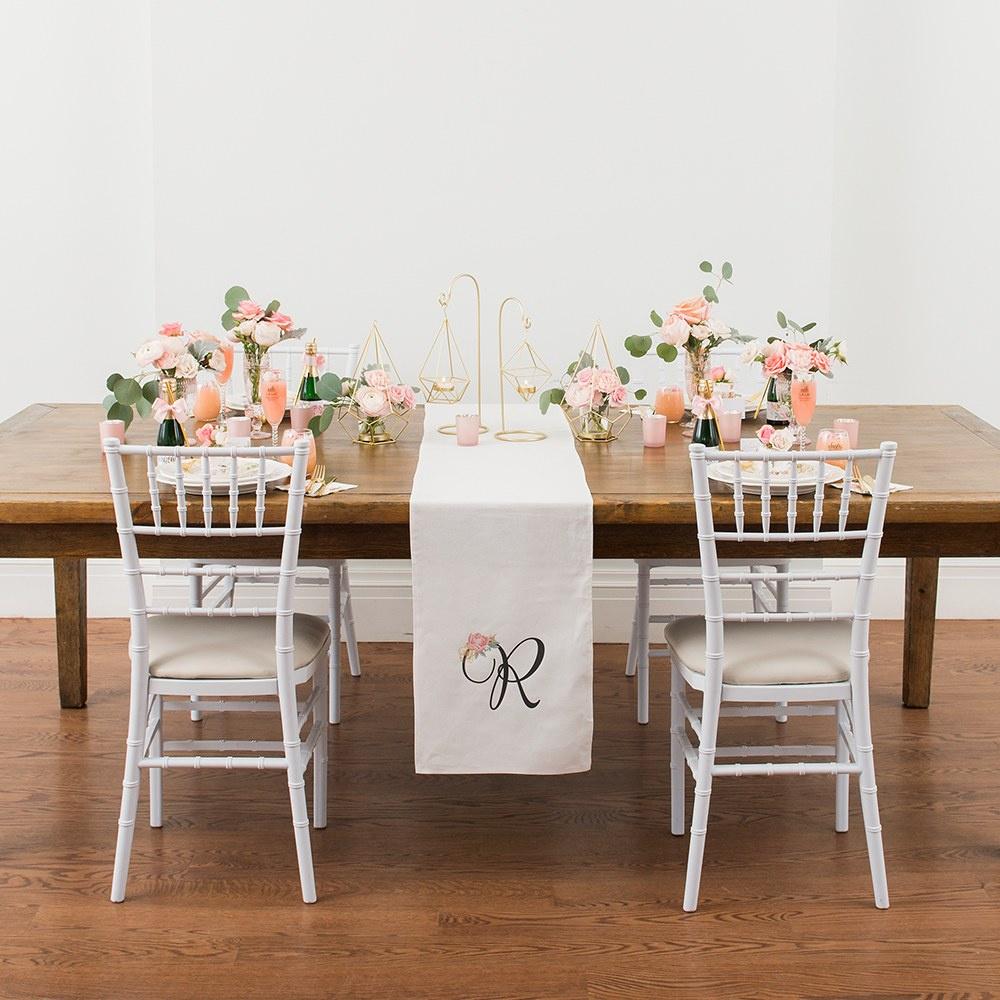 Simple linen table runners are perfect for a rustic-meets-elegant affair. The pretty floral motif on this one gives a nod to natural elements while still feeling classy and modern.
WeddingWire Shop modern floral personalized off-white linen table runner, from $10, WeddingWire Shop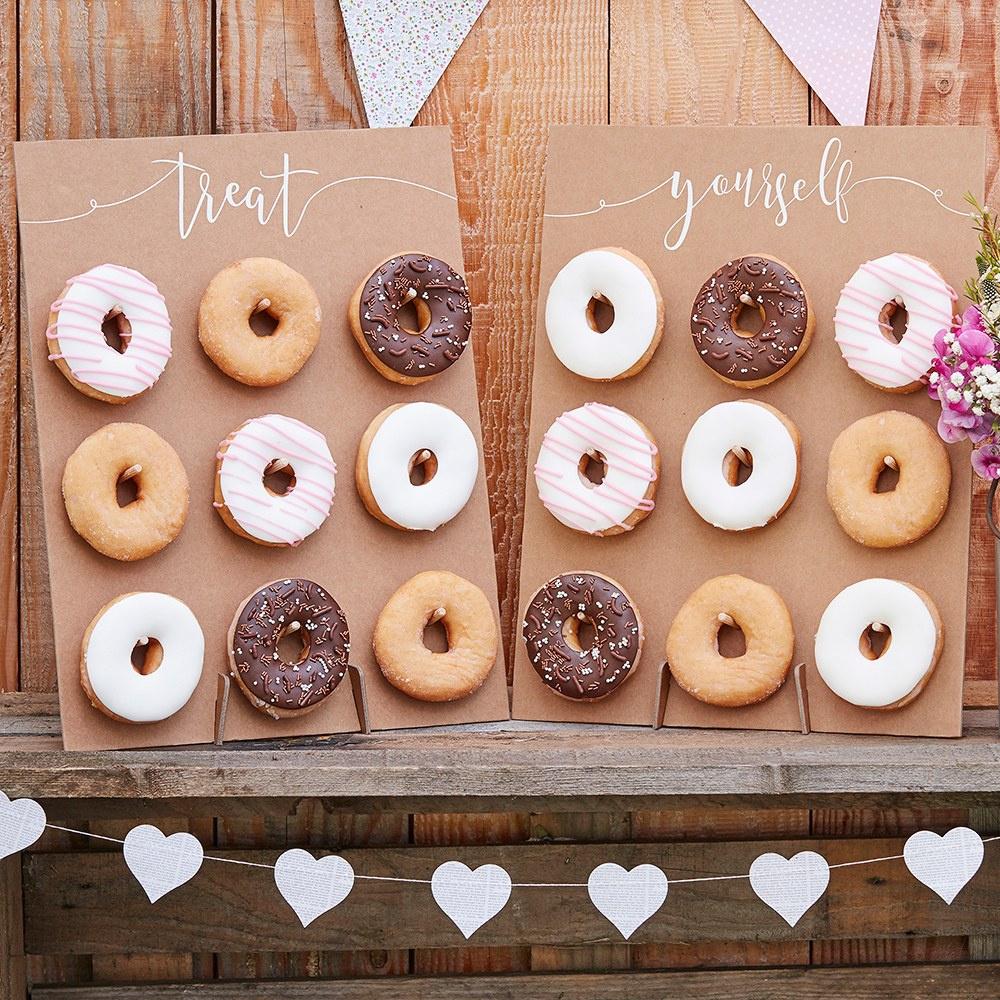 Love donuts? Us too! A tabletop display is a cute and decorative way to showcase these sweet treats. Made from wooden pegs and cardboard, this donut wall has the chic simplicity we love about rustic aesthetics.
WeddingWire Shop rustic country donut wall display, $20, WeddingWire Shop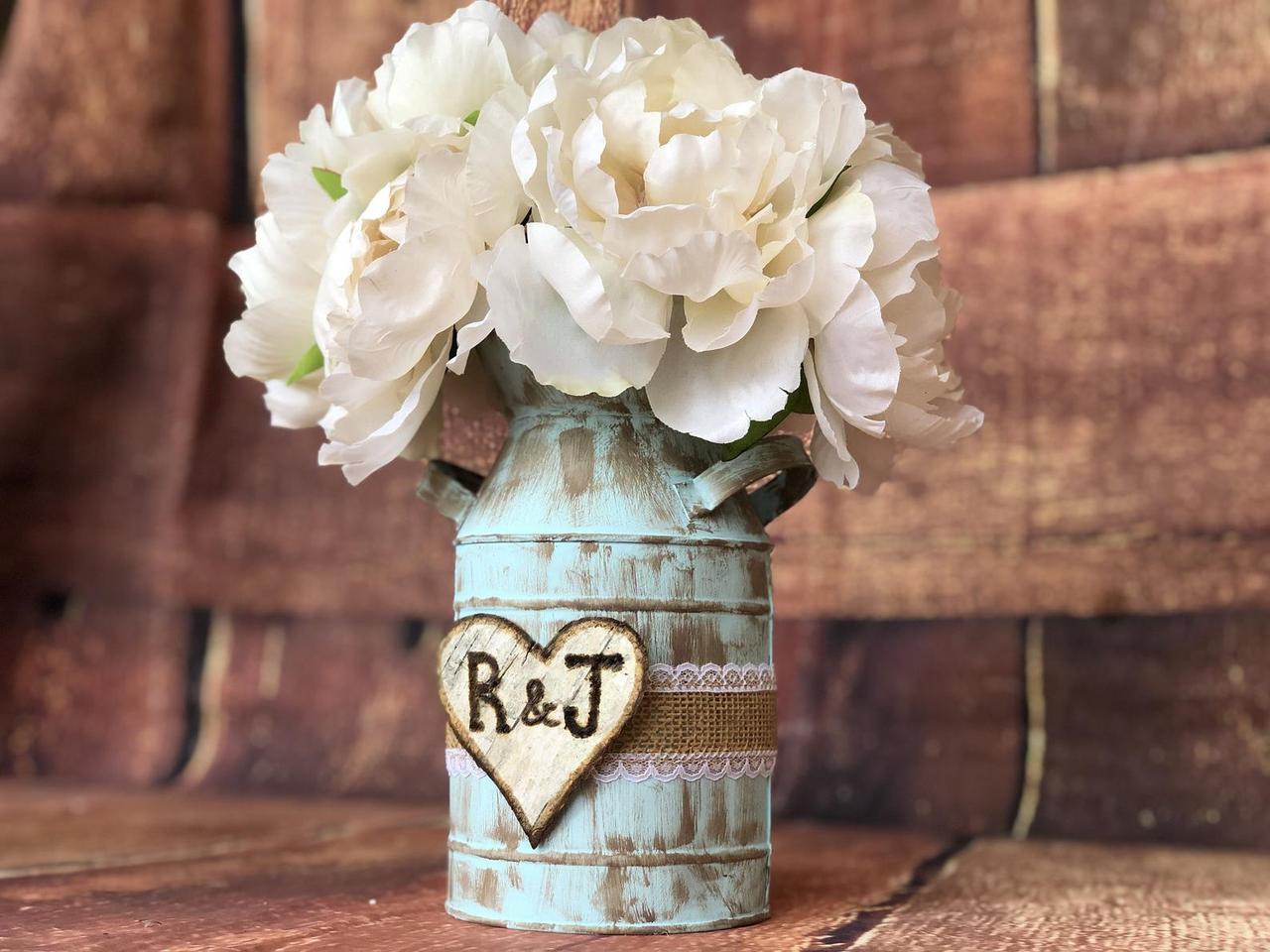 As far as rustic bridal shower centerpieces go, mason jar vases are the crème de la crème. A distressed coat of paint, birch bark heart, and jute ribbon mean this chic mason jar ticks all the boxes.
The Little Rustic Farm rustic bridal shower centerpiece, from $40, Etsy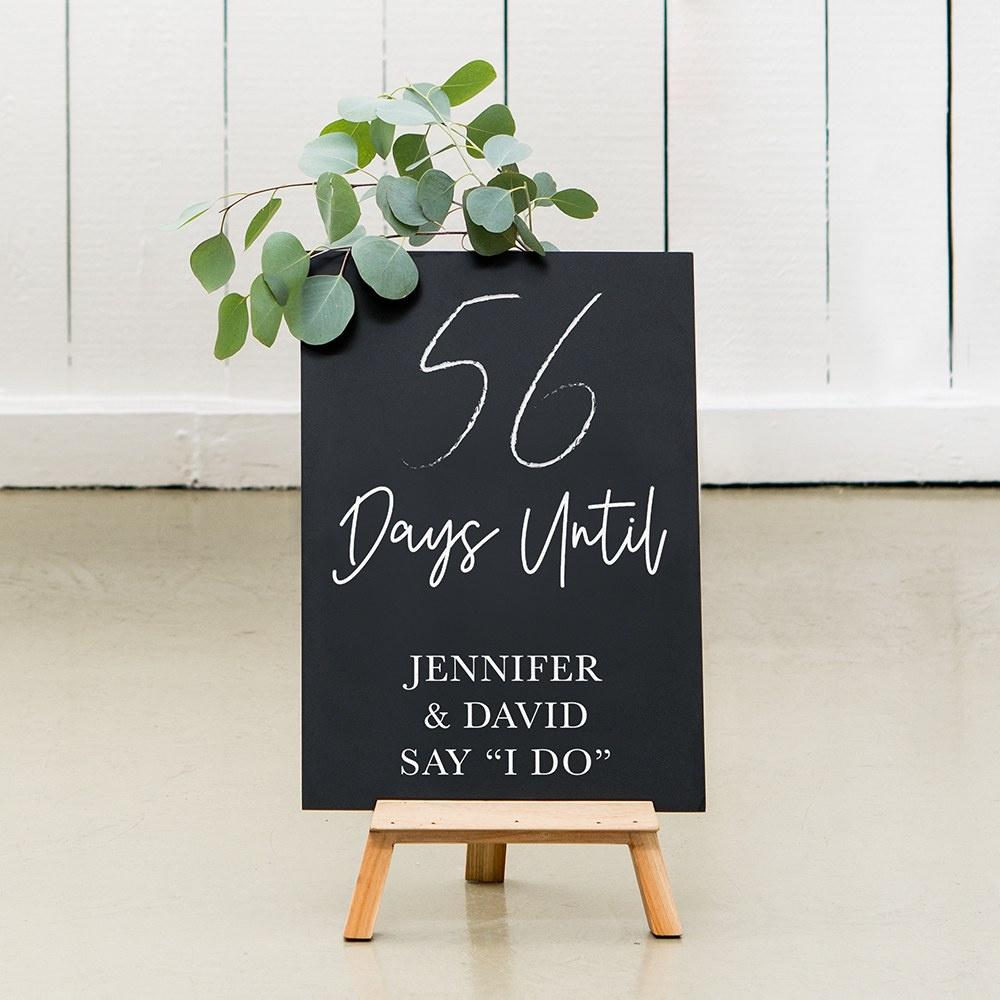 Chalkboards are another popular piece of decor for rustic celebrations, especially when paired with a cute wooden easel. This custom wedding countdown chalkboard is one of our favorite bridal shower decoration ideas that'll elevate the theme and add a personal touch.
WeddingWire Shop countdown custom wedding chalkboard sign, $39 with the easel, WeddingWire Shop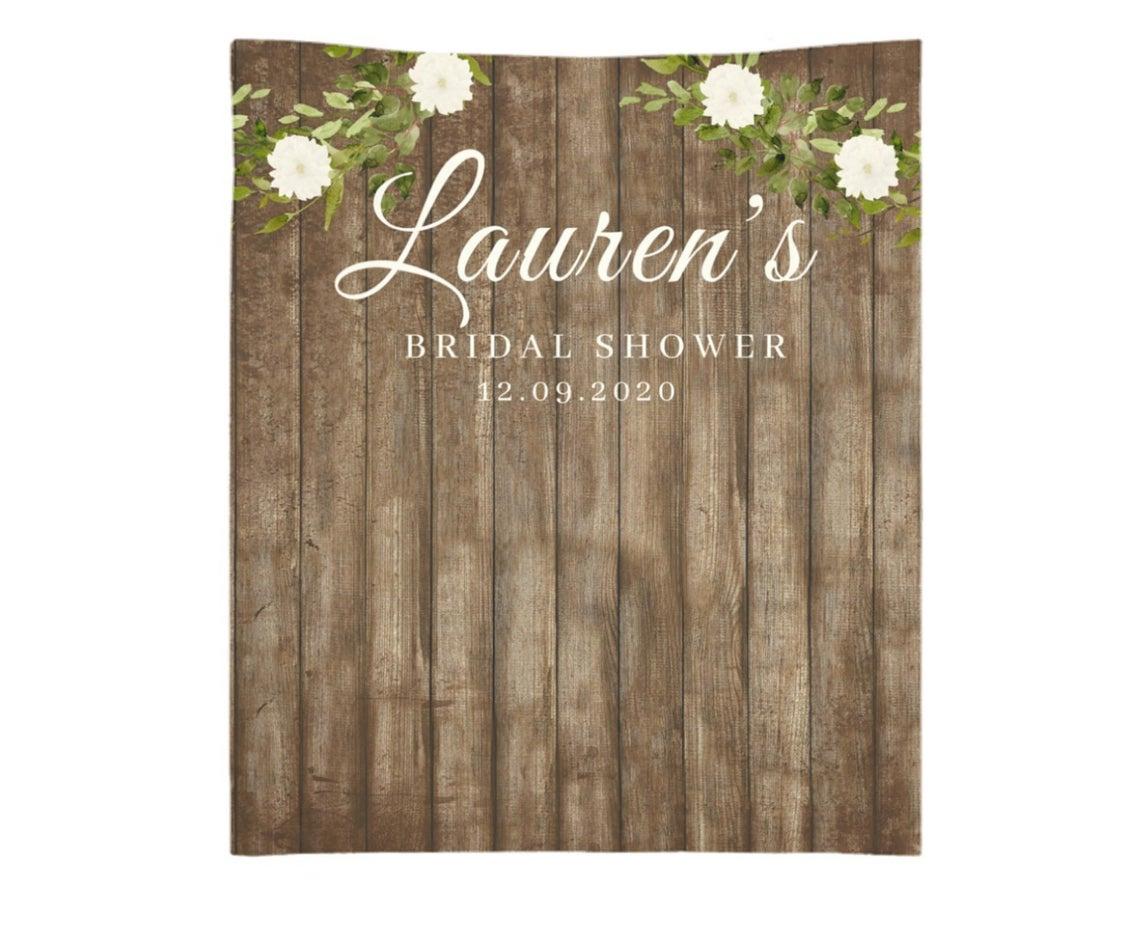 This faux bois bridal shower backdrop can be set up for photo opportunities or hung from the bride-to-be's table. Plus, it'll make for a lovely keepsake to hold onto afterward.
Lynwood Weddings rustic bridal shower decoration, from $55, Etsy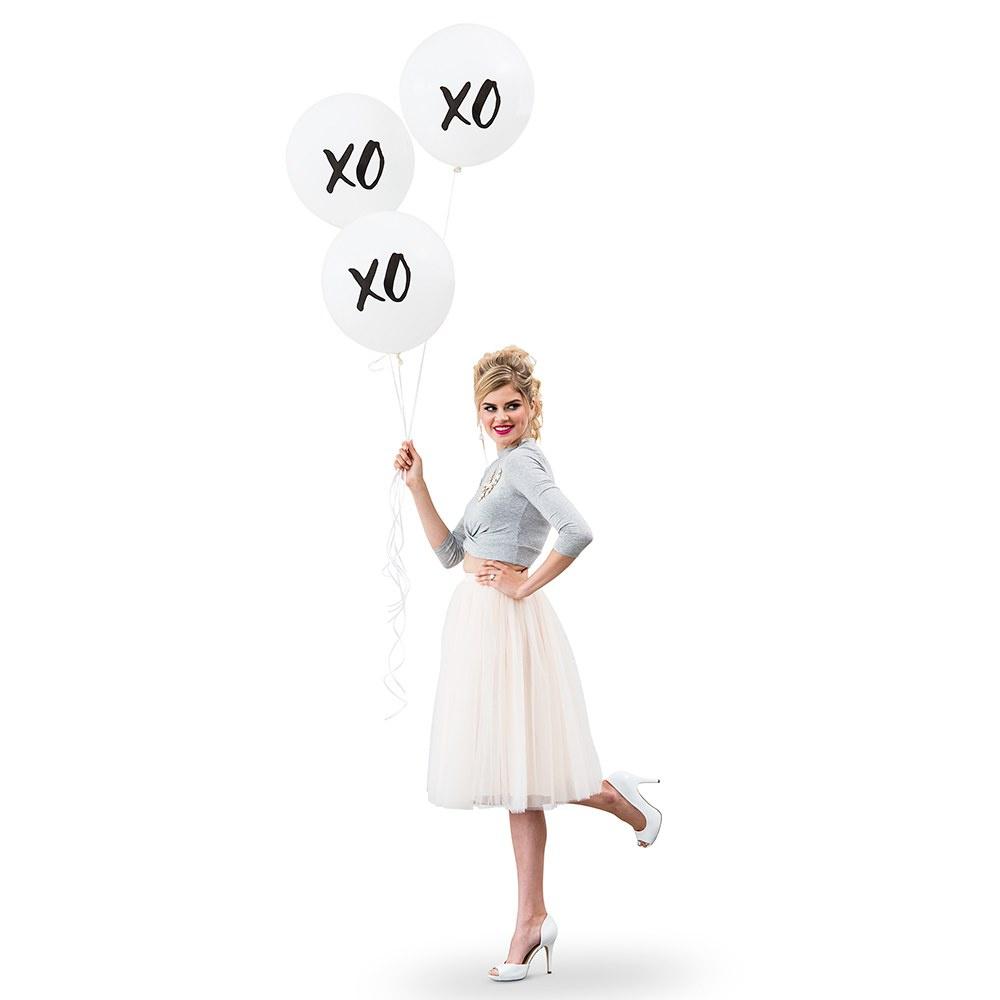 Bridal shower balloons are great for sprucing up an empty corner of your party space or welcoming guests at the entrance. These XO balloons are casual and cute—perfect for a rustic bridal shower.
WeddingWire Shop white round XO balloons, $7 for a set of 3, WeddingWire Shop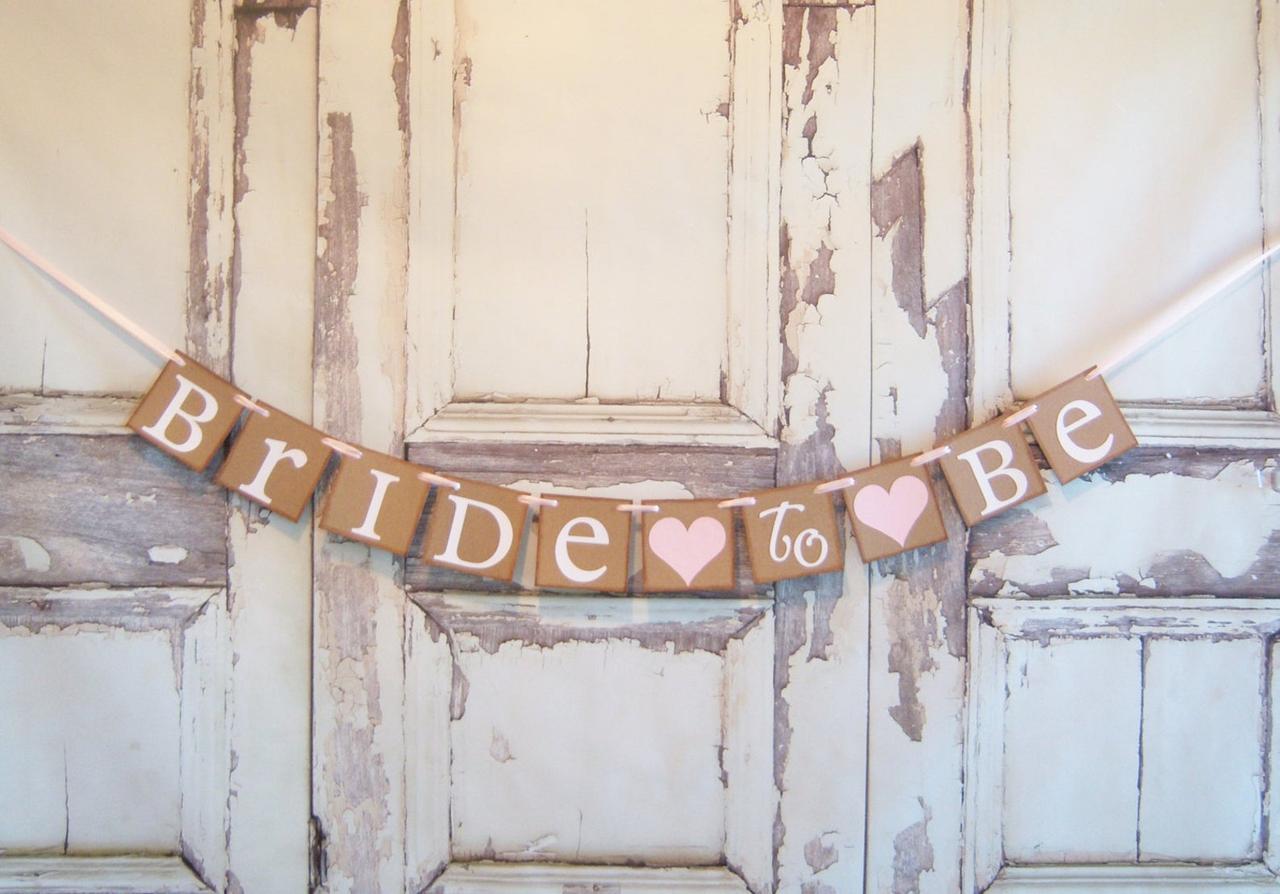 It wouldn't be a rustic theme without a little bit of cardstock or kraft paper. This farmhouse-style wedding shower banner is sweet and simple.
Lola and Co. Studio bridal shower banner, $19, Etsy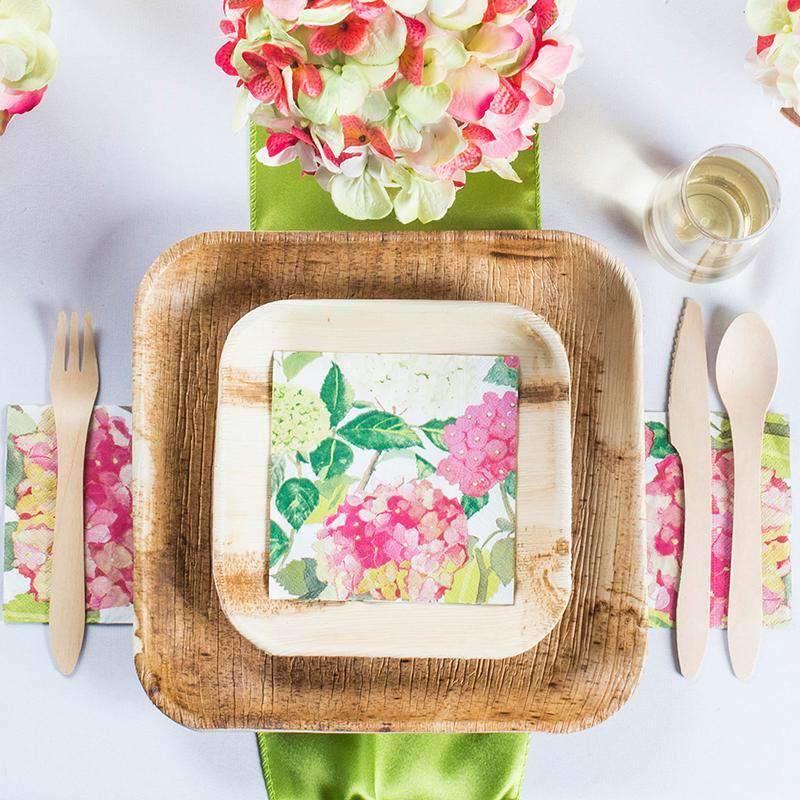 One smart way to save money and play up the rustic theme is by using plates and cutlery made from palm leaves as bridal shower table decorations. They're also a stylish, eco-friendly alternative to plastic options.
Smarty Had A Party! square palm leaf eco friendly disposable dinnerware value set, from $35, Smarty Had A Party!
Tropical bridal shower decoration ideas
If you're hosting a bridal shower for someone who loves the beach and is always down for a good cocktail, a tropical theme is a fun option. Bring this theme to life with colorful bridal shower decorations (think: turquoise, hot pink, and yellow) and playful, island-inspired accents, such as palm tree leaves, pineapples, and of course a flamingo here and there!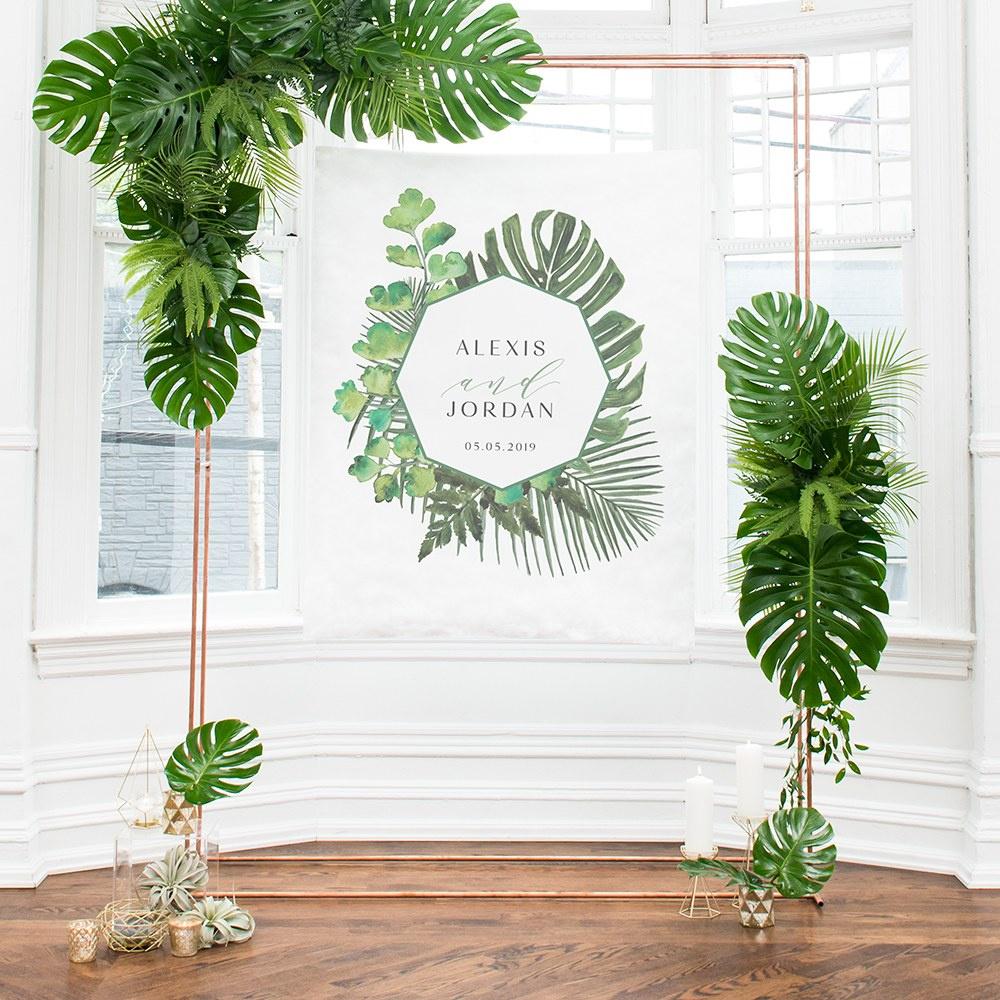 Capture Instagram-worthy snaps from the day with a customized photo backdrop. This one is decorated with a trendy greenery motif—the happy couple can even reuse it at their wedding if they're going for a tropical vibe!
WeddingWire Shop greenery personalized photo backdrop, $50, WeddingWire Shop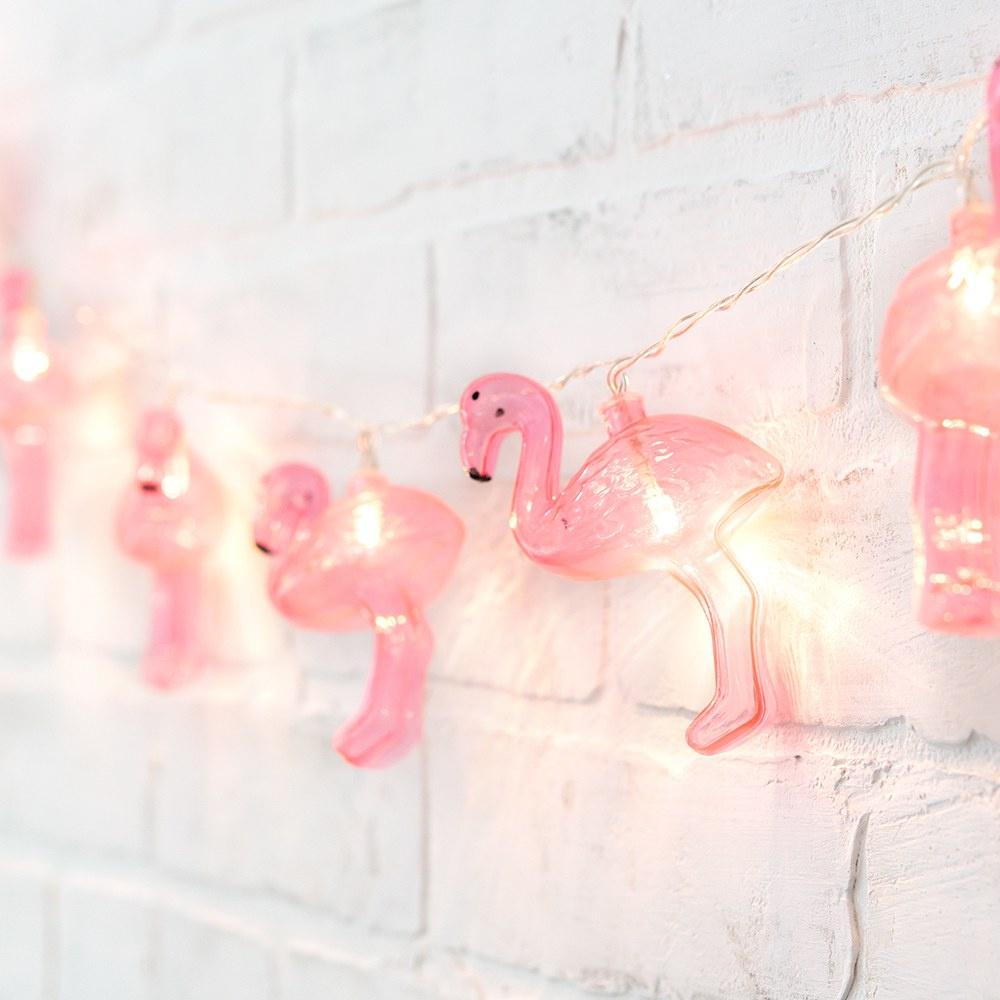 Fun wedding shower decorations like these flamingo string lights help to create a light and welcoming atmosphere for guests. Hang them over a DIY mimosa bar or cocktail station for a cute nod to the theme.
WeddingWire Shop pink flamingo decorative battery operated LED string lights, $8, WeddingWire Shop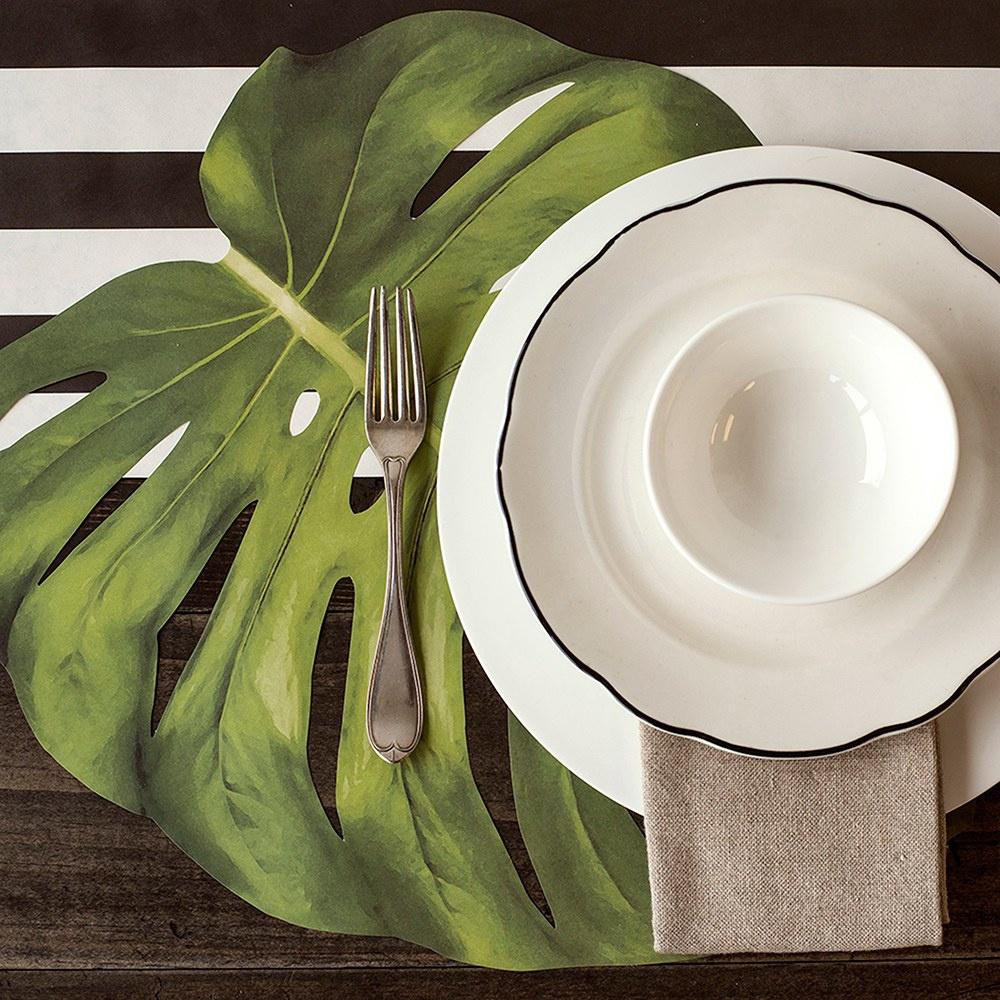 This monstera leaf bridal shower decor will jazz up guest tables while also acting as functional place mats.
WeddingWire Shop tropical monstera leaf die-cut paper placemat sheets, $27 for a set of 12, WeddingWire Shop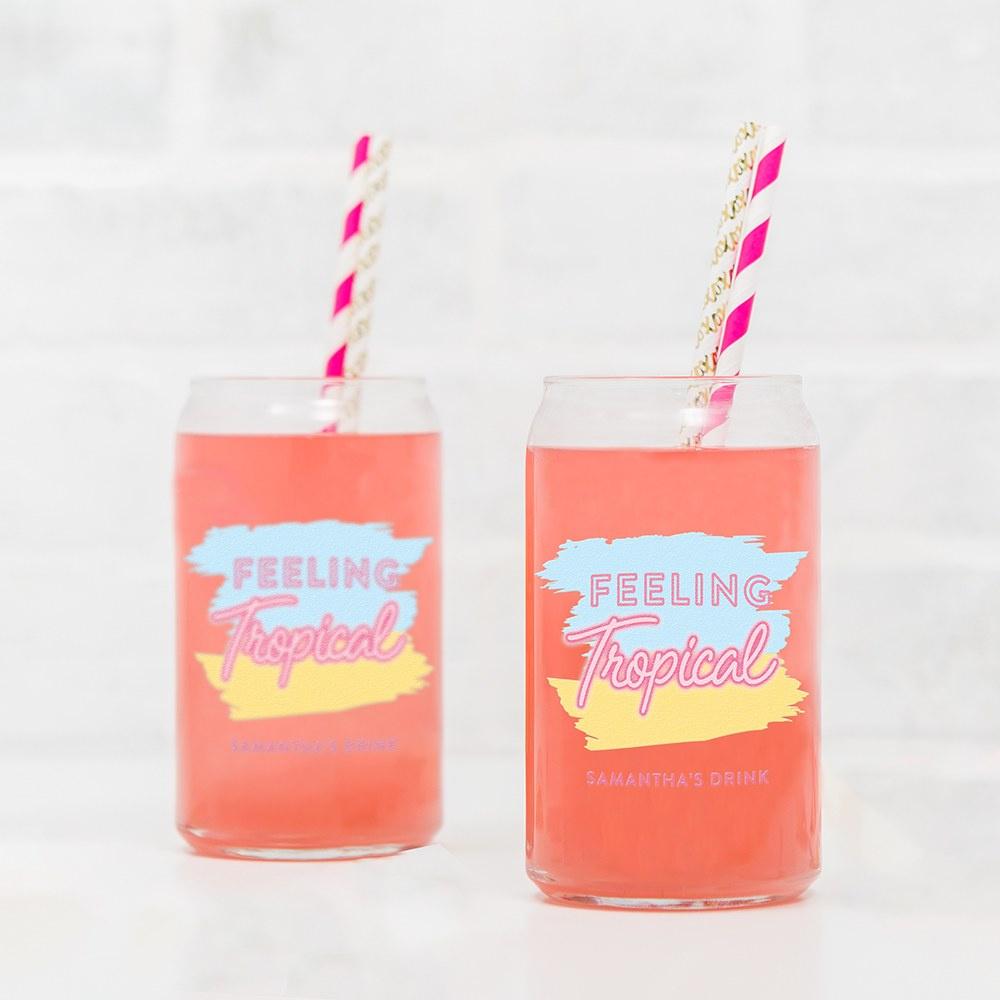 Not only can guests use these fun personalized glasses throughout the party, but they'll also serve as bridal shower favors for everyone at the end of the day.
WeddingWire Shop Feeling Tropical personalized can shaped drinking glass, $15 each, WeddingWire Shop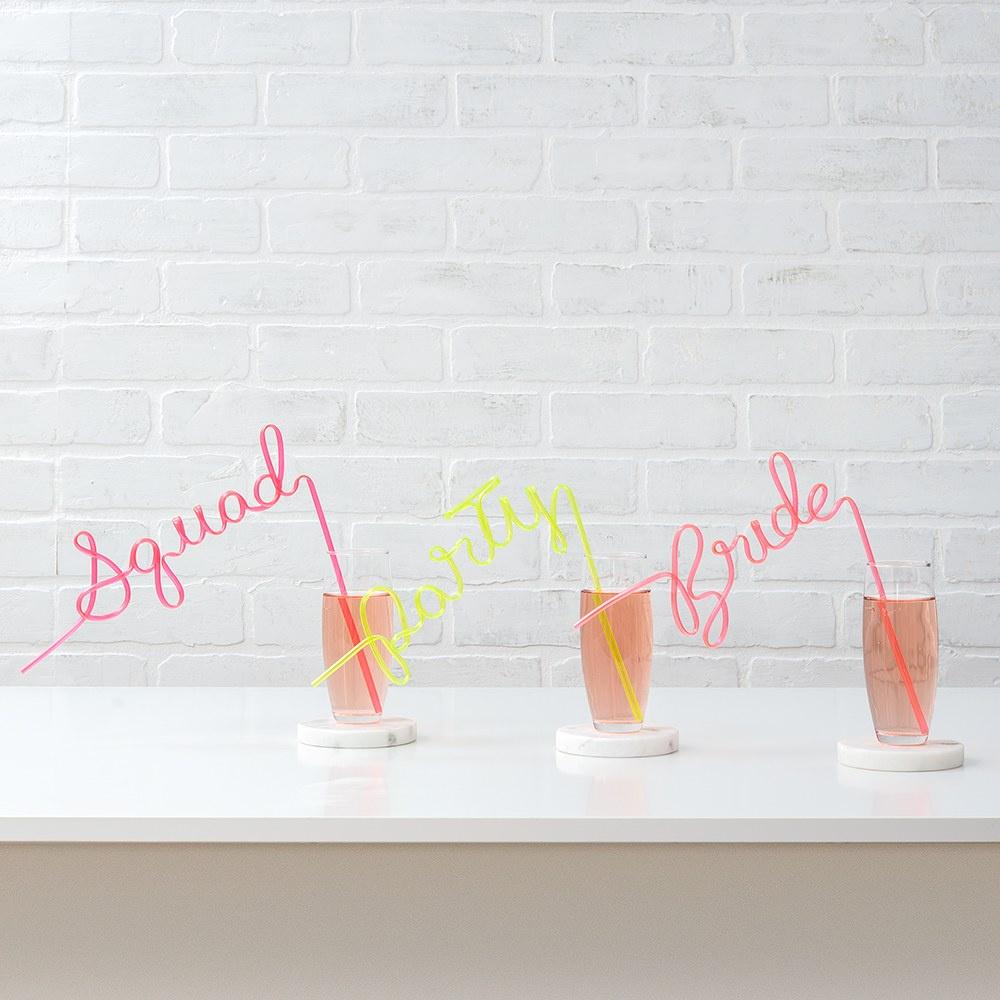 Silly straws in neon shades of pink and yellow are a great idea for any tropical-themed celebration where cocktails are involved. These reusable props are a fun finishing touch.
WeddingWire Shop silly straws, $2 each, WeddingWire Shop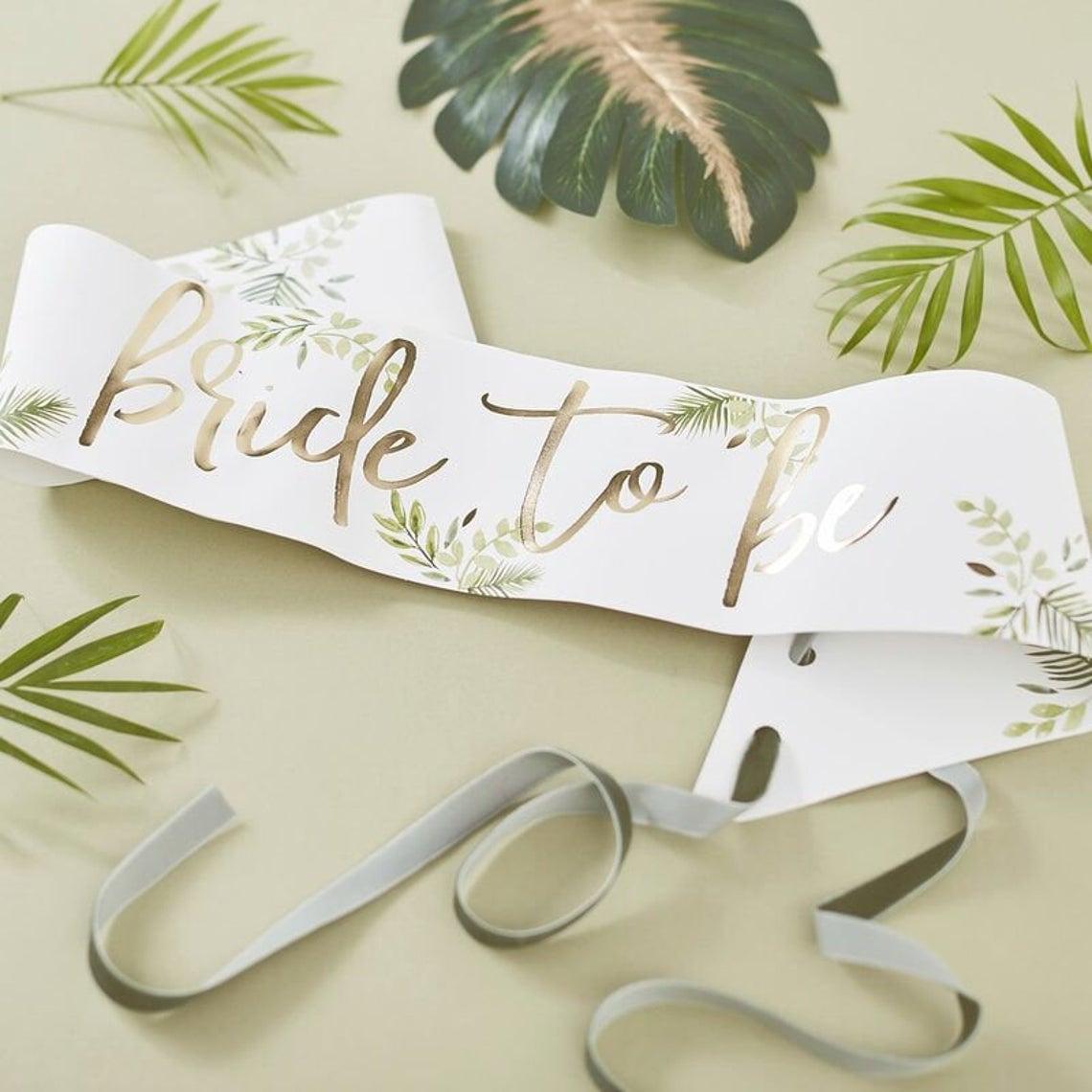 Have the bride-to-be wear this tropical leaf-motif sash while she's opening gifts or playing a fun bridal shower game.
Show Pony Party Shop tropical bridal shower sash, $10, Etsy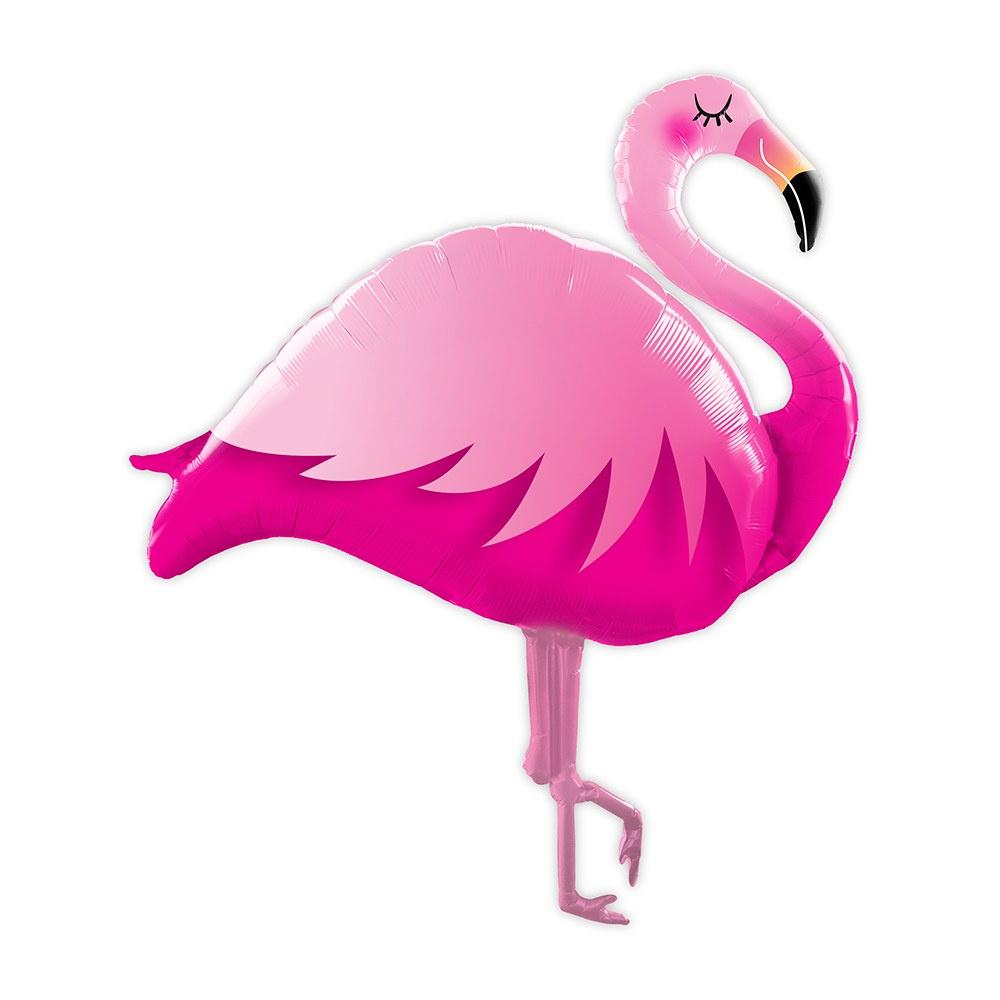 A pink flamingo balloon adds an instant pop of color to your event space (and it makes for an excellent photo prop).
WeddingWire Shop giant pink flamingo foil helium party balloon decoration, $8, WeddingWire Shop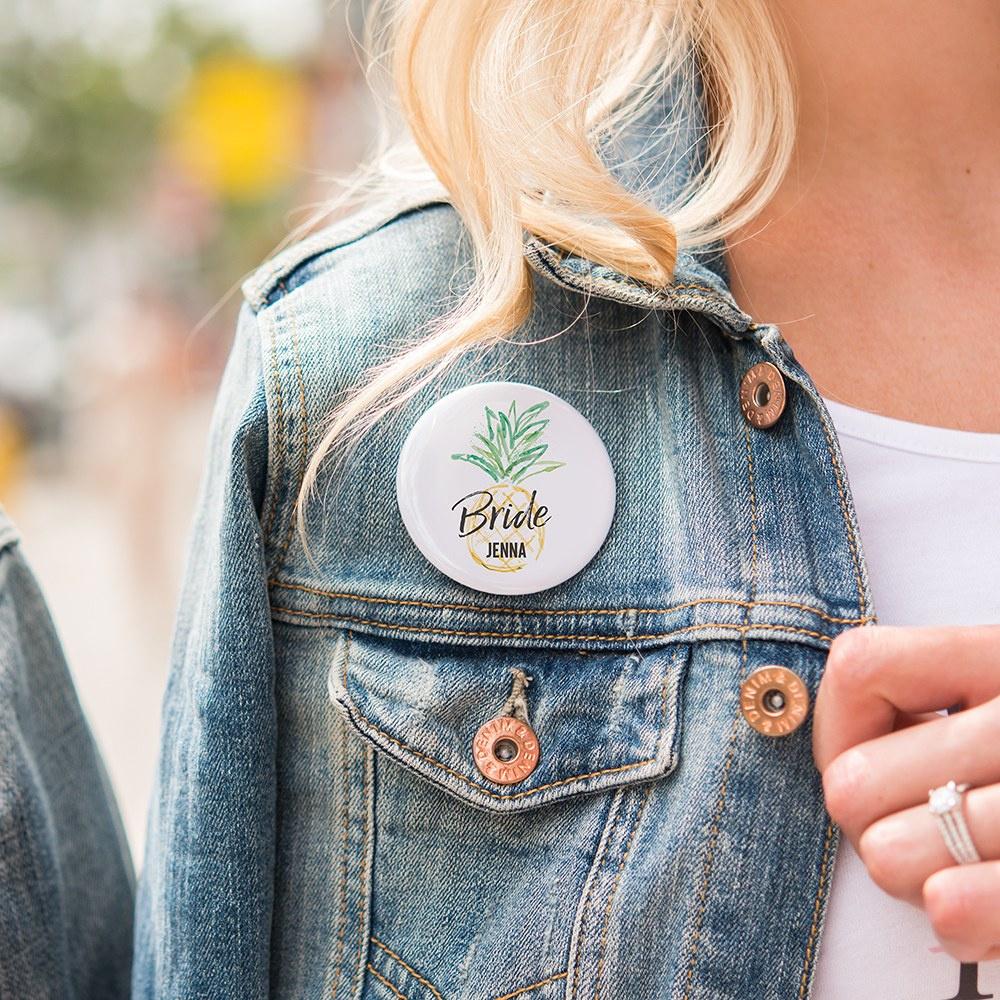 Surprise the guest of honor with a personalized button that she can keep as a memento after the party is over. The cute pineapple motif is fittingly tropical.
WeddingWire Shop tropical bride personalized bridal party pin, $5, WeddingWire Shop
Lemon bridal shower decoration ideas
Lemon bridal shower decor will bring a bright and cheerful vibe to the party, and it's the perfect excuse to serve some delicious homemade lemonade. Style your event with some of these fun lemon-motif decorations and a refreshing yellow color palette.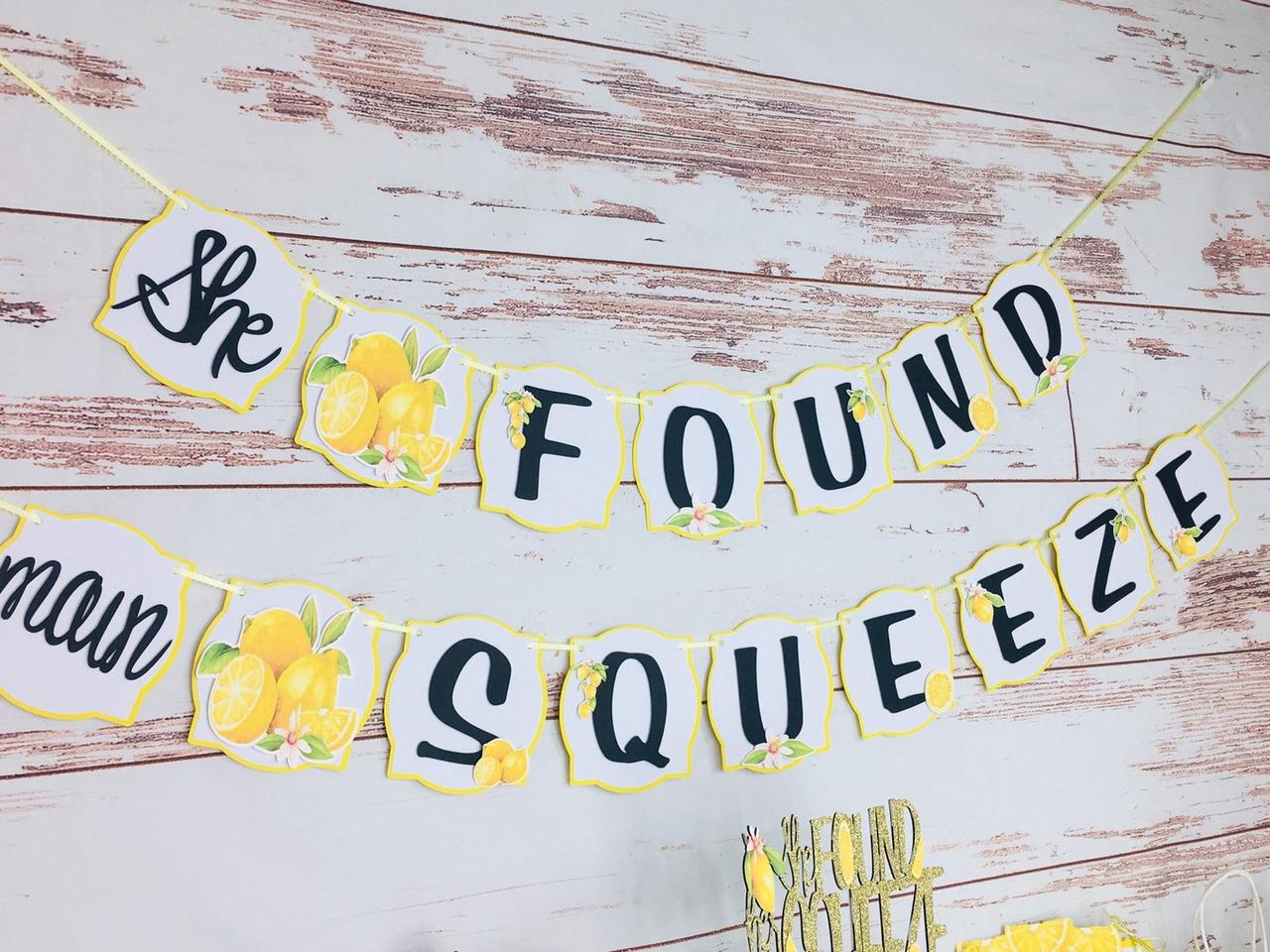 If the bride-to-be loves a good pun, this cute bunting won't disappoint. It reads "she found her main squeeze" alongside pretty illustrations of lemons. Have you ever seen a more fun banner?
Yuli's Craft She Found Her Main Squeeze lemon bridal shower banner, from $10, Etsy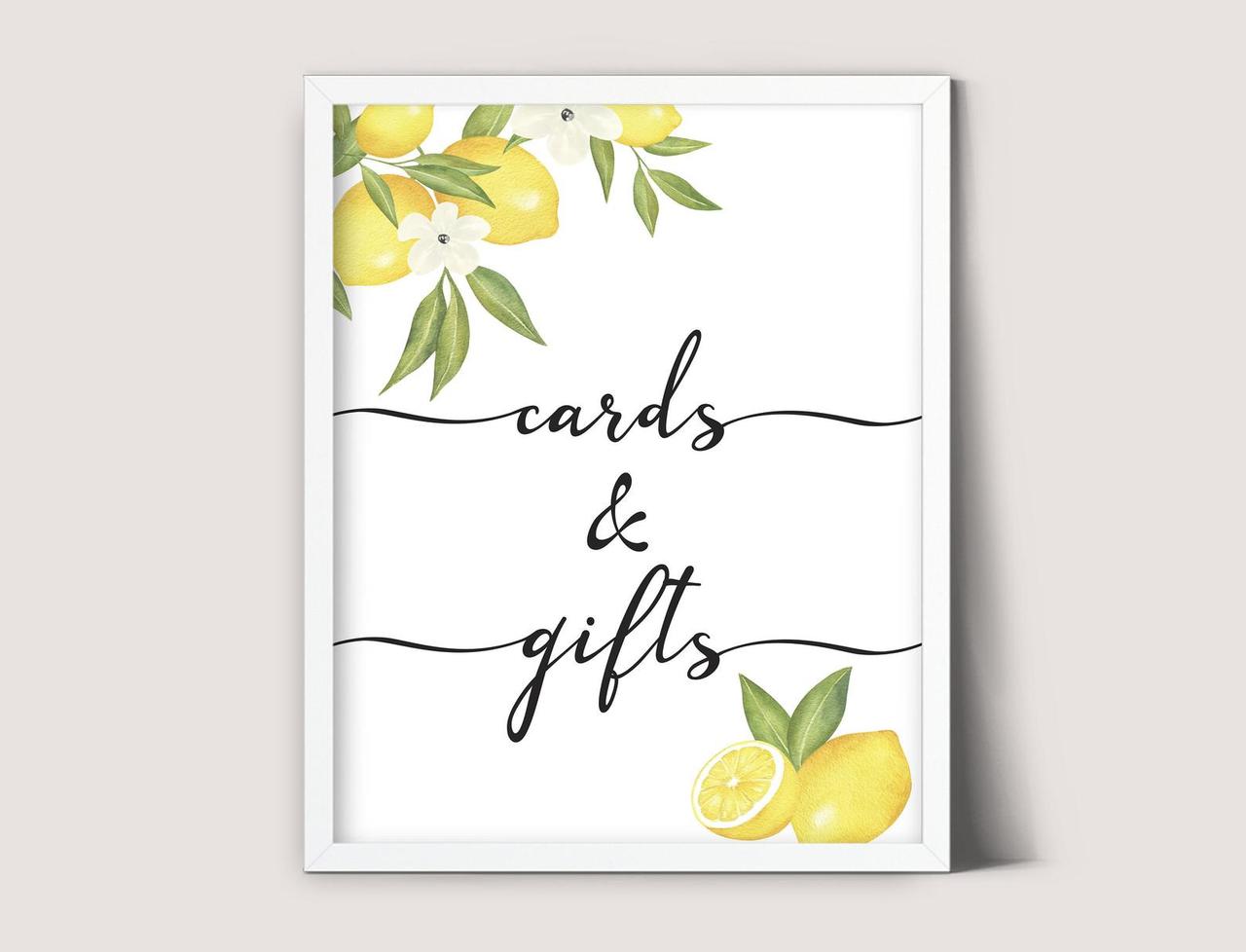 Looking for more cool lemon-themed wedding shower decoration ideas? Print this adorable sign to set up by the gift table.
The Mitchells Shop lemon theme bridal shower sign, $3, Etsy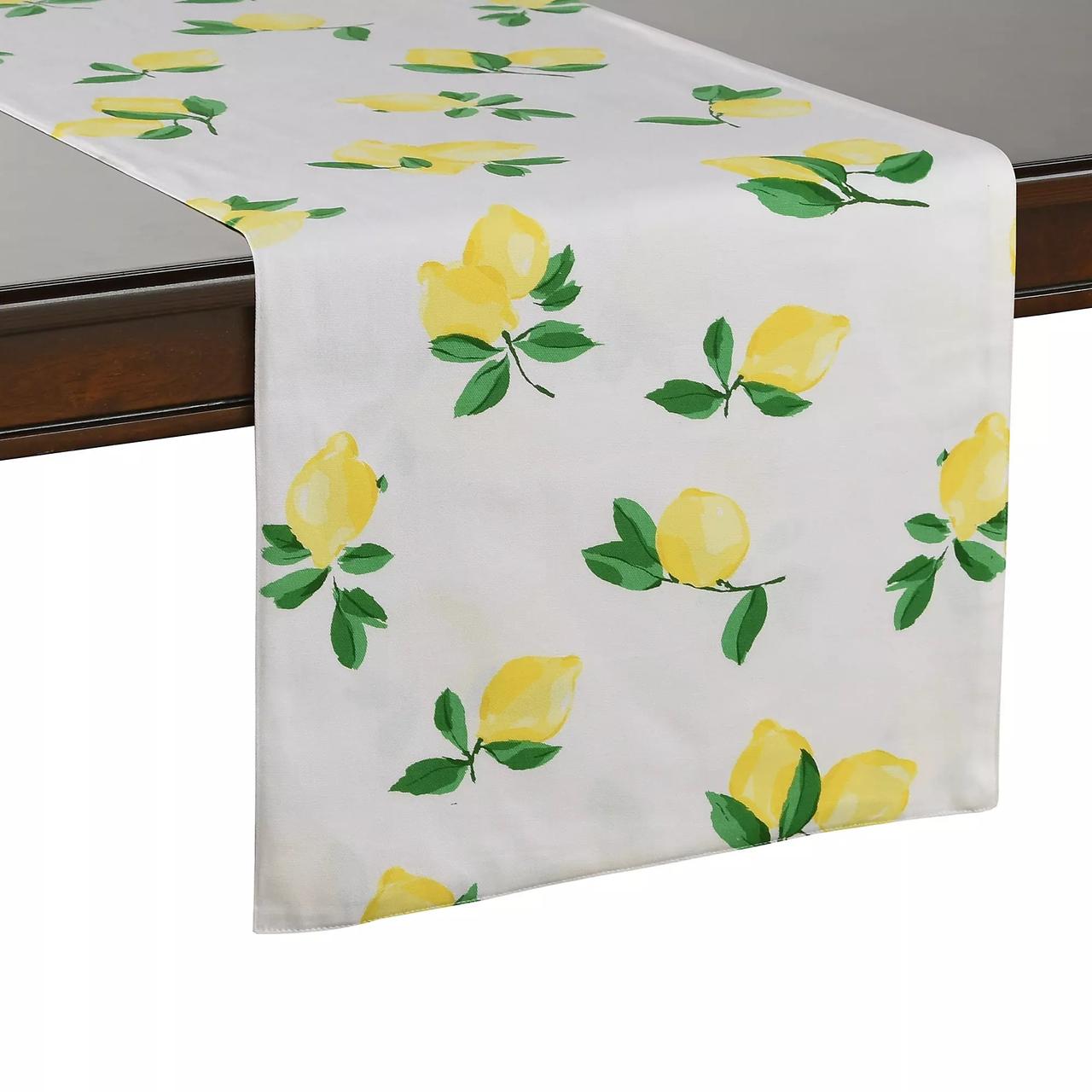 You want to make sure your theme is clear to guests without going over the top. One way to pull that off is through small details like napkins, plates, or a fun lemon-printed table runner.
Kate Spade New York Make Lemonade 72-inch table runner, from $30, Bed Bath & Beyond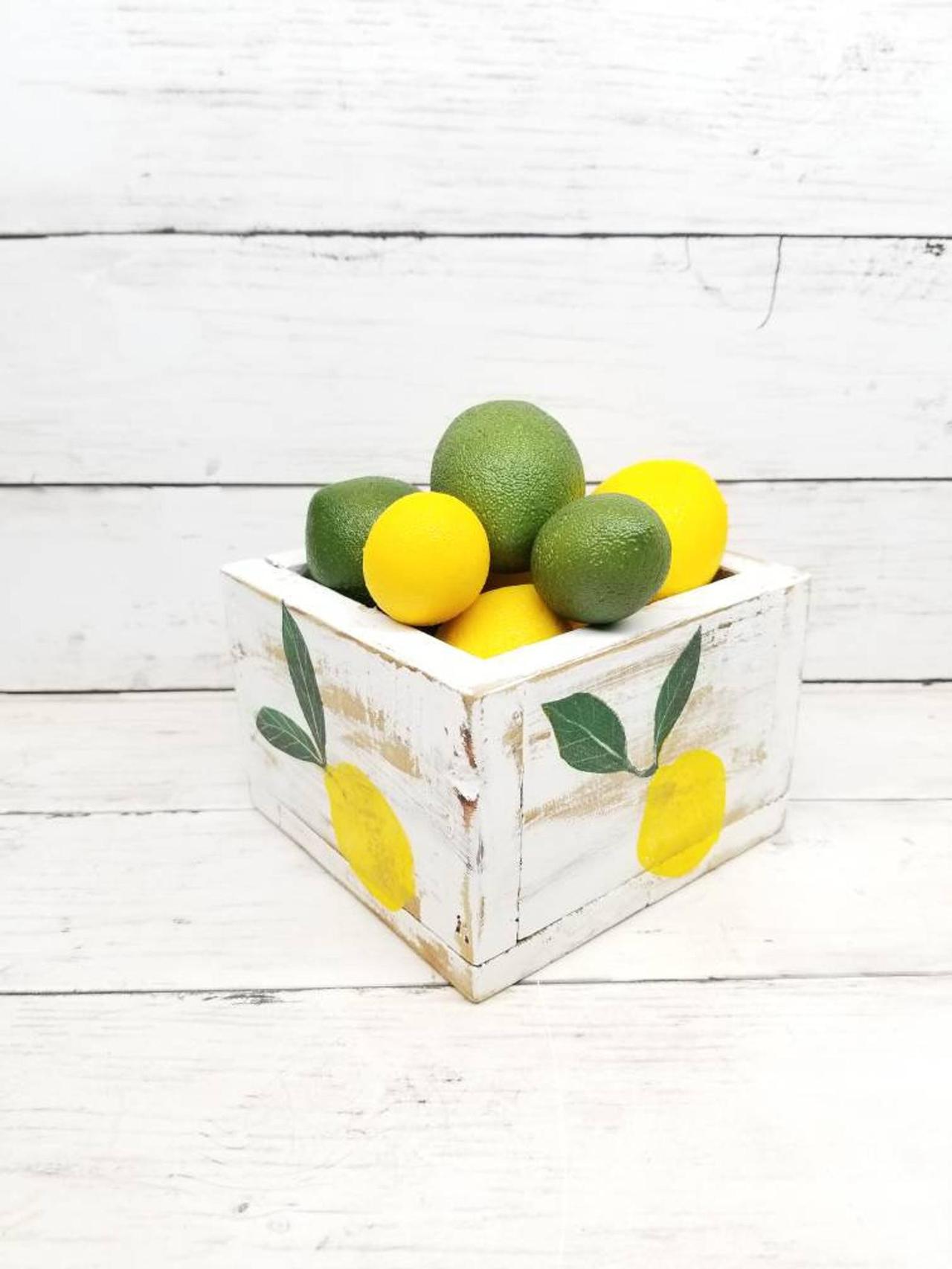 We've got super-cute bridal shower centerpiece ideas to suit every theme. Fill this vintage farmhouse-style planter with lemons, limes, and oranges for a colorful citrusy centerpiece.
Rustique Charm by Leese lemon centerpiece, $22, Etsy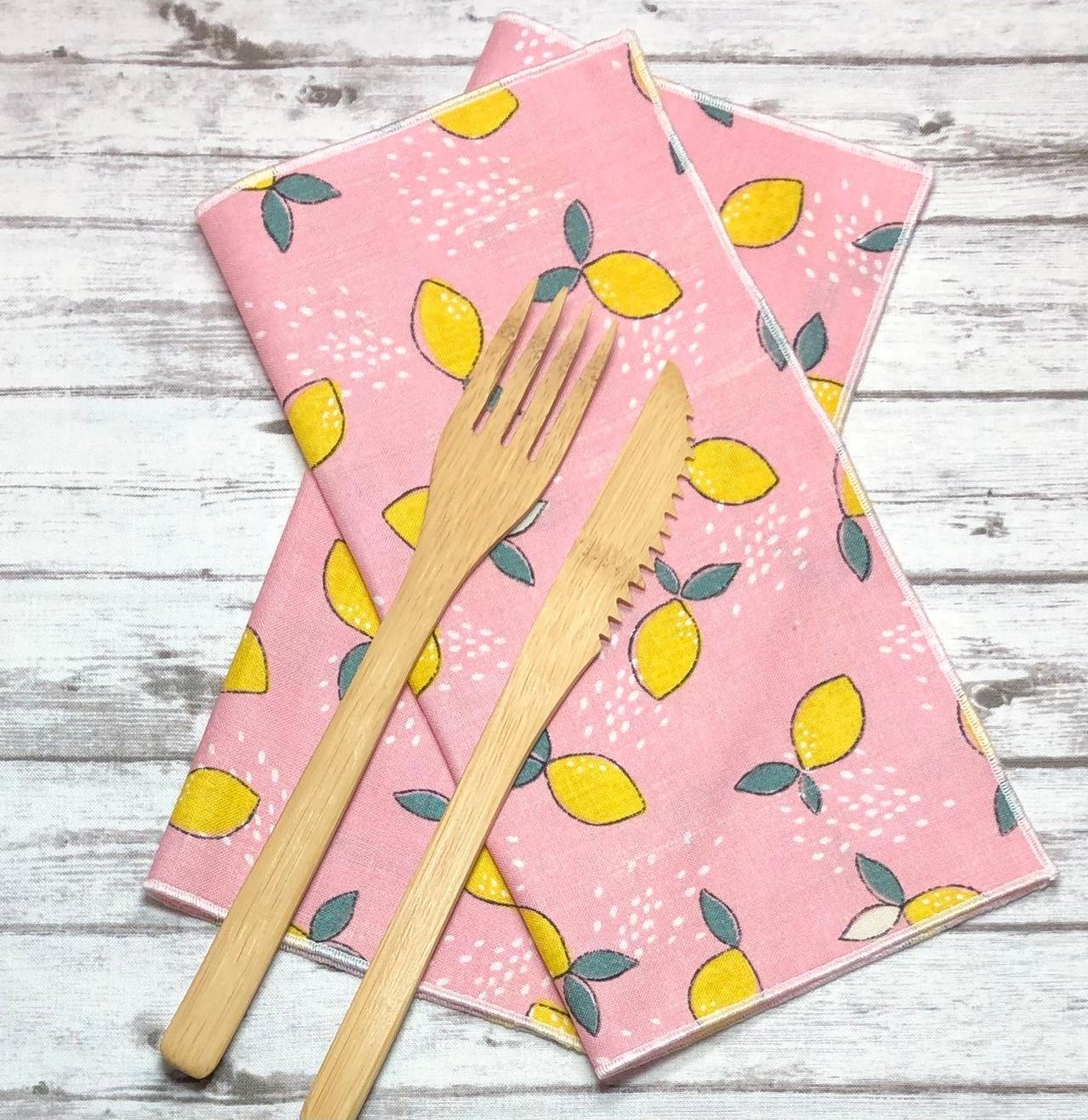 Bridal shower plates and napkins patterned with pretty lemons are a fun and subtle way to play up the theme. These cloth napkins will bring a little extra luxury to the table.
The Modern Linen Co lemon cloth napkins, from $5 for a set of 2, Etsy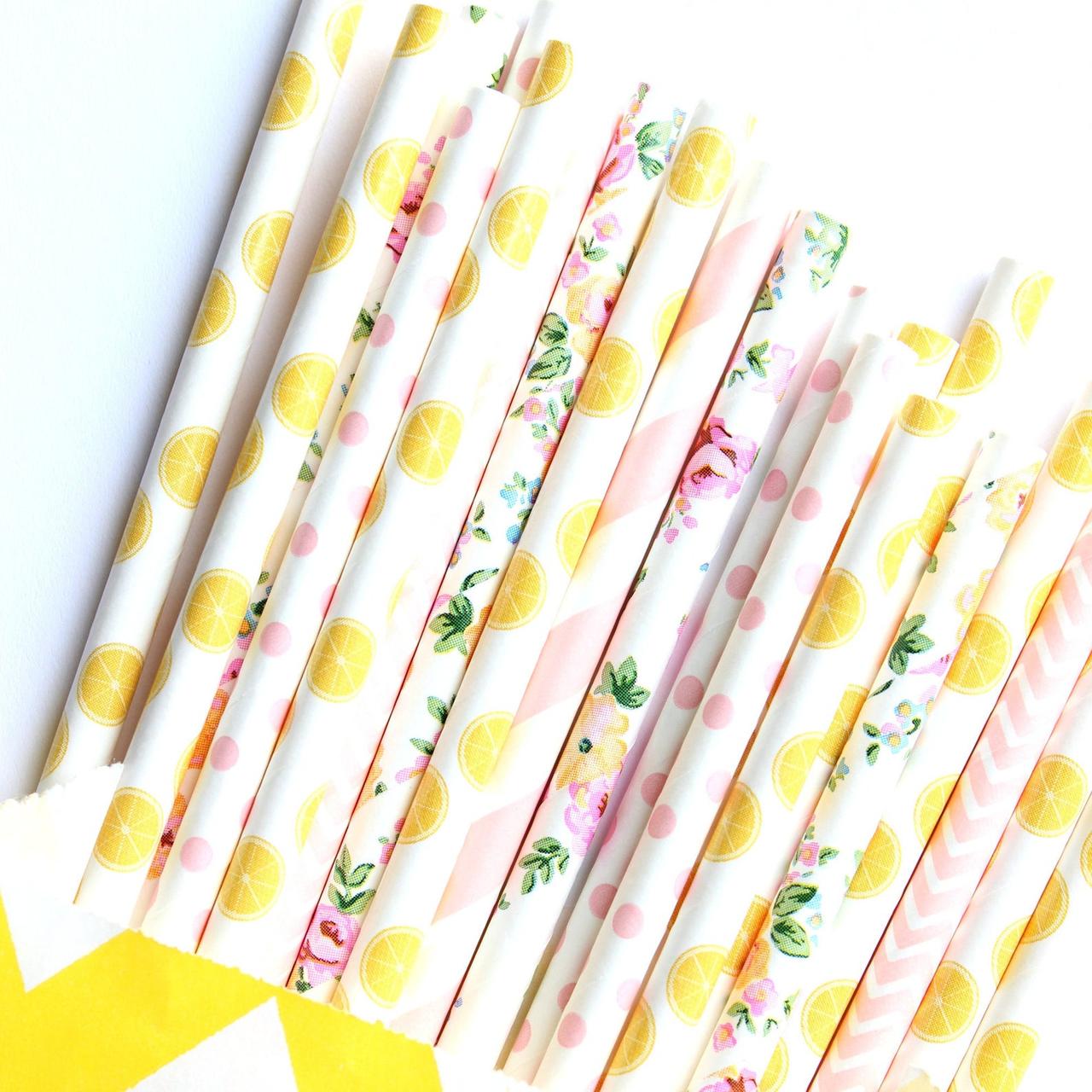 These useful paper straws feature lemons, flowers, and some other summery patterns. They're another small detail that'll help bring your theme to life.
Confetti & Twine lemon floral party straws, $5 for a set of 25, Etsy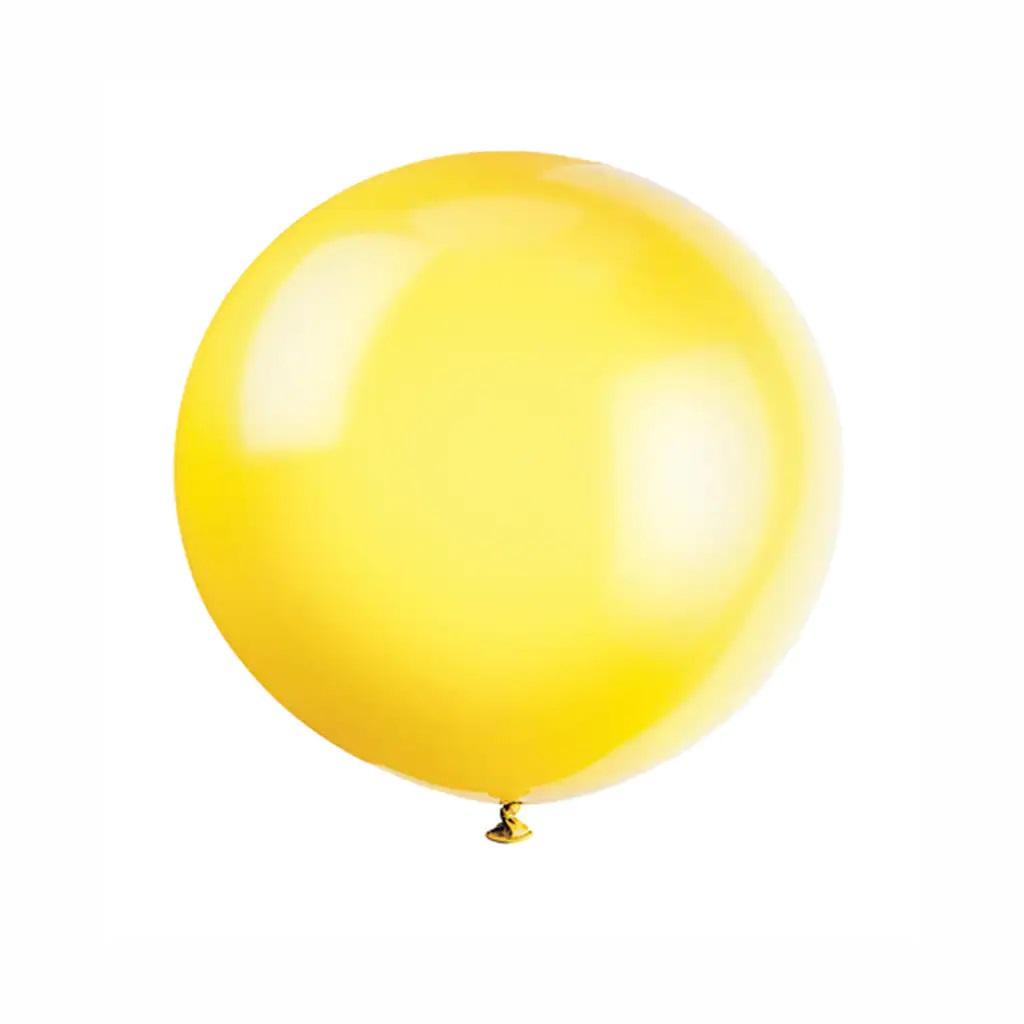 Decorate a lemon-themed bridal shower with balloons in a light shade of yellow. A few of these large latex balloons will look great at the entrance or anywhere you have a little extra space.
Michaels 36" giant latex lemon yellow balloons, $20 for a set of 6, Michaels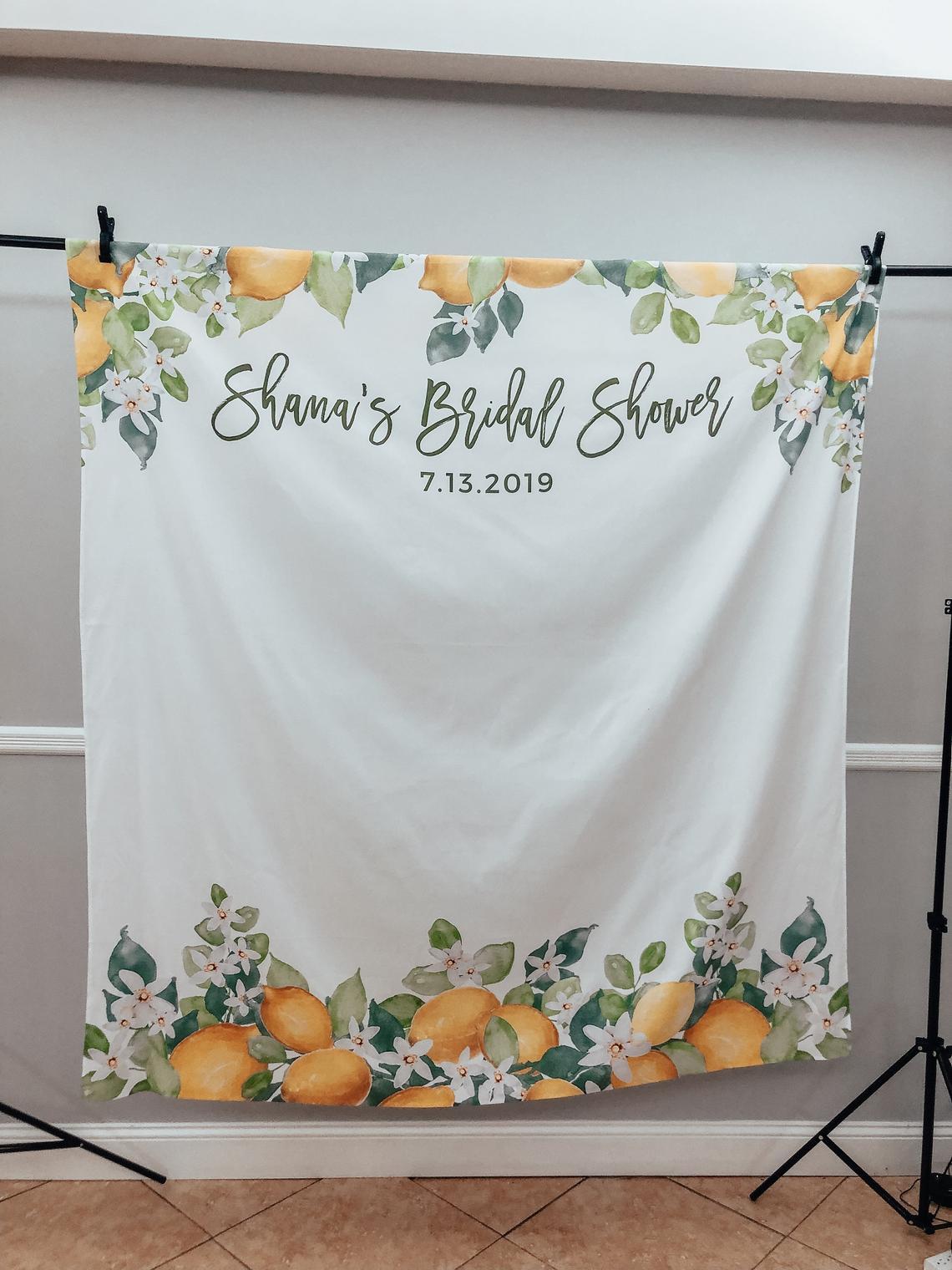 This bridal shower photo backdrop has a pretty garden-inspired border with lemons, flowers, and greenery.
Blushing Drops lemon bridal shower backdrop, from $76, Etsy
Garden bridal shower decoration ideas
These romantic bridal shower decorations are sure to be a hit with any bride who loves flowers, garden parties, and a nice pot of tea (or a glass of rosé, for that matter). For the decor, stick to a blush color palette with some greenery and metallic gold accents, then add sweet details like votive candles, confetti-filled balloons, and floral garlands.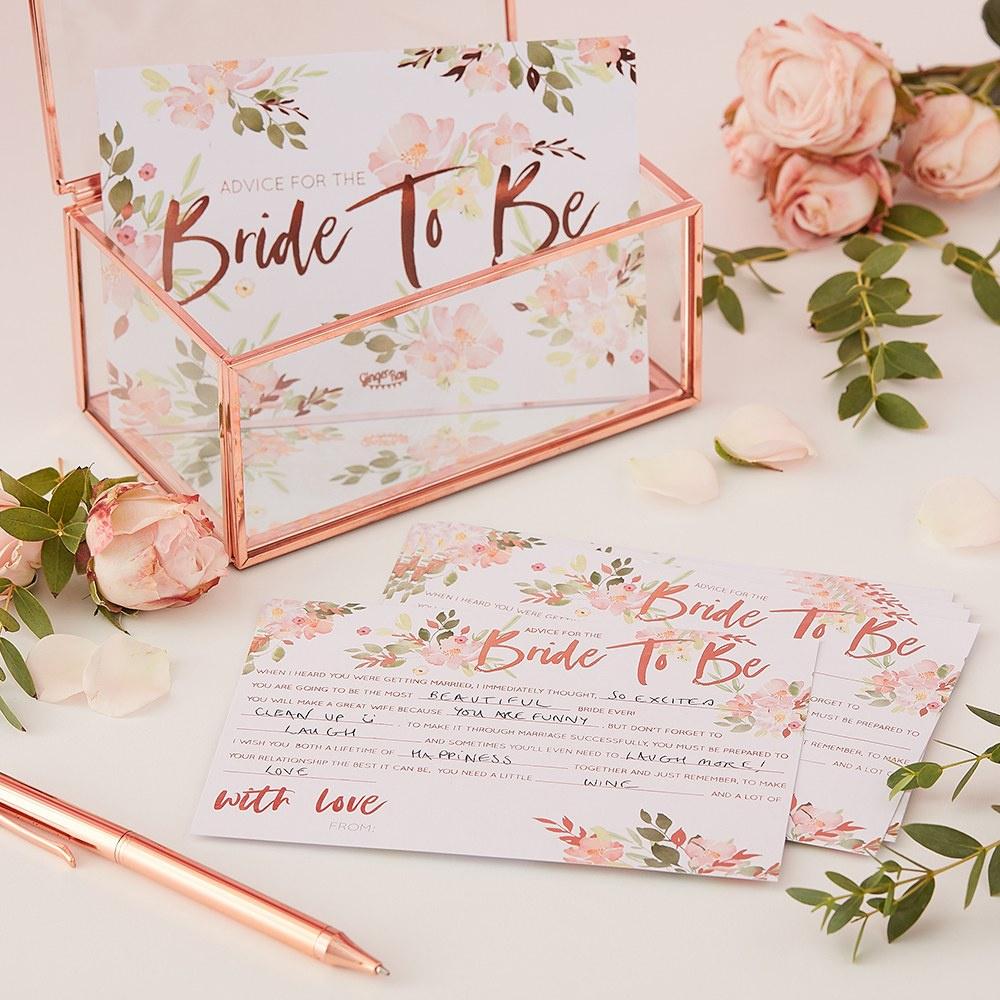 Traditional brides will appreciate these fill-in-the-blank advice cards, which are decorated with a pretty watercolor floral motif.
WeddingWire Shop Bride To Be floral advice cards, $7 for a set of 10, WeddingWire Shop
Drape these garlands on the backs of chairs or use them as table runners to give your party space an enchanted garden vibe.
Miracliy artificial rose vine, $20 for a set of 5, Amazon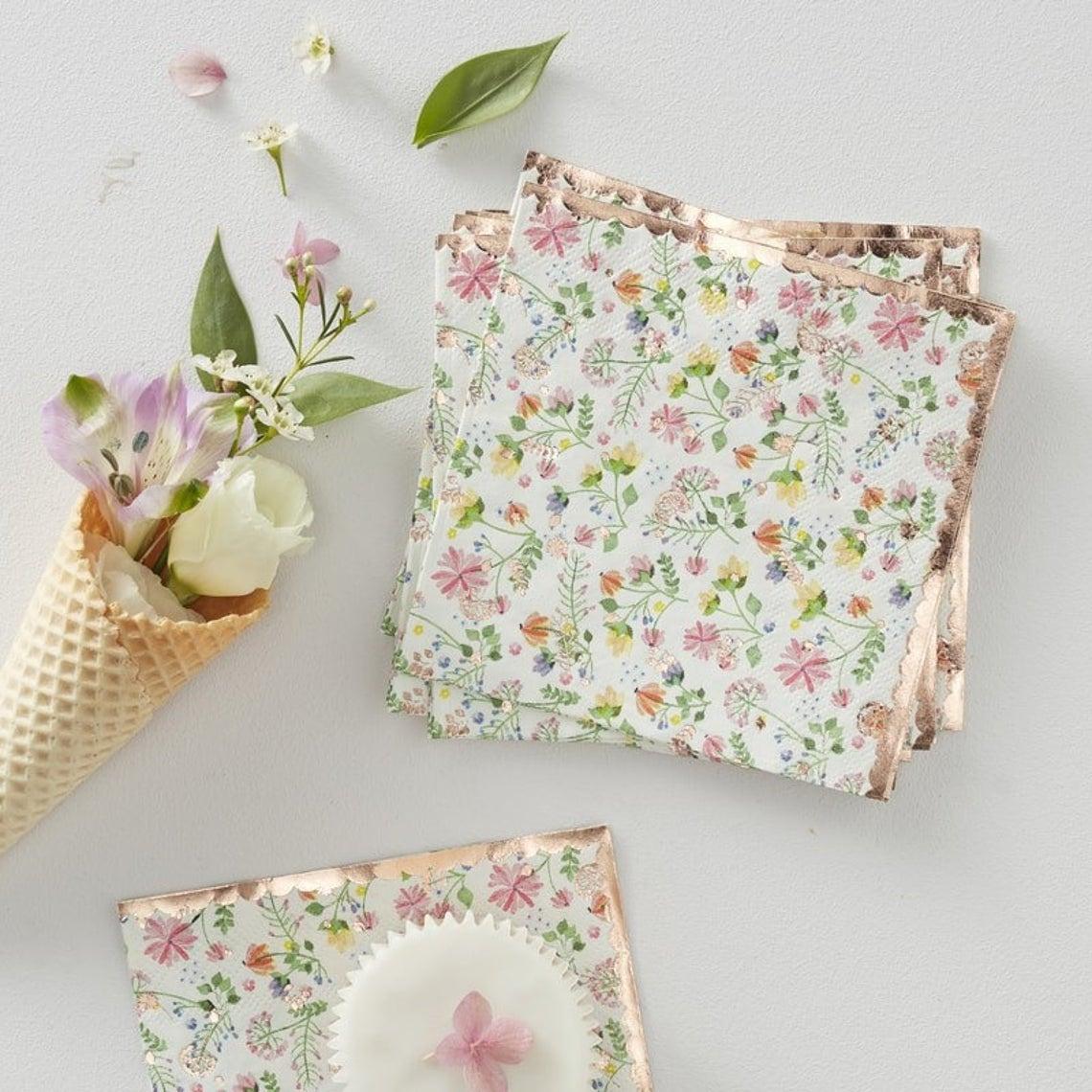 Arrange these garden-inspired napkins next to a display of bite-sized macarons, eclairs, and tarts so guests can grab-and-go as they please.
En Fete rose gold floral bridal shower napkins, $7 for a set of 16, Etsy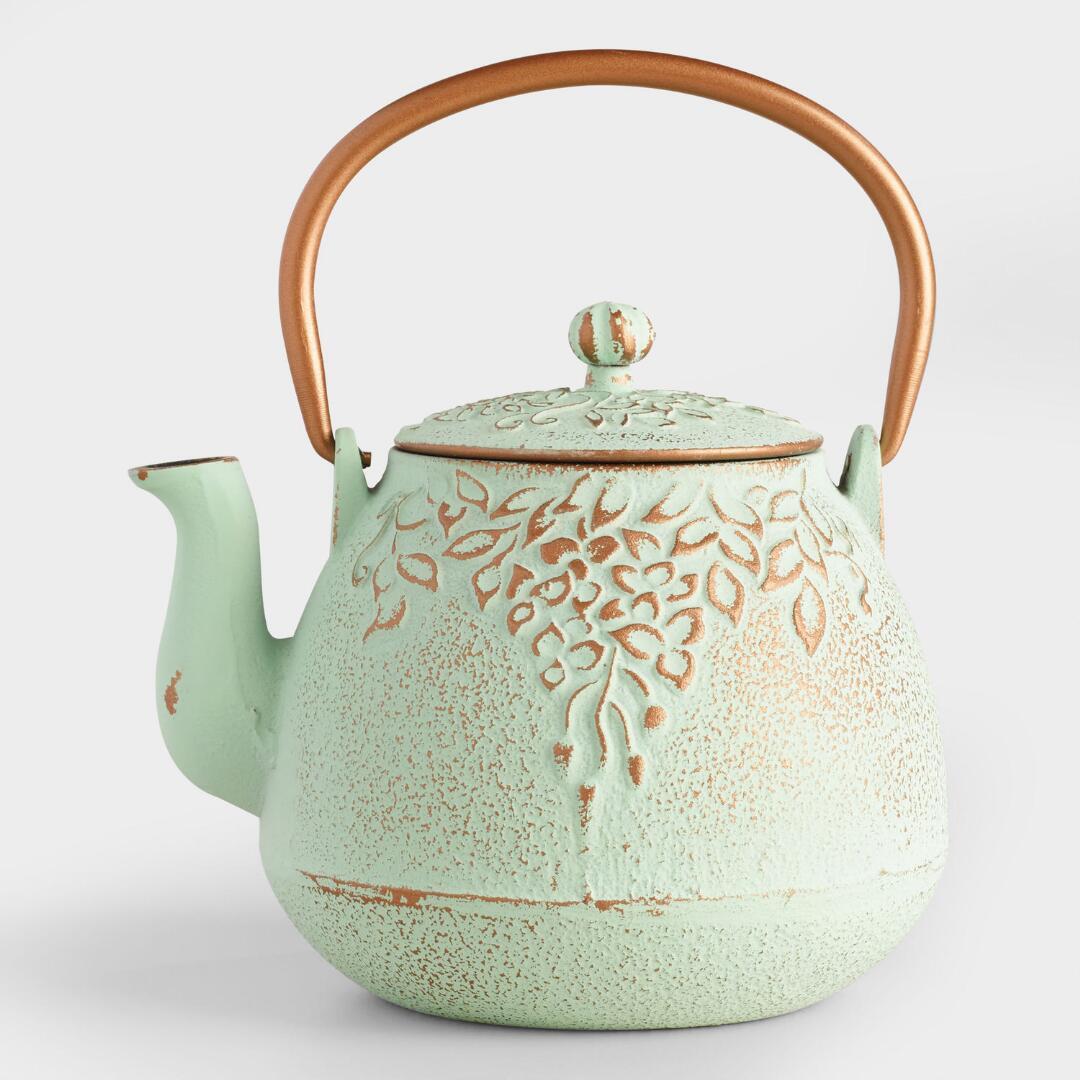 This stunning vintage teapot doubles as an excellent gift for the bride-to-be, and the light green color and embossed grapevine design will look right at home in an elegant garden setting. It's a must if you're planning a tea party bridal shower.
World Market light green embossed cast iron teapot, $25, World Market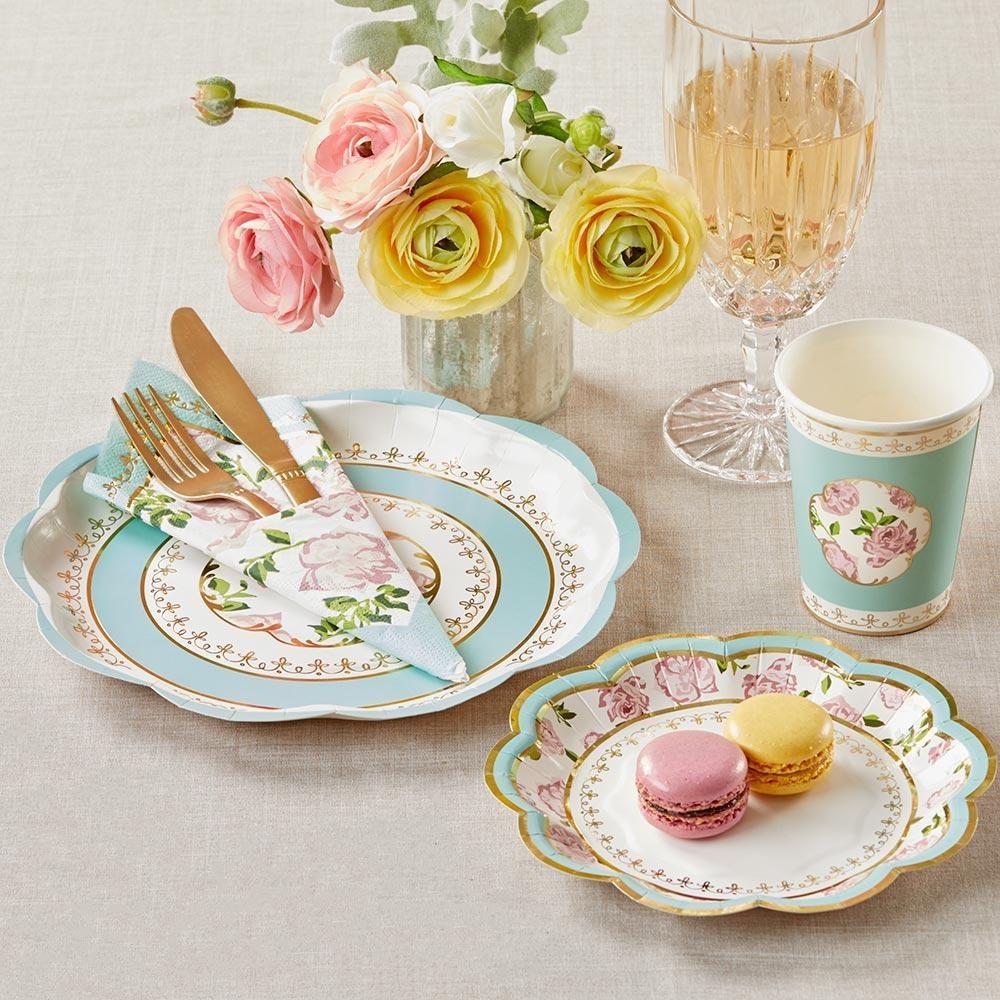 These elegant paper bridal shower supplies are just bursting with vintage charm. We're obsessed with the pretty floral pattern and gold foil accent.
Kate Aspen Tea Time Whimsy 72 piece party tableware set, $25, Kate Aspen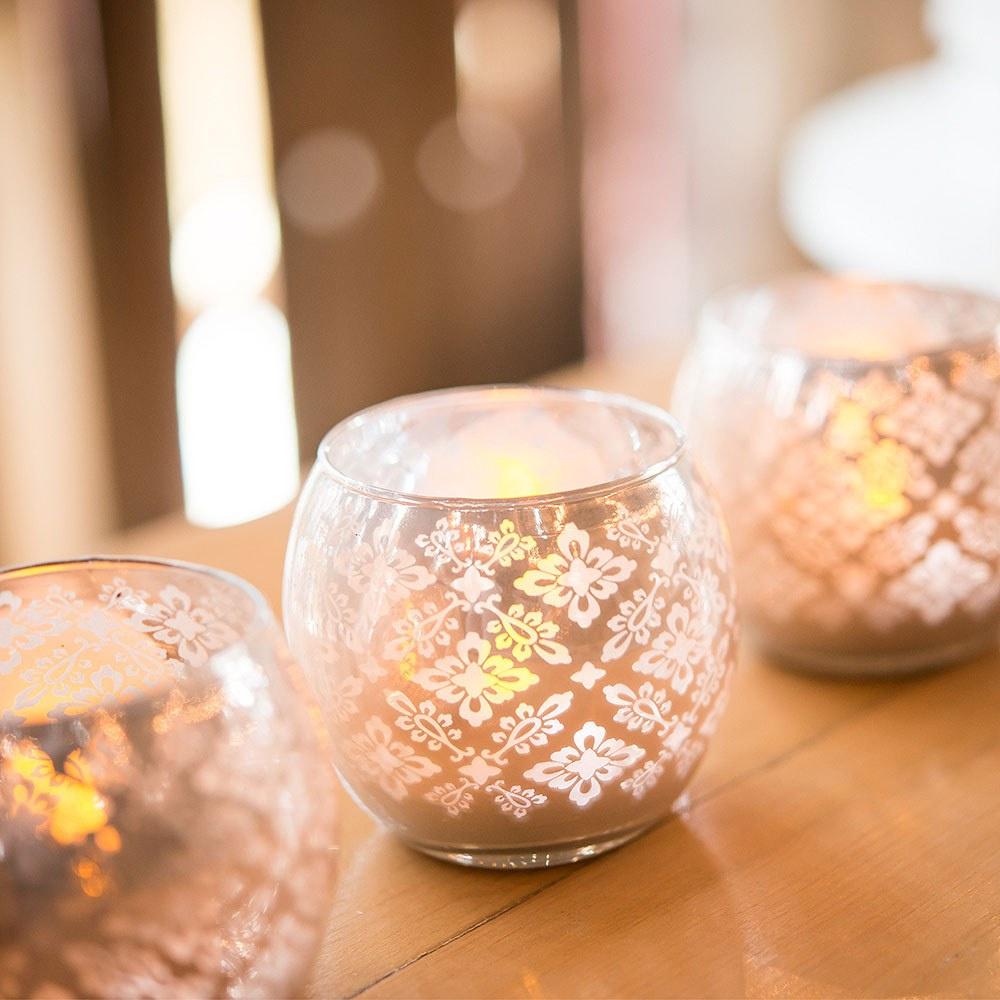 Decorate the tables at your garden party bridal shower with shimmering rose gold votive holders. If you're worried about unattended open flames, LED candles will give you the same effect without the stress.
WeddingWire Shop peach small glass globe votive holder with reflective lace pattern, $15 for a set of 6, WeddingWire Shop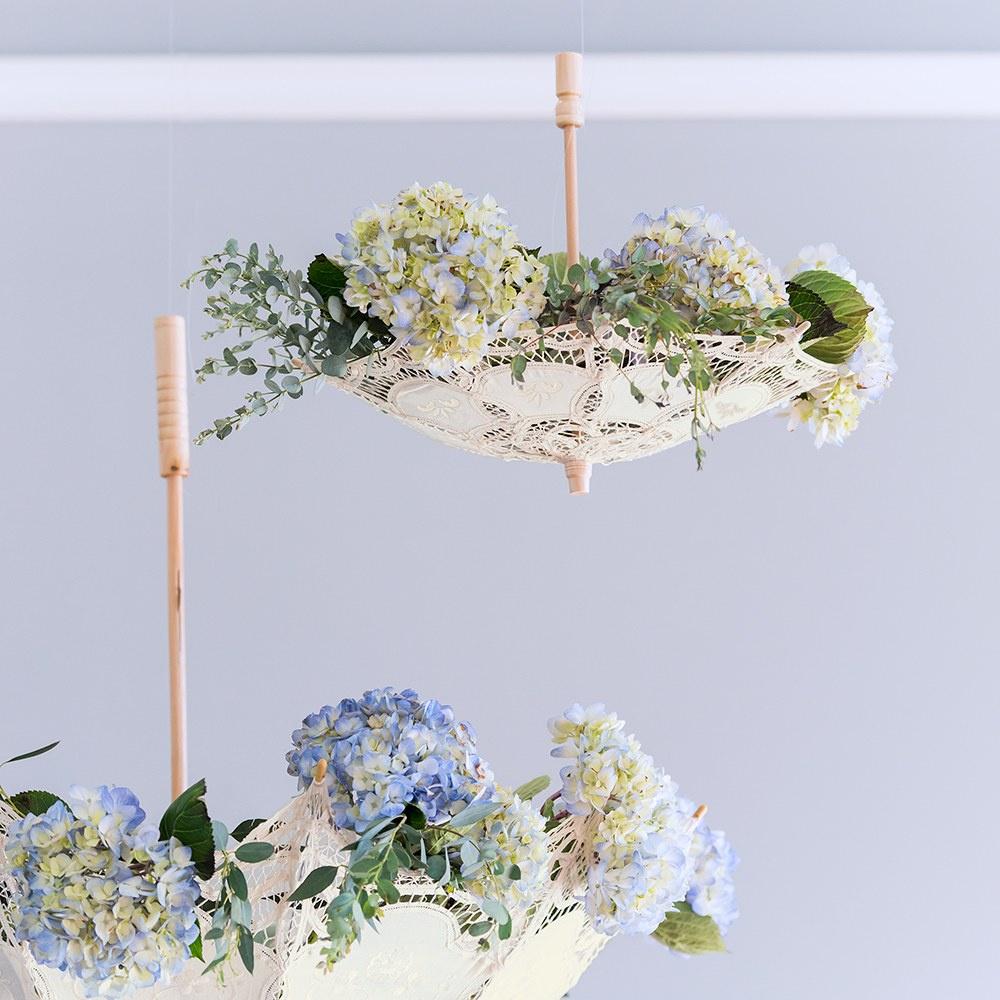 Use these antique-style parasols to create nice bridal shower table centerpieces or incorporate them anywhere that needs a decorative touch, like the gift table. Your local florist will be more than happy to help brighten up the display.
WeddingWire Shop antiqued battenburg lace parasol, $18 each, WeddingWire Shop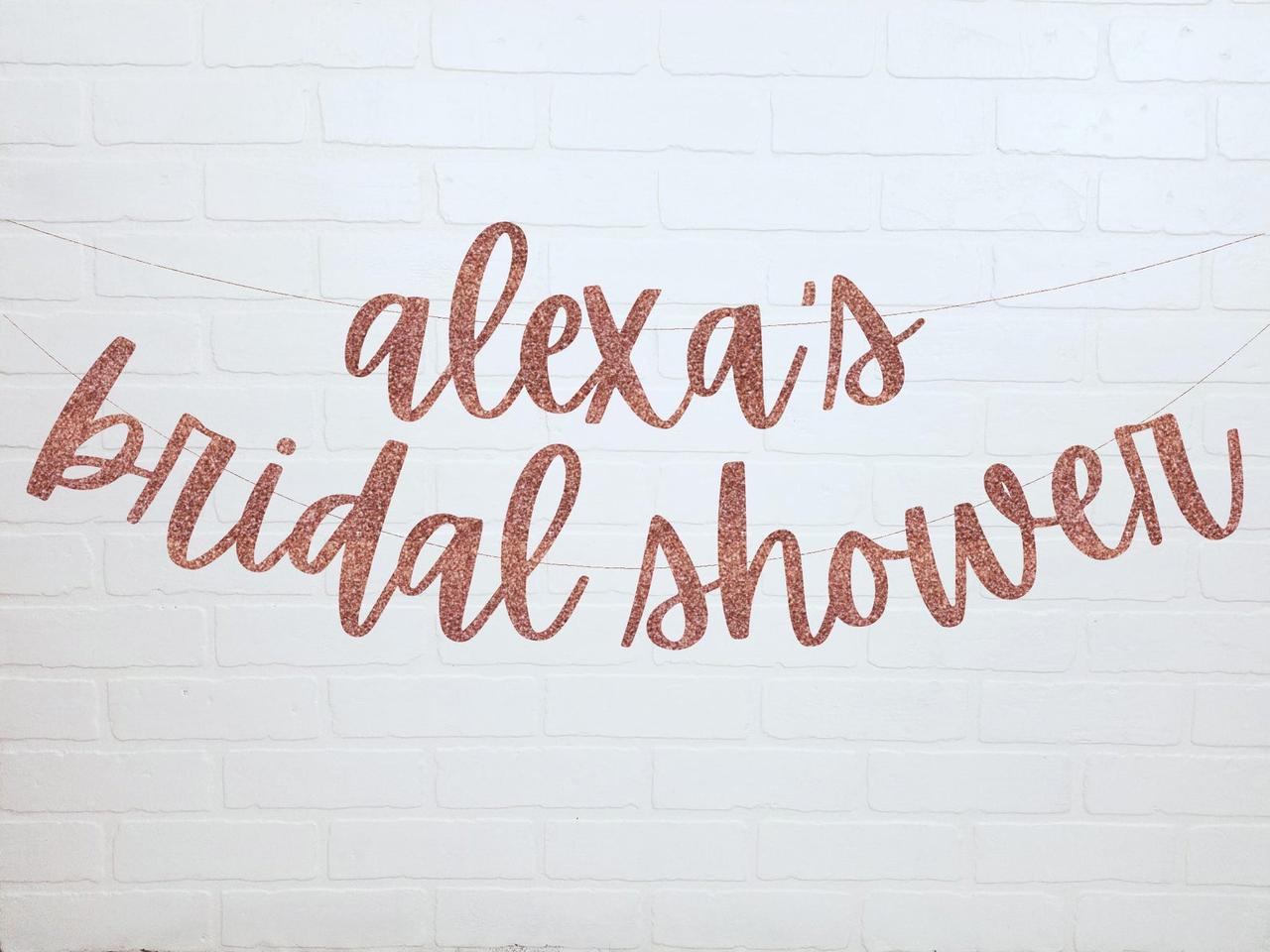 Rose gold bridal shower decorations are always a great idea—they add a sweet sparkle to any kind of celebration. Hang this personalized banner above a dessert table or as a statement piece behind a special chair for the guest of honor.
Pretty Party Company custom bridal shower banner, from $25, Etsy
Champagne bridal shower decoration ideas
What could be more fabulous than a champagne-themed bridal shower? A "brunch and bubbly" party is a great option for the classy bride who gravitates toward chic, timeless style. For this theme, we suggest a sophisticated color palette of white, black, and metallics, with bridal shower decorations inspired by bottles of bubbly.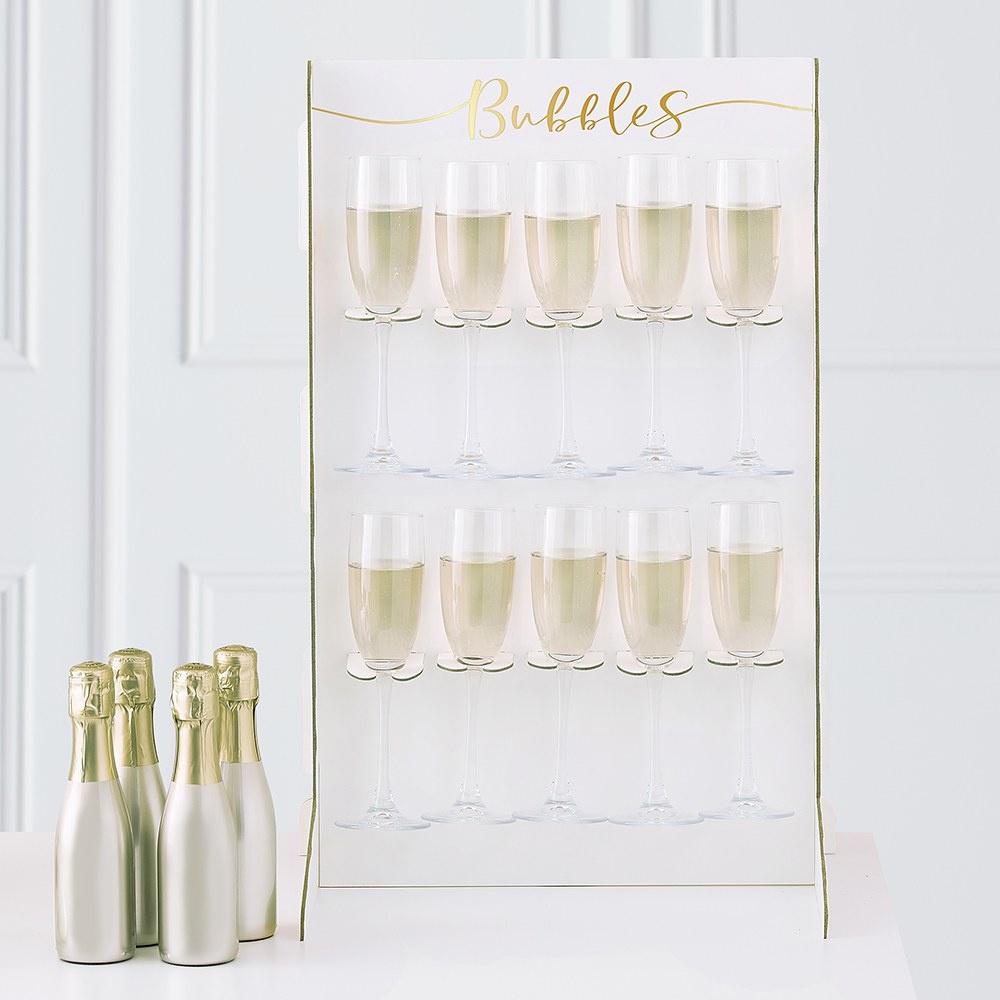 Okay, we officially need this. Take your champagne game to the next level with a tabletop display that holds 10 glasses of bubbly.
WeddingWire Shop prosecco bubbly drinks wall holder, $20, WeddingWire Shop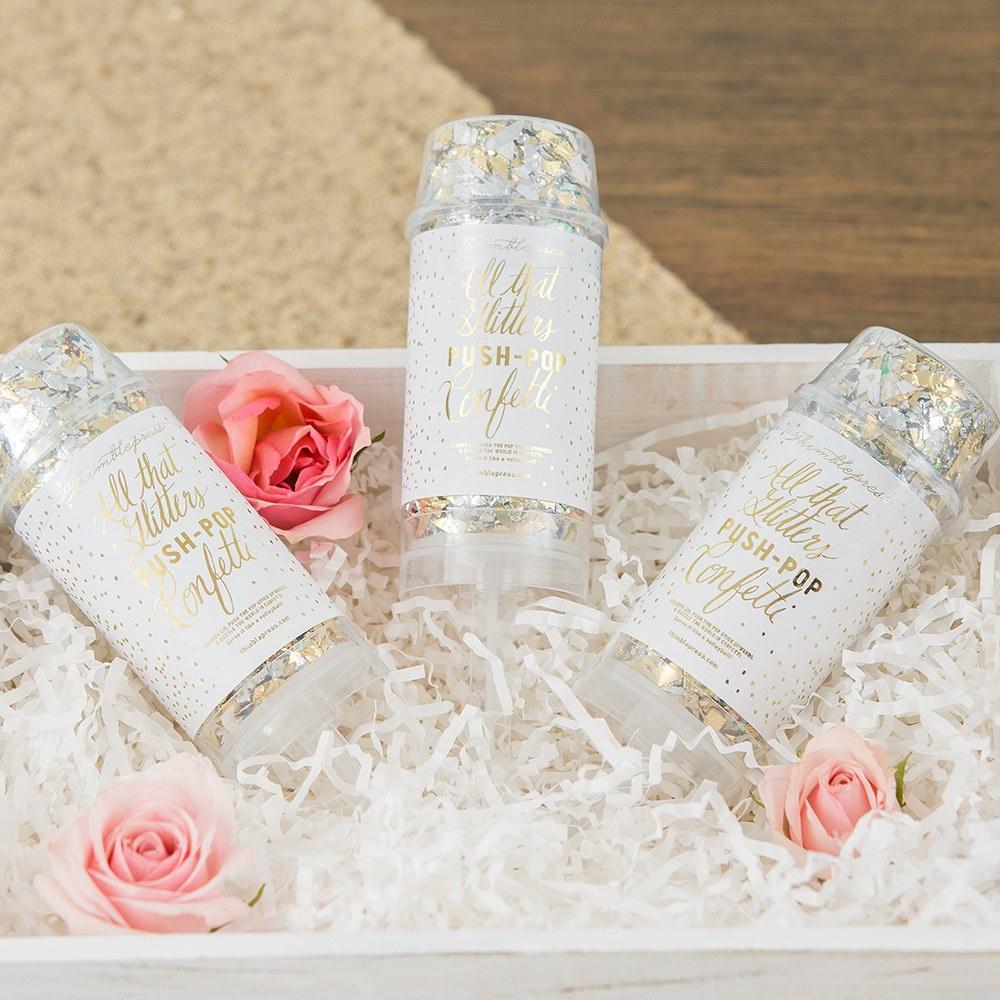 There are a few ways to use confetti push-pops at a bridal shower: You can place one at each guest's seat or scatter them on tables throughout the space. At the end of the day, use the pops to shower the bride with confetti for a memorable photo op.
WeddingWire Shop push-pop confetti, $12 each, WeddingWire Shop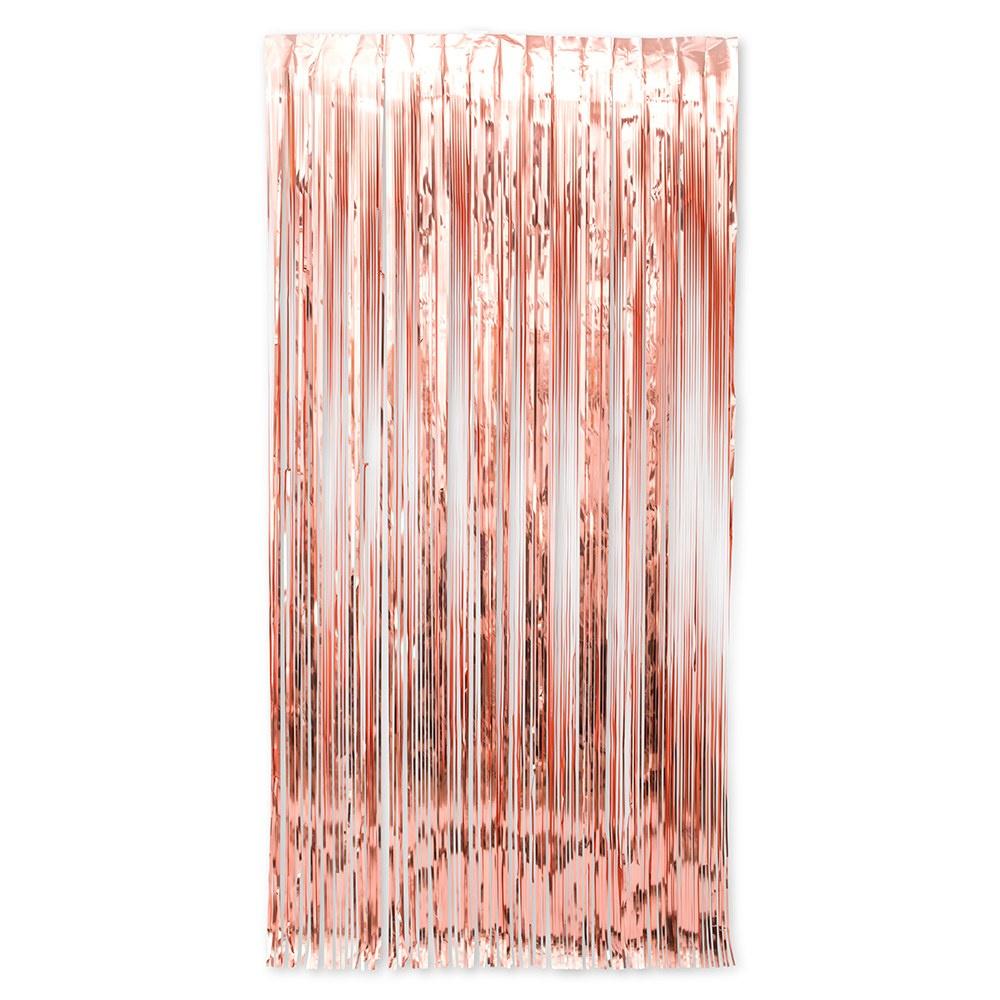 Speaking of photo opportunities, why not set up a stylish selfie wall? This rose gold curtain backdrop will add some serious sparkle to your champagne brunch.
WeddingWire Shop rose gold fringe curtain backdrop, $7, WeddingWire Shop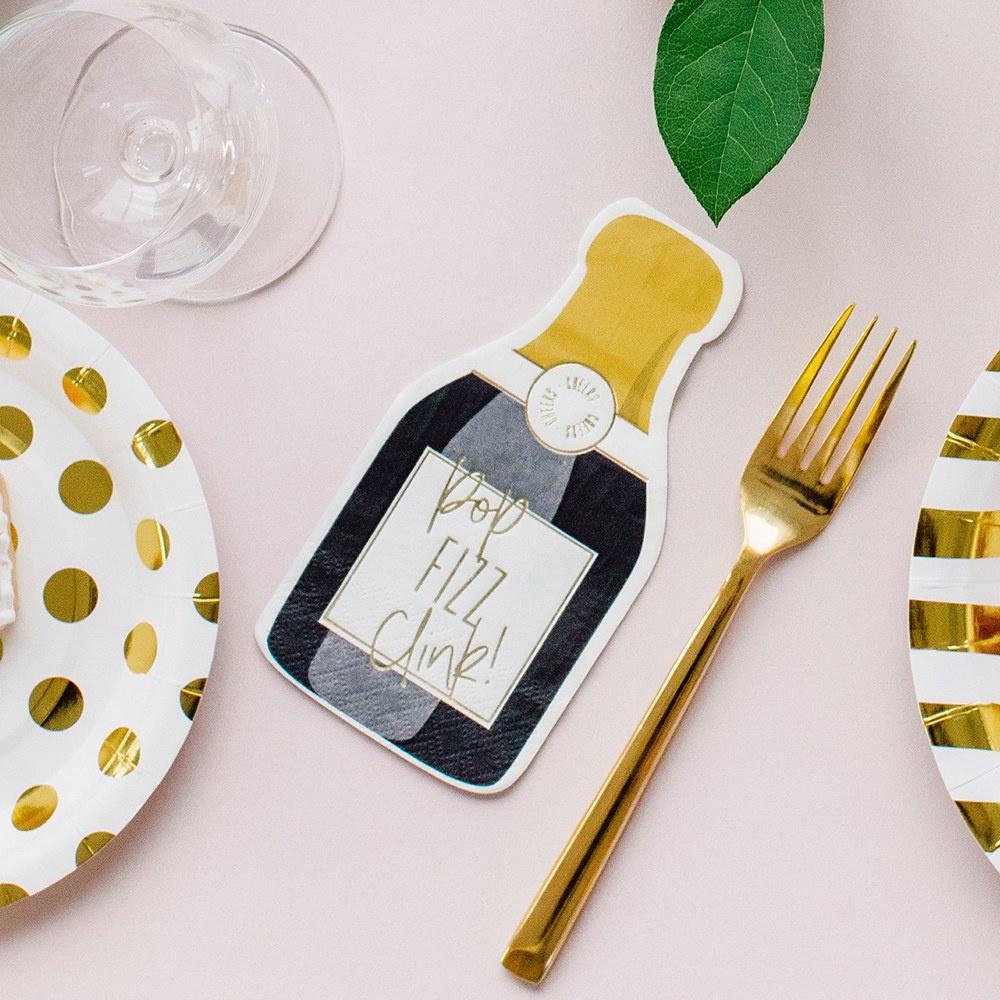 If you're planning the bridal shower on a budget, the best decorations give a nod to the theme while also being functional supplies. These "pop fizz clink!" napkins are almost too cute to use!
WeddingWire Shop champagne bottle paper napkins, $6 for a set of 20, WeddingWire Shop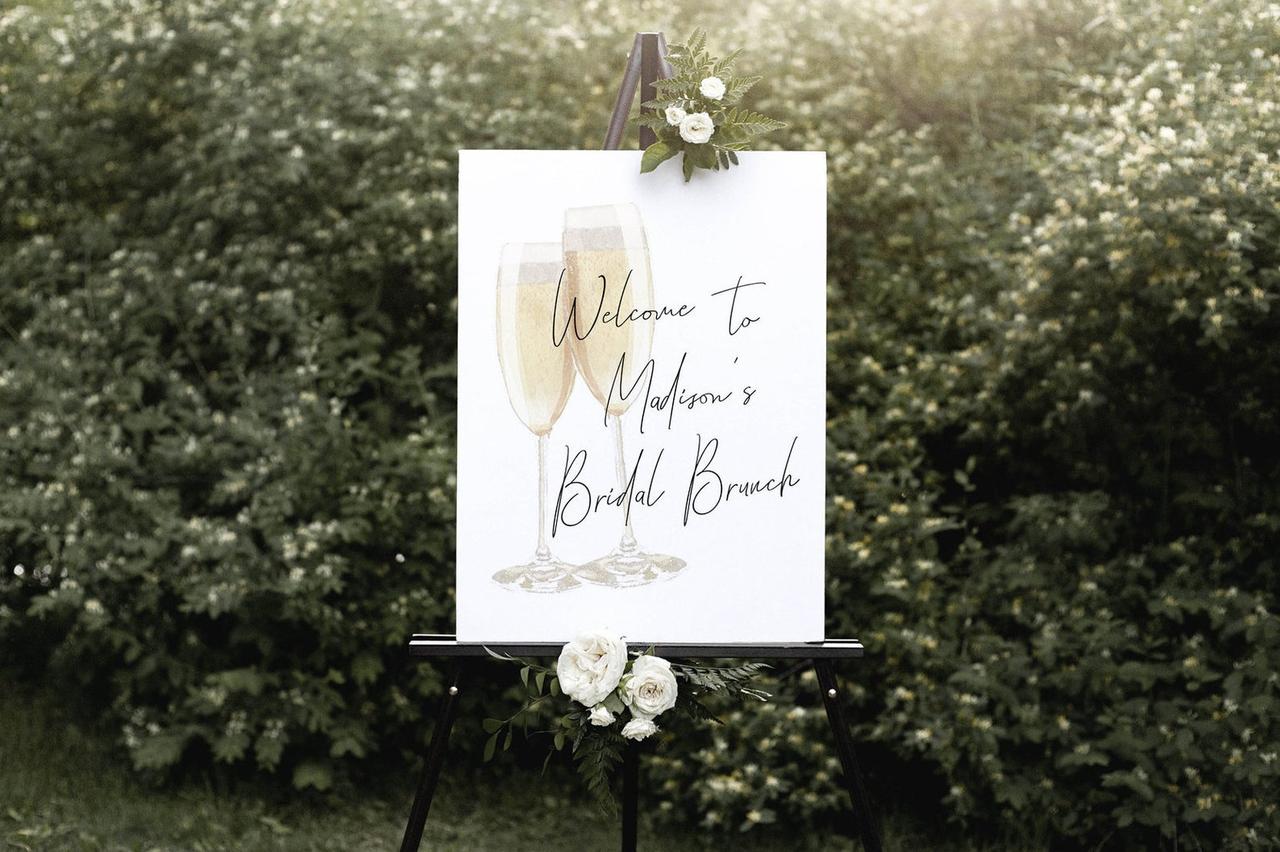 Themed wedding shower signs are a great way to welcome guests to the party. This elegant print-out will help to set a light and airy mood from the moment they arrive.
Invited Design Co brunch & bubbly welcome sign, $5, Etsy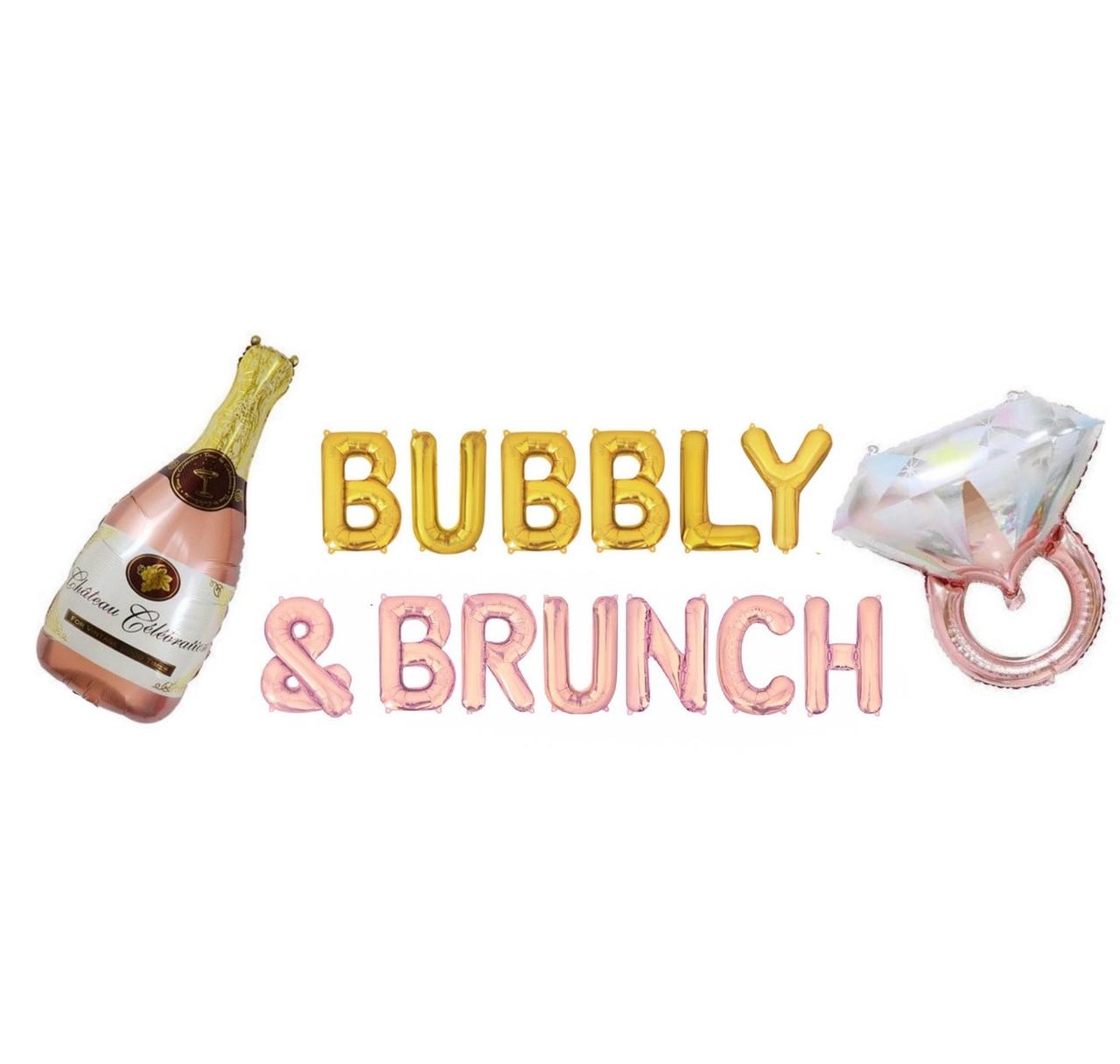 Here's another set of bridal shower balloons that are right on theme. Hang them up over the buffet table or mimosa station so guests know exactly where to go.
Cher Can Do It Bubbly & Brunch balloons bridal shower decorations, from $18, Etsy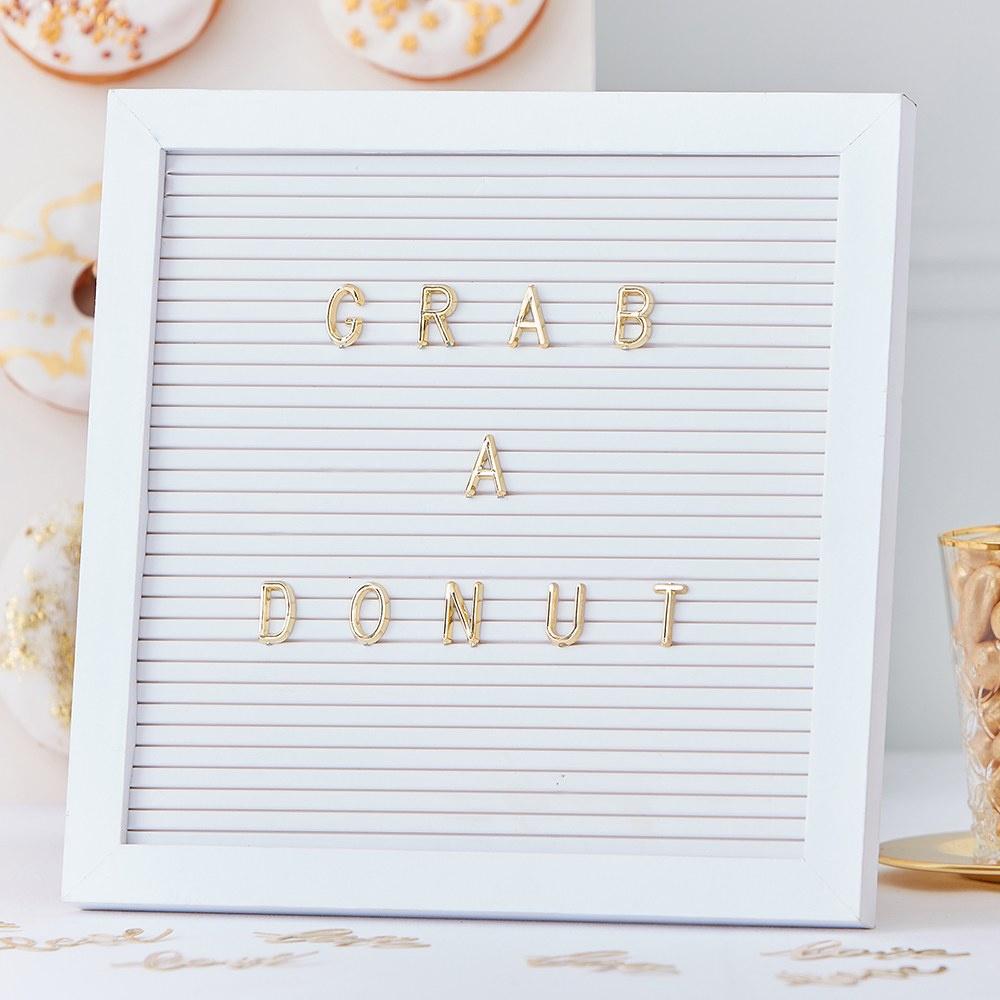 A peg letter board is perfect for displaying menu selections, the bride's name, or a fun quote, and this white and gold option ties in really well with the champagne theme.
WeddingWire Shop peg letter board, $15, WeddingWire Shop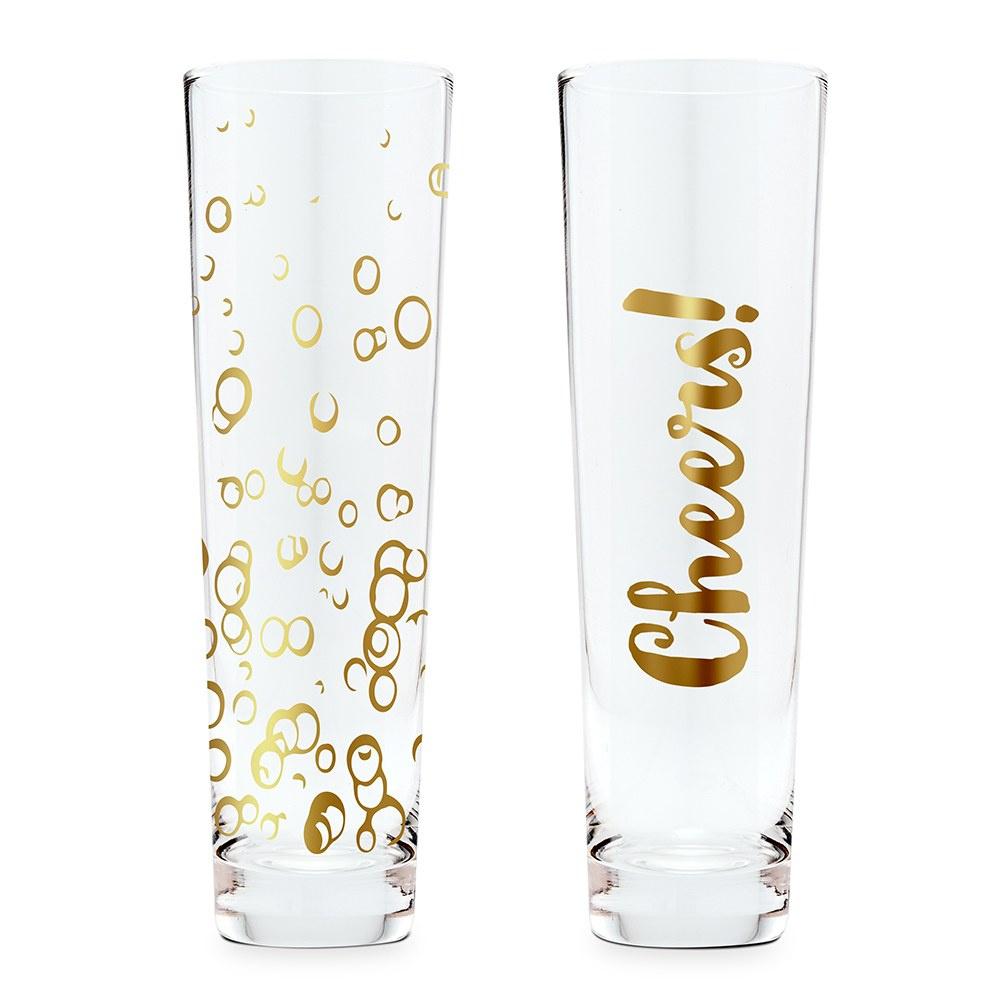 Decorative glass flutes are excellent bridal shower supplies for a champagne brunch, and guests can take them home as favors afterward.
WeddingWire Shop stemless toasting champagne flutes, $10 for a set of 2, WeddingWire Shop