After choosing your party's theme, shopping for bridal shower decorations is the next step if you're planning this important pre-wedding event. Get excited, because this is where the fun starts! No matter your style or budget, there are so many possibilities when it comes to bridal shower decorations, from fancy balloons to playful drinkware and personalized signage. To help you wow the bride when the party day arrives, we've hand-picked decorations for five of our favorite bridal shower themes — but don't let us stop you there! Even if you're not hosting a bash with one of these exact themes, these bridal shower decorations can be used interchangeably, so don't be shy about mixing and matching products to suit your needs. Happy shopping!
Check out our favorite bridal shower decorations right here.
Tropical bridal shower
If you're hosting a bridal shower for someone who loves the beach and is always down for a good cocktail, a tropical theme is a fun option. Bring this theme to life with colorful bridal shower decorations (think turquoise, hot pink, and yellow) and playful, island-inspired accents, such as palm tree leaves, pineapples, and of course a flamingo here and there!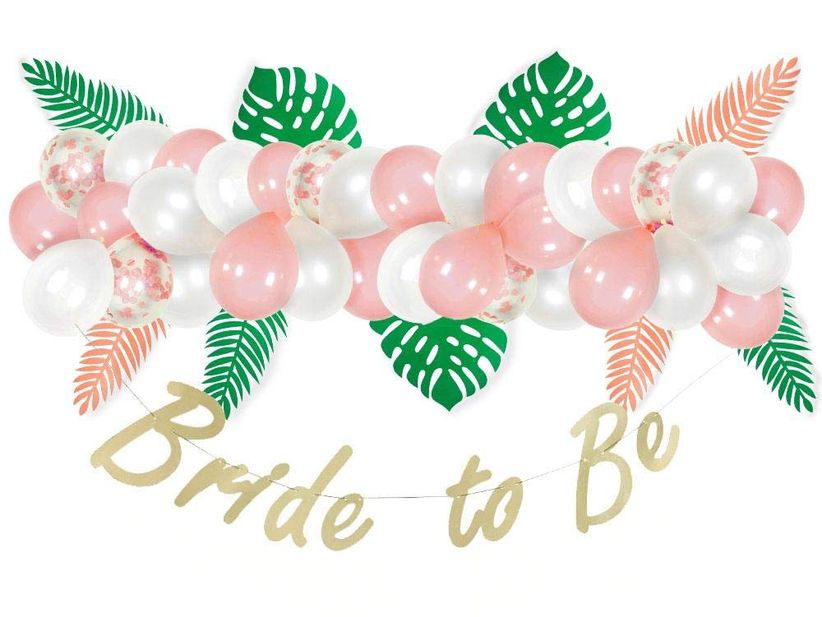 Hang this balloon banner above a special chair for the bride to sit in while she's opening gifts or playing a game (check out our list of bridal shower games here).
Vidal Crafts bride to be banner, $18, Amazon
Give your table settings a bit of tropical flair with fabric leaf-print napkins.
DII outdoor banana leaf napkin (set of six), $14, Amazon
This cheeky sign would be a great addition to a DIY mimosa bar or cocktail station.
WeddingWire Shop acrylic "aloha beaches" tabletop sign, $20, WeddingWire Shop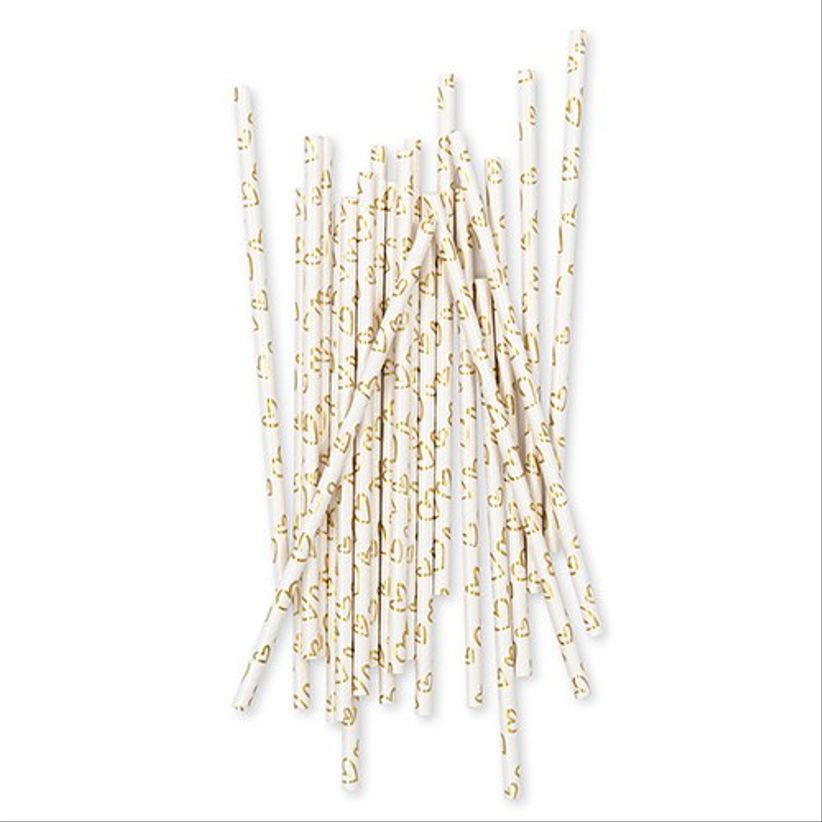 Speaking of cocktails, these metallic heart-print straws would look even cuter in your guests' drinks if you paired them with paper umbrellas (daiquiris, anyone?).
WeddingWire Shop gold foil hearts paper straws (set of 25), $4, WeddingWire Shop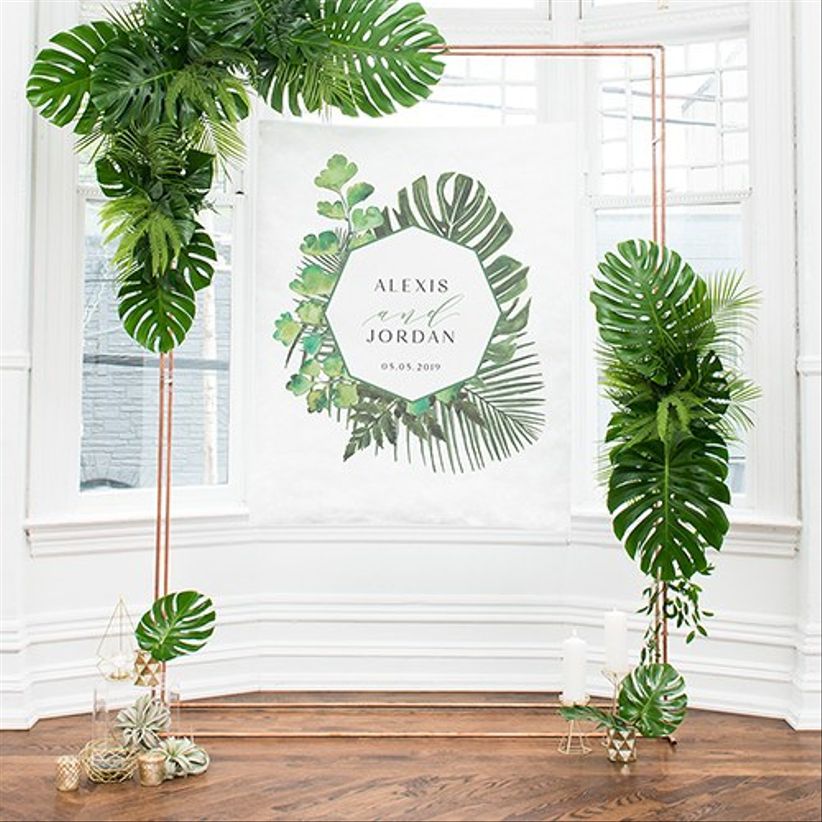 Capture Instagram-worthy snaps from the day with a customized photo backdrop. This one is decorated with a trendy greenery motif — the happy couple can even reuse it at their wedding if they're going for a tropical vibe!
WeddingWire Shop greenery personalized photo backdrop, $50, WeddingWire Shop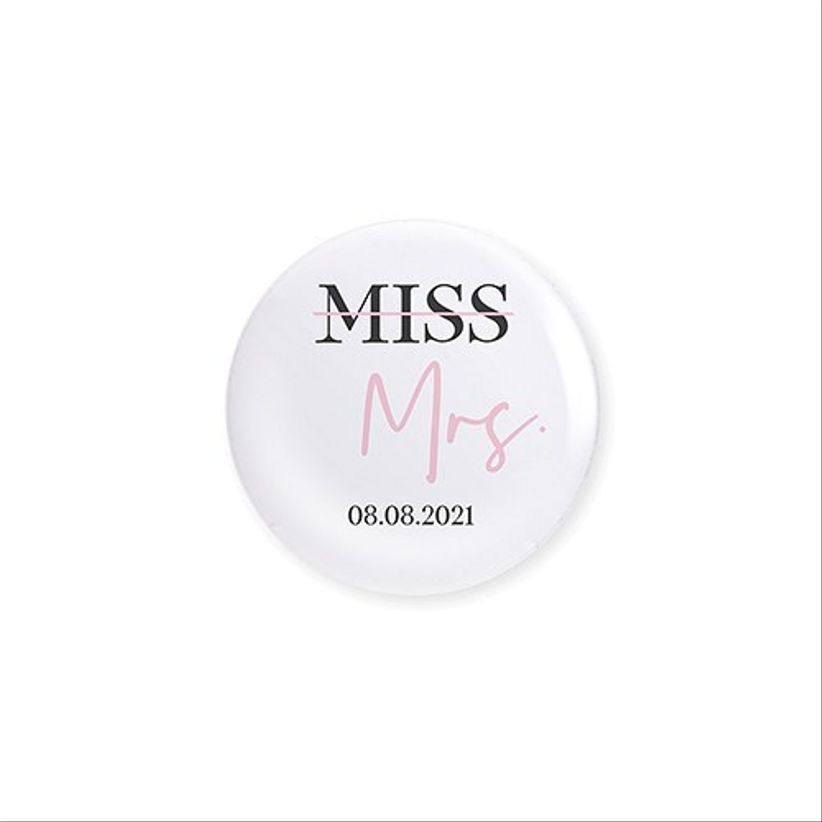 Surprise the guest of honor with a personalized button that she can keep as a memento after the party is over.
WeddingWire Shop Miss to Mrs. wedding pin, $4, WeddingWire Shop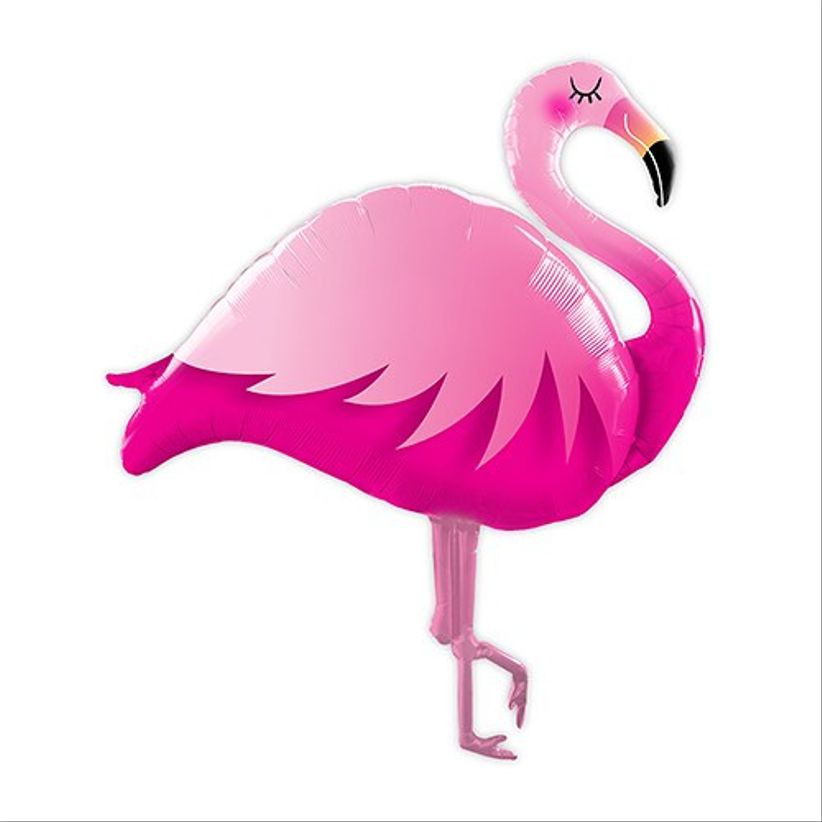 A pink flamingo ballon adds an instant pop of color to your event space (and it makes for an excellent photo prop).
WeddingWire Shop flamingo foil helium balloon, $8, WeddingWire Shop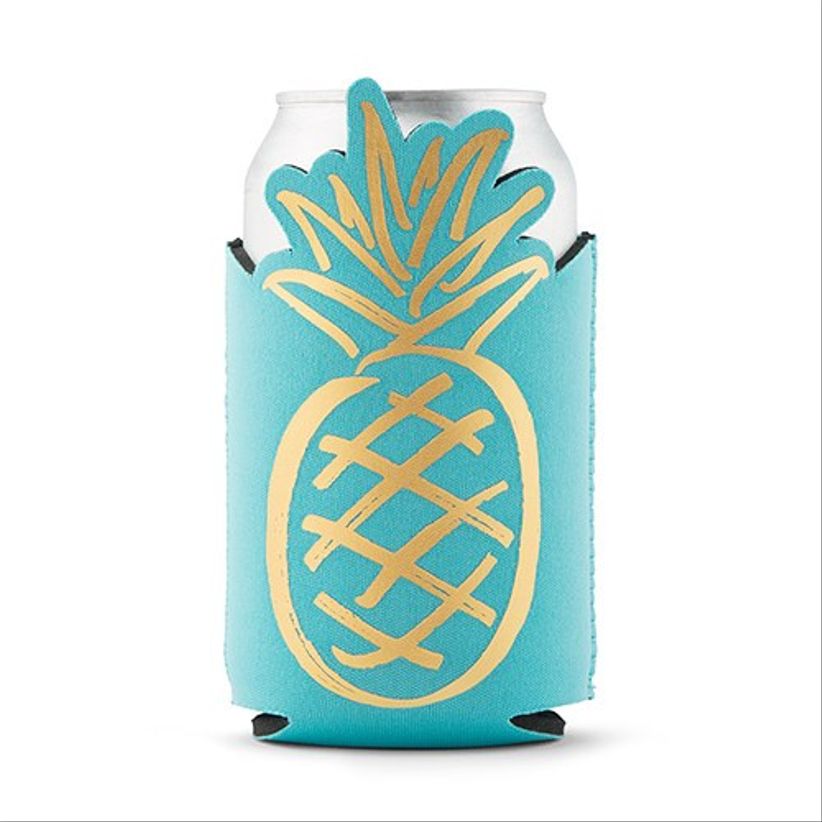 Not only will these pineapple koozies keep guests' refreshments cold throughout the party, but they'll also serve as bridal shower favors for everyone at the end of the day.
WeddingWire Shop foam party koozie, from $2, WeddingWire Shop
Vintage bridal shower
These romantic bridal shower decorations are sure to be a hit with any bride who loves flowers, garden parties, and a nice pot of tea (or a glass of rosé, for that matter). For the decor, stick to a blush color palette with metallic gold accents, then add sweet details like votive candles, confetti-filled balloons, and floral garlands.
Traditional brides will appreciate these fill-in-the-blank advice cards, which are decorated with a pretty watercolor floral motif.
WeddingWire Shop bride-to-be advice cards (set of 10), $7, WeddingWire Shop
Drape these garlands on the backs of chairs or use them as table runners to give your party space an "enchanted garden" vibe.
Miracly artificial rose vine (set of five), $13, Amazon
Arrange these patterned napkins next to a display of bite-sized macarons, eclairs, and tartes so guests can grab-and-go as they please.
Blue Panda gold floral print paper napkins (set of 100), $11, Amazon
Hexagonal blush paper plates are a classy upgrade from the standard white options.
WeddingWire Shop gold and blush hexagon party plates, $7, WeddingWire Shop
This rose gold "Miss to Mrs." banner looks lovely with or without balloons. Hang it above a dessert table or as a statement piece behind a special chair for the bride.
WeddingWire Shop Miss to Mrs. banner, $8, WeddingWire Shop
Balloons are one of the easiest ways to spruce up any space, especially if you're looking for bridal shower decorations on a budget. These metallic confetti balloons tie in perfectly with a romantic vintage theme.
K Kumeed rose gold confetti balloons (set of 30), $10, Amazon
Decorate the tables at your bridal shower with shimmering rose gold votive holders. If you're worried about unattended open flames, LED votive candles will give you the same effect without the stress.
WeddingWire Shop glass votive holder with reflective lace pattern, from $18, WeddingWire Shop
Use this antique-style parasol to create a nice bridal shower centerpiece or incorporate it anywhere that needs a decorative touch, like the gift table.
WeddingWire Shop antiqued battenburg lace parasol, $18, WeddingWire Shop
Rustic bridal shower
Going for country-chic style? Bridal shower decorations for rustic themes can include outdoorsy elements (burlap bunting banners and wood place card holders) to create a laid-back aesthetic.
Individual place cards instantly make any sit-down meal feel fancy — these wooden place card holders are a natural fit for a rustic bridal shower theme.
Supla rustic wood place card holders (set of 20), $16, Amazon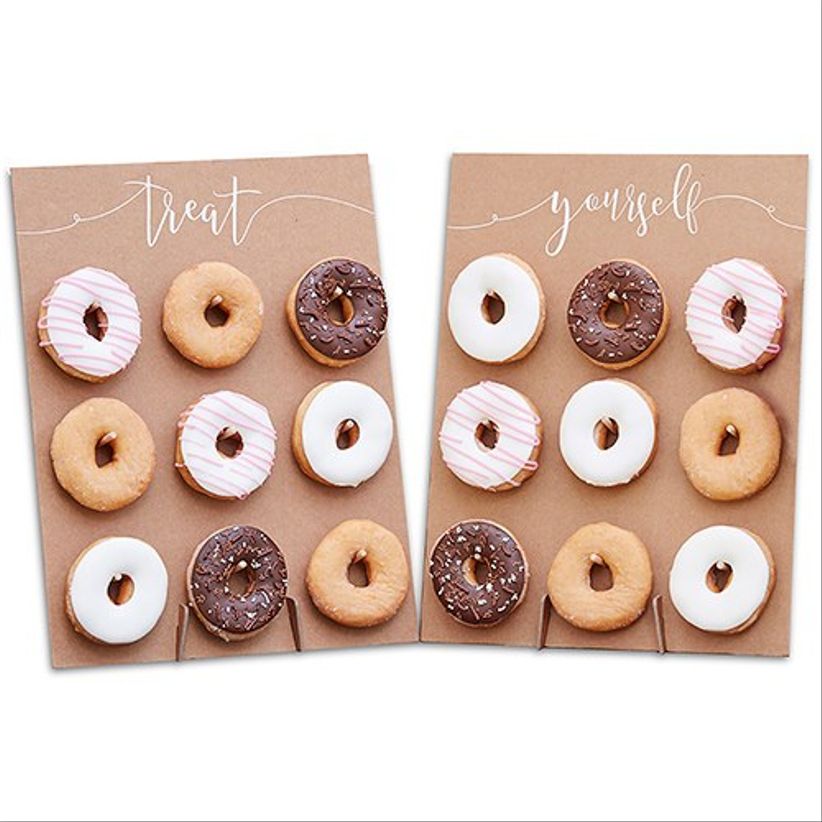 Love donuts? Us too! A tabletop display is a cute and decorative way to showcase these sweet treats.
WeddingWire Shop donut wall display, $20, WeddingWire Shop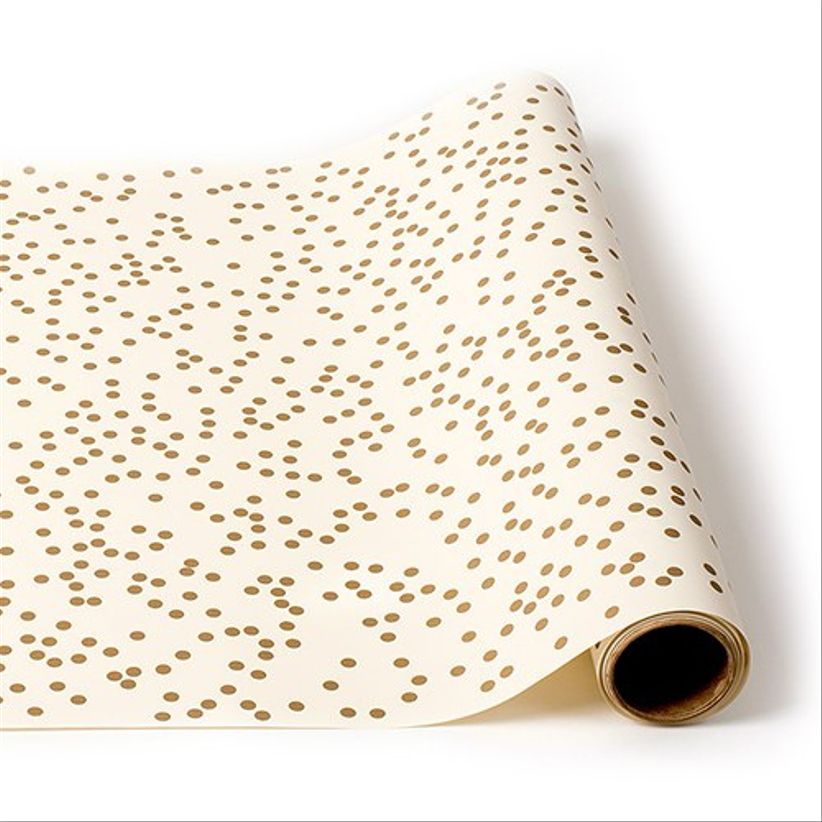 A polka dot runner gives your tablescape a modern, whimsical look. Add vases of baby's breath and greenery for a true rustic vibe.
WeddingWire Shop printed gold confetti paper table runner, $21, WeddingWire Shop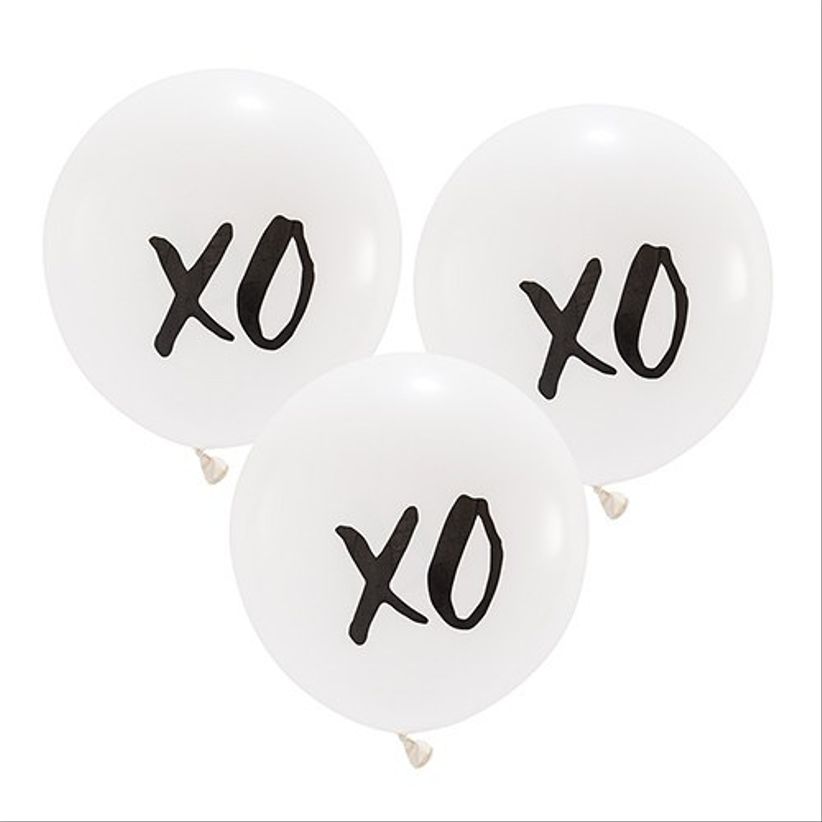 These "XO" balloons are great for sprucing up an empty corner of your party space or welcoming guests at the entrance.
WeddingWire Shop white round "XO" balloons (set of three), $6, WeddingWire Shop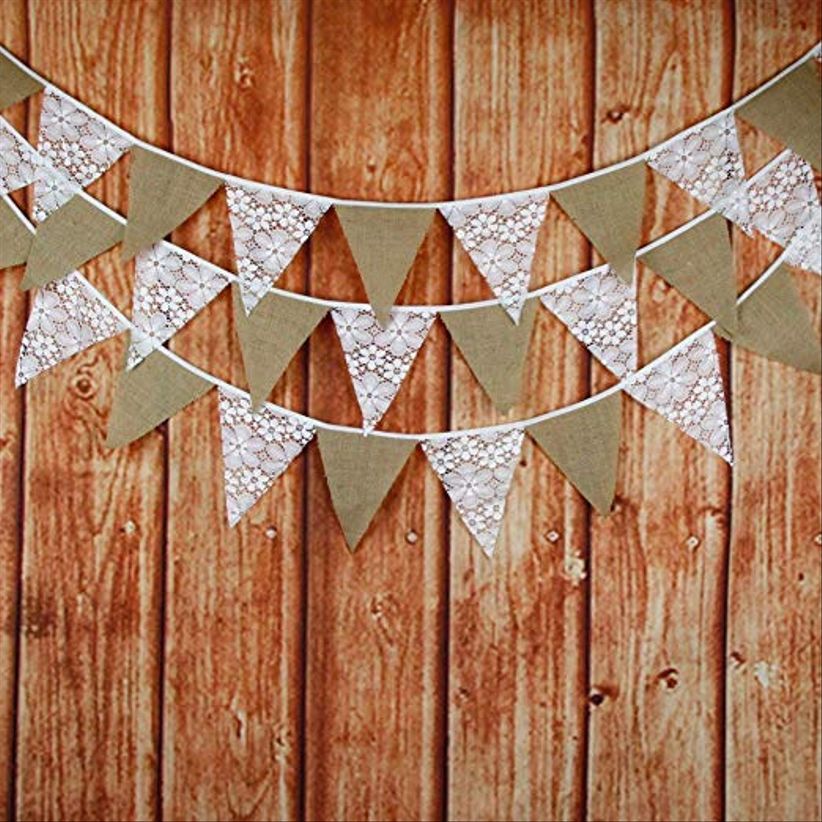 It wouldn't be a rustic theme without a little bit of burlap. We like this vintage-style bunting banner with touches of lace.
G2Plus lace and burlap wedding banner, $9, Amazon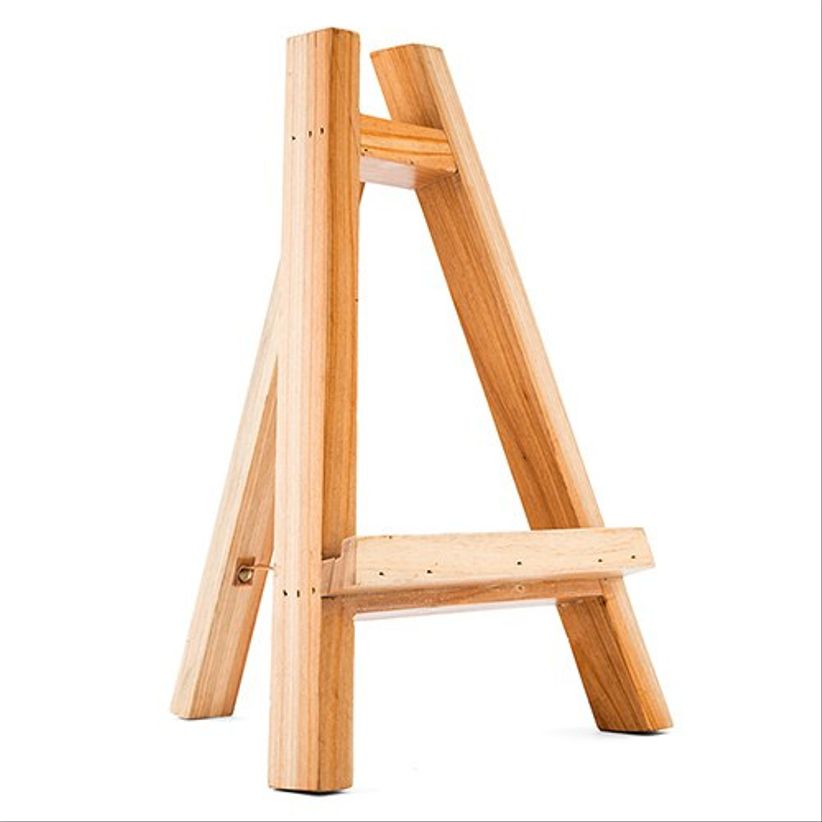 Personal touches can make all the difference when you're choosing bridal shower decorations. Wooden easels are perfect for displaying framed photos of the couple throughout the space.
WeddingWire Shop wooden tabletop display easel, $12, WeddingWire Shop
A custom wooden sign with white calligraphy can be displayed at the party entrance and given to the couple to showcase in their home after the festivities are over.
WeddingWire Shop personalized wooden wedding sign, $20, WeddingWire Shop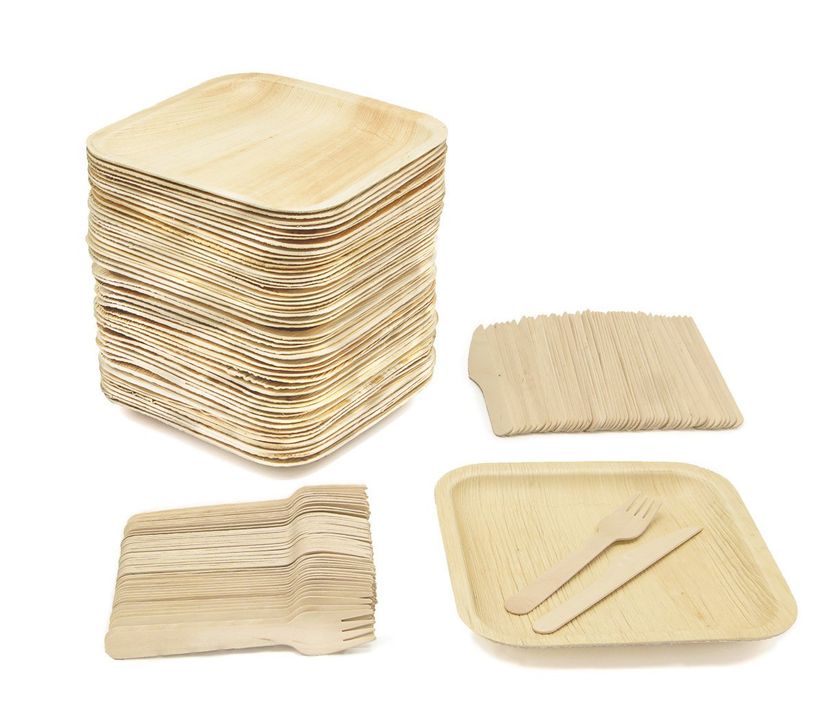 Plates and cutlery made from palm leaves are on-theme and a stylish, eco-friendly alternative to disposable plastic options.
EcoDesign-US eco-friendly disposable dinnerware, from $24, Amazon
Champagne bridal shower
What could be more fabulous than a champagne-themed bridal shower? A "brunch and bubbly" theme is a great option for the classy bride who gravitates toward chic, timeless style. For this theme, we suggest a sophisticated color palette of white, black, and metallics, with bridal shower decorations inspired by bottles of bubbly.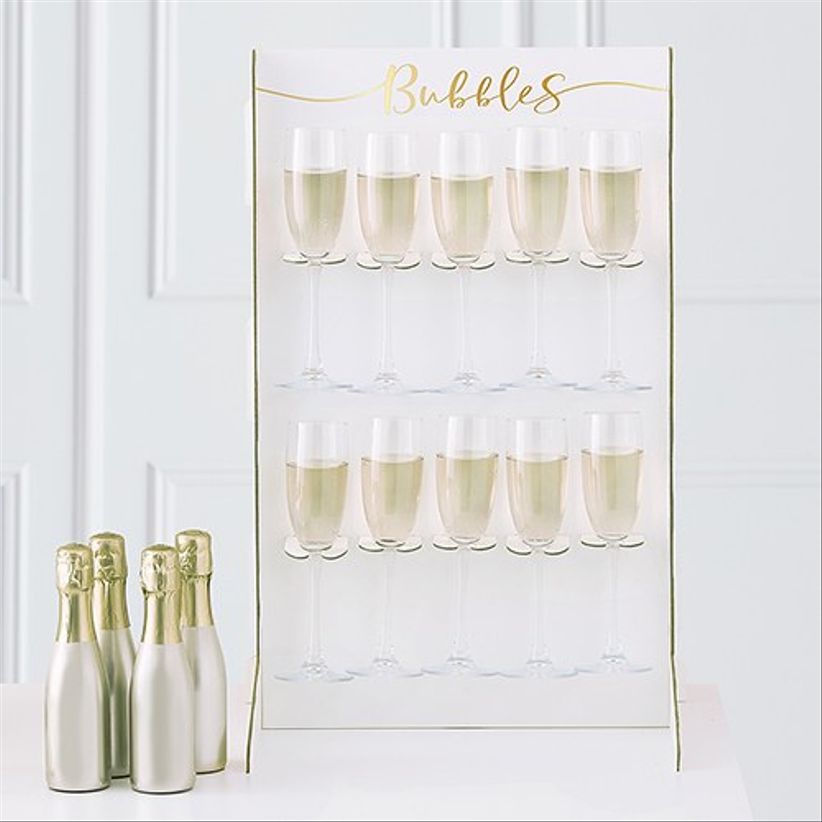 Okay, we officially need this. Take your champagne game to the next level with a tabletop display that holds 10 glasses of bubbly.
WeddingWire Shop prosecco bubbly drinks wall holder, $20, WeddingWire Shop
There are a few ways to use confetti push-pops at a bridal shower: you can place one at each guest's seat or scatter them on tables throughout the space. At the end of the day, use the pops to shower the bride with confetti for a memorable photo op!
WeddingWire Shop push-pop confetti, $12, WeddingWire Shop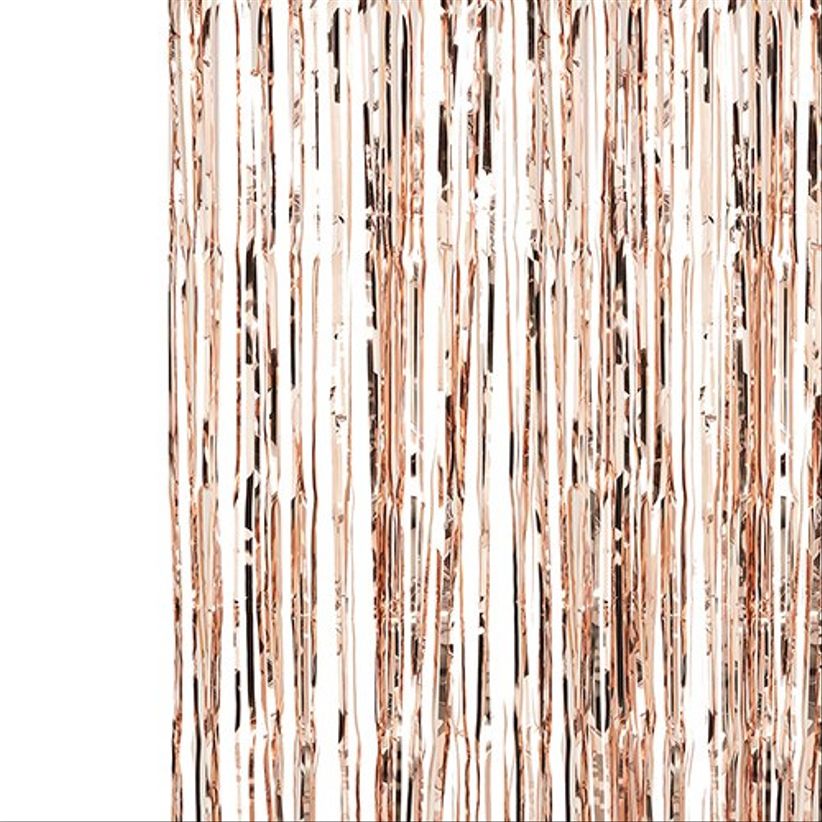 Set up a stylish selfie wall with a rose gold curtain backdrop.
WeddingWire Shop rose gold fringe curtain backdrop, $10, WeddingWire Shop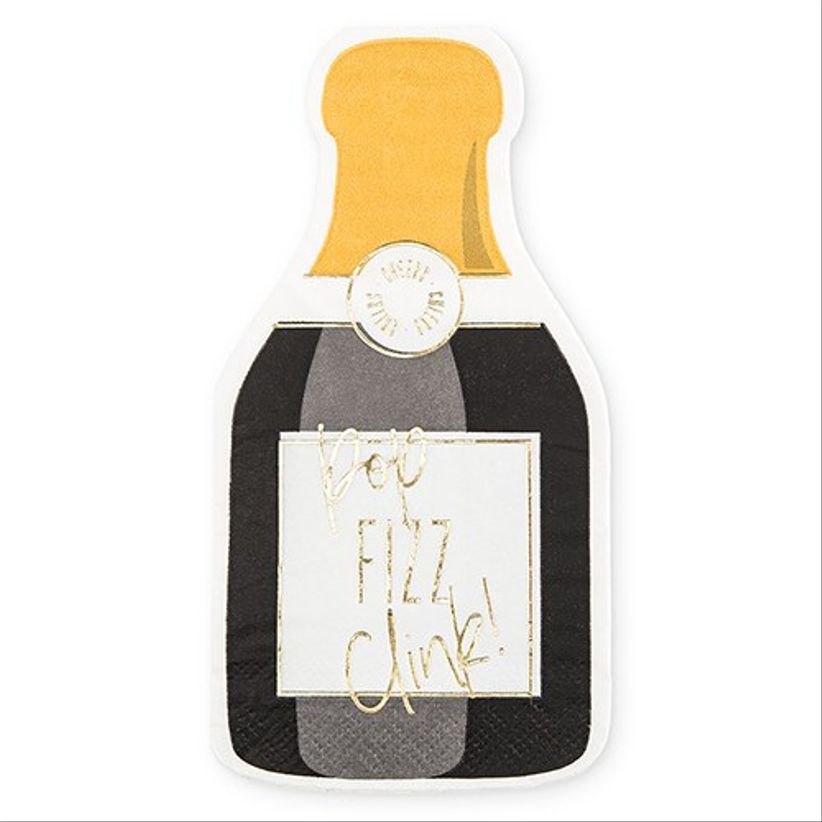 These "pop fizz clink!" napkins are almost too cute to use.
WeddingWire Shop champagne bottle paper napkin (set of 20), $6, WeddingWire Shop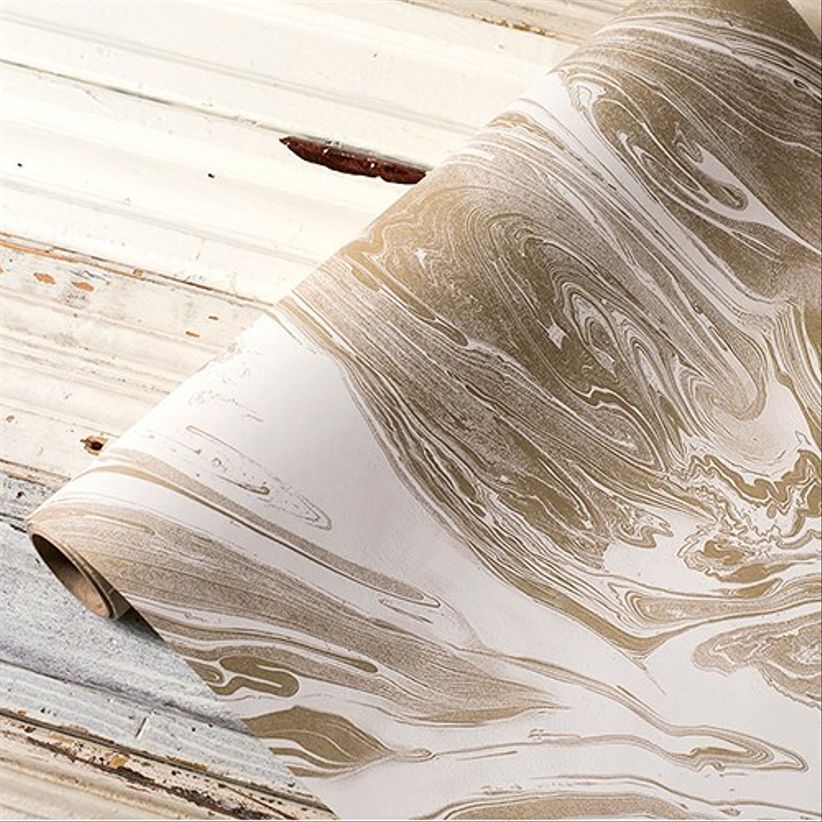 Bring a contemporary vibe to your brunch or dessert setup with a cool marbled paper table runner.
WeddingWire Shop 20" gold marbled paper table runner, $27, WeddingWire Shop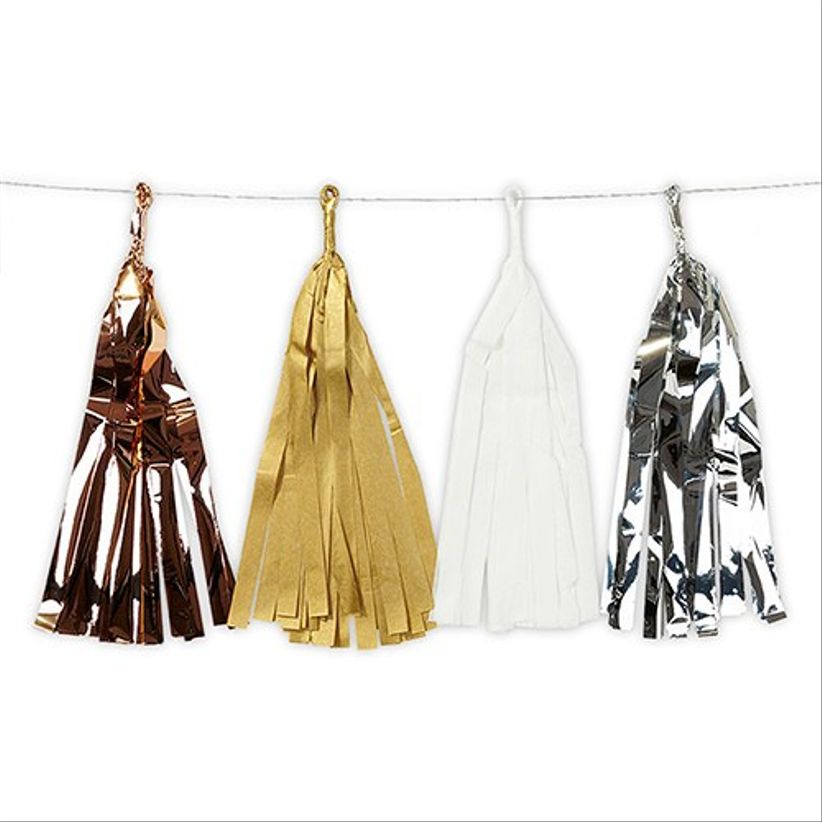 Hang metallic tassel garlands throughout the party space for instant pizzaz.
WeddingWire Shop mixed metallic tissue and foil tassel garland, $24, WeddingWire Shop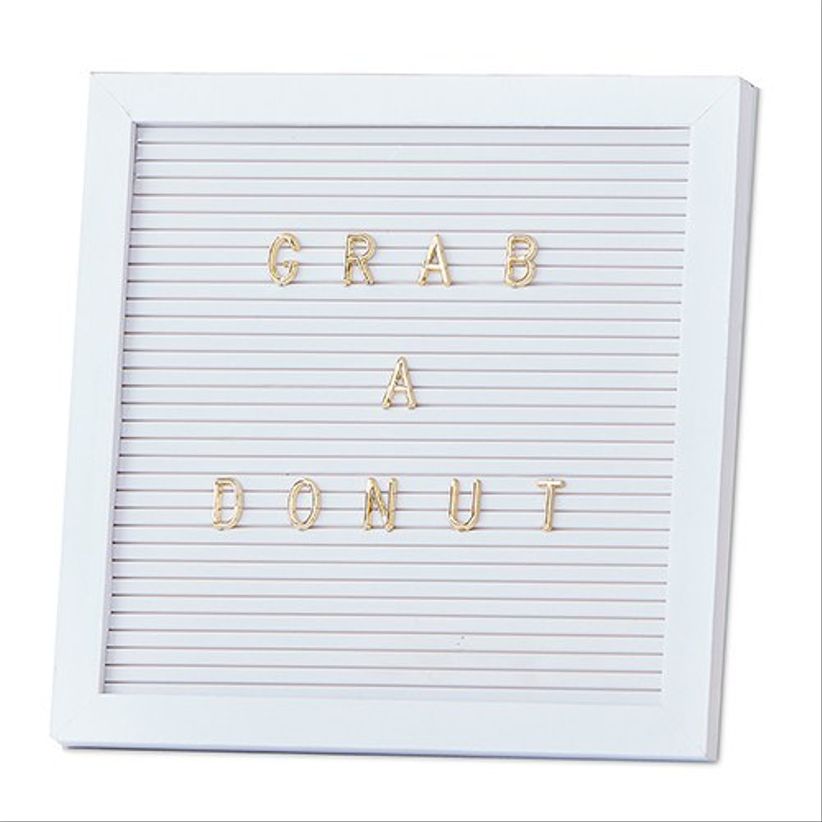 A peg letter board is perfect for displaying menu selections, the bride's name, or a fun quote!
WeddingWire Shop peg letter board, $15, WeddingWire Shop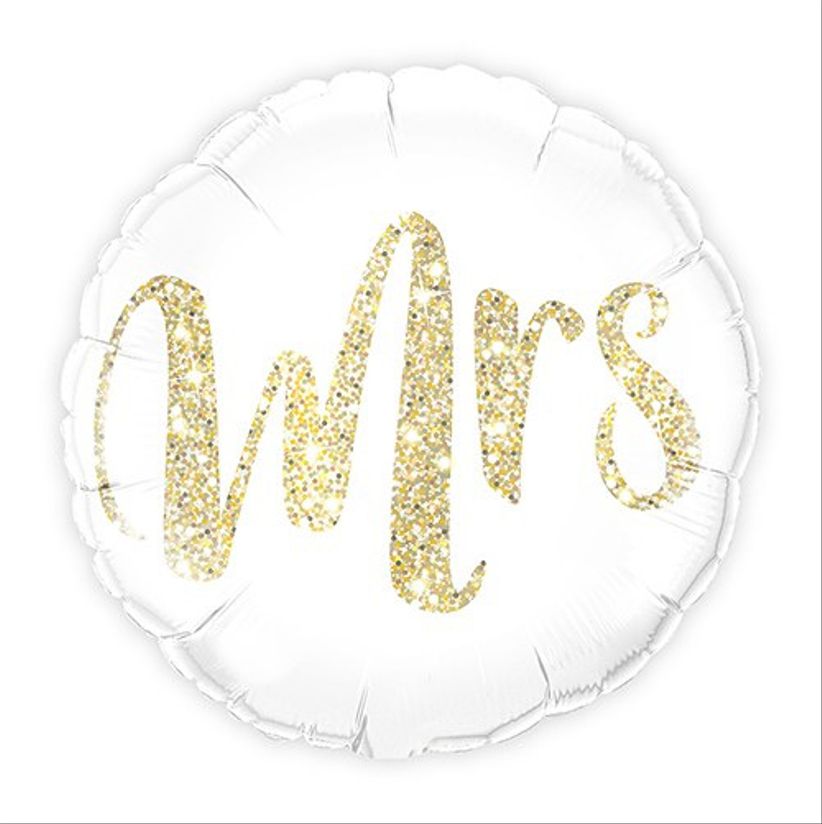 Nothing says bride-to-be more than a sparkly Mrs. balloon.
WeddingWire Shop Mrs. foil helium balloon with gold glitter, $4, WeddingWire Shop
Ice cream social bridal shower
An ice cream social theme is all about cheerful bridal shower decorations and a pastel color palette with iridescent accents throughout (hello, unicorn wedding vibes). From a rad rainbow donut display to adorable miniature ice cream cone place card holders, this theme will make everyone feel like a kid again in the best way possible.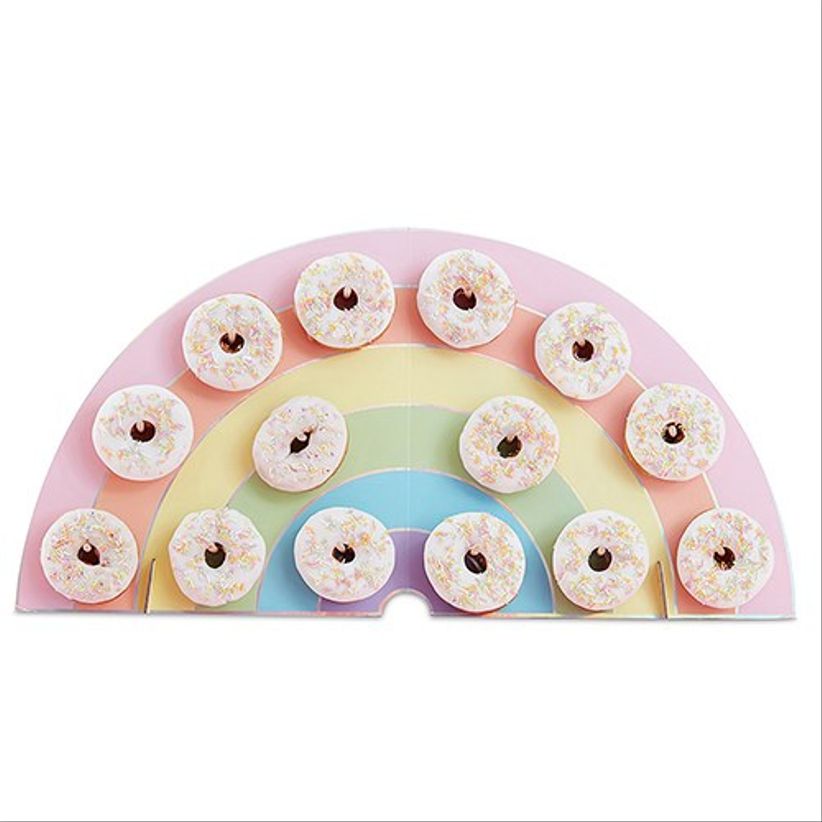 At the end of the rainbow, you'll find... donuts! This colorful display will please everyone's sweet tooth.
WeddingWire Shop donut wall display, $20, WeddingWire Shop
You can find some of the best bridal shower decorations on Amazon, including all the balloons you could ever need. Recreate this awesome table centerpiece by using a variety of balloons in pastel colors.
Beaumode pastel latex balloons (set of 100), $10, Amazon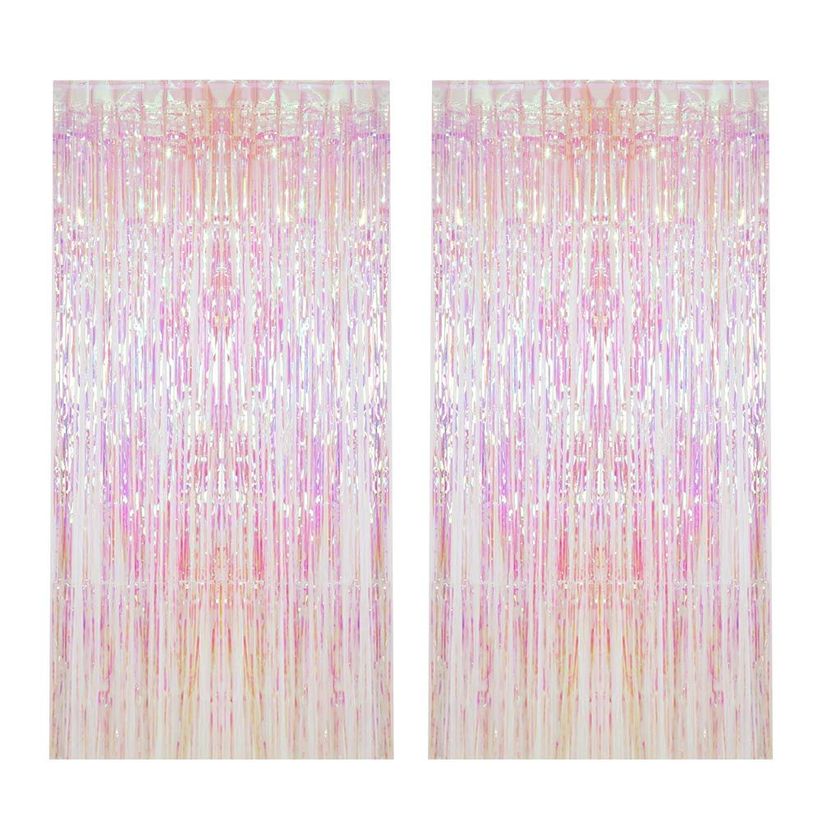 Shimmery, iridescent curtains can be used as an easy photo backdrop or to dress up the party entrance.
CCINEE metallic fringe foil curtains in transparent pink (set of two), $13, Amazon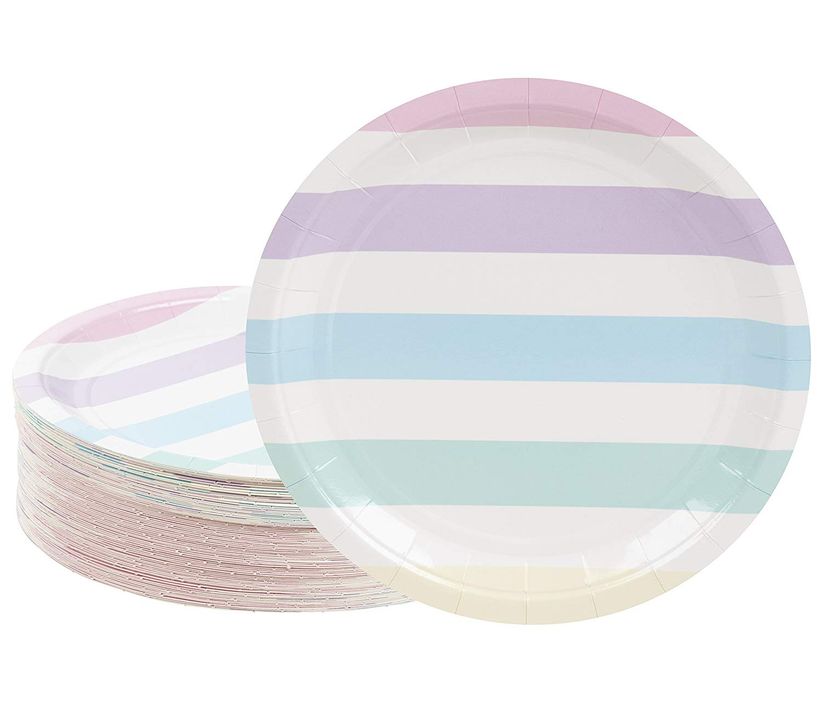 Paper plates are a bridal shower decoration essential. These striped plates are giving us '90s vibes and we don't hate it.
Blue Panda multi-colored pastel paper plates (set of 80), $16, Amazon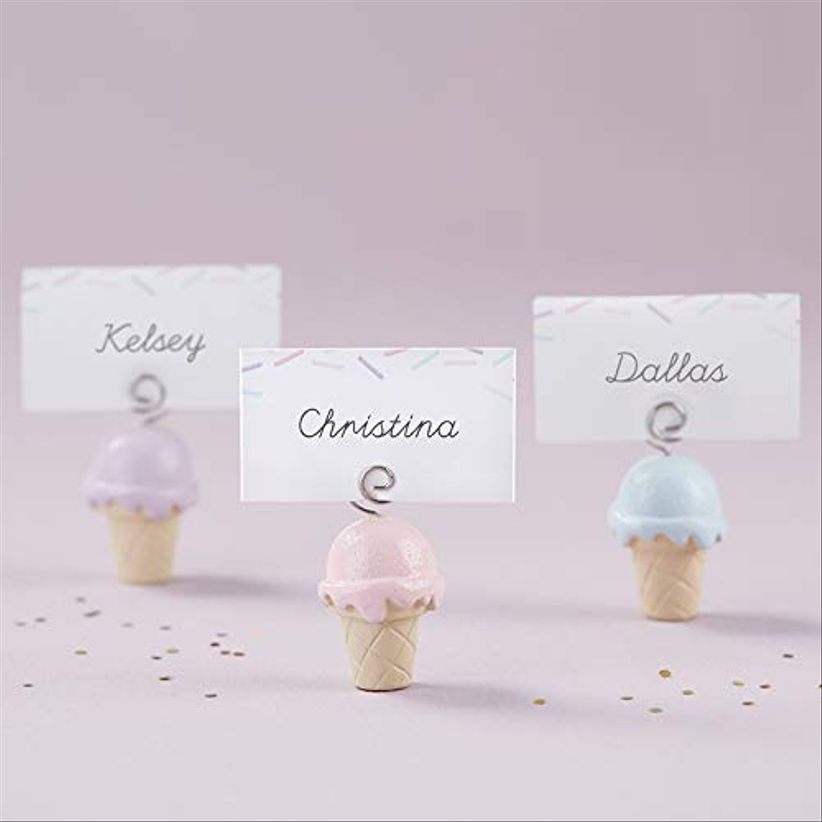 How cute are these place card holders? Finish each guest's table setting with a mini ice cream cone to tie into the party theme.
Kate Aspen ice cream place card holders (set of 36), $24, Amazon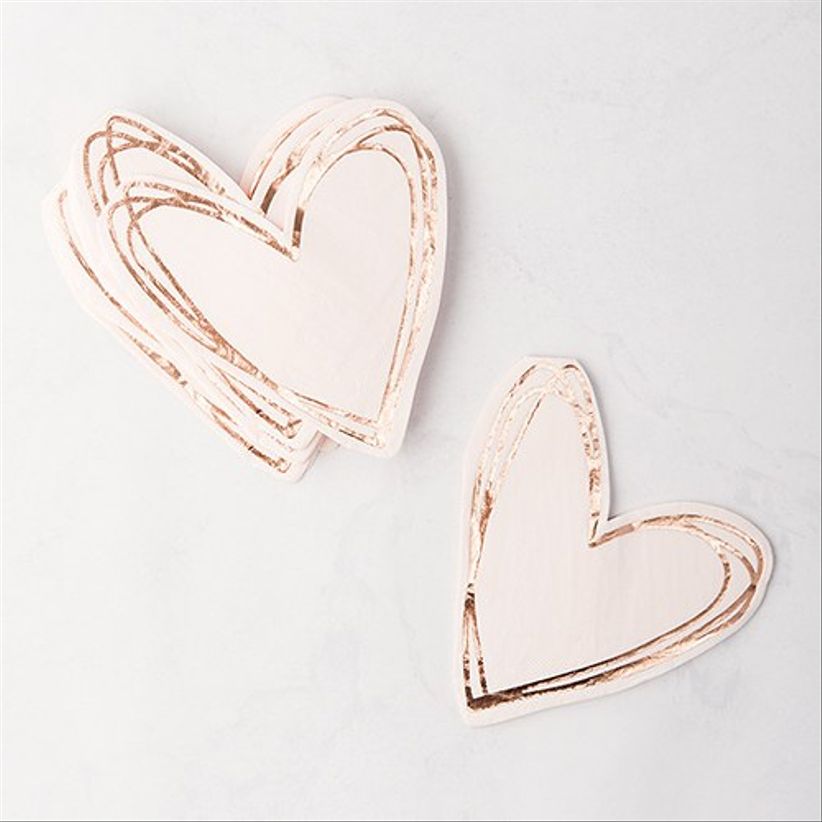 Heart-shaped paper napkins are an oh-so-sweet addition to a dessert table or drink station.
WeddingWire Shop heart paper napkin (set of 20), $6, WeddingWire Shop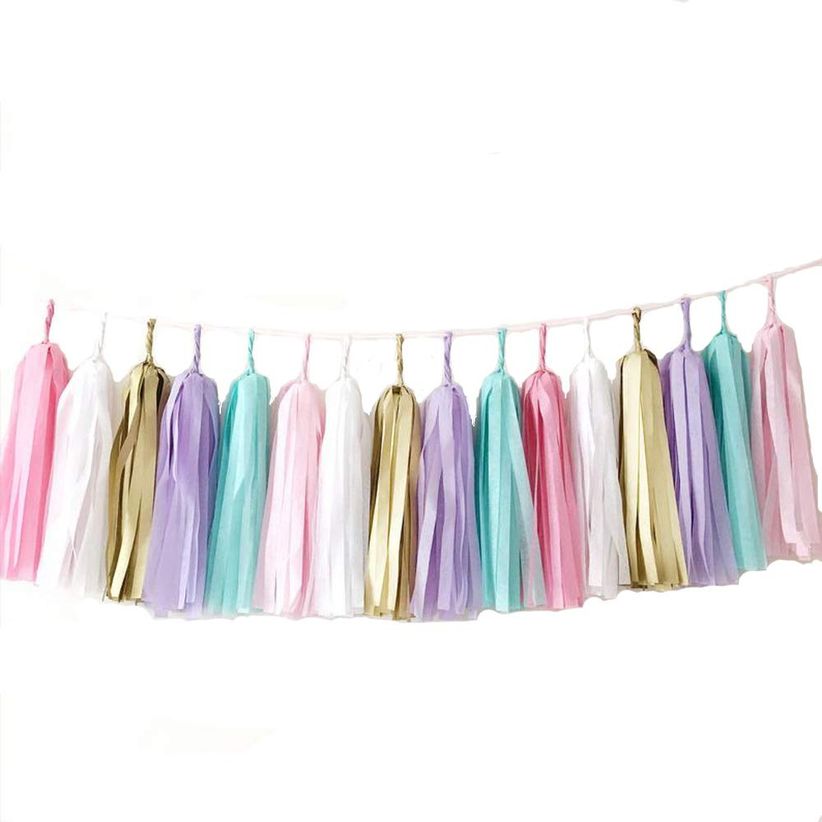 Whether draped over the front of a table or tied onto the back of a chair, a tassel garland is a quick way to add a pop of color.
Guzon tissue paper tassel garland in unicorn pastel, $13, Amazon
Use these decorative paper cups to serve boozy milkshakes or DIY ice cream sundaes.
WeddingWire Shop watercolor and gold paper cups (set of eight), $6, WeddingWire Shop
Disclosure: This post contains affiliate links, some of which may be sponsored by paying vendors.