22 Shoppable Bridal Shower Game Ideas to Keep the Party Going
Wondering how to entertain an entire room of guests during the bridal shower? We've got you—shop our picks for dozens of bridal shower game ideas that are total crowd-pleasers.
We have included third party products to help you navigate and enjoy life's biggest moments. Purchases made through links on this page may earn us a commission.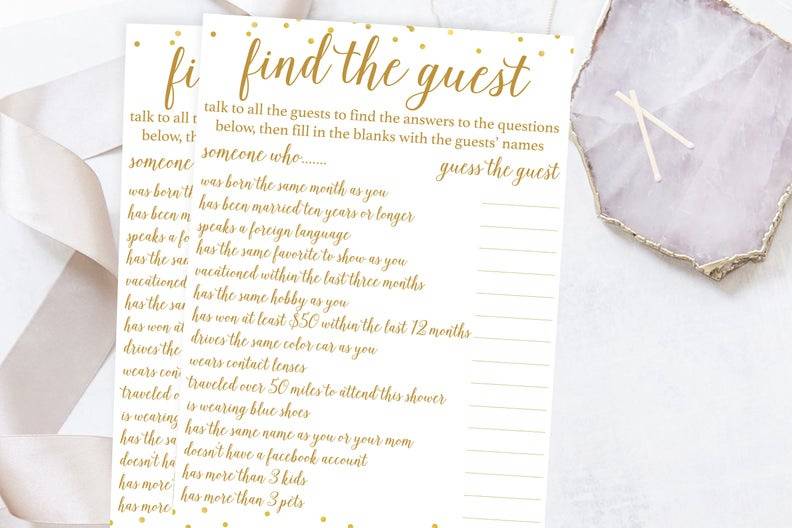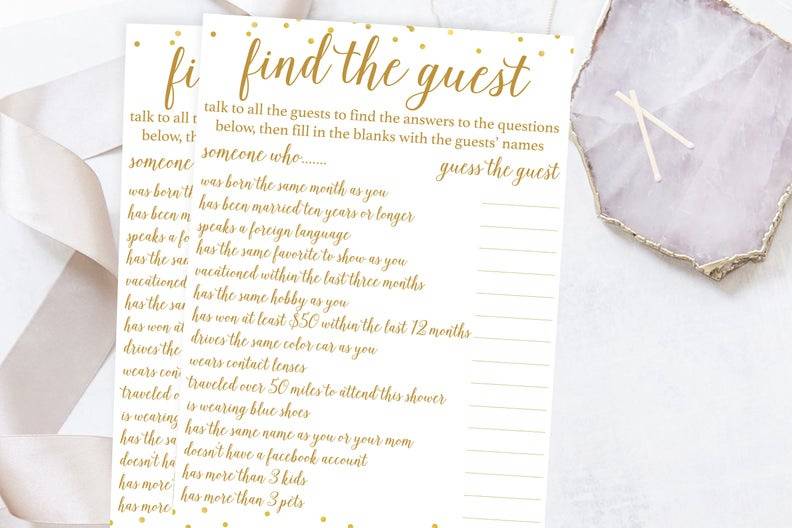 Bridal shower games are a fun, informal way to encourage all of the guests to mix and mingle during the party (get a full rundown of who should be invited here). Since the bridal shower is likely to be one of the first times that the bride's friends and relatives are meeting—especially if they're from opposite sides of the family—playing a few games will help break the ice and create memories among the group. We're sharing some of our favorite bridal shower game ideas that your guests won't mind playing, and the best part is that they're all under $30 (also, no toilet paper wedding dresses are required). When you're planning the bridal shower, be sure to block off an hour or two for everyone to get together and play one of these games. You might be surprised by how fast your guests start to bond with each other!
Win over the guests (and the guest of honor) with these bridal shower game ideas that are easy, affordable, and fun.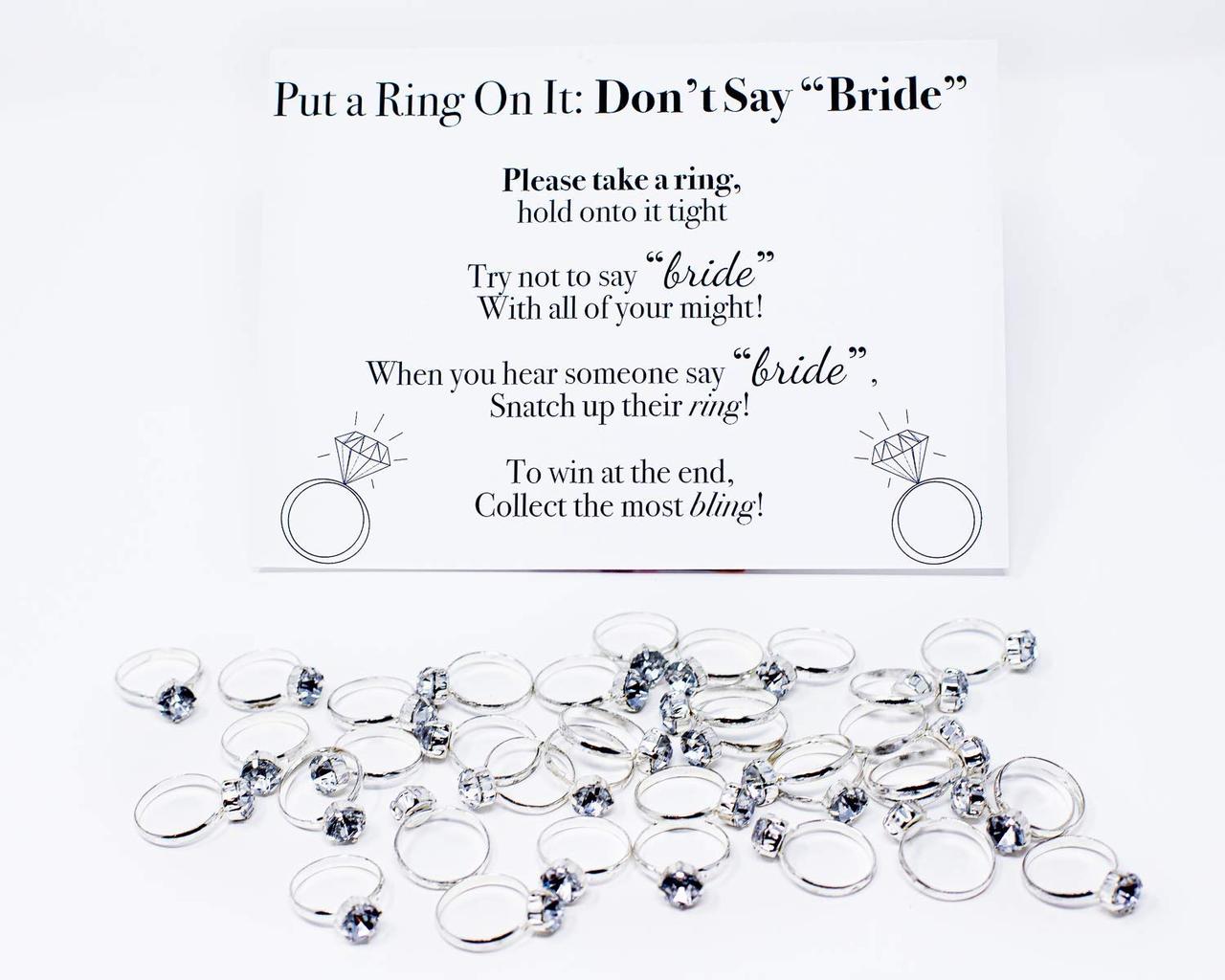 Put a ring on it
This bridal shower game is played continuously throughout the party. When guests first arrive, everyone is given a ring. The goal is to make it to the end of the day without saying the word "bride" (an almost impossible task!). If you slip up, you forfeit your ring to the guest who catches you saying the word. When the party is over, the guest who collected the most rings wins!
Grande Vita put a ring on it bridal shower game, $19, Amazon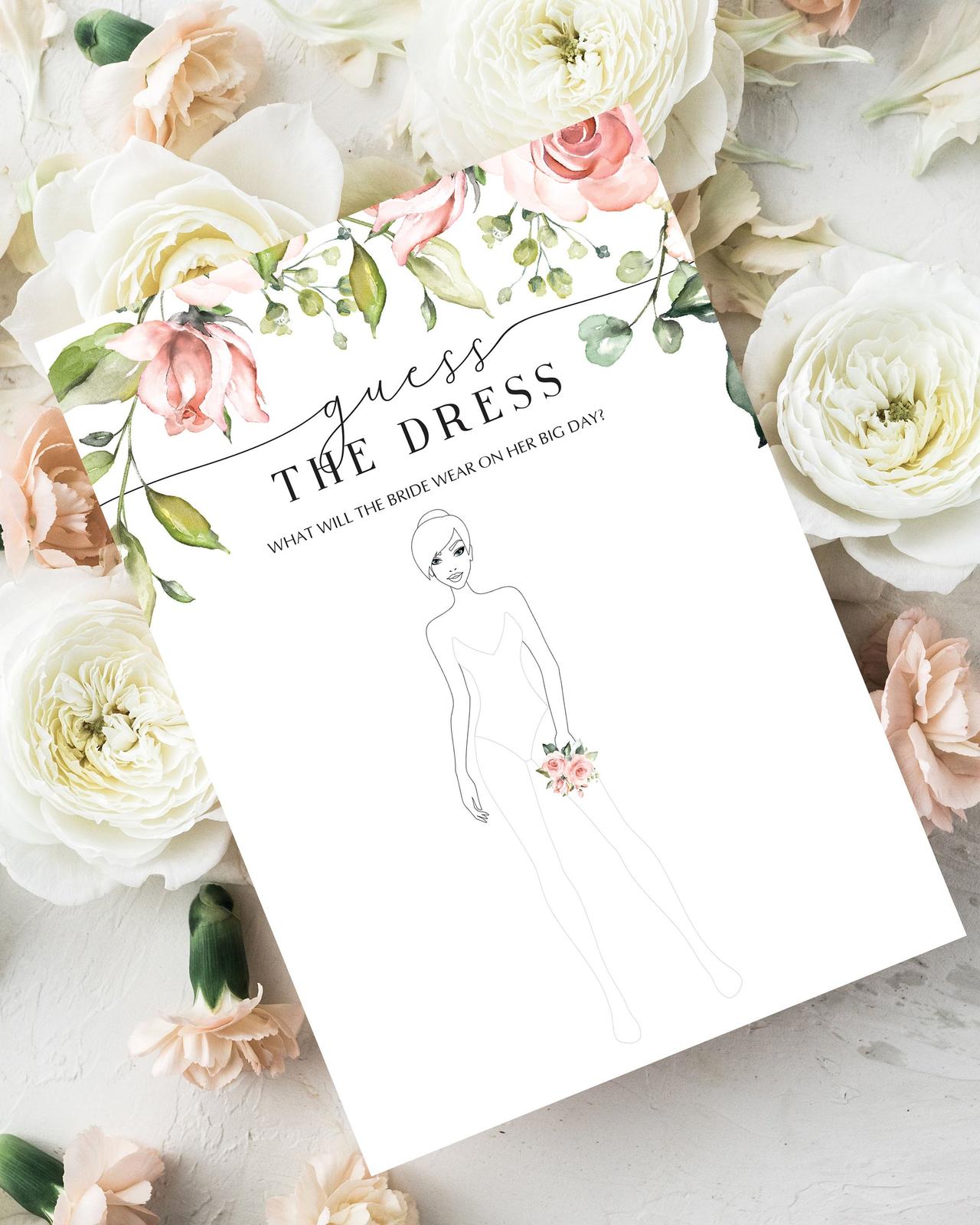 Guess the dress
Ask guests to take a stab at their drawing skills by predicting and sketching what the bride will wear on the wedding day. You could choose one overall winner or award winners for multiple categories, such as most accurate, most artistic, and most hilarious or imaginative.
LittleSizzle guess the dress printable, $6, Etsy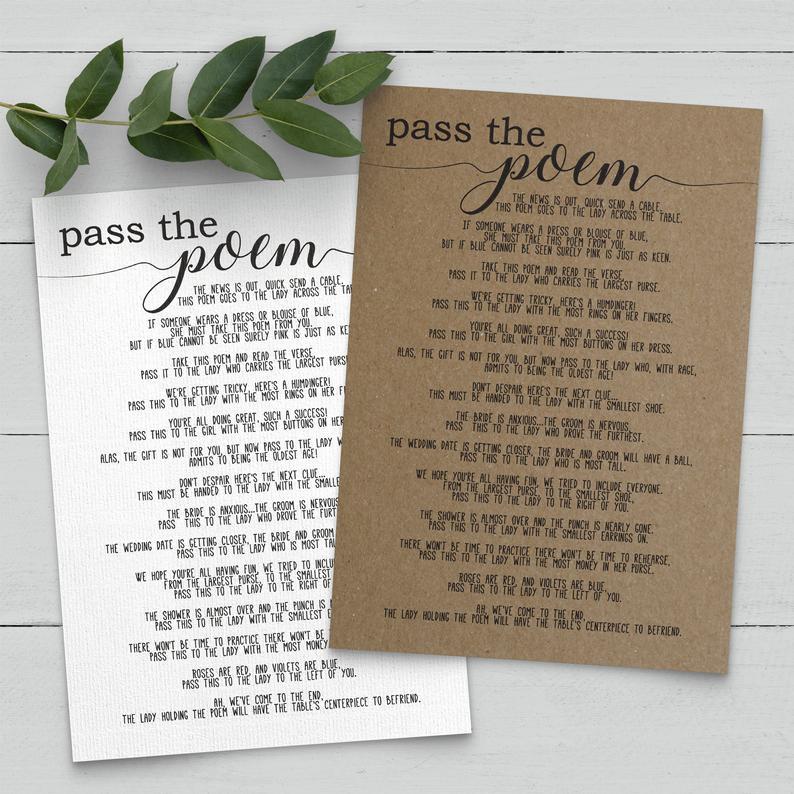 Pass the poem
Think of this bridal shower game as a version of "Simon Says" on paper. The poem starts in the hands of one guest (you could start with the bride) who reads the first line out loud and follows whatever instructions are on the paper—for example, "pass this to the lady on the left of you" or "hand this to the lady with the smallest shoe." At the end, whoever ends up with the poem in their hands is the winner.
SayIDoPrintables pass the poem bridal shower game, $4, Etsy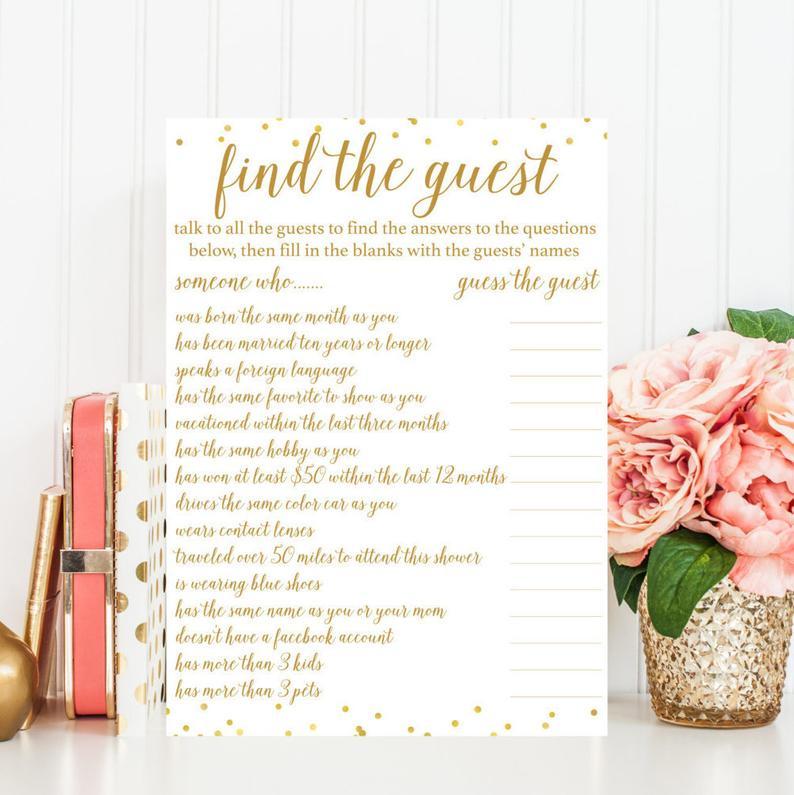 Find the guest
This is one of the best bridal shower game ideas if you want to encourage introductions between guests who don't know each other. Guests will have chat with others around the room to find people who match various descriptions, such as "wears contact lenses" or "speaks a foreign language."
PrettyCollected find the guest bridal shower printable, $4, Etsy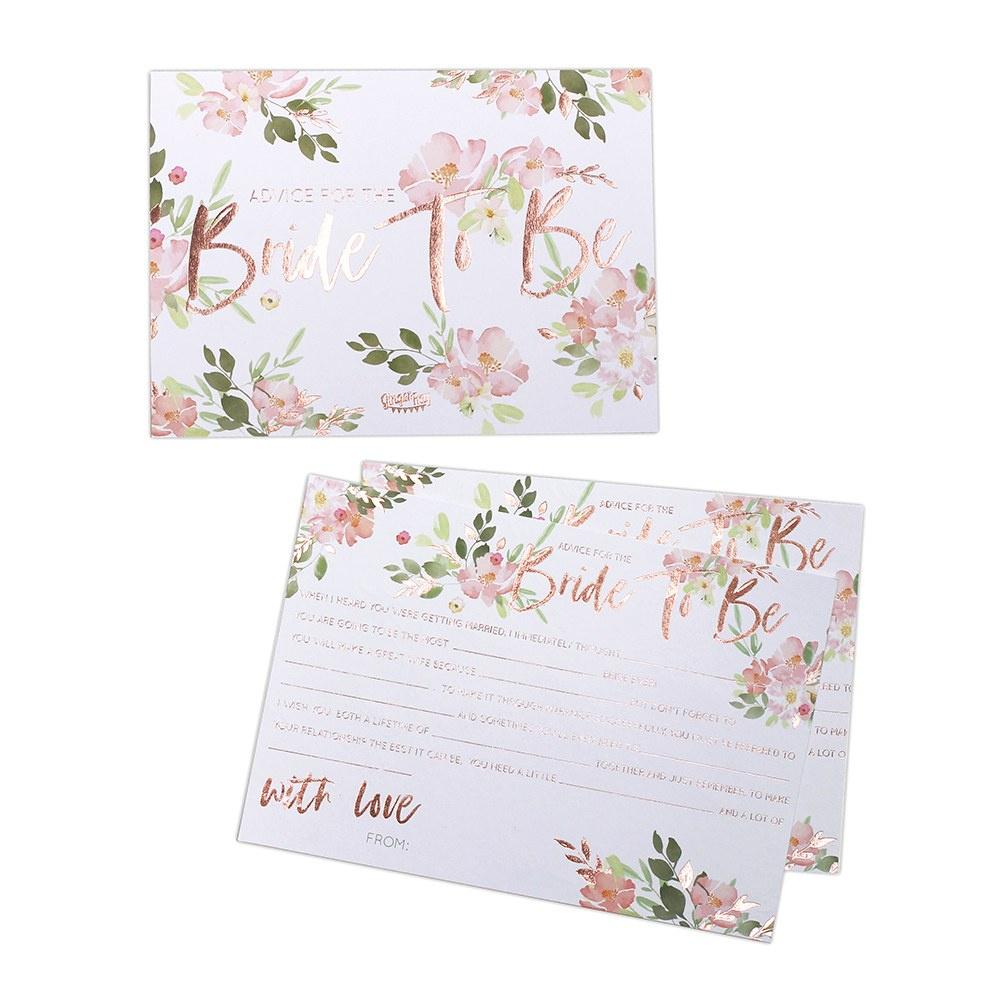 Advice for bride-to-be
This bridal shower game also doubles as a keepsake for the future bride. Each guest completes a fill-in-the-blank card with their personal tips for the bride, which is a great way to gather advice from older guests or those who are already married. Consider keeping these as a secret from the bride until the wedding day, when you can surprise her with a box of handwritten notes!
WeddingWire Shop bride-to-be advice cards, $7, WeddingWire Shop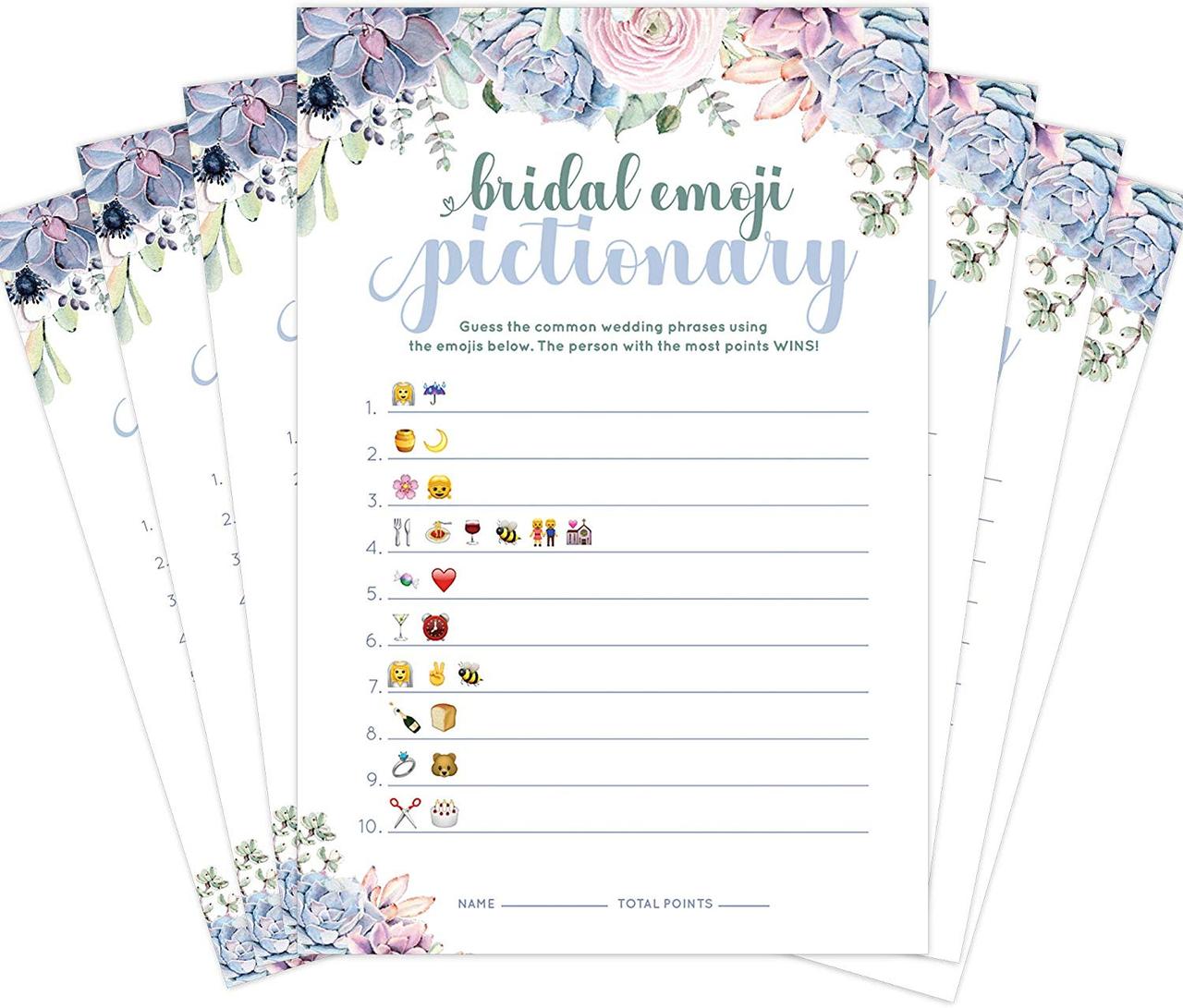 Bridal emoji pictionary
See who can decode these emoji phrases in the shortest amount of time.
Juniper & Grace emoji pictionary game cards, $11, Amazon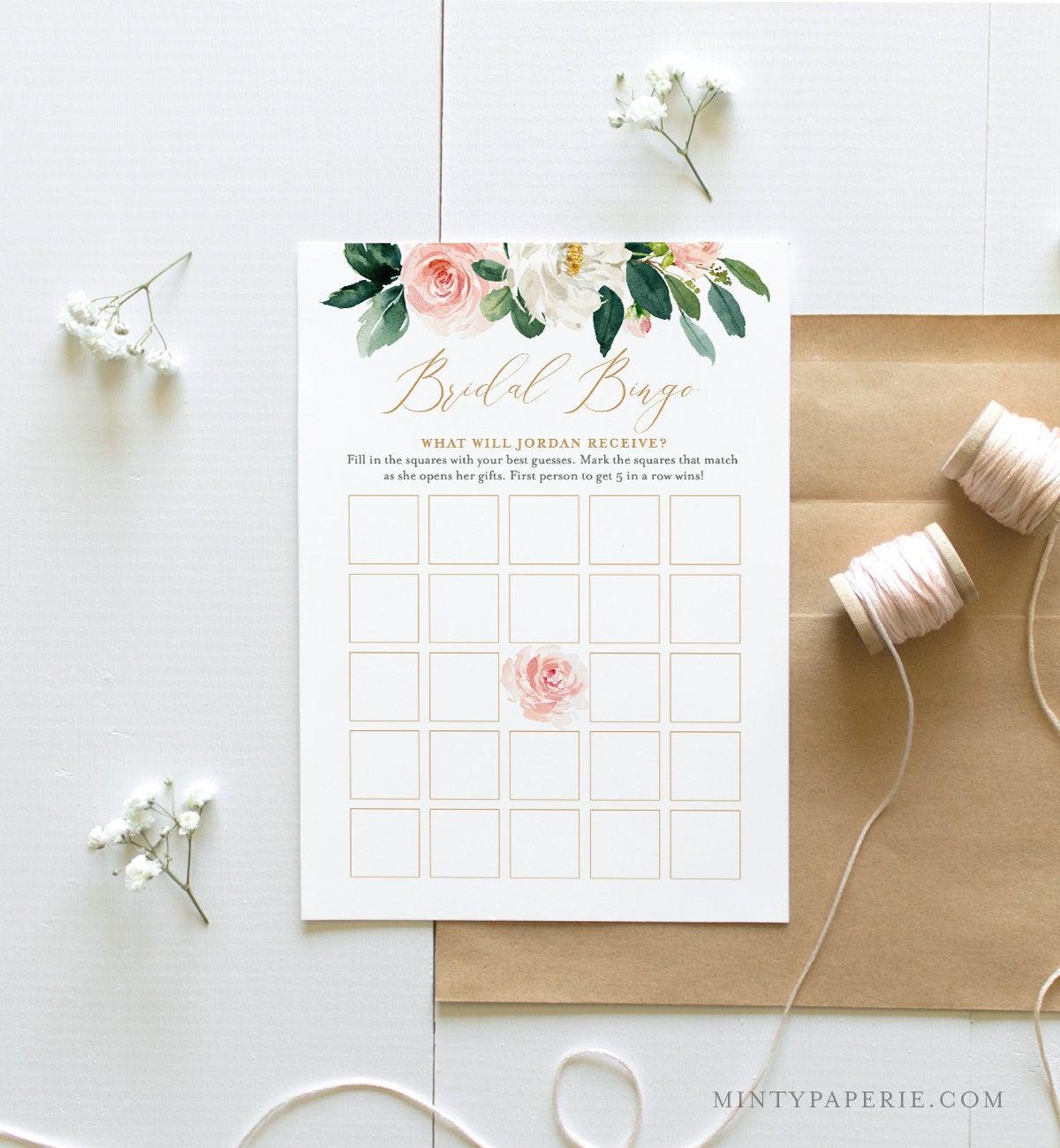 Bridal bingo
This is a great bridal shower game idea to play while the guest of honor is opening her gifts. Before she unwraps any boxes, have each guest fill out a bingo card with their predictions of the gifts she will get. The first person to get five in a straight line is the winner.
MintyPaperieShop printable bridal shower bingo game, $5, Etsy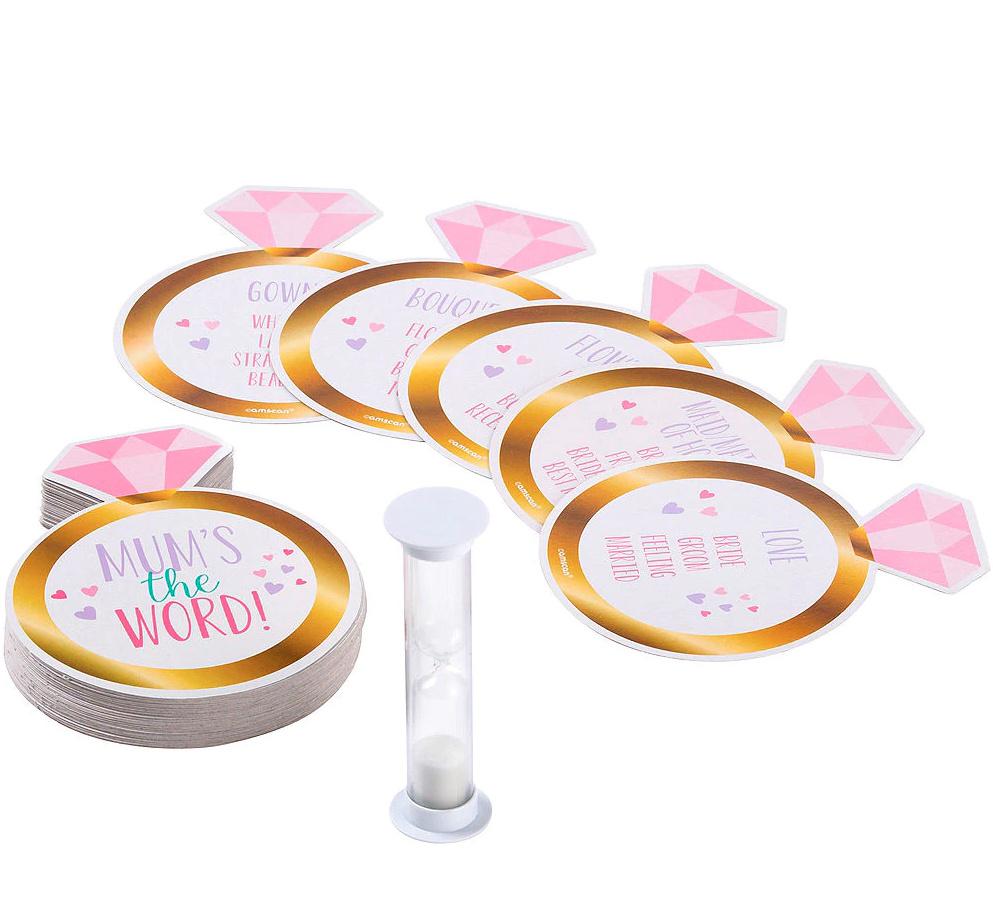 Mum's the word
If you've ever played Taboo, this fun bridal shower game is pretty similar. Split the group into teams and then take turns drawing cards. Each card has a wedding-themed word or phrase that you need to describe to your teammates (before the timer runs out!) without saying the actual word itself.
Amscan mum's the word bridal shower game, $7, Party City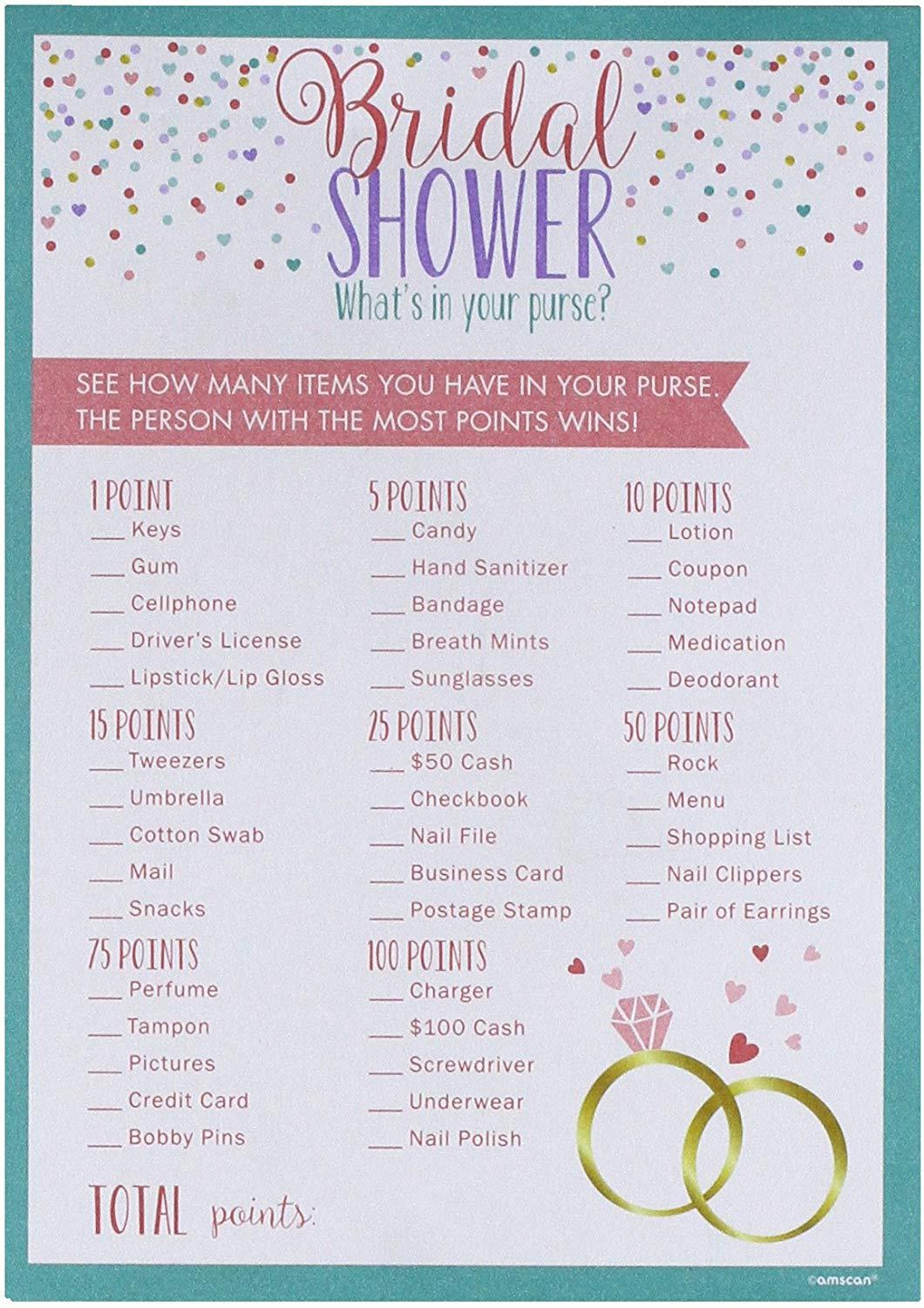 What's in your purse?
This game is fairly self-explanatory: every guest takes a card and marks what items they have in their purse. Each item is assigned a number of points and the person with the highest total points wins. Everyday items, such as keys and ID, will only earn one point, while more unusual objects like nail polish will rake in higher points.
Amscan what's in your purse bridal shower game, $6, Amazon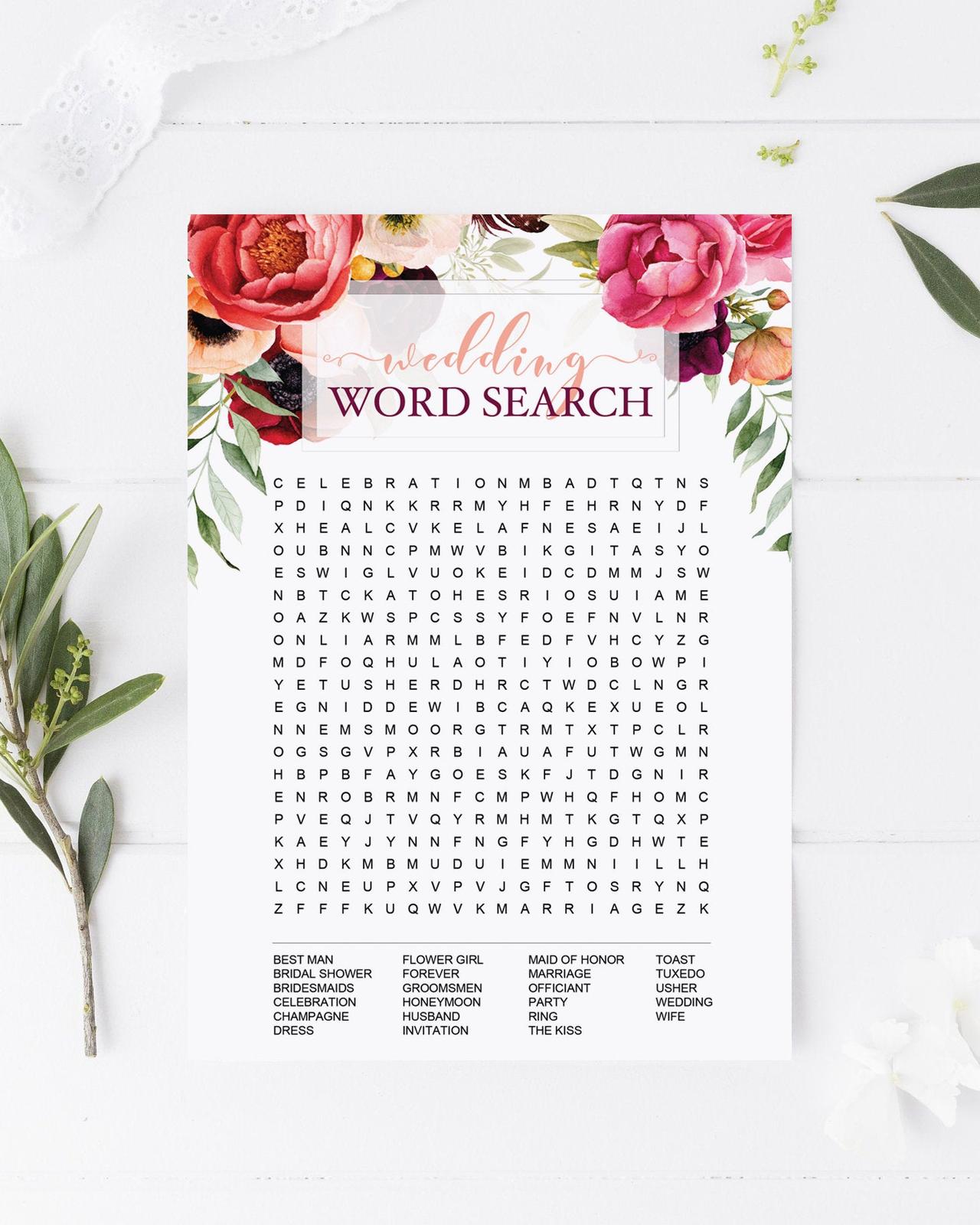 Wedding word search
A word search is a fun bridal shower game for all ages. This printable version features wedding-themed words, like best man, champagne, and tuxedo.
LittleSizzle wedding word search printable, $6, Etsy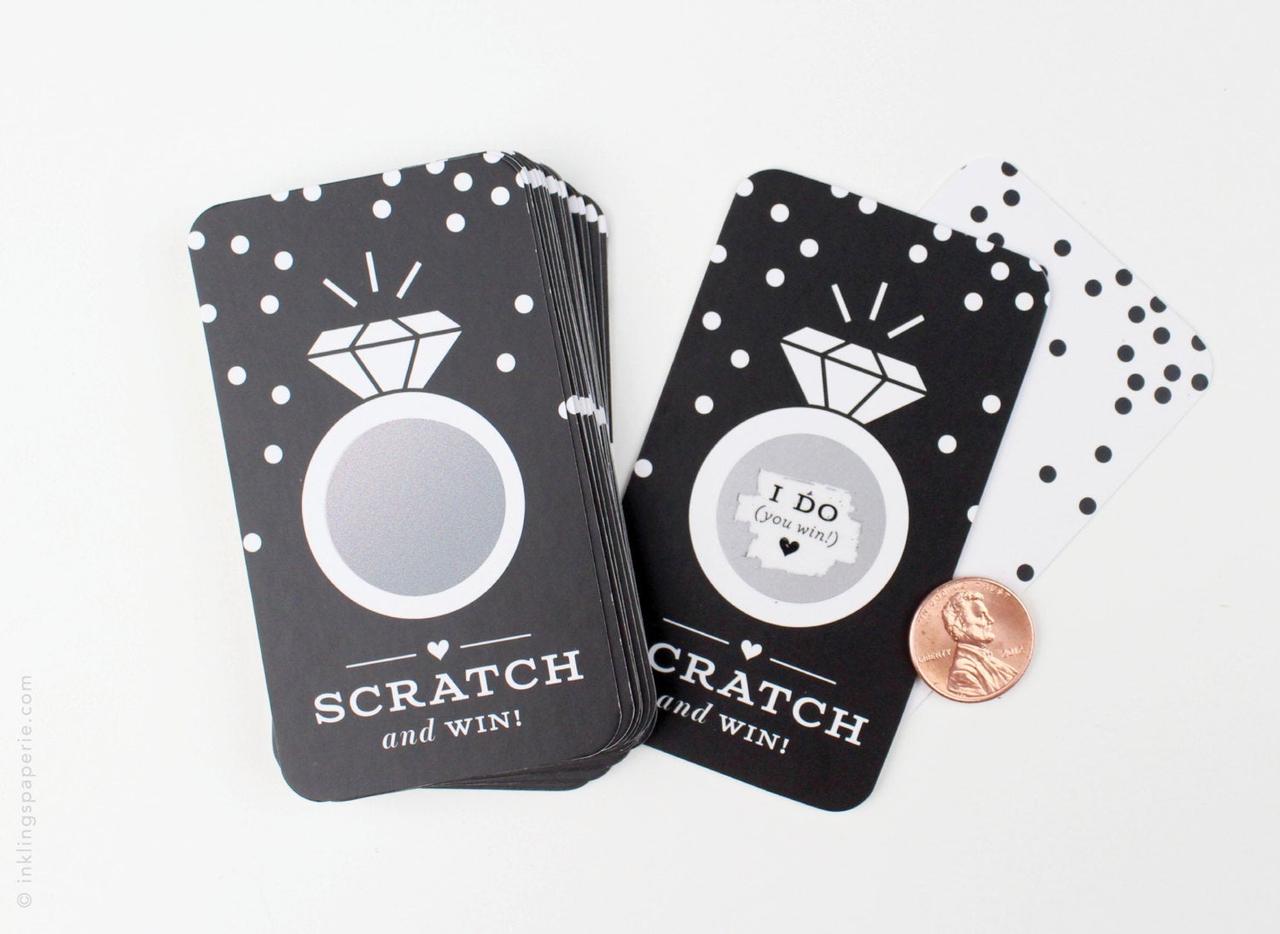 Scratch-off cards
With cute phrases like "the cake went splat!" and "the flowers are late!", these cards reveal which guest makes it to the "I do" without any setbacks and which guests aren't so fortunate. The 24-pack of cards includes three winning scratch-offs and instructions for several games you can play.
InklingsPaperie bridal shower scratch-off game, from $2, Etsy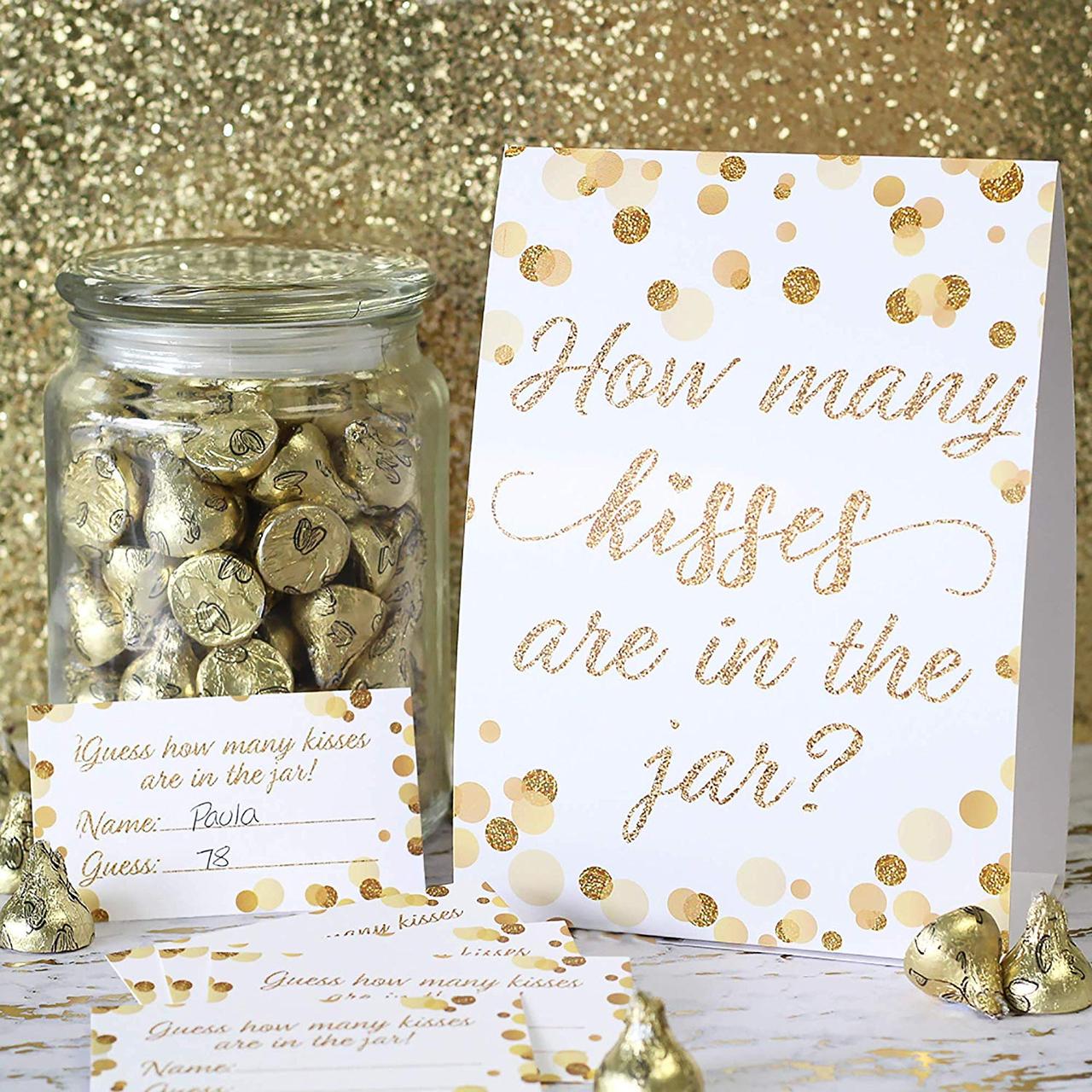 How many kisses are in the jar?
This bridal shower game idea is a party staple that's appropriate for all ages.
Distinctivs standing sign and cards, $11, Amazon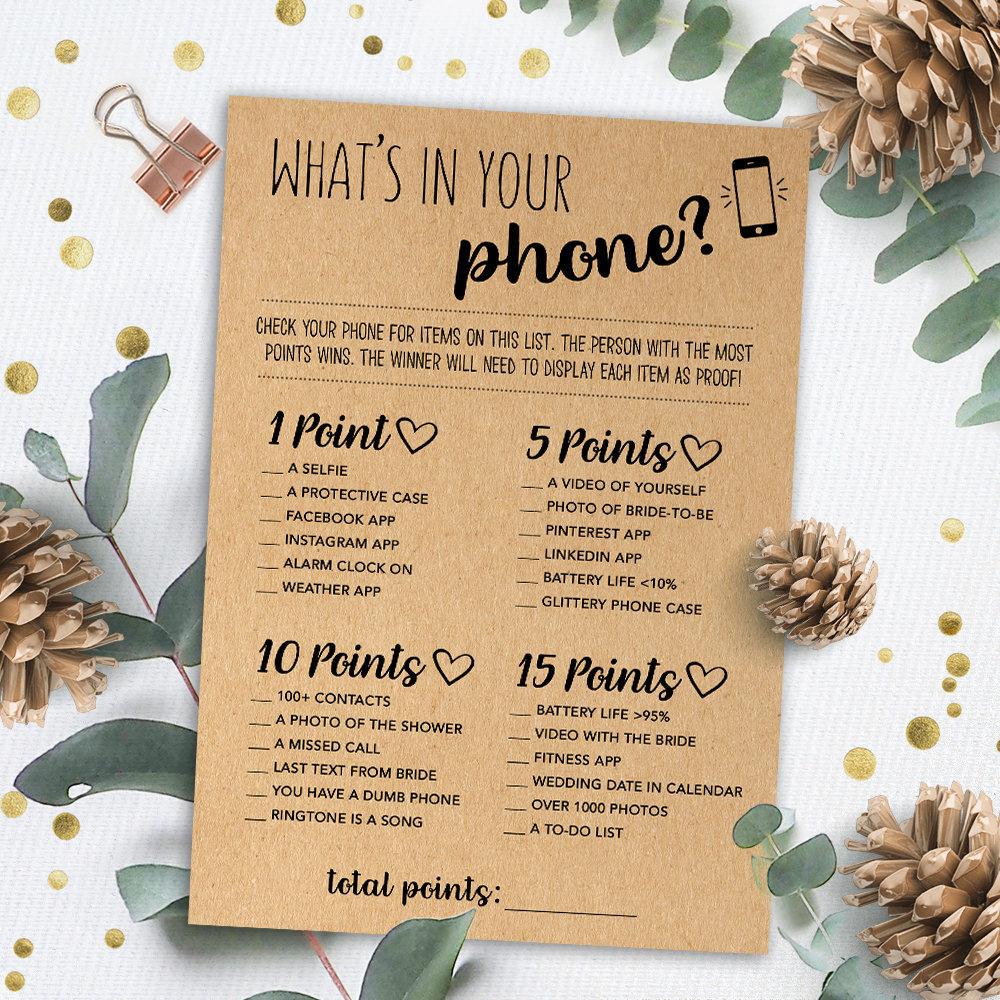 What's on your phone?
Similar to "what's in your purse?", players earn points in this game by checking off the items that they have on their phone, such as a selfie, a text from the bride, or the couple's wedding date saved on the calendar.
HeraPrintables what's in your phone printable, $5, Etsy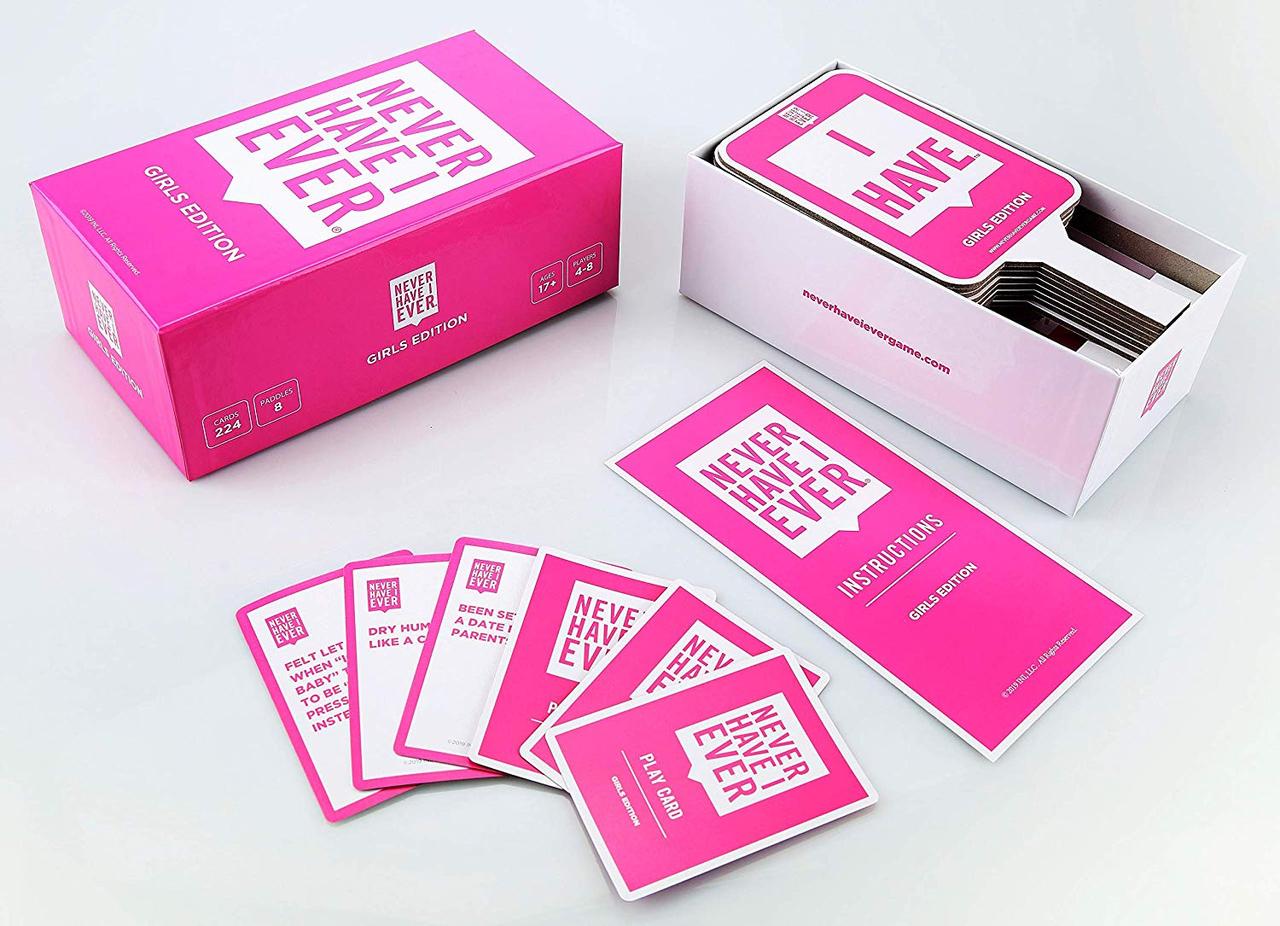 "Never Have I Ever"
If you're hosting a bridal shower for an adults-only crowd, this tongue-in-cheek game is guaranteed to serve up some laughs. We recommend playing it with a group of guests who already know each other relatively well and have a cheeky sense of humor to avoid any awkwardness!
Never Have I Ever girls' edition party game, $25, Amazon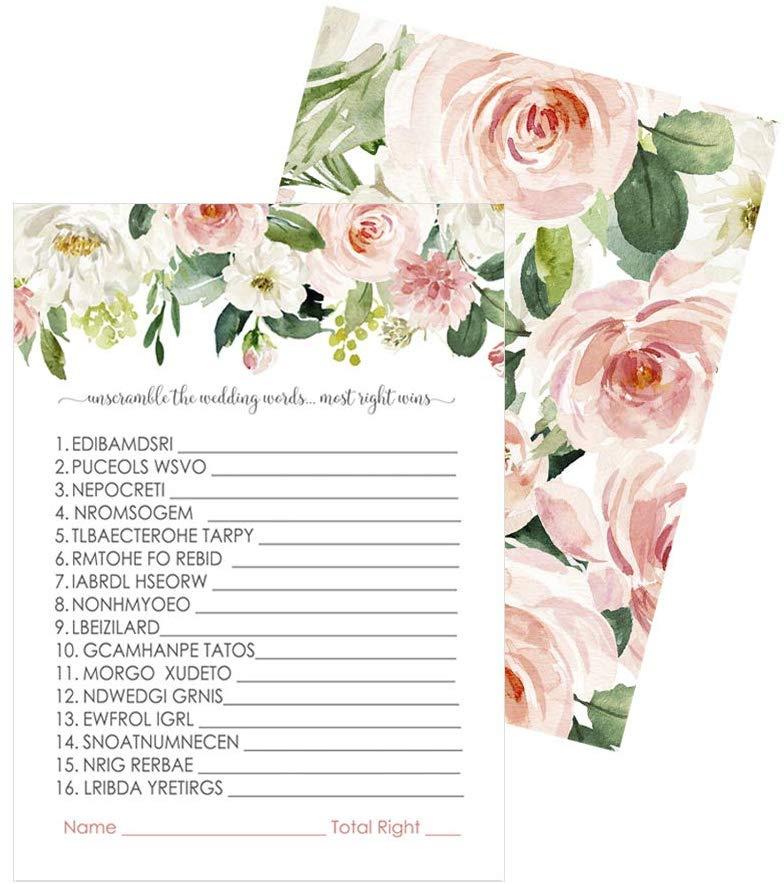 Word scramble
Test your guests' brainpower by seeing who can unscramble these wedding-related words in the shortest amount of time.
Paper Clever Party floral word scramble cards, $13, Amazon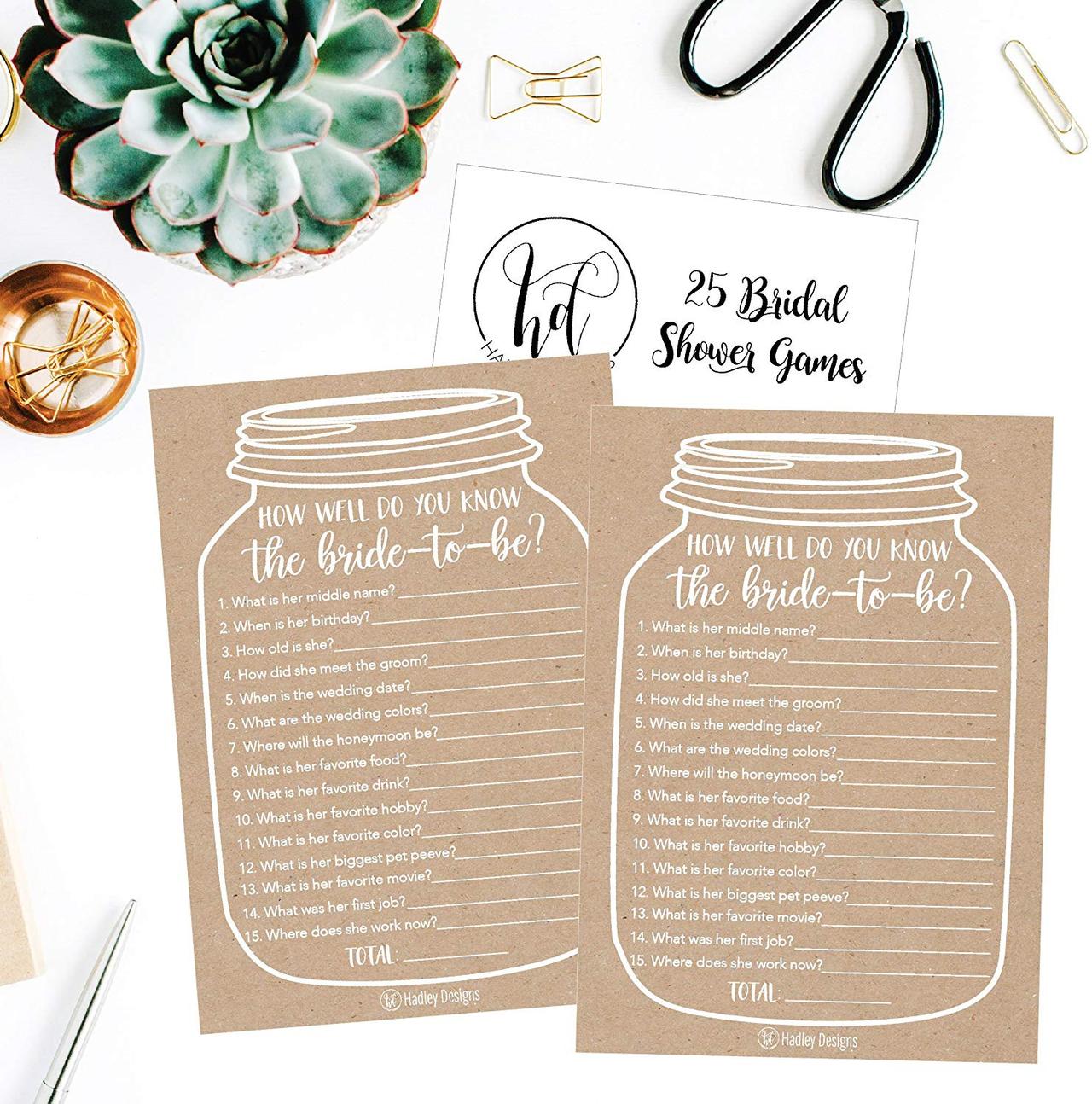 How well do you know the bride?
This bridal shower game idea will be a piece of cake for guests who are close with the bride, and it will help others get to know her a little better!
Hadley Designs rustic guessing game cards, $13, Amazon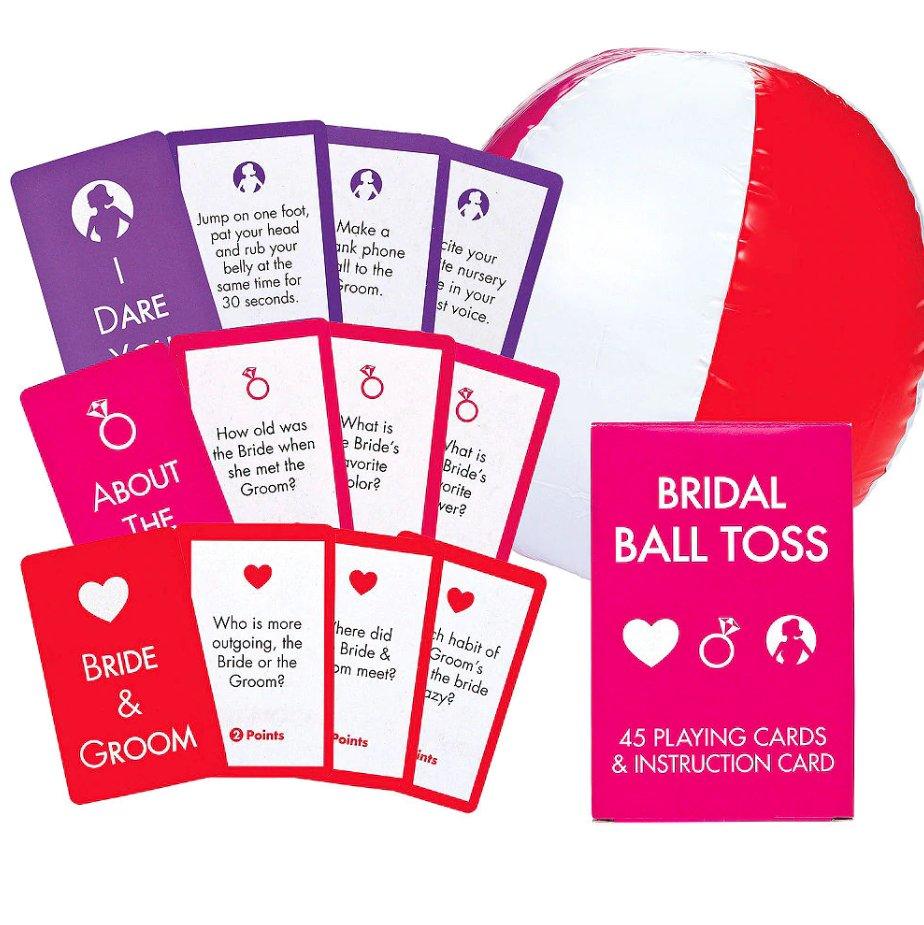 Bridal ball toss
Players take turns tossing the ball to each other. Whoever catches the ball draws a card and answers the question on the back.
Amscan bridal ball toss, $8, Amazon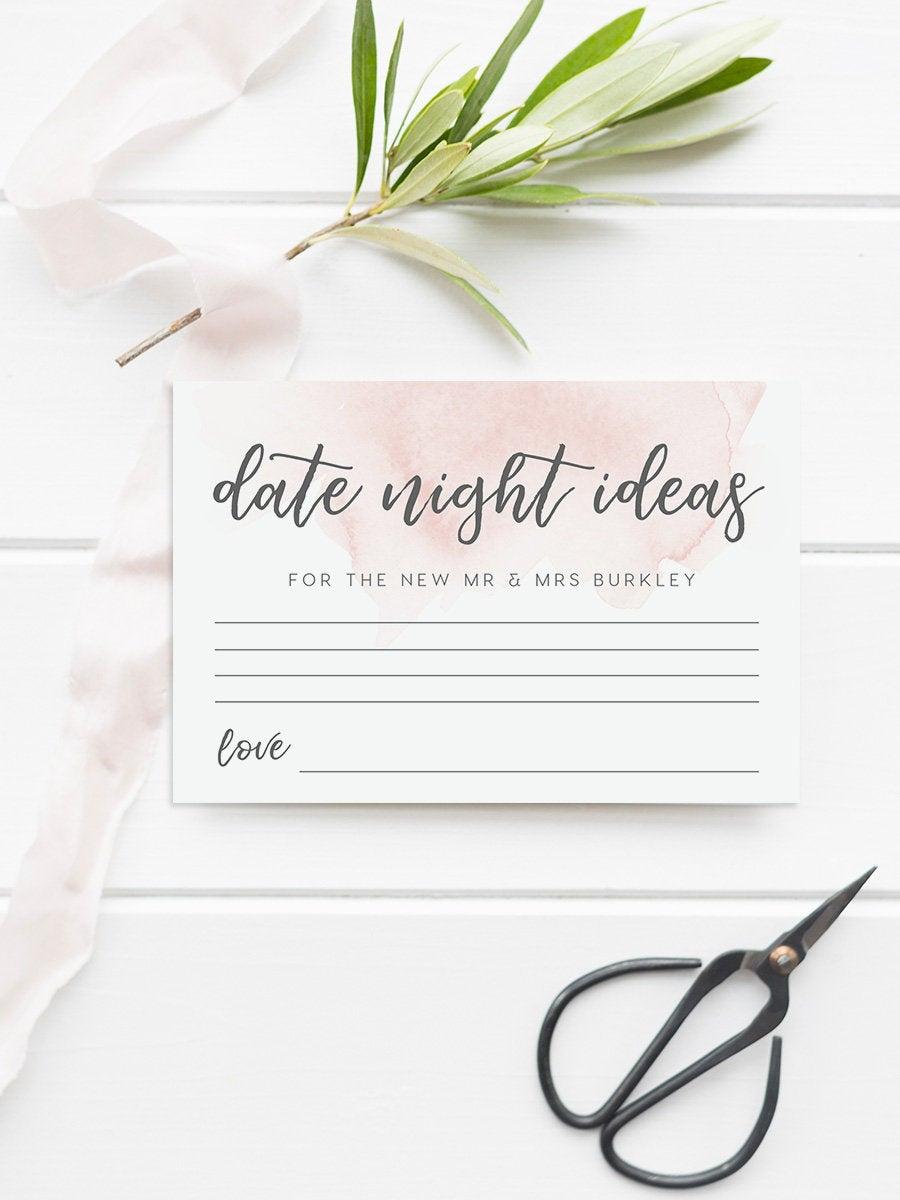 Date night ideas
Ask each guest to share their best date night suggestion for the newlyweds-to-be.
FabledWeddings printable date night cards, $5, Etsy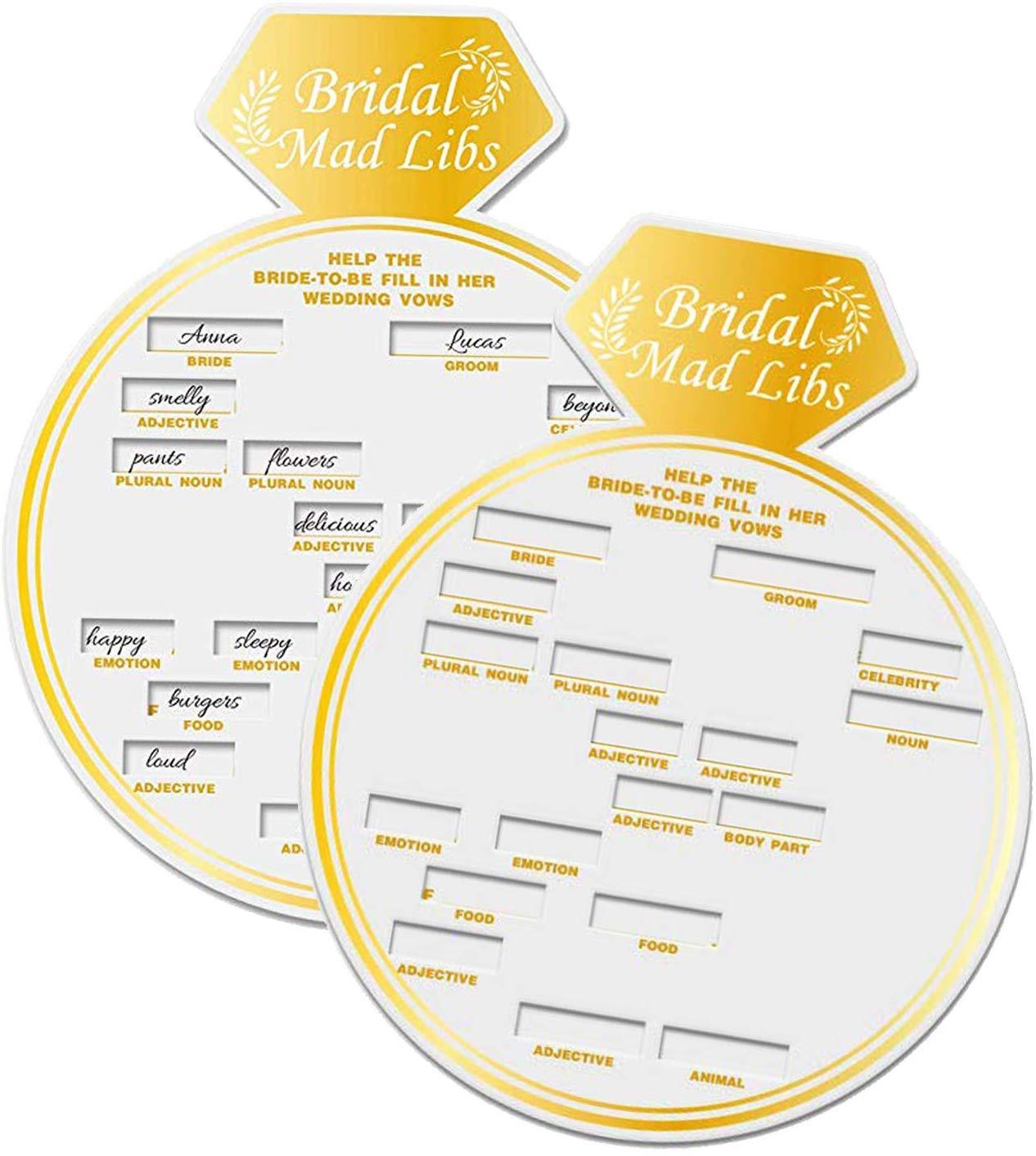 Bridal mad libs
Mad libs are a classic bridal shower game idea, but we especially love how these fill-in-the-blank cards are shaped like engagement rings.
Agantree Art bridal mad libs, $13, Amazon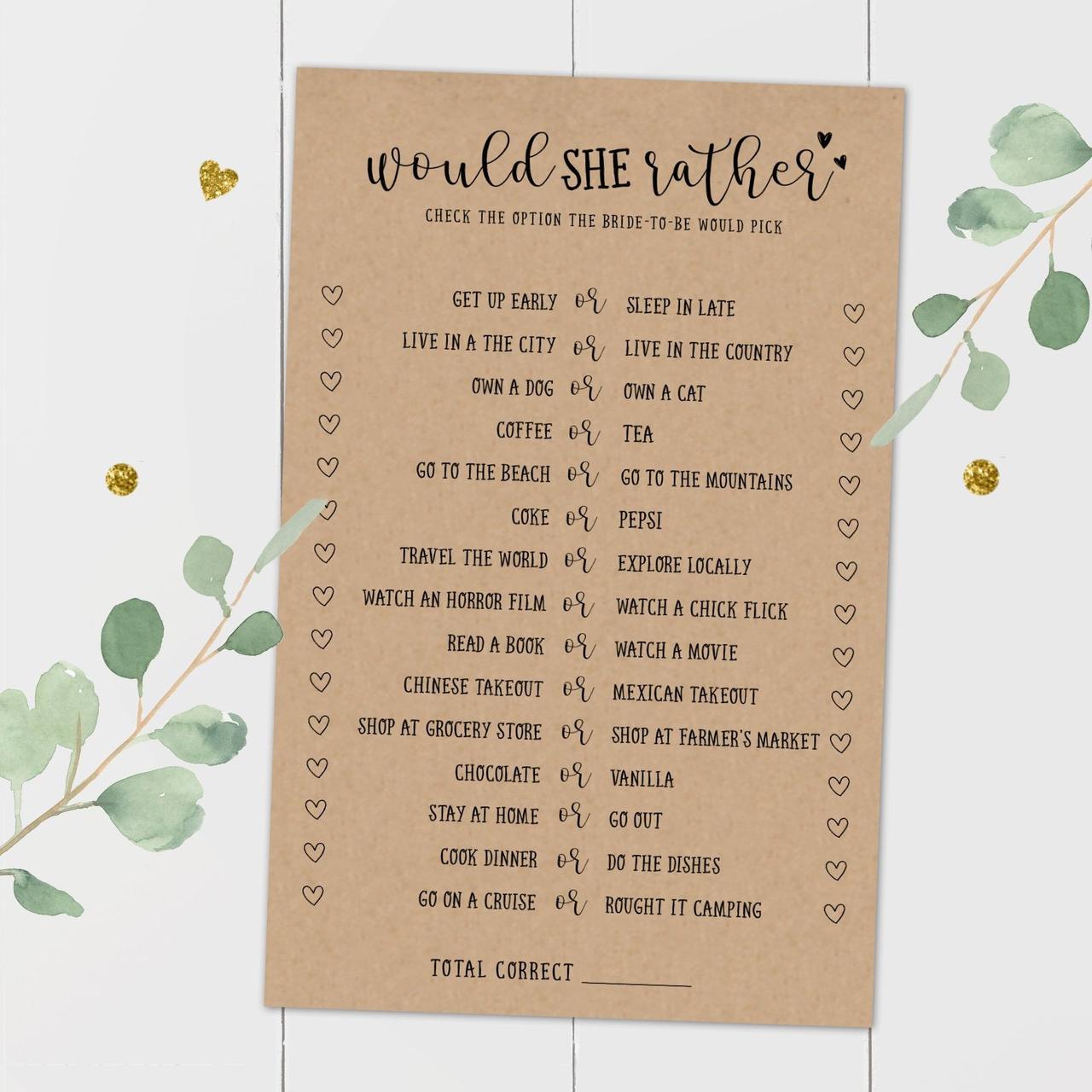 Would she rather...
Quiz your guests on how well they know the bride by asking them to choose what she would rather do in different scenarios.
MyBridalForest would she rather game cards, $3, Etsy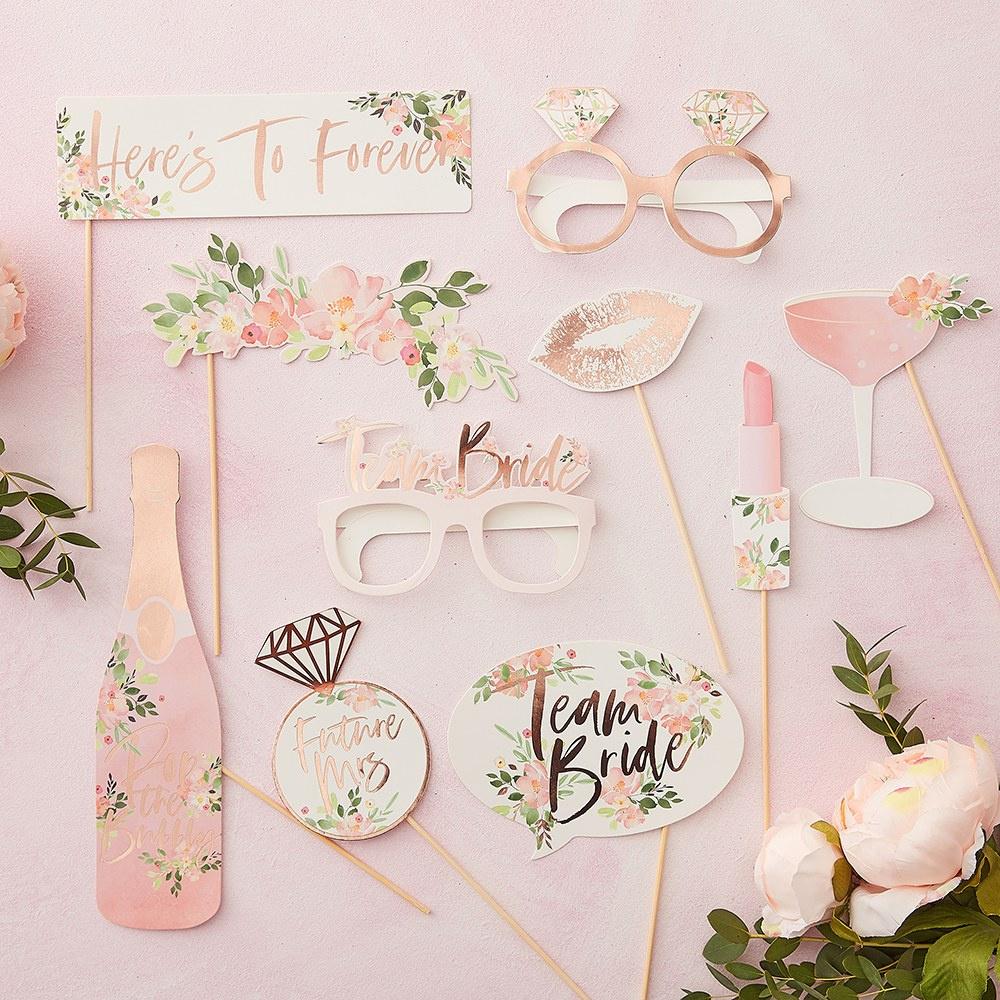 Photo booth props
While it's not technically a game, a photo booth is guaranteed to be a hit with your guests. These cute "team bride" props are decorated with a pretty floral print and rose gold foil.
WeddingWire Shop photo booth props on a stick (rose gold floral), $7, WeddingWire Shop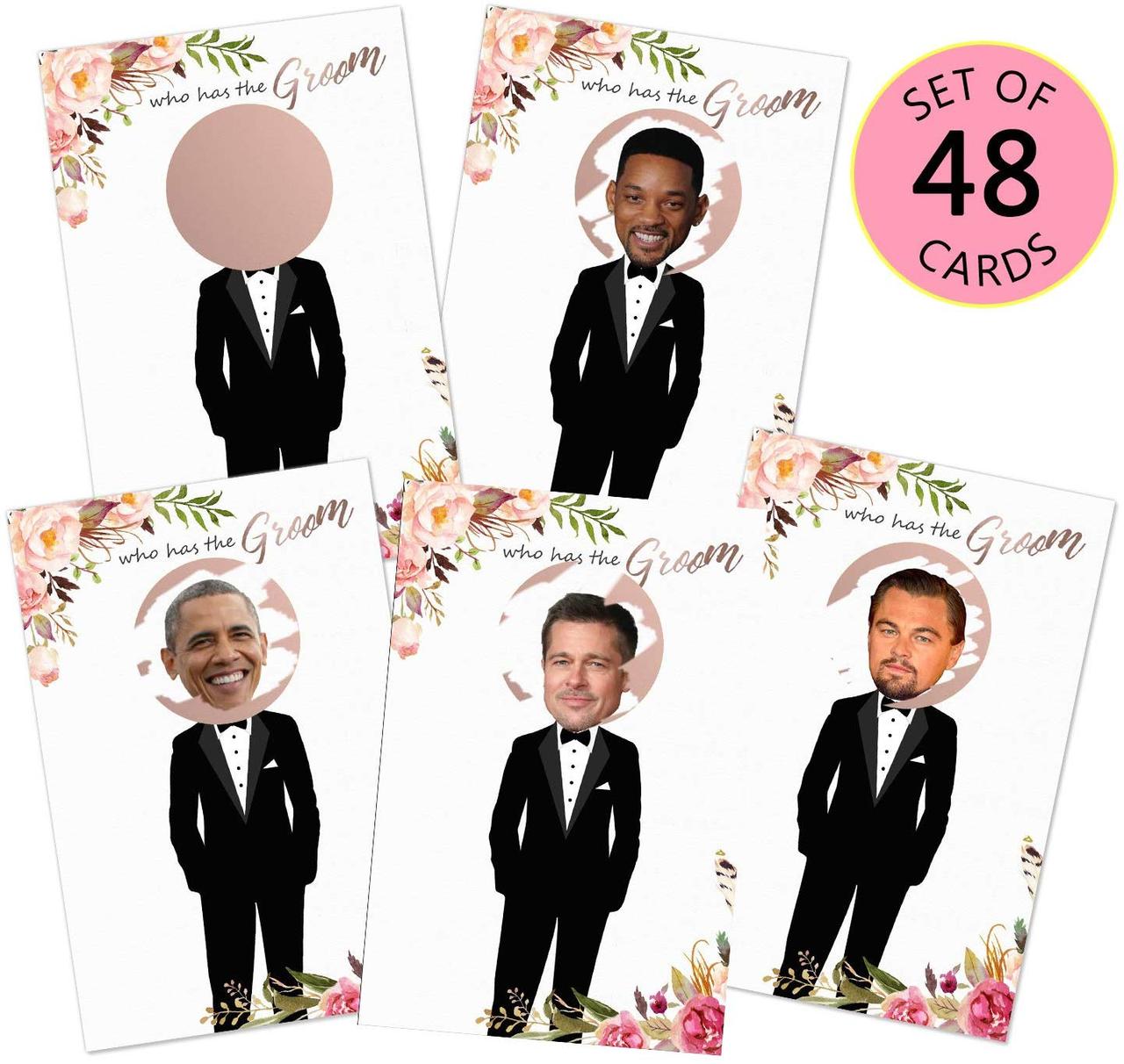 Who has the groom?
Get ready to laugh as these scratch-off cards reveal who has the actual groom and who's "marrying" a celebrity.
Mordun scratch-off celebrity cards, $11, Amazon
Disclosure: This post contains affiliate links, some of which may be sponsored by paying vendors.