These 30 Bridal Shower Songs Are Perfect for a Chill Event
Celebrate at the party before the party.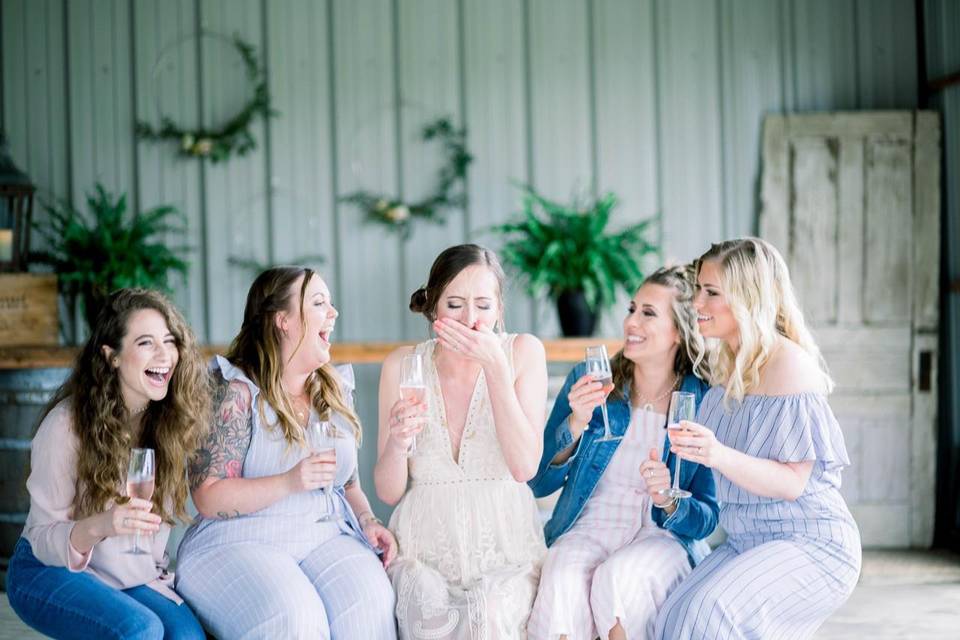 There are so many parties before the big party, but the bridal shower is one of the most important. Your bridesmaids generously planned the perfect soirée with lots of fancy finger foods, mimosas, and of course, a playlist of amazing bridal shower songs! While you'll likely spend most of your shower opening gifts and mingling with your guests, a little background music will help set the mood. We recommend going with more low-key bridal shower songs (oldies work particularly well here), rather than high-energy tunes for this event. Preview our playlist that's bound to put your guests in a celebratory, yet relaxed vibe.
"At Last" by Etta James
While this is a popular tune for a couple's first dance, it also makes a great bridal shower song. The jazzy feel is just right for a pre-wedding celebration.
"Everything" by Michael Bublé
This sweet and upbeat bridal shower song is perfect to play while guests are mixing and mingling during the early part of the event.
"Chapel of Love" by The Dixie Cups
We love the idea of giving your bridal shower a vintage vibe—and this song is perfect for that throwback feel. Plus, if you're a fan of the movie Father of the Bride, you'll definitely recognize this one.
"This Will Be (An Everlasting Love)" by Natalie Cole
There's something so joyful about this bridal shower song—it's particularly ideal to play if the bride's partner is surprising her with an appearance toward the end of the event.
"Sugar, Sugar" by The Archies
Whether or not your bridal shower will be filled with lots of desserts (yum!), this song is a sweet classic with an upbeat, retro vibe.
"My Girl" by The Temptations
If there will be older guests at your shower (think aunts, Grandma, etc.), they'll appreciate hearing songs from their generation during your event. This is a perennial favorite at both weddings and showers.
"For Once in My Life" by Stevie Wonder
This song is a perennial favorite for pretty much any wedding event. It's upbeat, cheerful, and we absolutely love the lyrics (particularly the line, "As long as I know I have love, I can make it"). Your guests will definitely sing along to this one.
"My Funny Valentine" by Ella Fitzgerald
We find that jazz tunes work particularly well as bridal shower songs, as they provide ideal background music for the variety of activities that occur during a bridal shower. This is one of our particular favorite, and we love Ella Fitzgerald's rendition.
"Ho Hey" by The Lumineers
We recommend choosing bridal shower songs that are quieter and relaxed, but with a romantic vibe. This Lumineers song is right up there with our top picks.
"Beautiful" by Carole King
The guest of honor should feel confident and calm at her shower and this tune is sure to help make her feel, well, beautiful.
"Marry You" by Bruno Mars
This is a fun bridal shower song to play while guests are entering the event—it's sure to put loved ones of all ages in a festive food.
​"I'm Yours" by Jason Mraz
While you'll often hear this song during a wedding reception as a first dance or slow dance song, it also makes a great tune to play during a wedding shower. Lighthearted, sweet, and relaxed, this one's a must-play.
"Coming Home" by Leon Bridges
If you want to add a more sultry vibe to your bridal shower playlist, this R&B song is one of our favorites.
"How Sweet It Is (To Be Loved by You)" by James Taylor
This song really sums up why bridal showers are so special. Truly, "how sweet it is to be loved by" all of your family members, friends, and of course, your future spouse.
"Wouldn't It Be Nice" by The Beach Boys
Hosting a beach-themed bridal shower? This song from the '60s should definitely be on your playlist.
"Love Me Like You Do" by Ellie Goulding
While we love a good oldie, don't forget to include a few modern favorites to your bridal shower playlist. This song by Ellie Goulding has just the right vibe.
"I Say a Little Prayer" by Aretha Franklin
You probably remember this song from My Best Friend's Wedding, but it also makes a fun bridal shower song. Don't be surprised if your guests start singing along!
"Love on Top" by Beyonce
A bridal shower should be a totally joyful event, and this Beyonce song really embodies the joy of being in love. This is also a fun song to play during any bridal shower games that might be played during the festivities.
"Can't Stop the Feeling" by Justin Timberlake
While dancing isn't usually on the agenda during a bridal shower, your guests won't be able to resist breaking out some moves when this upbeat song plays.
"All of Me" by John Legend
This song gives us all the feels, and makes a sweet and romantic addition to any bridal shower song playlist.
"Always Be My Baby" by Mariah Carey
As soon as your besties hear the opening strains of this bridal shower song, they're sure to erupt into "awws" and start singing along!
"Better Together" by Jack Johnson
We love this song's simple and happy message: "It's always better when we're together." This goes for the guest of honor and her partner as well as all of her family and friends gathered in one place.
"La Vie en Rose" by Louis Armstrong
Many bridal showers have a French theme (perfect if the soon-to-be weds are planning a honeymoon in Paris!), and this tune's lyrics are all en français. While there are many versions of this bridal shower song, we love the classic rendition by Louis Armstrong.
"Bubbly" by Colbie Caillat
Another sweet and simple favorite. This song is ideal if you're looking for songs to play while guests are enjoying their brunch at the bridal shower.
"I Do" by Colbie Caillat
Any song called "I Do" is a bridal shower must-play, and this one is a particular favorite. If your future spouse will be joining you at the celebration, this is a cute song to feature during their arrival.
"Thinking Out Loud" by Ed Sheeran
If you're so inclined, a few sappy love songs are totally okay to play during the bridal shower. This one is a perennial favorite.
"Best Day of My Life" by American Authors
Your bridal shower is sure to be one of the best days of your life, so this song is a great choice for this special occasion.
"1234" by Feist
This bridal shower song is a fun pick for your event—we love the cheekily romantic lyrics and the joyful feel.
"Sunday Morning" by Maroon 5
Whether or not your big event is taking place on a Sunday morning, this Maroon 5 song is a light, fun song to play during the bridal shower.
"Ain't No Mountain High Enough" by Marvin Gaye and Tammi Terrell
End your bridal shower on a hopeful note by playing this inspiring duet from the 1960s as your guests are exiting the celebration.