Bridal Shower vs. Bachelorette Party: The 6 Major Differences Between These Iconic Events
Seriously, what's the difference between a bridal shower and bachelorette party? We're here to clarify everything from the hosts to the activities and more.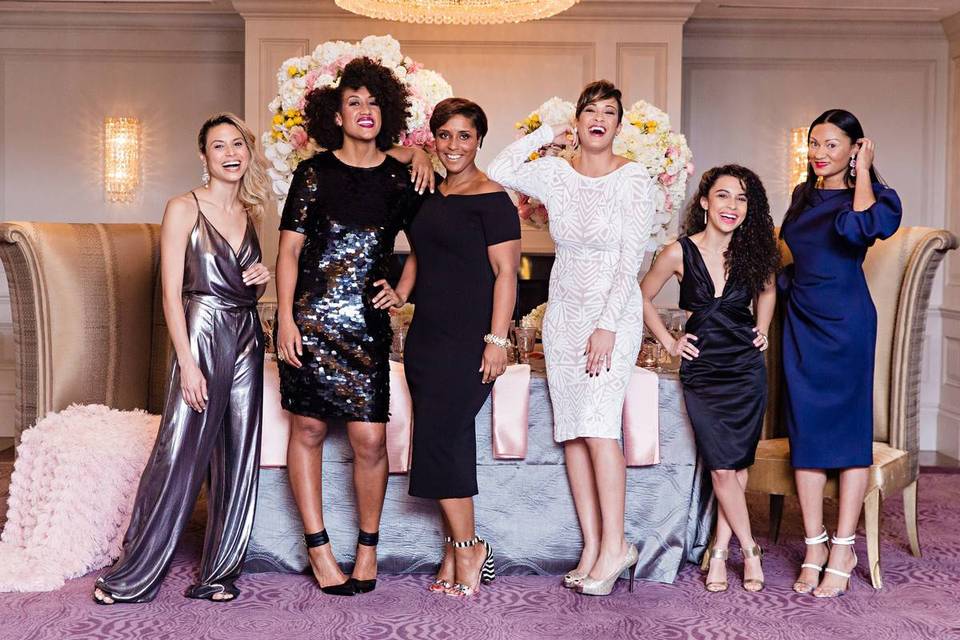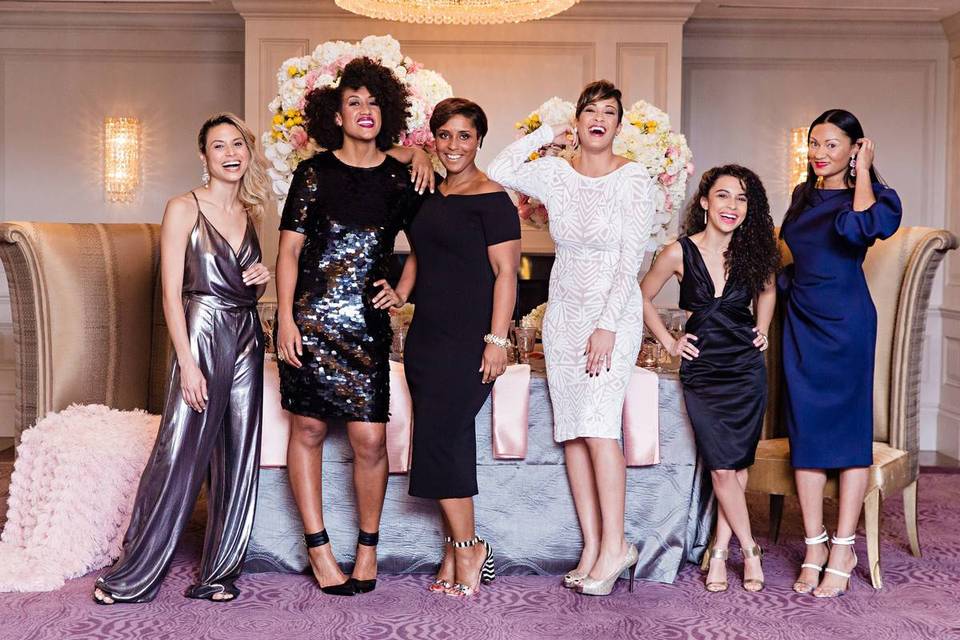 You might've spent most of your adult life dreaming of your someday-wedding and pre-planning every little detail. But once you're engaged a new realization might hit ya: You've got a lot more on your schedule than just a wedding! Like your bachelorette party and bridal shower, for example. And then you might be asking yourself: Wait, what even are these events, really? What's the difference between a bridal shower and bachelorette party? Who plans what? What happens when? What do we do at either? Well, wonder no more. This guide has all the info, and explains in detail what sets these two major bridal events apart, including everything you need to know to make both your bridal shower and bachelorette party ones to remember. Grab your notebook and a glass of wine, and let's study up!
Bridal Shower vs. Bachelorette Party Difference #1: The Activities
The main difference between your bachelorette party and your bridal shower? What goes on at each! Your bach bash will likely be more raucous—think: your last hurrah with your closest besties before you enter a new chapter in your life. You might travel to a destination, stay in a hotel, make a weekend out of it, do a good amount of drinking and partying, dress glam or in theme (or both) and get a hangover or two. You'll probably play some silly (and, yes, borderline inappropriate) games, drink from a penis straw, all that good stuff. It's not necessarily the type of event you'd invite your future spouse's grandma to (but more on that later). Your bridal shower, on the other hand, is a more sophisticated, gentler affair. It'll probably just be one afternoon, for a few hours, in town where you live. The guest list will be larger and more inclusive (see item #3 on this list), and the itinerary will be far more tame. The day will be organized more around gift giving, family-friendly shower games, some yummy treats and maybe a champagne or two (but it probably won't result in a hangover!).
Bridal Shower vs. Bachelorette Party Difference #2: The Timing
Don't feel overwhelmed about pulling off these two major events in one weekend. Turns out, they generally happen at totally different times, so you'll have plenty of freedom to give each one the attention it deserves. Typically, the bachelorette party happens a few months before the wedding (giving you plenty of time to refresh before your big day after all those late nights and tequila shots!). The bridal shower, however, happens closer to the wedding—maybe a month or a couple of weeks before (just in time for guests to outfit you with all the honeymoon lingerie you could ever need!). To help yourself (and your maid of honor, and your bridesmaids) stay sane, stick to this rough schedule and allow for a good amount of breathing room between your bachelorette and your bridal shower. Do yourself a favor and lock in the dates early, though, so you have something to plan toward, and so guests can clear their schedules. The lengths of these events differ, too: Your bachelorette party might span a whole weekend getaway (or at least a whole night!), while your bridal shower will likely just be a few hours long.
Bridal Shower vs. Bachelorette Party Difference #3: The Guest Lists
While there will definitely be some overlap in the guest lists between your bachelorette party and your bridal shower, don't assume it'll be the usual suspects for both. For your bachelorette, you'll invite your wedding party plus maybe a few extra VIPs, perhaps a few close friends of your future spouse, too. But you likely won't catch mom, grandma, Aunt Polly or your father-in-law's new wife there. Keep this guest list reserved to the close pals/sisters/cousins/coworkers who you feel like you can do just about anything in front of without getting judged (or having your secrets revealed)—because you might end up doing just that, after all those margaritas! As for your bridal shower, you might have everyone from your bachelorette, plus mom, your future mother-in-law, aunts, grandmothers, plus any other close family and friends you like. The bridal shower guest list is, overall, usually larger. Both events are usually focused on female friends, but male besties and relatives are not unheard of.
Bridal Shower vs. Bachelorette Party Difference #4: The Vibe and Attire
Knowing all you now know about the differences between a bachelorette party and bridal shower, you're probably starting to realize how different these events might look and feel from one another, too. And you're not wrong—the vibes of these two events are as different as night and day! Literally: Bachelorette parties are far more focused on nights out, while bridal showers are more daytime events. For your bach party, imagine clubs, party buses, hotel suites and bar hopping. (Bottle service, anyone?) Meanwhile, for your shower, think more in the lanes of brunches, luncheons, spa days, and backyard affairs. Attire-wise, your bachelorette will call for night out attire and custom lounge outfits (maybe even a dress code, if you opt to go that route!), while your bridal shower will probably lean more toward day dresses or even casual-wear, depending on what's on the itinerary.
Bridal Shower vs. Bachelorette Party Difference #5: The Hosts
So, who hosts all of these fabulous pre-wedding parties for the lucky bride-to-be? After all, you'll be caught up in wedding planning! The good news is, it's not all on you. But the complicated news is, it's up to you who hosts what. Here's how it usually works: While your maid-of-honor and bridal party will likely have a heavy hand in both, they'll focus more on planning the bachelorette party. Either the wedding party or the family of the bride (the bride's mom and mother-in-law, any other female family members, etc.) will take responsibility for the wedding shower. And you will have the opportunity to weigh in as much or as little as you like on both. But if you're hoping to keep a hands-off approach, make sure both host groups have all the information they need to pull their parties off without a hitch: Share your wedding registry well ahead of time, along with any preferred dates, party details, wardrobe must-haves, guest lists and special requests you may have. And for both parties, don't forget to thank your hosts in a special way—MOH's and bridesmaids might get some special swag for the bachelorette party or sparkly presents on your wedding day, while the ladies behind your shower might get thanked with a spa basket or manicure gift card.
Bridal Shower vs. Bachelorette Party Difference #6: The Expectations of the Bride
Your main expectation for both of these events as the guest of honor is to have an amazing time and make new memories before you zip off into your fabulous new life as a married woman. But when you drill down a little deeper, there are some slightly different expectations of the bride at either of these two pre-wedding events. At your bachelorette party, you may be expected to provide party ideas and/or a wishlist, play party games, pass out bachelorette party gifts to attendees to thank them for coming, and possibly fork over a bit of cash to cover your way or at least part of your way. At your bridal shower, expectations might be a bit more formal: You'll be expected to open gifts, play games, make your rounds to personally greet and thank every attendee, and, most importantly, send thank you cards to attendee following the event (these are separate from the thank you cards you'll send with your new spouse after the wedding). But no need to shove your wallet into your cute matching clutch: you will likely not be expected to pay for any of the bridal shower.