When Should Bachelor and Bachelorette Parties Happen? Here's the Answer.
Break out those calendar invites! Here's the inside scoop on when bachelor and bachelorette parties usually happen.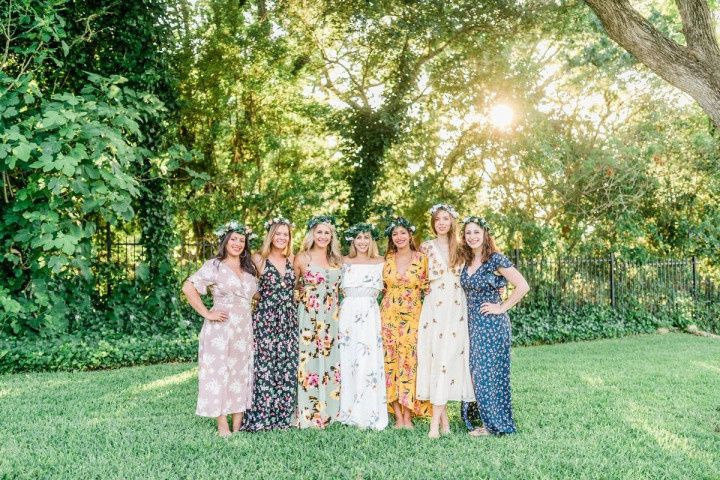 With your besties' crazy schedules, it can be tricky to when to have a bachelorette party or bachelor party. You might be wondering when bachelor or bachelorette parties usually happen, so that you can pick an ideal weekend for the big event—and we're here to help! According to a WeddingWire study, there's definitely a "bachelor(ette) party season" when most of these events take place. We also learned a lot about how long before the wedding these events typically occur, so you'll be able to create a guest list and plan accordingly. Are you the maid of honor, best man, or wedding party member and are curious about when a bachelor or bachelorette party should happen? Here are the timing tips you need to know.
Bachelor and bachelorette parties usually occur pretty close to the wedding day.
So if go by movie plot lines, you'd think that all bachelor and bachelorette parties occur the night before the couple ties the knot (we're looking at you, The Hangover). While this isn't exactly true, it turns that a majority of both bachelor and bachelorette parties happen within the month prior to the wedding. According to the WeddingWire study, 63 percent of bachelor parties and 57 percent of bachelorette parties occur within a month of the wedding. So while this doesn't mean that hosting your last-single-night bash the same weekend of your wedding is a good idea (IMO, last-minute bashes are really not a good idea), a few weeks prior is actually the norm. The groom- and/or bride-to-be will appreciate having a bit of a buffer between when the bachelor or bachelorette party occurs and when wedding planning starts to get really hairy (the days before the big day).
And for those Type A bridesmaids, groomsmen, and wedding party members out there, know that planning a bachelor or bachelorette weekend too far in advance of the wedding is not the best idea, either. The sweet spot really seems to be three months or less before the wedding—fewer than 10 percent of bachelor and bachelorette get-togethers occur more than four months prior to the big day. If the couple is planning their wedding in a year or more, you can wait few months after the engagement party before figuring out when to have the bachelor or bachelorette party!
Spring and summer are the most popular seasons for bachelor and bachelorette parties.
You may have already heard that fall is the most popular season for weddings—40 percent of weddings in the U.S. take place during the fall season. So it makes sense that most bachelor and bachelorette parties happen in the spring and summer months—just a short time before wedding season hits its peak. According to the WeddingWire study, June is the most popular month for both bachelorette parties and bachelor parties. In the past, April has been the most popular month for these events, but due to COVID, the timeline has shifted for many wedding parties.
Since it also turns out that most bachelor and bachelorette parties don't take place far from the guest of honor and invitees' home base, it would make sense that warmer weather months are appealing—especially if outdoor activities are on the agenda. However, this is not to say that planning a bachelor or bachelorette party in the fall or winter months is a bad idea (in fact, 29 percent of bachelorette and 33 percent of bachelor parties occur during this time of year). In fact, they can be quite welcomed if you live in a cold-weather area and are booking a getaway to a warm-weather bachelor or bachelorette party destination, like Miami or Las Vegas (don't forget to pack the swimsuits!) or prefer fun activities like a cozy spa day or beer or wine tasting celebration.
Bachelor and bachelorette parties tend to last one to two days.
As you're penciling in those dates when your bachelor or bachelorette party will happen, you're probably also considering how long the festivities will last—and it turns out that these events are lasting longer than ever before! The average length of a bachelor or bachelorette party has increased by one day. In 2019, nearly 2 in 3 bach parties were 1 or 2 days, but nowadays more than half of bach parties last 3 or more days (typically Friday to Sunday). Bachelor parties tend to last longer than bachelorettes, with one-third celebrating for 4 or more days, compared to a quarter of bachelorette parties partying for that long. In 2019, 56% of bachelorette parties lasted 2 or more days; in 2020 that rose to 75%. This all lines up with what we're hearing from wedding party members—they've spent so much time apart due to COVID, so now's the time to celebrate, and do it big! However, it's important to note that the longer a bachelor or bachelorette party lasts, the more money your closest friends will end up spending—so be aware of your budget as you're party planning!