Planning a fun and fab girls' weekend for your bestie's "last fling before the ring"? How will you ever thank the bridesmaid crew for helping to put together such a wonderful weekend? We've got some ideas! Gift the attendees with bachelorette party favors (also known as swag) that show your appreciation for the time and money they've spent. Many bachelorette party favors are intended for use at the party, like sashes, crowns or t-shirts, while others simply double as thank-you gifts.
We've rounded up a list of bachelorette party favors that check both boxes, so if you're looking for some inspiration, look no further.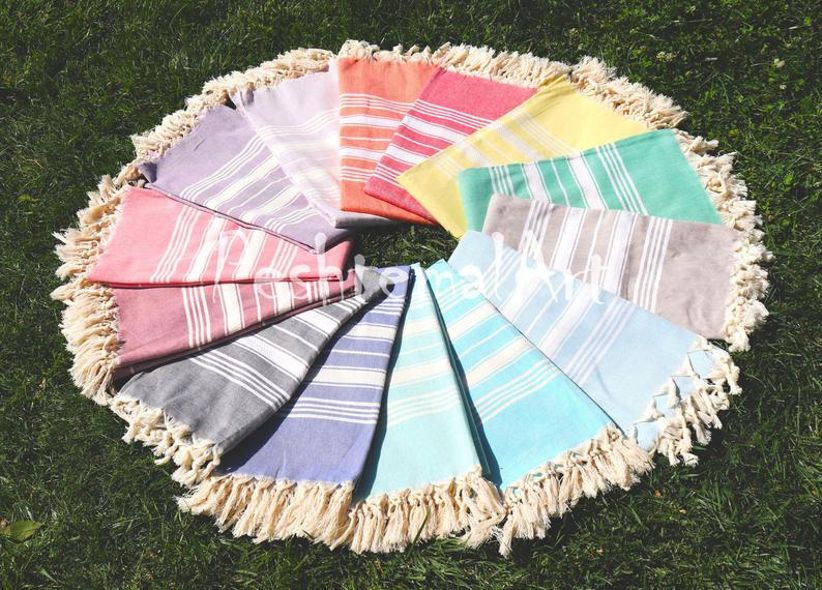 Striped towel
Treat your squad to a luxurious Turkish beach towel as a thank you for throwing you a fab bachelorette fete on the beach. These high-quality towels come in an array of colors, which allows you to coordinate with your wedding palette, or simply opt for each gal's favorite hue.
Peshtemalart striped Turkish beach towel, $15, Etsy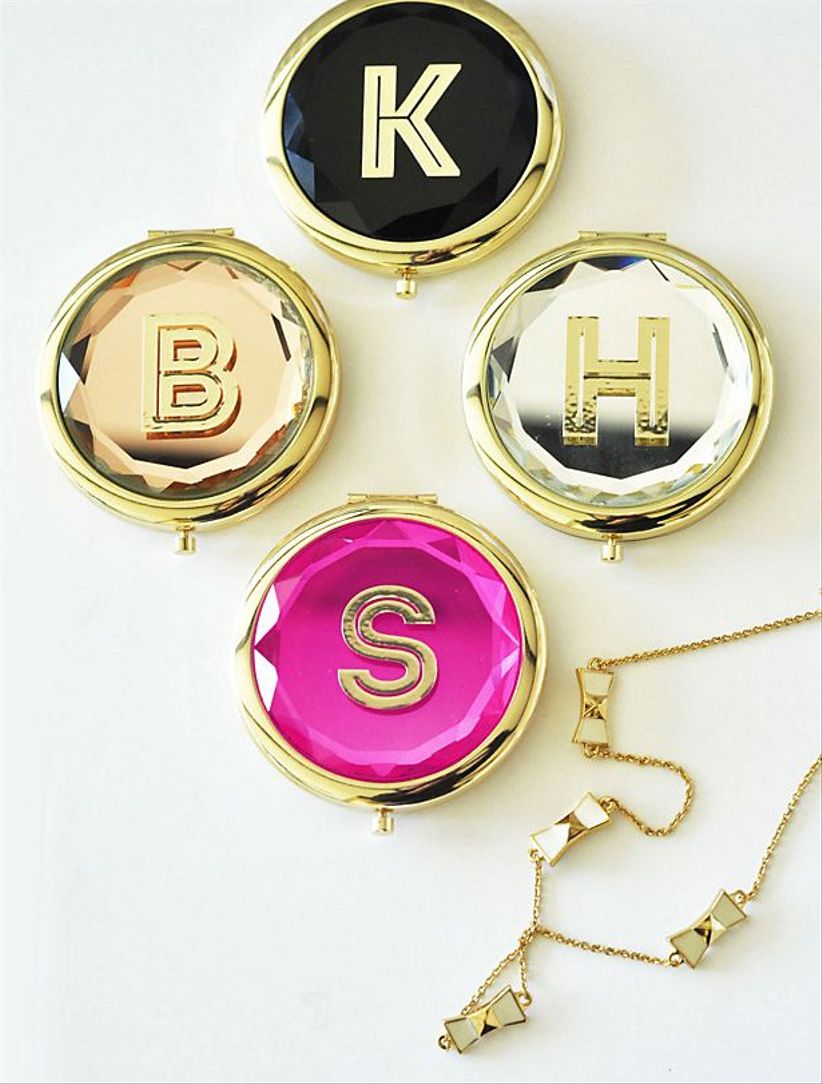 Personalized compact mirror
This beautiful monogrammed compact mirror is the perfect wedding-ready accessory for her makeup bag. It's one of the bachelorette party favors she'll keep for years to come. Available in pink, black or clear.
David's Bridal personalized gold monogram compact mirror, $20, David's Bridal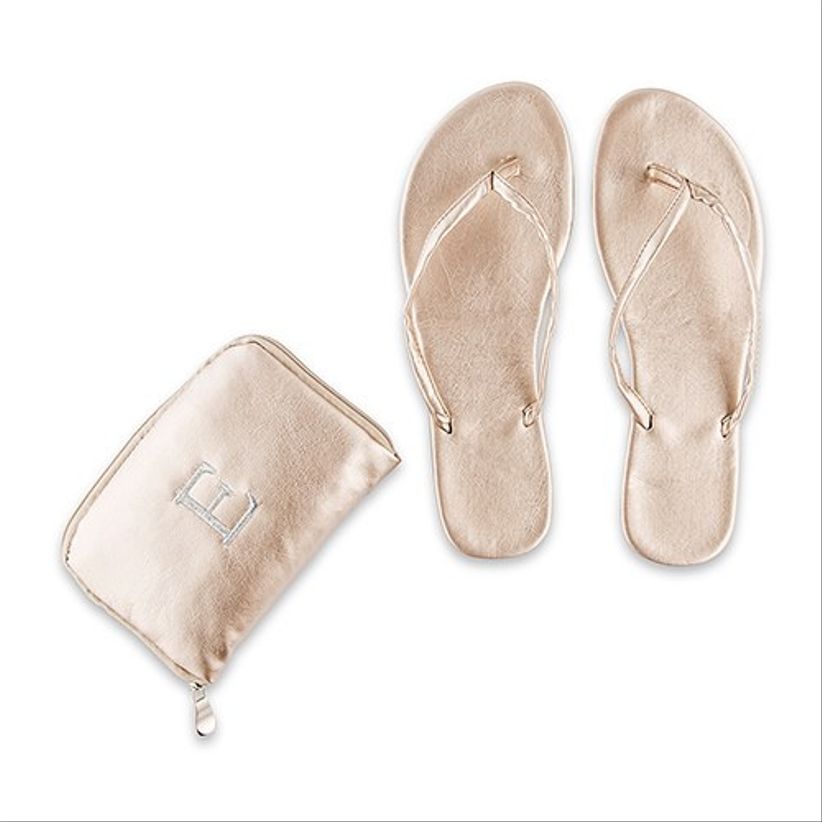 Foldable flip-flops
If foldable flip-flops are wrong, then we don't want to be right! Snag a few pairs of these nifty gold slip-ons that come with their own monogrammed bag. That way, your besties can dance the night away long after the heels come off.
WeddingWire Shop gold foldable flip-flops, $16, WeddingWire Shop
I Do Crew sashes
No bachelorette celebration is complete without a sash that proclaims your to-be-wed status, and a matching one for your ladies. We love this tasteful one from David's Bridal—because let's be honest; not all of them are—that simply states, "I Do Crew" in white and gold.
David's Bridal I Do Crew sash set of 6, $23, David's Bridal
Pins
Heading out for a bar crawl? Make sure everyone knows you and your girls are an unstoppable squad with these wearable pins. Each pin proudly displays your girl's name as well as her role in your wedding. And of course, there's one for you that boldly proclaims your Bride status.
WeddingWire Shop Team Bride wedding pins, $4 each, WeddingWire Shop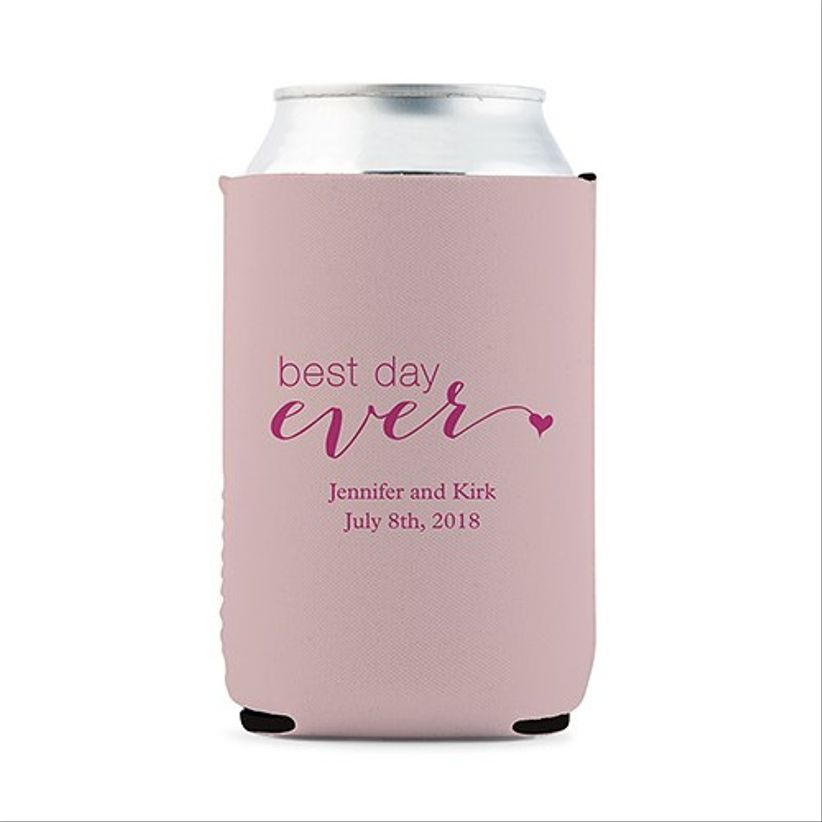 Pink koozies
With a bit of creativity, wedding favors can totally be used as bachelorette party favors. That's the case with these adorable pink can koozies. Add each guest's name and the date of your bach fest instead of your wedding date. That way, every time your besties need to keep a can cool, they'll have fond memories of your crazy night together.
WeddingWire Shop pastel pink beer can koozie, from $2 each, WeddingWire Shop
Gift set
Fresh's lip balm has been flying off the shelves in recent years, and it's easy to see why. It's the perfect shade of pink for well, just about everyone. We're not sure how they did it, but we do know you'll win the day when you gift your gals this three-step Prep and Pout kit by Fresh.
Sephora Fresh prep and pout gift set, $25, Sephora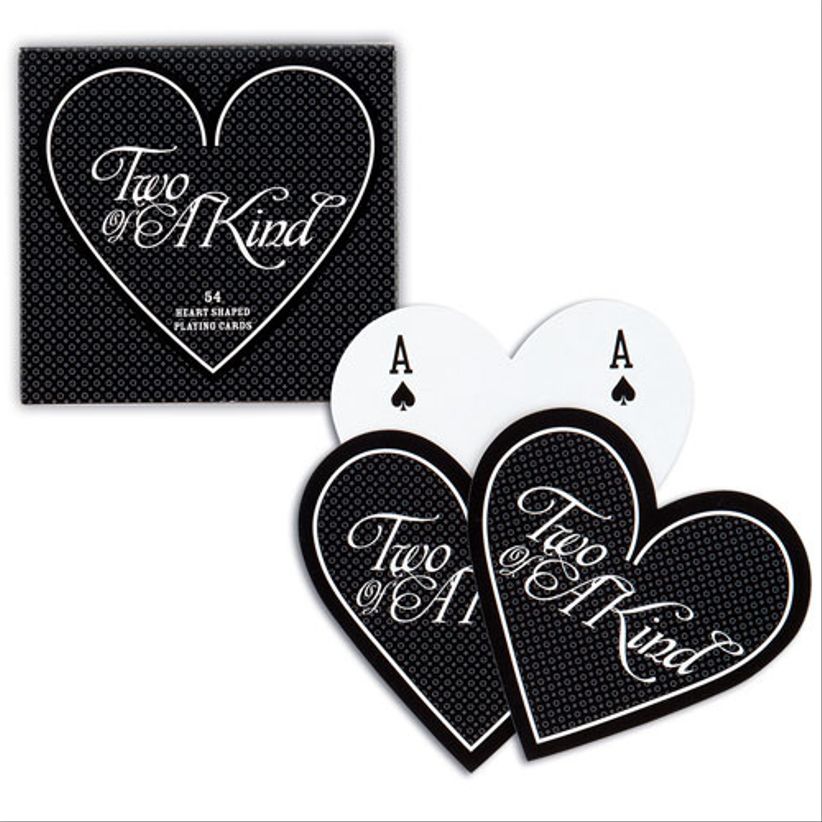 Heart-shaped playing cards
We love these fun heart-shaped playing cards as bachelorette party favors, especially if you're all heading to Sin City for a crazy girls' weekend. Just don't forget to use them!
WeddingWire Shop heart-shaped playing cards, $3 each, WeddingWire Shop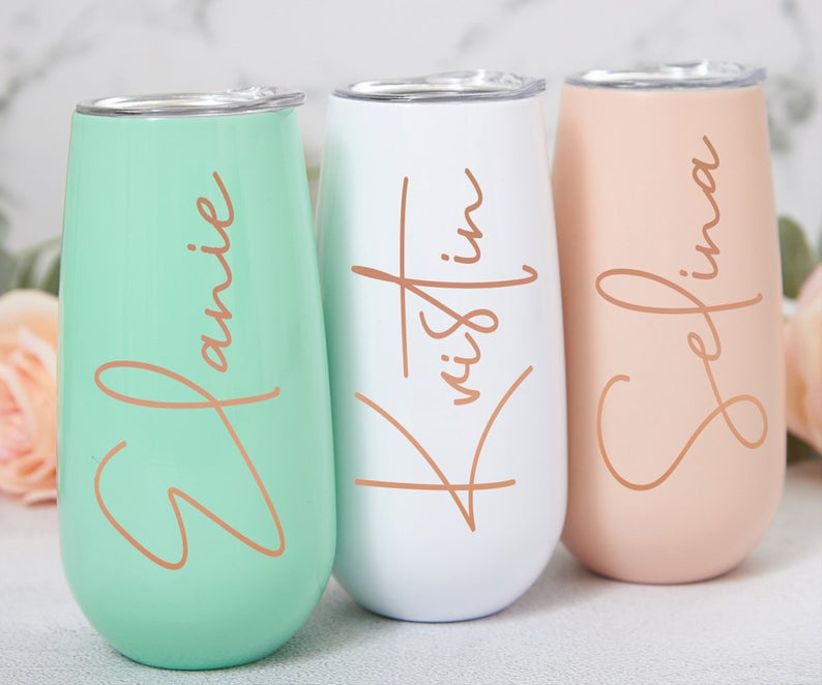 Personalized wine cup
We love these insulated stemless wine coolers from Uncle Beard Gift Shop on Etsy—and your girls will, too! Choose from a variety of on-trend colors, and personalize with each lady's name for a gift they'll use over and over again.
Uncle Beard Gift Shop personalized bridesmaid champagne glasses, $7, Etsy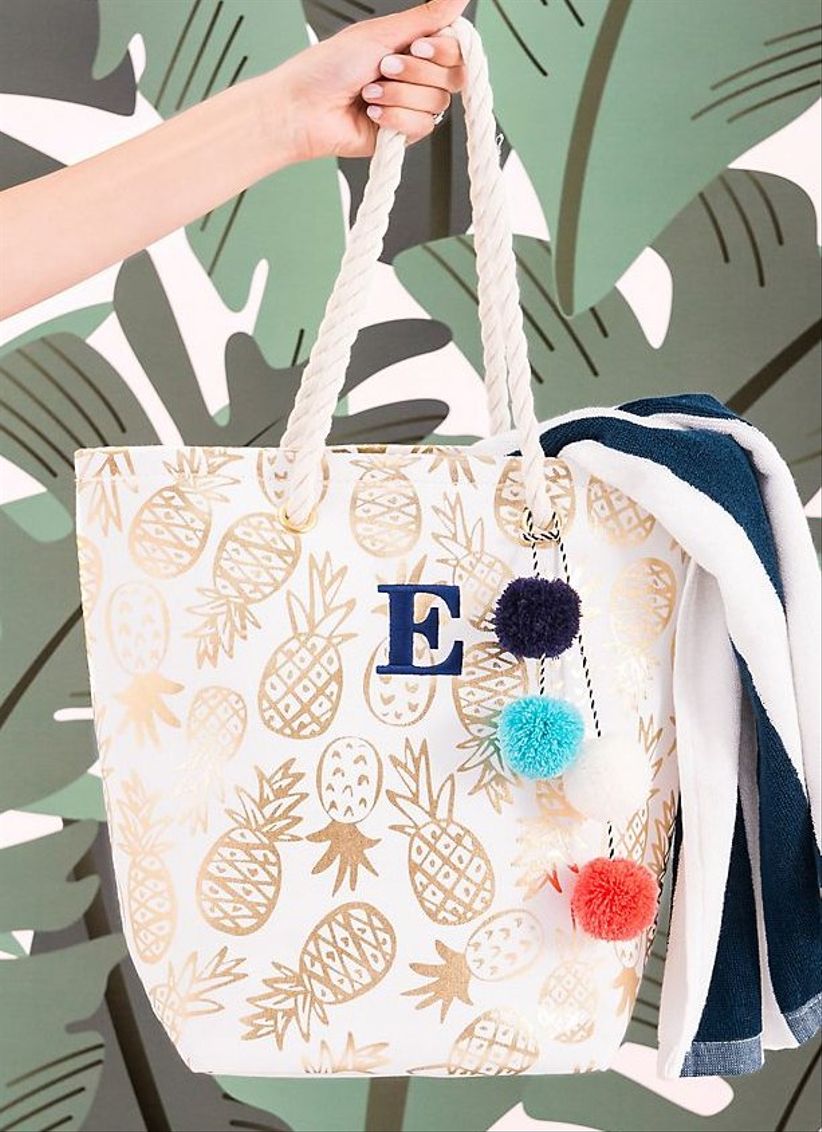 Canvas tote
Each of your lucky ladies needs a bag big enough to handle all her wedding day necessities. This nautical-inspired canvas tote makes a great choice. It's printed with gold-toned pineapples for a tropical feel, and hangs from her shoulder with a nautical rope. A single monogram (in the thread color of your—or her—choice) adorns the front.
David's Bridal personalized pineapple print canvas tote, $25, David's Bridal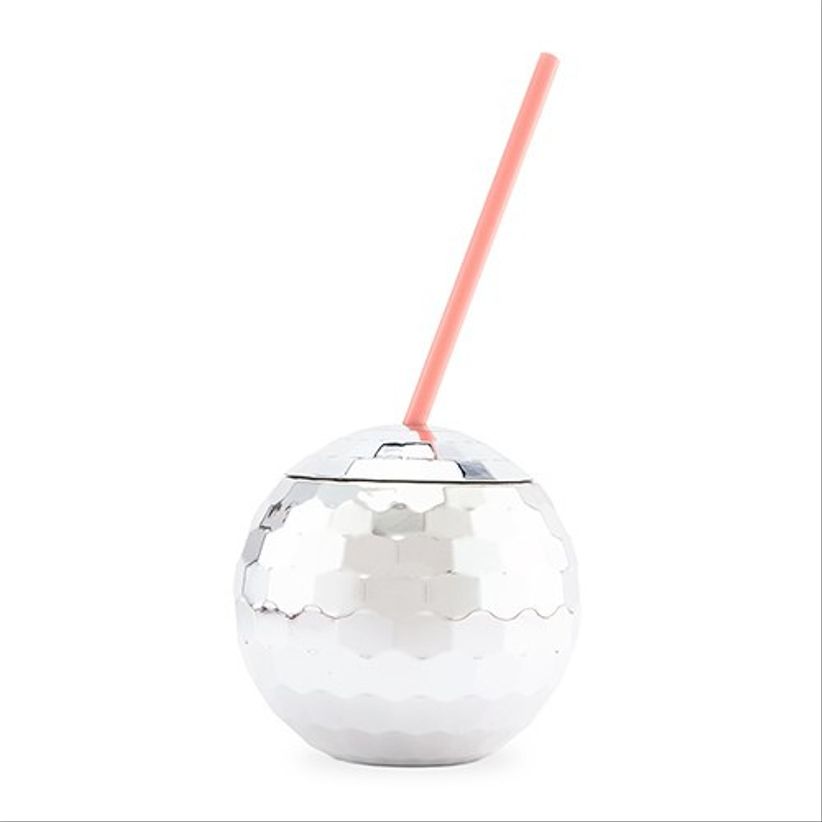 Silver disco ball tumbler
Get the pre-party kicked off in style with these silver disco ball tumblers. They're sure to get everyone in the mood to party! A pink straw completes the ensemble.
WeddingWire Shop Bridal party disco ball tumbler, $9, WeddingWire Shop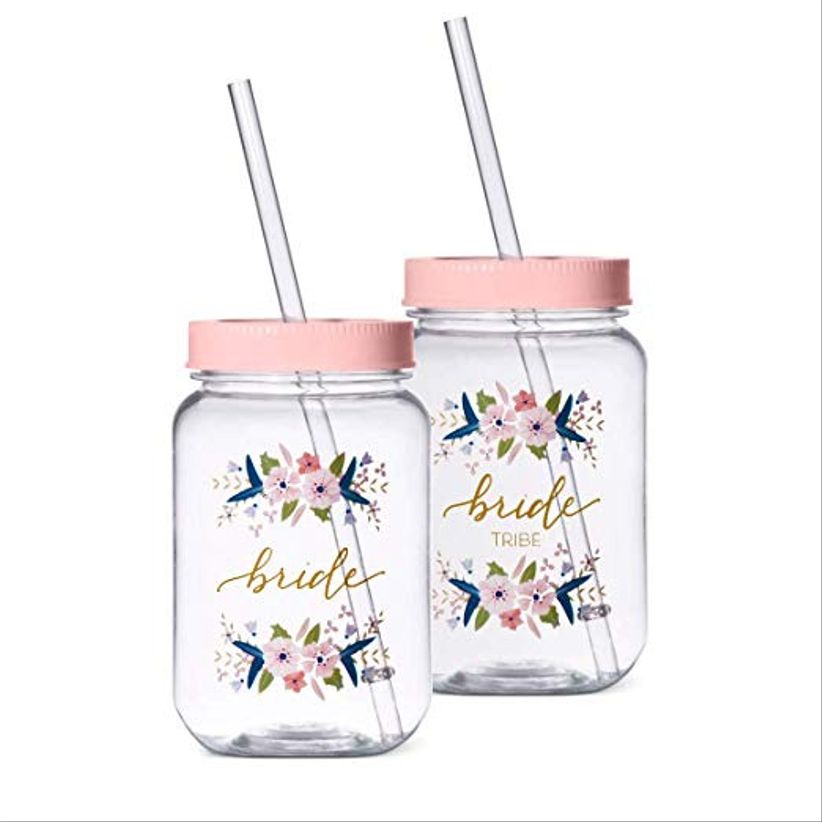 Mason jar tumblers
These adorable Mason jar tumblers are totally on trend with their rustic vibe. A painted pink top and coordinating florals make these ultra-feminine drink glasses our pick for one of the best bachelorette party favors we've seen. And bonus—there's one for you, too!
Samantha Margaret tumblers, $45 for 11, Amazon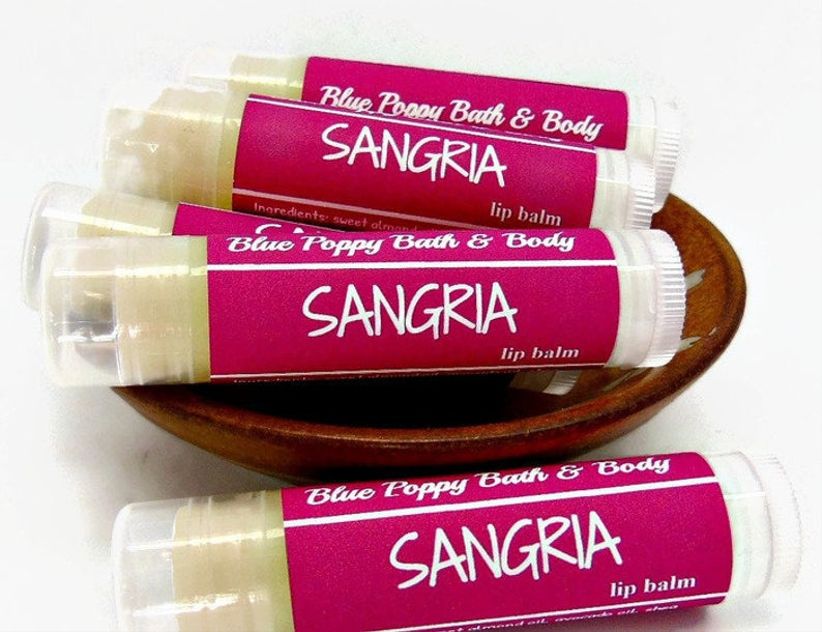 Sangria lip balm
Made with premium ingredients like shea butter, almond oil and avocado oil, these yummy Sangria-flavored lip balms make the perfect bachelorette party favors. These fruity lip balms are available in one, three, or five packs.
Blue Poppy Bath lip balm, $3 each, Etsy
Instagram photo book
We're sure your bachelorette party will be super Insta-worthy! So snap away, then capture your favorite images from the evening in this Instagram photo book from Artifact Uprising. Prices start at $12 for a 5x5 hard-back book, and you can add as many pages as you'd like for $.50 each.
Artifact Uprising Instagram photo books, $12 and up, Artifact Uprising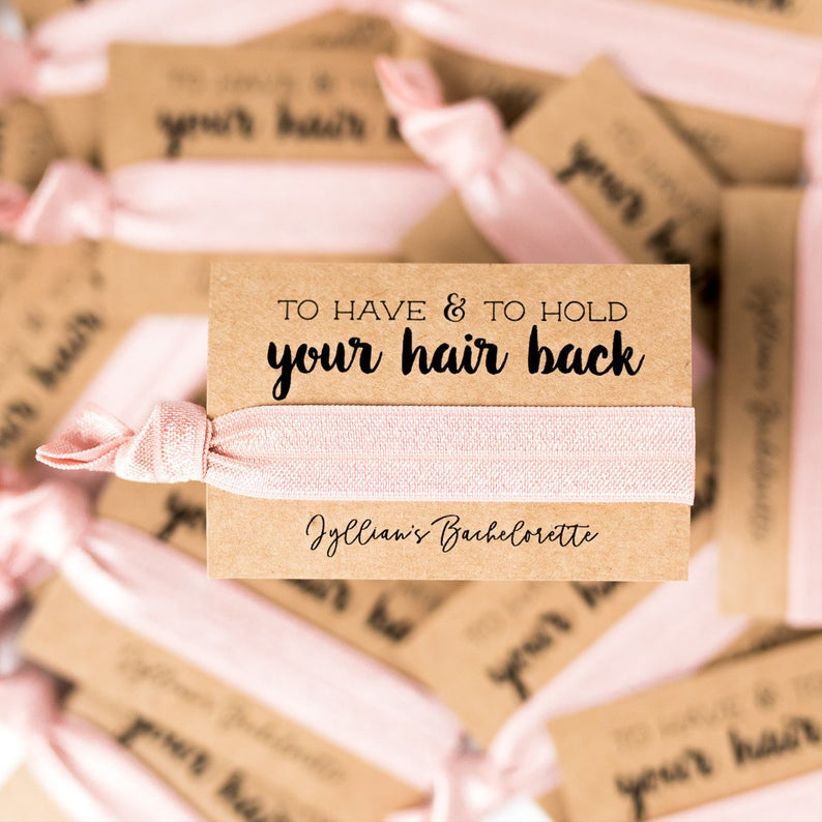 Hair ties
Attractive hair ties combine with a not-so-subtle nod to the drinking shenanigans that might happen as the evening progresses in these bachelorette party favors. Choose from pretty much any color hair tie, or opt for a wedding-ready blush color. Available in any quantity starting at 10, these would make a great addition to a small canvas makeup bag for your best girls.
LoveMiaCo personalized blush bachelorette hair tie, $18, Etsy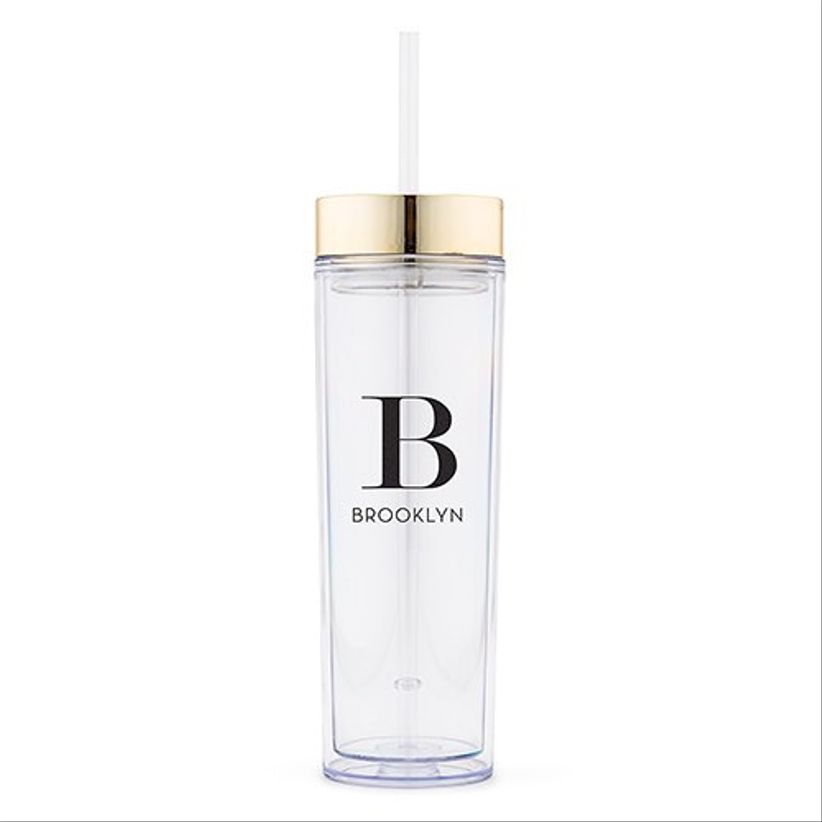 Monogrammed drink cup
If you're of the opinion that monogrammed drink cups are becoming a bit banal, you'll want to check this one out. It's got a single, bold monogram that gives it a modern, trendy look your squad will love.
WeddingWire Shop personalized plastic drink tumbler, $6, WeddingWire Shop
Key bottle openers
These clever bottle openers make a super inexpensive bachelorette party favors your ladies will love. At less than $15 for 25 keys, you can gift these if your bach-fest has a crazy long guest list, or you can give them alongside another small gift or two if your budget allows. These cute keys are made of metal, not plastic, and the best part? Each one is unique, designed for a vintage look and feel.
Xonor key bottle openers, $14, Amazon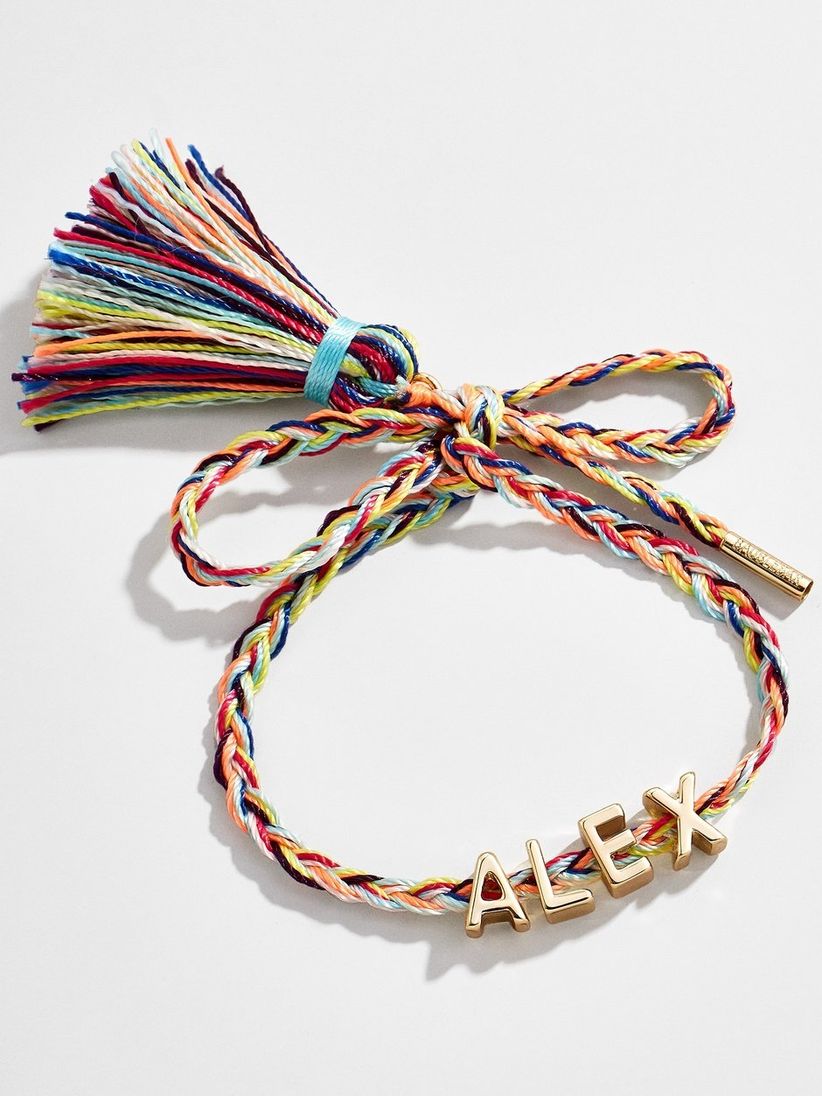 Personalized wrap bracelet
Channel your middle school years with this colorful thread bracelet from Baublebar. It's one of our favorite bachelorette party favors since it's cute and casual, but meaningful too, since it can be personalized with each girl's name spelled out in gold letters.
BaubleBar Felizia wrap bracelet, $42, BaubleBar
Heart cheek stamp
Bring a playful twist to her beauty routine with this cheek stamp and coordinating heart-shaped gloss from Kaja. Pretty cheeky!
Sephora Heart to Heart beauty set, $25, Sephora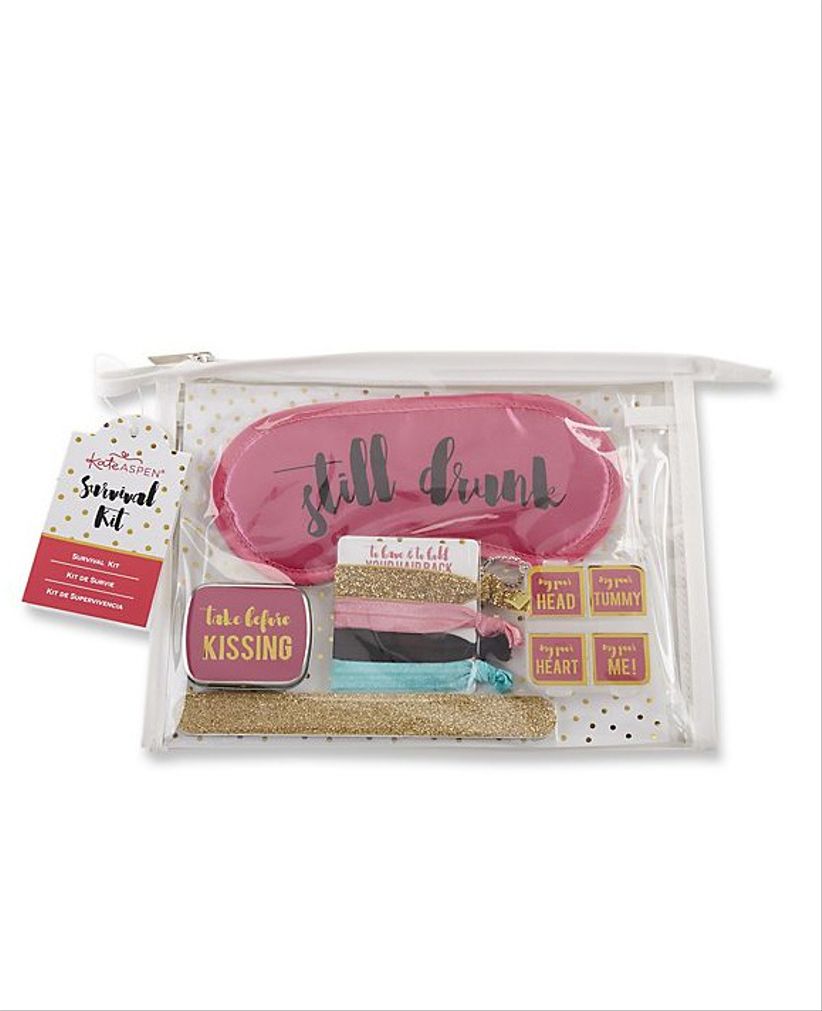 Survival kit
Looking for great bachelorette party favors? Stick with an old favorite—the morning-after survival kit. This one, from David's Bridal, includes an eye mask that warns, "still drunk," a nail file, pill box for those hangover meds, hair ties and some mints, just in case.
David's Bridal bachelorette survival kit, $16, David's Bridal
Personalized phone case
Pretty much everyone has a smartphone these days, making this blingy iPhone case a pretty safe bet if you're looking for bachelorette party favors. It's personalizable up to 12 characters, so you can choose to add each girl's name, your bach party hashtag, or something else entirely.
BaubleBar personalized iPhone case, $78, BaubleBar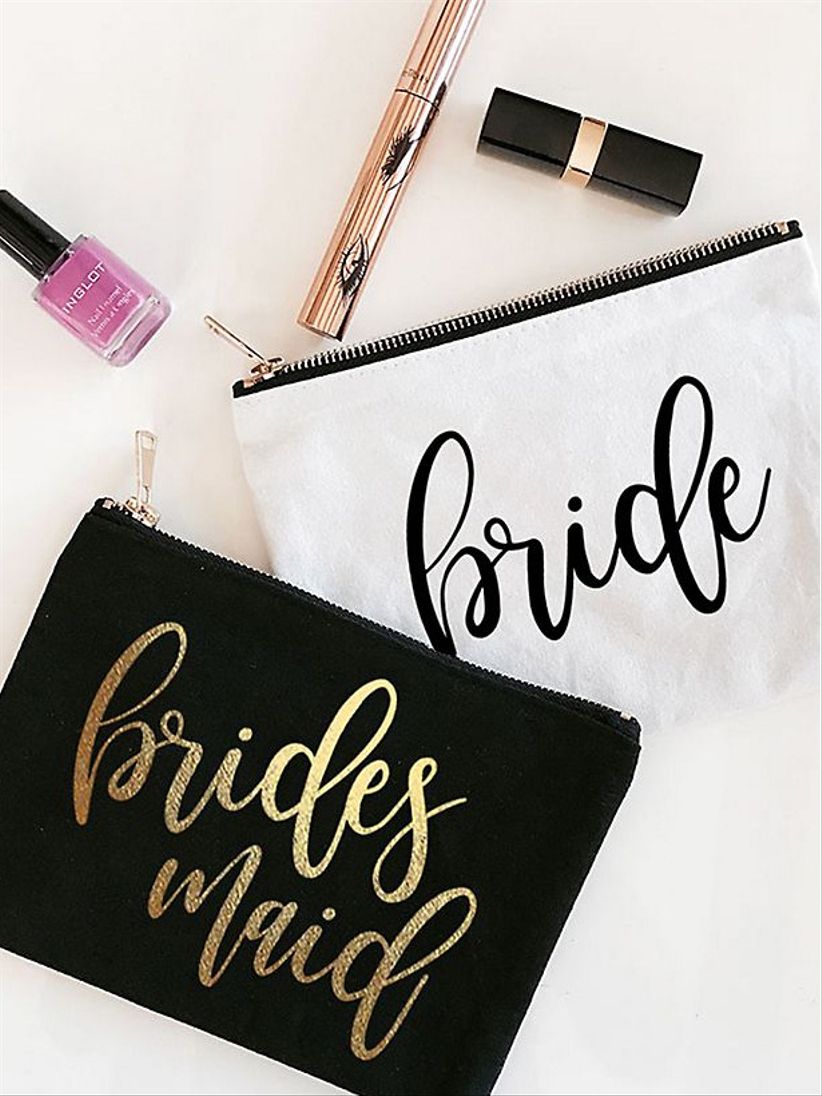 Makeup pouch
Another classic bachelorette party favor that never disappoints is the canvas makeup bag. This tiny tote keeps it real with optional personalization or each girl's role in the wedding scrawled in gold text on a black background or black text on a white background. Fill each bag with whatever strikes your fancy, like nail polish, a gift card, or a compact mirror.
David's Bridal personalized bridal party canvas cosmetic bag, $20, David's Bridal
Sunglasses
If you're headed to a sunny destination for your big bash, these bachelorette party favors are the perfect swag. These sunnies come in a variety of colors, and can be personalized with the bride's name and hashtag.
WeddingWire Shop personalized sunglasses, $3, WeddingWire Shop
Disclosure: This post contains affiliate links, some of which may be sponsored by paying vendors.