The Best Bachelorette Party Favors for Games and Goodie Bags
These bachelorette party favor ideas aren't just the perfect swag for welcome bags, gift baskets, and game prizes—they're also a great way to say thanks.
We have included third party products to help you navigate and enjoy life's biggest moments. Purchases made through links on this page may earn us a commission.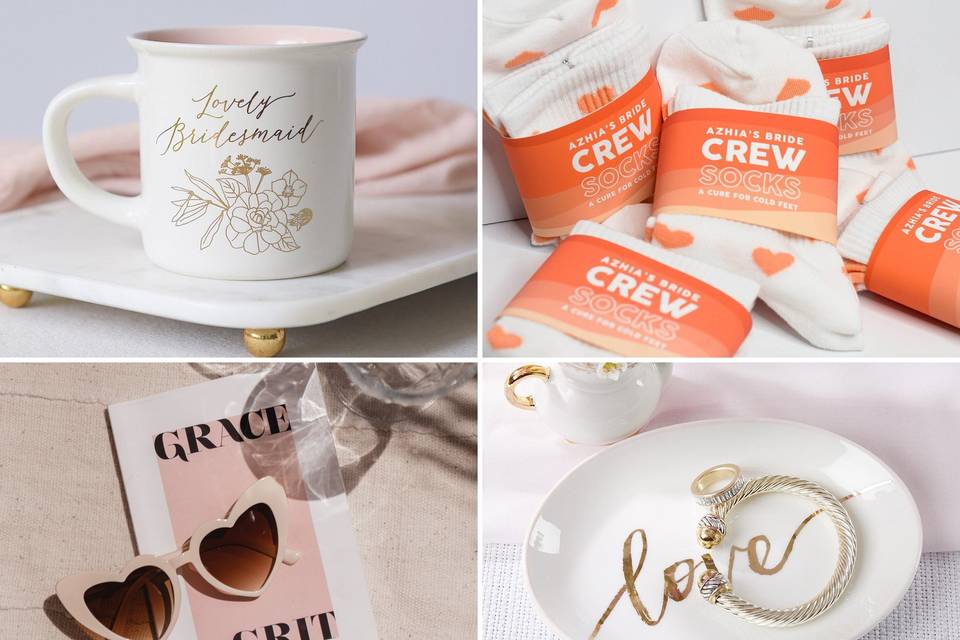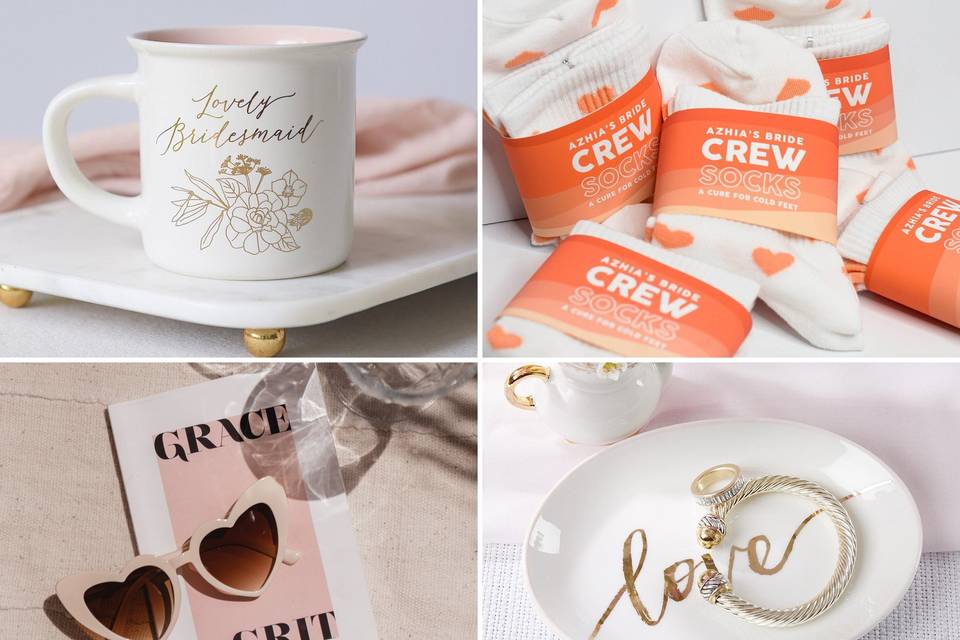 A lot goes into making a bachelorette party memorable, from choosing the best destination to planning an awesome itinerary. One easy way to make sure no one forgets the festivities? Cute keepsakes in the form of bachelorette party favors. There are so many playful ways to give your squad some meaningful swag. For starters, you could put together personalized bachelorette goodie bags to be handed out at the beginning or end of the celebration. Or, why not organize a few fun bachelorette party games and give out favors as prizes? Keep reading to find out how much to spend on goodies for guests, as well as some of our favorite bachelorette party favor ideas.
How much should you spend on bachelorette party favors?
When it comes to who buys bachelorette party favors, there's no hard and fast rule. Gifts and favors can be paid for by the bride, the MOH, or the bridesmaids. One super important thing to keep in mind, however, is the price. While WeddingWire's 2021 Bach Study revealed that 66% of female attendees are willing to spend more on a bachelorette party now that COVID-19 restrictions have loosened, we wouldn't get too carried away with the swag just yet. Just because some members of the crew feel comfortable spending a little extra dough on the festivities doesn't mean everyone does.
Whether you're the bride-to-be or a member of her "I do" crew, you're probably already paying for a few different things in the leadup to the big day. With that in mind, it's a good idea to keep bachelorette favors affordable no matter who's footing the bill. If you're the bride or maid of honor, you may feel more comfortable splurging on cute favors and bachelorette goodie bags. But, if the bridesmaids are paying as a group, we suggest sticking to favors that cost no more than $10 each to keep the overall cost down for everyone.
The Best Bachelorette Party Favor Ideas
Finding bachelorette favor ideas that everyone will love doesn't have to be a struggle. We've searched the web for all the coolest bachelorette party gifts for guests. From personalized drinkware to matching sweatshirts, there's something on our list for everyone (and every budget).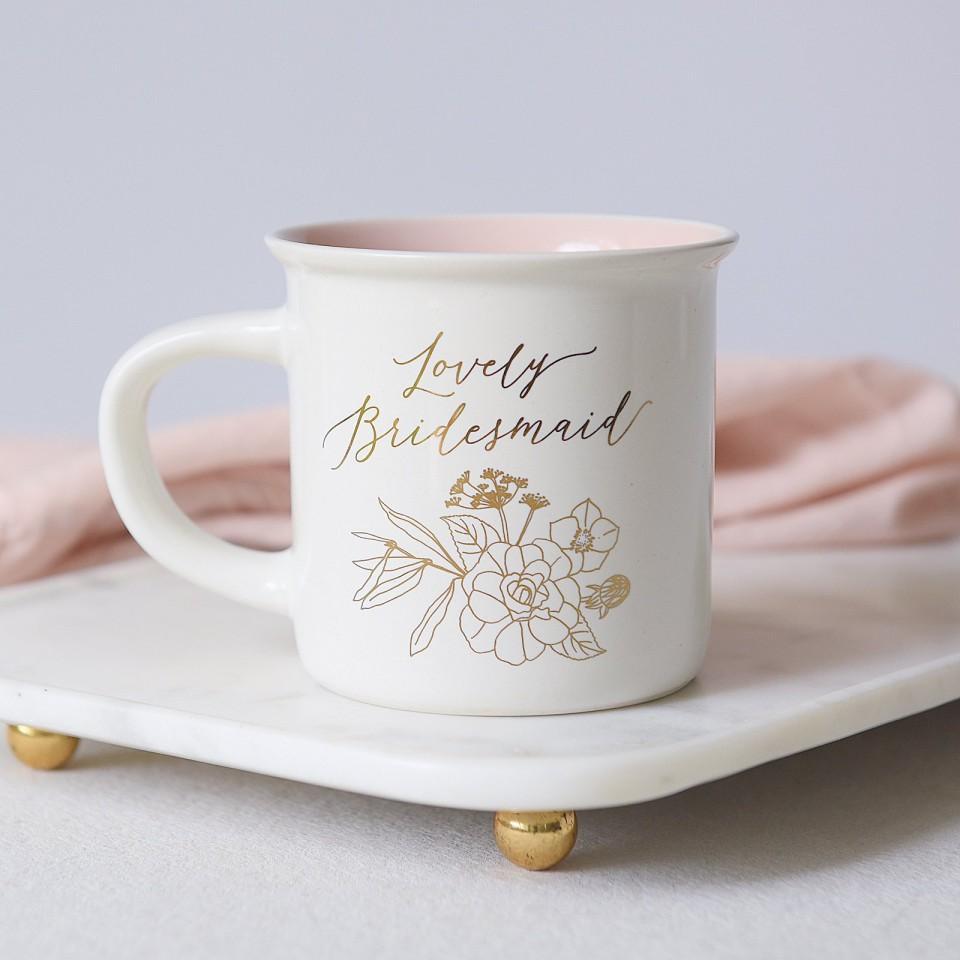 Chic coffee mugs
Not sure what to put in your bachelorette party gift bags or hand out as solo presents? Drinkware personalized with each person's name or wedding title is a popular option. These pretty mugs are a great alternative to wine and shot glasses, especially if it's going to be a chilled out weekend. Plus, the ornate gold foil design will look stunning in their kitchen cabinet forevermore.
Style Me Pretty Lovely Bridesmaid mug, $10, Birdy Grey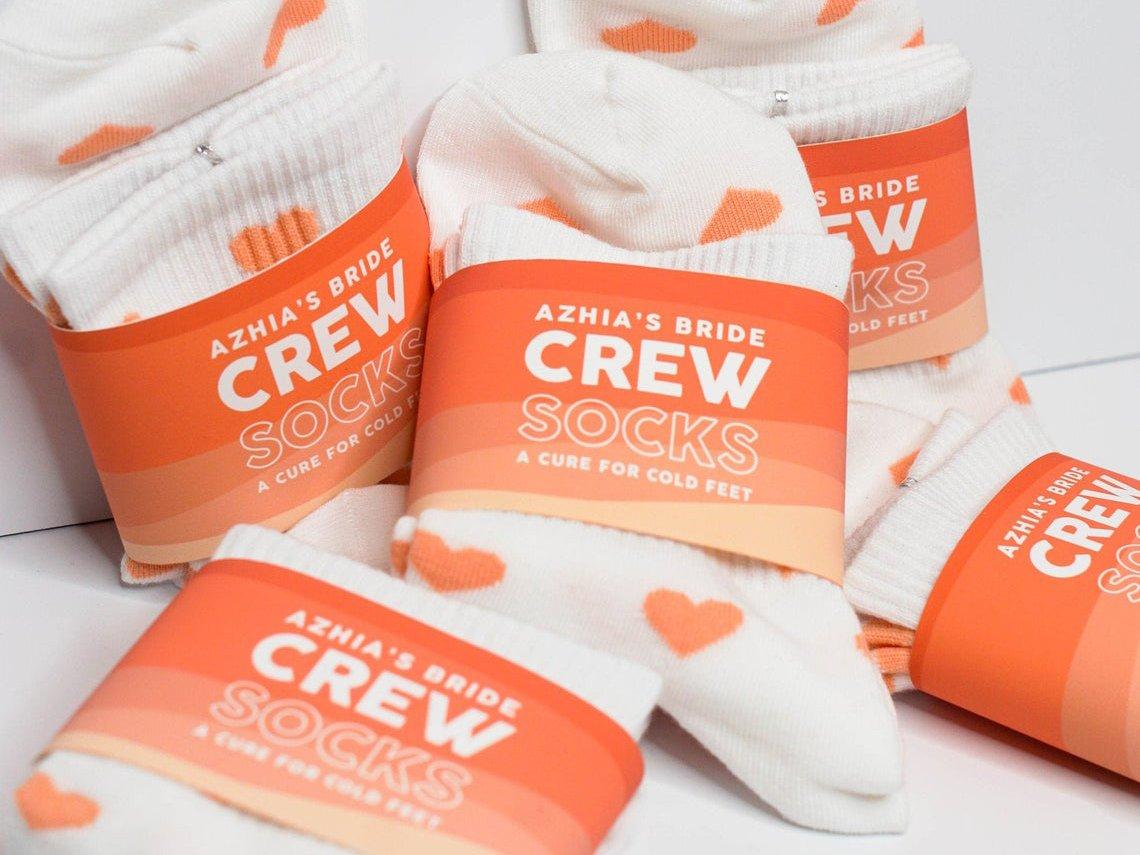 Adorable matching socks
Who doesn't appreciate the feeling of cozy new socks on their feet? These pretty polka-heart socks will be a subtle way for your squad to coordinate, plus the trendy crew length looks cute with sneakers and athleisure. Customize the text on the packaging to create the perfect bachelorette swag. (And if you really want to keep everyone's toes warm, swap out the heart print for super-fuzzy mint-colored socks instead.)
Shop Tilde bach party socks, $9 each, Etsy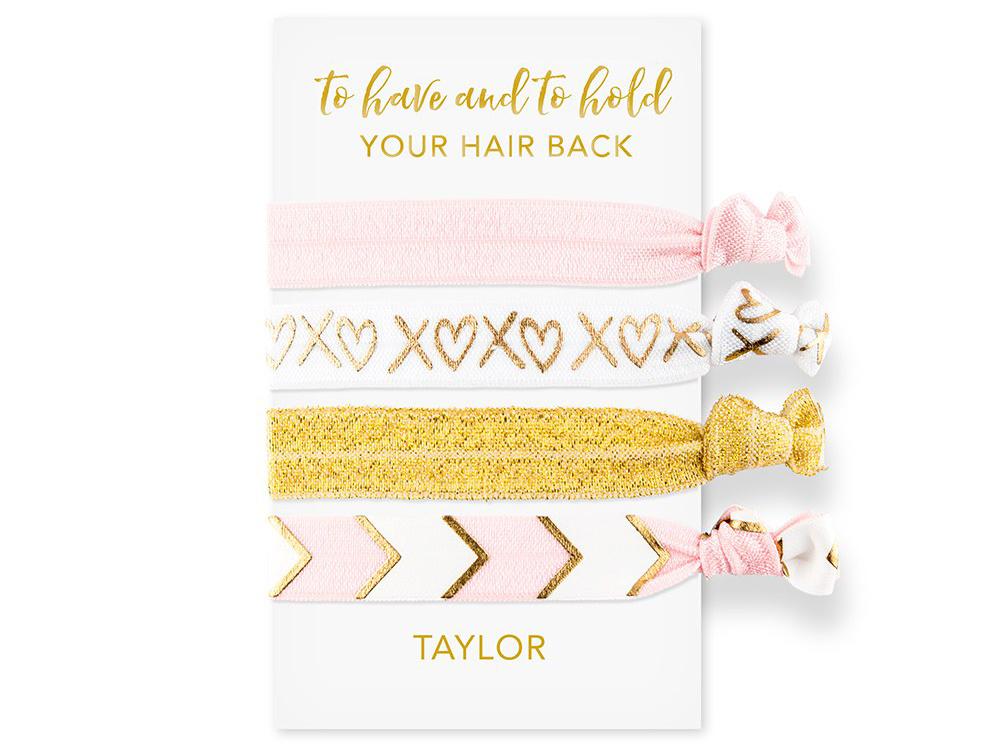 On-theme hair ties
WeddingWire Shop has so many inexpensive bachelorette party favors to choose from for a variety of themes. From mermaid- and country-themed bachelorette party favors to tropical- and beach-inspired gifts, you're sure to find something that fits your bash. We love the sweet message on these colorful pink, gold, and white hair ties that reads: "To have and to hold your hair back." You can also have the packaging personalized with each person's name, making them a great bachelorette gift bag idea.
WeddingWire Shop pink printed elastic hair ties in To Have And To Hold Your Hair Back, $6, WeddingWire Shop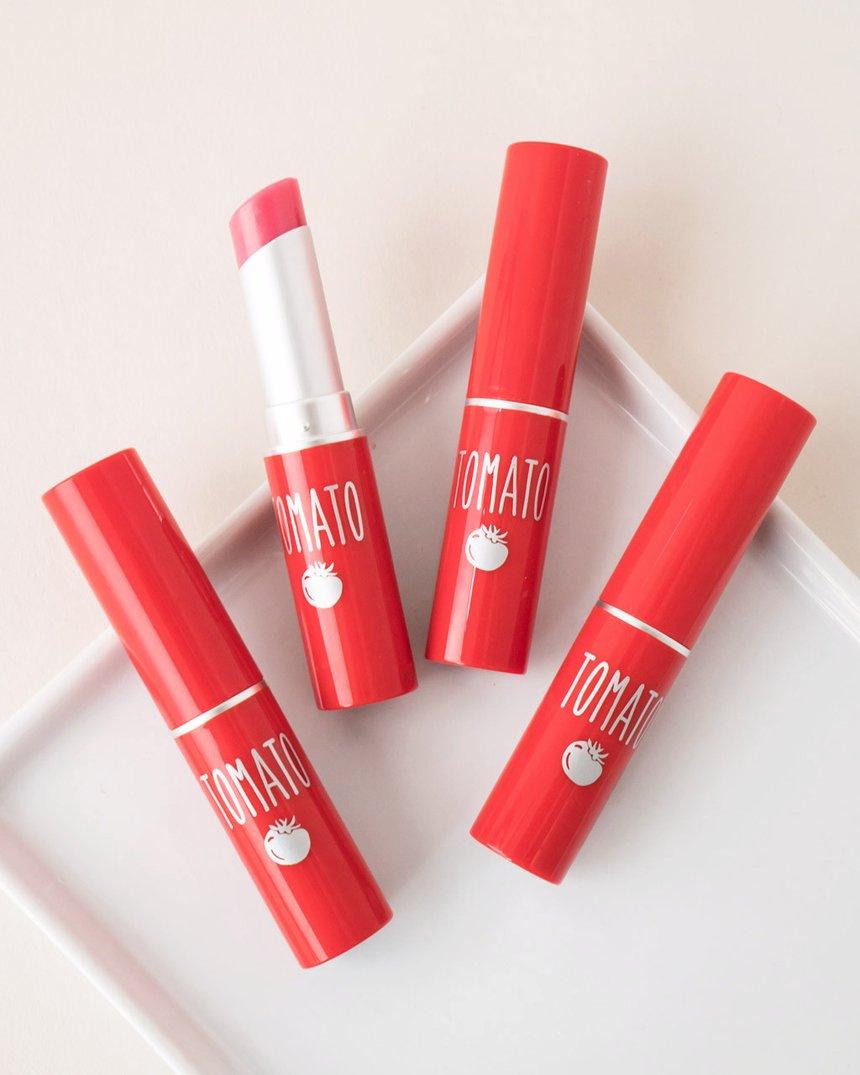 Hydrating lip balms
Made from moisturizing tomato seed oil, this cool-girl glossy lip balm is a unique bachelorette party favor. It comes in four different shades designed to enhance their natural lip color with a subtle rosy tint. Trust us, including one of these bad boys as a bachelorette party game prize will make everyone want to win.
SkinFood tomato jelly lip tint, $9 each, SOKO Glam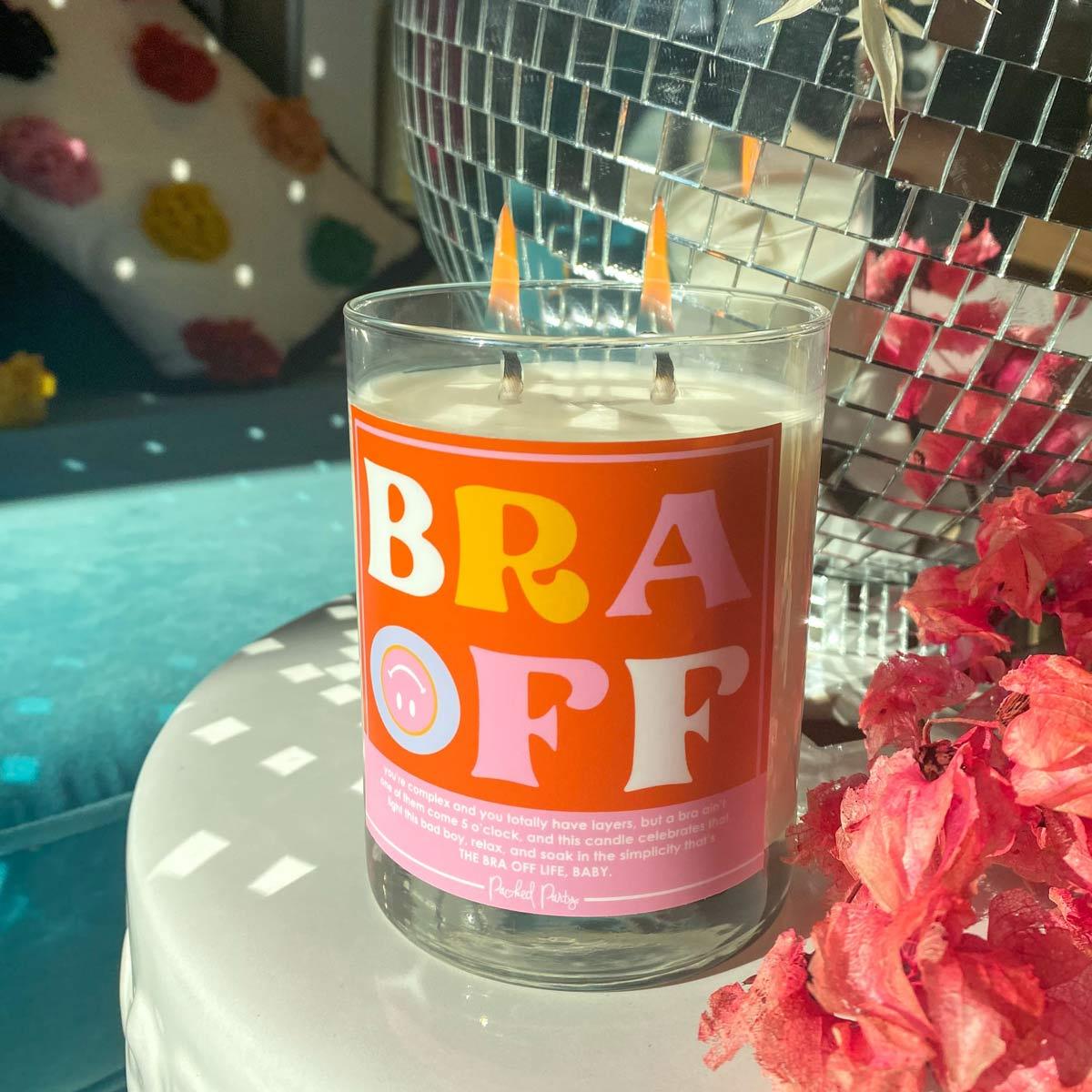 Playful scented candles
This colorfully labeled candle makes one heck of a giveaway for bach party games. Sandalwood and amber form the base notes of this beautifully scented candle, with light notes of jasmine and grapefruit adding the finishing touches. The result? A scent that's so relaxing it's pretty much on par with taking off your bra at the end of a long day.
Packed Party Bra Off candle, $34, Packed Party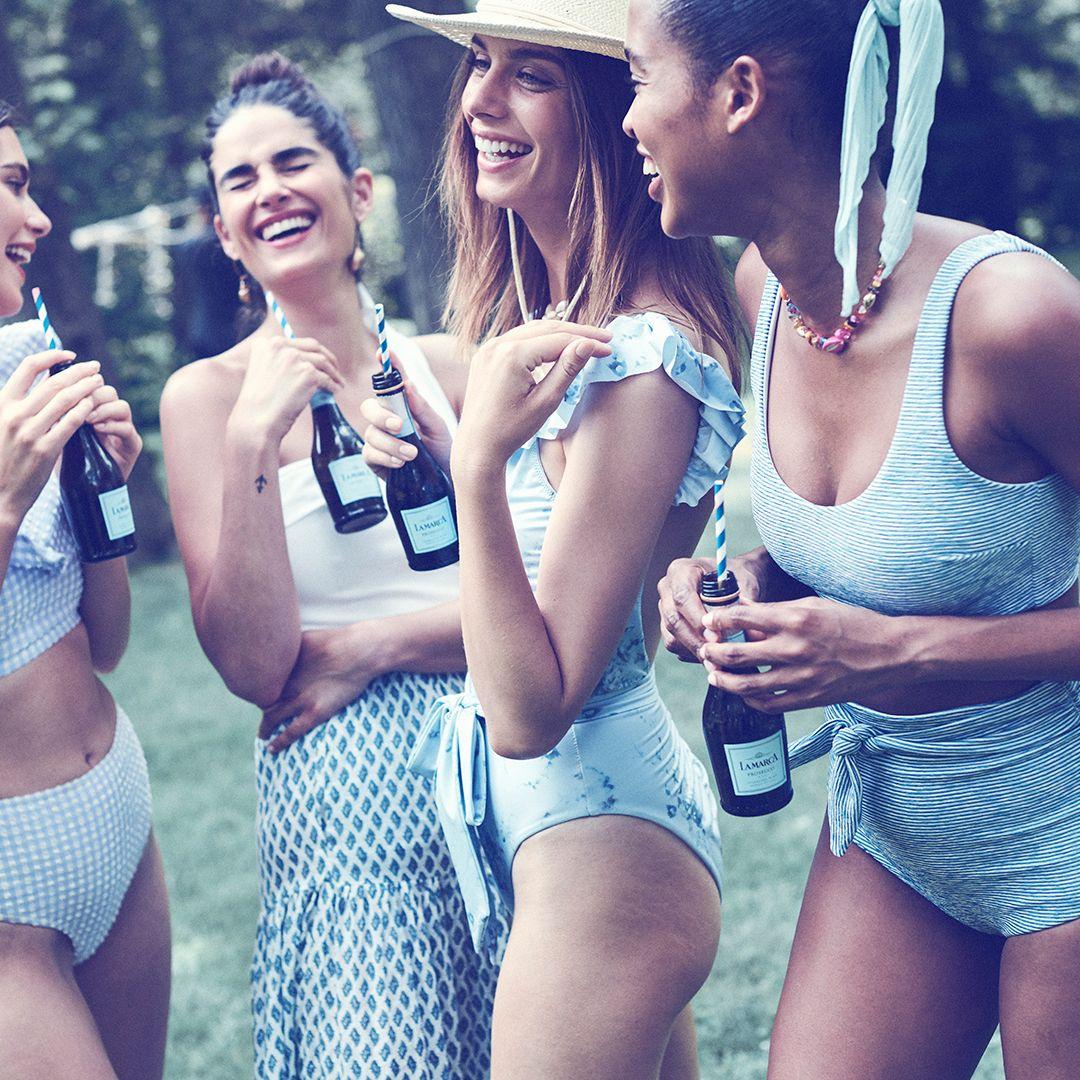 Mini champagne bottles
Miniature bottles of bubbly are essential bachelorette party favors that'll make kicking off the celebrations a breeze. Up the ante by adding custom labels to your La Marca prosecco with the brand's online label-making service.
La Marca prosecco, prices vary, Drizly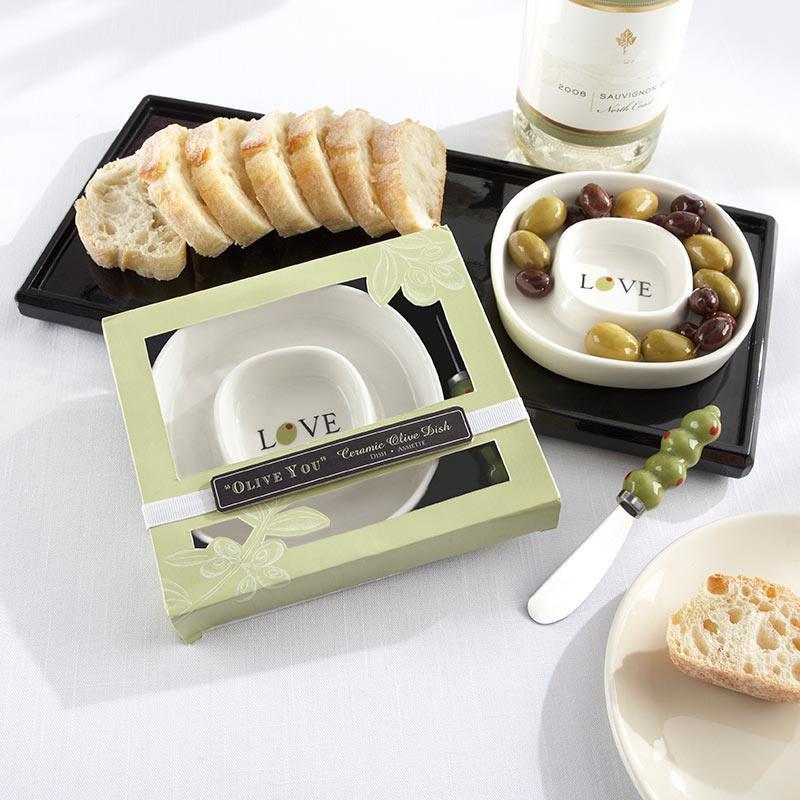 Punny olive dishes
You'll find lots of good bachelorette goodie bag ideas at Kate Aspen, like this super-cute olive tray that'll instantly up anyone's charcuterie game. It's a sweet, reusable keepsake your crew can hold onto long after the festivities end.
Kate Aspen Olive You olive tray and spreader, $5, Kate Aspen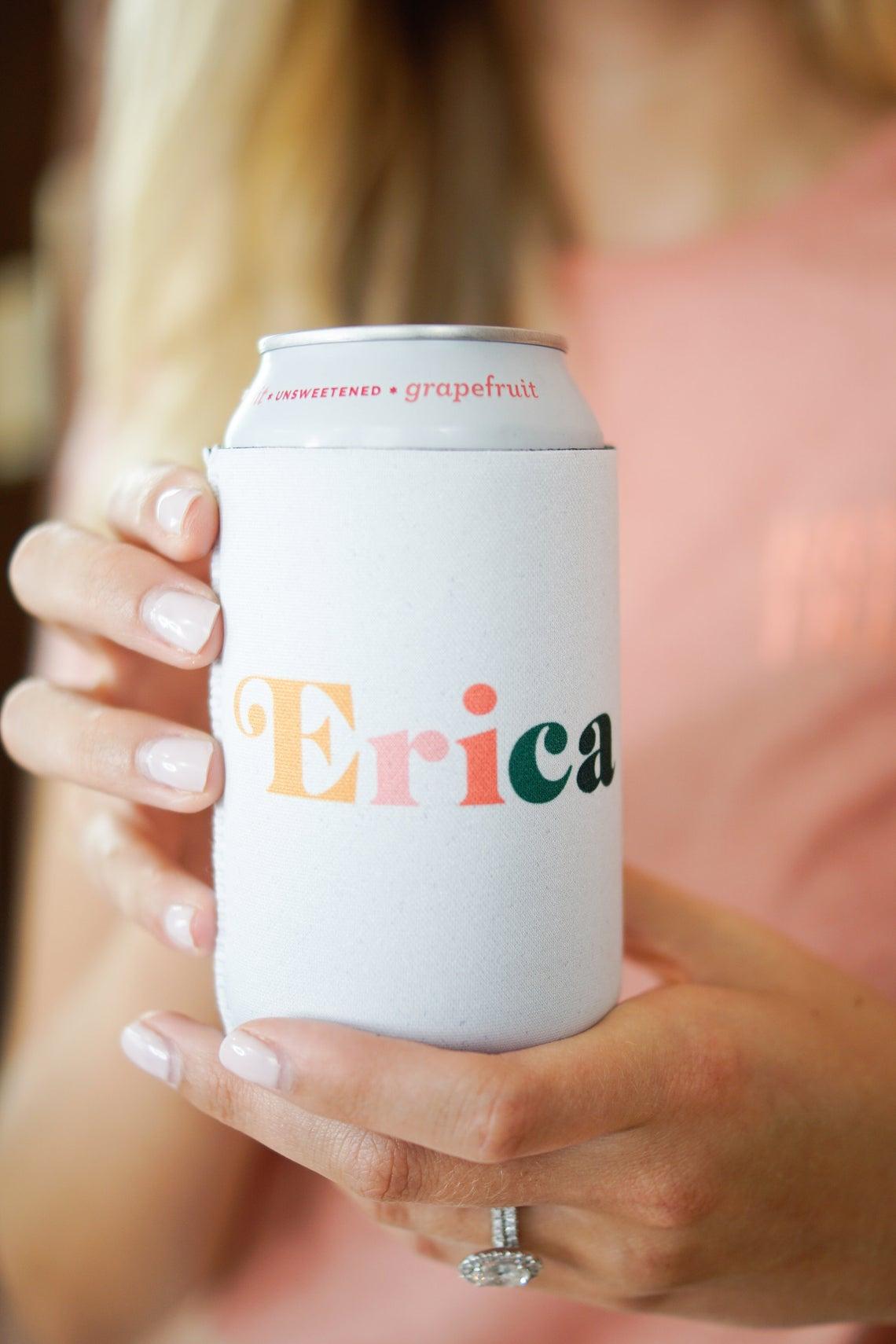 Custom can koozies
Personalized can koozies are one of the best bachelorette party favors for chilled out weekends by the pool. Have each one customized with your crew's names and wedding titles in bright, colorful lettering.
Shop Tilde custom bridesmaid can cooler, from $10, Etsy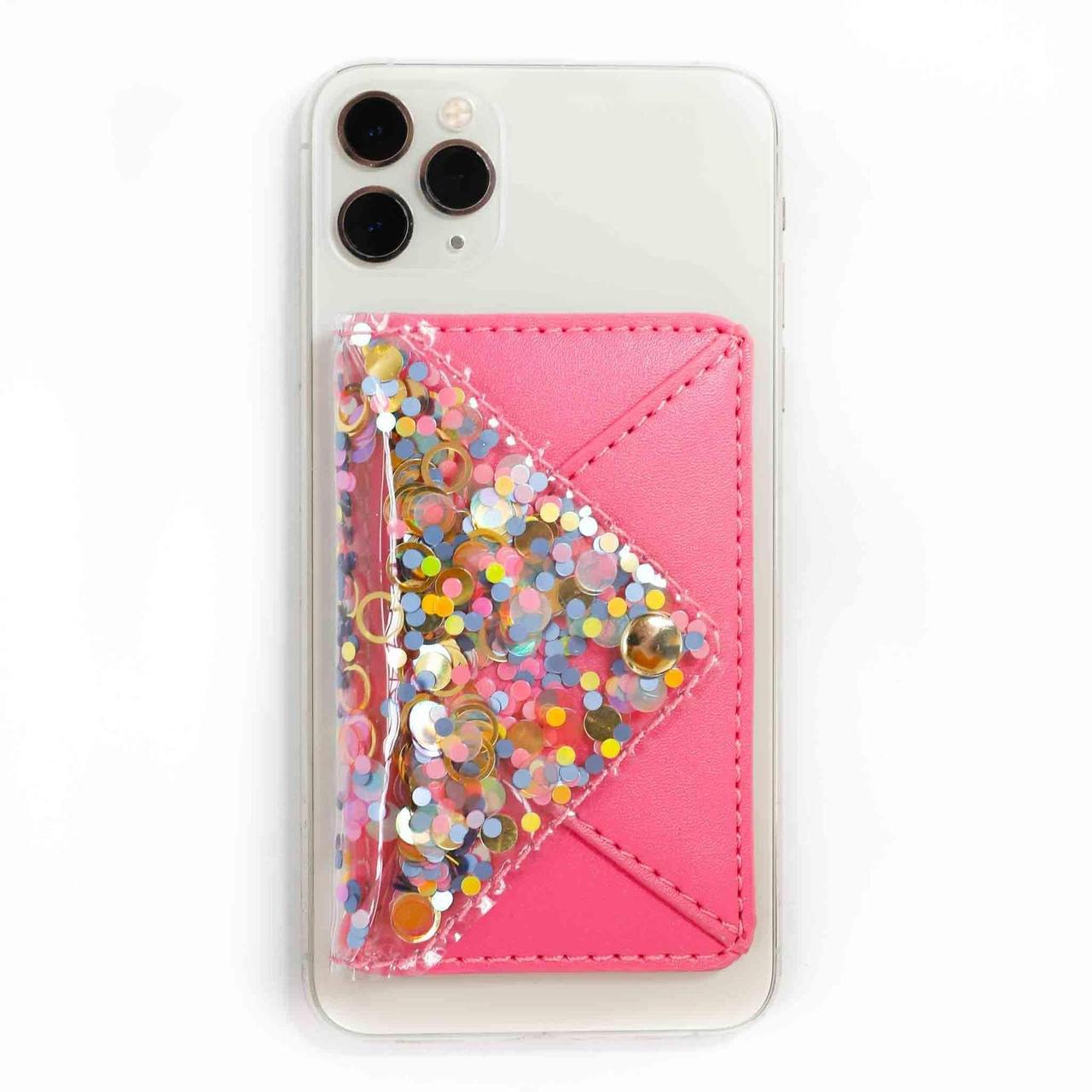 Confetti phone wallets
Who knew bach party favors could be this cute? Help your crew keep all of the essentials in one place with colorful wallets that stick to the back of their phones. It's a great place to keep ID cards and cash (just make sure to stick it on really well—there's nothing worse than losing your wallet on a girls' trip). Include confetti in the bachelorette party decorations to keep up the vibe.
Packed Party snapped together phone wallet sticker, $16, Packed Party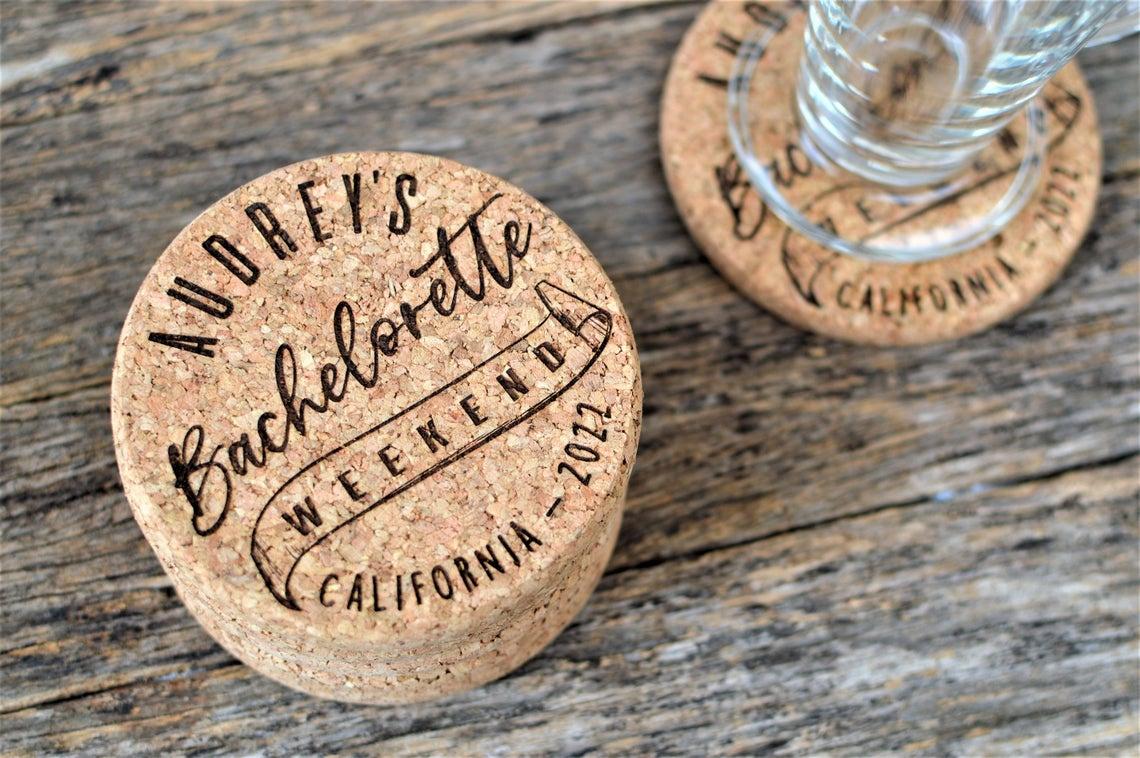 Personalized cork coasters
Wine-themed bachelorette party favors are a great idea, especially if wine tasting is on the itinerary. These unique coasters are made from cork and can be laser-engraved with the bachelorette party details, including the year, the location, and the bride-to-be's name.
All in Cork personalized cork coasters, from $14 for 4, Etsy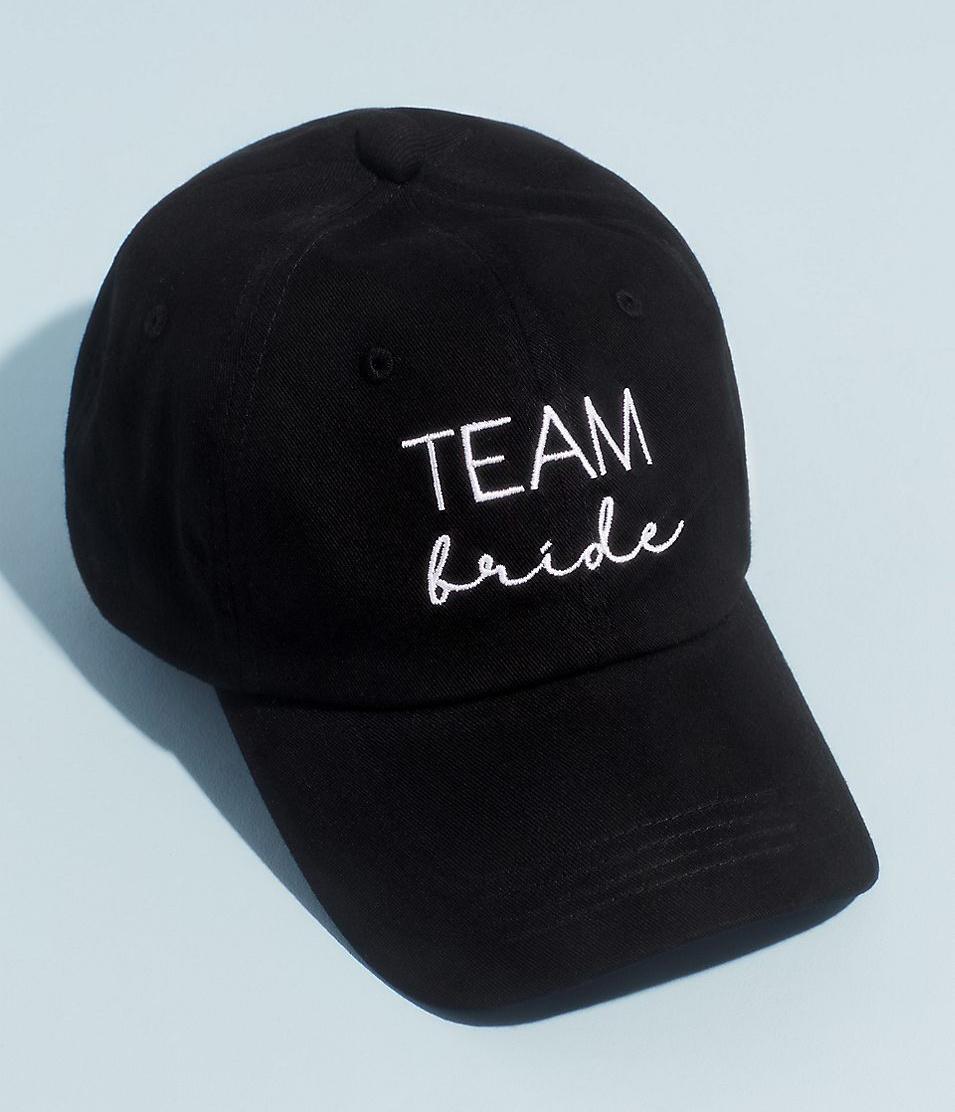 Embroidered baseball cap
When it comes to party favors for a bachelorette, items that can be worn throughout the weekend are always a big hit. These simple but stylish baseball caps are embroidered with the words "Team Bride." They're a great way to let everyone know what you're celebrating (and that's not to mention the awesome photo ops).
David's Bridal canvas embroidered Team Bride baseball cap, $15, David's Bridal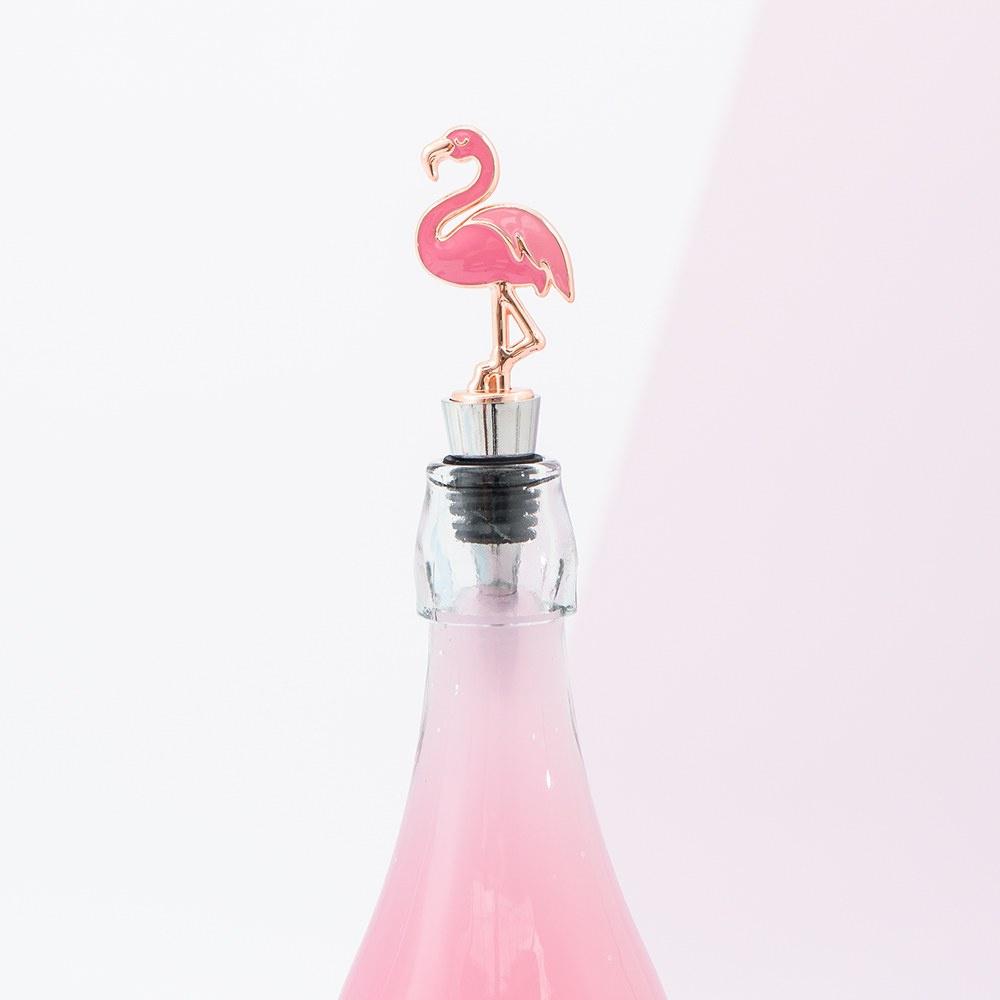 Flamingo bottle stoppers
Add one of these fun bottle stoppers to your bachelorette party gift baskets or bags, alongside a nice bottle of vino and some sweet or savory treats. We especially love the flamingo design as favors for a destination or tropical-themed bach party.
WeddingWire Shop pink flamingo bottle stopper, $5, WeddingWire Shop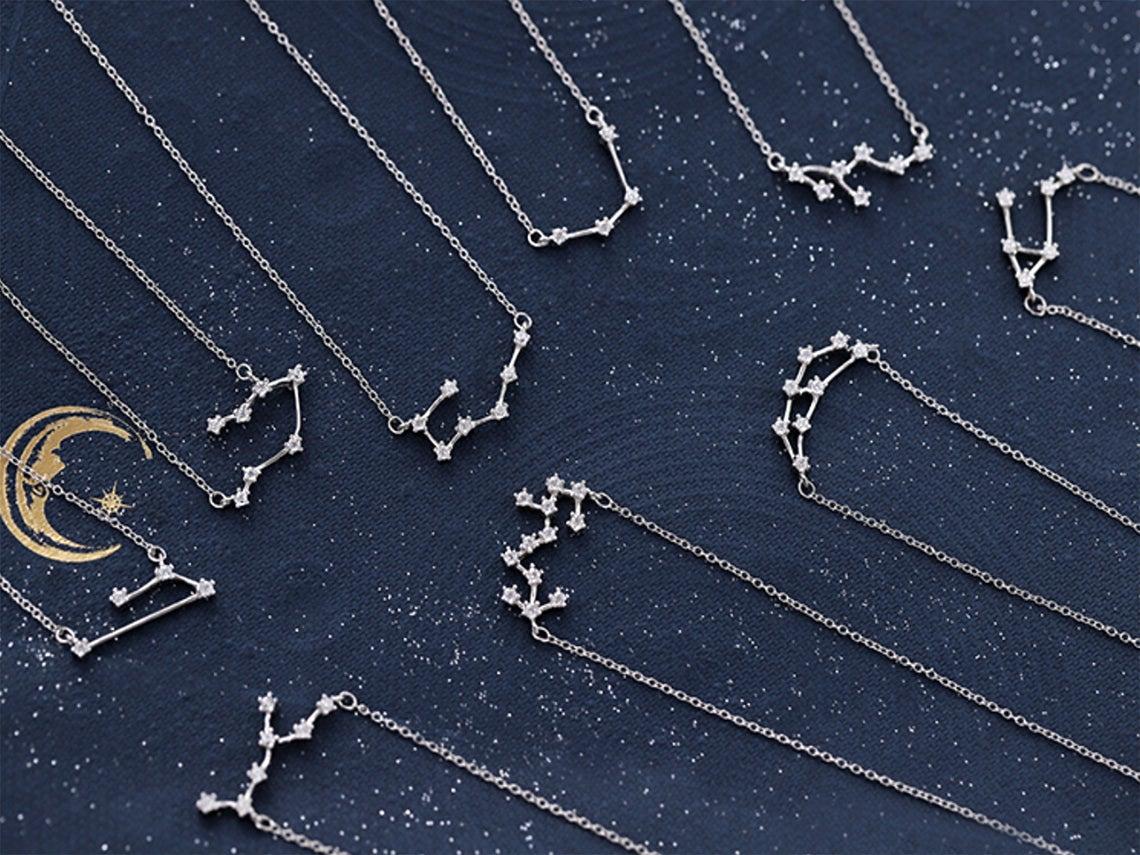 Constellation necklaces
We love the idea of zodiac or birth flower jewelry as bachelorette favors from the bride. It's a lovely way of showing your "I do" crew just how well you know them—right down to their star sign.
The Moment by SJ zodiac sign necklace, from $12 each, Etsy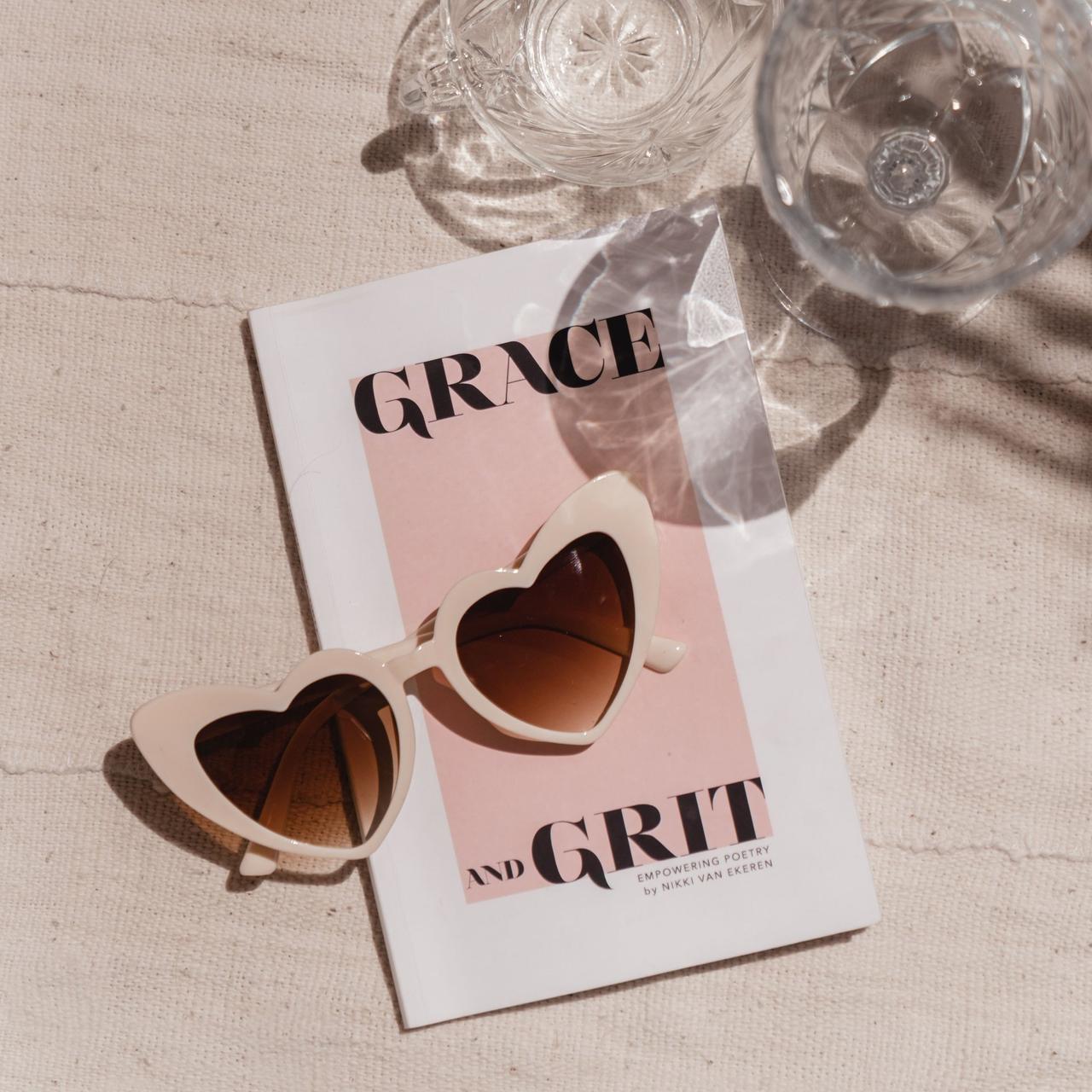 Heart-shaped sunglasses
On the lookout for pool or beach bachelorette party favors? A chic pair of sunnies is all you need. These heart-shaped shades from Birdy Grey are playful enough for group pics, but stylish enough to bring back to the real world once the festivities are over.
Birdy Grey heart sunglasses, $6, Birdy Grey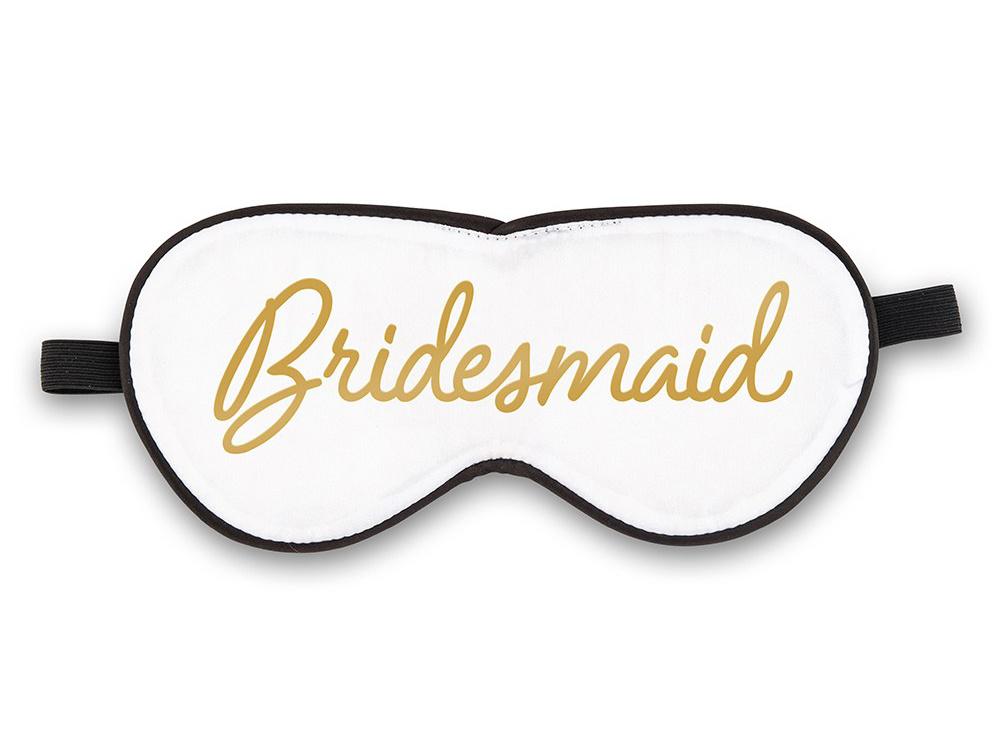 Soft sleep masks
Want some more affordable bachelorette party gift bag ideas? Give each bridesmaid a sleep mask adorned with their wedding title. They'll come in handy for catching up on some much needed downtime on a flight home after a jam-packed weekend.
WeddingWire Shop satin Bridesmaid sleep mask, $6, WeddingWire Shop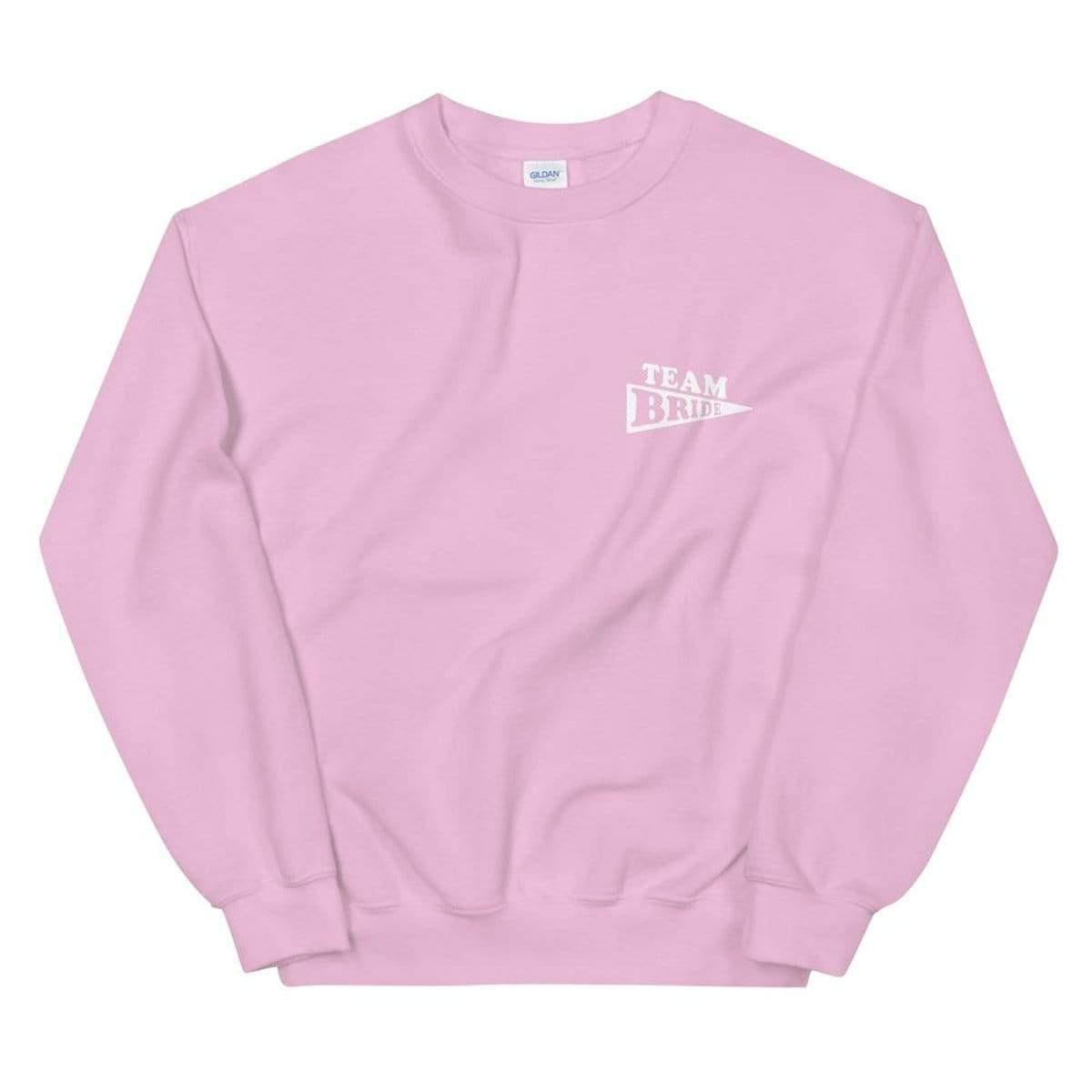 Cozy pink sweatshirts
You don't have to spend an arm and a leg to get cute bachelorette party favors for everyone. That said, if you want to spend a little more on swag for your squad, that's totally fine too! This cozy pink sweatshirt will look great in group photos (and it'll probably be their favorite loungewear afterward).
Packed Party Team Bride sweatshirt, $50, Packed Party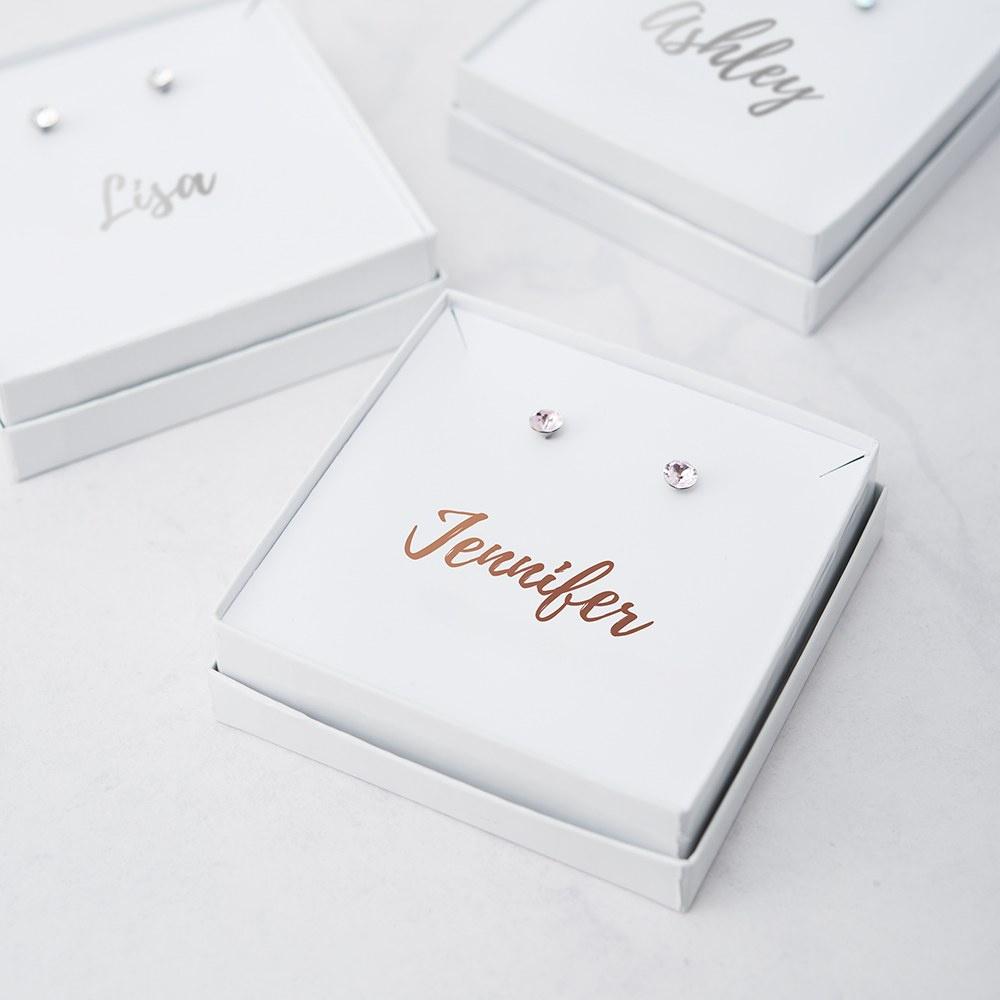 Classic crystal studs
Jewelry is a cute and classy bachelorette party favor idea, but affordability can be an issue when it comes to sourcing something nice for every attendee. Luckily, WeddingWire Shop has a selection of affordable Swarovski jewelry under $30 that's basically made for gifting. These crystal stud earrings are understated and versatile, meaning they'll go with pretty much anything.
WeddingWire Shop Swarovski crystal round stud earrings, $16 per pair, WeddingWire Shop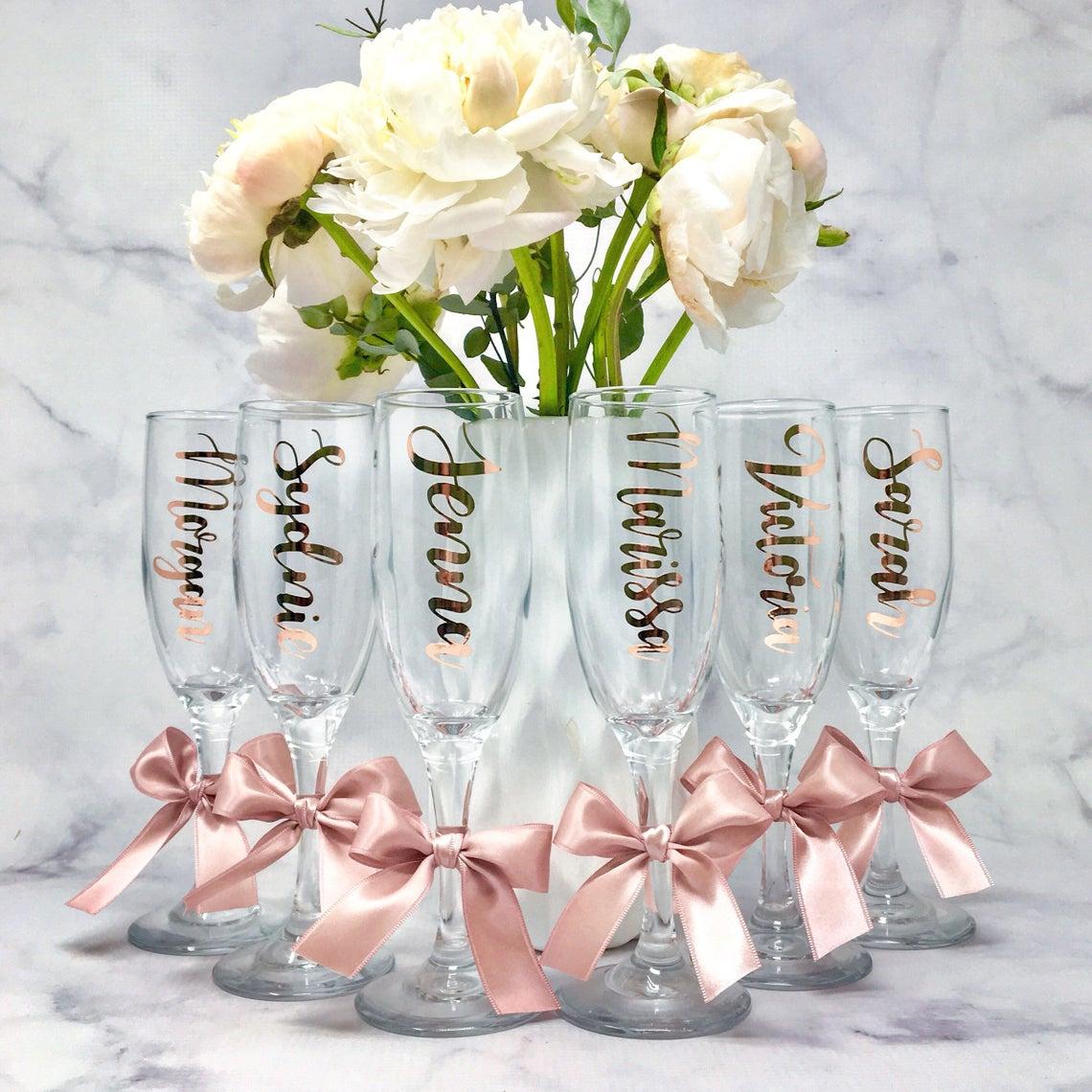 Elegant champagne glasses
Personalized wine glasses are another super popular gift idea that's fully reusable. Choose between 21 different color options for the names, including on an on-trend metallic rose-gold hue. For an extra-polished finish, attach bachelorette party favor tags to each one before handing them over.
California Calligraphy personalized champagne flutes, from $11 each, Etsy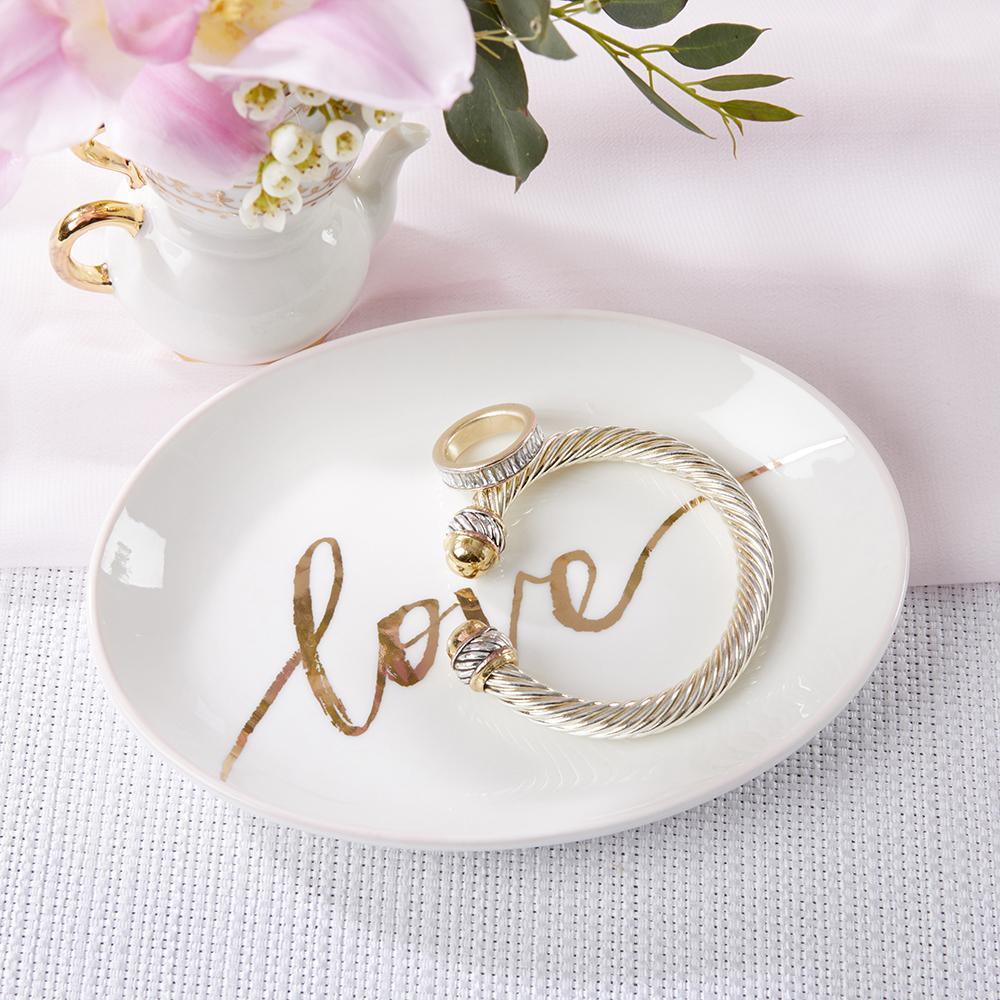 Pretty trinket dishes
Your crew won't be expecting anything this stylish and useful in their bachelorette party favor bags. This ceramic trinket dish is a lovely memento they can use to store their keys, jewelry, or other bits and bobs around the house. The gold "love" decoration is a sweet reminder of what you're all celebrating.
Kate Aspen Love trinket dish, $5, Kate Aspen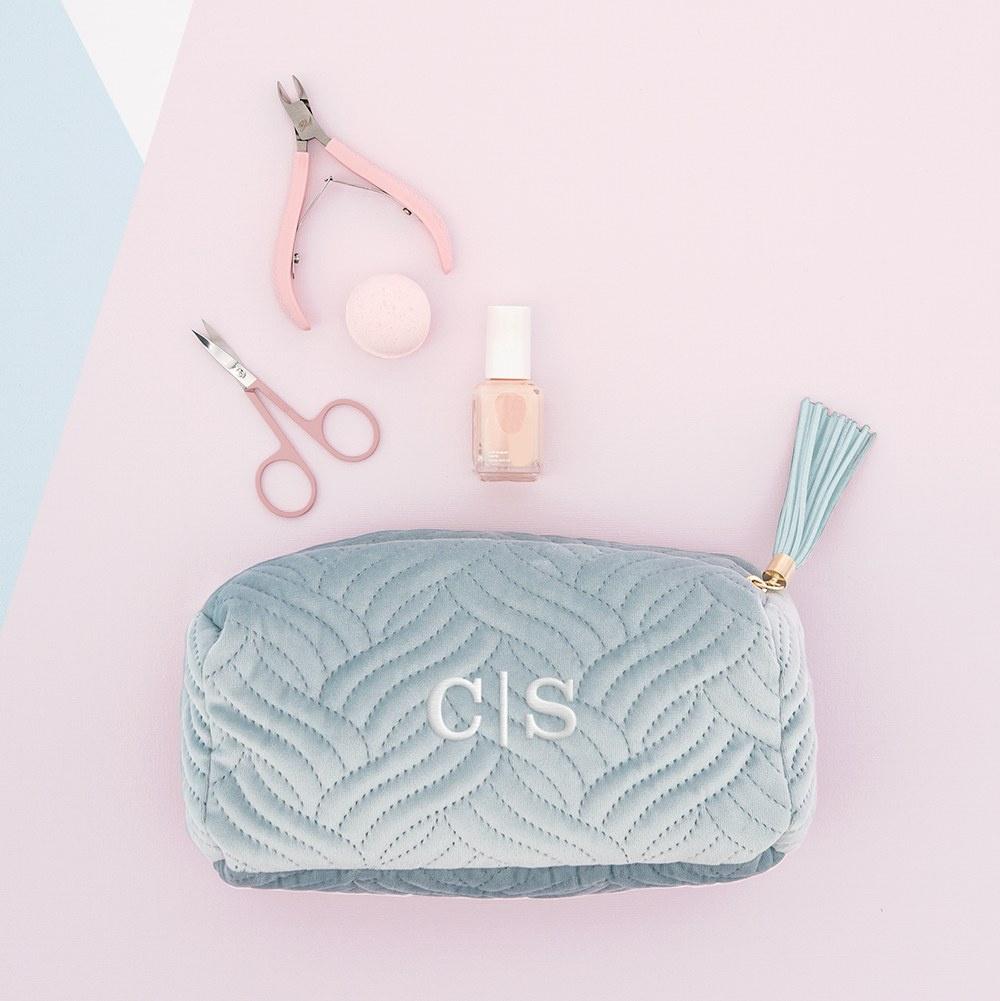 Monogram makeup bags
Deciding which favors to buy for a bachelorette party can be tricky, especially if everyone in your crew has different tastes. What we love about this chic makeup bag is that it comes in five different colorways and can be personalized with a monogram in 15 different thread colors. You can customize each one to suit the person it's for.
WeddingWire Shop small personalized velvet quilted makeup bag, $13, WeddingWire Shop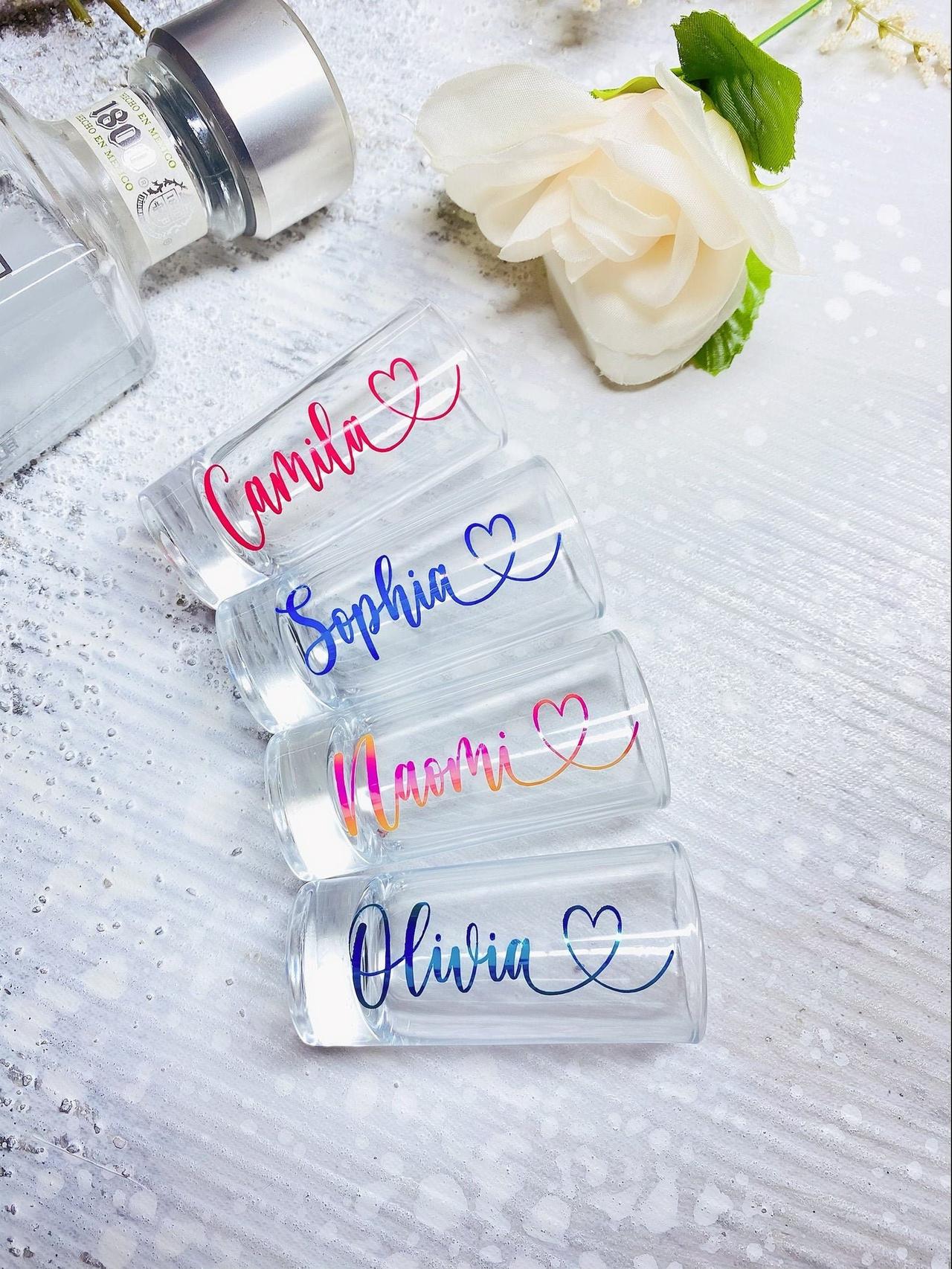 Personalized shot glasses
If you're planning on putting together DIY bachelorette party favor bags, consider adding a personalized shot glass to each one. The Etsy seller offers 20 different font styles in over 30 colorways, so you can really make them your own. (And if you plan on putting them to use, you might want to include hangover recovery kits in your bachelorette party supplies too.)
Perfect Gift 4U personalized shot glasses, from $4 each, Etsy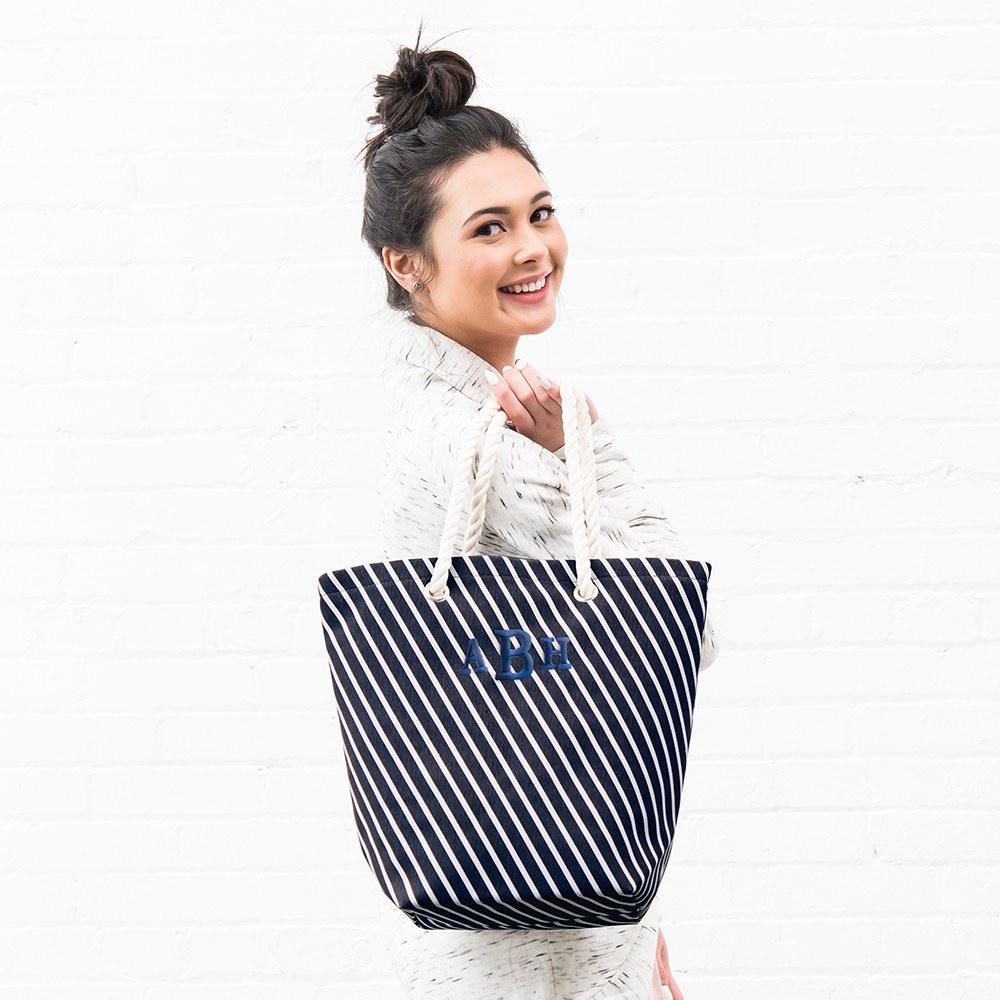 Beach-ready tote bags
Tote bags are the perfect bachelorette party favor for beach celebrations. Go all out by stocking each one with some sunny weather essentials, like mini bottles of sunscreen, matching shades, and beach towels.
WeddingWire Shop large personalized striped cabana tote bag, $11, WeddingWire Shop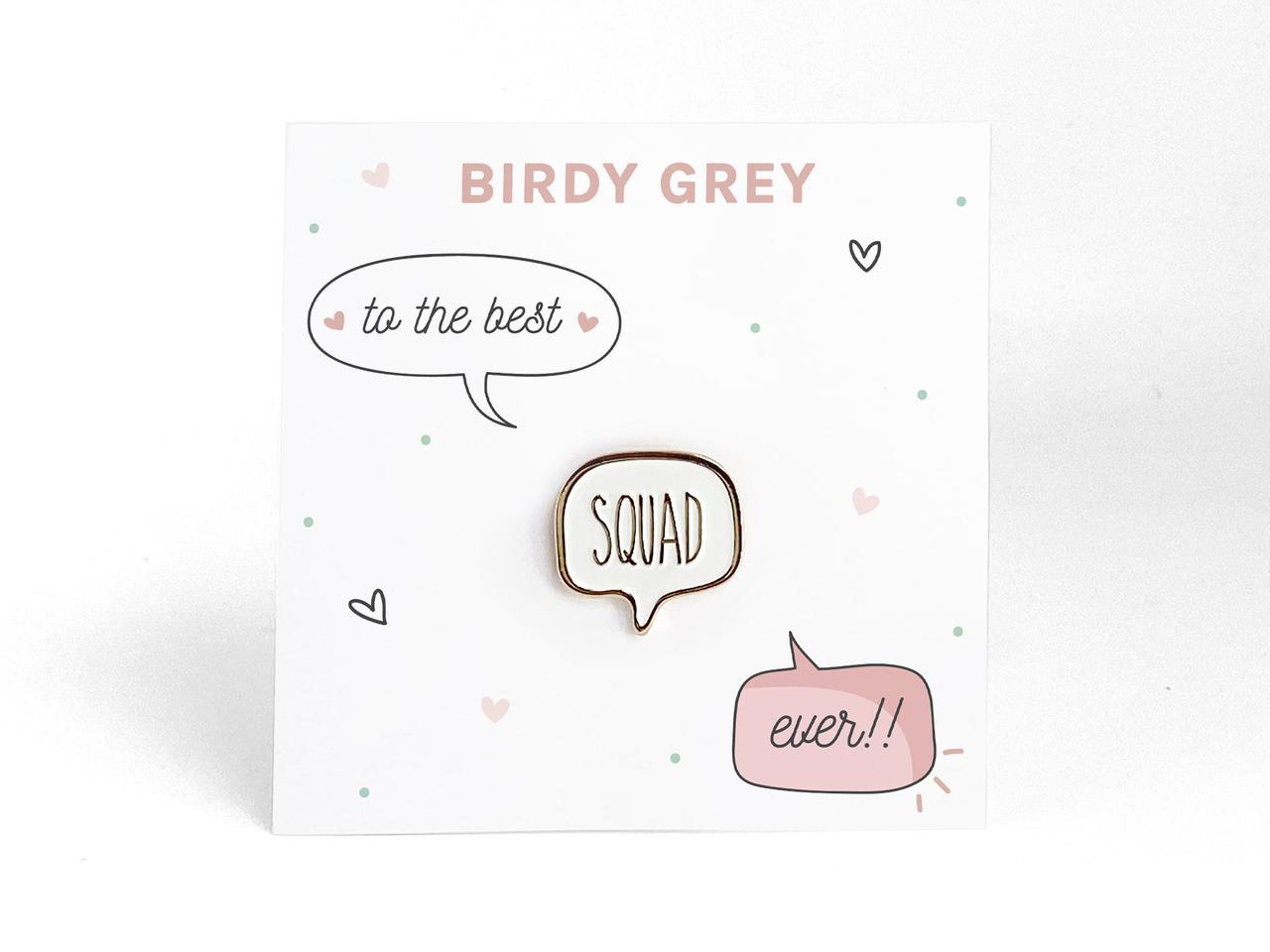 Versatile enamel pins
Let the wedding party know they're the "best squad ever" with this adorable enamel pin. It's a small but sweet addition to bridal party gift boxes that'll always remind them of your incredible bachelorette bash.
Birdy Grey Best Squad Ever enamel pin, $6, Birdy Grey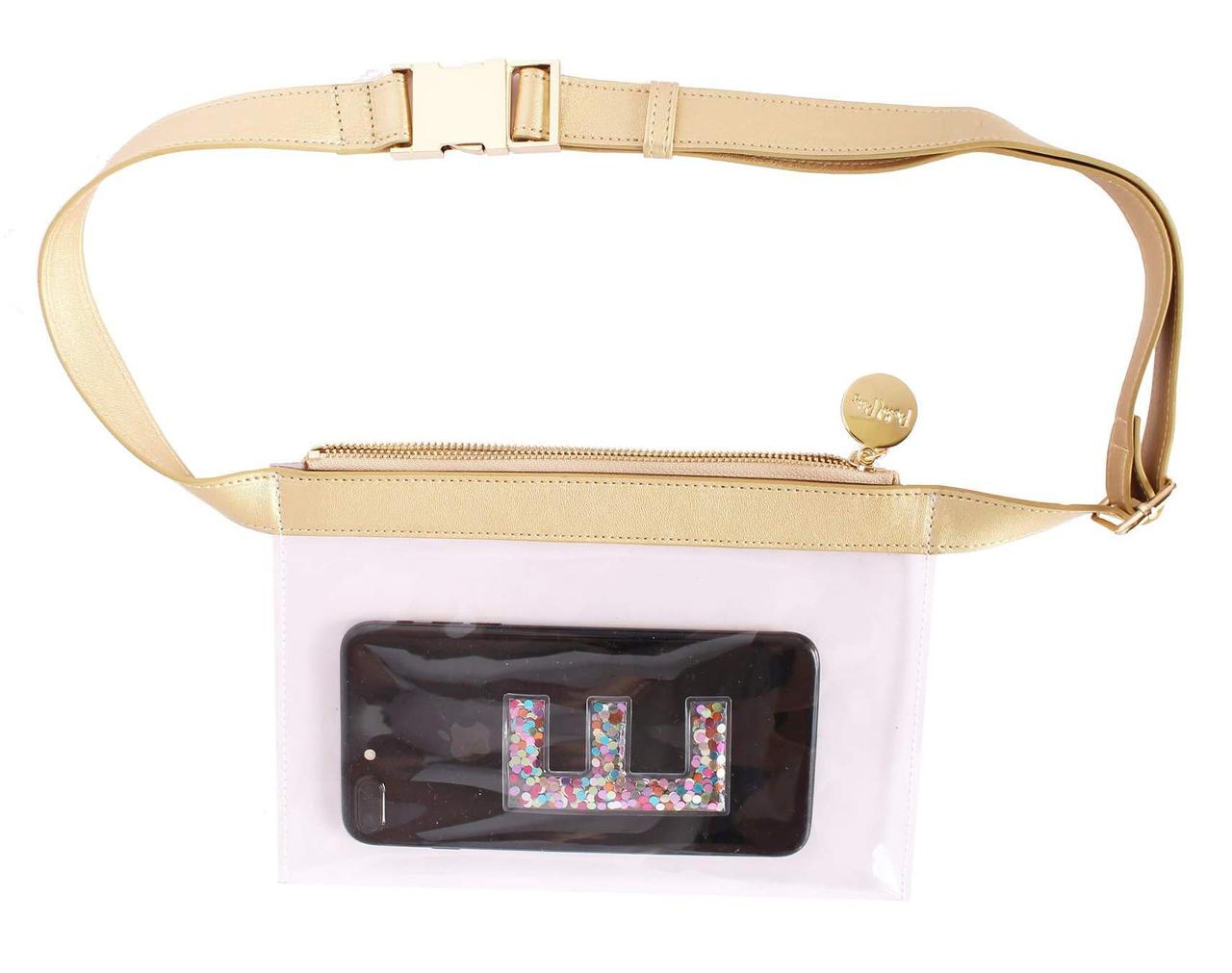 Stylish fanny packs
How about this creative bachelorette party favor for your best friends? Fanny packs are making a comeback and we're totally here for it. This handy see-through bag isn't just great for travel, it also offers hands-free storage when you're out on the town.
Packed Party Clearly Fun fanny pack, $24, Packed Party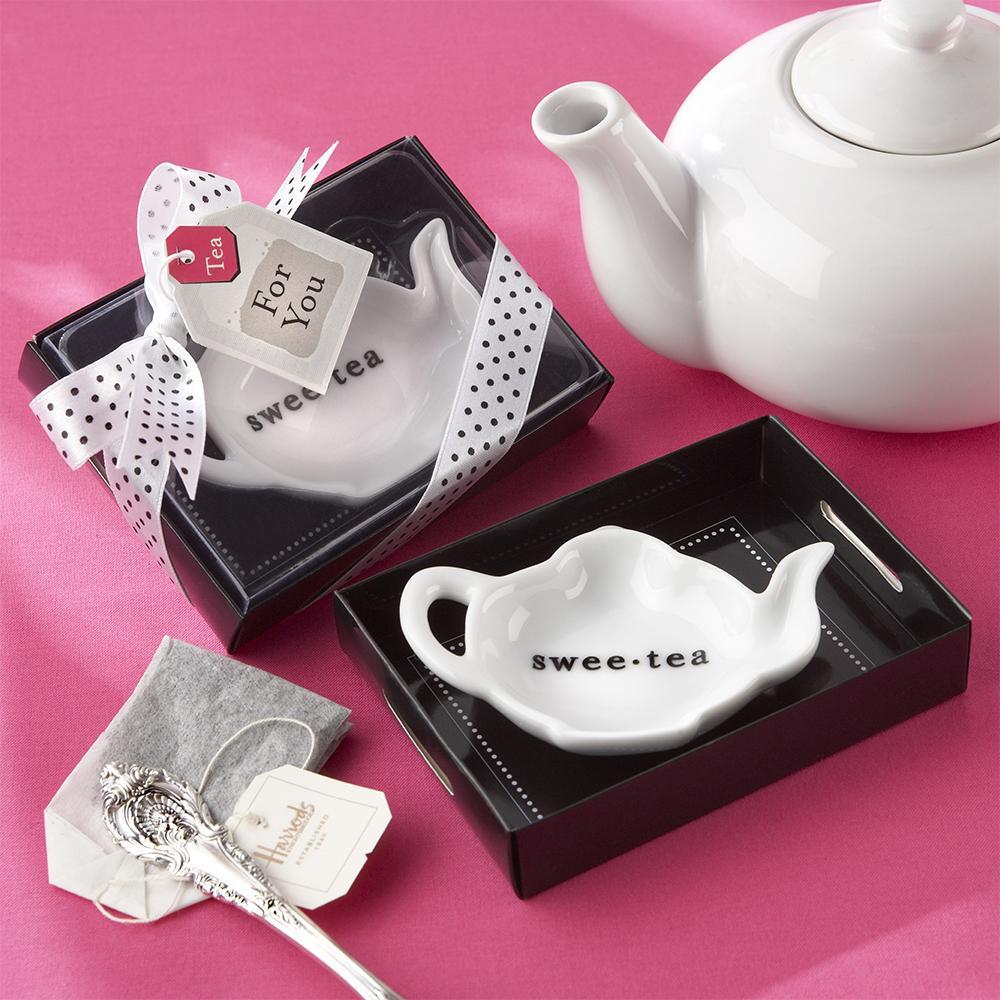 Cute tea caddies
Everyone will appreciate the cute, heartfelt pun on this teapot-shaped dish. If the bride-to-be's drink of choice is tea rather than tequila, favors like this are a lovely way to reflect the celebration. They're also excellent bridal shower favors if that's on your calendar too!
Kate Aspen Swee-Tea ceramic tea-bag caddy, $3, Kate Aspen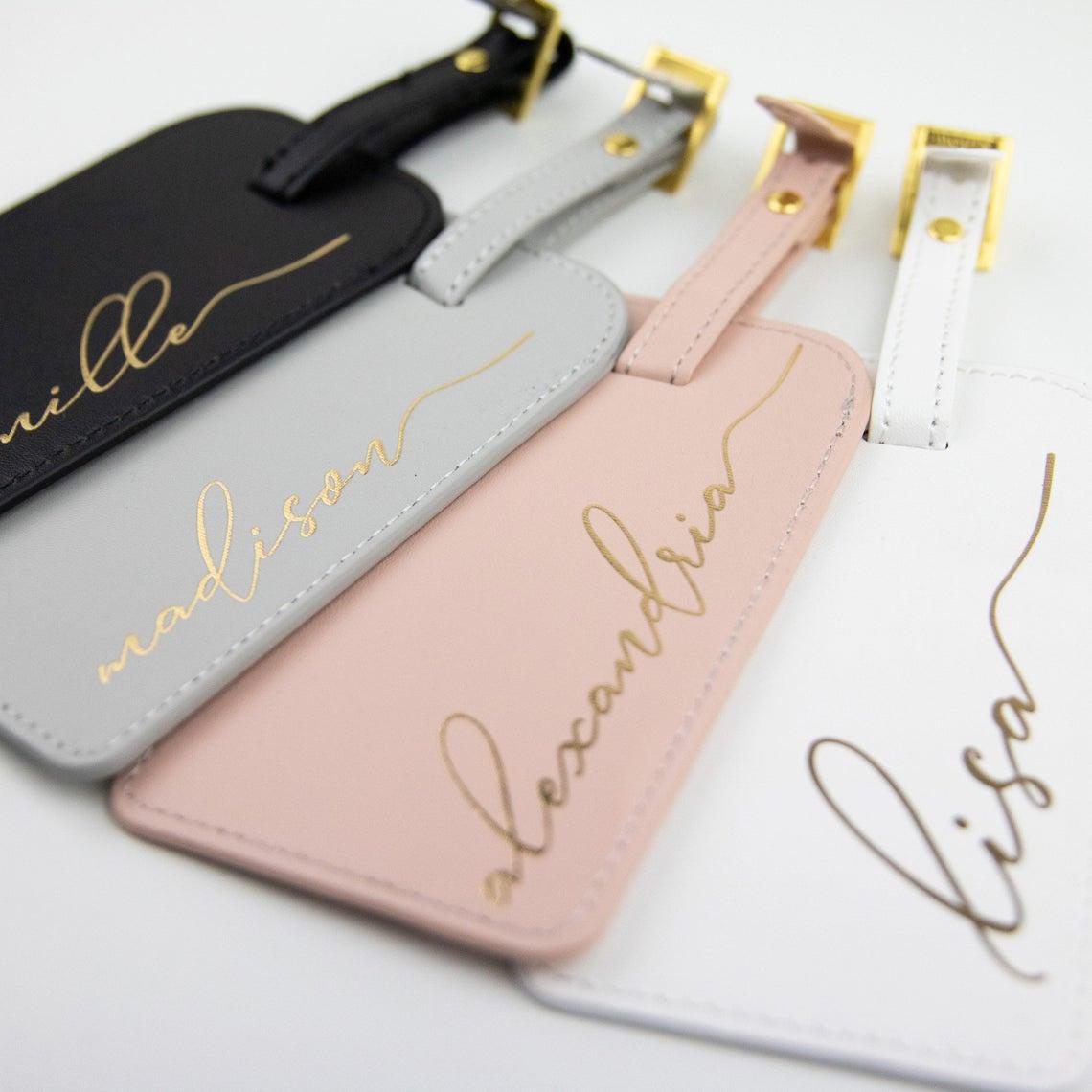 Leather luggage tags
Stow these faux leather tags in your bachelorette welcome bags so your besties can attach them to their luggage for the trip home and any future travel.
Three Two 1 faux leather signature script luggage tag, $14 each, Etsy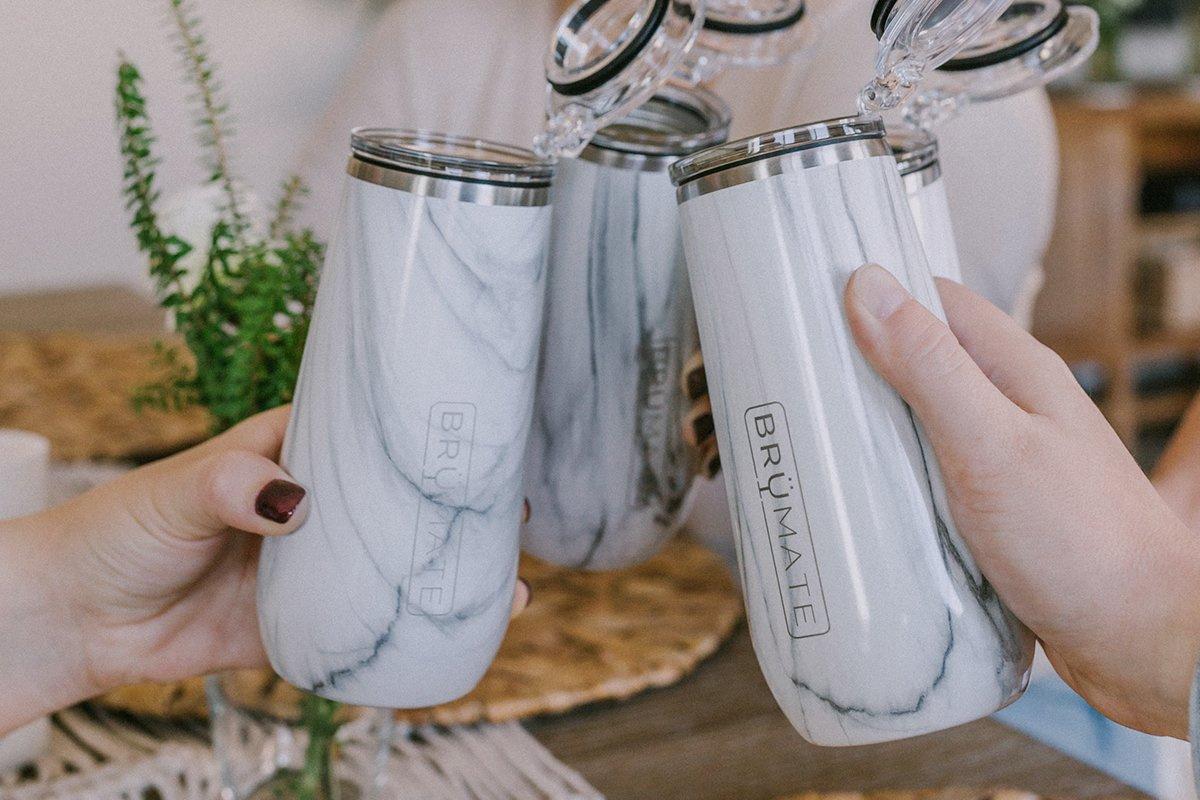 Elevated travel tumblers
Treat everyone in your crew to matching wine or champagne tumblers they can take with them wherever they go. This on-the-go drinkware is a pretty good bridesmaid gift at any point of wedding planning, but it's especially useful for bach weekends—whether you use them to sip water or rosé is up to you.
BrüMate wedding collection, prices vary, BrüMate