Who Pays for What at the Bachelorette Party?
If you're wondering who pays for the bachelorette party, the short answer is: Everyone! Read on for more info on exactly who pays for what.
We have included third party products to help you navigate and enjoy life's biggest moments. Purchases made through links on this page may earn us a commission.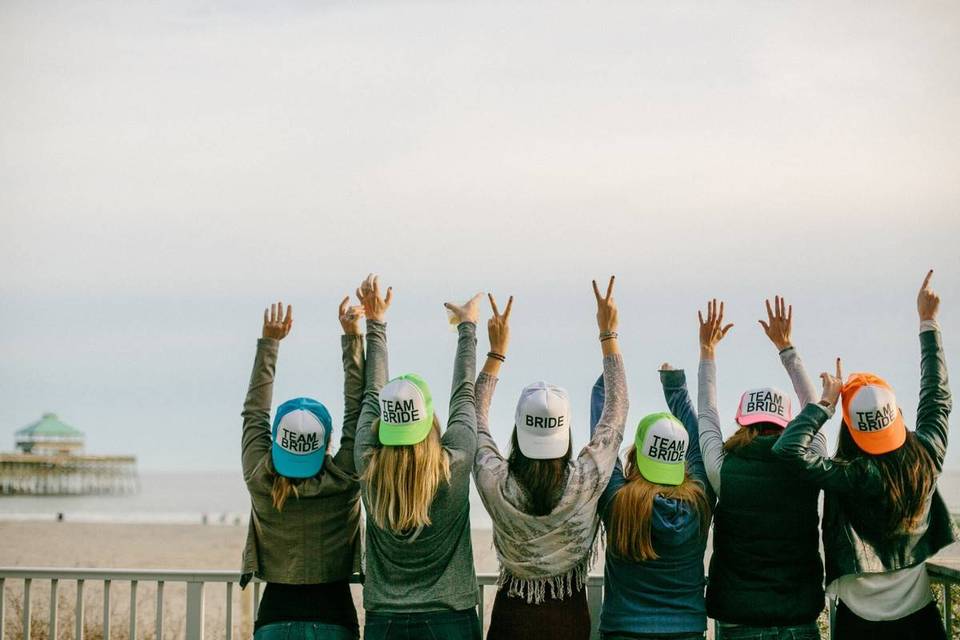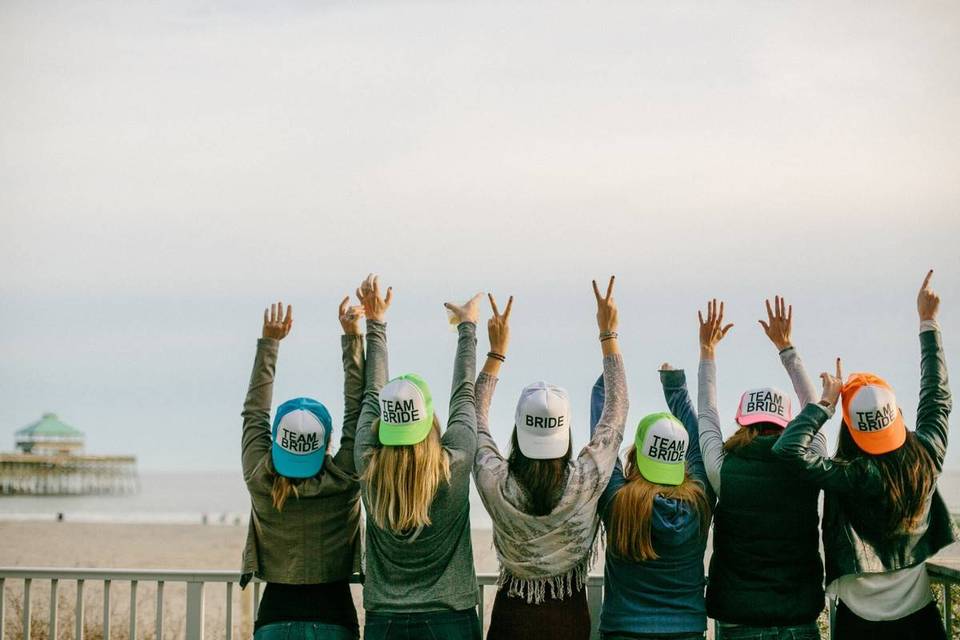 Bachelorette party planning time can feel like sweet respite from the daily demands of wedding planning—just a bride, her besties, lots of champagne, and even more laughs. But when it comes to who pays for what at the bachelorette party, things might not seem so simple. Is the bride expected to bankroll the whole thing as a gift to her girls? That doesn't seem fair—she's already financing an entire wedding! Are the 'maids supposed to fork over the funds to bring the brides' dream bach' to life? That doesn't seem fair—they've got their own lives to pay for! So—once and for all, who pays for the bachelorette party? The short answer is: Everyone!
And now, for the long answer. Here's who (in an ideal world, anyway) should pay for the bachelorette party.
Travel and accommodations: Everyone pays for their own.
If it's a destination bachelorette party, everyone who's invited should be informed of this way ahead of time and given time to save for and book their own travel and accommodations. That's one of the reasons guests should be invited with plenty of lead time to any bachelorette party that takes place somewhere other than where you live! Yes, this could get expensive, but it's all part of the experience—and ideally, the destination will be chosen with all potential guests' budgets in mind. No one should be expected to give the bride a free ride to her bachelorette—if she expects you all to party in Cabo San Lucas, she should at least pay her own way there! Hacks like Airbnb and carpooling can help reduce costs so everyone can afford to join the fun, but if the price tag is looking quadruple-dollar-sign, everyone has the right to bow out (and/or suggest a cheaper destination!).
Meals: Bridesmaids pay.
Just like how you and your friends would split a tab for a friend's birthday dinner to treat her, bridesmaids should split the cost of meals out to treat their bride. It will be a small extra expense for the 'maids, but it's a lovely token of love, appreciation and celebration for the bride that'll make it totally worth it. To keep costs manageable, shoot for casual restaurants, take-out, or even a cook-in-the-Airbnb night, and pick one more upscale restaurant to eat at for the big finale. Outside of meals, drinks are a toss-up—you'll figure it out as you go, but for the most part, aside from a gifted round here or there, people should consider paying for their own, since everyone drinks differently. And if you're the bride, it's not a bad idea to pick up the tab for one meal out as a thank-you to your generous crew.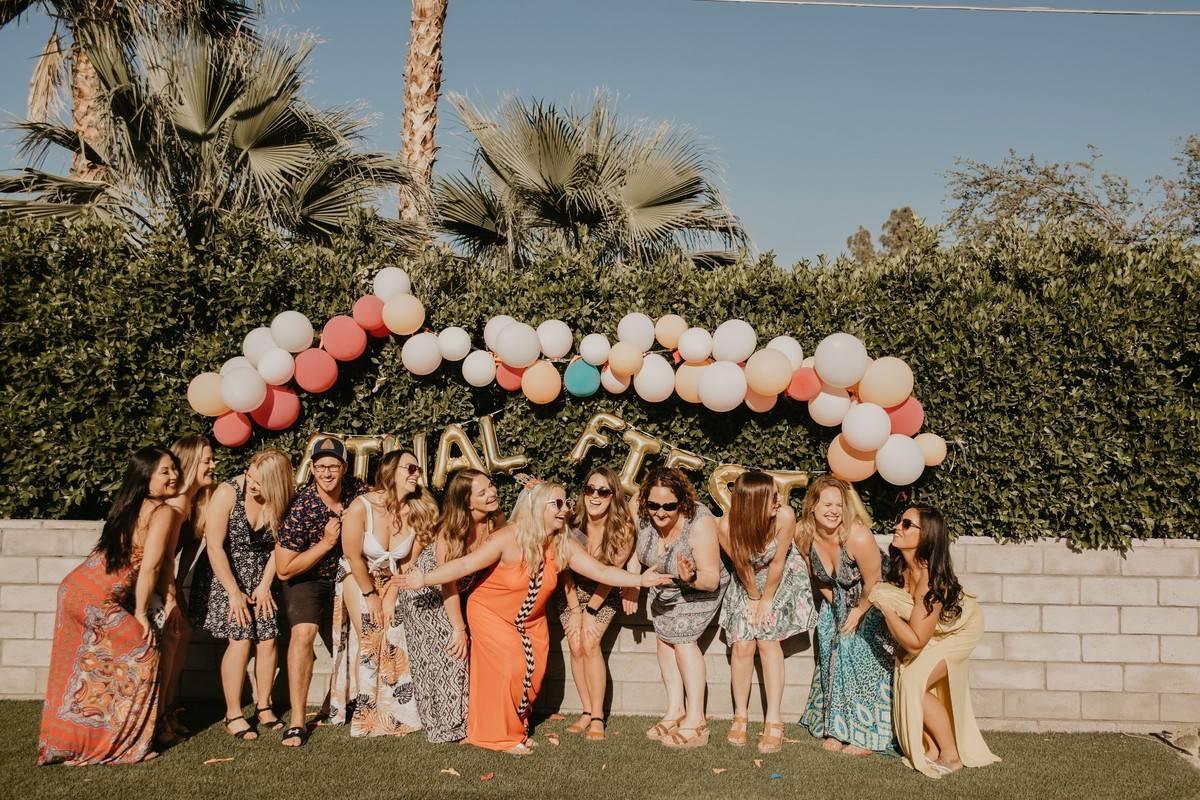 Decor: The MOH and/or 'maids pay.
One of the best parts of planning the bachelorette on behalf of the bride is surprising her with fun (and sometimes silly) decor to make her party all the more memorable. That's why the cost of these party favors usually falls on the maid of honor and the rest of the party guests. How your group splits that up is up to them—maybe the MOH feels it's up to her to cover everything, maybe she allocates each guest a specific item to buy, or maybe you all collectively tally up the price of everything and split it evenly. These items shouldn't be a financial burden on anyone, however—most of it can be bought pretty cheaply online and everyone should be wary of going overboard. All of you together celebrating your bride is what really makes the party special, not the amount of balloon sculptures you have. To keep costs on the chill side, shoot for this quota for decor: One thing personalized (like silly tattoos!), a handful of pretty decor pieces (like streamers), and a few fun props to scatter on tables here and there.
Swag and gifts: It's a toss up!
Since decor is up to the 'maids and MOH, it may seem like it's the MOH's responsibility to cover party favors, souvenirs, and gifts for the whole crew on behalf of the bride. But, that's not always the case. Gifts can be paid for by the bride, the maid of honor, or the bridesmaids. The bride will already be gifting her party on the wedding day and the 'maids and MOH are already paying for a lot , so these gifts don't need to be anything over the top expensive (WeddingWire Shop is a great place to look)—just a fun memento to take from a magical weekend, or a token of her thanks for spending the time and money on making her bash extra special. Personalized wine glasses, matching bridesmaid t-shirts, or tote bags are perfect ideas.
Special experiences: It depends.
This one's a tossup. It's really about whose idea the experience or excursion is. If the bride really wants everyone to see a show while you're in Vegas and tickets cost an arm and a leg, she should treat everyone to tickets—the cost of the trip and everything it entails is already a lot to expect of each guest. If the bride can't cover the cost of everyone attending an experience she really wants to do, the experience should be optional or switched out for something cheaper! It's that simple. On the other hand, if there's an event or experience the guests want to surprise the bride to during one night of her party, that should be paid in full by the group (you could even hit up the bride's partner if you like!). No one should be billed for something they didn't opt into—and a little surprise for your bride might just make her bachelorette party that much more unforgettable. Just, as always, don't overdo it—no one should go broke in the process! Oh, and one more thing—if the bride's spouse-to-be has an idea for a special experience to treat his bride to during her party, it should be just that: their treat! (Not the responsibility of the 'maids or MOH.)
Safety Measures: The bride pays.
As a courtesy to her besties, the bride should be the one to cover costs of things like chartered rides (to get you all safely to and from parties) and anything else that may keep you safe while partying your hearts out. It may seem like small potatoes in the grand scheme of things, but planning and paying for safe transport is just the right thing to do for the crew that's agreeing to travel to the ends of the earth and party their pants off in celebration of you getting married. Maybe it's a $10 Uber back to the Airbnb, maybe it's a $1,500 hired car that takes you everywhere, all weekend long. Whatever it costs, it's worth every bride's investment so she knows that she and her crew get to feel taken care of so they can focus on having fun and making memories.
Disclosure: This post contains affiliate links, some of which may be sponsored by paying vendors.