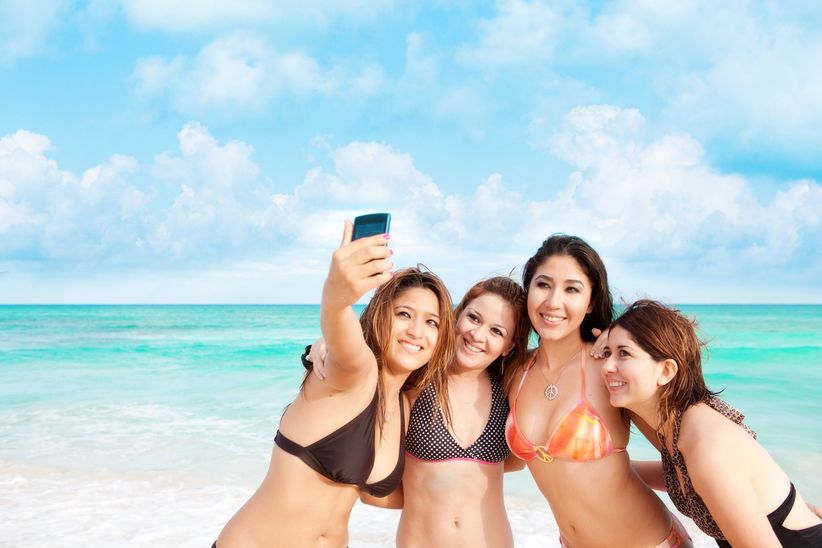 A Cabo San Lucas bachelorette party is the perfect beach getaway. From historic San Jose to the 20-mile long stretch of beach and resorts in Los Cabos, this is the ultimate Mexico bachelorette party destination for sun-loving brides, who also love to eat well and party through the night.
Plan your Mexico bachelorette party with this guide to Cabo San Lucas.
What to Do
Of course you can spend the day at the beach or by the hotel's pool, but there is plenty more to do on a Mexico bachelorette party in Cabo San Lucas—on the water and off.
For the ocean-loving group, book a private boat (yes, yachts are aplenty here!), for a cruise or snorkeling trip. Companies like Cabo Sails are built for bachelorettes, with premium bars aboard their sailboats and catamarans, and plenty of underwater adventures to be had. Or try Cabo Adventures for a different type of fun: along with luxury day sailing, they offer swimming with whale sharks (season-depending), a zip-lining tour, and even a camel safari on the beach.
With tons of resorts dotting the shoreline, there are plenty of seaside spas to grab some R&R. You and your girls should book treatments at One&Only Palmilla. Nestled in lush tropical gardens, this spa has a cold and hot pool, yoga garden, and outdoor cabanas where you can relax or get a treatment. Another resort, Rancho Pescadero, offers classes you and your girls have got to try. Choose either the farm-to-table cooking class, where you'll learn to make local specialties from their organic garden, or the farm-to-glass mixology class, where you'll whip up (and taste) three original craft cocktails.
Downtown Cabo has so much to offer, but don't miss a visit to the old-school San Jose. A time warp, this Mexican village features stunning colonial villages, plenty of shopping (bring an extra suitcase!), and an art district where you can take night walks through the various galleries.
Looking to get a sense of culture and place with a drink in hand? At Drift San Jose you and your gals can spend the day (or night) doing a Mezcal tasting of more than 20 varieties (remember to hydrate in between!). Or go back to downtown Cabo for the Cabocrawl, an all-inclusive bar crawl on steroids, including five hours of open bar and reserved tables at three bars and clubs.
If you'd rather guide yourself, you can always hit the standard spots like Cabo Wabo, but for real fun, be sure to stop at Mango Deck, where you'll live out your spring break days all over again at this beach bar. Bar Esquina is another must-go, with its pool bar and live music. And of course, there's Squid Roe. Not just a clever name, this iconic nightclub has an open air dance floor, and waiters equipped with spray tanks of tequila.
Where to Eat
With all the tequila you'll drink on your Los Cabos bachelorette party, you'll need some grub to keep you going. And you won't be wanting here. For the best brunch, head to Flora Farms, reservation required. In this open-air pavilion, you'll enjoy foods made fresh from the 150-acre ranch, which you can also tour. The menu changes seasonally and based on availability.
For a slightly fancier morning, head to Sur, where your day can start with fresh juices and smoothies from the morning bar, accompanied by the breakfast of your dreams, be it avocado Benedict with hollandaise pesto or chile rellenos, stuffed with scrambled eggs, bacon, and blue cheese sauce.
For dinner, Edith's and its sister restaurant, The Office, are a must. At Edith's, you'll have a view of the famous Arch of Cabo San Lucas as you feast on Baja California-meets-Guerreran pre-fixe menu, including dishes like mesquite grilled filet mignon and shrimp enchiladas. On the beach, The Office is a party while you eat. With your toes in the sand and music pumping, enjoy a meal of sea bass fish tacos and baja burritos, with plenty of tequila to go around.
Not that you could, but if you tire of Mexican cuisine, head to Peacocks, a Euro-trendy spot with tons of outdoor tables for your dining pleasure. Here you'll find farm-and-sea-fresh options including blackened squid ink fettuccini with shrimp, pepper and pistachio crusted rack of lamb, and goat cheese, truffle, and prosciutto pizza.
For more Oceanside dining, check out Hacienda Cocina y Cantina for a luxe meal, perfect for closing out your bachelorette weekend. Dinner includes Mexican classics, like chicken in dark mole, arrachera (grilled skirt steak with avocado-tomato salad), and tuna empanadas. Pair your meal with margaritas, aguas frescas, and micheladas.
Where to Stay
Along the 20 mile stretch of beach are hundreds of resorts for you to choose from for your Cabo bachelorette party. From the luxe to the all-inclusive, it can be hard to decide. Some of our favorites include the Casa Dorada, a spa and resort on Land's End with a great pool for lounging and suites for throwing a hotel lingerie party.
The Hotel Riu Palace is a great all-inclusive option, with easy access to downtown when you're ready to leave the resort (if you're ever ready, that is).
For an uber luxury stay, book rooms at Las Ventanas, a stunning oceanside retreat with beautiful pools, spa, and a fantastic tequila and ceviche bar for happy hour. Or stay at The Cape, where two pools and the rooftop lounge overlook the ocean and the famous Arch.