Who Should You Invite to the Bachelorette Party?
As you compile the bachelorette party guest list, it's normal to have questions about who should actually get an invitation.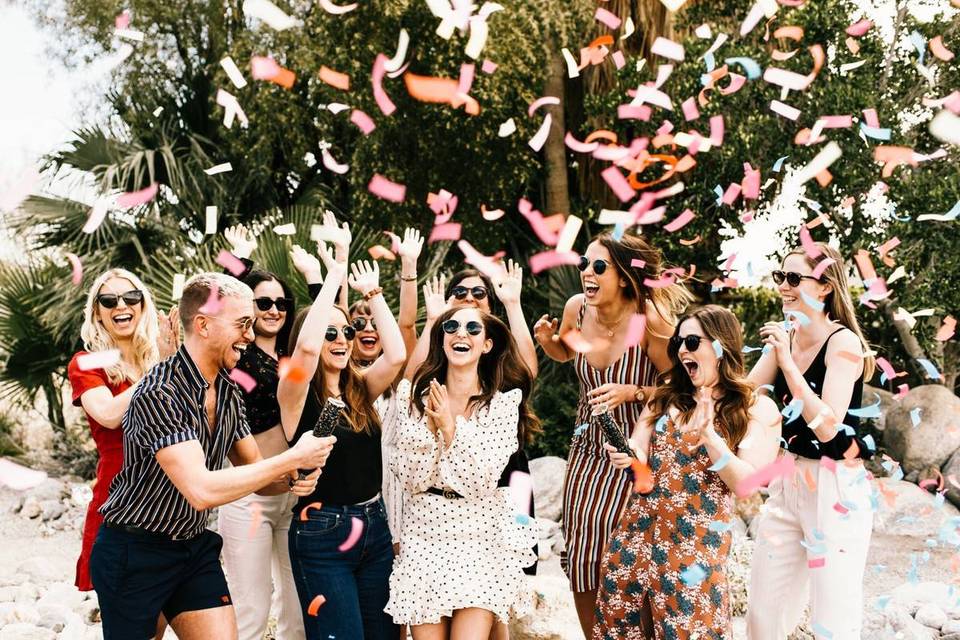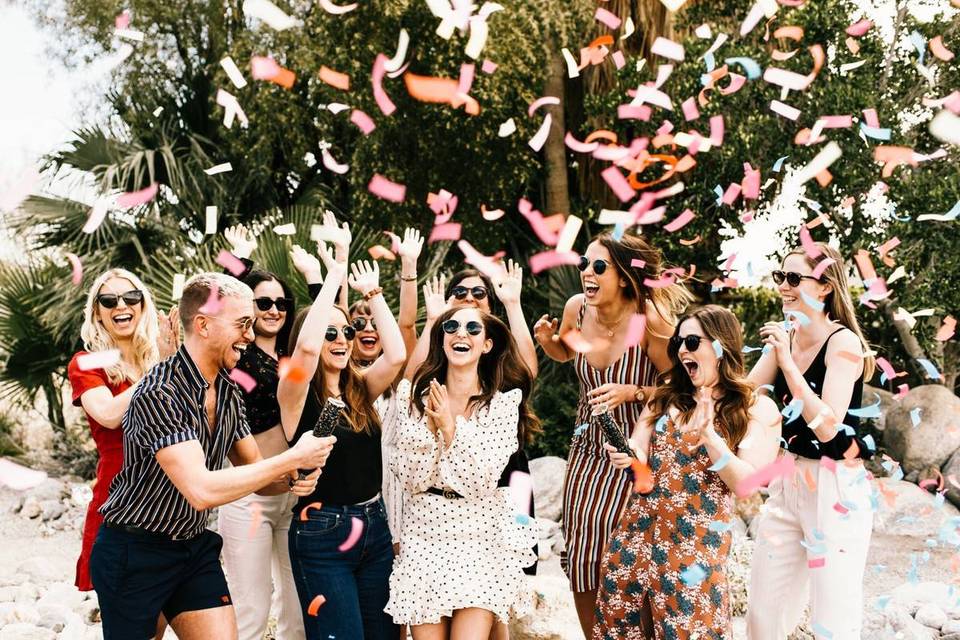 As you compile the bachelorette party guest list, it's normal to have questions about who should actually get an invitation. Is it just members of the bridal party or can other close friends and family members be included? How many guests is considered too many? Below we've addressed some common concerns that may come up while making the list.
Who creates the bachelorette party guest list?
The maid of honor typically heads up the bachelorette party planning committee, but the bride should have a say in who's on the guest list. We recommend scheduling a chat between the maid of honor and the bride to discuss who should be invited to the bachelorette party, so everyone is agreement. Once the invitee list is finalized, the maid of honor can move forward with planning and inviting.
How many people typically attend a bachelorette party?
According a WeddingWire study, bachelorette parties have an average of 10 attendees, which is actually the same as bachelor parties. And while inviting too many guests can make coordinating more difficult, 25% of bachelorette parties go that route, inviting 15 or more attendees.
Does the bachelorette party have to be exclusive to bridesmaids?
Absolutely not! There's no clear-cut rule that states the party is for the maid of honor and bridesmaids only, which makes the guest list super flexible. The bachelorette party is open to whoever the bride-to-be wants by her side on her special night out, be they other close friends, family members, or other loved ones. This is a great opportunity to extend bachelorette party invites to friends who aren't in the bridal party, but are still important to the bride-to-be. Remember, too, that a bachelorette party does not have to be all female—if there are male or non-binary folks the guest of honor counts among her closest friends or family, they should be invited as well. And this should go without saying, but anyone who is invited to the bachelorette party should also be invited to the actual wedding.
I know one of the girls is on a tight budget/has a packed schedule and we're going on a long bachelorette weekend trip, should I still invite her?
In terms of party etiquette, inviting her is the courteous thing to do. If you're putting together an email chain, loop her in despite the fact that she can't make it. Things could change at the last minute and she may be able to make it after all, so it's best that she has all the information. You might also consider planning a more low-key event after the main bachelorette weekend, like a special dinner or brunch, that all of the bridesmaids can attend.
Do I have to invite her sister-in-law?
There's no hard-and-fast rule that says whether you should or shouldn't invite her. It all depends on the relationship they have. If she is part of the bride's friend group or in the wedding party, then she should be invited to the bach bash. However, if they don't have a close-knit relationship it could be a bit trickier. Our advice would be to invite her future sister-in-law, to avoid awkward tension or issues down the line. Who knows, she may decline the invitation, but she'll certainly appreciate the sentiment.
Should I invite the mother of the bride? They're really close.
If the bride-to-be considers her mom her best friend and wants her to be a part of the festivities then Mom can totally be invited. Remember, bachelorette parties don't always have to be wild or trips to party destinations like Las Vegas. More low-key party ideas like a vineyard tour or a spa getaway is something her mom would be happy to be a part of. And even if you're planning a raucous night on the town, you can invite Mom to a more relaxed brunch the next day so she'll feel included in the festivities.
What about co-workers?
Typically, co-workers are not invited to a bachelorette party (who knows what shenanigans will get back to the boss?), but if the bride counts her colleagues among her closest friends (and they'll be invited to the big day, as well), then you can extend them an invitation to the bash. Again, it's worth having a conversation with the bride to discuss her comfort level with inviting co-workers to the big event.
How many people is too many?
It depends on the type of celebration. If you're traveling to a destination and have to deal with booking hotel rooms, keep the logistics of reserving hotel rooms and booking flights in mind. In this case, limiting the invitees to a smaller number might make things easier. However, if you're staying in town for the bachelorette weekend or night out, you can definitely swing a bigger crowd.
Do I have to send out printed bachelorette party invitations?
Usually, bachelorette party invitations are sent in a more informal way, like via email. Those invited can then RSVP via email or text to the head planner (likely the maid of honor). Once the attendee list is finalized, a text chain or private social media group can be set up to discuss details such as travel, accommodations, and more.
Do the I have to invite the same people to the bachelorette party as I do to the bridal shower?
The bridal shower guest list is usually quite a bit larger than the bachelorette party's. While the bachelorette party usually just includes the bride's wedding party members and closest friends, the bridal shower adds a wider circle of loved ones, including family friends, relatives, and more. Again, while traditionally a bridal shower was an all-female affair, it should be open to male and non-binary loved ones as well. When it comes to differentiating the two guest lists, the bachelorette should be kept to the bride's nearest and dearest, while for the bridal shower, the more the merrier!