The Sibling-In-Law Etiquette Guide
If your future spouse has brothers and/or sisters, you may find yourself facing a few etiquette dilemmas. Check out these scenarios and how you should handle.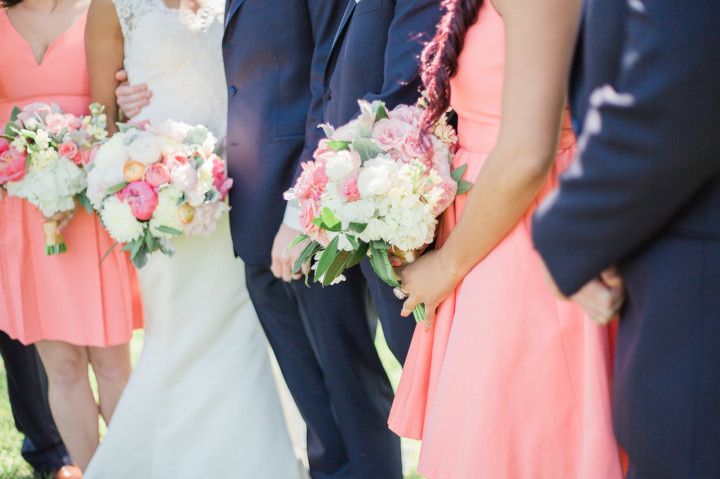 If your future spouse has brothers and/or sisters, you may find yourself facing a few etiquette dilemmas—especially if your relationship with your future siblings-in-law isn't particularly close. Of course, your goal should be to build a good rapport with your future siblings-in-law, as you'll likely be seeing them at family events, holidays, and beyond.
Check out these sibling-in-law-related etiquette scenarios and how you should handle.
Do I have to include my future sister-in-law in my bridal party? We're not close.
You're probably going to want us to say, "it's your wedding, you can do whatever you want!" But we're not going to say that in this situation. Truthfully, if you want to maintain a positive relationship with your future spouse's family and follow good sibling wedding etiquette, you're going to need to suck it up and include future siblings-in-law in your wedding party. They don't have to be the maid of honor or best man, but it's not worth the drama to leave them out.
Follow up question. Do spouses of future siblings-in-law need to be included in the wedding party, too?
We think it's a good idea to include them. However, if your wedding party is becoming out of control, you can honor the spouses of your siblings-in-law in other ways, like having them serve as ushers or giving a reading at the ceremony.
I'm feeling a little smothered by my future sister-in-law. She wants to be involved with all aspects of wedding planning and I kind of need her to back off!
Ah, the old "how do I include my sister-in-law in the wedding" dilemma. We recommend assigning her a task or two that she'll enjoy working on, like creating the out-of-town guest welcome bags, assembling the favors, or creating your seating chart. That way, she'll feel included and involved and have a task to focus on. If she's sharing her opinions a bit too aggressively, you may need your future spouse to step in and tell her to chill (in the kindest tone possible).
My future sister-in-law doesn't seem to care about our wedding at all and hasn't offered to help with anything.
Don't get too upset over your future sister-in-law's disinterest. There's no sister-in-law wedding etiquette rule that states that she has to help you with anything relating to your wedding. She may have a very busy career or family situation, or there may be lingering jealousy issues. Include her in events like your shower, but don't nag her too much about picking up tasks.
My future brother-in-law doesn't know any of my other groomsmen and I think planning the bachelor party is going to be awkward.
Do your part by introducing your future brother-in-law to the fellow groomsmen. Enlist your best man to take your future bro-in-law under his wing and make sure he's included on email chains and in planning meetings relating to the bachelor party.
My future brother-in-law and his wife just announced they're expecting a baby—and she's due the week after my wedding! Do I have to postpone my big day?
You shouldn't postpone your wedding, but you have to accept the fact that your future sibling-in-law's family will not be able to attend. If that's the case, try to include them through FaceTime or other means. And look at the bright side: Your new family has so many happy events to celebrate, and this might mean that your in-laws will ease up on the pressure for you to procreate immediately after your big day.
I'm worried my future brother-in-law is going to embarrass us in his toast!
If your future brother-in-law is a bit of a jokester and you're truly worried about his speech, ask your fiancé(e) to talk to him in advance about toning it down so you don't have to worry about what to say to your brother-in-law at or before the wedding. And if your brother-in-law does say something embarrassing during his toast, just laugh it off and be as gracious as possible.