How to Write a Best Man Speech in 9 Simple Steps
Been tasked to write a best man speech and not sure where to start? Follow these easy rules for how to write a best man speech—and how to deliver it like a total pro.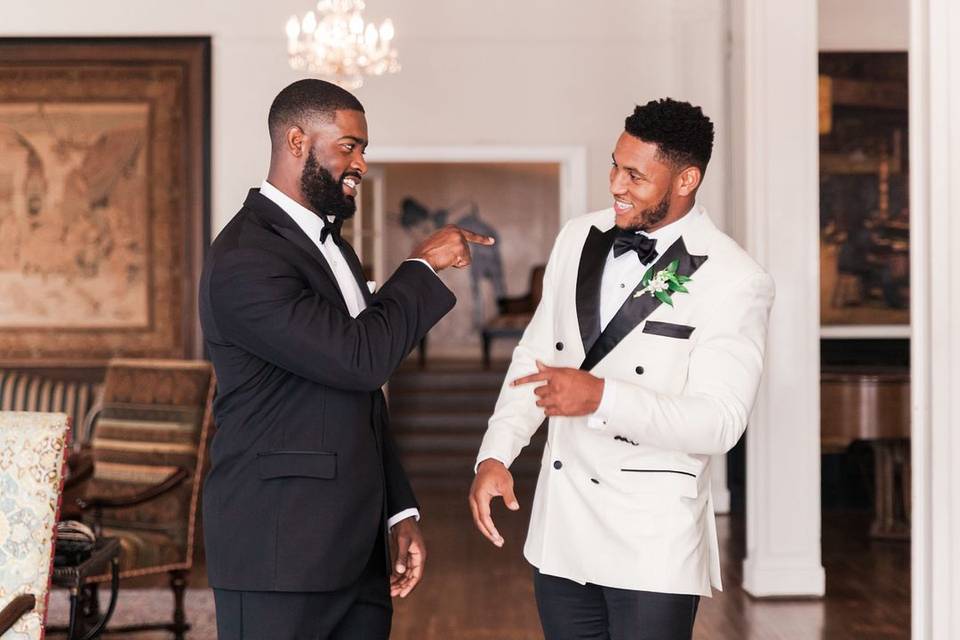 Being enlisted as someone's best man is a big deal, and there are plenty of best man duties involved—including figuring out how to write a best man speech. Yes, it's tradition for the best man to give a wedding speech during the reception, so it's time to prep for that responsibility. If you're feeling a little nervous about giving a toast in front of a crowd, that's totally normal, especially if public speaking isn't your forte. But with a little forethought, planning, and a lot of practice, you'll be wowing everyone with your best man speech in no time. Here are nine steps to writing a short best man speech that's sweet and to the point—and how you can ace the delivery.
How to Write a Great Best Man Speech
Follow this best man speech template to easily get started when it's time to write your own wedding toast.
1. Plan out your best man speech ahead of time.
Presuming you're not reading this the night before the wedding, you should give yourself plenty of time—at least one month—to write your best man speech. The weeks leading up to the wedding day, especially participating as such a crucial part of the wedding party, can become hectic. With all of the events you'll be encouraged or required to attend (on top of keeping up with your own personal life), you may very well lose sight of time. It's better to plan ahead so you relieve some of the pressure when it's time to write an awesome best man speech.
2. Start your best man speech by expressing gratitude.
If you're wondering how to write a best man speech, we recommend beginning the speech by stepping onto the dance floor and saying good evening to the crowd (you can write this as a note at the top of your speech as a reminder in case you get nervous). The opening line of your speech should introduce yourself as the best man and then express gratitude to those you think deserve a special shout out. Thank the couple's parents for raising such great people, thank your friend for having you here, thank the guests for coming, and maybe throw in a one-liner thanking the bartender for a few laughs. It's a low-key way to break the ice, ease yourself into the best man speech, and make sure those who deserve thanks feel appreciated.
3. Then, talk about your relationship with the groom.
Beyond introducing your name, a big part of how to write a best man speech is talking about your relationship with the groom. Talk about how you met him, how long you've known each other, and what kind of great friend he is. If you can think of an anecdote or funny story that really sums up the kind of person he is, whether that's charming, warm-hearted, or thoughtful, use it. A funny best man speech is always memorable, but if you're going to use an anecdote, linking that story to his partner when possible will make it even more meaningful. For example, maybe he's incredibly outgoing but forgetful, while his new spouse is more thoughtful and organized. If you start with an anecdote of his forgetfulness and later follow up with a time you saw his partner's organizational skills help him out big time—and that's a moment you knew they were the real deal—that's a perfect icebreaker.
4. Focus on the couple's relationship, and not just your own.
Presuming you've known the groom for longer than he's know his partner, you can definitely start your best man toast by sharing an inside joke and recalling the earlier times in your friendship, but then you should skip ahead to when he met his partner. Think of a story that epitomizes their relationship. If you can talk about the exact moment when you realized his partner was "The One" for him, include that. Maybe your buddy told you one week after meeting his partner that they were going to get married, and you thought he was absolutely bonkers, but here you are. Maybe you've known the groom for a long, long time—for example, if you're his brother or you've been best friends since elementary school. You've probably always had an idea of what his perfect partner would look like, but the one sitting in front of you exceeds all expectations. Emphasize that he's a great guy and how happy you are for your pal that he's found someone so perfect for him.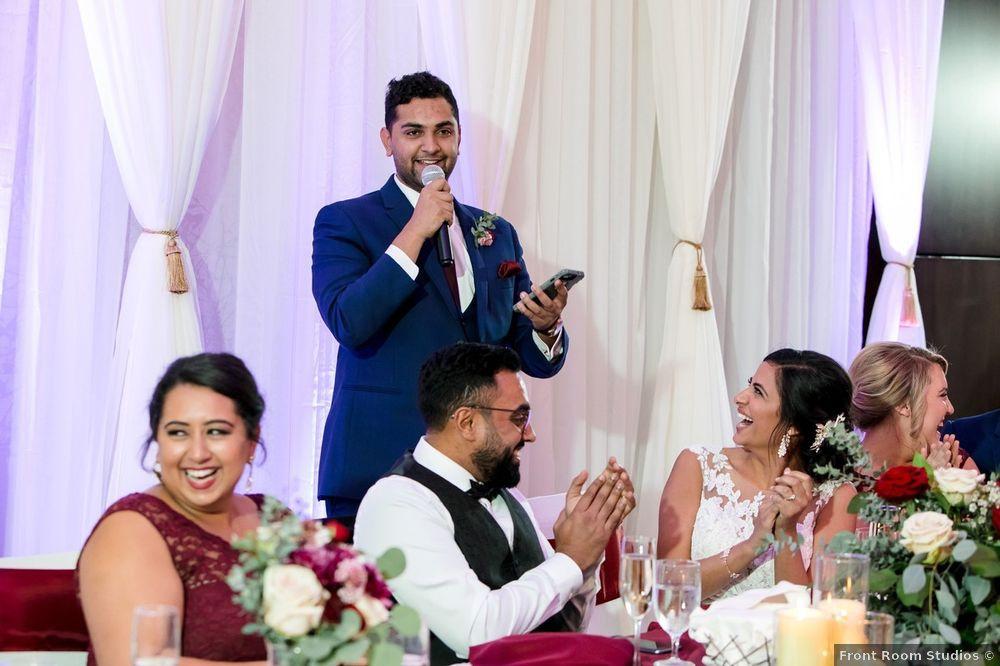 5. Keep your best man speech short and sweet.
In terms of wedding speech order, the best man speech is typically first, followed by the maid of honor's toast and parent speeches or father-of-the-bride-speech. Even though you'll go first, a good best man speech is short and sweet, since you want to avoid people growing restless during the later speeches (guests are ready to eat, drink, and dance at this point of the wedding reception). Aim for a short best man speech between three and five minutes max. Keep in mind that it will feel much shorter to you when you're actually giving the speech, and you will likely rush through it a little bit in the spotlight. That's why you must…
7. Practice, practice, practice.
One of the most crucial best man speech tips is that you have to—and we mean have to—practice your speech before the wedding. You should read it to yourself out loud at least three or four times ahead of the actual reception. It might feel awkward at first, but would you rather fumble your words alone in private with the chance to make improvements, or give your speech for the first time while being watched by dozens of people with camera phones? Record yourself giving the speech, then replay it for mistakes and things to change. Not only is practice critical to giving the best performance, but it will give you a confidence boost when the big moment arrives. Consider sending the video to a friend, other groomsmen, or relative to give you honest feedback.
7. Write it down.
You should try to memorize your best man toast as best you can, but you'll feel less anxious if you have it written down. Practice your speech enough so you won't need to stare at the piece of paper the entire time, but jot down the main talking points to easily transition from one part to the next. Consider using notecards or a small notepad—remember that there's going to be professional photography and videography of your best man speech. Reading from a haphazardly torn piece of scrap paper or worse, your hand, will look sloppy and indicate that you didn't prepare for the speech.
8. Don't drink beforehand.
Keep your alcohol intake to a minimum until after you're finished delivering the best man speech. It's normal to want to calm your nerves, but anything more than one drink during cocktail hour could backfire—alcohol paired with intense nerves and emotions will only amplify them (and you run the risk of slurring your speech!). The more you drink, the less likely you'll be able to remember what you've planned and form cohesive thoughts in the spotlight. Once your speech is over, you'll have time to celebrate all you want.
9. Finish your best man speech with congratulations and a toast.
This is a foolproof way to end your best man speech. Conclude by congratulating the happy couple on their big day and offer a toast to their lifetime of happiness. The toast can be personal, witty, or a quote. Perhaps there's a line about love and relationships from one of the groom's favorite comedians or movies that you can share, or you can simply wish the newlyweds the best and ask your fellow guests to raise their glasses in celebration.
Things to Avoid In a Best Man Speech
In order to write a good speech, you want to keep the focus off yourself and instead on the happy couple and their future. In general, it's best to steer clear of these things:
1. Inappropriate anecdotes.
Your pal's grandmother definitely does not need to hear about that one infamous night in college, no matter how relevant or funny it might seem to your buddies. Leave those drunken tales and embarrassing stories for the bachelor party and keep your best man speech PG.
2. Any talk of exes.
Your friend's wedding is absolutely not the time to bring up ex-girlfriends or previous relationships. No matter a how good a story you think it is, or even if it leads directly to the moment you're all in now, just leave it out completely—trust us.
3. Foul language.
Sensing a theme here? You want to make sure your best man speech is well received by everyone, from the 80-year-old guests to the 8-year-old guests. Remember: A wedding is a family event, so it's best to leave out any profanity or other PG-13 talk.
4. Long-winded stories.
As mentioned previously, you want to keep your best man speech short and sweet. As great as your speech is going to be, the last thing you want is for the wedding guests to tune out halfway through your time in the spotlight. If a story needs more than a few sentences to explain, either pare it down or consider a different approach for writing your best man speech.