How to Write a Maid of Honor Speech
A flawless maid of honor speech can't be hastily written on your phone at the reception—it takes time and a lot of practice. Here's how to write a maid of honor speech that will garner a standing ovation.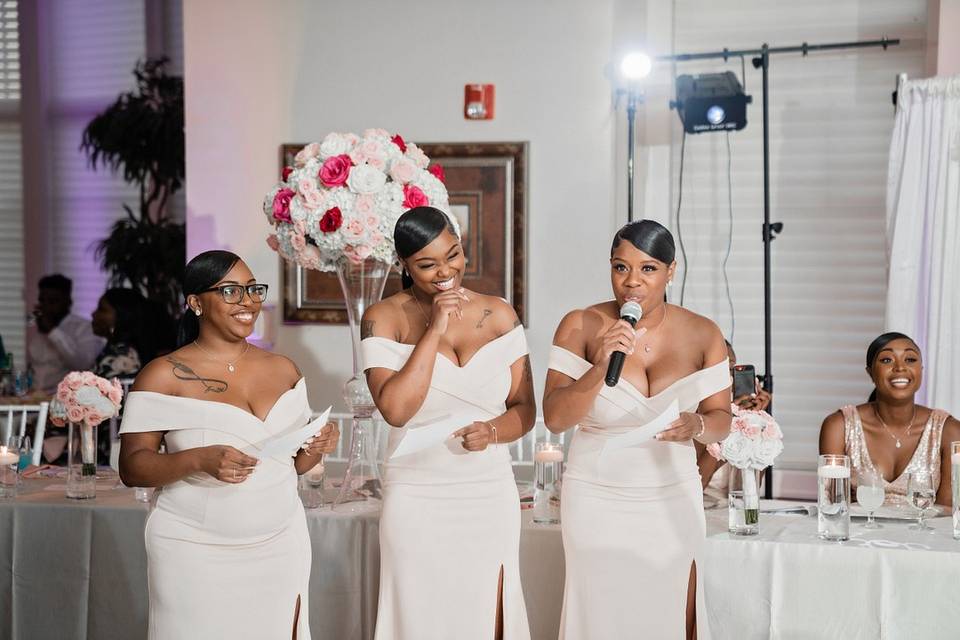 As a maid of honor in your BFF's upcoming wedding, you're likely pretty thrilled about all that's in store for you, from the awesome maid of honor duties, to the epic events to plan (hey bachelorette party!) to that maid of honor speech — but it's also normal to be a bit nervous, too. As we said, the maid of honor has lots of responsibilities, which include writing and delivering the maid of honor speech. The maid of honor speech usually occurs during the wedding reception, but you might be asked to deliver it at the rehearsal dinner instead. If you're comfortable speaking in front of a crowd or have a background in acting or performing, the maid of honor speech should be a breeze. But, considering that public speaking is a very common fear, you might be anxious. And even if giving the maid of honor speech doesn't worry you, figuring out exactly how to write a maid of honor speech likely does. It's an important moment for both you and the bride, and of course you want to make it special.
How do you prepare the most amazing maid of honor speech she's ever heard and alleviate some of your anxieties? We're here to help.
When to start writing a maid of honor speech.
Presuming you haven't procrastinated too long, you should give yourself as much time as possible to prepare — start at least three weeks to a month before the wedding. This may seem like a lot of time to write a short maid of honor speech, but the longer you wait to write, the more stressed you'll become.
Choose a time when you're feeling inspired by your friendship with the bride and/or couple. If you're feeling extra sentimental after the bachelorette party brought up a plethora of stories you had forgotten about, write them down. Don't underestimate the power of free writing, during which you unleash all of the thoughts and anecdotes about your bestie that cross your mind onto the page. That way, you'll be able to see all of your feelings and memories all together at once. From there, who knows? More likely than not, you'll discover some sort of inspiration within these reflections.
The maid of honor speech outline.
1. How to start the maid of honor speech.
First off, introduce yourself and mention your relationship with the bride, and the couple. Next, be sure you thank whomever you feel is important enough to mention, depending on the circumstances and who paid for or planned the wedding — parents, other family members, wedding party members, etc. Congrats! You have two lines of your speech out of the way.
2. Talk about the bride.
Now things start to get more personal. If you were just going to express gratitude, it would be a toast, not a maid of honor speech. One crowd-pleasing story you might consider including is how you met the bride. If it's not a particularly appealing or appropriate story, you might also consider a story about the two of you the really exemplifies your friendship, or a time when you knew you were going to be friends forever. If the two of you share a bond over food, maybe you could talk about that time the two of you tried (and failed) to make your own recipe from scratch. Maybe you were really frustrated at first when you were assigned to be partners in class because you didn't think you were going to get along, but as fate would have it, you became inseparable. Get creative and get sentimental. And don't be afraid to be funny.
3. Talk about her partner.
After talking about you and the bride, it might be a good idea to include how you first met her almost-spouse in the maid of honor speech. I once witnessed a maid of honor that had been friends with the bride for many years, and during her speech she recalled that the bride actually had set her and the groom up on a blind date at first. The maid of honor and the future groom talked about their common friend for the entire date—and the rest was history. You're the bride's right hand woman, but a wedding is all about celebrating the couple, so it's a nice transition from talking about you and the bride into talking about the bride and her partner. It also shows your solidarity and support for their relationship. No matter how you truly feel about her partner, keep a happy face on.
4. Talk about them as a couple.
Speaking of which, after you explain how you met the bride's new spouse, talk about the two of them as a couple. This works even better if you've known both of them for a long time. Maybe you were the bride's roommate when they had their first date, and you witnessed her giddy nerves beforehand. Maybe you witnessed the very prolonged will-they-or-won't-they period of their relationship. What did she tell you after they said "I love you," for the first time? At one wedding, the groom's sister told a story that took place about three months before the groom and bride had gotten together. The sister was teasing her brother about his love life, when he said, "I'm in love with my best friend, but it will never happen, she's not interested." Her brother wouldn't give any names — but three months later, she figured it out for herself when they started dating.
5. Keep it short and sweet.
In thinking about how to write a maid of honor speech, remember that it should only be about two to three minutes long. That's just long enough to tell a few stories about the beloved couple and toast to a happy future. Everyone will probably be anxious to start dancing (or eating!) at this point, so there's no need to drag on. We tend to talk more quickly when we're nervous, so be extra aware to speak slowly.
6. Practice.
Be sure to practice your speech in advance — whether it's in front of a mirror, your cat, or a family member or friend. You can even time yourself to make sure the speech is an appropriate length.
7. End with a toast.
Don't forget to toast to the happy couple at the end! Raising your glass is a great natural finisher to your maid of honor speech, and a guaranteed crowd pleaser. You can add a few words, like "Now, let's all raise a glass to the newlyweds!" or something similarly concise and to the point.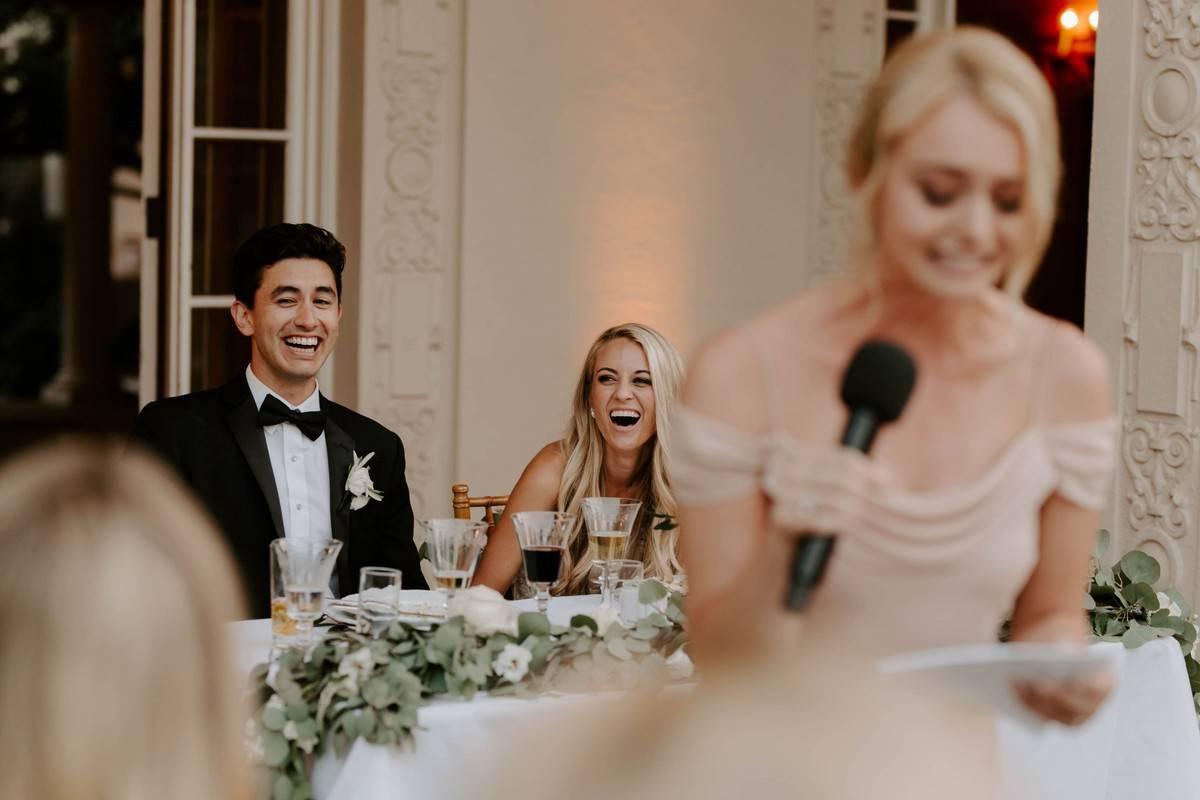 What to NOT say in a maid of honor speech
Here's what to avoid when writing your maid of honor speech.
1. Exes, drunken nights or anything else remotely inappropriate.
It should go without saying, but exes or drunken debauchery should not be included in a maid of honor speech. A wedding is a family event, after all. Don't talk about anything the bride wouldn't mind her grandmother hearing.
2. Anything that could even potentially cause tension.
Don't mention the high divorce rate — even jokingly. It will not be received well.
3. Don't feel pressured to be anything but yourself.
If humor isn't your strong suit, it doesn't have to be a hilarious maid of honor speech. You can be nostalgic, sweet, or sentimental — but not drunk. Wait to drink until after your maid of honor speech.
Whatever you write in your maid of honor speech, the most important thing is that your words come from the heart. Even if you're not a natural-born performer, speak with feeling and emotion — not like you're reading a classroom assignment—and talk directly to the couple, rather than focusing on the many other faces in the crowd. Your bestie may not remember the exact words you said during your maid of honor speech, but she'll remember the care and love behind it.