The Ultimate Guide to Wedding Speech Order & Writing Toasts
Weddings are a blast, but the speeches—whether heartfelt or hilarious—remind everyone why they're there: to celebrate two people in love. This wedding speech guide covers all the basics.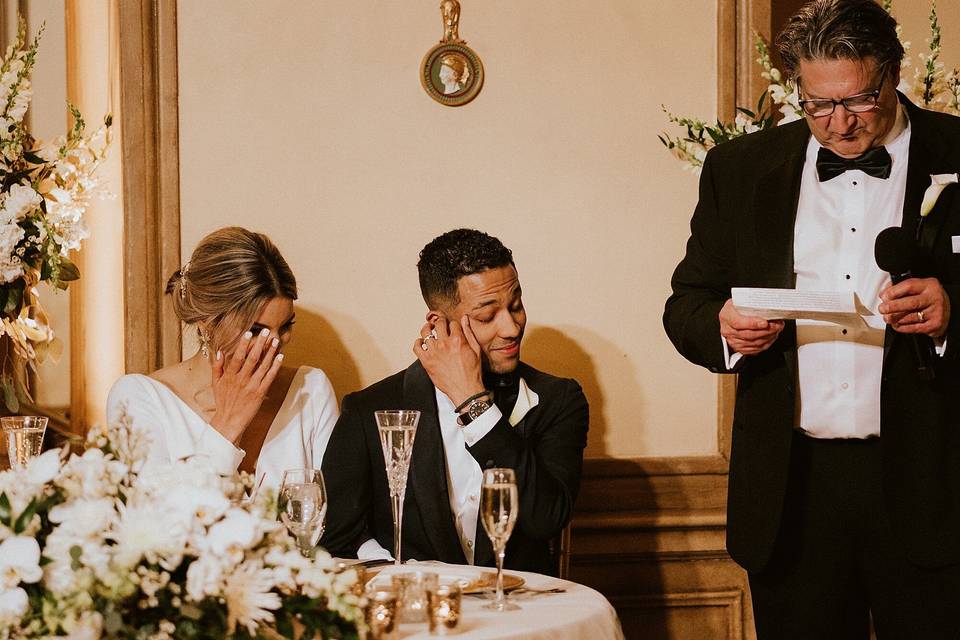 Wedding receptions are undoubtedly about the newly married couple, but between music, catching up with friend and relatives, and sampling dessert tables, there is a lot going on. Once the wedding ceremony is over, the day can quickly go from dignified to lively and raucous (in the best way possible, of course), and the wedding speeches are possibly the last time every guest will be seated at once. They're also what's going to make your big day feel extra personal and sentimental when loved ones share their favorite memories of you and your partner. If you're planning your wedding toast or speech order, or if you're in the wedding party and need to prep for your own toast, follow these guidelines and tips to know exactly what you should expect.
Wedding Speech Length & Content
Who gives a toast at a wedding?
Your parents/parent figures, wedding party members, best friends, or close relatives are generally the ones who give speeches or readings throughout your wedding celebration, but ultimately, you can ask whoever you want if it will mean something to you. Keep in mind that speeches are traditionally given at the rehearsal dinner, the wedding reception, and sometimes during the ceremony, such as readings or blessings. Here are all the wedding speeches you'll need to plan for and who traditionally gives them at each event—but remember this can change depending on your personal preferences and what does or doesn't apply to you as a couple.
Rehearsal dinner speeches
Since fewer people will be in attendance, these rehearsal dinner toasts can be longer and more involved than wedding day speeches. Say hello and introduce yourself, then welcome everyone and say how excited you are for the wedding. Tell a sweet, hilarious, or intriguing story that's related to the couple or the wedding. For example, give your first impression of meeting the bride or groom; talk about how the couple met or got engaged; or share a childhood memory, like how the bride used to try on her mother's wedding gown when she was a teenager. End with something sentimental and heartfelt about the couple or a quote about marriage, then wish the couple well.
Host(s): The rehearsal dinner is traditionally hosted by the groom's parents (if applicable). The father of the groom, mother of the groom, or other host will thank guests for attending.
Wedding party: While the best man and maid of honor speeches should be reserved for the wedding reception, this is a chance for other bridesmaids and groomsmen to publicly share their well wishes for the newlyweds.
Couple: The couple will take a few minutes to thank their relatives and wedding party for supporting and celebrating them.
Other family members/important guests: Grandparents and other close relatives may wish to share an informal congratulations during the rehearsal dinner.
Wedding ceremony speeches and readings
Officiant: In addition to coordinating your wedding vows, the officiant may wish to share a personal story about the two of you during the ceremony, especially if they're someone you've known for a long time or have been in pre-wedding counseling.
Ceremony readers: Friends and relatives who aren't already in the wedding party are great choices when deciding who will give readings during the ceremony.
Wedding reception speeches
Best man: The best man kicks off the wedding speeches by giving a toast shortly after everyone is seated at their reception tables.
Maid of honor: The maid of honor takes the mic immediately following the best man's speech.
Host(s): The wedding reception is traditionally hosted by the bride's parents (if applicable). The father of the bride and/or mother of the bride will congratulate the newlyweds and give a toast.
Couple: The couple may wish to say a few brief words to kickstart the reception meal and thank guests for coming.
Every couple has their own preferences and relationships when it comes to who gives wedding speeches and toasts, and nobody should ever feel forced to give one. If the best man or maid of honor isn't comfortable speaking in front of a crowd (or if there isn't a best man or maid of honor at all), either skip it or hand the baton to somebody who will love getting up in front of a sea of eager faces. If a lot of people want to make a toast, consider arranging traditional toasts during the wedding and save the rest of the speeches for the rehearsal dinner.
How long should a wedding speech be?
No matter how long you've known the couple, it's best to keep your wedding speech under five minutes, and aim for closer to three minutes if you can. Even if there's a lot to say, talking for three minutes can feel like a long time—but with a simple template, you'll nail your moment in the spotlight. A great speech doesn't have to be full of perfected, eloquent wording; instead, it should evoke an emotion and convey a genuine happiness for the couple. Short and sweet wedding toasts can still be filled with plenty of charm!
What do you say in a wedding speech?
Since you want to keep your toast short and to the point, it's best to follow a simple outline. Regardless of your role, a great wedding speech should go something like this: Start by introducing yourself and sharing how you know the couple, followed by a short anecdote or story, and conclude by sharing your love and raising a glass to the newlyweds. Here are other speech examples:
What should you avoid in a wedding speech?
Inside stories may amuse the couple, but they can easily get lost on the rest of the crowd, and the last thing you want is crickets or awkward silence. No matter what, don't bring up old flames or problems the couple has faced—this is supposed to be a happy, lighthearted celebration. Not sure if that hilarious but questionable story from a night out is appropriate? Skip it—children, parents, and grandparents are listening! Avoid insult humor, too. Remember, this is a toast, not a roast! For more tips, here's how to write a funny wedding speech.
Reception Wedding Speech Order
1. The best man
You might think that being best man is all about planning a raucous bachelor party and not much else, but this job does have a few best man duties to prepare for, most important being the best man speech. And when it comes to the wedding speech order, the best man usually goes first. The best man should introduce himself and explain how he knows the couple. For example, he can tell the story of how he and the groom have been buddies since high school and how they met the bride-to-be during spring break their junior year of college. He can then say something positive about the couple and their relationship, show gratitude for being part of their day and wish them happiness. (Pssst! Here's how to write a best man speech.)
2. Maid of honor
When thinking about wedding speeches, the maid of honor is usually top of mind. While the maid of honor can follow the same outline as the best man's speech, it's more common for their speech to focus on the bride. Drawing from past experiences together, the MOH can tell a heartwarming or funny story from their friendship or share an anecdote from wedding planning escapades. For example, maybe the veil didn't arrive until the day before the wedding or putting together the favors was a complete nightmare, but the bride managed to keep her cool through it all. (Here are all our tips on how to write a maid of honor speech, from start to finish.)
3. Parents of either spouse
If one or both sets of parents are hosting the wedding, they may choose to say a few words to welcome everyone to the event as part of the wedding speech order. This toast will be fairly fast, especially if the parents made a lengthy or heartwarming toast at the rehearsal dinner. The father of the bride speech or parents' toast usually welcomes and thanks the guests, and then raises a glass to the other set of parents and the happy couple.
4. The couple
Sometimes the couple will opt to make a toast, particularly if they are hosting the wedding. The main purpose of this toast is to be a wedding thank-you speech to everyone involved: the bridal party, family and guests. Couples may also express their excitement about starting their new married life together. Again, this is an optional (but nice) part of the wedding speech order, so if the couple is hesitant about speaking in front of a crowd, they can go from table to table during the reception to express their thanks in a more personal, intimate way.