Who Pays for the Wedding? Here's the Official Answer
Here is the breakdown of the "traditional" way to divide up the budget and figure out who pays for the wedding—use this as a starting point, and not the final word.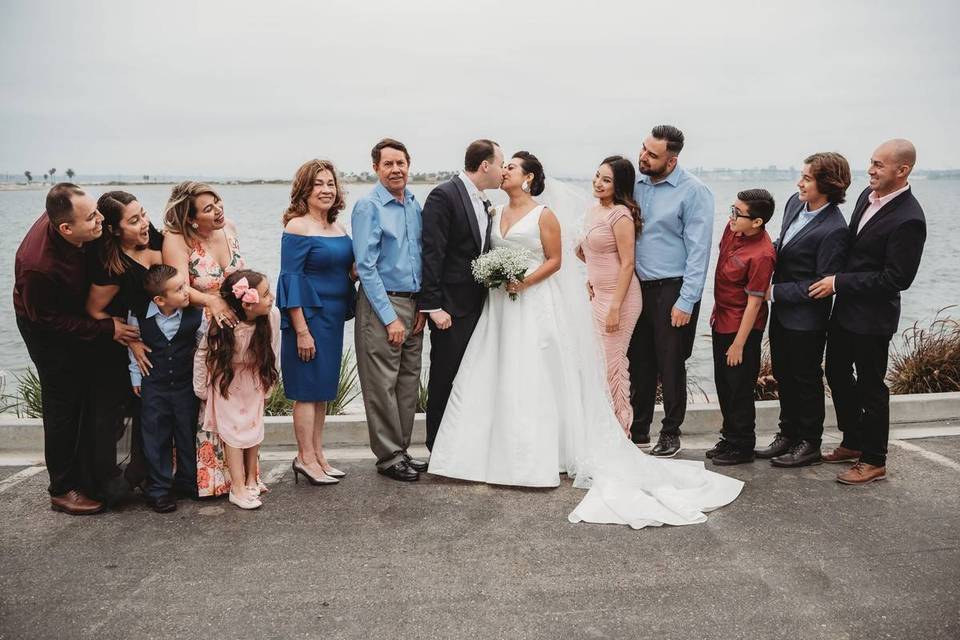 Setting a wedding budget is one of the most important parts of planning. But before you can figure out how much you can afford to pay for your big day (and of course, use WeddingWire's free budget tool to stay organized), you'll need to decide who pays for the wedding. Of course, there's the old-school, traditional way of figuring out financial responsibility. However nowadays, there are actually lots of ways to divvy things up. Many couples pay for their own wedding themselves. Some families split things up more equally, or perhaps one family contributes and another does not.
If you're an LGBTQIA+ couple, paying for the wedding won't be divided along gender lines, so couples and their families need to devise their own budget plan (61 percent of LGBTQIA+ couples pay for a majority of their wedding, but are receiving financial help from friends and family more than in years past). But in the end, it's really up to you to decide what works best for you and your families. Here is the breakdown of the "traditional" (read: old-school) way to divide up the budget and figure out who pays for the wedding—use this as a starting point, and not the final word on the matter.
Who Pays for What in a Wedding in 2021?
Before we jump into the traditional breakdown of who pays for the wedding, let's take a look at how things stand right now. According to the new Behind the Wedding Budget study from WeddingWire and Grow by Acorns + CNBC, 72% of all couples are receiving at least some financial support when paying for their wedding. For those couples, the parents of those who self-identify as female in a heterosexual relationship are the primary contributors (93%), providing the couple with a set dollar amount.
According to the WeddingWire Newlywed Report, parents pay for 52% of wedding expenses, while the couple pays for 47% (the remaining 1% is paid for by other loved ones)—so parents are still paying for a majority of the wedding, though couples are chipping in fairly significantly. This does vary based on the age of the couple. Younger, millennial couples (those born between 1981 and 1996) pay for less—42% of the wedding expenses, while parents pay for 56%. On the other hand, Gen X couples (those born between 1965 and 1980) pay for 78% of wedding expenses, while parents only pay for 20%.
The who pays for what breakdown also varies for LGBTQIA+ couples, who pay for 61% of wedding expenses themselves, while their parents pay for 37%.
And if it's a couple's second wedding, they'll most likely foot the bill themselves, paying for 88% of wedding expenses, while their parents chip in for 10%.
From a wedding etiquette perspective, remember that money equals control—whoever pays for the wedding can take an active role in decision-making. This means, for example, that if your parents are paying for a good portion of the event, they should have a say in the guest list, wedding venue and vendor selection, and more. They'll also be listed as the hosts of your event on the wedding invitation.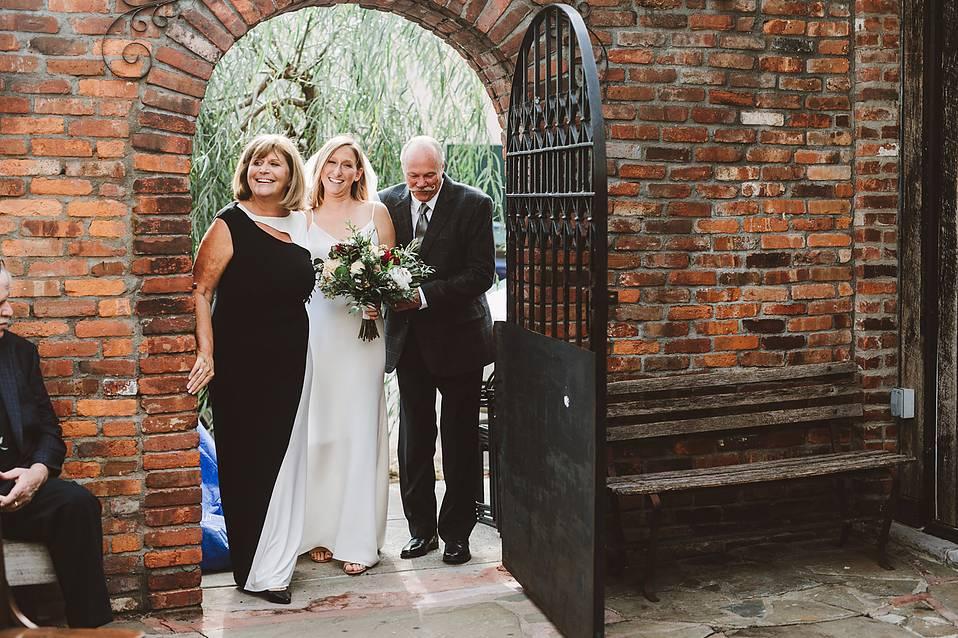 (Old-School) Traditional Breakdown of Who Pays for What in a Wedding
Bride's Parents and/or Family Members
If you're going the very traditional route, the answer to the question "who pays for the wedding?" is "the bride's family." But you'll see that even in traditional roles, the bride's family doesn't actually pay for everything—but they're definitely a big part of the equation. The bride's family pays for the wedding venue and vendors, and most products and services related to the day.
Engagement Party (though this may be hosted by friends or other loved ones)
The Wedding Ceremony – venue, décor, and music
Reception venue
Catering
Reception Music
The Bride's Attire and Accessories
Wedding Planner
Flowers (except, in some cases, for bride's bouquet, men's boutonnieres, and corsages for mothers and grandmothers)
Stationery – save-the-dates, invitations, ceremony programs, escort cards, etc.
Favors
Photography
Videography
Transportation
Wedding Cake
Day-After Brunch (if desired)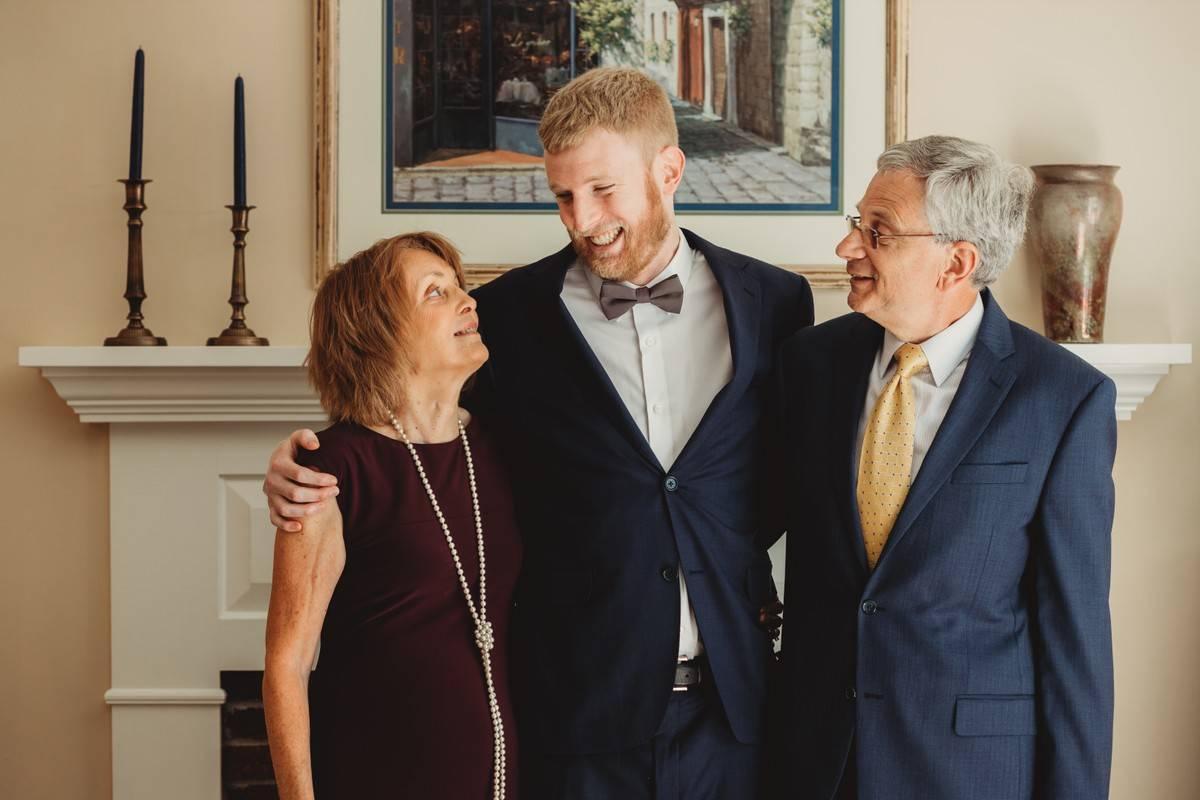 Groom's Parents and/or Family Members
The main responsibility of the groom's parents is paying for the rehearsal dinner. Traditionally, the groom's family also pays for the honeymoon—but nowadays, the couple is usually taking on those expenses themselves (or setting up a honeymoon registry so guests can contribute).
Honeymoon (if desired, often the couple themselves pay)
In some parts of the country, it's tradition for the groom's family to pay for the alcohol at the reception.
Groom
While technically the groom is supposed to pay for these wedding costs himself, the groom's family may help contribute to these expenses.
Officiant
His Partner's Rings (Engagement Ring and Wedding Band)
Groomsmen's Gifts
Groom's Attire
Wedding-Day Gift for His Partner
The Bride's Bouquet, Men's Boutonnieres, and Mothers' and Grandmother's Corsages (this is a very traditional way of working out who pays for the wedding – usually the bride's bouquet and the boutonnieres are paid for by whoever's handling the total flower bill.)
Gift for His Parents
Wedding Night Accommodations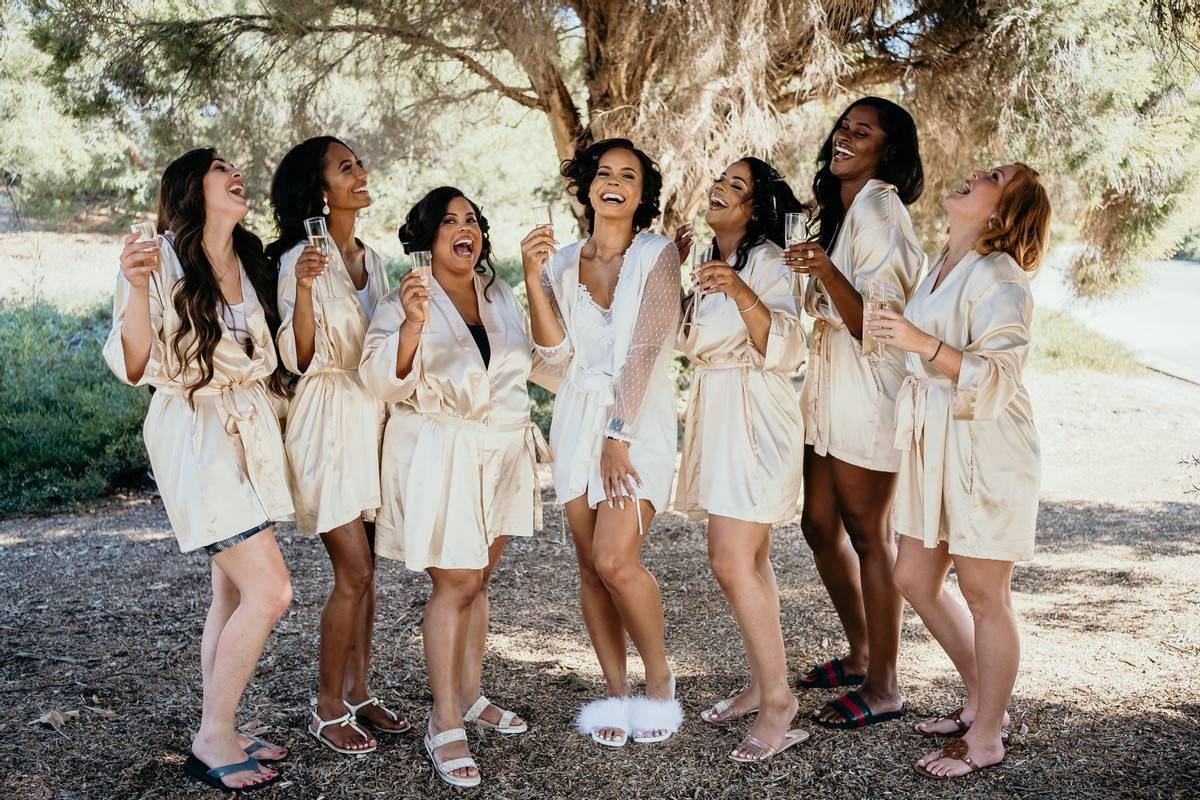 Bride
Similar to the above, while the bride is expected to cover the below costs, her family may help her pay for these expenses.
Bridesmaid Gifts
Her Partner's Wedding Band
Hair and Makeup for Herself
Hair and Makeup for Attendants (If the bride requires her bridesmaids to have their hair and makeup professionally done, it is proper etiquette for her to cover the cost.)
Wedding-Day Gift for Her Partner
Wedding Party
The bridesmaids, groomsmen, bridesmen, groomsladies, and other wedding party members do have certain expenses they'll need to cover, including attire such as bridesmaid dresses and groomsman suits or tuxes, travel, accommodations, gifts, and more.
Their Attire (In some cases and if budgeting allows, the couple will pay for wedding party members' attire.)
Their Travel and Accommodations
Other Parties – Bachelor/Bachelorette Party, Bridal Shower, etc.
Hair and Makeup for Bridesmaids (If a bride does not require her bridal party to have professional hair and makeup, the bridesmaids may choose to pay for their own.)
Parents of Flower Girls and Ring Bearers
Frequently Asked Questions on Wedding Expenses
Here's a quick-reference guide to some of the most commonly asked "who pays for what" questions.
Who Pays for the Wedding Venue?
Traditionally, the bride's parents pay for any rental fees associated with the ceremony and reception wedding venues.
Who Pays for the Honeymoon?
While in our parents' and grandparents' generations, the groom's family paid for the honeymoon, nowadays, many couples are choosing to take on any honeymoon expenses themselves.
Who Pays for the Rehearsal Dinner?
The rehearsal dinner is traditionally paid for by the groom's family—however, the couple can contribute or pay for the whole event themselves, if preferred.
Who Pays for the Wedding Rings?
The couple pays for their wedding bands—each partner paying for their spouse's ring. This gesture is seen as the first gifts the couple exchanges as a married pair.
Who Pays for the Engagement Party?
Though the parents of the bride traditionally pay for the engagement party, any family members or friends can take on hosting duties. Sometimes couples have multiple engagement parties thrown by different loved ones, though this is certainly not required.
Who Pays for a Wedding Dress?
A bride's family usually pays for her wedding dress (and related accessories!), though a bride may prefer to pay herself.
Who Pays for a Groom's Attire?
The groom, often in conjunction with his family, will traditionally pay for his own attire.
Who Pays for the Bridesmaid Dresses?
In most cases, the bridesmaids pay for their own dresses, which are chosen as a joint effort between a bride and her 'maids. If budget allows, a bride may choose to pay for the bridesmaid dresses as a gift to her crew—again, entirely optional.
Who Pays for the Groomsman Attire?
Similar to bridesmaid dresses, the groomsmen are expected to pay for their own attire—whether purchased or rented. Sometimes, the groom will cover these expenses for his groomsmen, but this is not common.
Who Pays for the Flower Girl Dresses and Ring Bearer Attire?
The parents of your littlest attendants will pay for their children's attire. The flower girl dresses and ring bearer attire is typically chosen by both the children's parents and the couple.
Again, this list of who pays for the wedding is based on traditional roles, and nowadays, it's rare for anyone to follow it exactly. We advise all couples to have an open and honest discussion with family members about their roles in the wedding budget before starting the vendor selection process.