This Is the Actual Cost of Being a Bridesmaid
Between the bridesmaid dress, the bachelorette party, the hair and makeup… Trust us, it's more than you think.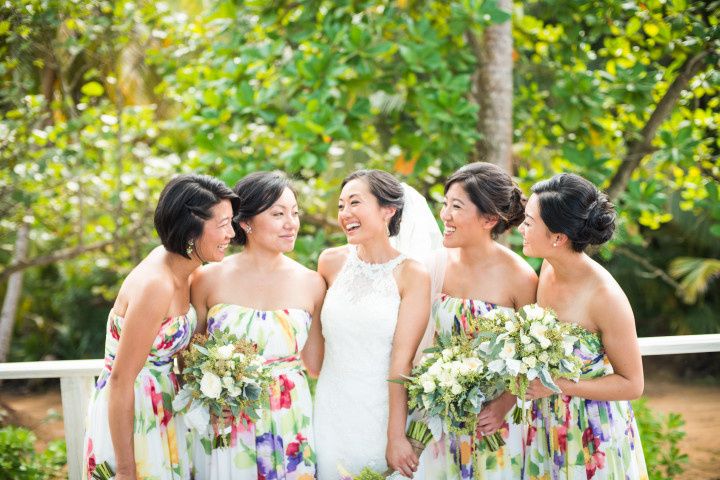 It's a honor to be a bridesmaid in a loved one's wedding—but it's also a big responsibility with a lot of expenses involved. In fact, according to a recent WeddingWire study, the cost of being a bridesmaid is about $1,200 per wedding, but that can quickly increase to over $1,800! How can it possibly be that expensive? Pretty easily, actually, when you factor in purchasing the bridesmaid dress, travel to and from the wedding, hair, makeup, and (much!) more. And if you're going to be a bridesmaid in multiple weddings, this really adds up!
Yes, the average cost of being a bridesmaid might shock you (we know, it's a lot!), but breaking it down can make things a bit clearer and less stressful—and hopefully help you find ways to save money in the process.

What does being a bridesmaid actually entail?
Before diving into the cost of being a bridesmaid, let's quickly run through what being a bridesmaid actually means. Simply, a bridesmaid is a close friend or family member who will support the bride both before and during the wedding. That could mean a variety of things depending on the bride and the wedding. Most of the time, a bridesmaid has to purchase a particular dress for the wedding, help plan and attend pre-wedding events (most notably, the bridal shower and bachelorette party), and walk down the aisle and stand beside the bride during the ceremony.

Of course, anyone who's ever been a bridesmaid will tell you that some brides will "require" far more than these basic tasks—and some bridal parties will be more respectful of budget than others. And if you're the maid of honor, you'll have more responsibilities as leader of the bridal party crew.

How much does a bridesmaid dress cost?
The average bridesmaid spends $208 on a dress—that's quite a lot for a dress you may only wear once! Remember, too, that bridesmaid dresses frequently need alterations to ensure a perfect fit (you want to look amazing in those photos, don't you?). This can tack on an additional $70 to the final bridesmaid dress cost.

While the cost of a bridesmaid dress may seem a bit scary, many brides are helping their 'maids save a bit of cash by allowing them to choose their own dress (about half of bridesmaids are given that option) within a specified color scheme. That way, the bridesmaids can select a style they're more likely to wear again, at least decreasing the dress' cost-per-wear—and the "mix and match" trend is so hot right now!
How much do bridesmaid accessories cost?
Nearly 80 percent of bridesmaids purchase new shoes to wear with their bridesmaid dress, and over 60 percent buy additional accessories like bridesmaid necklaces, hair accessories, bridesmaid earrings, and more. If you add them all up, bridesmaids spend an average of $120 on these bridesmaid accessories. However, these costs can be easily defrayed by wearing shoes you already own or borrowing accessories—or your bride may purchase these extras for you as bridesmaid gifts so you're not spending a ton.

Do bridesmaids have to pay for their own hair and makeup?
Sometimes. If a bride requires that her 'maids get their hair and makeup professionally done, she should shell out the cash for these services. If she leaves the choice up to the 'maids, then the bridesmaids can pay for professional hair and makeup if they want—or do it themselves. About half of bridesmaids go the professional route for hair, and 37 percent choose to have their makeup done by a pro. On average, a bridesmaid will pay $72 for wedding-day hair, and $60 for wedding-day makeup.

If a bridesmaid has to travel to a wedding, what should she expect to spend?
If you're a bridesmaid in a wedding that's taking place in the city where you live, you're in luck. However, it doesn't always happen that way and you may have to travel to the wedding's location. Sometimes the wedding is within driving distance or a train ride, but destination weddings may require a long flight, overnight accommodations, and more. A bridesmaid spends an average of $115 on travel to a wedding destination (air or train fare, etc.) and $205 on accommodations. Of course, a couple can help out with these expenses by booking hotel room blocks (which frequently provide a discount to guests), or negotiating a group rate with an air carrier.

What about all of the parties—the bridal shower, bachelorette bash, etc.?
A big part of being a bridesmaid is planning, hosting, and attending those numerous pre-wedding parties—from the engagement party to the bridal showers to the bachelorette party, and possibly more! A bridesmaid can spend over $800 on hosting responsibilities, travel, and gifts for all of these events combined—and it turns out that the bachelorette party is most expensive. One of those fancy destination bachelorette parties that requires travel can cost a bridesmaid nearly $400! And these days about 44 percent of bachelorette parties are in a location other than where the bride lives—so more and more bridal parties are shelling out the cash for that girls' weekend.

And after all of that, a bridesmaid has to buy a gift too? Seriously?
Yup, a bridesmaid still has to purchase a wedding gift for the couple. On average, a bridesmaid spends $125 on a wedding gift. This is usually something off of the couple's registry, or the bridesmaids may choose to chip in to purchase a larger group gift for the couple.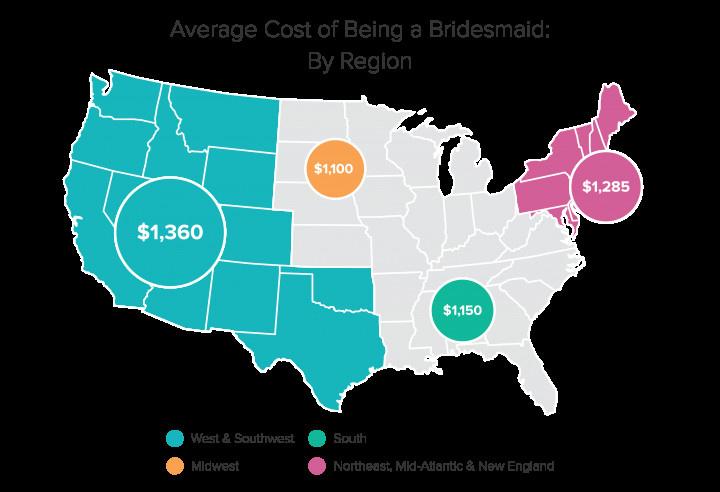 Does the cost of being a bridesmaid vary depending on where the wedding takes place?
It does! The most expensive place to be a bridesmaid is the West and Southwest, where 'maids can expect to shell out $1,360 per wedding. The least expensive region to be a bridesmaid is the Midwest, where 'maids pay $1,100.
Being a bridesmaid sounds a little intimidating. Is it worth it?
Most former 'maids would say yes! According to WeddingWire's survey, a whopping 95 percent of bridesmaids found their experience enjoyable. So though there is indeed a financial cost involved, standing beside a loved one during this milestone occasion is a huge deal—and totally worth the money.
Disclosure: This post contains affiliate links, some of which may be sponsored by paying vendors.