23 Bridesmaid Earrings They'll Want to Try On Immediately
Not only are these bridesmaid earrings wedding appropriate, they're versatile enough for your leading ladies to wear to lots of other occasions!
We have included third party products to help you navigate and enjoy life's biggest moments. Purchases made through links on this page may earn us a commission.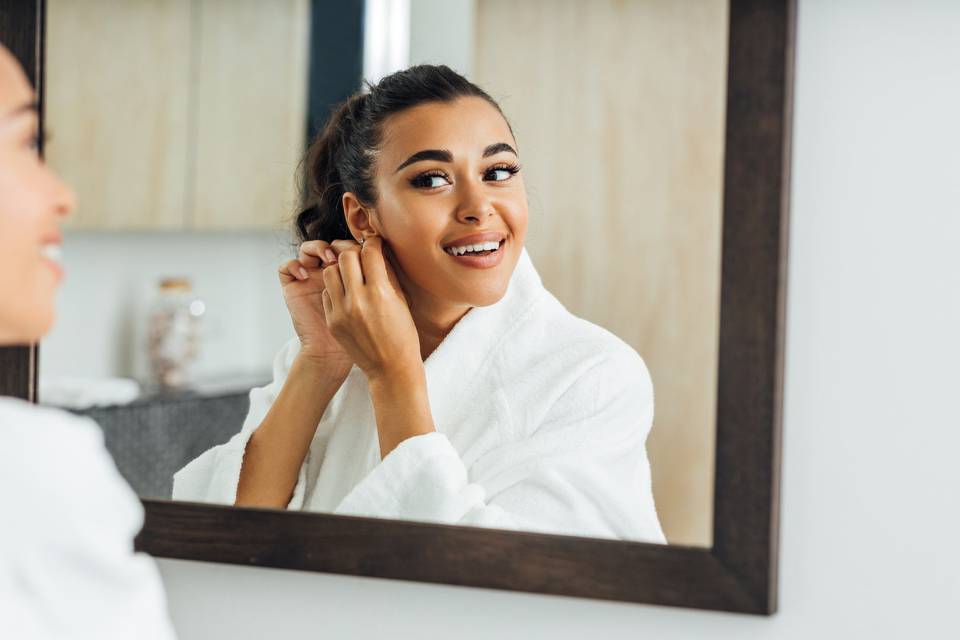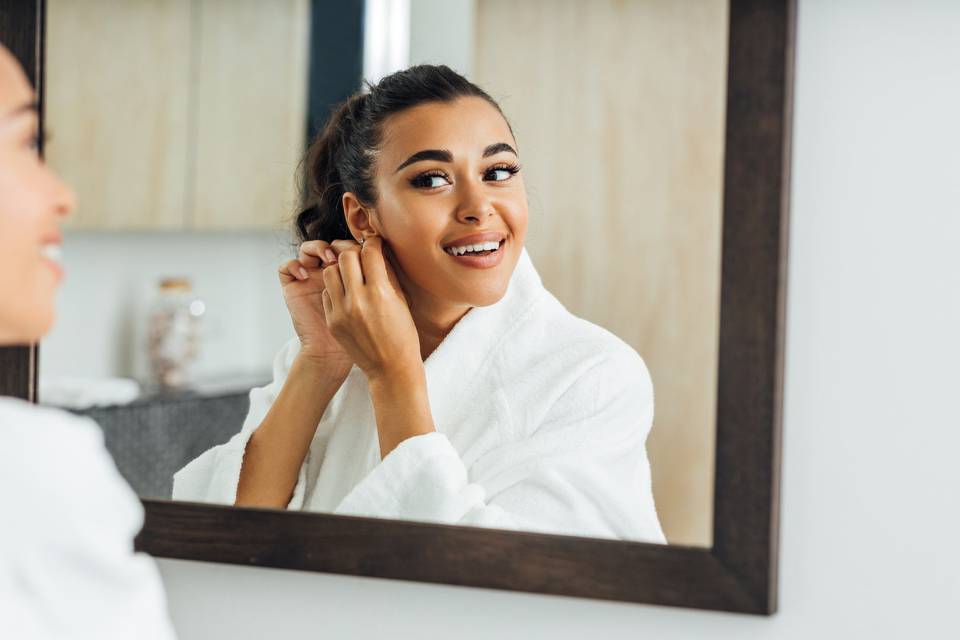 Your crew has been there for you through thick and thin, so finding perfect bridesmaid gifts is probably high up on your priority list. That said, you've already spent a chunk of your wedding budget on 101 different things for the big day. The solution? Bridesmaid earrings. We're huge fans of gifting jewelry when it comes to bridal party presents, and earrings are a sweet and affordable gesture that'll add a beautiful finishing touch to their wedding outfits. Not only that, but your crew can re-wear them and be reminded of the amazing journey you all took together. There are lots of places that sell cute bridesmaid jewelry, including some of our faves, like BaubleBar and Gorjana. You can basically count on finding a wide variety of affordable options your 'maids will love. Whether your squad members like to keep it simple with a set of pretty studs or prefer a dramatic, shoulder-sweeping look, we've got what you need on our list of the best bridesmaid earrings below.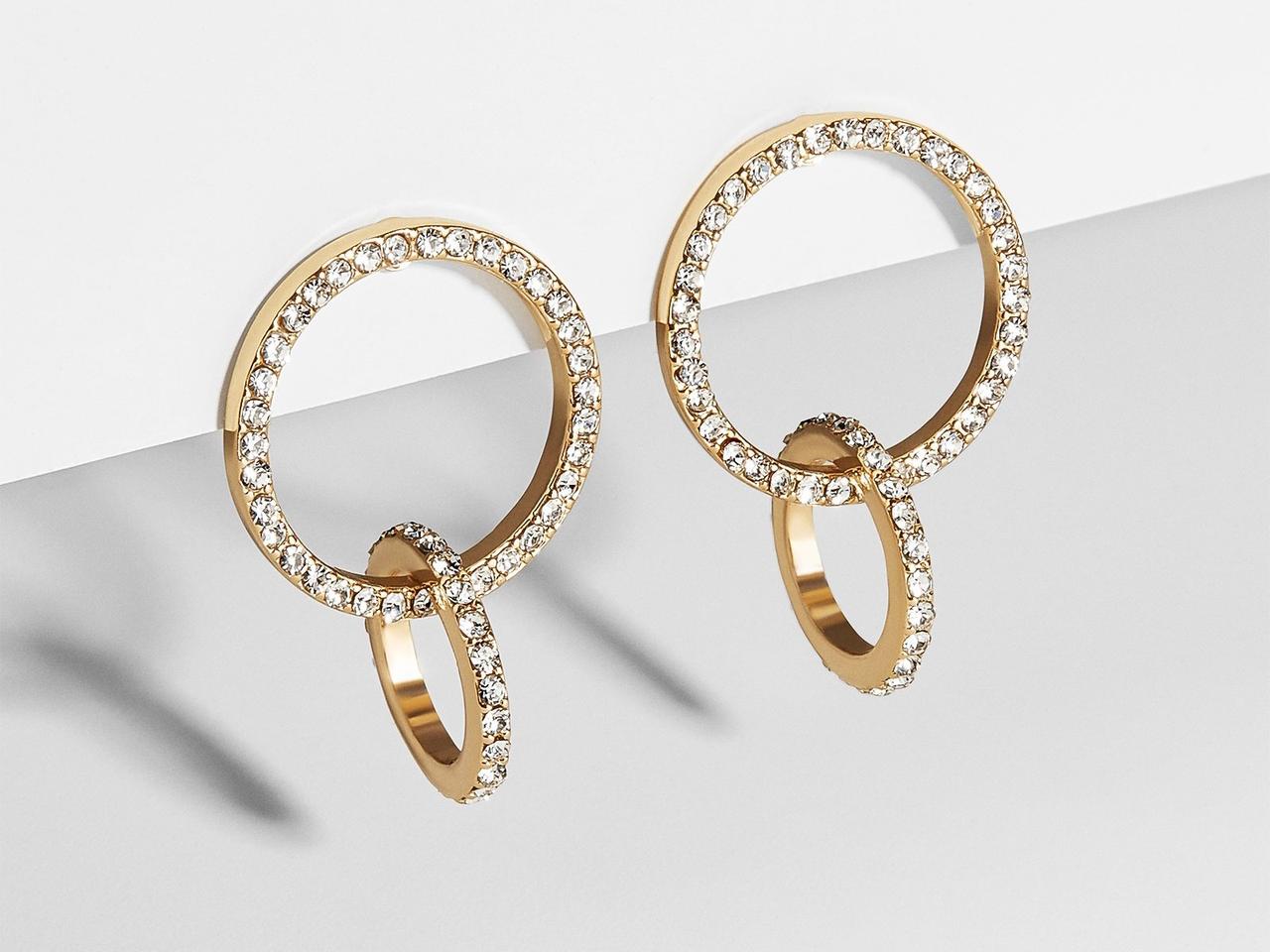 1. Interlocking Circles
Have your girls go glam when you gift them these stunning bridesmaid drop earrings with dazzling glass stones. These beauties will look right at home at the altar and on the dance floor. Plus, they'll go with almost anything thanks to the classic gold plating and clear glass crystals.
BaubleBar Cleo drop earrings, $36, BaubleBar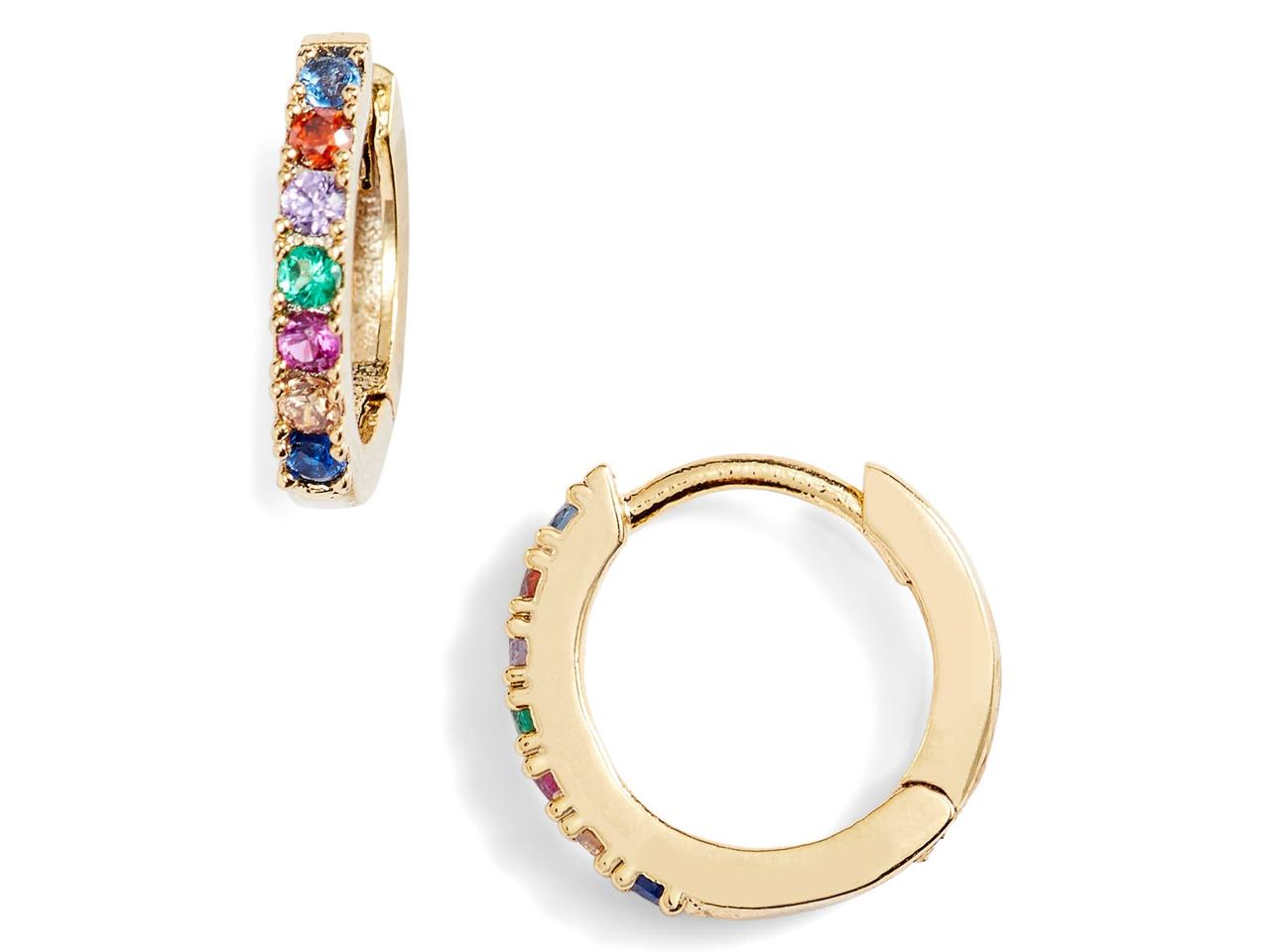 2. Rainbow Huggies
Speaking of gold bridesmaid earrings, add a pop of color to your bridal party's style by gifting each member of your crew a pair of these gorgeous, gold-plated rainbow huggie hoops. They're bright enough to be noticed, but small enough not to steal the show.
Estella Bartlett multicolor crystal pavé huggie hoop earrings, $35, Nordstrom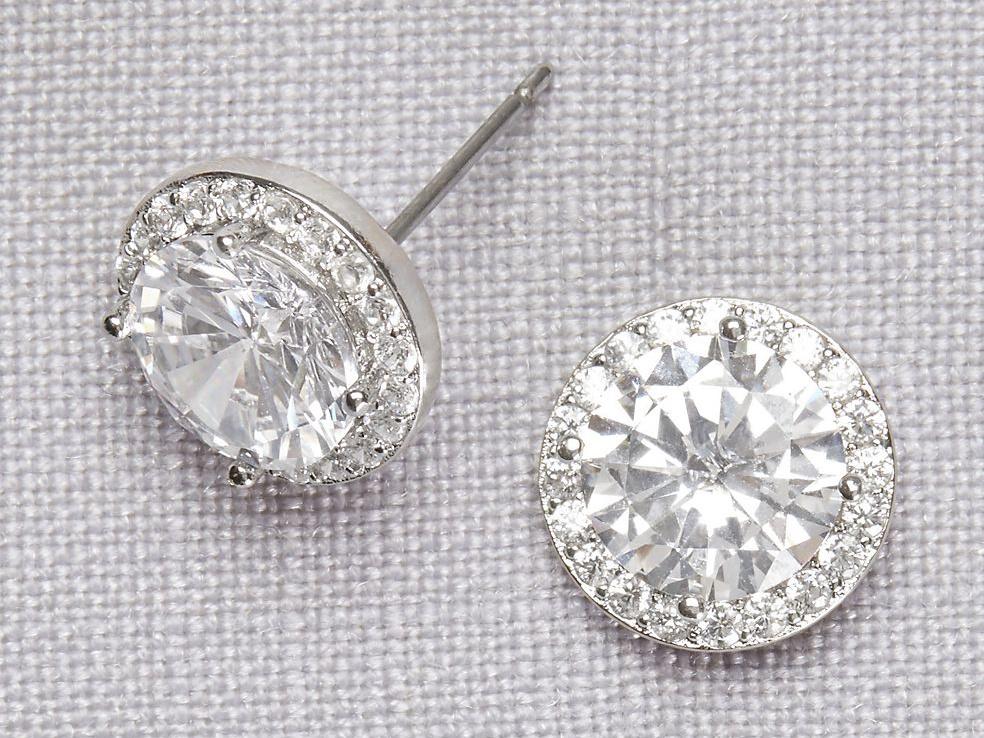 3. Stunning Studs
If gold jewelry just isn't their thing, not to worry. We've got some gorgeous silver bridesmaid earrings too, like this timeless pair of solitaire studs. Versatile and affordable, they're an excellent choice for brides with a long list of 'maids to please.
David's Bridal cubic zirconia solitaire pavé posts, $15, David's Bridal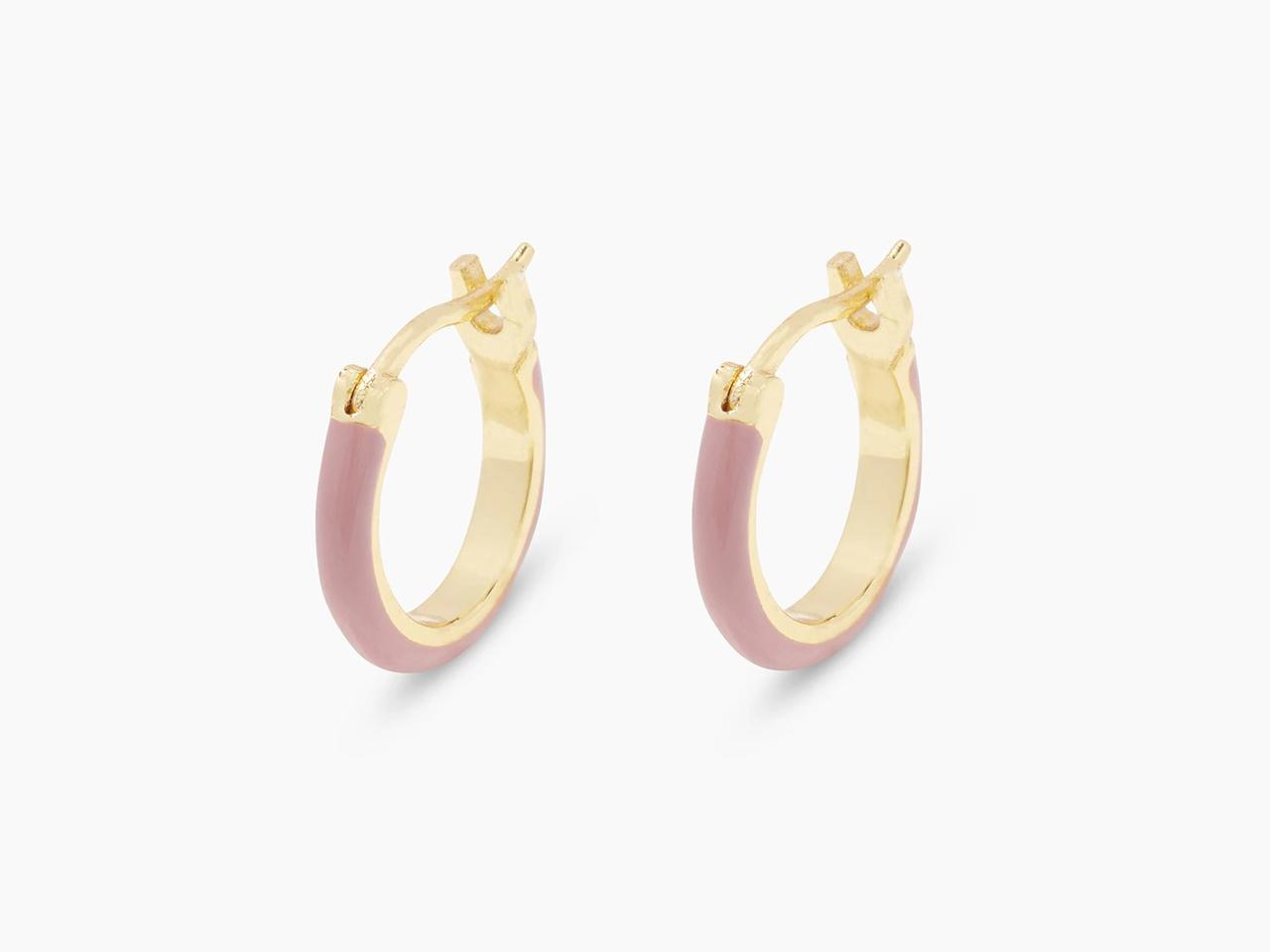 4. Blush Hoops
Here's another pair of dainty huggies that'll add a sweet and subtle finish to each outfit. They're the perfect pink earrings for bridesmaids donning blush tones. You can even get a matching pair in teal to wear as your something blue (or to give to your squad if blue bridesmaid earrings better suit your color palette).
Gorjana Amalfi huggies, $45, Gorjana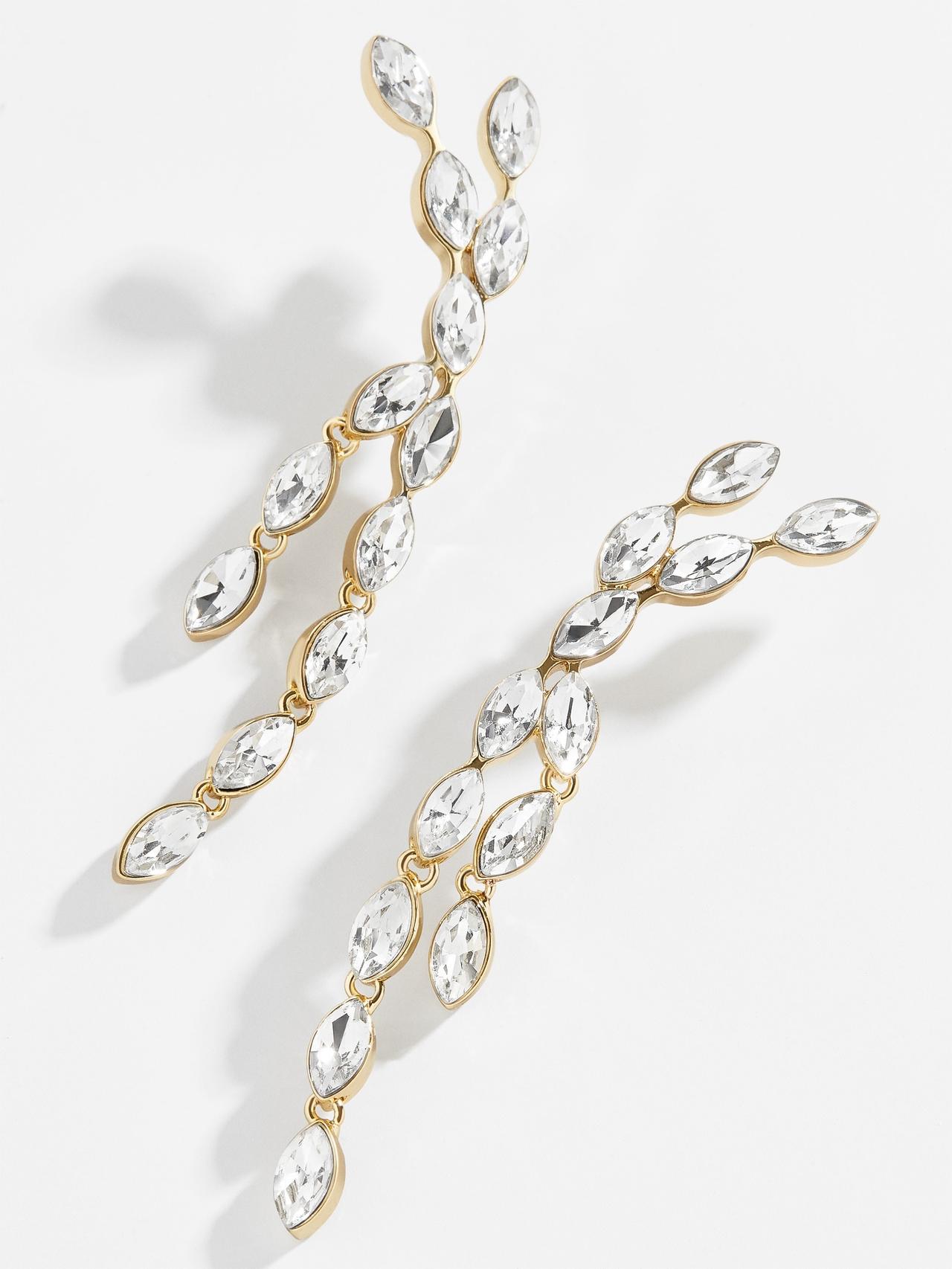 5. Teardrop Crystals
Can't decide between stunning drop earrings and elaborate crawlers? With this pair, you don't have to. Give your girls the best of both worlds in the form of elegant teardrop bridesmaid earrings with shiny gold plating.
BaubleBar Donati drop earrings, $44, BaubleBar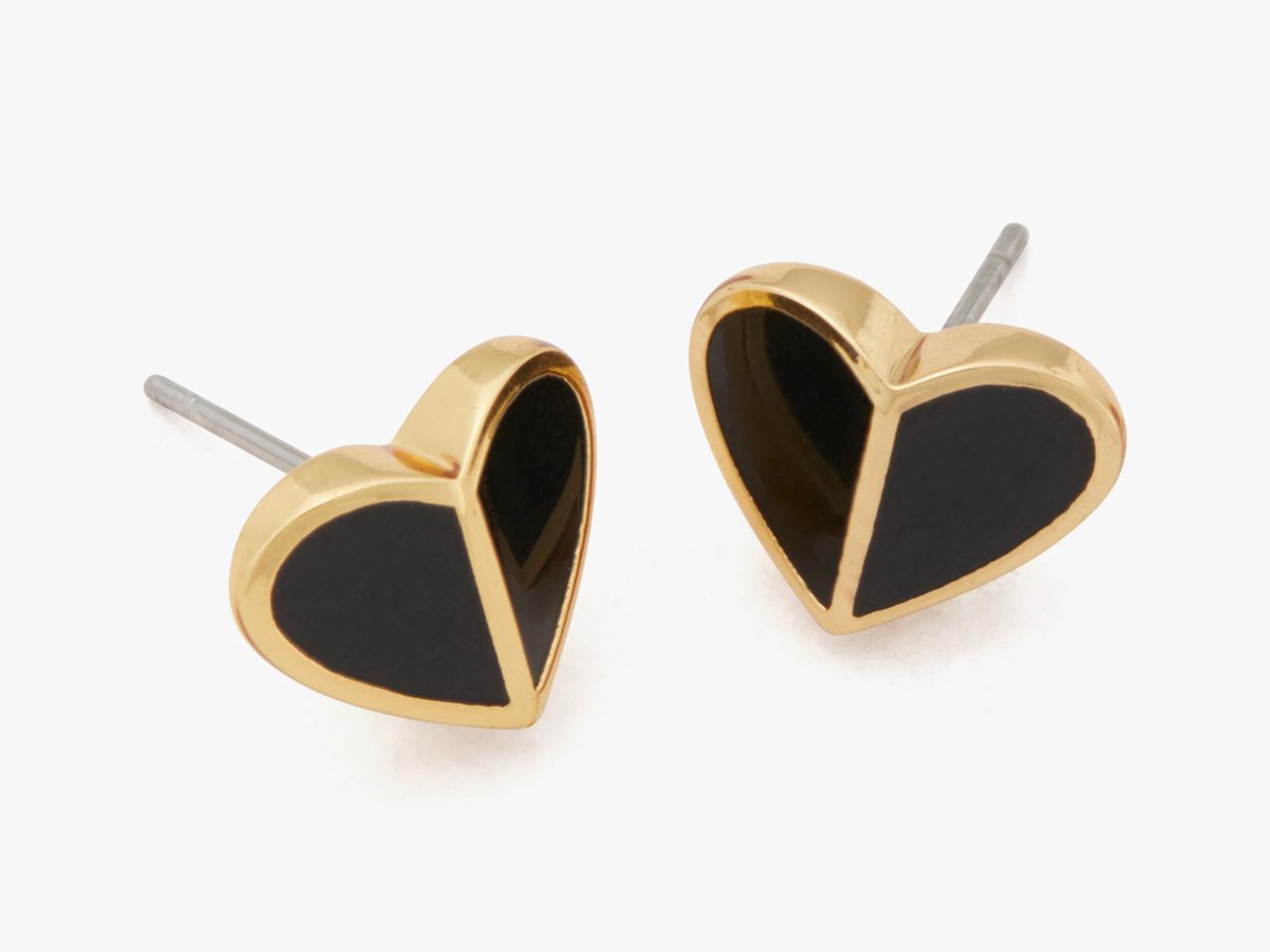 6. Heart-Shaped Studs
Our hearts are all aflutter over these chic, minimalist-inspired studs from Kate Spade. These would be the perfect bridesmaid earrings for a modern wedding, but they would pair perfectly with a more casual look, too, like a snappy black blazer or even a button-down blouse. They're a fitting tribute to your special day—after all, love is what's bringing you together.
Kate Spade New York Heritage Spade small heart studs, $48, Kate Spade
7. Perfect Pearls
If your budget is on the bigger side, Blue Nile has an impressive selection of fashionable fine jewelry to choose from. These stunning pearl bridesmaid earrings effortlessly combine two looks: hoops and drop earrings. A single freshwater pearl hangs from a sterling silver hoop studded with white topaz gems. It's a classic bridal look that's guaranteed to impress your crew.
Blue Nile white topaz cultured pearl drop hoop earrings, $155, Blue Nile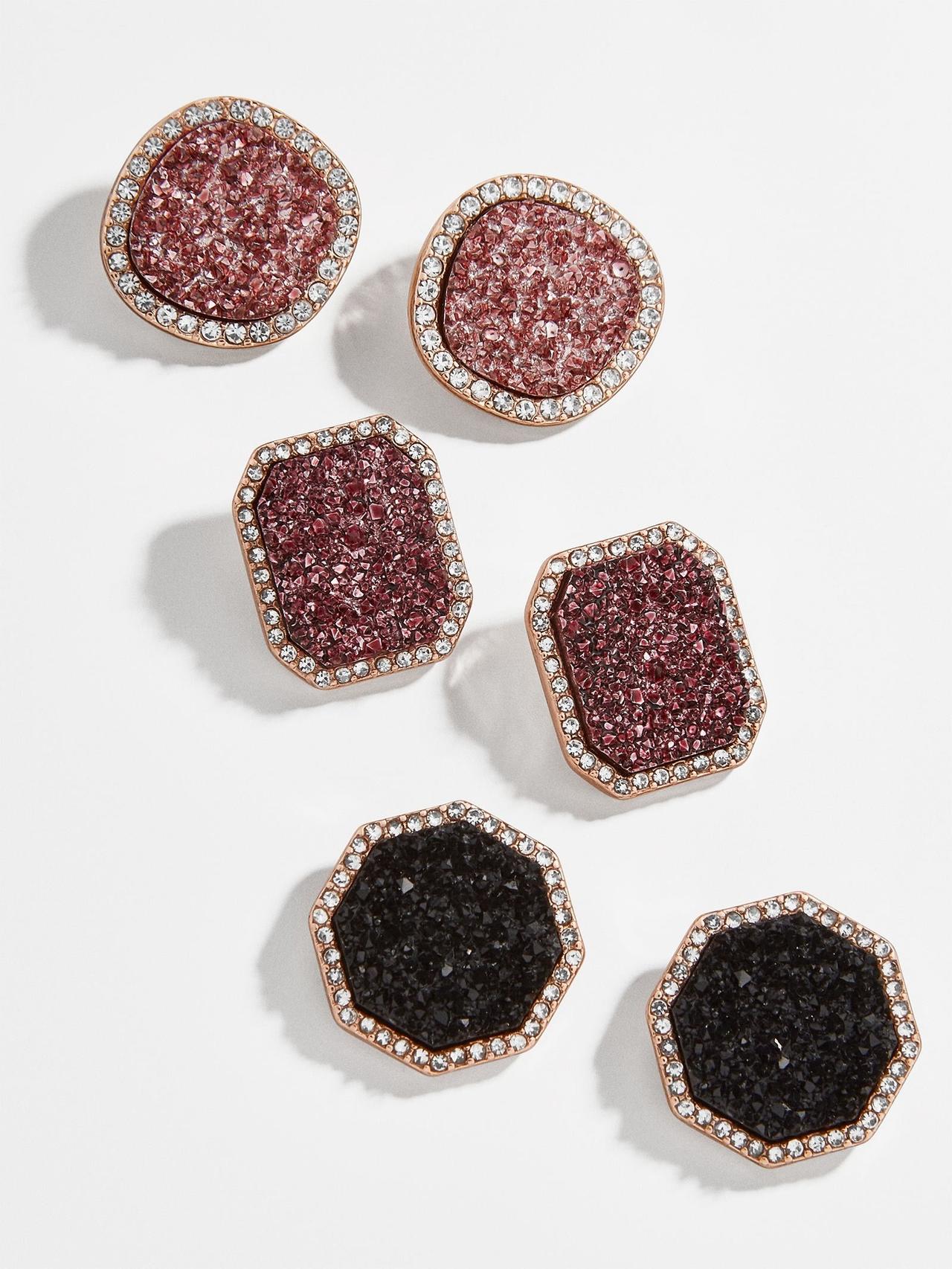 8. Berry Special
If your crew plans on flaunting mismatched bridesmaid dresses, give them the perfect accessory to help pull it off. These berry-toned druzy studs will go beautifully with a fall wedding color palette. Plus, each pair of purple bridesmaid earrings sparkles in its own unique way, just like your 'maids.
BaubleBar Elzina druzy button stud earring set, $48 for 3 pairs, BaubleBar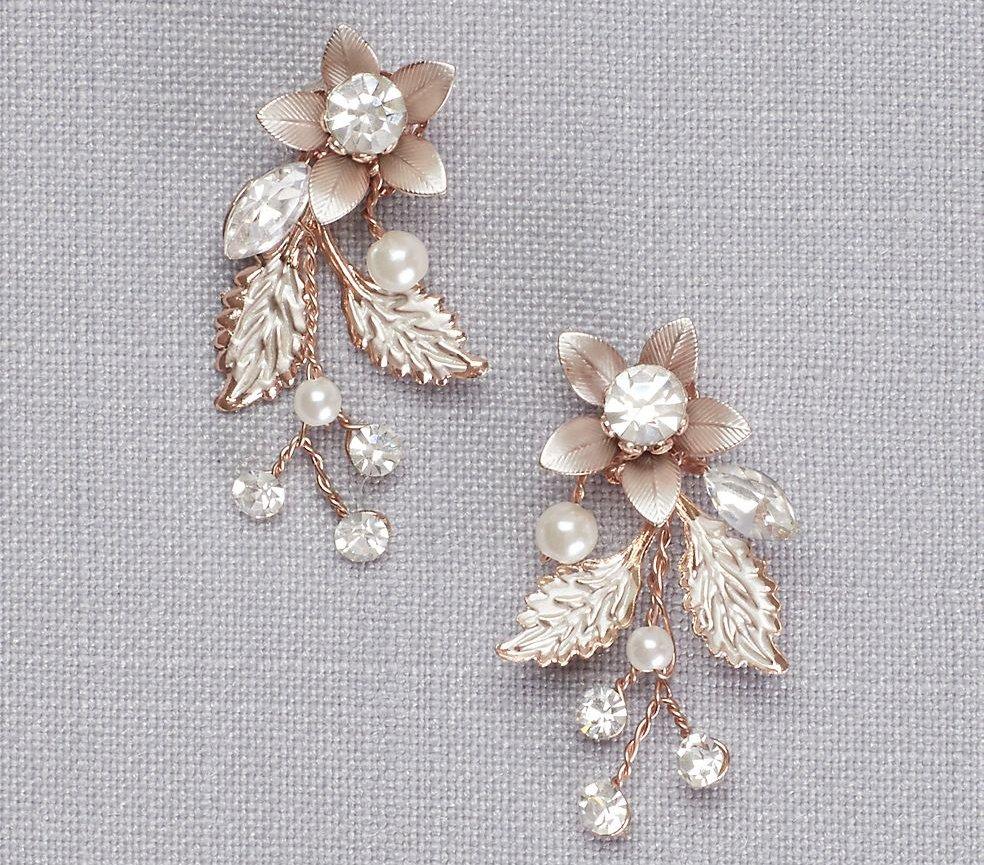 9. Metallic Florals
What could make better bridesmaid earrings than crystals and pearls? This gorgeous pair is both on trend and on budget, making them a great choice if you're dressing your squad in the latest bridesmaid fashion. Metallic floral details make a dramatic yet elegant statement and will look right at home at even the most formal affair.
David's Bridal jeweled brushed metal flower earrings, $20, David's Bridal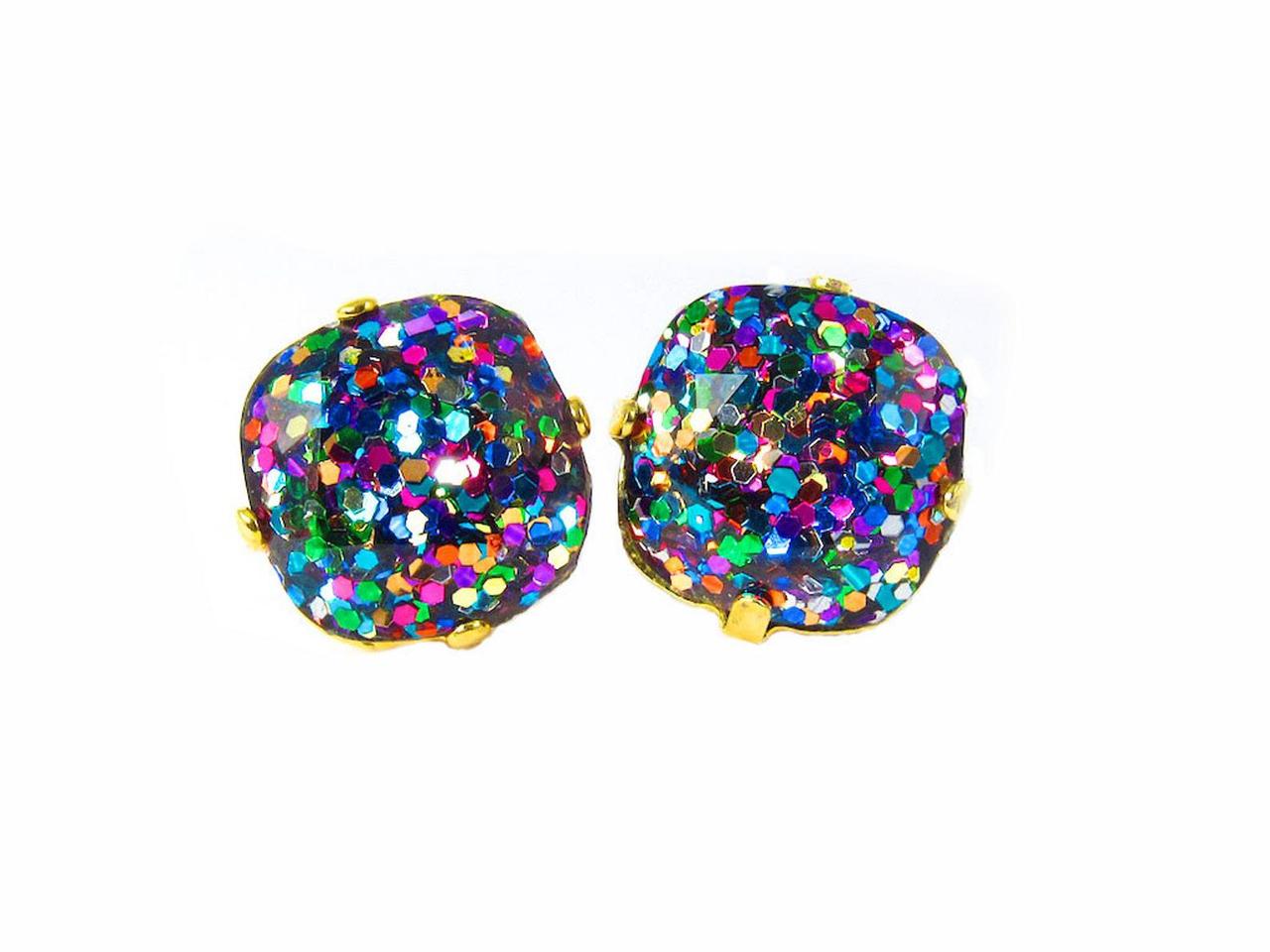 10. Confetti Studs
If your wedding style is more fun-loving than formal, these adorable glitter stud bridesmaid earrings need to be part of the festivities. This party-ready jewelry will have your main girls going ga-ga! Bright, multi-colored glitter sparkles on gold-, silver-, or rose gold-plated studs.
Sparkles & Pink rainbow glitter studs bridesmaid earrings, from $18, Etsy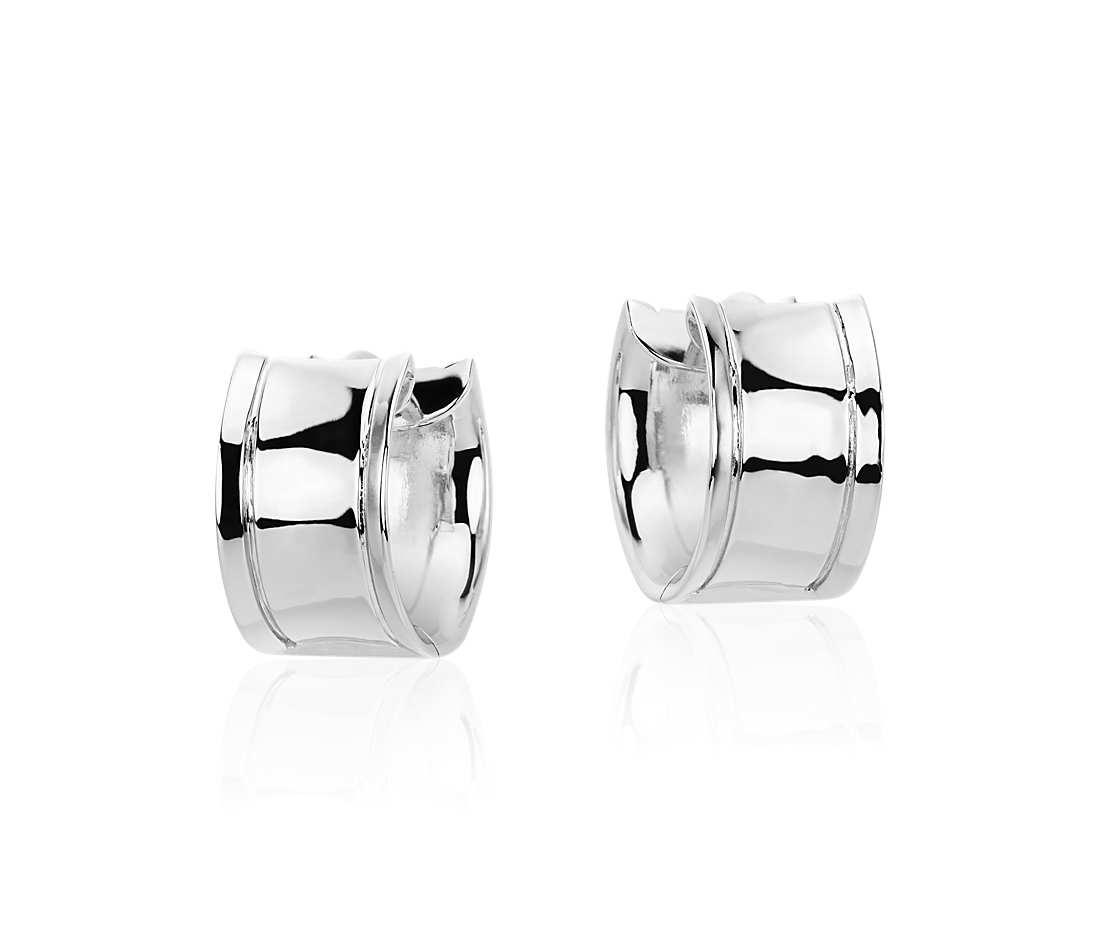 11. Minimalist Huggies
We're pretty comfortable guessing that these silver stunners have never met an outfit they didn't get along with. So if your goal is to gift your bridesmaids a pair of everyday earrings that are also wedding-ready, this is a great pair to consider. They're wider hoops, which adds an elegant twist to their otherwise casual aesthetic.
Blue Nile wide huggie hoop earrings, $75, Blue Nile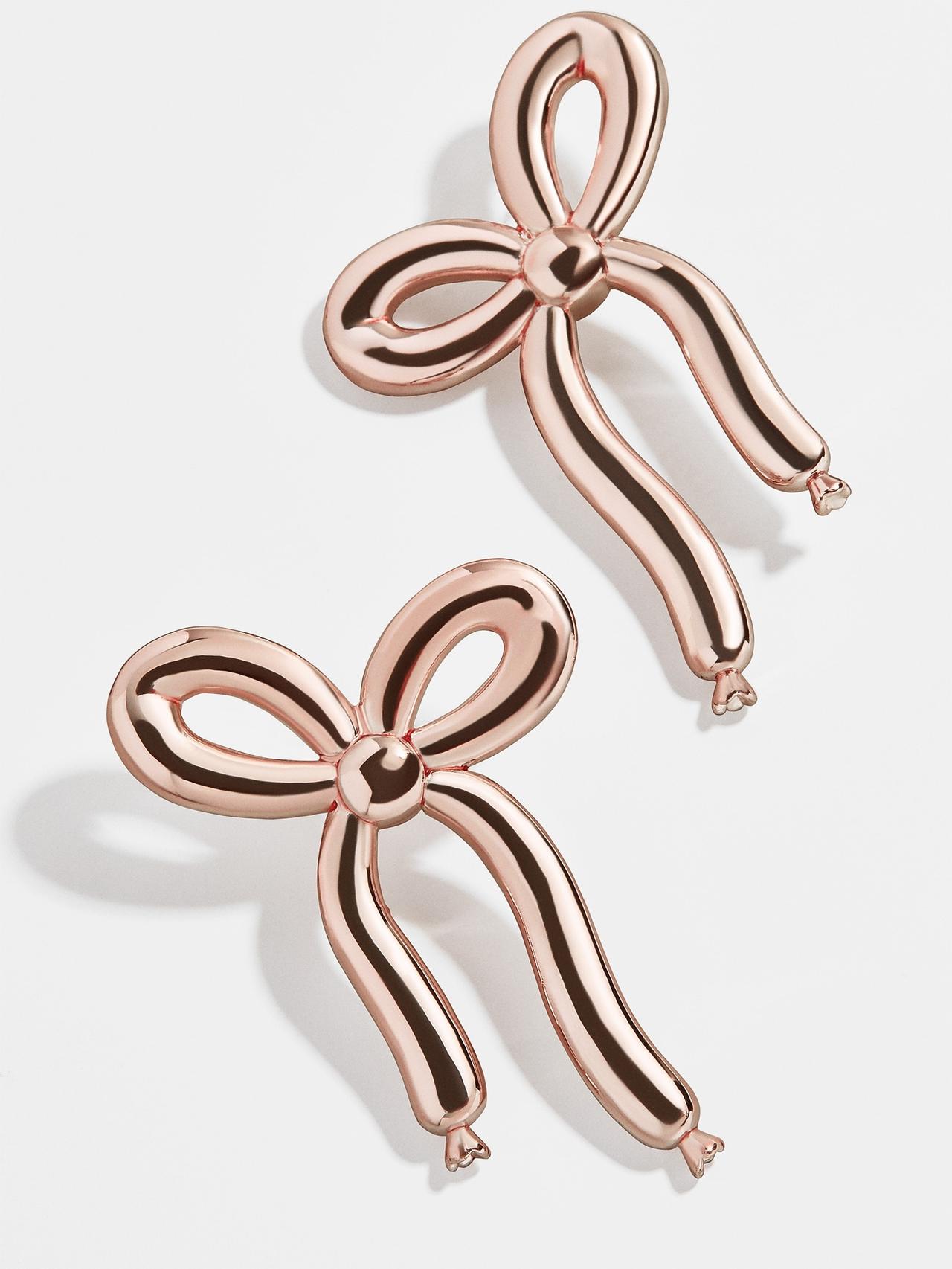 12. Rose Gold Bows
Accessories are a great opportunity to have a little fun with your wedding party outfits. These rose gold bridesmaid earrings will make a fitting gift—no ribbon required.
BaubleBar bow balloon earrings, $38, BaubleBar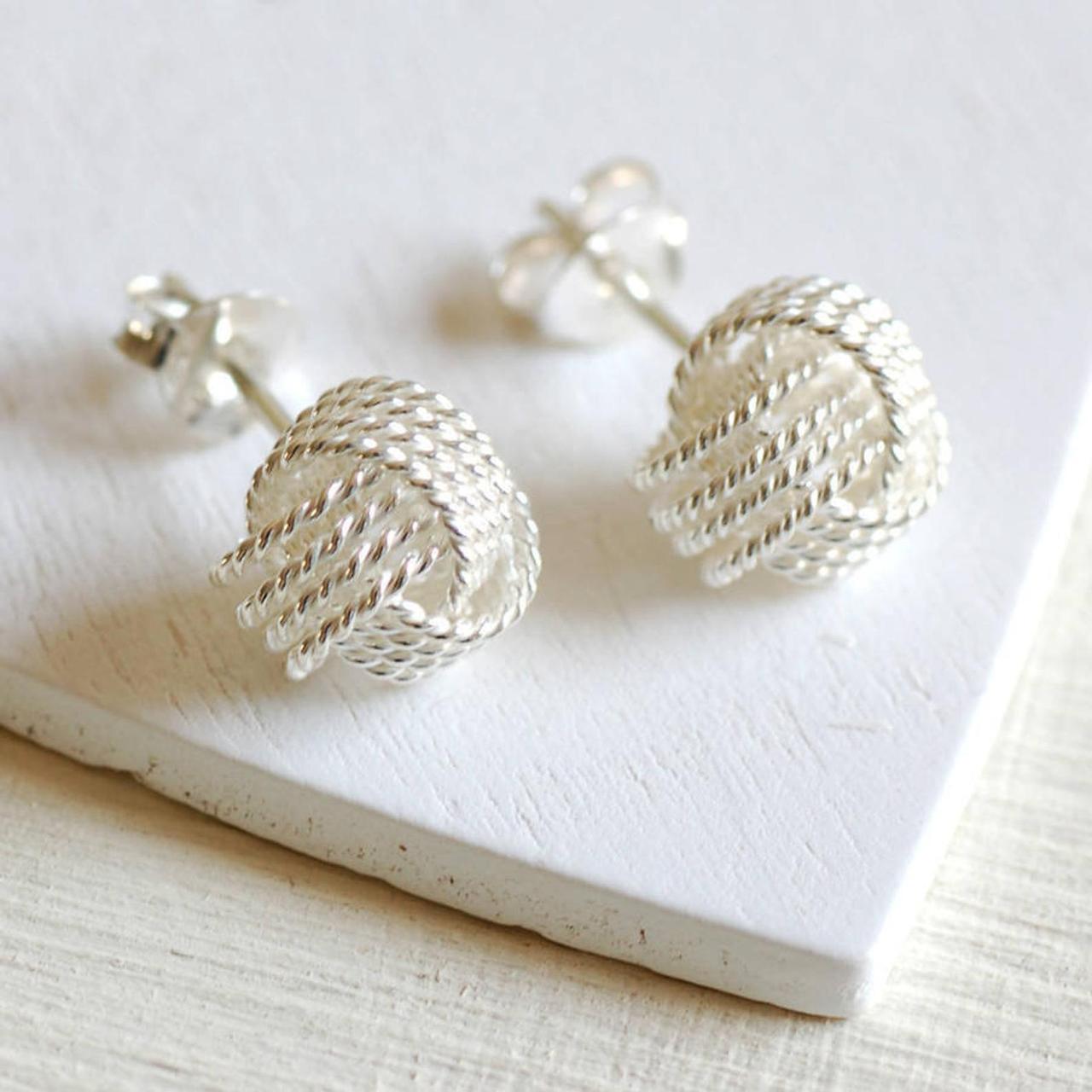 13. Meaningful Knots
We think these Tiffany-inspired "tie the knot" bridesmaid earrings are simply beautiful. Crafted from sterling silver, they're a great choice if your BFFs aren't fans of long, dangly earrings, or if you're going for a more traditional, elegant vibe. Bonus: Each set comes in a pretty pink or turquoise box, making these bridesmaid earrings gift-ready.
Knots of Jewels tie the knot bridesmaid earrings gift, $15, Etsy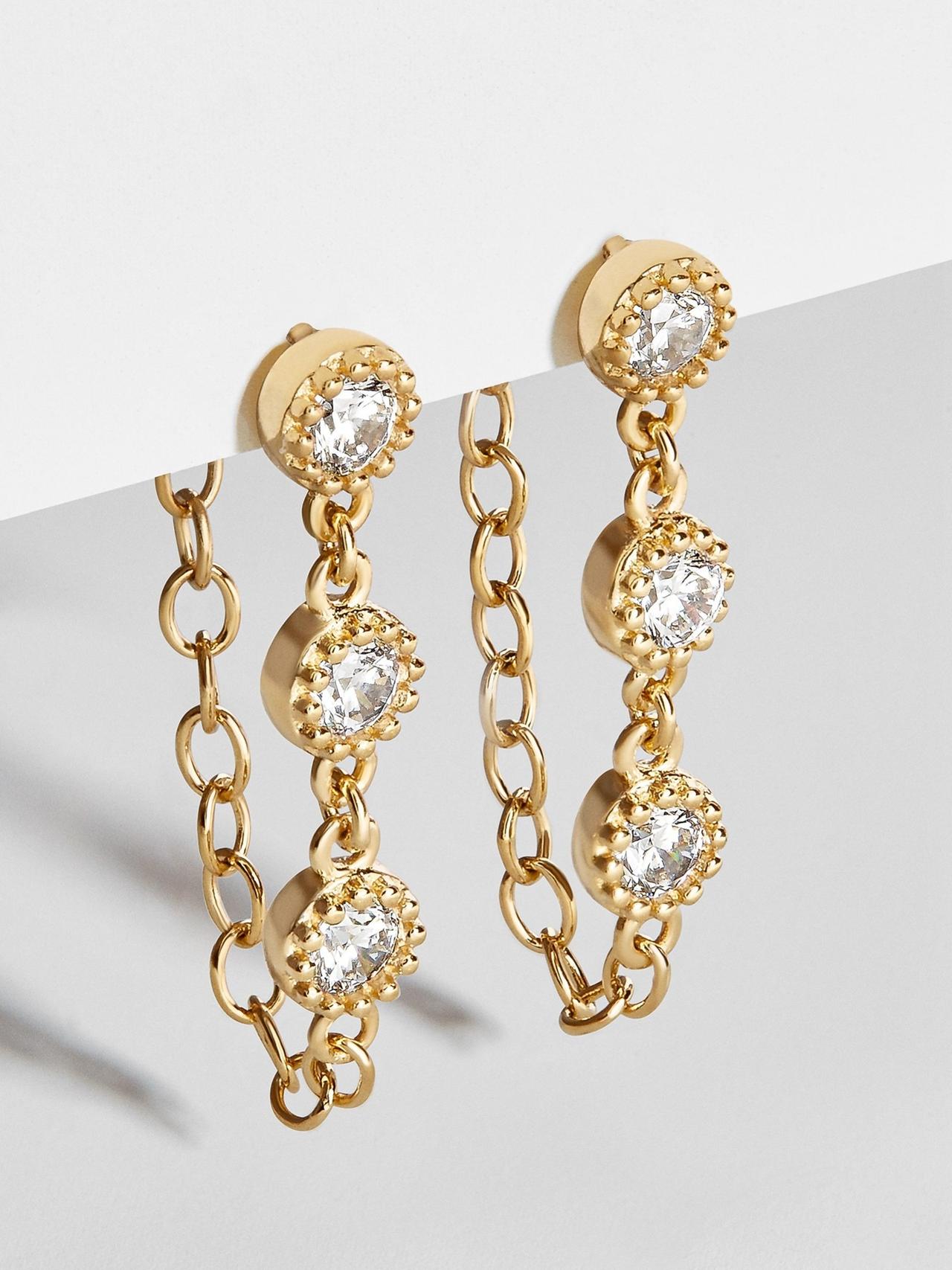 14. Gold Chains
Why not give your bridal party earrings that shine just as much as their awesome personalities? These intricate drop earrings feature three sparkling crystals along a shiny 18-karat gold chain.
BaubleBar Pica 18k gold vermeil drop earrings, $62, BaubleBar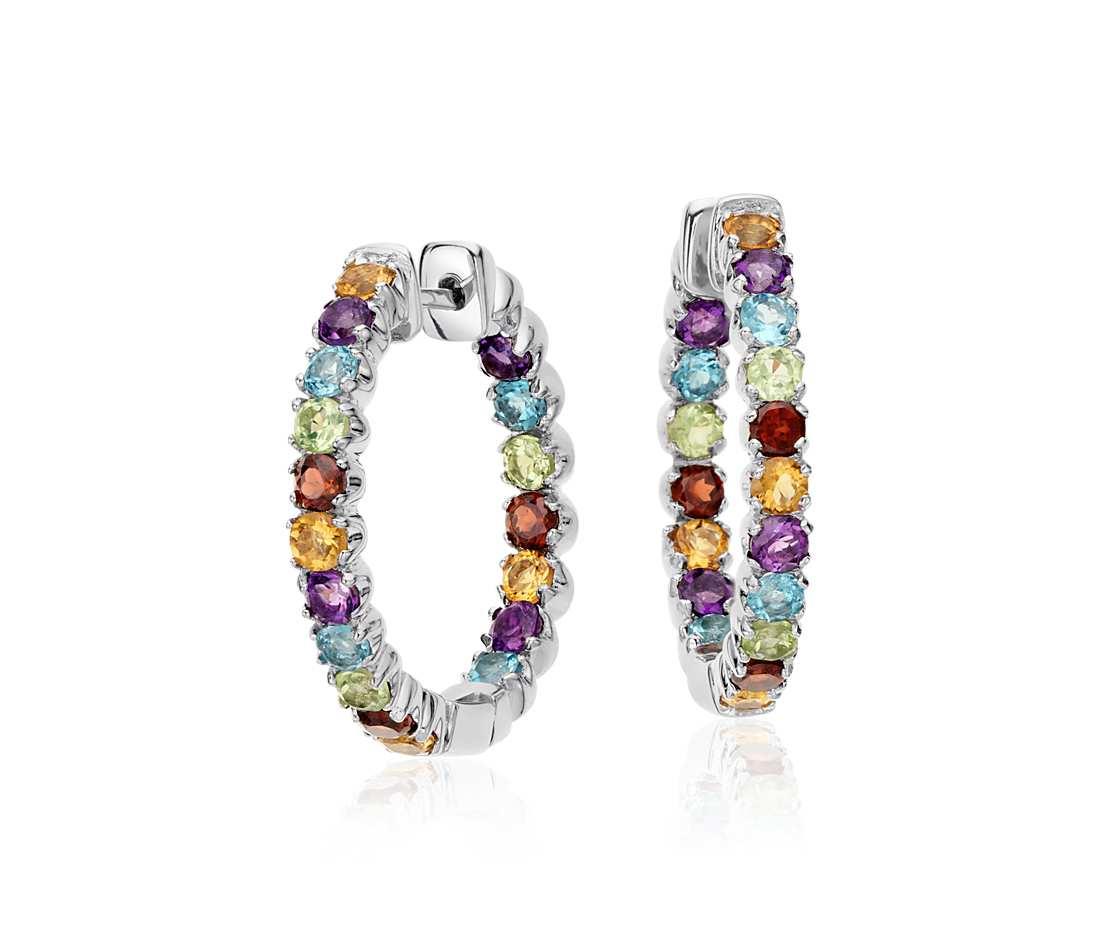 15. Multicolored Hoops
Are you letting your bridesmaids choose the color of their gowns? If you'll have multi-colored dresses heading down the aisle in front of you, these gorgeous hoops are totally gift-worthy. They're adorned with a channel of colorful stones in rich hues like amethyst and topaz, so they'll match a variety of gown colors. Plus, the gems are positioned to look amazing from every angle—these bridesmaid earrings are a photographer's friend for sure!
Blue Nile multicolored gemstone hoop earrings, $190, Blue Nile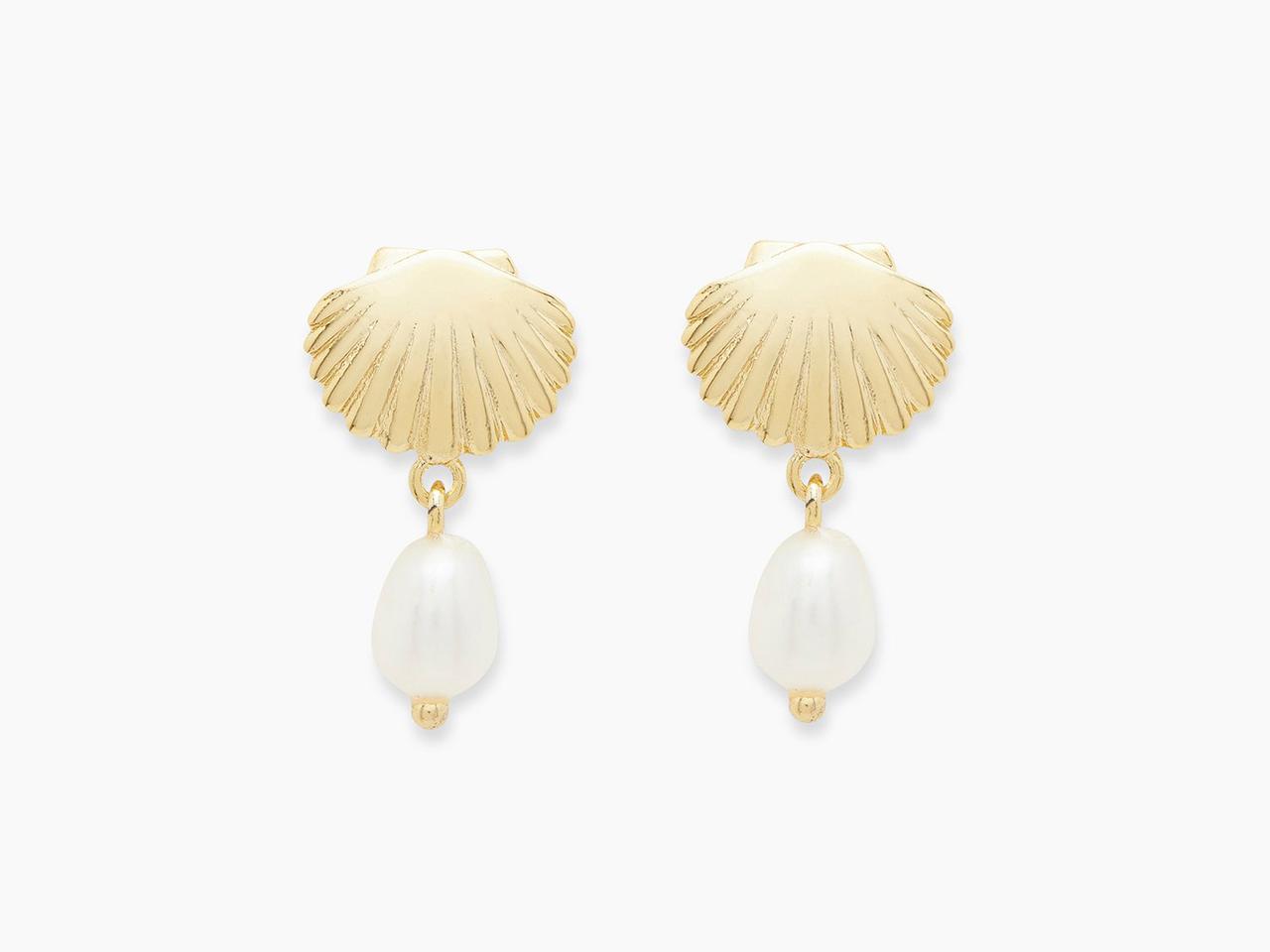 16. Shiny Seashells
Some of the best earrings for your bridesmaids play to your wedding theme or color palette. If a nautical celebration is on the cards, why not present these elegant seashell drop studs to your crew? They're also a beautiful party favor for mermaid-themed bachelorettes.
Gorjana seashell charm earrings, $45, Gorjana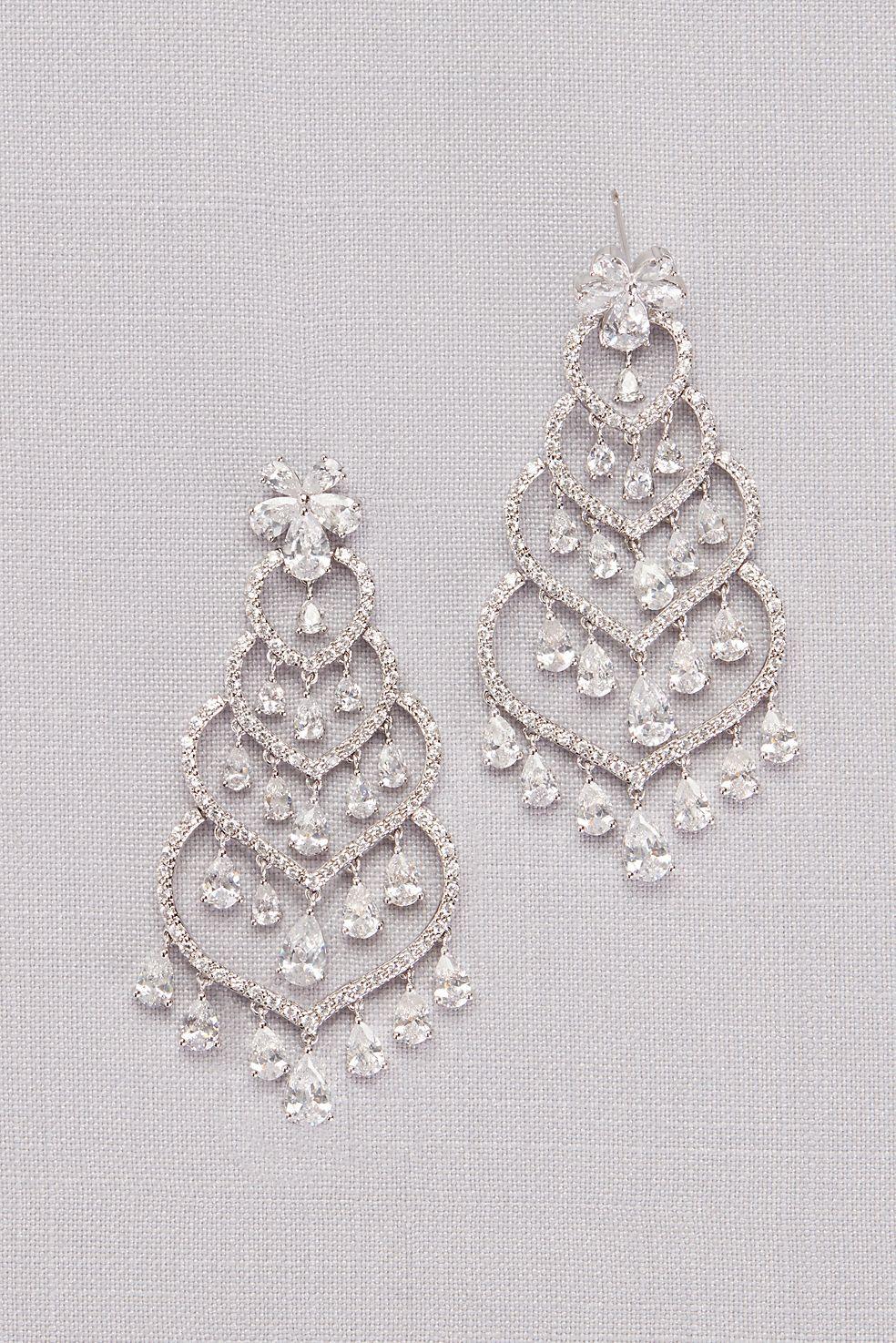 17. Sparkling Chandeliers
Let these statement chandelier bridesmaid earrings take center stage by pairing them with minimalist dresses. This sparkling pair features a stunning tiered design embellished with cubic zirconia and micropavé crystals. It's a shoulder-sweeping look that everyone's sure to notice.
David's Bridal cubic zirconia tiered heart chandelier earrings, $40, David's Bridal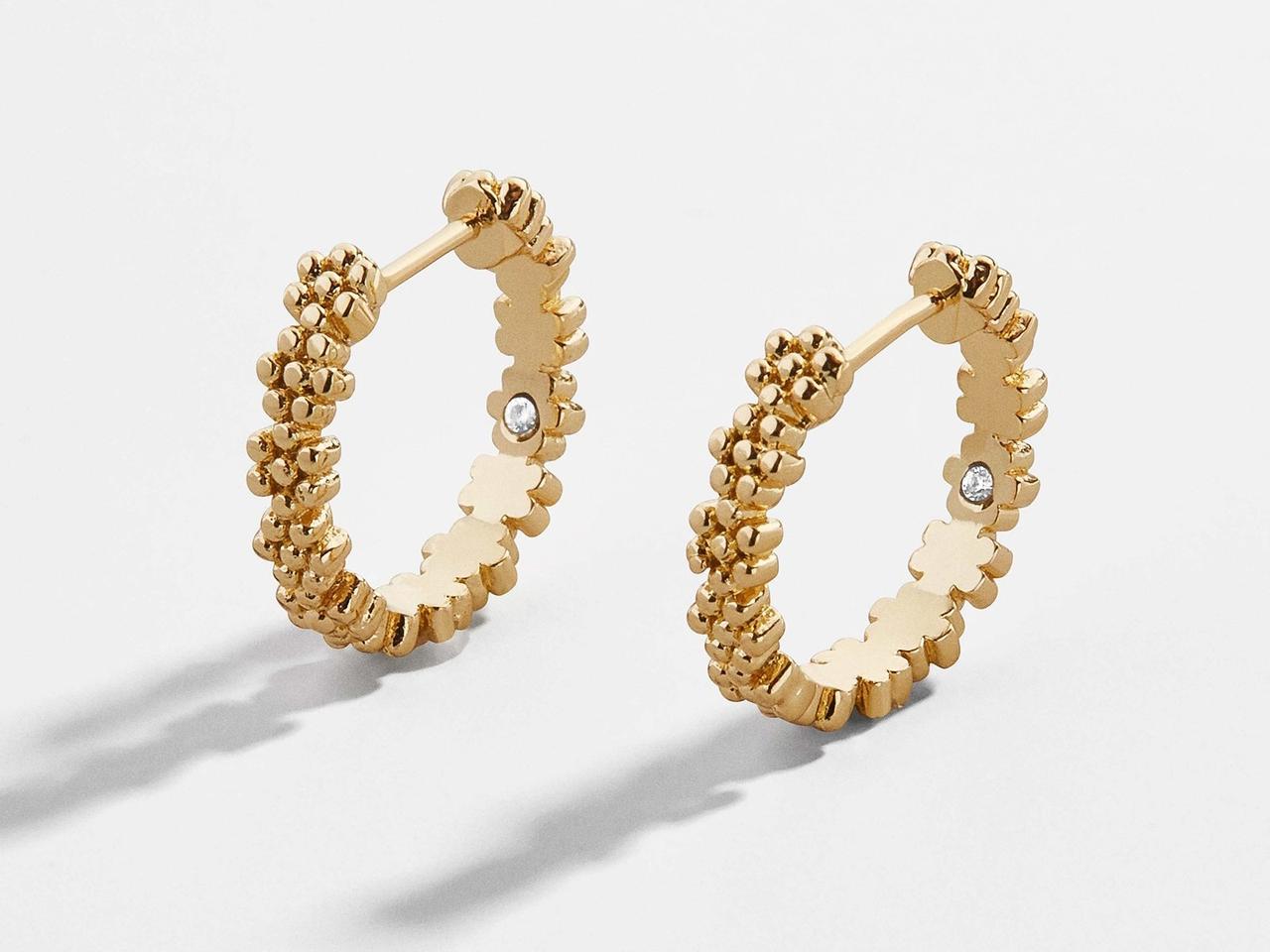 18. Floral Huggies
For the ultimate in beautiful simplicity, we love these huggie hoops from Baublebar. They boast a unique gold floral pattern that'll look on point with just about any bridesmaid dress. If that's not enough, they're also super light for extra comfort, and a hinged closure ensures they'll stay in place all night long.
BaubleBar Shadya huggie hoops, $36, BaubleBar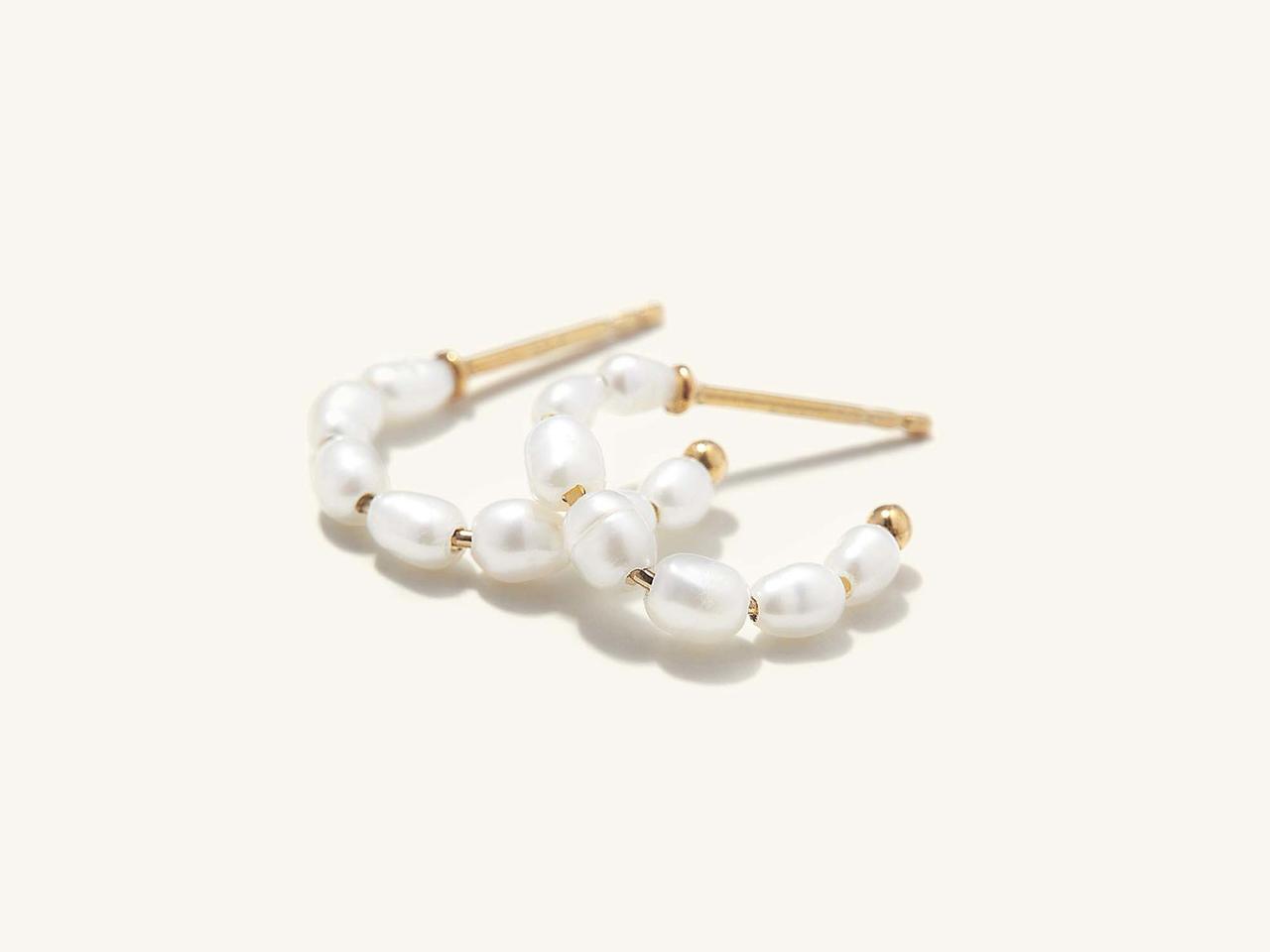 19. Pearl Hoops
These gold and pearl bridesmaid earrings definitely don't look cheap, but you can snap them up for just $60 a pair. Mejuri makes it their mission to sell luxury jewelry at a lower price by acting as a direct line between manufacturers and their customers. It's another one of our favorite places to shop for bridesmaid earrings, especially if they're a gift.
Mejuri organic pearl stacked hoops, $60, Mejuri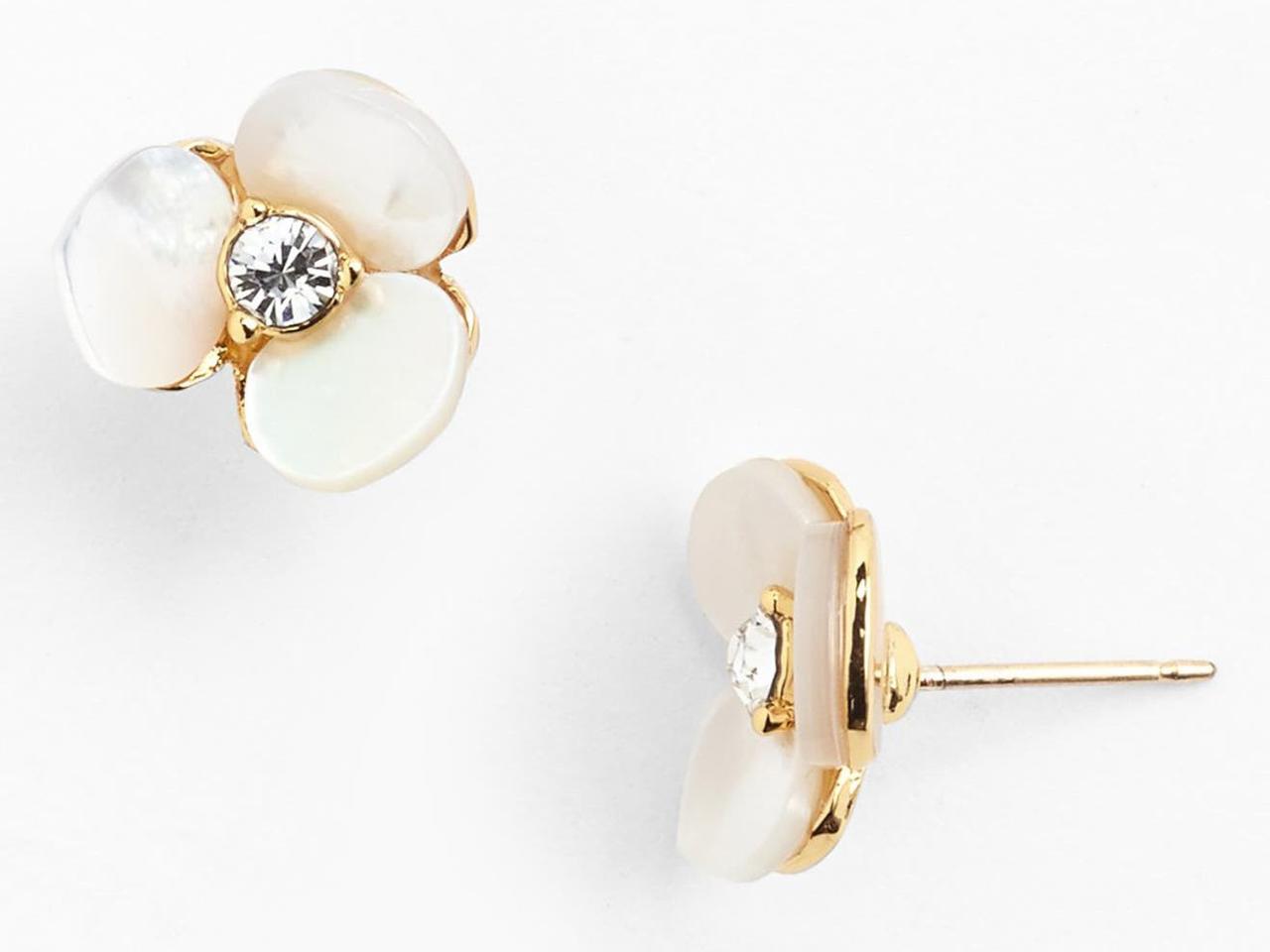 20. Flower Power
If a backyard, garden, or beach will be the beautiful backdrop for your wedding, consider gifting your girls a pair of bridesmaid earrings that give a nod to those natural surroundings. We can't think of a better pair than these totally adorable flower-shaped studs. Ivory petals give way to a single crystal in the center for a dazzling final touch.
Kate Spade New York disco pansy stud earrings, $58, Nordstrom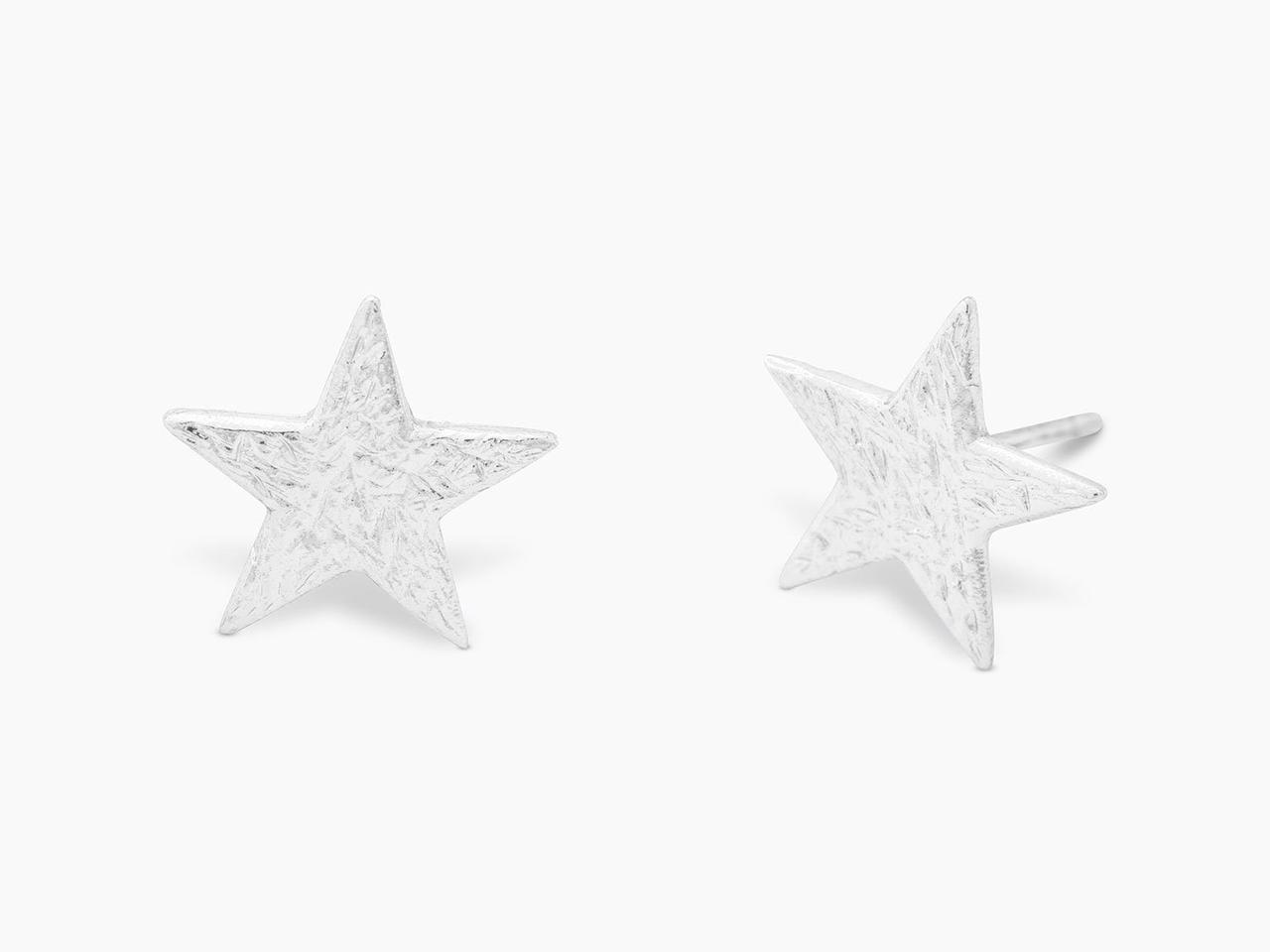 21. Star Stud(ded)
Your bridesmaids are your shining stars, so naturally these silver, star-shaped studs will make for beautiful (and inexpensive!) bridesmaid earrings. Modern and minimalist, they'll go with everything from formal gowns to everyday attire.
Gorjana small star stud earrings in Silver, $35, Gorjana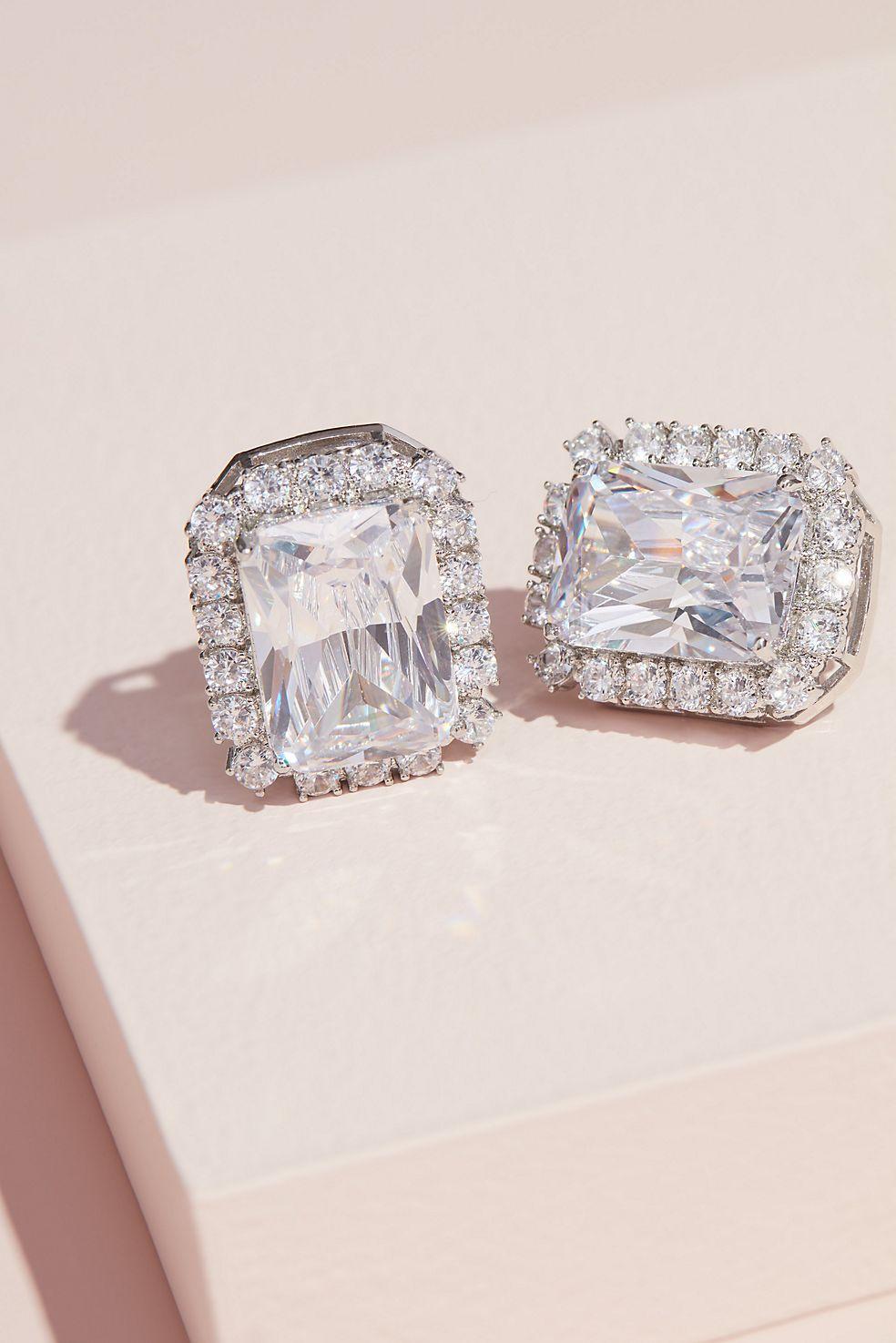 22. Vintage Clip-Ons
Not everyone wears jewelry in their day-to-day life. That's where these clip-on bridesmaid earrings come in. They're a clever alternative for members of your squad who don't have their ears pierced. Featuring a regal emerald cut, these timeless studs will make for a sophisticated accessory.
David's Bridal oversized emerald-cut halo clip-on earrings, $48, David's Bridal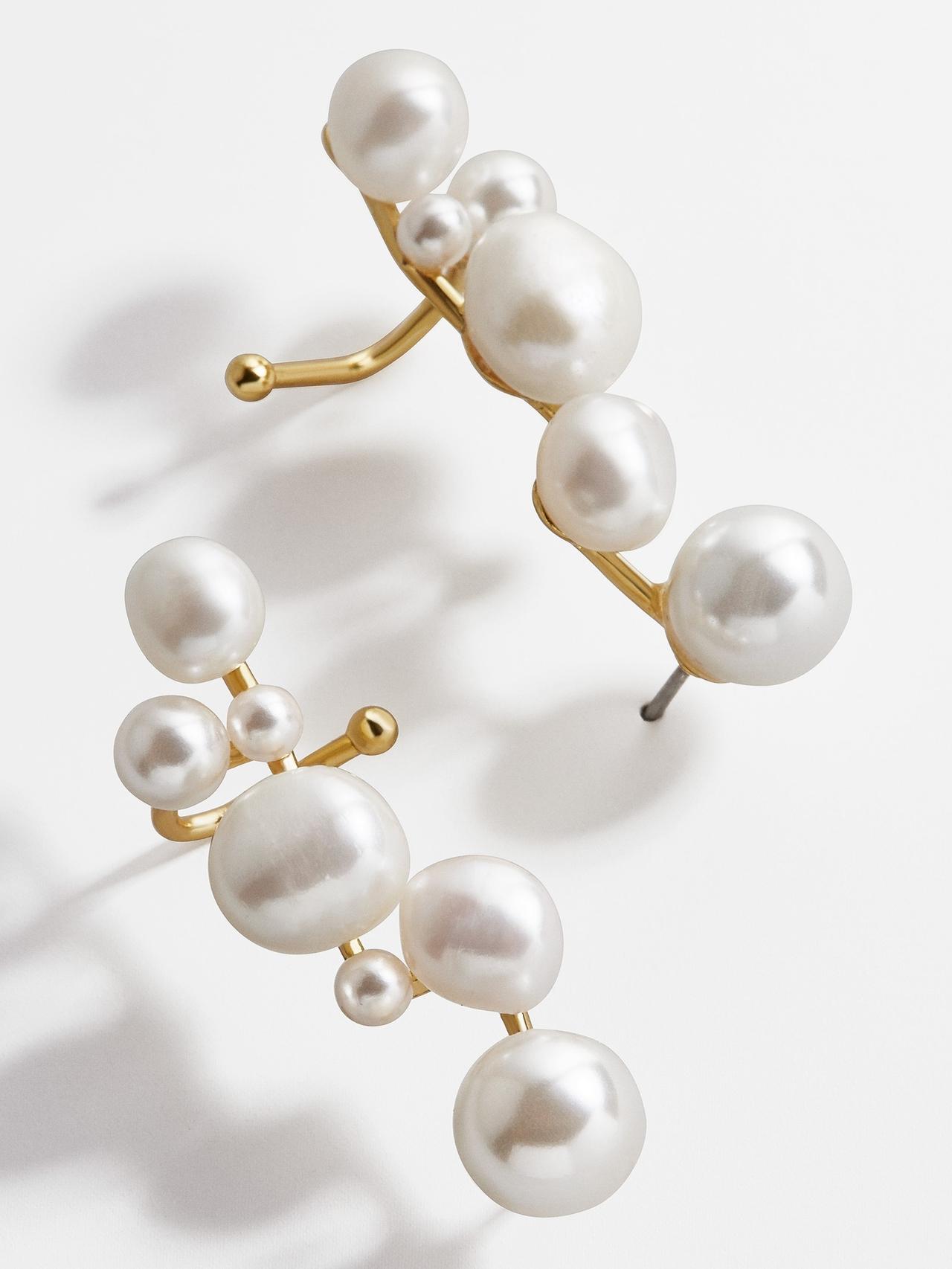 23. Playful Pearls
These timeless ear crawlers will make a simply stunning gift for your girls. This trendy pair might break the mold of traditional bridesmaid earrings, but they're sure to be appreciated for their unique beauty. Glass and keshi pearls in varying shapes and sizes create a whimsical yet elegant look.
BaubleBar Soraida pearl ear crawlers, $42, BaubleBar