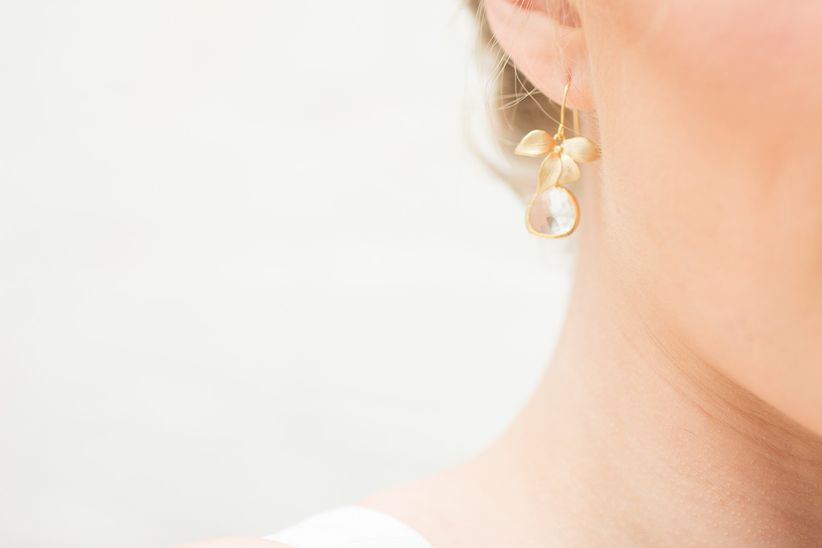 Your bridesmaids have been there for you through thick and thin, so you're probably focused on finding the perfect gift for your crew. One option is to gift your girls something they can wear on your wedding day but also enjoy after, too. That's why we love bridesmaid earrings. A great pair of earrings are the perfect finishing touch for your bridesmaids' ensembles as they walk down the aisle, whether you're having a casual affair or a black-tie event. Not only that, bridesmaid jewelry has that sweet sentimental touch we love in a gift!
Whether your squad members like to keep it simple with a set of stunning studs, or prefer a shoulder-sweeping dramatic look, we've got what you need on our list of the best bridesmaid earrings.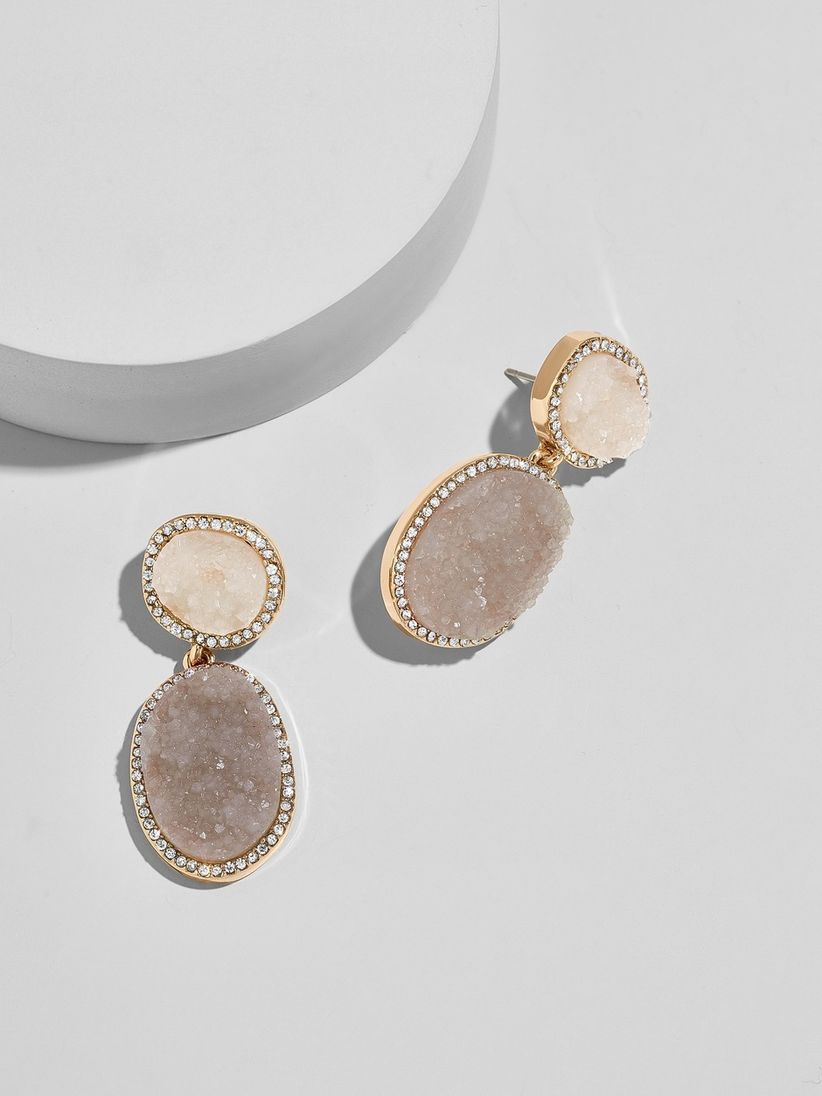 Have your bridesmaids go glam when you gift them these stunning druzy drop earrings in a two-tone blush color. These beauties will look right at home at the altar and the dance floor, and would make a perfect accessory for a gorgeous blush-colored gown. And if you'd like to wear earrings that match your girls, these wedding-ready baubles would make a great choice!
BaubleBar Krystal druzy drop earrings, $38, BaubleBar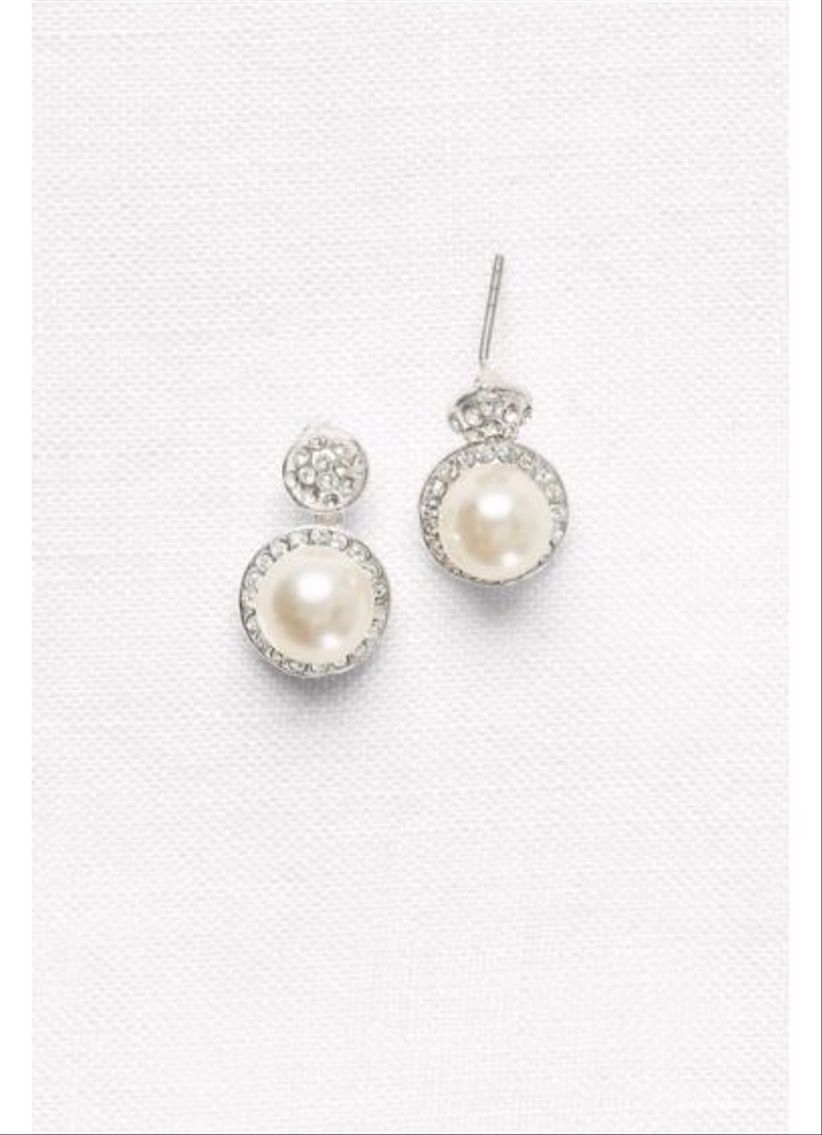 What could make better bridesmaid earrings than diamonds and pearls? These gorgeous pearl and pave diamond earrings are both on trend and on budget, making them a great choice if you're gifting your squad the perfect pair of earrings to go with a formal bridesmaid dress. On these beautiful baubles, a pave stud rests on the ear, with the drop portion featuring a channel of pave cubic zirconia stones surrounding a center pearl.
David's Bridal pave pearl drop earrings, $15, David's Bridal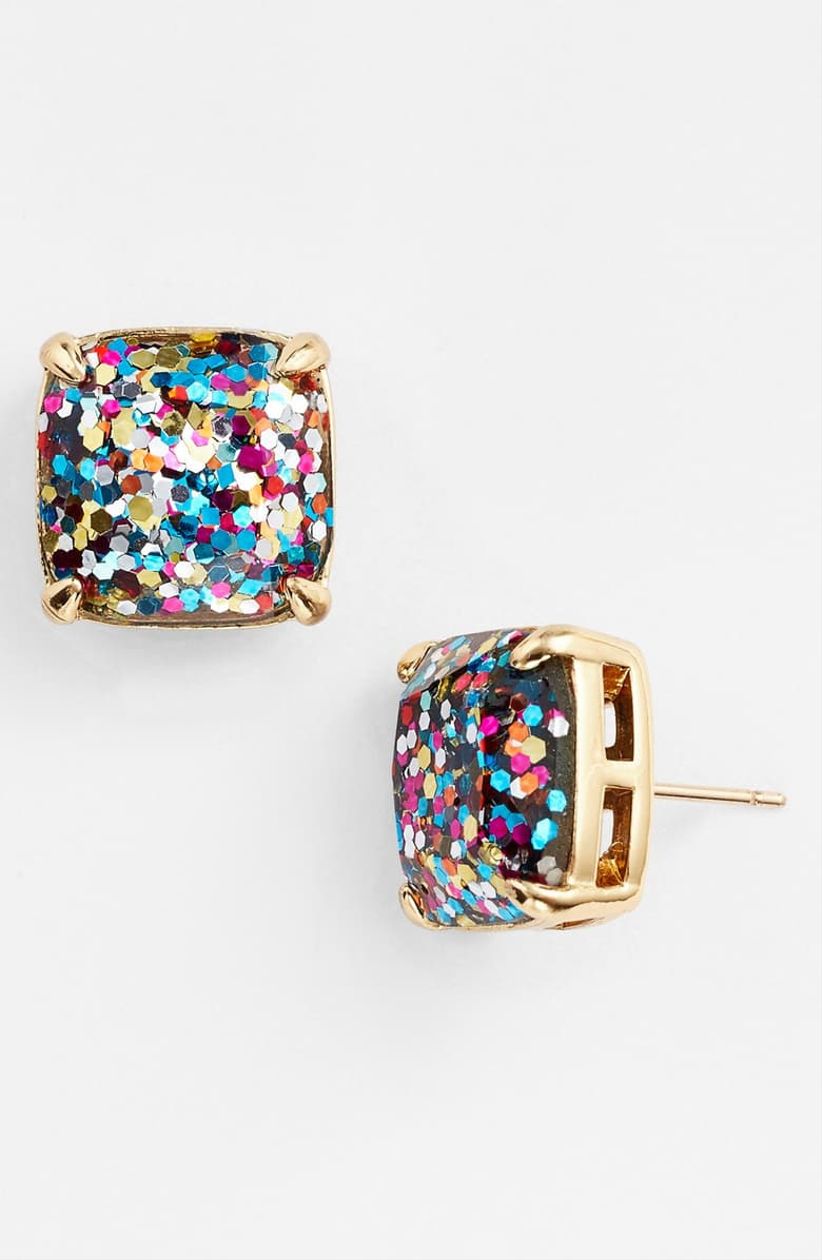 If your wedding style is more fun-loving than formal, these adorable glitter stud bridesmaid earrings from Kate Spade definitely need to be part of the festivities. These party-ready earrings will have your main girls going ga-ga! Bright, multi-colored glitter sparkles on these 14-carat gold studs, sized just right for a touch of pizazz without the overkill. They're also available in silver glitter or gold glitter.
Kate Spade New York glitter stud earrings, $38, Nordstrom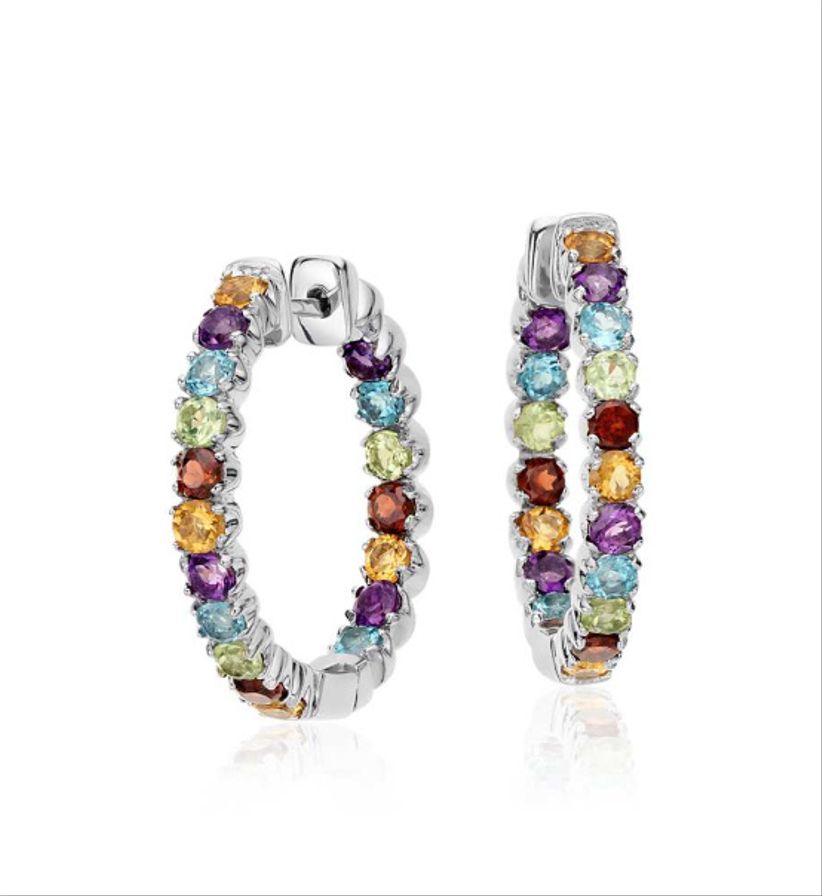 Are you letting your bridesmaids choose the color of their gown? Good for you! If you'll have multi-colored dresses heading down the aisle in front of you on your wedding day, you're going to want to gift your gals these gorgeous bridesmaid earrings. They're adorned with a channel of multi-colored stones in rich colors like amethyst and topaz, so they'll match a variety of gown colors. And the stones are situated to look amazing from every angle—these bridesmaid earrings are a photographer's friend for sure! The gemstones are set against a tarnish-resistant sterling silver setting, and a hinged back ensures a secure fit on the big day.
Blue Nile multi-color hoop earrings, $116, Blue Nile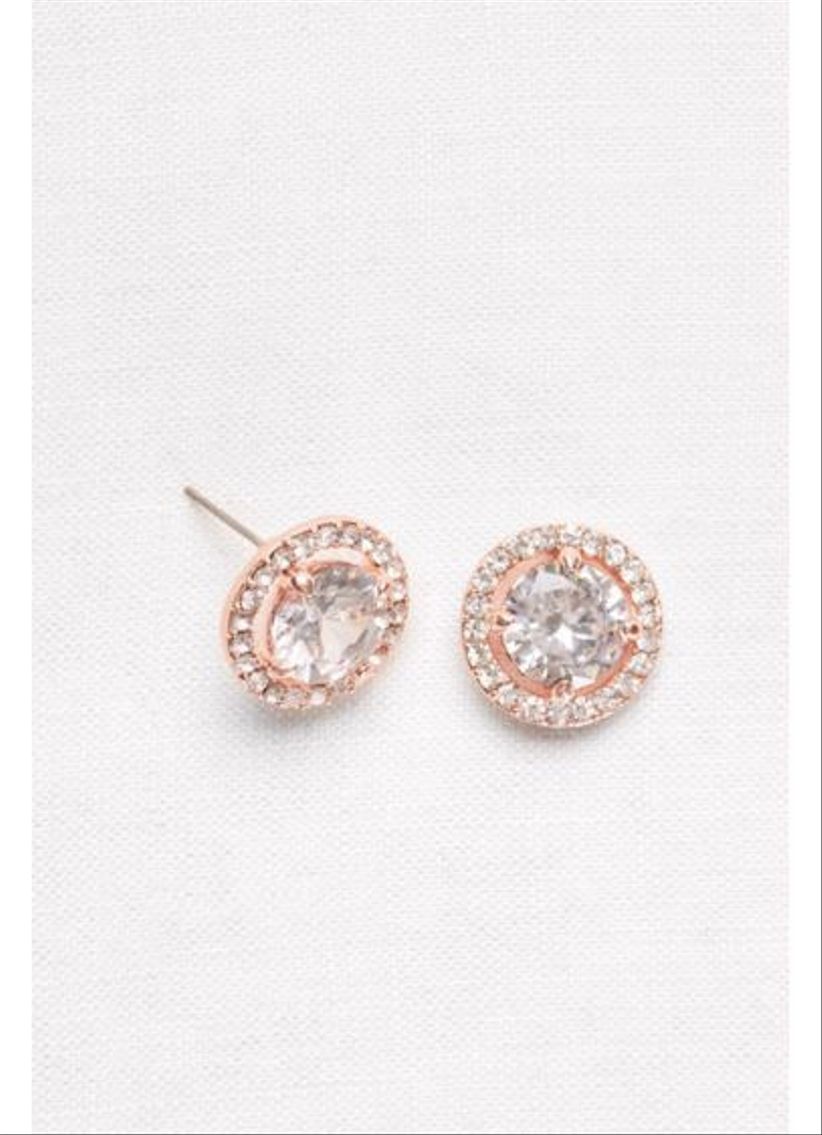 No bridesmaid earrings roundup would be complete without the perfect pair of pave studs. And we've got them right here. These simple but beautiful studs have a channel of pave stones circling a larger center stone, adding just the right amount of shimmer. They'll look perfect whether your ladies opt for a classic up-do, or decide to wear their hair down. Both beautiful and affordable, these bridesmaid earrings are a classic choice your best girls will wear over and over again.
David's Bridal pave crystal button studs, $15, David's Bridal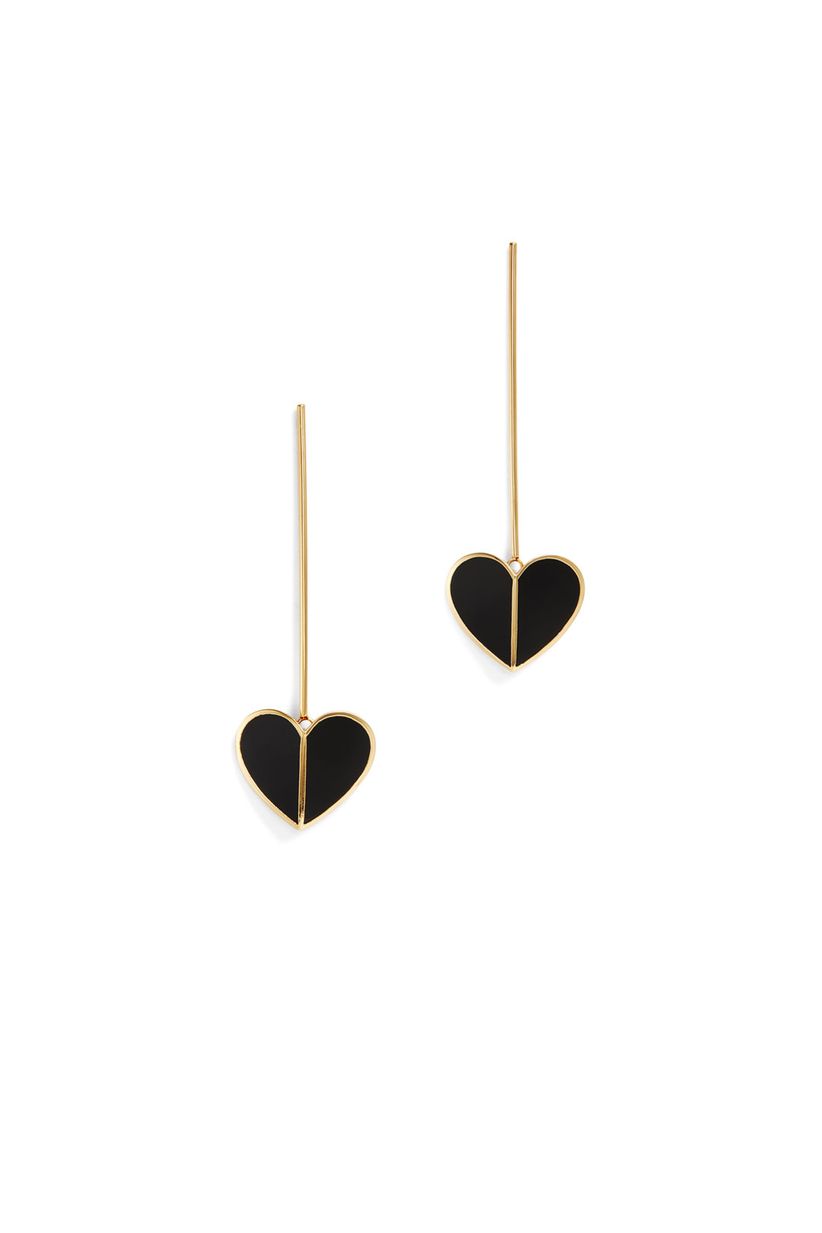 Our hearts are all aflutter over these chic, minimalist-inspired drop earrings from Kate Spade. These would be the perfect bridesmaid earrings for a modern wedding, but they would pair perfectly with a more casual look, too, like a snappy black blazer or even a button-down blouse.
Kate Spade New York Heritage spade linear earrings, price varies with subscription, Rent the Runway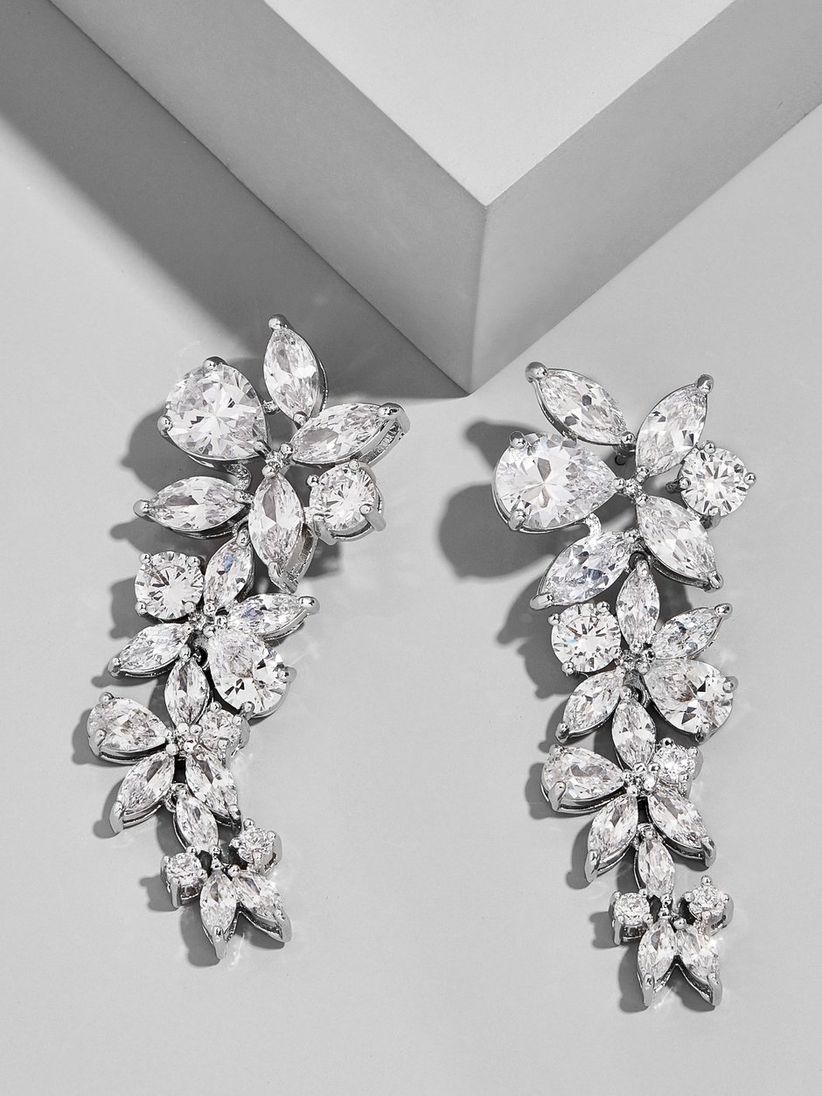 Add a touch of glam to any bridesmaid jewelry ensemble when you opt to have your squad wear these dazzling cubic zirconia drop earrings, where flower buds decrease in size as they approach the shoulders. Suspending about two inches down from the ear, these beauties make a dramatic yet elegant statement, and will look right at home at even the most formal affair.
BaubleBar Bud cubic zirconia drops, $88, BaubleBar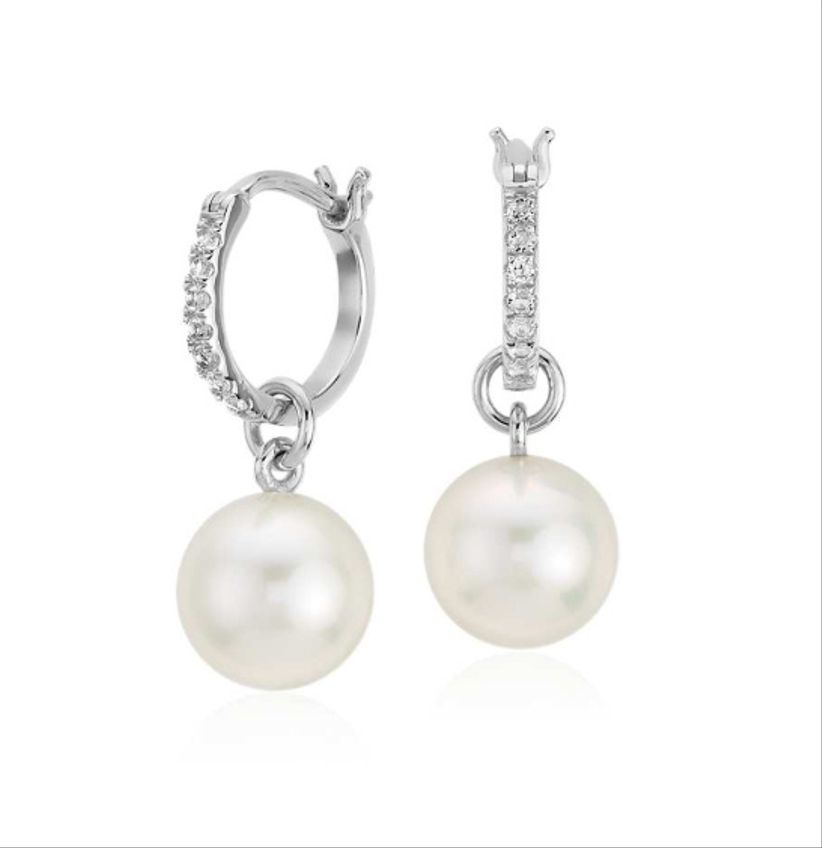 Can't decide between hoops or drop earrings for your girls? Now, you don't have to. These stunning pearl drop hoop earrings effortlessly combine both looks, with a single freshwater pearl that hangs from a sterling silver hoop studded with white topaz gems. It's a classic bridal look that's guaranteed to be the perfect addition to your bridesmaids' ensemble.
Blue Nile white topaz cultured pearl drop hoop earrings, $117, Blue Nile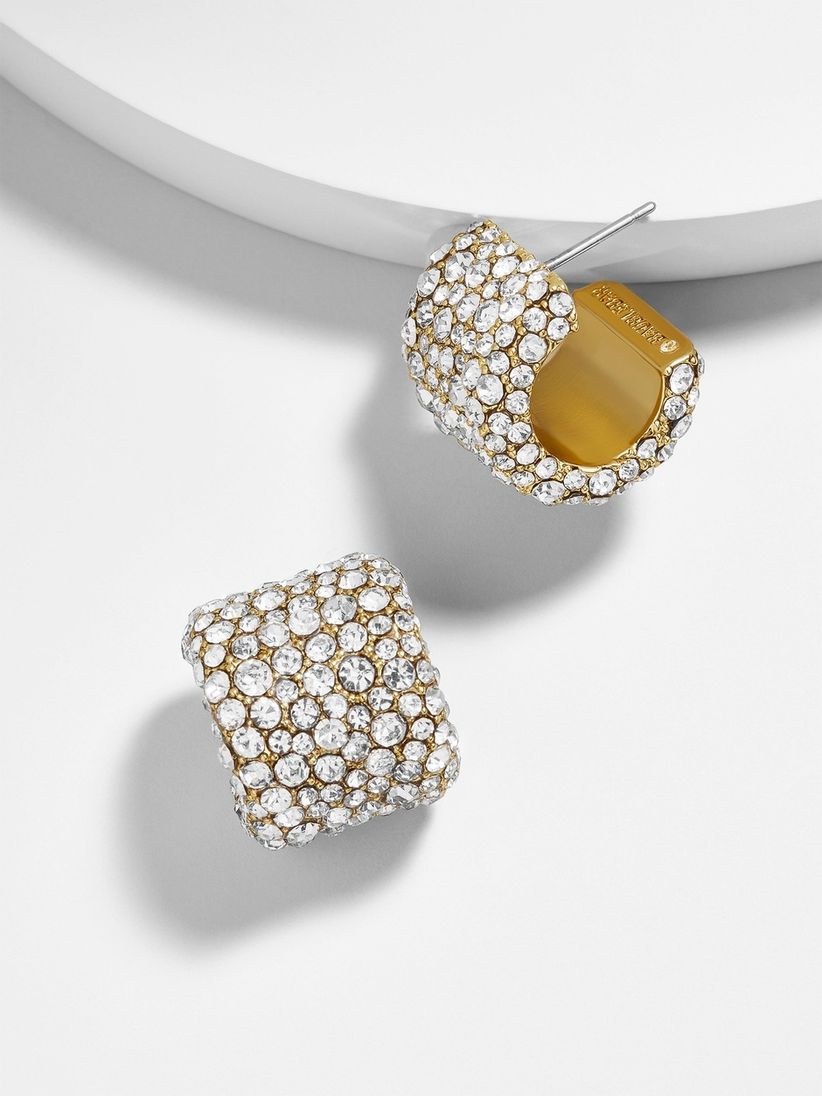 We're pretty comfortable guessing that these stunners have never met an evening gown they didn't get along with. That's why they would make a perfect gift if you'd like to get your bridesmaids earrings as a gift. All-over crystals adorn these flat, wide hoops, adding a sense of elegance but also a hint of trendiness. And trust us, these beauties will be just as much at home in the boardroom or paired with a denim jacket as they will when your squad heads down the aisle.
BaubleBar Jocelyn stud earrings, $48, BaubleBar
There's no shame in choosing a bridesmaid earring that's classic and timeless. And these sterling silver hoops from Blue Nile are just the pair for your ladies if that's the look you're going for. They're wider hoops, which adds an elegant twist to their otherwise casual aesthetic. So if your goal is to gift your bridesmaids a pair of everyday earrings that are also wedding ready, this is a great pair to consider.
Blue Nile wide huggie hoop earrings, $75, Blue Nile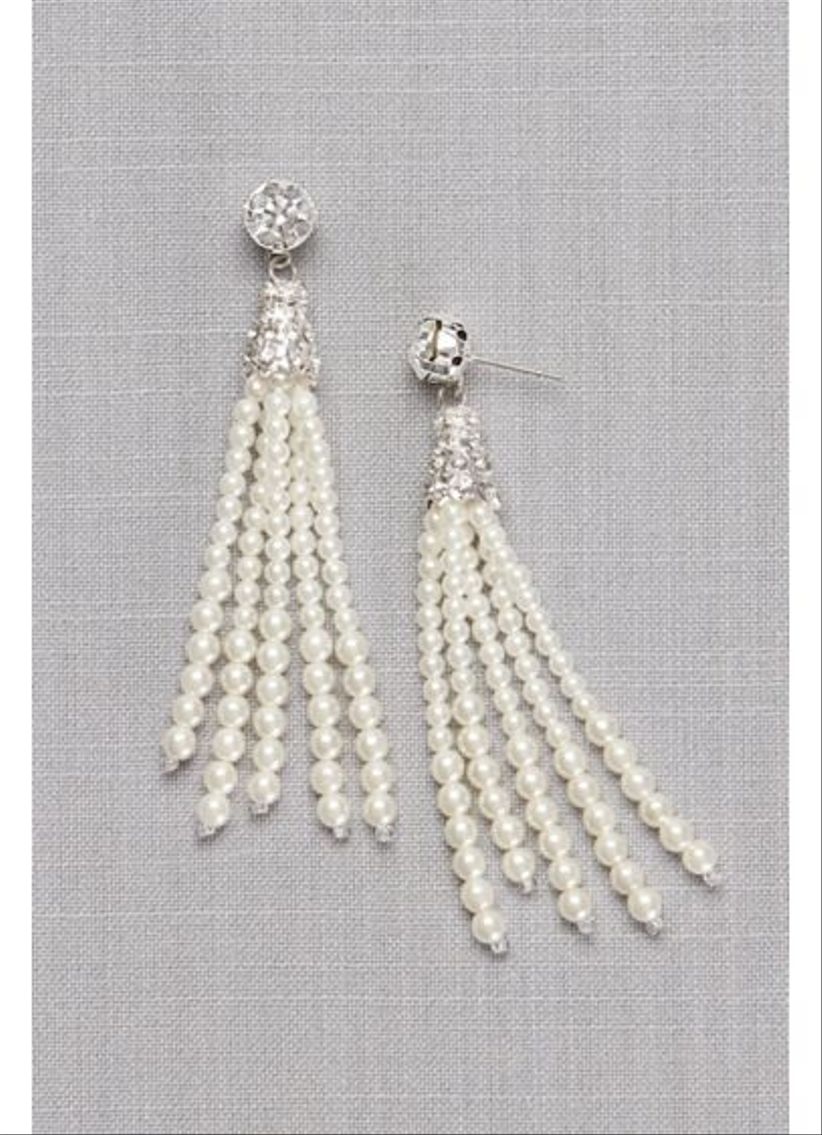 If your bridesmaids have a flair for the dramatic, these pearl tassel earrings from David's Bridal are sure to make them happy. A crystal solitaire stud sits on the ear and gives way to several pearl-adorned tassels that sweep the shoulders, hanging about seven centimeters from the ear. It's a standout look that everyone's sure to notice. Let these stunners take center stage when your bridesmaids pair them with a simple dress that's not too busy.
David's Bridal crystal solitaire and pearl tassel earrings, $25, David's Bridal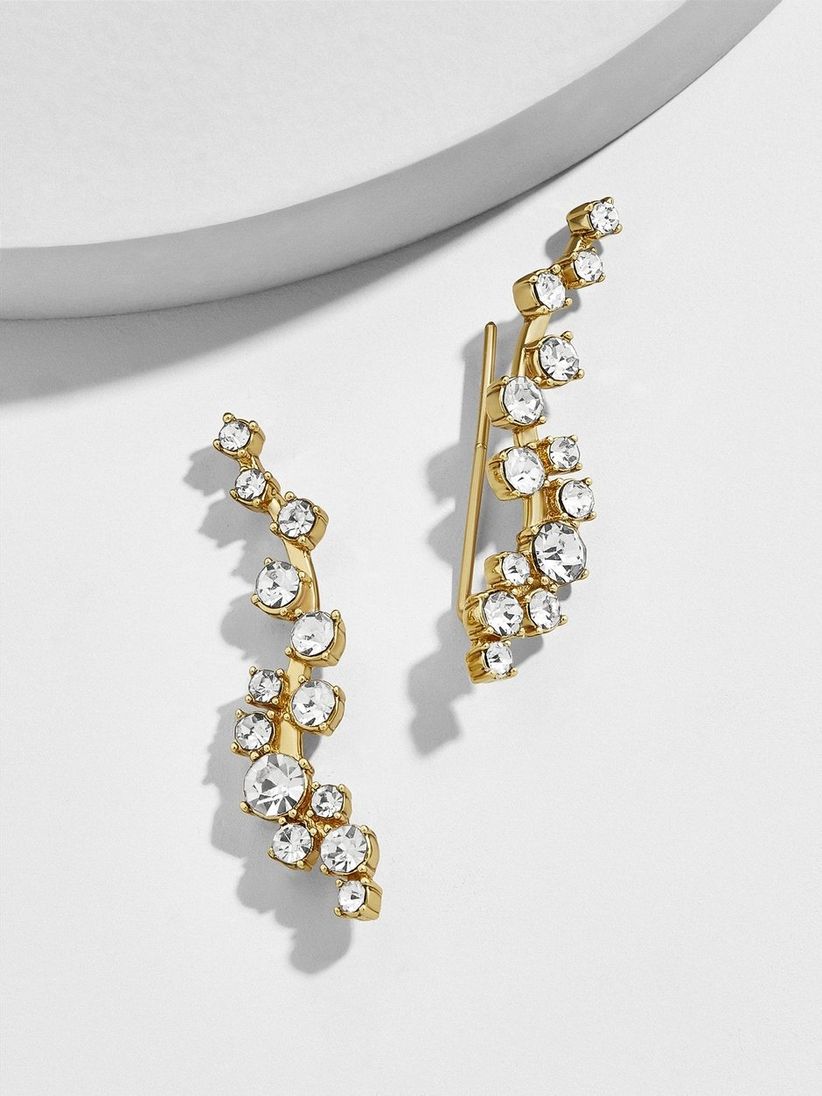 Keep things simple yet stunning when you gift your girls these ear crawler bridesmaid earrings. This beautiful and oh-so-trendy pair definitely break the mold of traditional bridesmaids earrings, but they're sure to be appreciated for their unique beauty. They're embellished with sparkling glass stones set in gold casings for an elegant but understated look. The Farah earring starts at the post and extends about an inch-and-a-half up the ear, but they're super lightweight for a comfortable fit that'll last.
BaubleBar Farah ear crawlers, $34, BaubleBar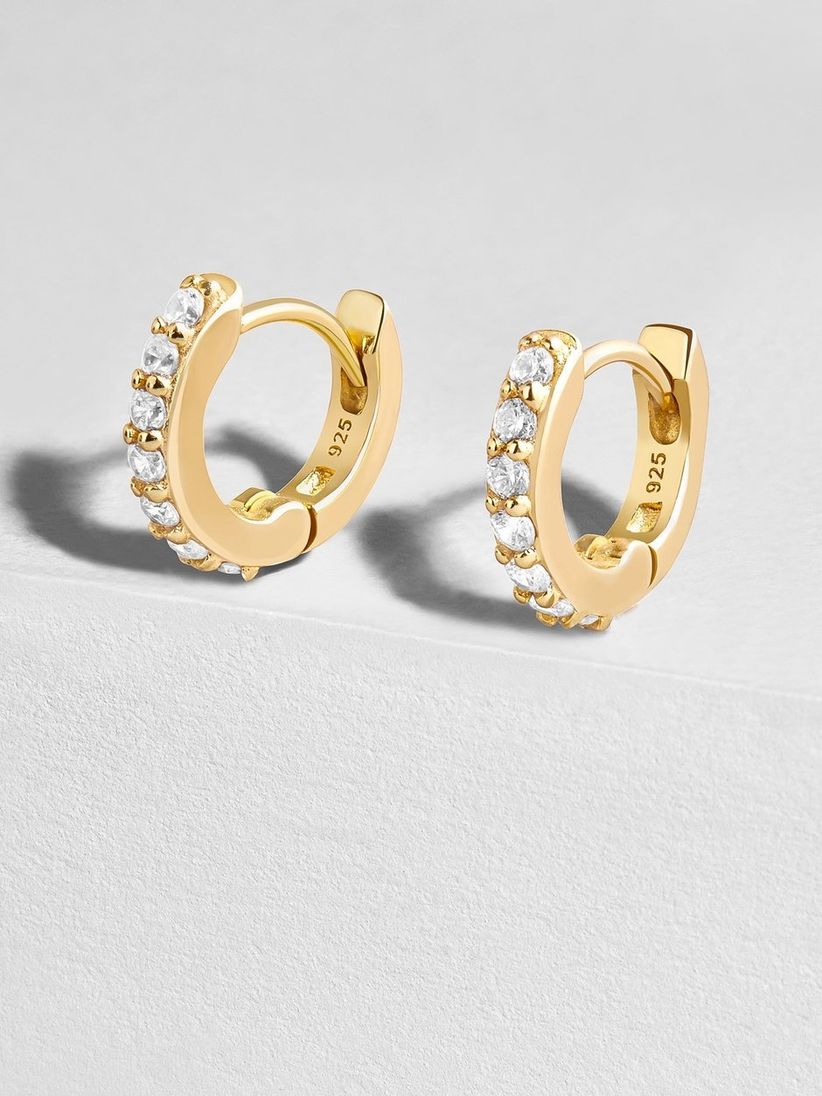 For the ultimate in beautiful simplicity, we love these huggie hoops from Baublebar. They're clad in alternating cubic zirconia pave stones and gold detailing, which makes them a great choice for bridesmaid earrings to match with just about any bridesmaid dress. They're super light for extra comfort, and a hinged closure ensures they'll stay in place during a long evening of dancing.
BaubleBar Sirena gold-plated huggie hoops, $58, BaubleBar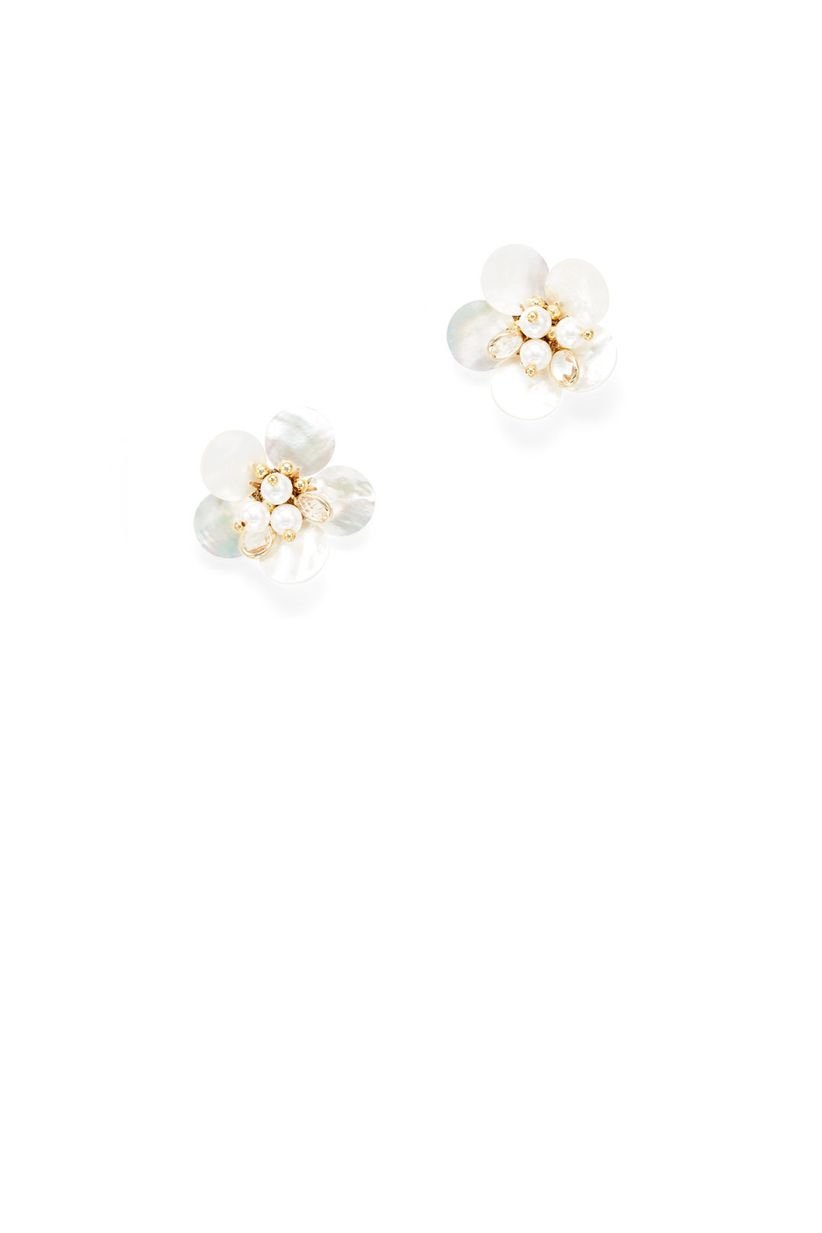 If a backyard, garden or beach will be the beautiful backdrop for your wedding, consider gifting your girls a pair of bridesmaid earrings that give a nod to the natural surroundings of your vow exchange. We can't think of a better pair than these totally adorable flower-shaped baubles by Nocturne. Ivory petals give way to a delicate cluster of pearls in the center on these hypoallergenic post earrings, guaranteed to look right at home in your natural setting.
Nocturne Jackie earrings, price varies based on subscription, Rent the Runway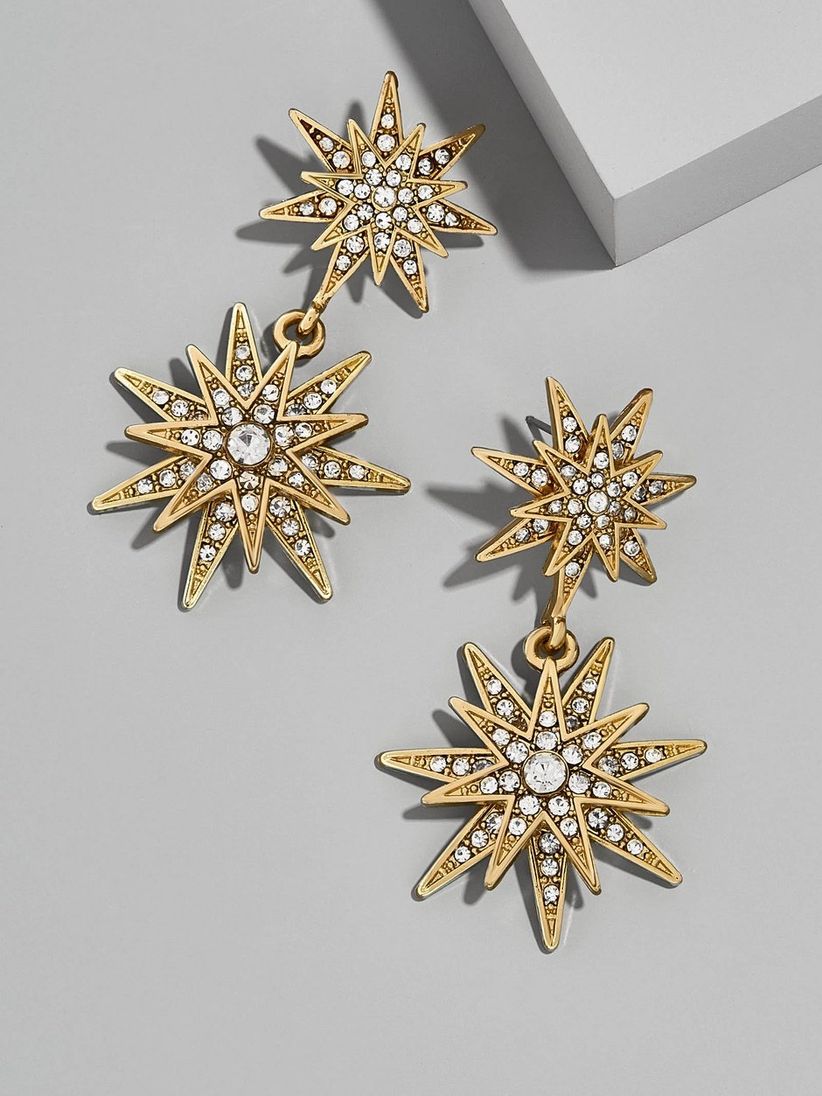 Your bridesmaids are your shining stars, so naturally these sparkly star-shaped drop earrings will make the perfect bridesmaids earrings. They're the perfect accessory for just about any bridesmaid ensemble, from a knee-length casual dress to a formal gown. Shiny glass stones are set against a gold-plated background, and surgical steel posts ensure a snug fit. While these beautiful baubles hang a little more than two inches from the ear, they're deceptively lightweight at just over a half-ounce.
BaubleBar Celestial drop earrings, $36, BaubleBar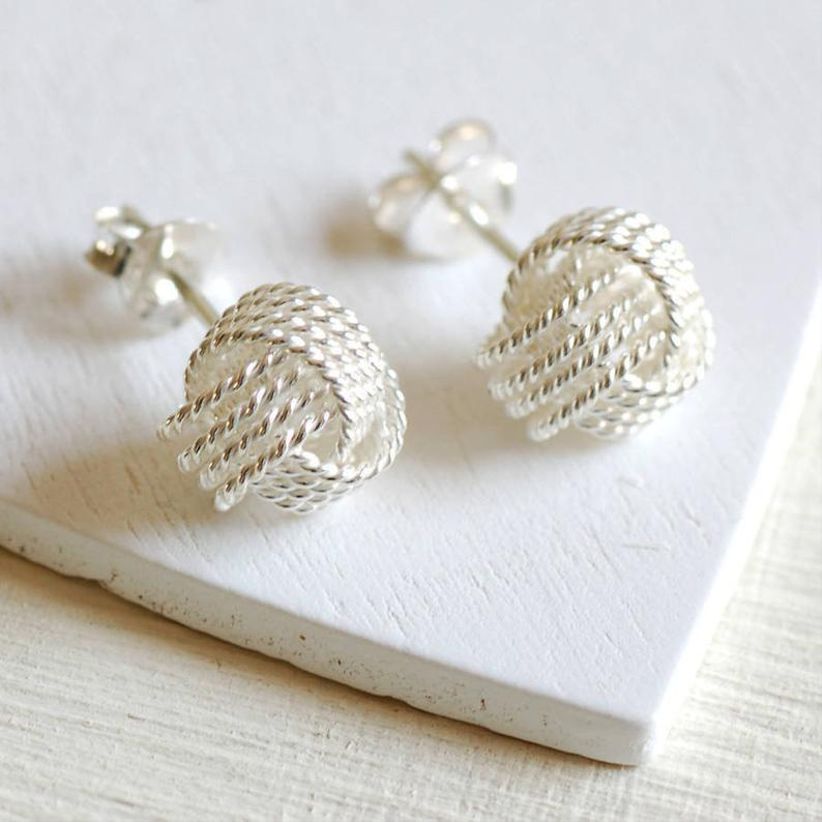 We think these beautiful Tiffany-inspired "tie the knot" earrings from Etsy are just-right bridesmaid earrings for your girls to wear while you tie the knot. Crafted from sterling silver and secured with a surgical steel post, these earrings are a great choice if your bridesmaids aren't fans of long, dangly earrings, or if you're going for a more traditional, elegant vibe for your bridal party. And you don't have to worry that these studs will be difficult to notice–they're sized large enough to stand out while not being overly dramatic. Shop owner TreasureISLADesign presents these oh-so-cute silver knot earrings in pretty pink or turquoise gift boxes, so the work is already done for you.
TreasureISLADesign silver tie the knot earrings, $12, Etsy
Disclosure: This post contains affiliate links, some of which may be sponsored by paying vendors.