28 Super-Creative Bachelorette Party Themes: Shop the Look!
Brainstorming bachelorette party theme ideas for your fun-filled gal pal getaway? Here are the most popular bachelorette themes for a killer bash.
We have included third party products to help you navigate and enjoy life's biggest moments. Purchases made through links on this page may earn us a commission.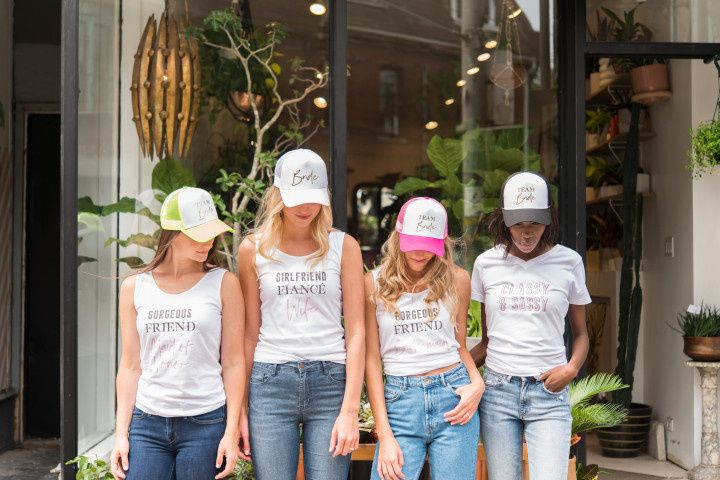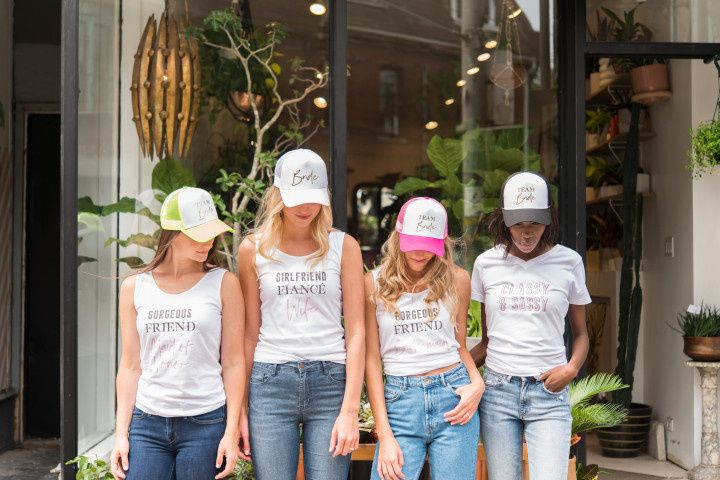 Planning a "last fling before the ring" for a super special bride-to-be? It's time to start coming up with bachelorette party themes. First rule, make it something she loves! The bachelorette theme you choose should be totally memorable for the bride, so you'll want to choose something that speaks to her personality and interests. Second rule, well, there really are no other rules! The bachelorette party theme can be as wild or as tame as you'd like, and you can go for completely amazing decorations from WeddingWire Shop, or opt for just a hint of a theme. Anything goes!
So whether you're planning a destination bachelorette party, or simply an all-female fete nearby, we've rounded up some of our favorite bachelorette party themes for you to try on for size. What's more, many of these can be combined with fun group outings and activities for the whole crew.
So put your party planning hat on and get ready to dive into our list of fun bachelorette party themes—plus a few decor and favor ideas to tie everything together!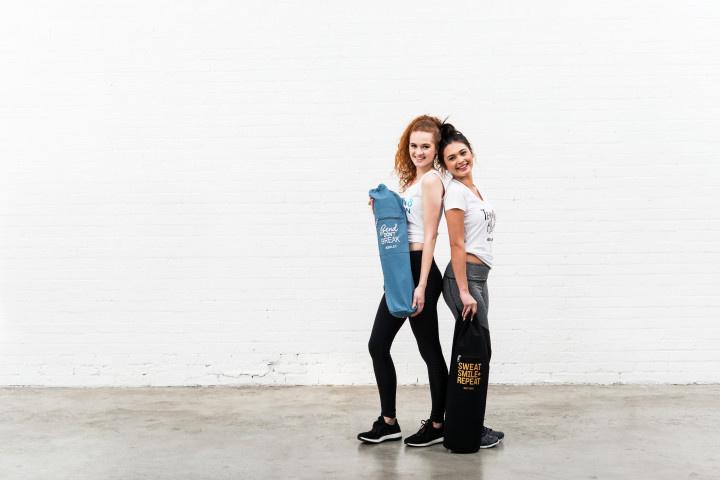 1. Namaste to the Fiancée
If you're looking for a low-key bachelorette party theme, why not schedule a group yoga class to bend, stretch, and take a break from the craziness of wedding planning? This is a particularly great idea if your bride-to-be isn't into the partying scene, but wants a bachelorette event that focuses more on self-care and fitness. Whether you've got a group of yoga pros or newbies, a group class is a great bonding opportunity for the 'maids.
Don't Forget: WeddingWire Shop yoga mat bag, $27, WeddingWire Shop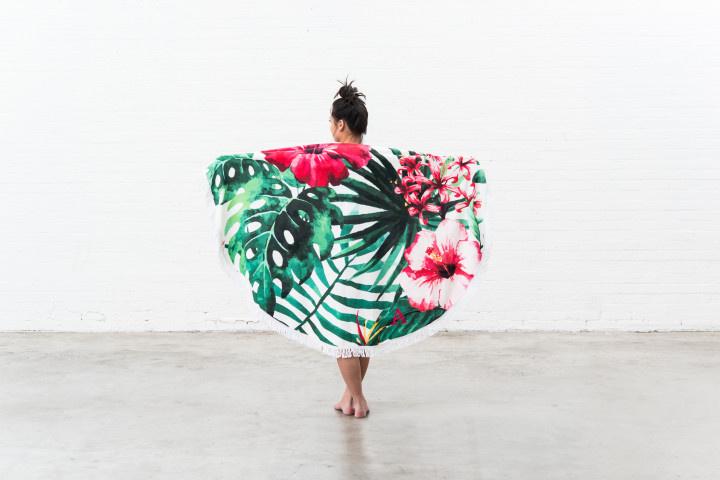 2. Aloha Bride
Maybe she's a bride that dreams of tropical locales, or maybe you'll actually be hitting one up! Either way, consider throwing a luau for her bachelorette party, where you all get "lei'd." Whether you go all in with a pig roast or simply snag some pineapple and palm-themed decorations, this adorable theme is sure to be a hit. Feature a table of finger foods like Hawaiian-inspired kabobs and a beautiful spread of fresh fruit, and be sure to include several fruity drink options!
Don't Forget: WeddingWire Shop personalized beach towel, $13, WeddingWire Shop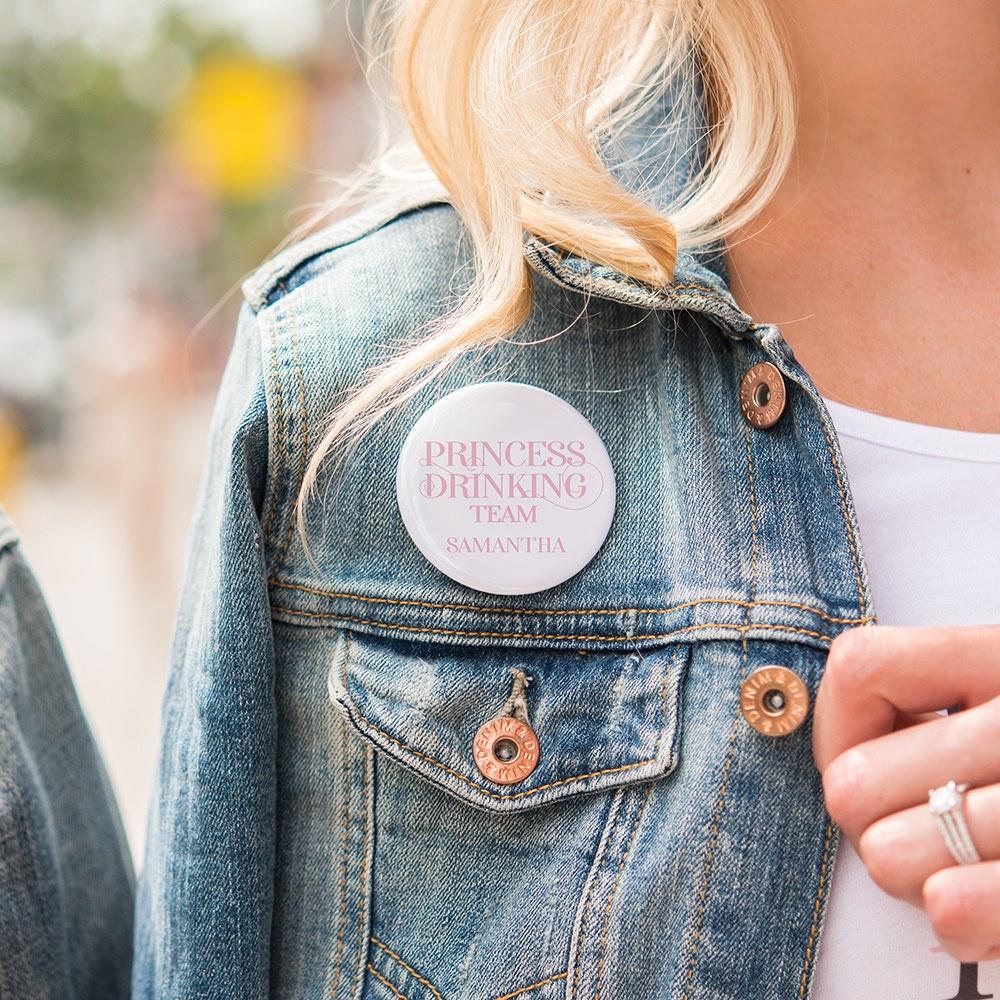 3. Party Like a Princess
Whether or not a trip to Disney is in the cards, a princess bachelorette party theme can be bibbidi-bobbidi-beautiful! Have a nostalgic good time while watching your favorite Disney movies while wearing your fanciest ensembles, pampering each other with spa treatments, and playing trivia games related to your favorite princesses.
Don't Forget: WeddingWire Shop personalized bridal party buttons, $5 each, WeddingWire Shop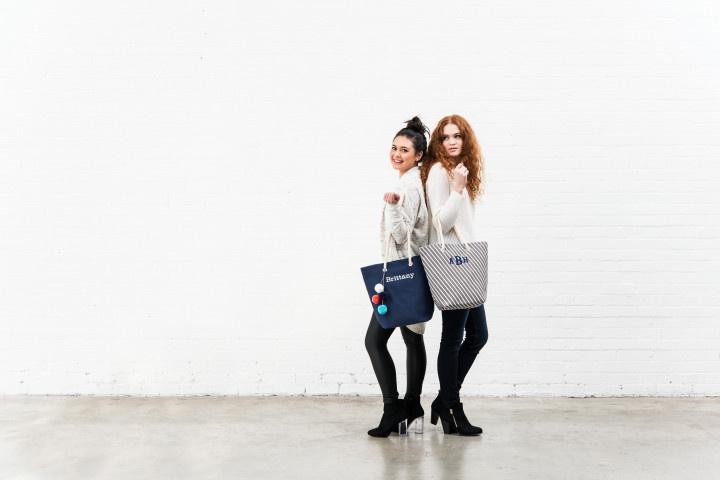 4. Last Sail Before the Veil
There's something so elegant and upscale about the classic navy-and-white nautical look. That's why this bachelorette party theme makes our list of favorites. Decoration options are pretty much endless—anything navy and white will totally work! Not only that, you can choose to get a little dirty with a banner that reads, "Let's Get Nauti" or keep it G-rated with a "Last Sail Before the Veil" theme. Either way, she's sure to sail off into married life one happy gal!
Don't Forget: WeddingWire Shop large personalized tote, from $9, WeddingWire Shop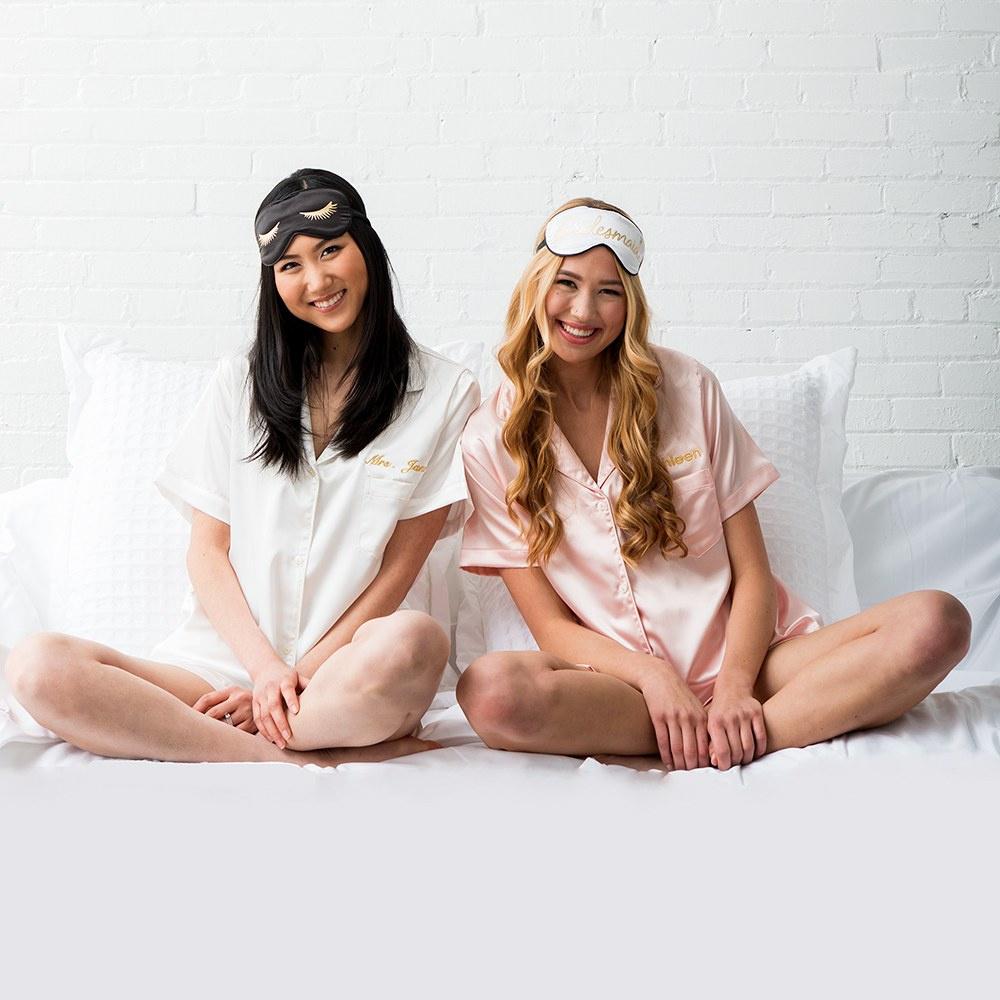 5. Girls' Night In
Time to take a trip back in time to middle school with a '90s themed slumber party! Whether you choose to rent a house, stay in a hotel, or stay at someone's home, bring your sleeping bag for all the fun of a sleepover! From watching movies to eating lots of snacks, playing bachelorette party games and gossiping, you'll love spending the night with all of your best pals!
Don't Forget: WeddingWire Shop satin eyelashes eye mask, $6, WeddingWire Shop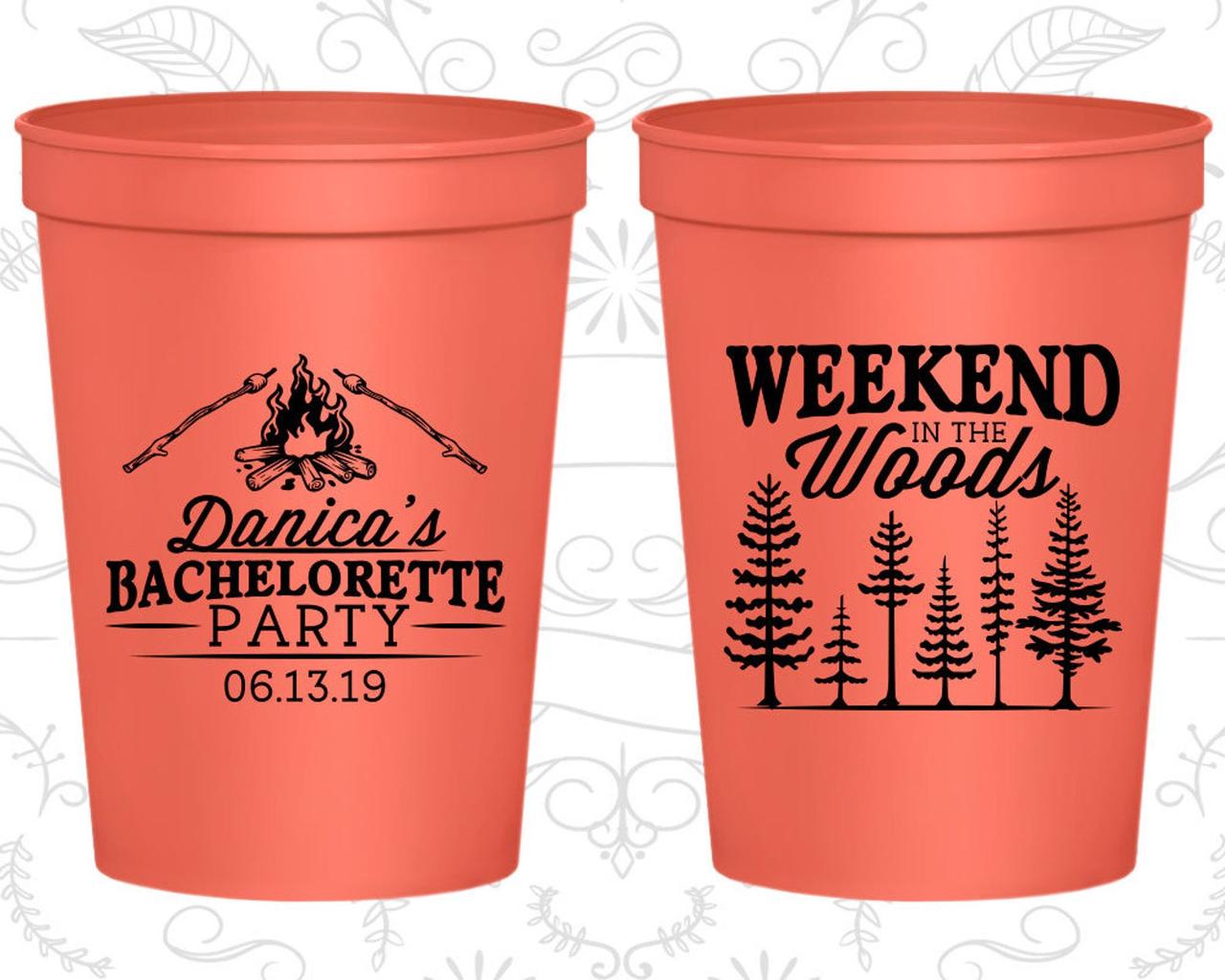 6. Camp Bach
A camping-themed bachelorette party is perfect for the outdoorsy wedding party. Whether you choose to hit up your favorite campsite or set up a camping-themed event in your own home, it's bound to be a memorable event. Make s'mores over a campfire, go for a hike, and even enjoy some of your favorite summer camp activities, like tie dyeing shirts or making lanyard bracelets.
Don't Forget: My Wedding Store camping bachelorette party cups, from $36 for 5, Etsy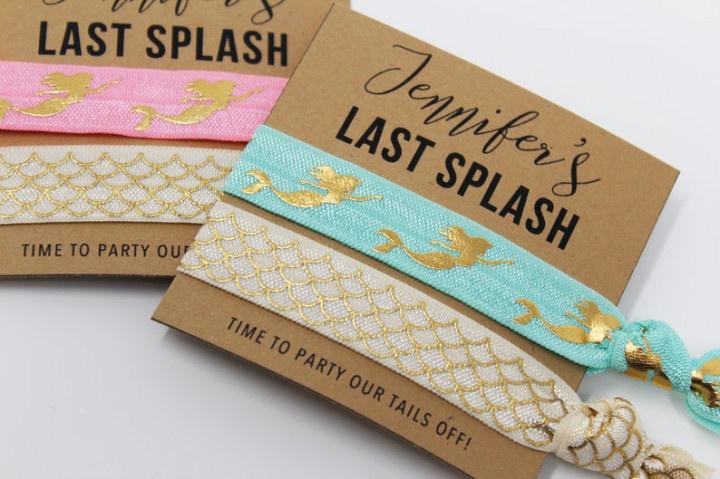 7. Last Splash
For a fun twist on the nautical theme, why not try a mermaid theme for a bachelorette party that's a shimmery show-stopper. You can choose to go full-stop Little Mermaid, with a pink, purple and aqua color scheme, or stick with a palette of ocean-like blues for a more adult vibe. Fun phrases like "Trading Her Tail for a Veil" or "Mermaid to Mrs" will set the tone for an evening that's sure to be a splash hit!
Don't Forget: Top Knot Favors hair ties, $3, Etsy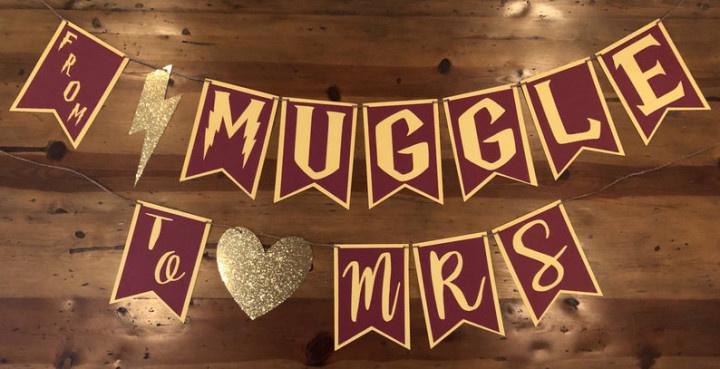 8. From Muggle to Mrs.
If the bride is a die-hard Harry Potter fan (and really, who isn't?), we've got the perfect bachelorette theme for you! Hang a banner that reads, "From Muggle to Mrs" as your starting point, then hit up Pinterest for games and printables sure to make the night full of Hogwarts-inspired magic.
Don't Forget: Always the Hostess Chi banner, $30, Etsy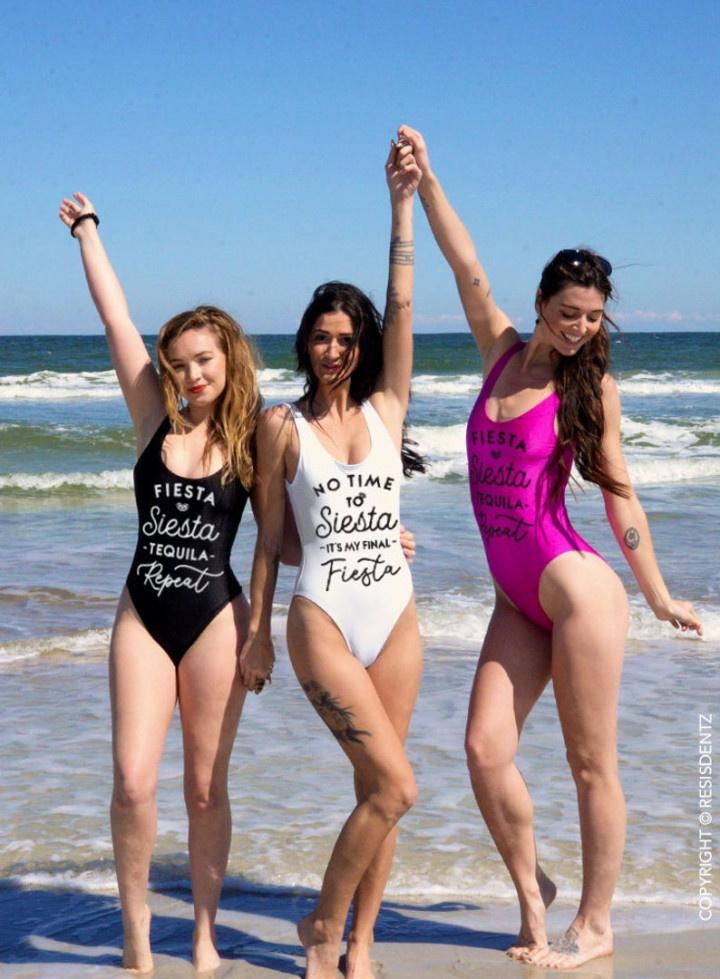 9. Final Fiesta/Margaritas for Our Señorita
Send the bride off to married life with a Mexican-themed bash featuring free-flowing margaritas and you guessed it…a taco bar. Taco 'bout a good time! With tons of fun, colorful decoration possibilities, like papel picado banners and more, you simply can't go wrong with this festive theme.
Don't Forget: Resis Dentz Designs swimsuits, $20, Etsy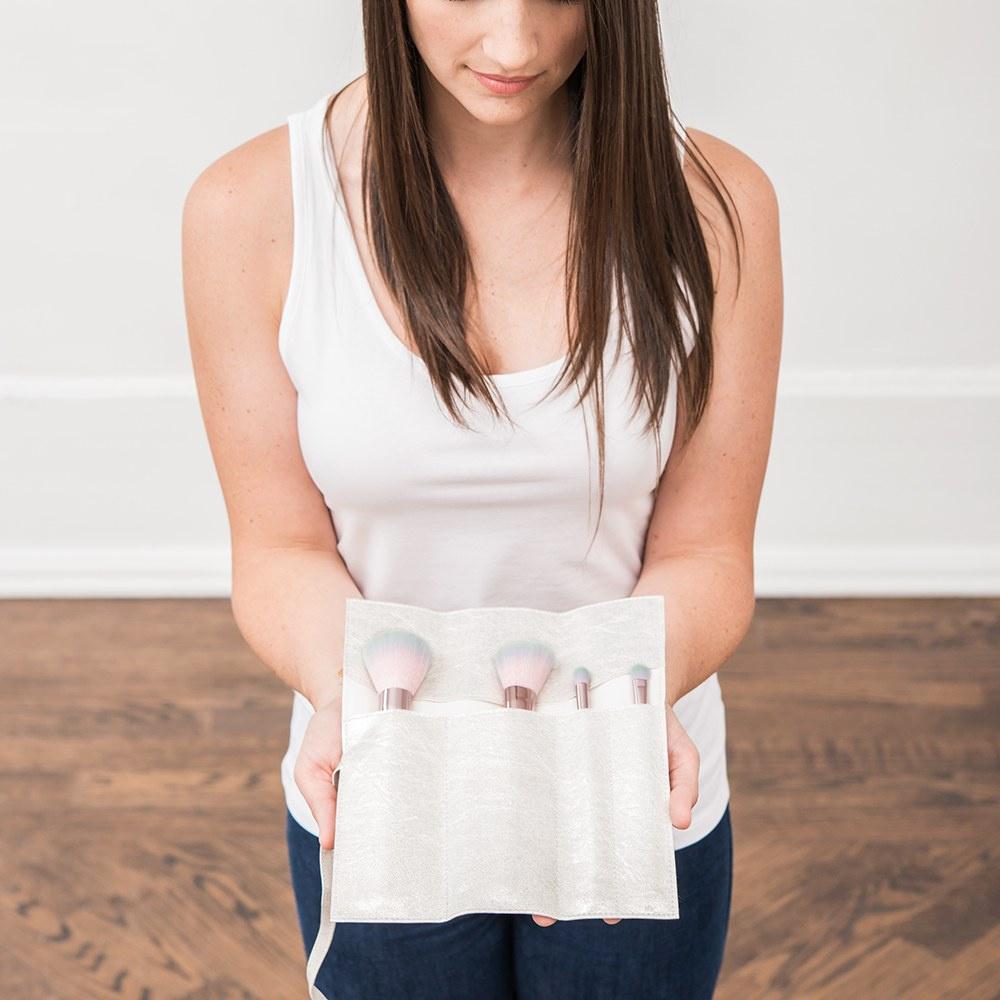 10. Hot Glam
Does your crew love to get glammed up? Then a beauty-themed bachelorette party could be a fun way to spend an evening. There are a few ways to approach this bachelorette party theme, from doing each other's hair and makeup to prep for a fancy dinner to taking a group makeup lesson from a pro. You'll all learn a few tips and tricks of the trade, and look gorgeous in the process.
Don't Forget: WeddingWire Shop personalized makeup brush set, $18, WeddingWire Shop

11. Team TikTok
If you and your friends are addicted to TikTok (who isn't these days?) then why not go with a bachelorette theme that's all about the app? There are so many dances to learn, dialogue reenactments, challenges, and more that your crew will be busy for quite a while. Who knows, maybe one of your bachelorette videos will go viral?
Don't Forget: TutuSpoiledBoutique tie dye shirt, $24, Etsy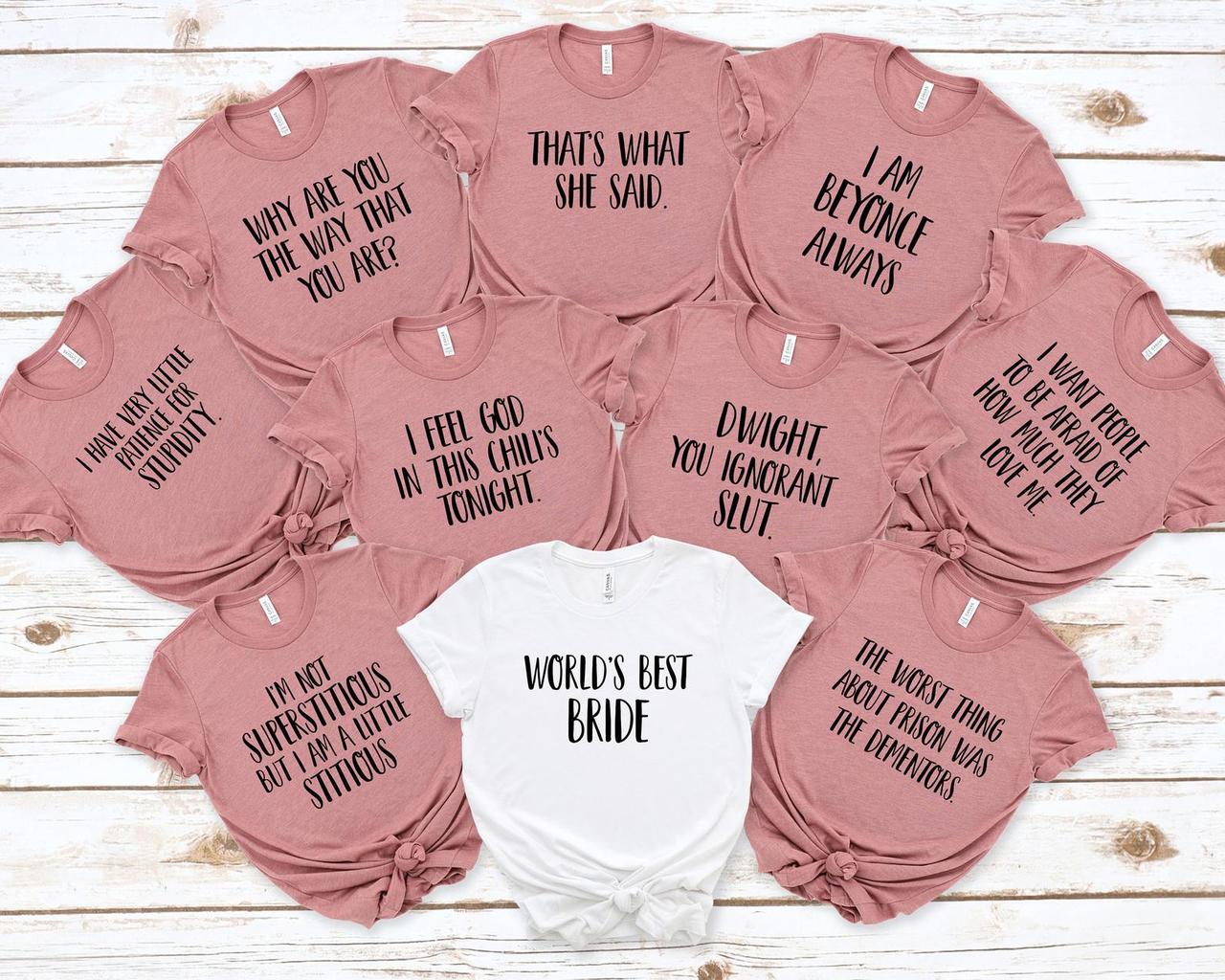 12. It is Your Bachelorette.
Okay, so The Office might not seem like the most natural bachelorette party theme, but hear us out. If your bride-to-be is obsessed with the sitcom, an Office-themed bachelorette party is definitely a unique idea! We're thinking staging some of Jim's best pranks, creating your own version of the Office Olympics (complete with yogurt top medals!), and including decor inspired by Kelly's office birthday party. Note: Ben Franklin impersonator not necessary.
Don't Forget: Bluebird Apparel Office bachelorette party shirts, $22, Etsy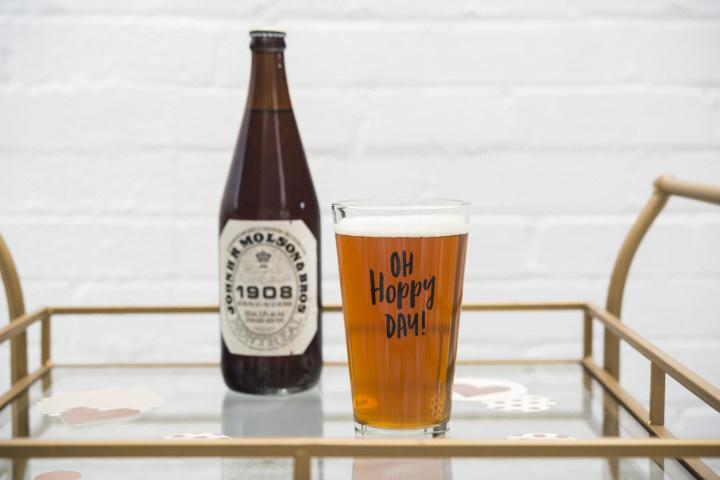 13. Cheers and Beers
Craft brew is totally having its moment. That's why a bachelorette brewery tour sounds like a great bet. Round up some transportation, hand out some custom mugs or beer glasses and you're off on this super-simple bachelorette party theme.
Don't Forget: WeddingWire Shop personalized pint glass, from $3, WeddingWire Shop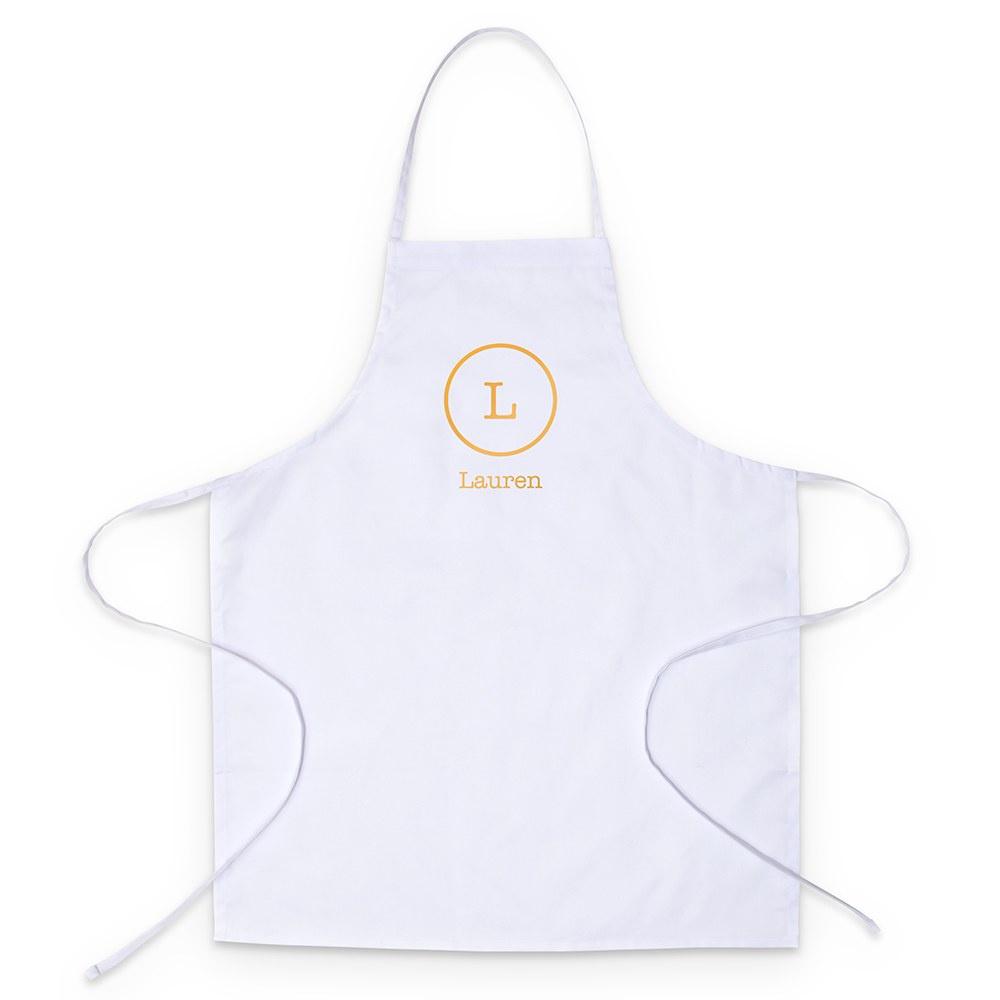 14. Top Chefs
Planning a bachelorette party for a total foodie? Why not plan a Top Chef or Chopped-themed event, where you and your crew partake in some friendly cooking-themed competitions. Divide into two pick a few "secret ingredients" that . Or, if you'd prefer, host a cooking or baking class for your bachelorette squad and enjoy the fruits of your labor together.
Don't Forget: WeddingWire Shop personalized apron, $14, WeddingWire Shop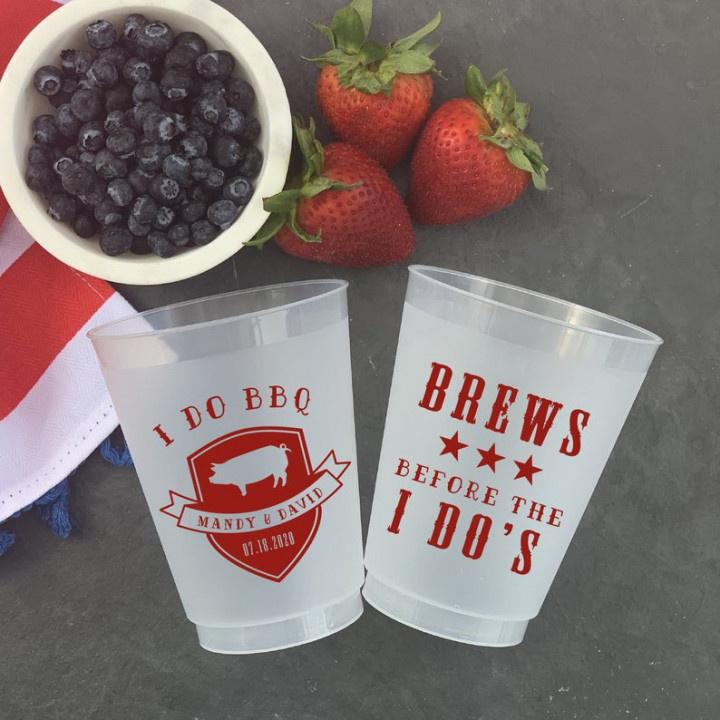 15. Bachelorette BBQ
This bachelorette party theme is ALL about the food. This one requires a full spread of BBQ fare along with lots of different sauces and toppings. You could opt to have it catered, or, if you're really feeling extra, you could set up your own BBQ pit in the backyard. This fun theme lends itself to pretty much any drinks and decorations you choose.
Don't Forget: Rubi and Lib cups, $49 for 15, Etsy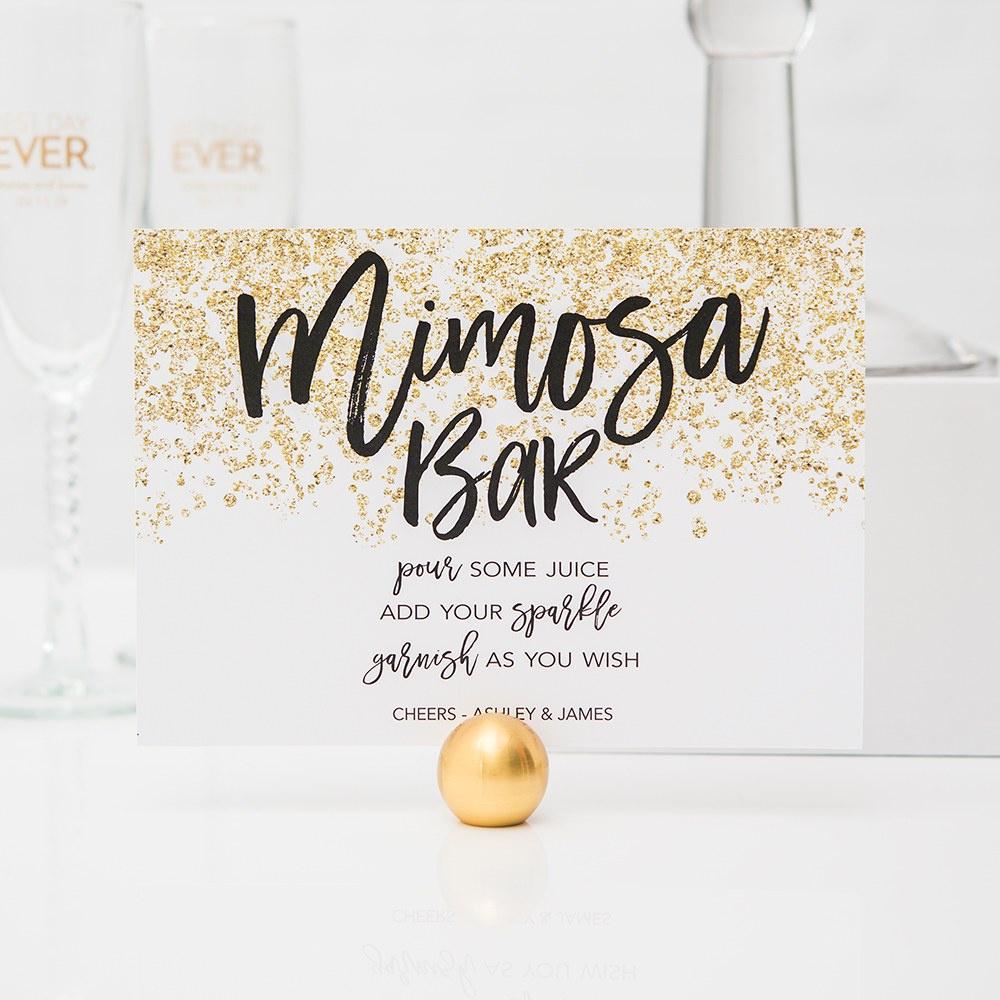 16. Manis & Mimosas
We love the idea of a brunch bachelorette party theme—with a spa twist! You can host a delicious brunch at someone's home or at a local restaurant (complete with mimosa bar, of course!), followed by manicures—either DIY, at a salon, or hiring a nail pro to come to your house or hotel.
Don't Forget: WeddingWire Shop sparkle large card table sign, $1, WeddingWire Shop

17. Snow Bunnies
While some bachelorette party themes relate to summer weather and the beach, we love the idea of a cozy, wintertime bachelorette soiree. Why not rent a cabin with your crew and enjoy fun wintertime activities like skiing, tubing, sledding, snowboarding, and more. And don't forget a (spiked) hot cocoa bar for a little apres ski fun!
Don't Forget: WeddingWire Shop personalized coffee mug, $13, WeddingWire Shop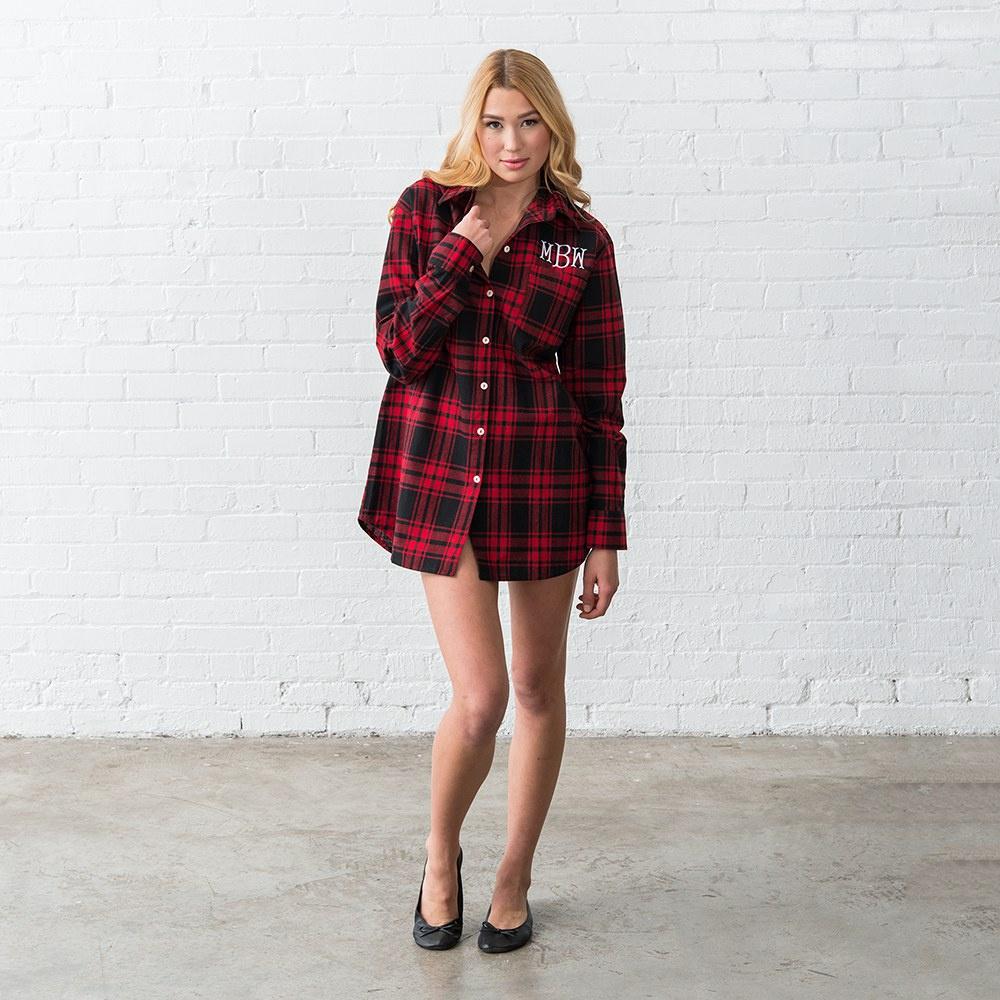 18. Fall in Love
In many parts of the country, fall is one of the prettiest seasons. Why not host a fall-themed bachelorette party, featuring all of your favorite autumnal activities? Apple picking, pumpkin carving, hayrides, taking photos of the foliage, and more. To make a weekend of it, rent a cabin and enjoy fall-themed treats, like s'mores and hot cider.
Don't Forget: WeddingWire Shop personalized flannel button-down shirt, $23, WeddingWire Shop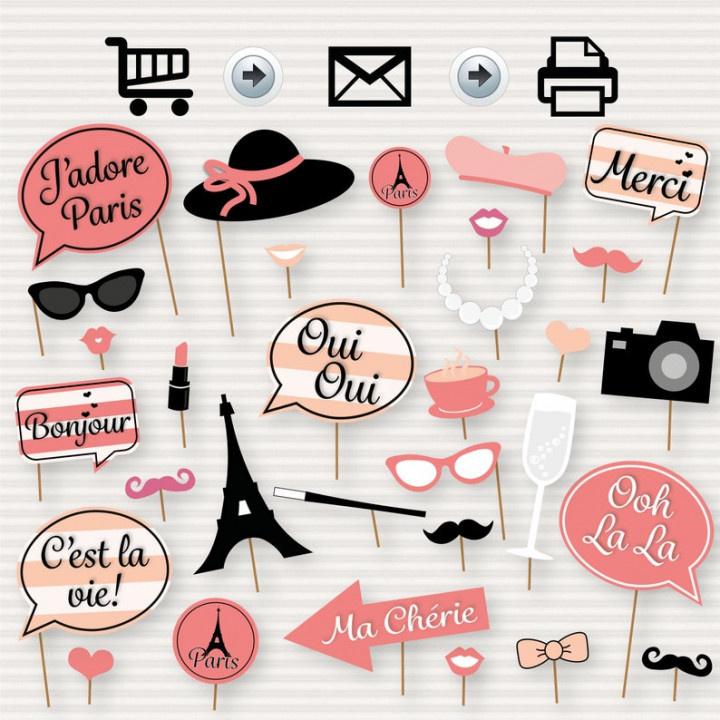 19. Ooh La La
This bachelorette party theme is trés chic! Celebrate the bride with a French-inspired party complete with a macaron-covered cake and other regional confections like galettes and chocolate croissants. You'll find no shortage of pink and black decorations to lend the perfect vibe to your Paris-themed bachelorette party. .
Don't Forget: SurpriseINC photo booth props, $8, Etsy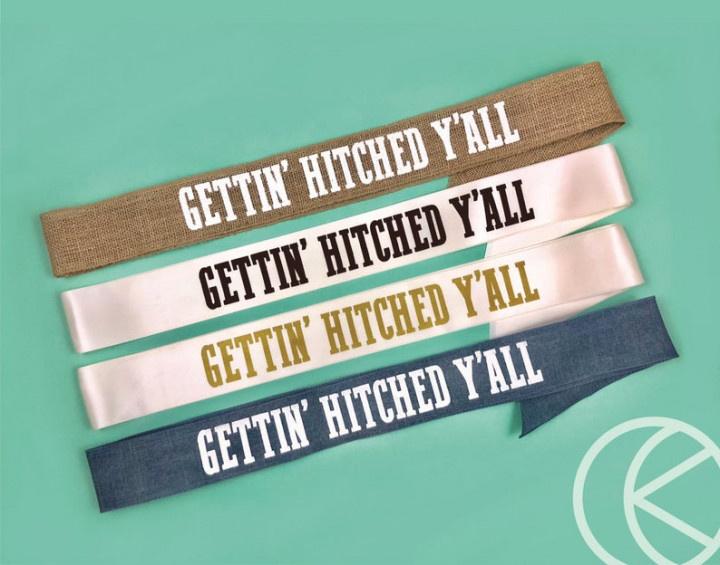 20. Boots and Bling Before the Ring
Kick up your heels with a country/Western-inspired bachelorette bash. Whether you'll actually be heading south for a crazy girl's weekend or not, this bachelorette party theme can serve as an amazing backdrop for your fete. Headed to Nashville? Don't forget to snag a totally apropos banner that reads "Last Bash in Nash." Otherwise, some country-inspired tanks that read "Boots and Bling Before the Ring" make a fun addition to this theme.
Don't Forget: TheLunaKits sash, $14, Etsy

21. Viva Las Vegas
Las Vegas is among the most popular destinations for a bachelorette bash—and for good reason! If you're headed to Vegas, you'll have an abundance of activities to choose from, but even if you're staying closer to home, you can still plan an event with a Las Vegas bachelorette party theme. We're thinking dressing up in your best club attire, playing your own versions of casino games, and much more.
Don't Forget: WeddingWire Shop personalized bridal party shirt, $10, WeddingWire Shop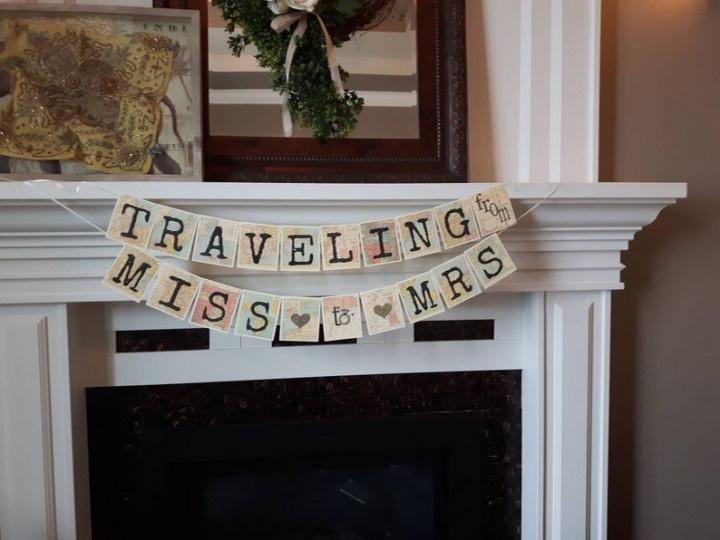 22. Traveling from Miss to Mrs.
If the bride loves to travel, but a girl's trip simply isn't in the budget, throw her a travel-themed bachelorette party instead. How fun would it be to incorporate food from lots of different countries, like chocolate croissants or macaroons from France, tandoori chicken kabobs from India, or schnitzel from Germany? A stack of vintage suitcases would make a fun backdrop for a travel-inspired photo booth, and maps or globes are a budget-friendly way to round out the decorations as she travels from Miss to Mrs.
Don't Forget: Lake Country Cottage sign, $33, Etsy

23. Laissez Les Bons Temps Rouler!
Whether you're planning a trip to the Big Easy or planning on celebrating from your hometown, a New Orleans bachelorette theme can be oh-so fun! Grab your crew and enjoy New Orleans' tastiest treats (hello, beignets!), accessorize with masks and beads, listen to jazz, and have a Mardi Gras celebration all your own.
Don't Forget: WeddingWire Shop bridal party tie up wedding shirt, $12, WeddingWire Shop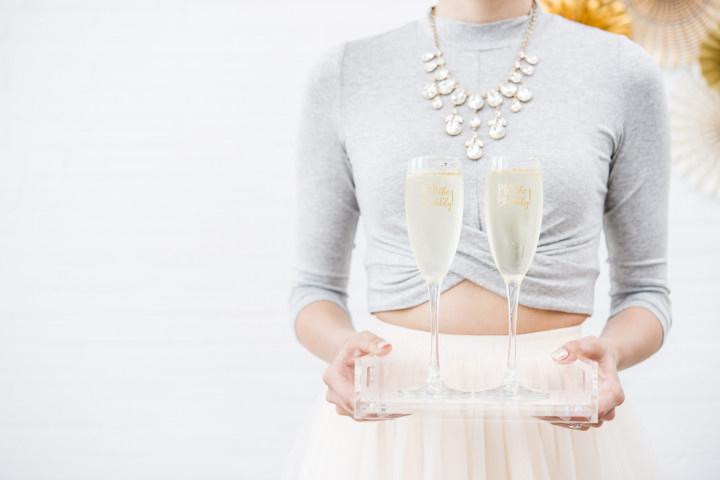 24. Vino Before Vows
Pop the cork and enjoy some bubbly together when you throw a wine-themed bachelorette party. Here, anything goes, like a chauffeured trip to several local vineyards or simply a tasteful affair at a restaurant that boasts an amazing wine selection. Need some festive decor? You can find cute balloons shaped like wine or champagne bottles, or simply choose a shimmery selection of wine-inspired colors like deep reds or iridescent pinks. Then, find some cute bachelorette favors that'll let everyone know you're celebrating in style.
Don't Forget: WeddingWire Shop twisted stem champagne glasses, from $3, WeddingWire Shop
25. He's/She's Her Lobster
Who can forget everyone's favorite '90's sitcom? We certainly can't, and that's why we've included a Friends theme on this list of our top bachelorette party themes. From personalized glasses or mugs in that classic Friends font to tongue-in-cheek t-shirts with some of our favorite quotes, this is a theme that can suit pretty much any personality.
Don't Forget: Hand to Heart Bridal NYC wine tumblers, $22, Etsy

26. Supermodels—Work!
Bring out your inner Winnie Harlow and Kendall Jenner with a fashion-forward photo shoot themed bachelorette party! Hire a professional photographer to take group and individual photos of your crew in coordinated outfits—perfect for sharing on IG. You can also enlist a professional hairstylist and makeup artist to ensure the whole gang looks amazing.
Don't Forget: WeddingWire Shop large personalized makeup bag, $14, WeddingWire Shop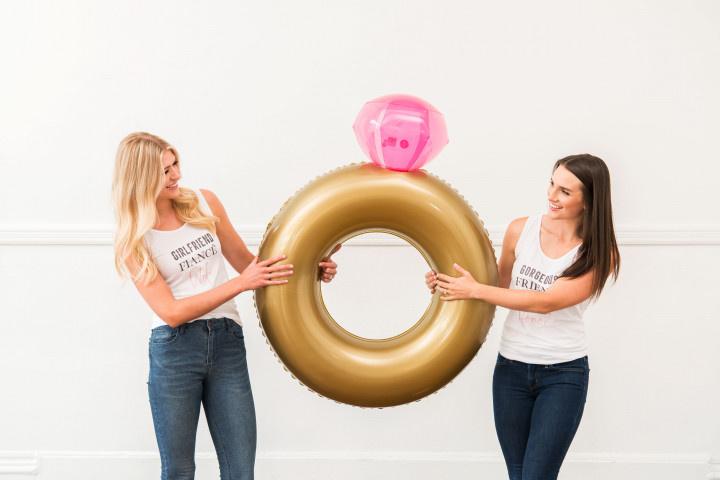 27. Sun and Sand and a Ring on Her Hand
Calling all beach bums! For a bride-to-be who loves soaking up the sun, a classic beach-themed bach party is definitely in store! Stock up on flamingo or engagement ring floats, pineapple bunting banners, and more to truly embrace the theme.
Don't Forget: WeddingWire Shop giant inflatable pool toy, $15, WeddingWire Shop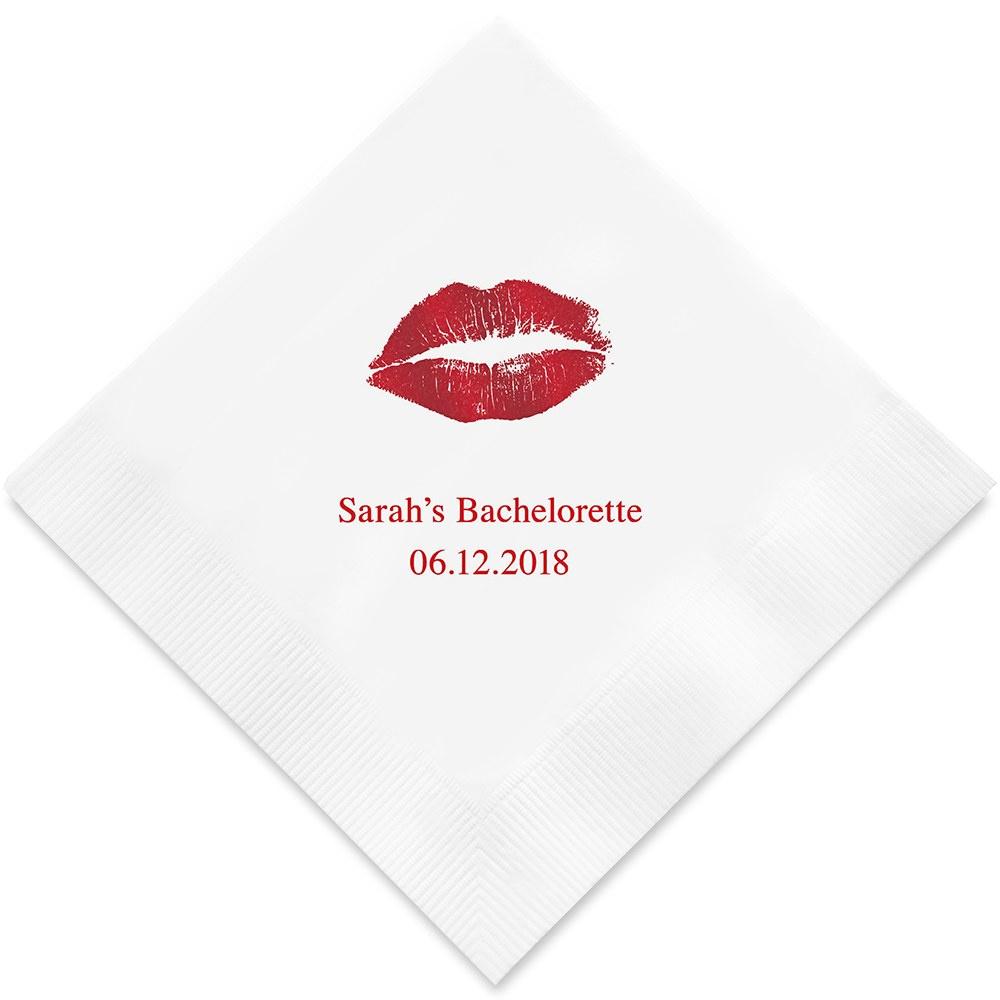 28. Kissing the Single Life Goodbye
If your guest of honor loves the color pink, we love the idea of a kissing-themed bachelorette party theme! Think lips-themed decor, lots of xoxo's, and plenty of hearts. This is a perfect bachelorette party theme for an event taking place on or near Valentine's Day!
Don't Forget: WeddingWire Shop personalized foil printed paper cocktail napkins, from $14 for 50, WeddingWire Shop
Disclosure: This post contains affiliate links, some of which may be sponsored by paying vendors.