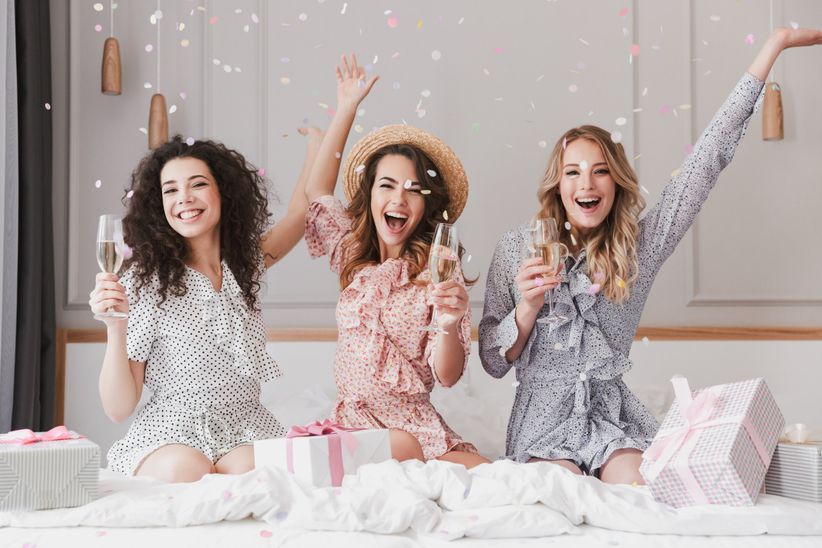 If your last fling before the ring is right around the corner, then you should definitely start coming up with potential bachelorette party themes. Your bachelorette party is one of the most memorable pre-wedding events where you get to spend some quality time with your leading ladies. Not only will the trip be spent reminiscing about your craziest moments, it's also filled with fun group outings and activities. This event is typically planned by your maid of honor, but you should be prepared in case she approaches you to find out what type of party you're envisioning. Here are some themes to consider.
Whether you're hitting the town or soaking up the sun, check out the top bachelorette party themes.

Wine Down
If you've been brainstorming bachelorette party themes that include sampling various flavors of vino, we've got you covered. Spend your last fling before the ring touring different wineries with all of your besties during a wine-themed bash. This bachelorette party theme is a fab choice if you love pouring a glass of wine after a long day of wedding planning. You and your gals can easily spend the weekend picnicking on the vineyards' grounds while splitting various bottles. We suggest booking a private tasting at one of the wineries, where you can learn about the different varietals and even take a few bottles home.

Fit and Fun
Fitness-focused bachelorette party themes are made for brides who love getting a workout in whenever they can. So, we think you can definitely get active with your 'maids by having a weekend filled with activities that fuel your love for the outdoors and staying healthy. Just sign up for workout classes that will boost everyone's mood and energy, such as a dance class or a yoga session. Classes such as these will be a fun way to spend the weekend with all of your bridesmaids and leave you feeling rejuvenated for your big day!

Country-Inspired
If you know the words to every Tim McGraw song and are known for starting your texts with "y'all" instead of "you guys", then this bachelorette party theme is just for you! Get your gals together and go out in your favorite boots for a country-inspired bach party. We definitely suggest trying to hit up a favorite karaoke bar or maybe one of your favorite singer or groups' concerts for a night filled with cowgirl-inspired shenanigans.
Manis & Mimosas
Spend the weekend getting pampered with a spa-themed bachelorette. Whether you book a suite at a cozy mountain resort or choose to stay in town, this party idea is perfect for brides and 'maids looking for a relaxing weekend. You can even coordinate matching robes to wear while lounging or getting your nails done! Then have your 'maids wear the robes again on your big day while you are getting ready together.

Wiggin' Out
If you know you want to hit the town for your bach party, then we suggest going with a girls night out bachelorette party theme! Just wear multi-colored wigs for some LOL-worthy snaps and check out the hottest bars or clubs together! You can easily transform a hotel room or other space into party central using Geronimo balloons, gold confetti, and more.

Let's Flamingle
Calling all beach bums! Brides-to-be who love soaking up the sun should definitely opt for a tropical-inspired bach party. This party idea is perfect for a beach bachelorette trip. Stock up on flamingo floats, pineapple bunting banners, and more to truly embrace the theme. You can even gift your 'maids matching nautical-inspired tanks that read "Brides Mate", to be worn throughout the trip too!