Your Guide to Planning the Ultimate Las Vegas Bachelorette Party
There are lots of reasons why Las Vegas is one of the top bachelorette party destinations. Find out where to stay, eat, and more with this handy guide.
We have included third party products to help you navigate and enjoy life's biggest moments. Purchases made through links on this page may earn us a commission.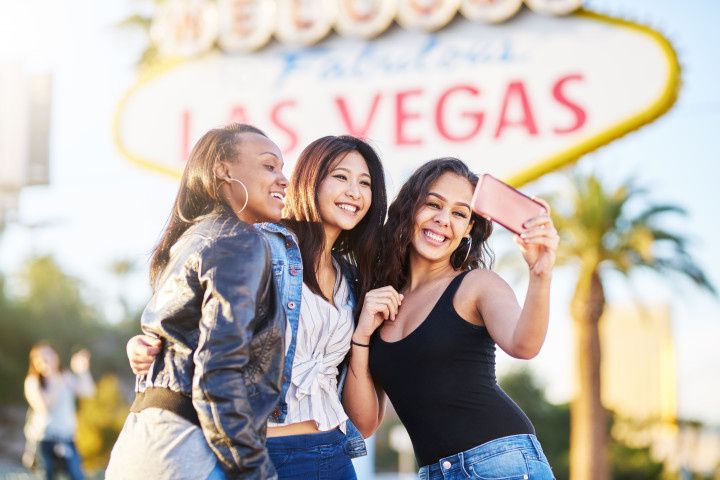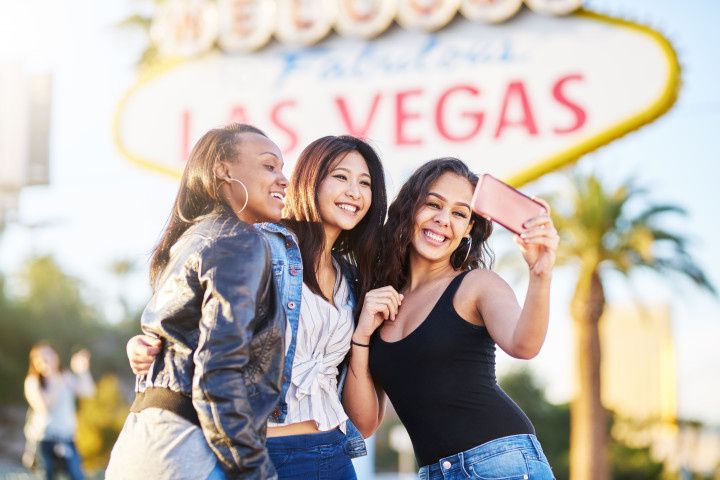 Sin City is the ultimate weekend getaway for the bride-to-be who likes to party. From casinos and clubs to classic Vegas shows (we're talking Cirque du Soleil), your crew will certainly be kept busy at a Las Vegas bachelorette party. To make planning the best bach weekend a breeze, we're sharing all the best Las Vegas bachelorette party ideas—both on and off the Strip—to add to your itinerary, as well as our top recommendations for where to stay and eat while you're in town.
But before you start booking, make your life easier and download our favorite bach party-planning app: BACH. You can use the tool to add our top recs to a shared group itinerary. Plus, you can browse even more local attractions and snag reservations on the spot.
Why have a bachelorette party in Las Vegas?
On the fence about planning a bach weekend in Las Vegas? There are so many things that make Sin City a winning party destination. Here's exactly what sets Vegas apart from other US cities:
The shows: You're pretty much guaranteed a great show somewhere on the Strip, from famous musicians with Vegas residencies to the mesmerizing Cirque du Soleil.
The casinos: What happens in Vegas, stays in Vegas—and usually, what happens in Vegas is a whole lot of gambling. When's the next time you'll have the chance to have this much fun together? Who knows, maybe you'll even win big.
The club scene: If clubbing is on the agenda, Las Vegas has some of the best places to go for a bachelorette party. A night at the Marquee won't soon be forgotten by your squad.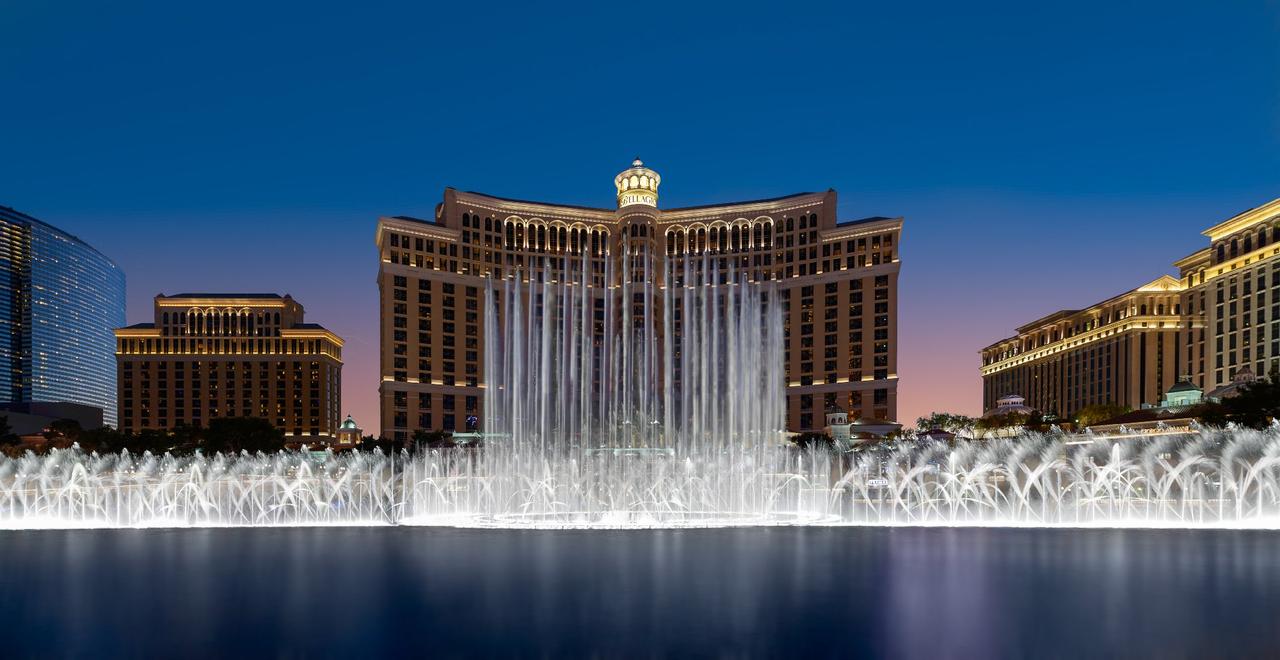 Where to Stay in Las Vegas for a Bachelorette Party
Your crew will want somewhere comfortable and convenient to put their feet up in between hitting the clubs and the next morning's sightseeing. Luckily, there are lots of cool hotels located right on the Strip in convenient walking distance of all Vegas has to offer.
The best hotels in Vegas for a bachelorette party
Of all the luxury hotels on the Las Vegas Strip, the Bellagio is one of the most magnificent. Outside, the building's iconic fountains are a must-see attraction, but it's the inside that's really impressive. With a botanical garden, Michelin-star chefs, and a casino, you don't even need to leave the resort to experience some of the city's best offerings.
Or, swap out classic elegance for unique luxury at The Cosmopolitan, a hotel and casino set against the backdrop of the bustling Strip. This eclectic resort features spacious suites with residential-style living spaces—perfect for bachelorette parties. Get in touch with the hotel before booking so they can help you plan the ultimate bach party experience.
The Cromwell is another fabulous hotel and casino along the Las Vegas Strip. Bursting with boutique charm and a lively atmosphere, this adult-only resort is one of the top Vegas hotels for bachelorette parties. When you're not soaking in the contemporary ambiance of your hotel rooms, head up to the rooftop deck and enjoy multiple pools, luxury cabanas, and top-level DJing.
Awesome bachelorette party rentals in Las Vegas
Of course, hotels aren't the only option. If you'd rather share a house with your crew, check out Vrbo's rental listings. There are pros and cons to renting a home instead of booking hotel rooms for your bachelorette getaway. While you'll probably have to settle for a place that's a little less conveniently located, you'll get to enjoy having a spacious and luxurious property all to yourselves. Most vacation homes in Vegas also come with a beautiful outdoor pool, like this five-bedroom house two miles from the Strip.
Things to Do in Las Vegas for a Bachelorette Party
Ready to start planning an unforgettable bach weekend? We've got the low-down on all the best things to do and see while you're in Sin City. These fun Vegas bachelorette party ideas are the perfect starting point for your itinerary.
Seek adventure on the Strip.
While 24-hour gambling might sound enticing, there are other attractions on the Strip your crew won't want to miss out on. The city's magnificent hotels are a spectacle of their own, from the Bellagio's gorgeous glass-sculpture ceilings to the gondola canal at the Venetian. Looking for a thrill? Visit the New York-New York Hotel for a ride on the Big Apple roller coaster that soars in and out of the building... or take a spin on the High Roller—a 550 foot-high Ferris wheel with stunning views. For serious adventure seekers, The STRAT will let you dangle 1,149 feet above the ground from the edge of the building or even sky jump from the top. It's certainly one way to make the last bash before the big day memorable.
Dive into the action at Mandalay Bay.
Ready for some fun in the sun? Grab your bachelorette party swimsuits for a day on the beach at Mandalay Bay. The resort's famous 11-acre aquatic playground has real sand, a wave pool, and on-theme cabanas where you can sit back and soak up the sun. But that's not all—remember, this is Vegas! Top-class cocktails and a great DJ are the icing on the cake. Want to hit two parties in one day? Head to Drai's Beachclub for the ultimate Vegas bachelorette pool party.
See a legendary Las Vegas show.
If you've never experienced the nightlife in Las Vegas, prepare to be amazed. No Sin City bachelorette weekend is complete without a show, and with so many to choose from, your crew won't be disappointed. Cirque du Soleil is a signature Vegas experience that'll wow everyone in the audience (your squad included). And remember the famous Bellagio fountains? You'll definitely want to catch a glimpse of those bad boys in action. If you're looking for something that feels a little more Magic Mike, grab tickets to Thunder from Down Under at the Excalibur hotel. Trust us, you'll be calling for an encore.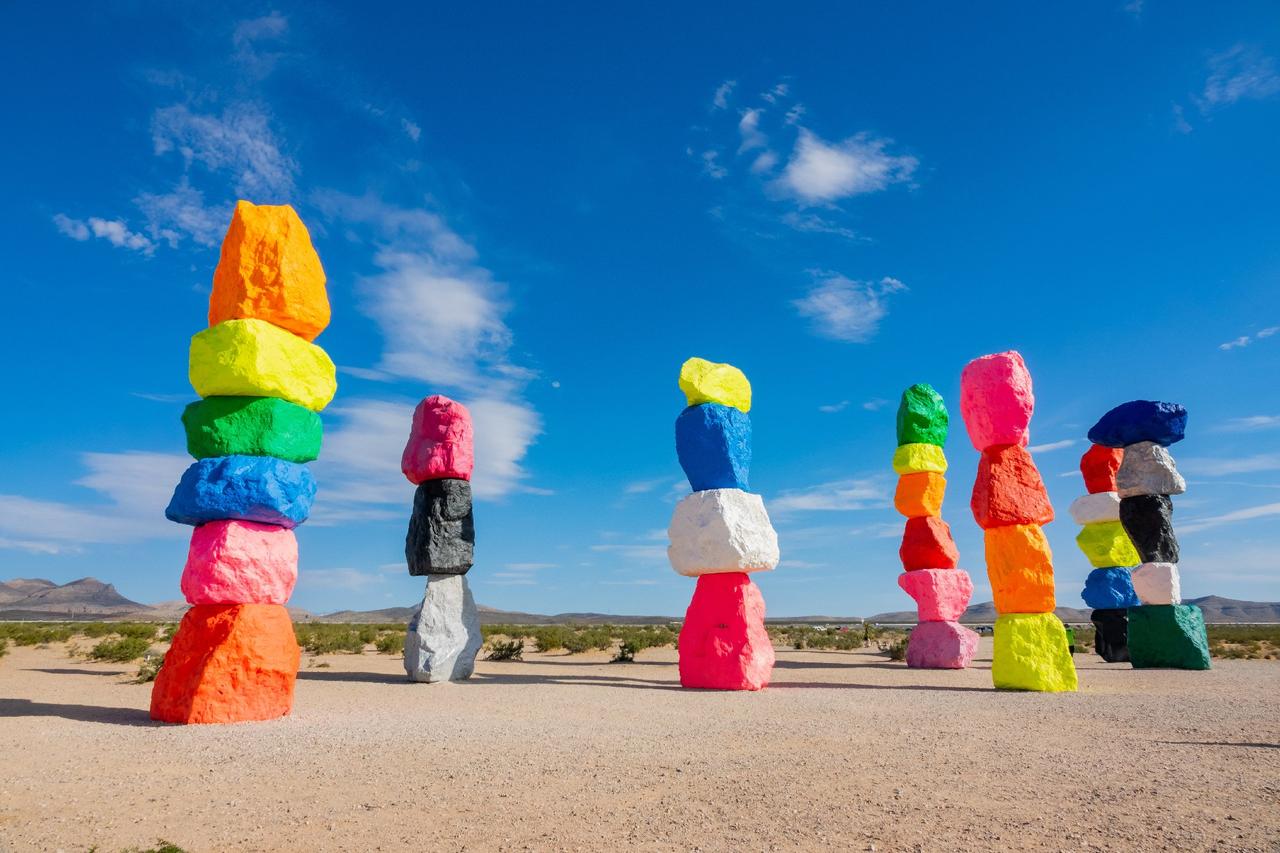 Take a trip to the desert.
Take a break from bustling city life with a trip to Red Rock Canyon National Conservation Area. This peaceful haven is just a few miles outside Las Vegas and has plenty to offer. In addition to admiring the unique natural landscape, your crew can take a tour of the Seven Magic Mountains—an art installation by Ugo Rondinone that'll make for some seriously Insta-worthy snaps. It's the perfect addition to your Las Vegas bachelorette party itinerary for the squad that hikes together.
Try your luck at the slot machines.
While in Vegas, right? You can't not add a casino trip to your list of Las Vegas bachelorette party activities. Pretty much any of the hotel and casino resorts along the Strip are a great place to take your crew—go with whichever is most convenient to you, whether that's the Bellagio, the Cosmopolitan, the Venetian, or another striking resort.
Chill out at an ice bar.
Up for something a little unusual? Plan a trip to the Minus5 Ice Bar. It's not every day you get to sip your drinks in a winter wonderland. With three locations around Las Vegas (Mandalay Bay, the Venetian, and the LINQ Promenade), you'll never be too far from enjoying this one-of-a-kind experience. Set at a cool 23 degrees (F), the bar offers tasty cocktails and features mesmerizing ice sculptures. And don't worry, faux fur coats and gloves are provided, so you'll have everything you need to stay snug.
Go clubbing with your crew.
Wondering what to do at night in Vegas for a bachelorette party? We'd wager the club scene in Sin City could even rival Ibiza. The Marquee is one of the best clubs for bachelorette parties in Las Vegas. With bottle service, late-night snacks, and delicious cocktails, the bride-to-be and "I do" crew can party the night away. If it's a big hit, why not come back the next day? The Marquee is also a day club complete with a pool and a DJ. Not keen on clubbing? Plan a Las Vegas bar crawl for everyone instead. This unique tour is led by a professional photographer, so you'll have lots of fun snapshots to fill your Instagram feed with later.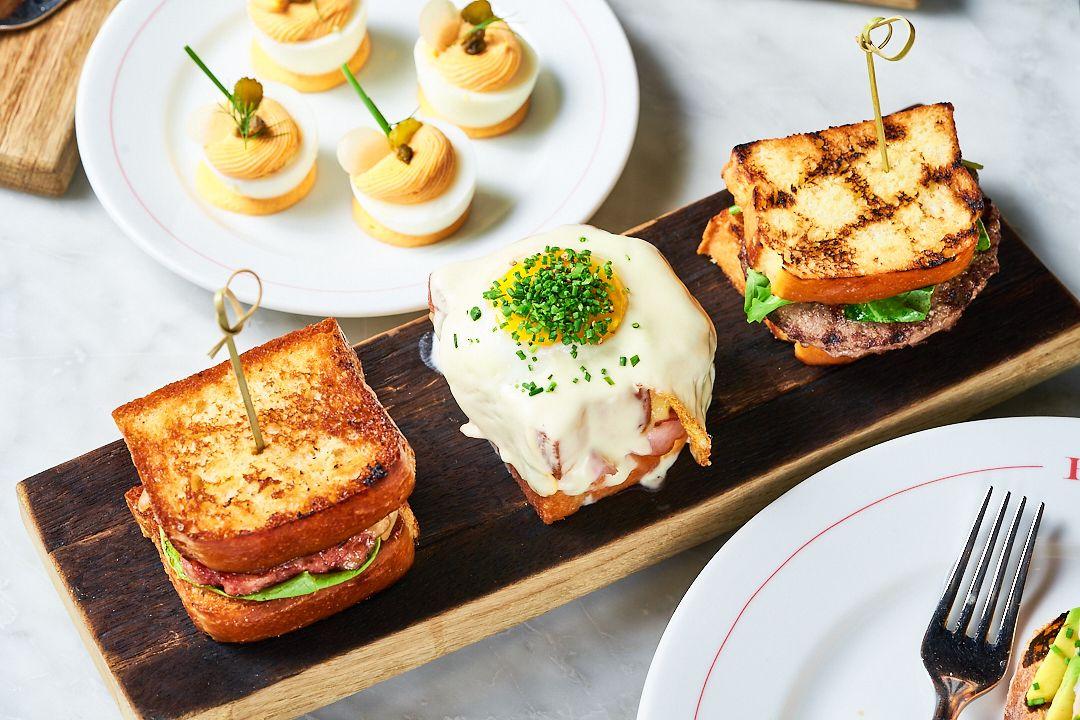 The Best Vegas Restaurants for a Bachelorette Party
Las Vegas is known for hosting a lot of celebrity chefs, and believe us when we say: You'll be in foodie paradise. From Michelin-star restaurants to cozy coffee houses, there's something to satisfy every craving. Use OpenTable to make reservations in advance for a stress-free dining experience.
The top Las Vegas breakfast and brunch spots
Eggs are the foundation of so many brunch staples, which is why Eggslut tops our list of awesome brunch destinations in Las Vegas. You'll find this unique eatery conveniently located in the Cosmopolitan hotel right on the Strip. The best part? It's open from 7 a.m., making it an ideal breakfast spot for early risers.
It's not a girls weekend without at least one boozy brunch, and we know exactly where to get it. Led by award-winning Chef Nick Dugan, Bardot Brasserie is Sin City's twist on an upscale Parisian café. The restaurant is known for its popular weekend brunch menu. Opt for a fruit platter, fresh pastries, or a hearty gruyère omelet—just make sure you don't miss out on a cocktail from the Bloody Mary menu.
Or, if you're looking for something with a contemporary vibe, head to HEXX Kitchen + Bar in the Paris Las Vegas Resort. Your squad can enjoy a laid-back brunch of French toast, chicken and waffles, or buttermilk pancakes overlooking the Strip.
Our favorite restaurants for lunch in Las Vegas
If the bach squad loves Mexican cuisine, Border Grill at Mandalay Bay is the place to be. Al fresco dining creates a light and airy atmosphere to enjoy favorite dishes like enchiladas, tacos, and quesadillas—all accompanied by a refreshing margarita.
The Hard Rock Cafe might not be entirely unique to Las Vegas, but it's an experience your crew won't want to miss out on—especially if they've never been. The rock music-themed restaurant sets the perfect mood for an evening of partying (right after you try the uh-mazing burgers, that is).
The best place for a bachelorette party dinner in Las Vegas
You'll more than likely find a great restaurant at any Las Vegas resort. Take advantage of the concierge service at your hotel to make a reservation at one of the in-house eateries. That said, if you want to expand your horizons (or you're looking for a particularly lively atmosphere), these are some of our favorite Vegas restaurants.
Italian food, anyone? LAVO is an exquisite setting to sit down with the group and enjoy tasty Italian cuisine. Equal parts cozy and elegant, you'll find this fine-dining gem tucked inside the Venetian Resort. Not sure what to try? We've heard great things about "The Meatball."
There's a reason you'll find Señor Frog's at some of the most popular bachelorette destinations in the US, Mexico, and beyond. This one-of-a-kind restaurant boasts a lively atmosphere and welcomes private events (say hello to a tailored bachelorette party dinner package). If you're looking for a good time, make sure you grab dinner at Señor Frog's.
Spend your last evening in Las Vegas enjoying an elevated steakhouse experience at STK in the Cosmopolitan. With mouth-watering Wagyu beef and Alaskan red king crab on the menu, the only problem will be deciding what to try first. Finish the evening with a trip to the colorful I Love Sugar bar for some of the coolest cocktails you've ever seen.
Must-Have Las Vegas Bachelorette Party Supplies
Wondering what to bring to a Vegas bachelorette party? Check out our favorite decor, favors, and accessories below. Of course, decorations and gifts aren't the only way to make the weekend feel special. Try coming up with a Vegas-themed bachelorette hashtag to set the tone for an amazing getaway. (Psst, if you get stuck, just get Wedding Hashers to come up with one for you!)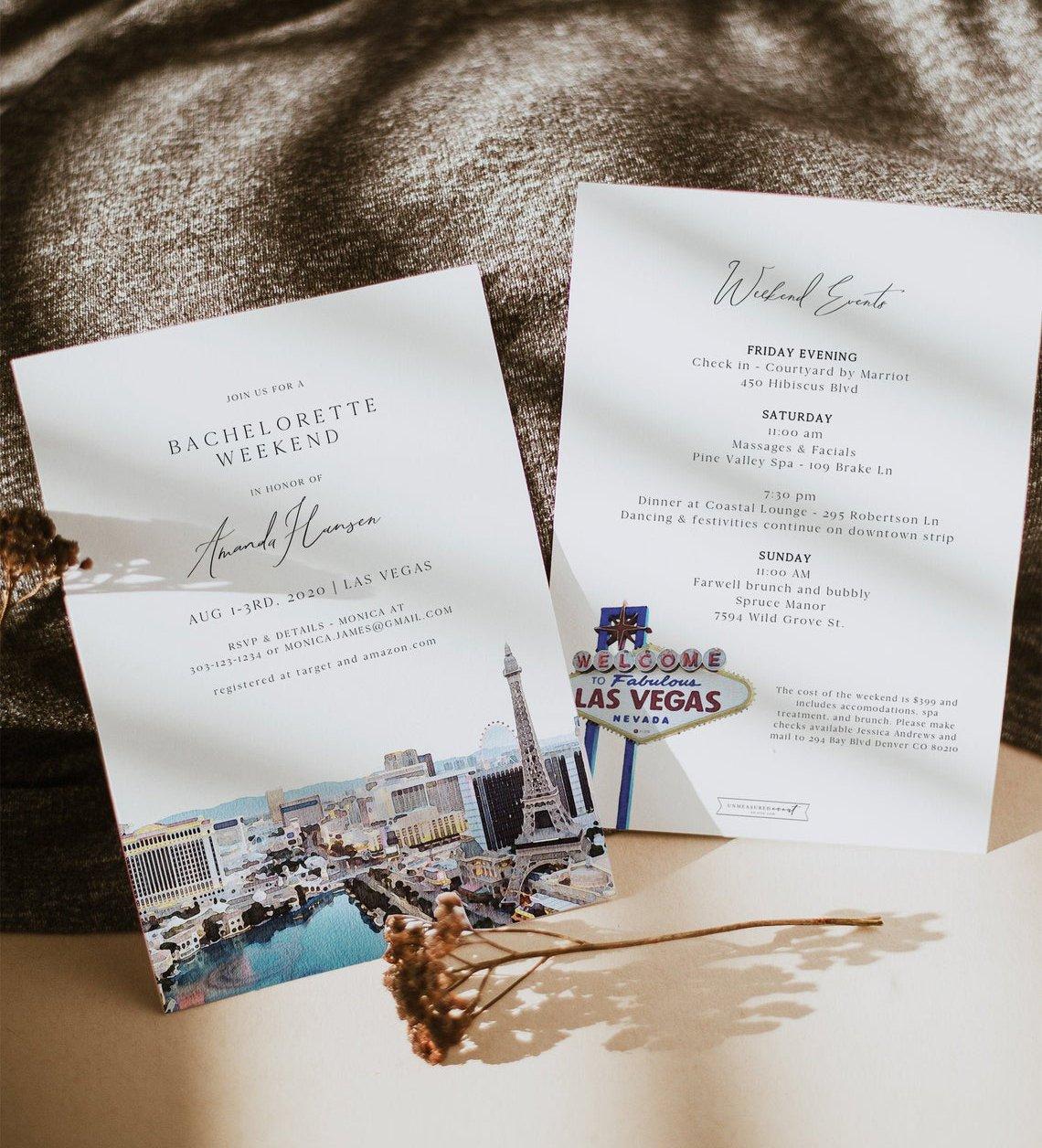 Vegas-themed invites
These printable Las Vegas bachelorette party invitations and itineraries are a great way to let your guests in on the theme (and get majorly excited for an awesome getaway).
Unmeasured Event Las Vegas bachelorette invitation and itinerary template, $10 for a digital download, Etsy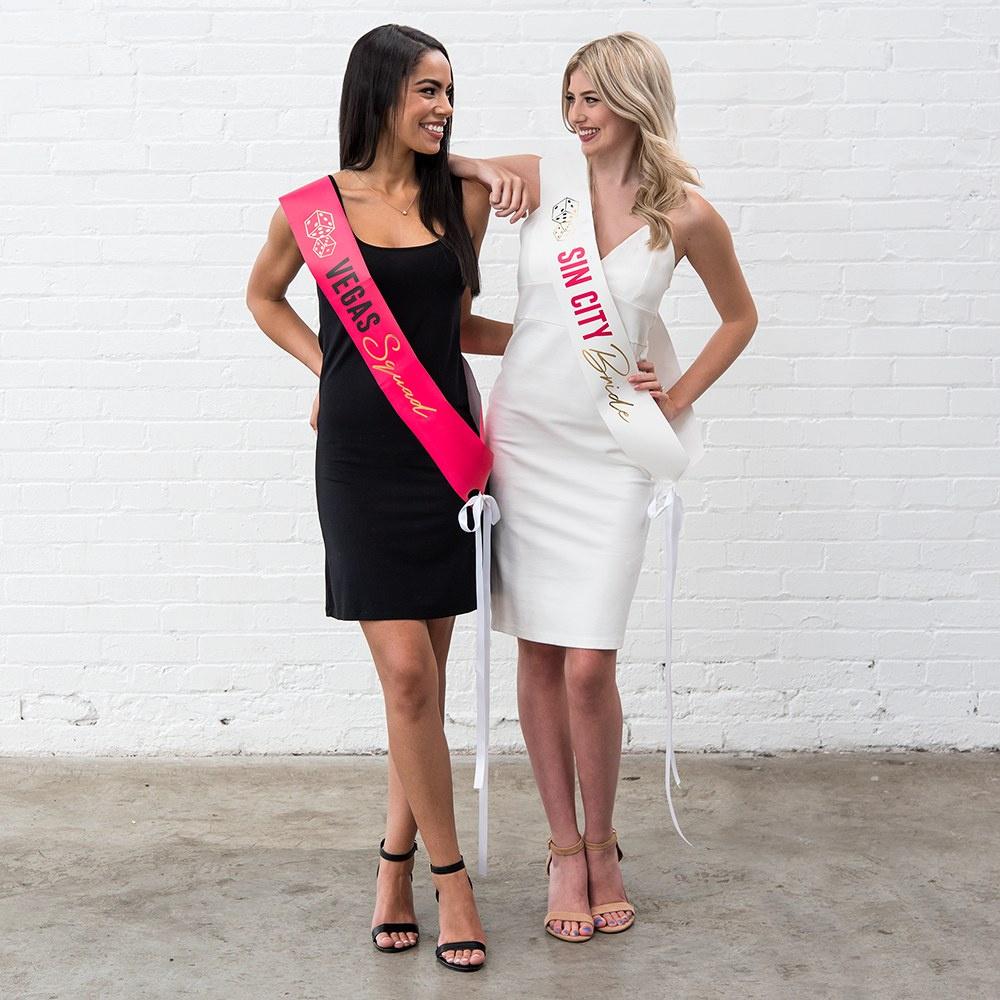 Sin City sashes
Wear these "Sin City Bride" and "Vegas Squad" sashes for a night out on the Strip so everyone knows what you're celebrating. Who knows, maybe you'll even score some free drinks.
WeddingWire Shop paper bachelorette party sash in Vegas, $6 each, WeddingWire Shop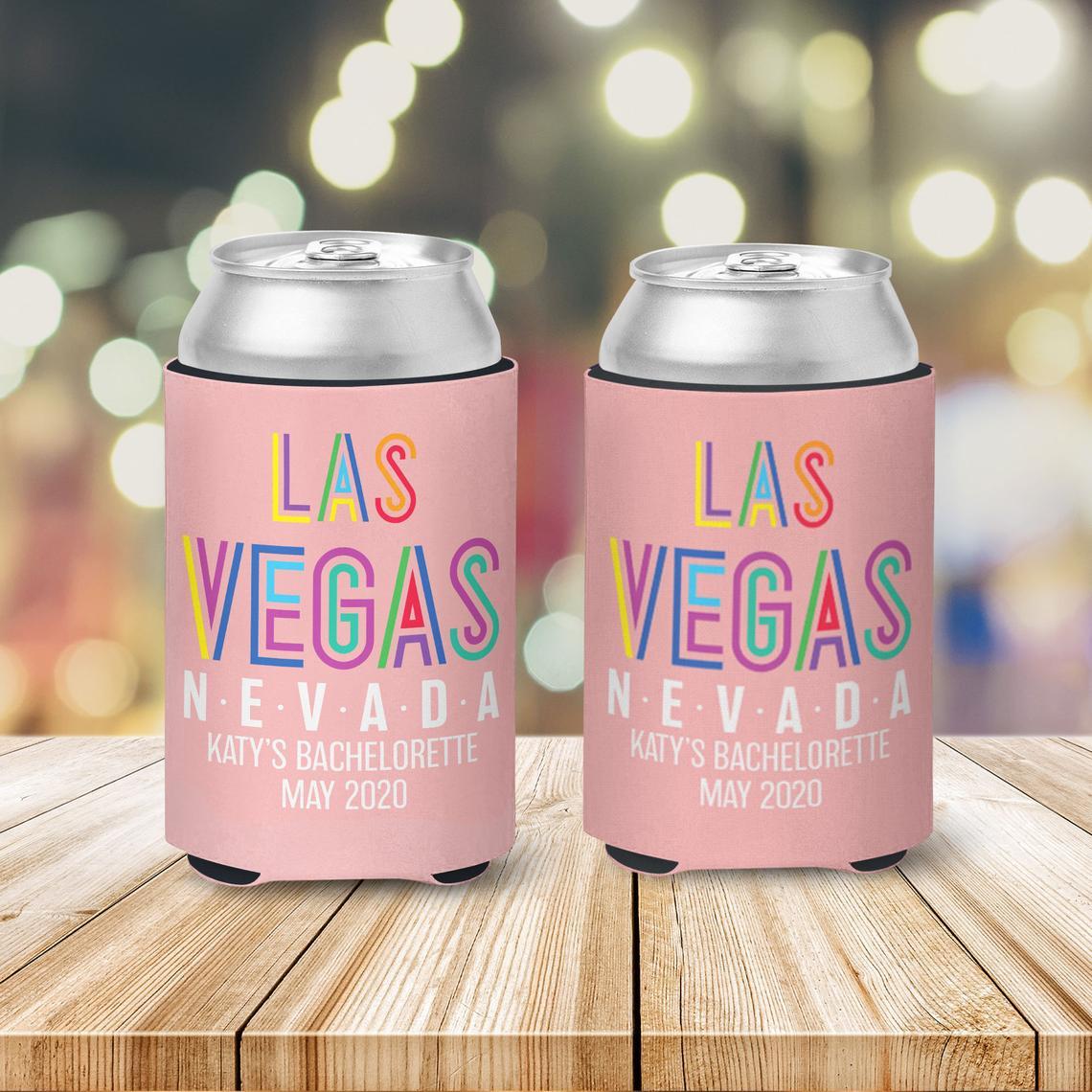 Custom Las Vegas koozies
Sip your drinks in style with these custom Las Vegas koozies. The colorful neon-inspired lettering will remind your crew of the bright lights on the Strip long after your stay.
You're Worth It bachelorette party can coolies, from $6 each, Etsy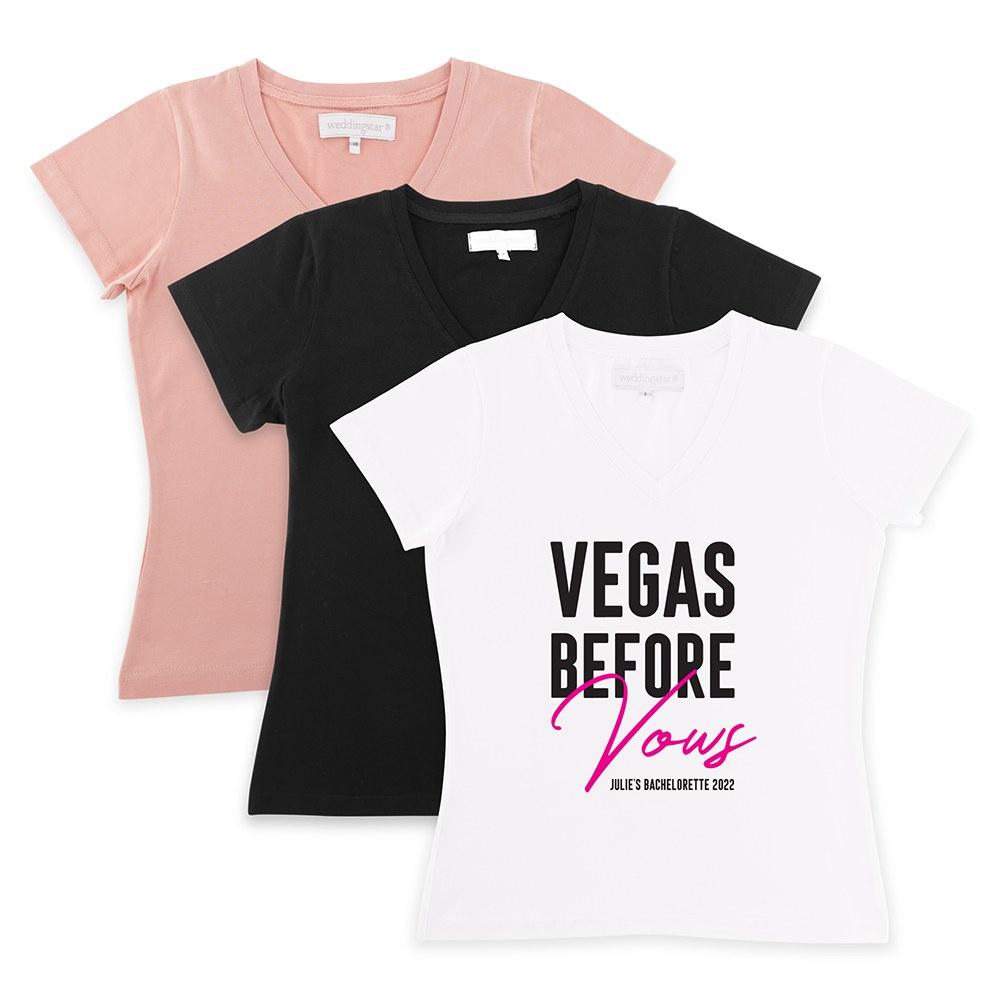 Vegas Before Vows T-shirts
Nothing will put the bride-to-be and her besties in the mood to party like having matching Las Vegas bachelorette shirts.
WeddingWire Shop personalized bridal party wedding T-shirt in Vegas Before Vows, $15 each, WeddingWire Shop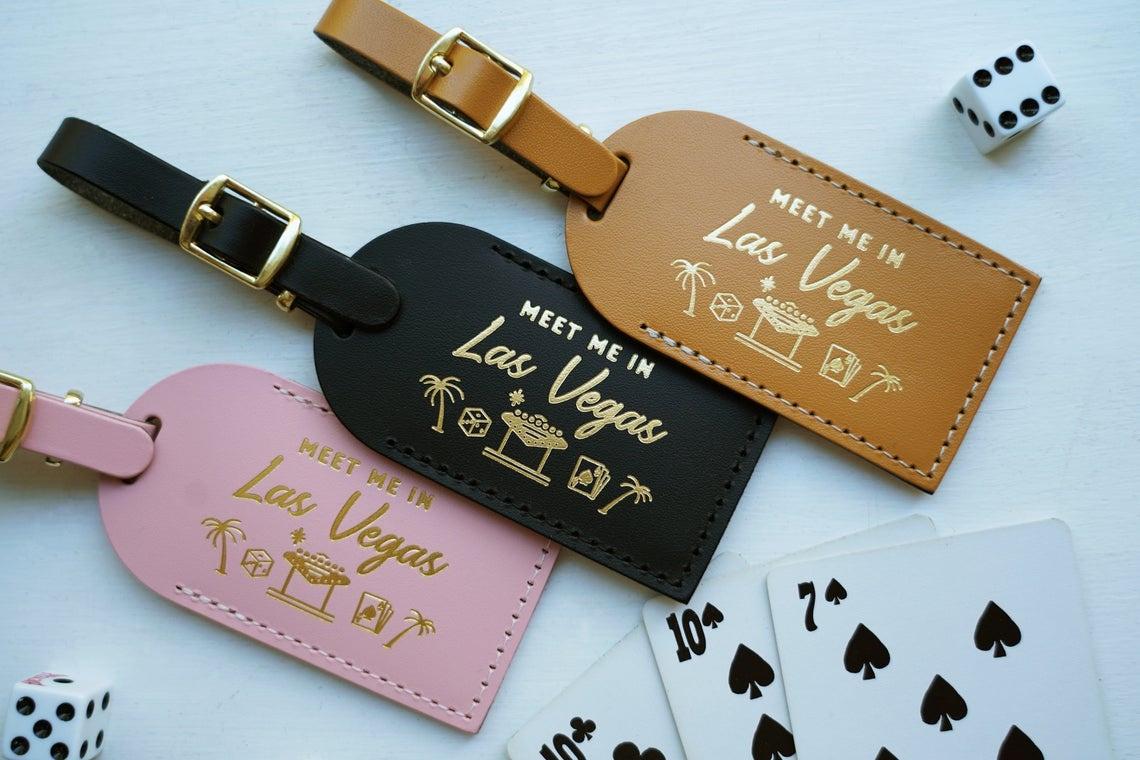 Las Vegas luggage tags
How cute are these nifty little luggage tags as bachelorette party favors? They'll be a welcome addition to your squad's travel accessories.
Letter + Leather Meet Me in Las Vegas bachelorette party luggage tags, from $5 each, Etsy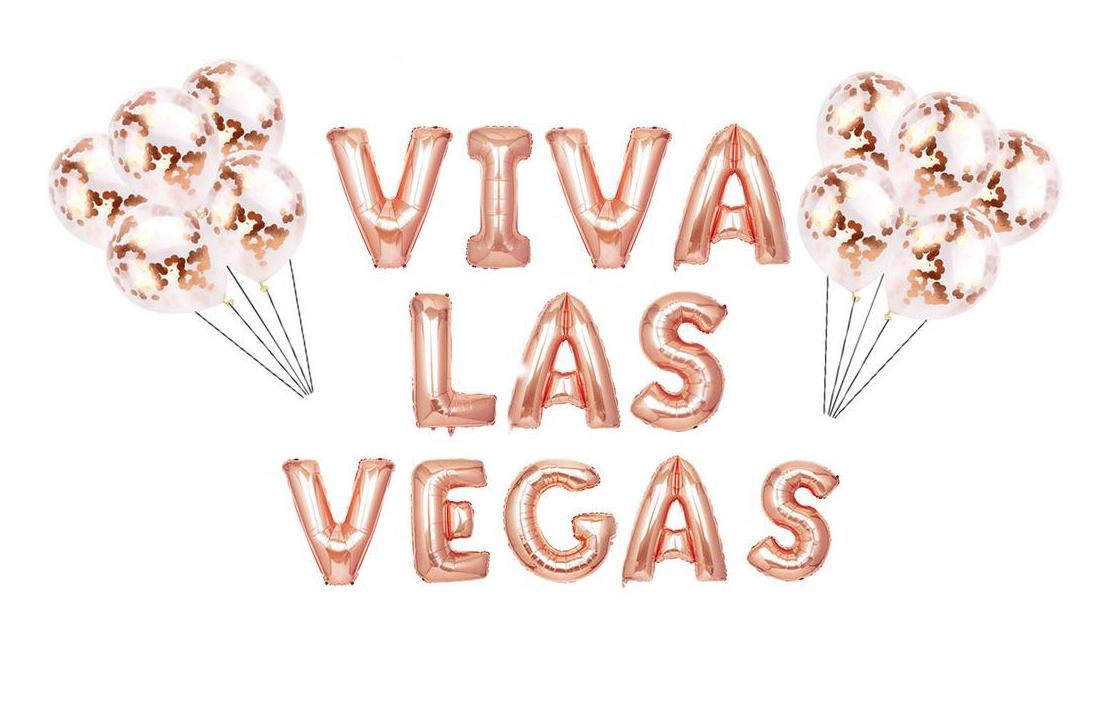 Viva Las Vegas balloons
Looking for a simple way to spruce up the soonlywed's hotel room? These foil "Viva Las Vegas" balloons are the ultimate bachelorette party decoration.
Party Eight Viva Las Vegas balloons, $21, Etsy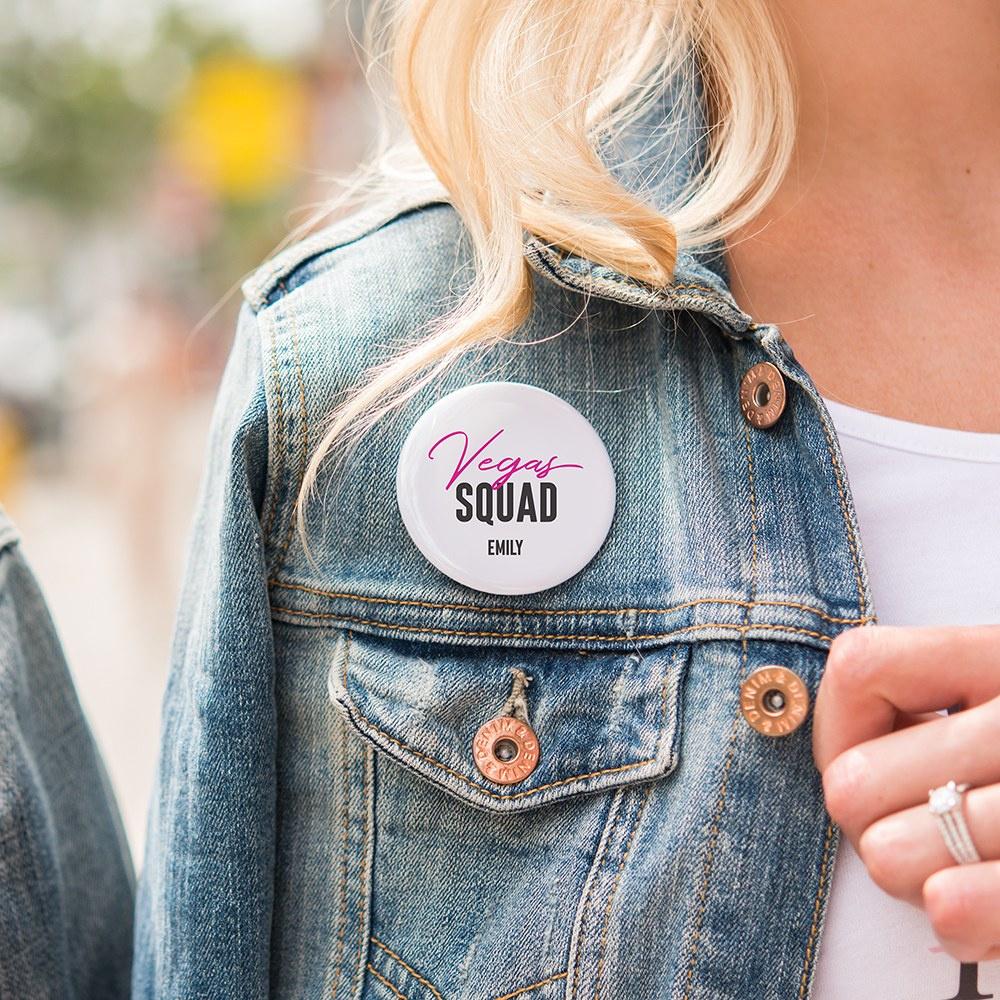 Custom buttons
Personalized buttons are a sweet and subtle way to help everyone feel a part of the group, and these "Vegas Squad" ones are right on theme.
WeddingWire Shop personalized bridal party wedding pin in Vegas Squad, $5 each, WeddingWire Shop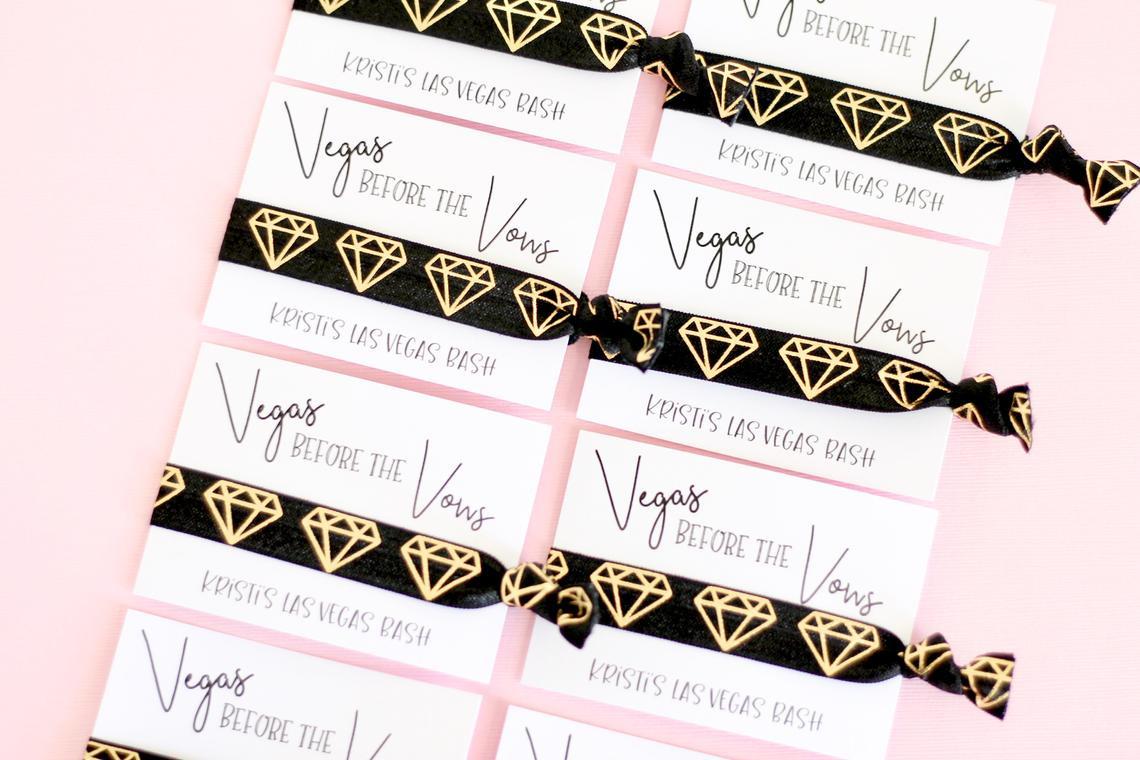 Cute hair ties
The packaging around these adorable diamond-motif hair ties reads: "Vegas Before the Vows."
Gold & Glamour Vegas Before the Vows hair tie favor, from $2 each, Etsy