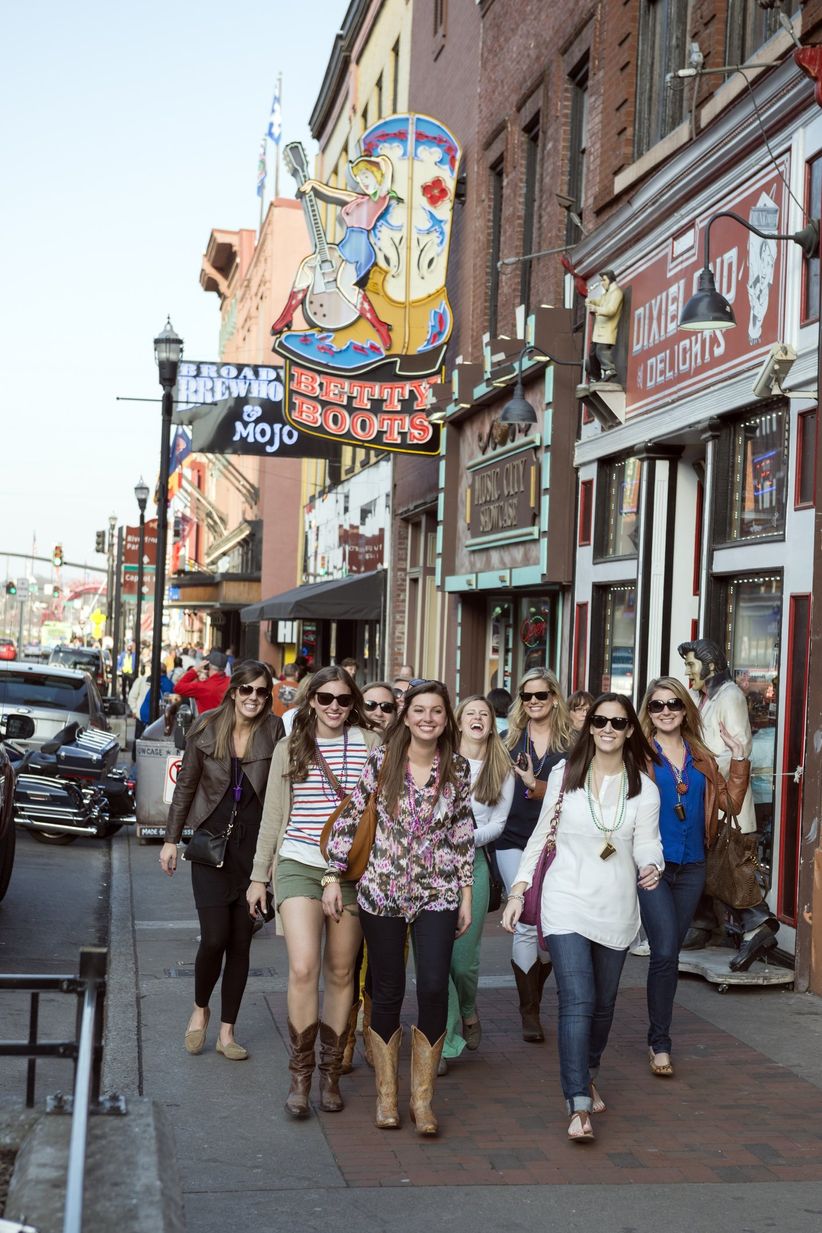 There are three key things you can expect when planning a Nashville bachelorette party: delicious Southern bites, a killer music scene, and overall, a really good time in the South. No doubt, there will be plenty of boutique shopping and city mural Instagramming in the mix, plus a couple of must-see tourists stops along the way. By day, you'll be exploring Nashville institutions like the Country Music Hall of Fame and the Grand Ole Opry, while night will bring some serious fun of its own. Your Nashville bachelorette party will go next level while bar hopping down Lower Broadway to experience the famous Honky Tonk Highway. And who knows? You may just discover the industry's next big star before anyone else. Just a handful of reasons this epic city is included in the best bachelorette party destinations of all time.
We've already perfected your Nashville bachelorette party itinerary, so pack your bags and get ready for a girls weekend set in Music City.
What to do
If your Nashville bachelorette party includes first-timers to Nashville, you'll want to hit the highlights of this iconic city. Whether or not you consider yourself a music junkie, the Country Music Hall of Fame and Museum is well worth a visit. You'll get the full run-down on every big name in the industry, and learn a little history to help enhance your Nashville experience.
As you wander around exploring, you'll likely run into the work-of-art murals sprinkled throughout Nashville. The I Believe in Nashville Mural (2702 12th Ave S), the Wings Mural (11th Avenue South), and the Nashville at Heart Rainbow Mural (2705 12th Ave. S) are three favorites to seek out.
When your Nashville bachelorette party crew is ready for a change of scenery, grab a coffee and stroll through Centennial Park. With 132-acres of green space to explore, it's a true urban oasis that's also a great spot for a picnic lunch to rest your walking feet.
You simply cannot put together a Nashville bachelorette party itinerary without including some live music. Check the lineup at the Grand Ole Opry and Ryman Auditorium and be sure to grab tickets well in advance. Or, if you want to opt for a more low-key venue, The Station Inn is a local favorite featuring live bluegrass every night of the week.
Bar hopping couldn't be easier during a Nashville bachelorette party thanks to the famous Honky Tonk Highway lined with dozens of music venues where so many legends first got their start. Each establishment serves up yummy drinks with zero cover charges, and whether you're looking for country, rock, bluegrass, or more, you'll find it right here on Lower Broadway. Or, if you take your bar crawling pretty seriously, book a ride on the Nashville Pedal Tavern for a two-hour adventure with up to 14 of your friends.
Where to eat
Nashville is known for its Southern soul food, but you can find just about any cuisine your heart desires. For all the best eats and drinks, stick around The Gulch or Sobro neighborhoods and visit the insanely popular picks like Biscuit Love Gulch and Hattie B's Hot Chicken.
When it comes time for a Nashville bachelorette party dinner, head towards the river to dine at The Farm House for fresh, local flavors or visit The Stillery where the mac and cheese skillet might change your life.
Finding a good drink during your Nashville bachelorette party is easy thanks to the many local breweries and craft cocktail bars in nearly every neighborhood. To experience one of America's top bourbon bars, visit Whiskey Kitchen and try their expansive menu of whiskeys, ryes, bourbons, and scotches.
Brunch is a necessity of any Nashville bachelorette party, and The Flipside or Milk & Honey will satisfy the sweet and savory breakfast cravings of everyone in your group.
Where to stay
Looking to rest your head at a convenient yet cool spot during your Nashville bachelorette festivities? Breathe easy because this city has endless options at your fingertips. The ultra-chic Hutton Hotel is a boutique hotel loved for its well-designed interior and on-site cocktail bar slash entertainment venue.
The Hermitage Hotel offers a five-star experience with jaw-dropping elegance if you want a little taste of luxury. One peek at their website and you'll see why it's the longest standing hotel in the entire city.
Located in the heart of the action, the Westin Nashville and the Sheraton Nashville Downtown Hotel are both excellent picks for style, ease, and proximity. Think less time calling Ubers and more time enjoying your Nashville bachelorette party within comfortable walking distance.