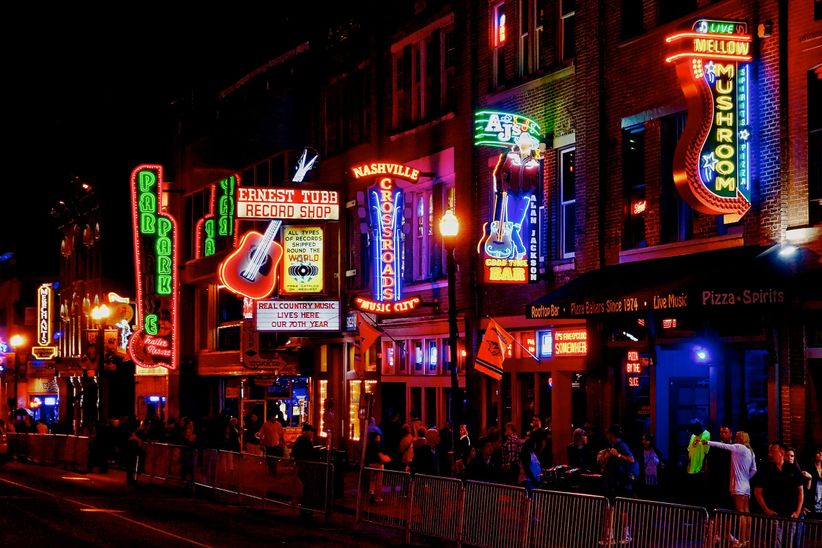 When you think Nashville bachelor party a few things should immediately come to mind: live music, hot chicken, lots of booze, and an epic nightlife scene. This Southern city has been on the rise for a while, and with good reason. There's a lot on offer, from top notch dining options and famous country music to distillery tours and professional sports.
Our top tip for planning a party in the Music City? Download an app called BACH. It lets you browse a whole host of Nashville attractions, poll guests to see which ones they're most interested in, and book your chosen activity straight from your phone. Check it out, then check out more great suggestions below.
For everything you need to know to plan a Nashville bachelor party itinerary, read on, y'all!
What to Do
If your groom is a country music fan, you should make an effort to get your way to the Grand Ole Opry. A short drive from downtown, this is where country really began—with a simple radio broadcast in 1925. Ever since, top stars have graced the Opry's mic and stage, and you'll find all that boot-scooting history here.
Another just-outside-of Nashville must-do, a visit to Jack Daniel's Distillery, located about an hour and a half from the city in Lynchburg. Rent a party bus and get your gang there to explore the history of Tennessee Whiskey making and specialized tastings.
Back downtown, there's still plenty of drinking and music to be had on your Nashville bachelor party. Consider a daytime ride through the city on the Sprocket Rocket Party Bike. The 16-person peddler lets you BYOB, pump your own tunes, and peddle (or not—there's also a motorized engine if its needed) while you stop by some of the best bars in town. If peddling isn't your thing, book a pub tour on the Honky Tonky Party Express. This 32-passenger open air bus comes outfitted with a bar, coolers, ice, cups, and a bartender (you supply the booze) and shuttles you around the city.
For a different set of wheels, consider a visit to Music City Indoor Karting, where you and your crew can get your electric carts up to 40 miles per hour on the indoor race track. And if you're looking for sports, Nashville has plenty to offer, just check the schedules for the Tennessee Titans, Nashville Predators, or the Nashville Sound to book your seats at a game.
Come night time, live music is the name of the game in Nashville. Every bar has plenty on offer, including Station Inn, a concert hall founded in 1974 featuring blue grass; the famous Tootsie's Orchard Lounge, a country music institution across the street from the Ryman; and Honky Tonk Central, the three-level Broadway staple.
And for good brews, visit Hops and Crafts for 36 rotating taps of regional craft beer.
Where to Eat
Puckett's dates back to the 1950s, when it was a little grocery store in music city. Now, it offers one of the best breakfasts in town, with dishes like The Southern Stack (sweet potato pancakes with pulled pork, fried apples, and a sunny-side up egg served over homefries) or the Smoked Brisket Hash Skillet (with sweet onions, bell peppers, two sunny-side up eggs, and spicy BBQ sauce).
No Nashville bachelor party is complete if you haven't had breakfast at The Mockingbird where you can order a chicken sausage breakfast sandwich or chicken fried chicken over buttermilk biscuits with a delicious seasonal booze-filled fruit punch that serves four.
Biscuit Love is another music city institution, offering up Southern brunch both on a biscuit or not (you should most certainly get one of their buttermilk biscuits). Try the Lily Biscuit French Toast, served with lemon mascarpone, blueberry compote, and syrup, or the savorier Southern Benny, with shaved country ham, two fried eggs, and sausage gravy.
Located in the heart of downtown for 30 years, Merchants is a lively spot to grab quality cocktails and a comfort food dinner. The second floor dinner menu includes a 16-ounc prime rib, 10-ounce flat iron steak, or 45-ounce tomahawk.
As far as Southern fare goes, chef Sean Brock hit the nail on the head when he opened his Nashville outpost of Husk. Serving only real Southern food, the menu here changes by season, but typically includes deliciously fresh fare like Rappahannock oysters, pimento cheese with pickled serrano peppers on benne wafers, grilled catfish over Delta Belle rice, and pork prime rib with bacon jam.
On the more casual side of things, put your taste buds to the test at Princes Hot Chicken where even a mild order of this fried chicken sandwich has brought men to tears. Or put your strength to a different test at Von Elrod's Beer Garden and Sausage House, where along with soft pretzels, fried cheese curds, and sausage snack boards you can see who can hold the five-pound liter of beer the longest.
For dinner and fun, Pinewood Social has a state of the art bowling alley and cocktail bar nestled inside its laidback dining spot. Dinner includes burgers, lobster rolls, or fish and chips.
Where to Stay
The Sheraton Grand Nashville is located right in the heart of downtown, so you're just steps away from the fun. Along with spacious rooms, the hotel offers an indoor pool, 50 varieties of bourbon at its Liberty Bar, and a rooftop venue available for private parties.
The Hilton Downtown Nashville is a short walk from Bridgestone Arena and the Country Music Hall of Fame. The all-suite hotel also offers four dining options, including a steakhouse.
Of course, sometimes its easier to just have your own space. There are plenty of rentals available in Nashville, including this Honky Tonk apartment, which is situated right on Broadway and sleeps up to 13 guests.
Disclosure: This post contains affiliate links, some of which may be sponsored by paying vendors.