30 Bachelorette Party Decorations That Were Made for Instagram
Hoping to plan an unforgettable bash before the big day? These bachelorette party decorations will make it one to remember.
We have included third party products to help you navigate and enjoy life's biggest moments. Purchases made through links on this page may earn us a commission.
Of all the important events that traditionally take place before a wedding, bach parties are easily the most fun. One way to make sure your event lives up to the hype—whether it's in Las Vegas or your living room—is by including lots of awesome bachelorette party decorations. Whether you're the bride-to-be or a dutiful MOH, planning a bachelorette party is a big deal. That's why we think it's a great idea to invest in some stylish decor to help set the mood. If that's not enough to sway you, just think of the photos! Giant balloons and colorful confetti will make for some seriously Insta-worthy shots. Not sure where to start? We've listed our favorite bachelorette party decoration ideas below, from banners that'll instantly elevate a hotel room to backdrops that'll pop at a Zoom party.
The Best Places to Buy Bachelorette Party Decorations
Buying decorations for a pre-wedding party is easy once you know where to look, and lucky for you, we do. These are our favorite places to shop for bachelorette decorations online.
WeddingWire Shop: You'll find a ton of cool bach party decor at our WeddingWire Shop, including balloons, backdrops, and beach towels that can double as favors. The best part? It's all organized by theme, from mermaid to country.
Etsy: Etsy is another great place to shop for cute bachelorette decorations, especially if your theme is a little more unique. Find trendy rose gold banners, personalized backdrops, and more.
Michaels: Craft stores are a surprisingly great place to shop for decorations. We definitely suggest taking a trip to your local store to see what's available. Alternatively, Michaels has a nice selection of bachelorette party supplies online, including photo props and sashes.
Our Favorite Bachelorette Party Decorations
Ready to get started? We've rounded up some of the best bachelorette party decorations you can conveniently shop online. Pro tip: Check if you can have them sent directly to where you're staying so you don't have to check another bag or carry any extra luggage.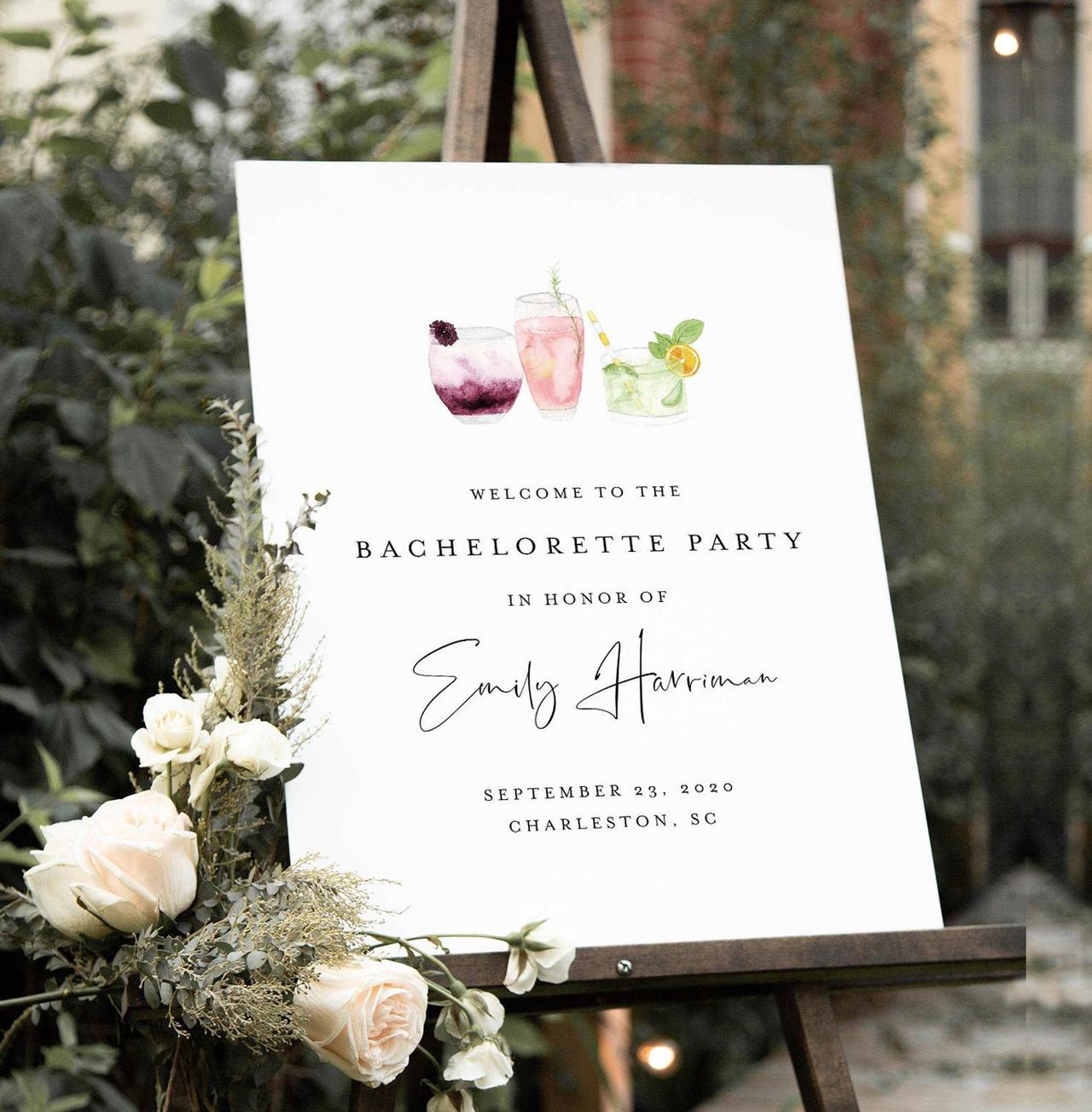 1. Custom welcome sign
Personalized signage is a great way to welcome guests to the party. We love this simple and elegant printable for a classy brunch or cocktail evening. What a great way to kick off a memorable bach weekend!
Minty Paperie Shop bachelorette party welcome sign instant download, $11, Etsy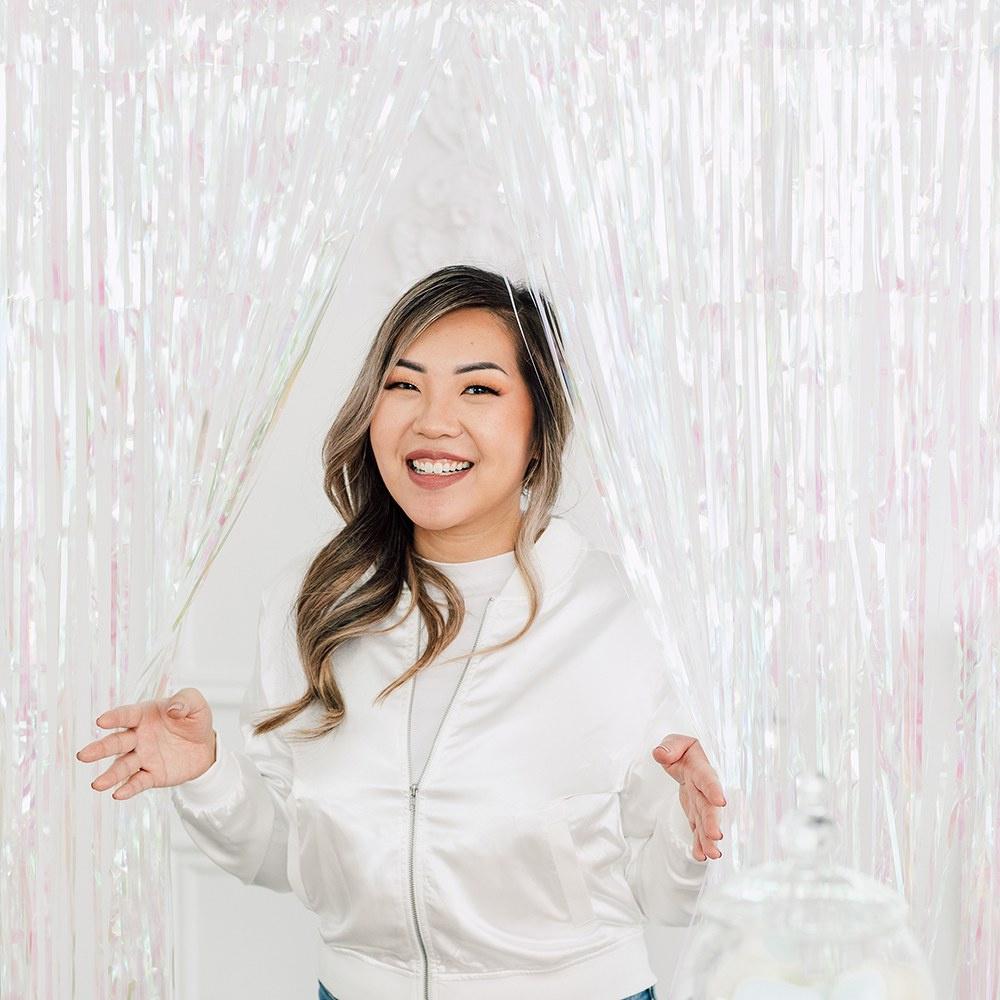 2. Shiny fringe backdrop
Thanks to its versatility, this iridescent metallic curtain is one of our favorite bachelorette party decorations. You can drape it across the entryway, set up a sleek photo station, or use it to elevate a blank wall.
WeddingWire Shop iridescent metallic foil fringe curtain photo backdrop, $7, WeddingWire Shop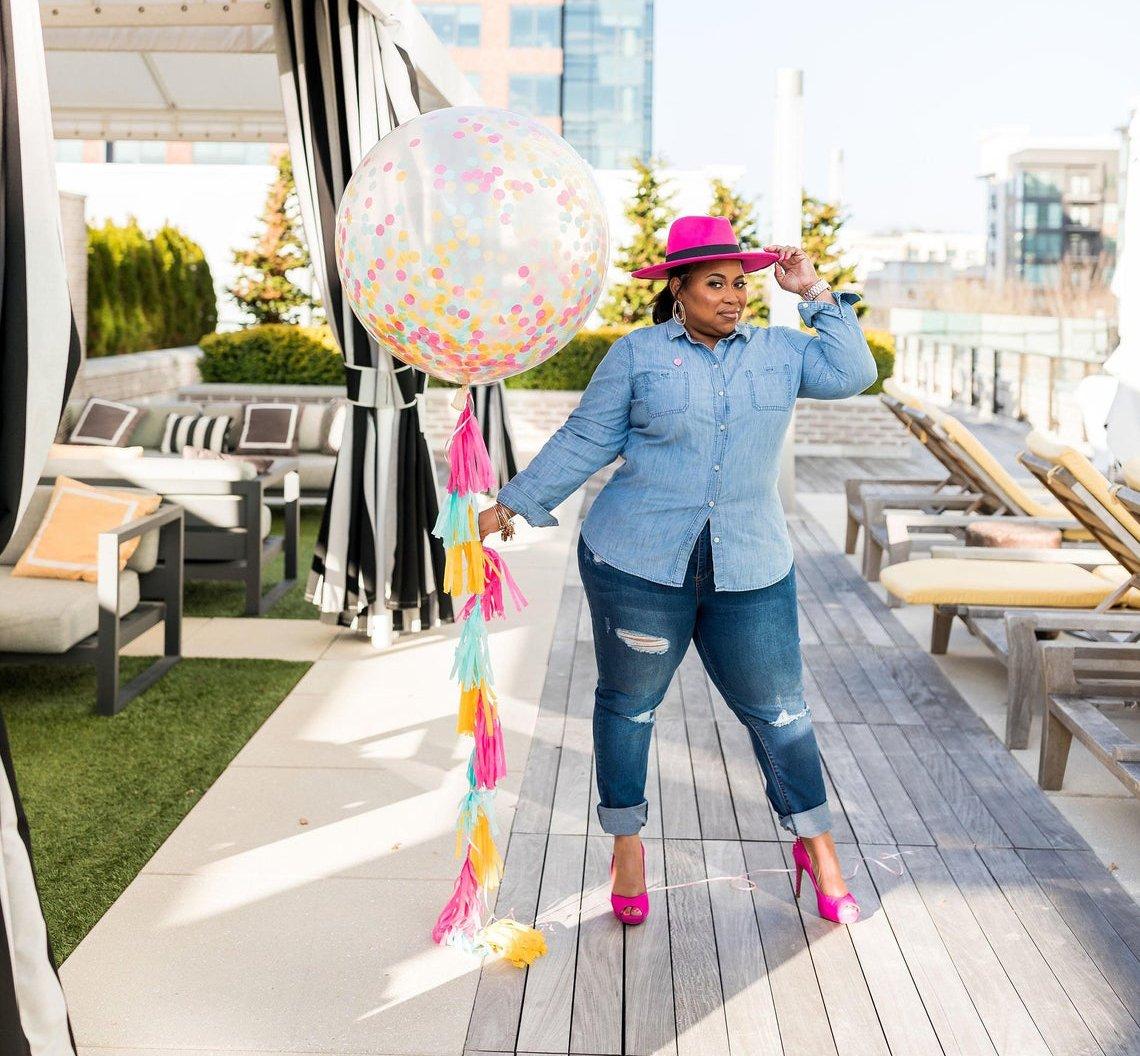 3. Dramatic confetti balloon
When it comes to decorating a bachelorette party, balloons are always a good idea—but not just any balloons. This giant confetti and tassel prop is a must for any bride-to-be who loves a good photo op. Just make sure you leave some time to get it inflated after it arrives.
Glamfetti jumbo confetti balloon, from $13, Etsy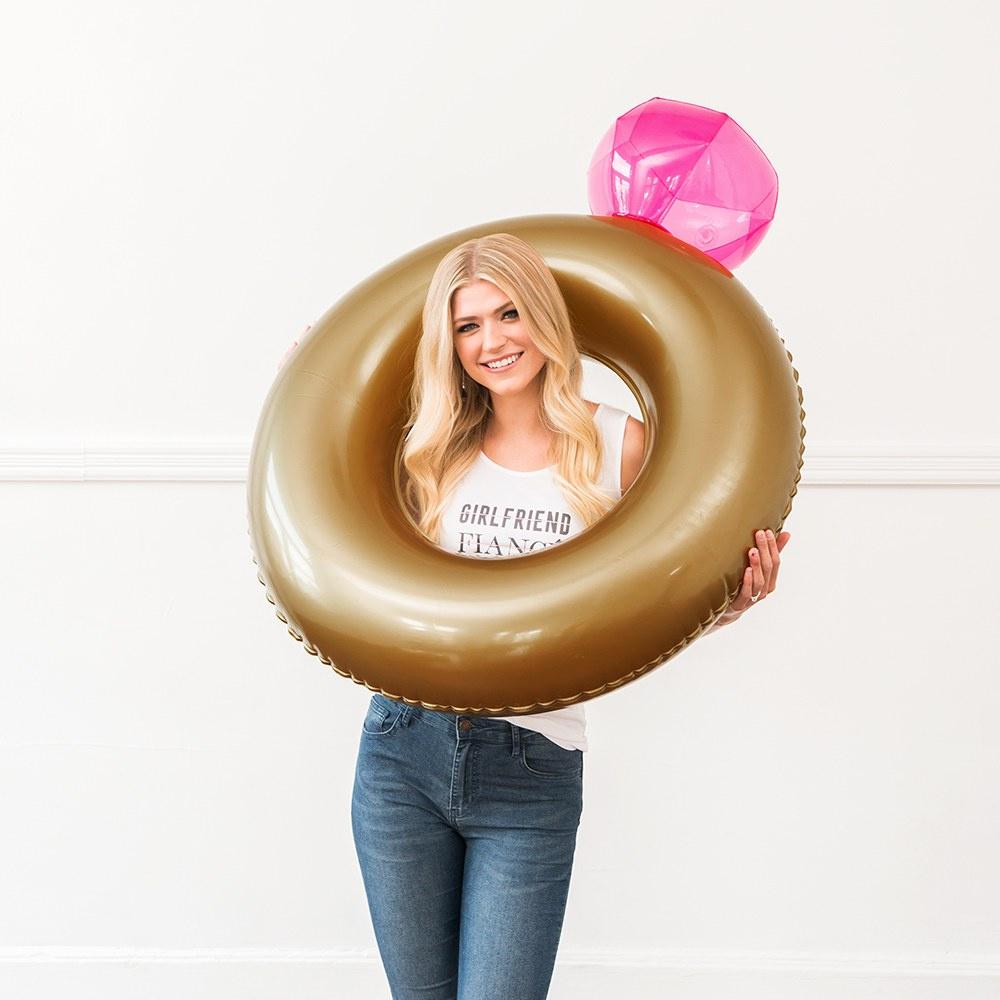 4. Diamond ring float
Speaking of inflatables, this huge engagement ring float will be a decorative (and fun!) addition to a pool party.
WeddingWire Shop diamond ring giant inflatable pool float toy, $16, WeddingWire Shop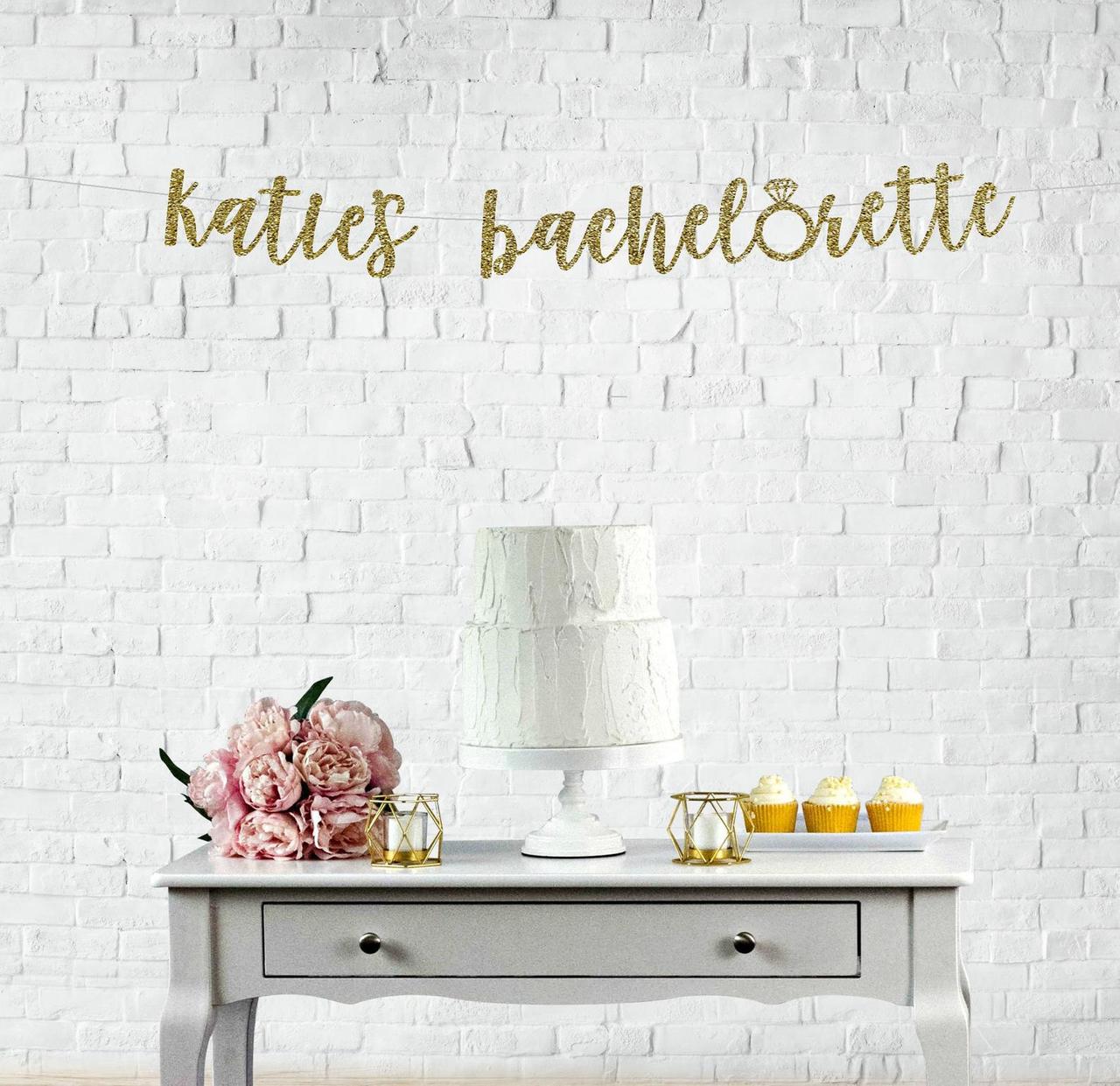 5. Sparkly gold banner
Bachelorette party signs are great, but when it comes to decorating the inside of your venue, banners are even better. This glittering gold option will be personalized with the guest of honor's name and features an adorable diamond ring motif.
Sparkling Gala bachelorette banner, from $22, Etsy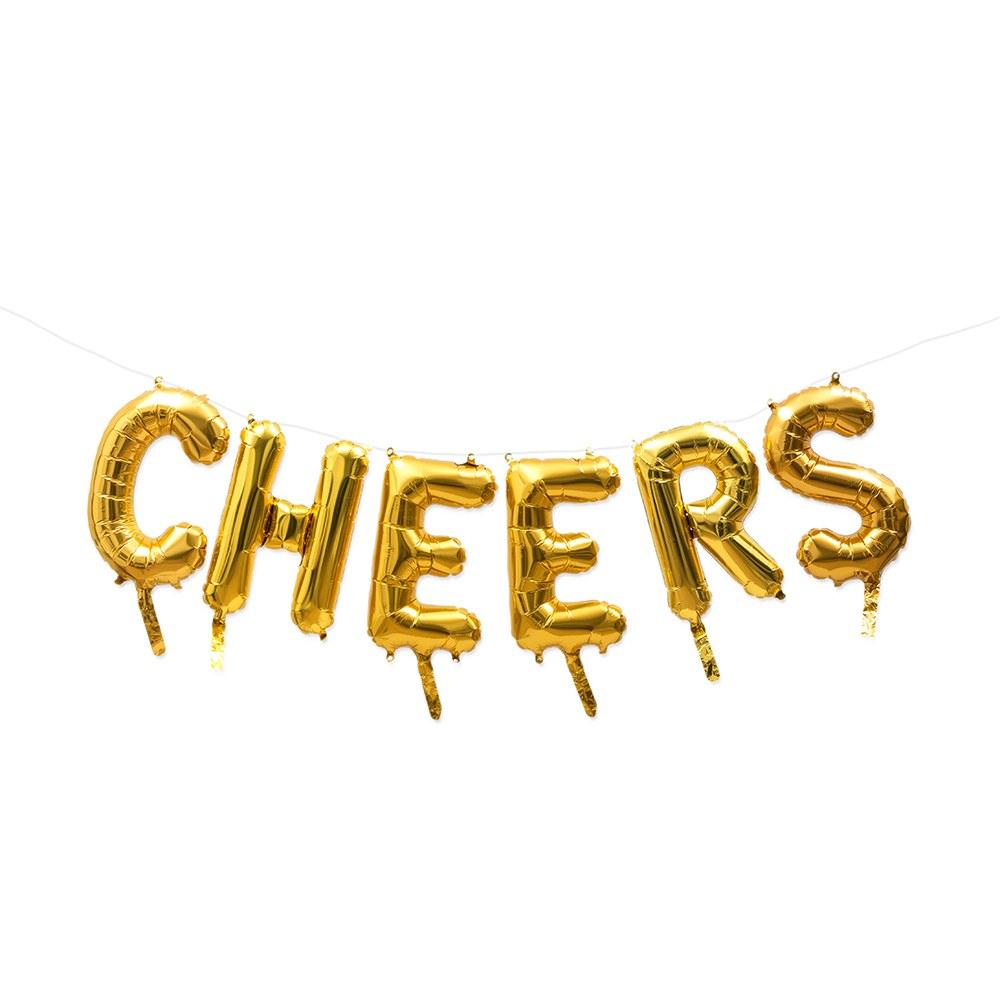 6. Giant letter balloons
If you plan on clinking glasses at a boozy bachelorette, large gold balloons spelling the word "cheers" are a fitting decoration idea.
WeddingWire Shop Cheers gold mylar foil letter balloon decoration, $16, WeddingWire Shop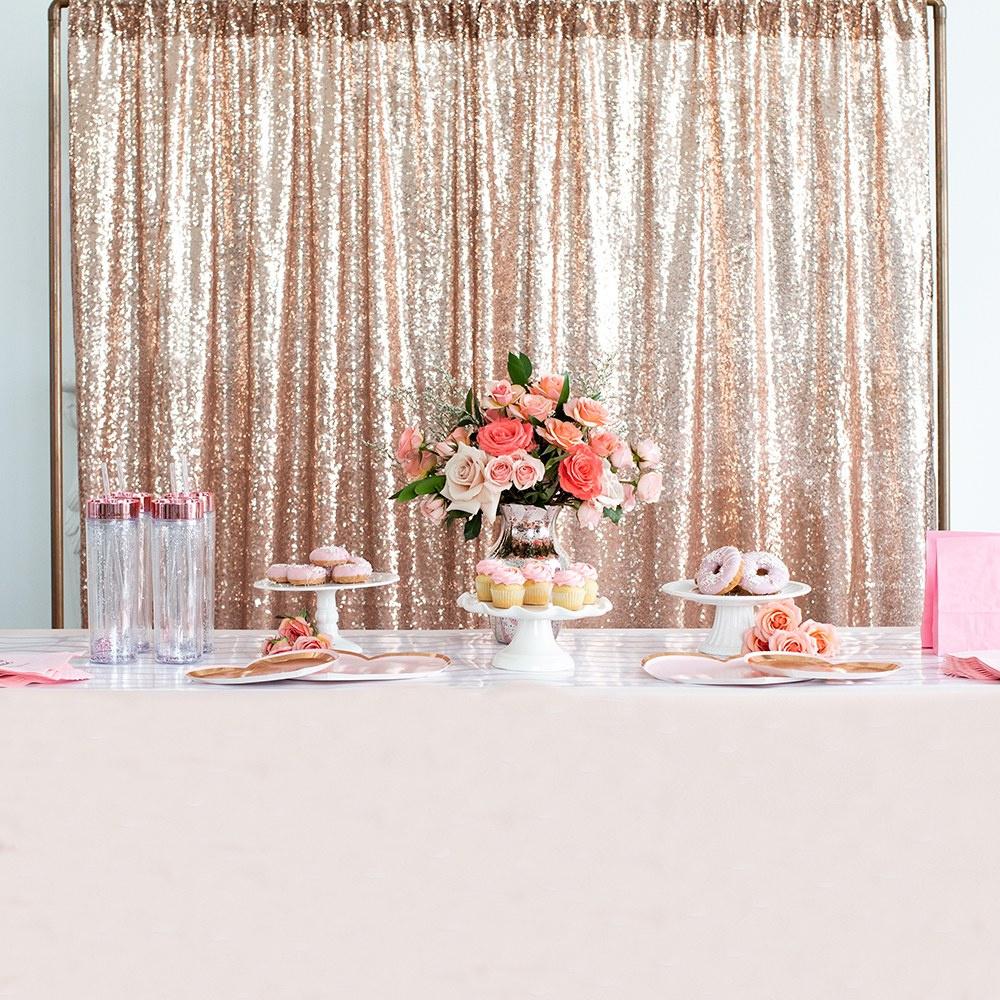 7. Pretty sequin backdrop
If you're running out of ideas for a themed bachelorette party (or you're throwing a bash without a theme), rose gold is your new best friend. This on-trend metallic hue goes with basically everything.
WeddingWire Shop rose gold sequin custom wedding photo backdrop decoration, $60, WeddingWire Shop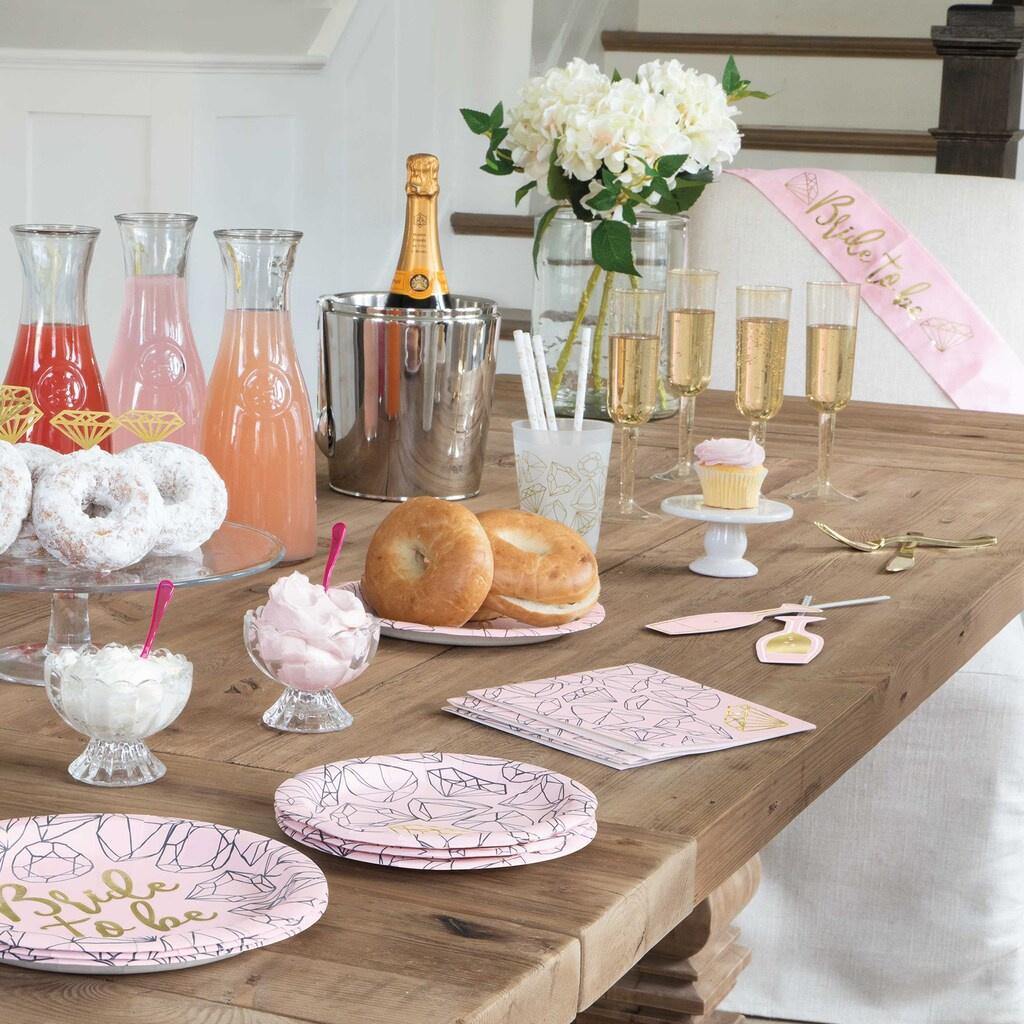 8. Diamond-patterned plates
Diamond and engagement ring motifs are another popular style that'll work for pretty much any theme. Plus, using cute bachelorette plates and napkins as table decor is a great way to save money.
Michaels 7" pink diamond bachelorette party plates, $3 for a set of 8, Michaels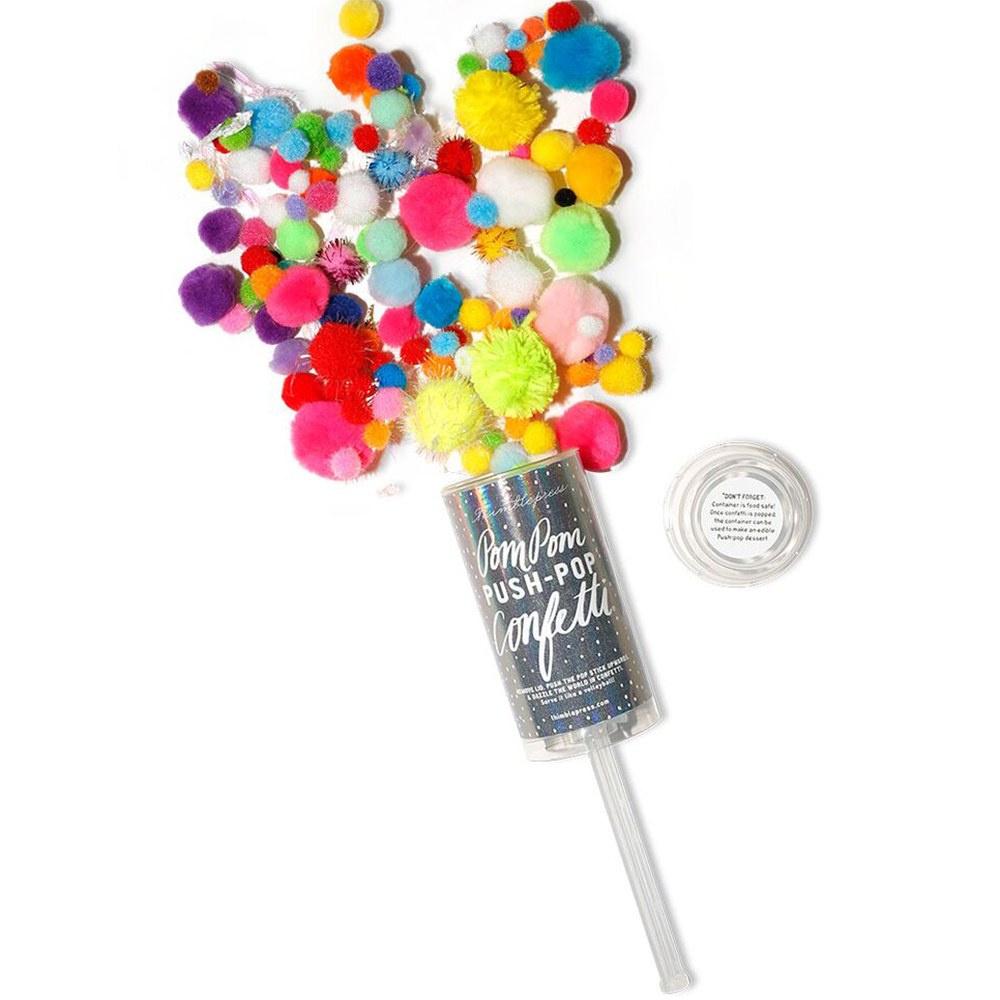 9. Colorful confetti poppers
Confetti is hands down one of the best bachelorette party decoration ideas. It looks great in pictures, and who doesn't feel special with colorful confetti cascading around them? Just make sure to check it's okay with your venue first—the last thing you want is for the bridal party to have to spend hours picking up the pieces.
WeddingWire Shop colorful mix pom pom push-pop confetti, $13, WeddingWire Shop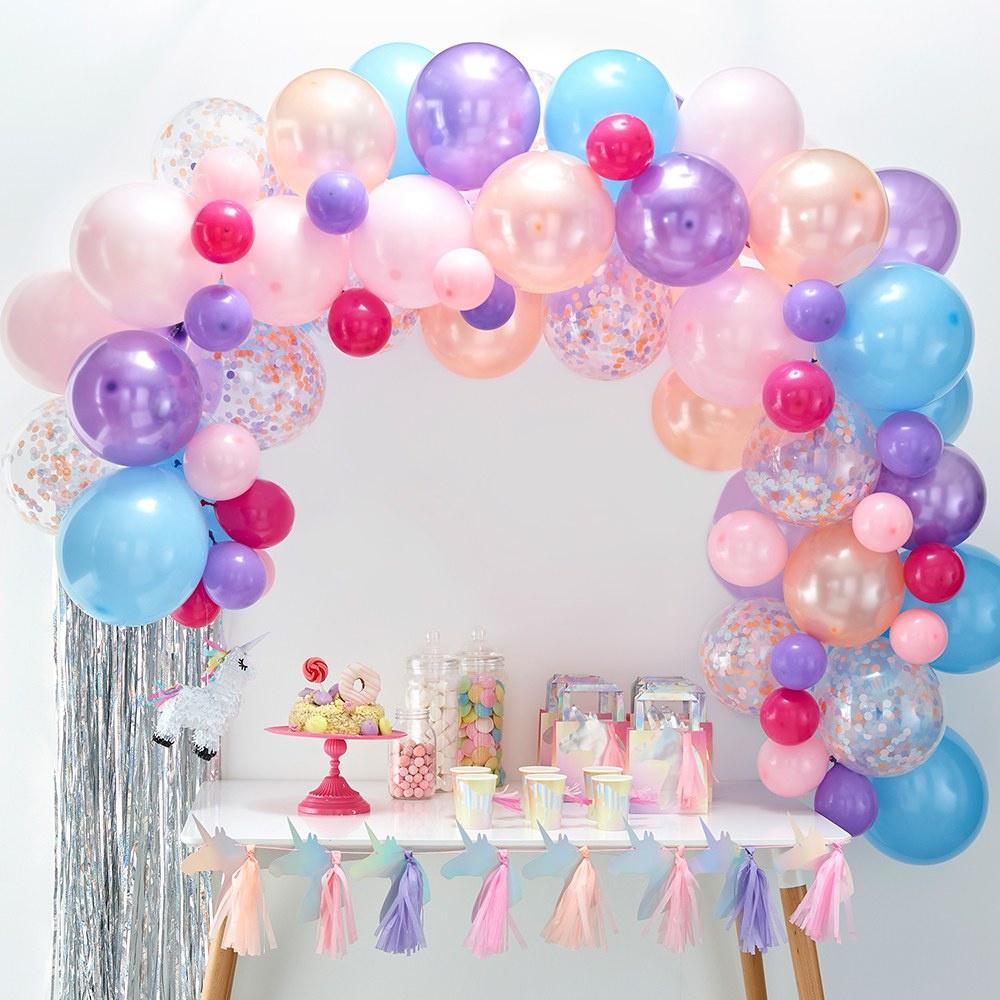 10. Pastel balloon arch
Pastel colors look especially on point at unicorn- or mermaid-themed events. Arrange this bright balloon garland over a dessert station, cocktail bar, or favor table so guests know exactly where to go.
WeddingWire Shop pastel arrangement balloon arch kit, $33, WeddingWire Shop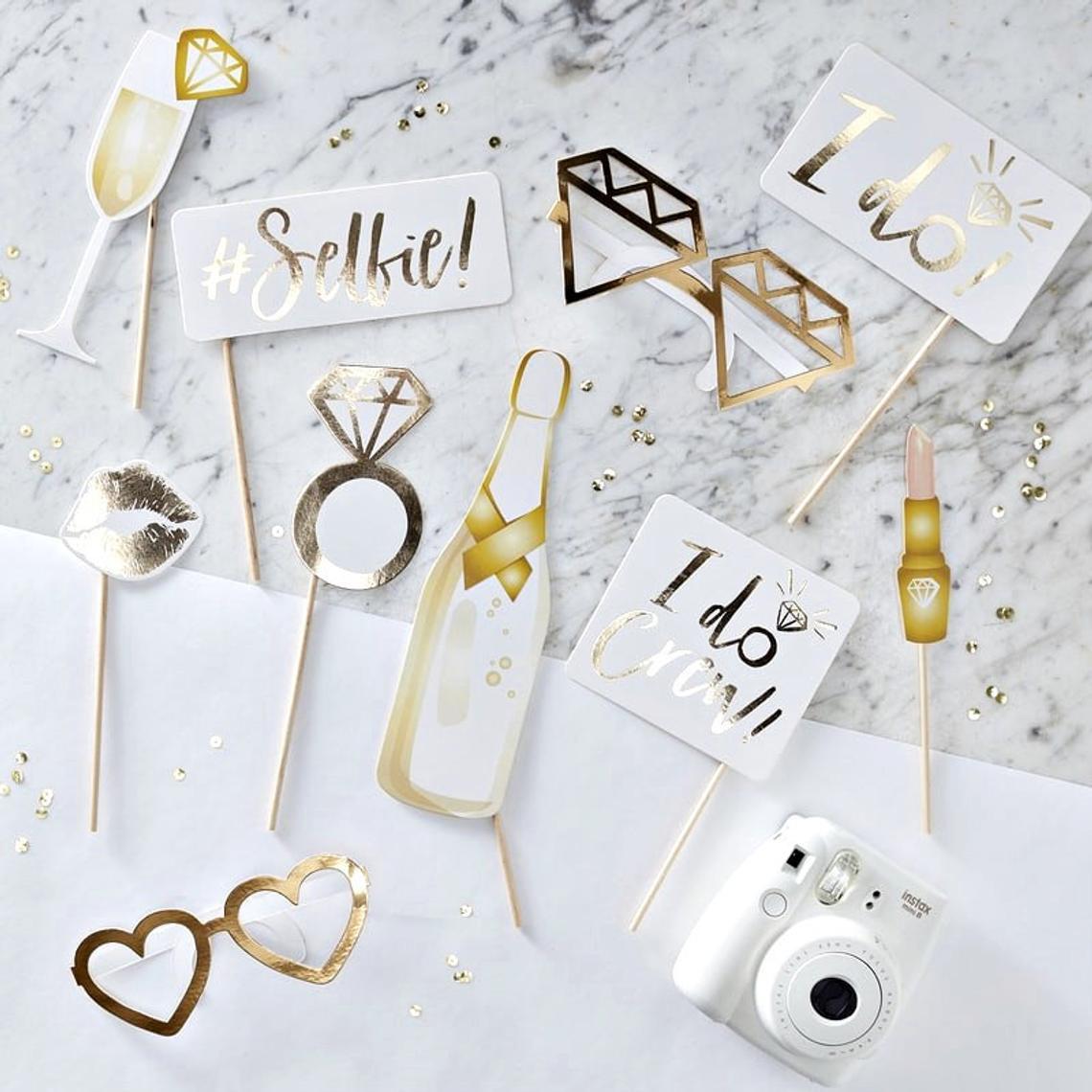 11. Fun photo props
These days, you can't throw a bach bash without expecting to snap some pics for social media. So naturally, we've included cute photo booth props on our list of the best bachelorette party decorations.
En Fete bachelorette Instagram props, from $13, Etsy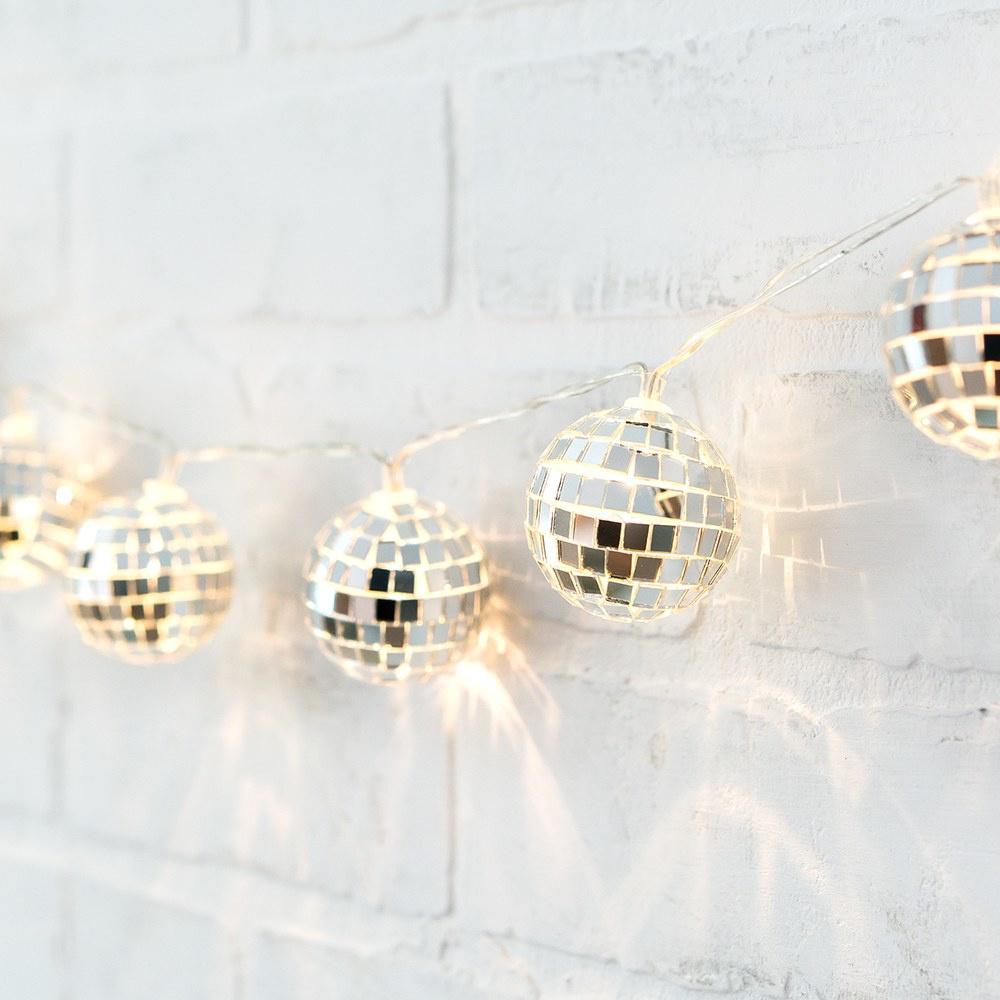 12. Mini disco lights
If the bride-to-be spent many a weekend in the past hitting the town with her bridal party besties, disco ball string lights will add a fun and meaningful touch.
WeddingWire Shop disco ball decorative battery operated LED string lights, $16, WeddingWire Shop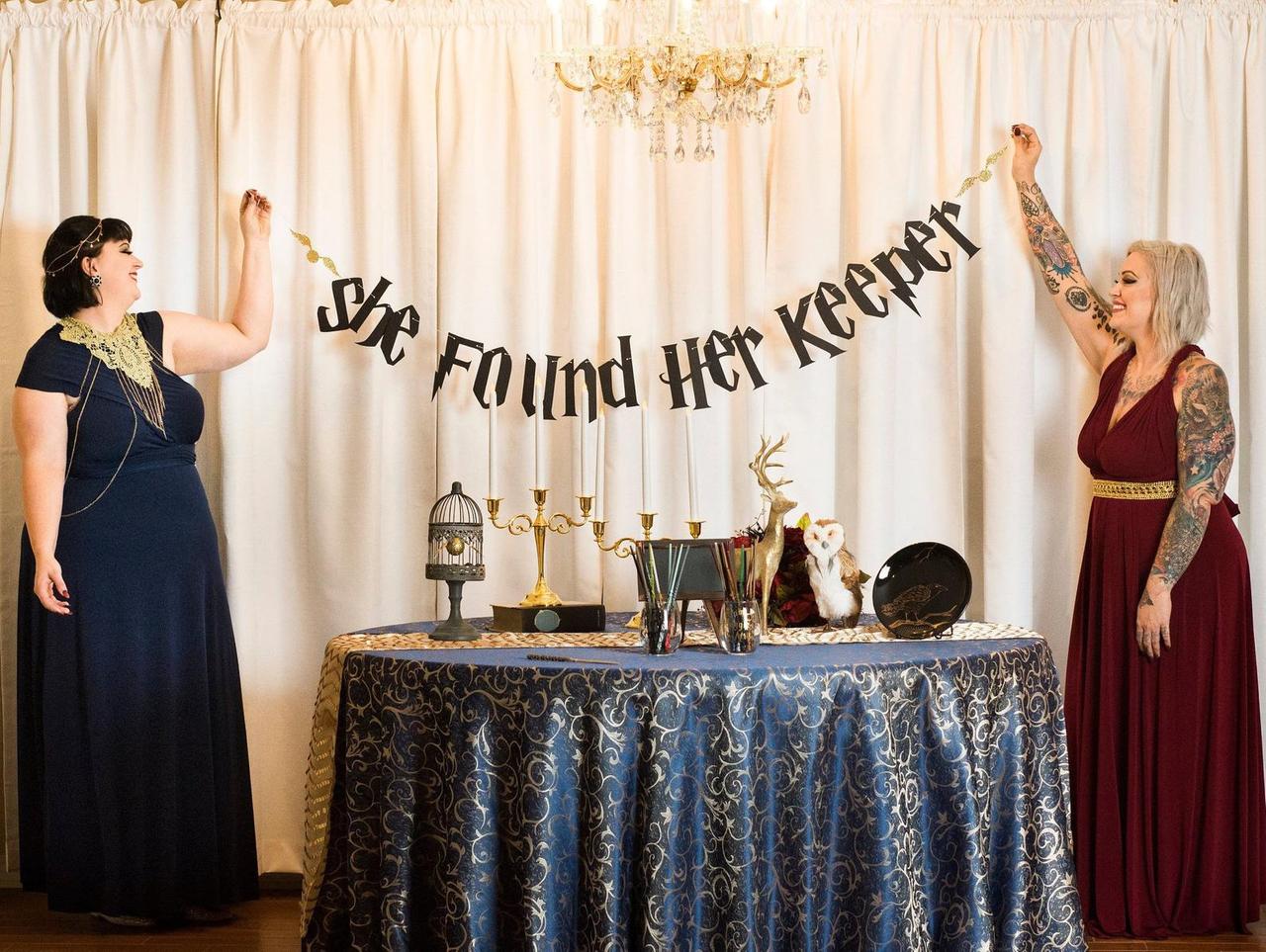 13. Quidditch-themed banner
This cute banner is right on theme for a Harry Potter bachelorette party with your crew. It reads: She found her keeper.
Blissfully Chic Co. She Found Her Keeper bachelorette banner, from $15, Etsy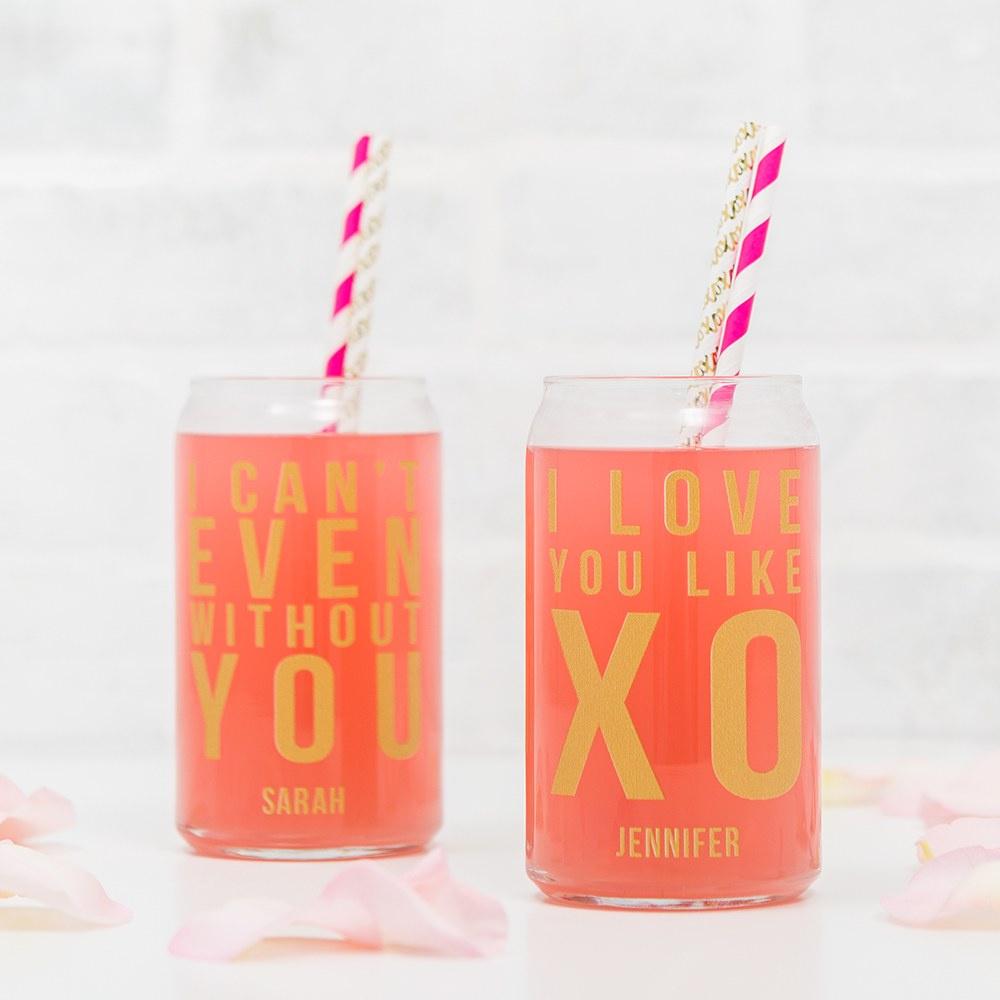 14. Personalized drinking glasses
Who said glassware can't double as decor? These cool glasses will look the part whether you're sitting poolside or chilling out at the bar. Choose between fun slogans like the punny "I can't even without you" and the Beyoncé-inspired "I love you like XO."
WeddingWire Shop personalized can shaped drinking glass, $15 each, WeddingWire Shop
15. Diamond dessert toppers
Small details can be just as effective as super-size balloons and glittery banners. Zhuzh up your dessert table with this set of chic white-and-gold bachelorette cupcake toppers.
WeddingWire Shop diamond paper cupcake topper picks, $4 for a set of 12, WeddingWire Shop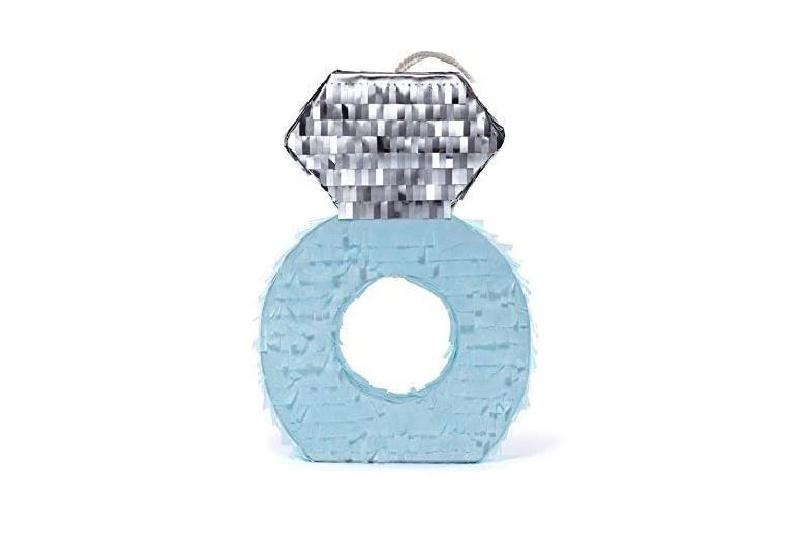 16. Engagement ring piñata
Sticking with the diamond theme, why not set up an engagement ring-shaped piñata? Fill it with confetti, candy, or anything else the guest of honor might appreciate.
Pops Party Shop diamond ring piñata for bachelorette party, $15, Amazon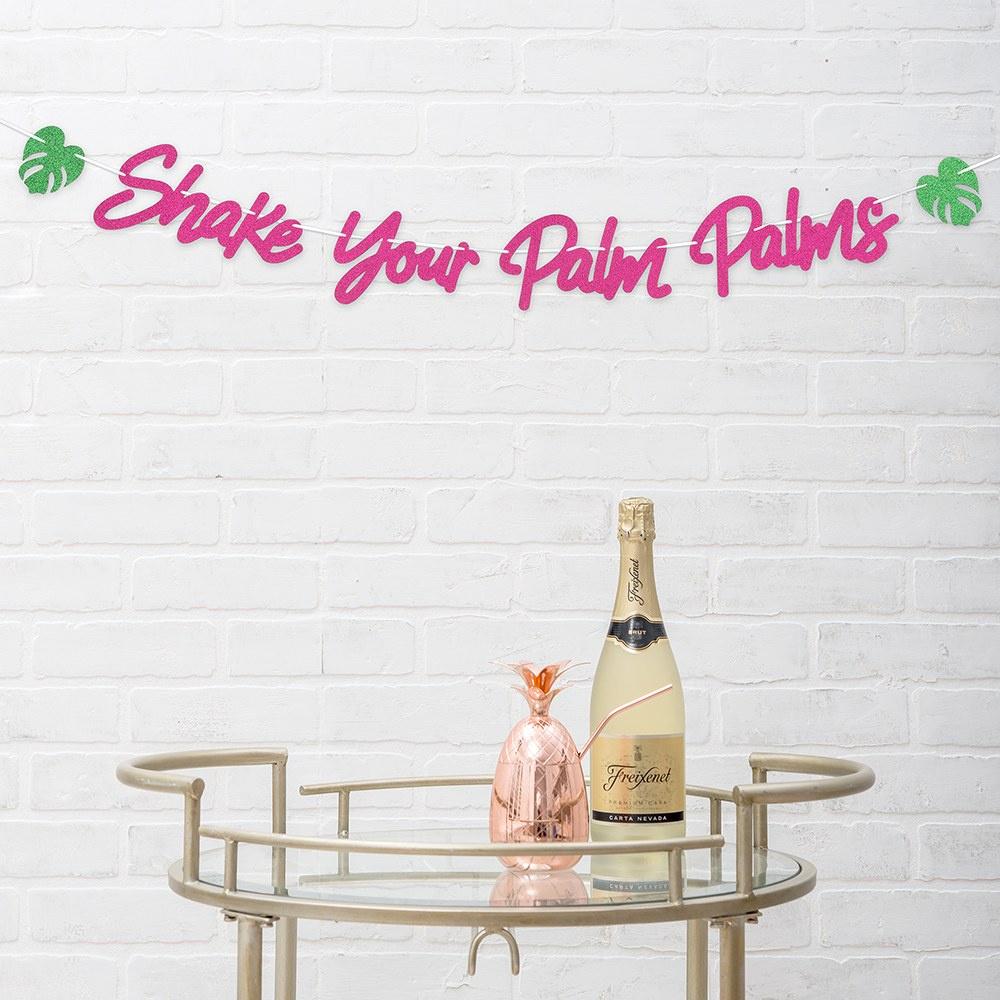 17. Tropical-themed banner
Paired with some bright, colorful balloons (think: hot pink and yellow), this festive banner will make an excellent bachelorette party background for tropical or beach celebrations.
WeddingWire Shop Shake Your Palm Palms paper bachelorette party banner, $7, WeddingWire Shop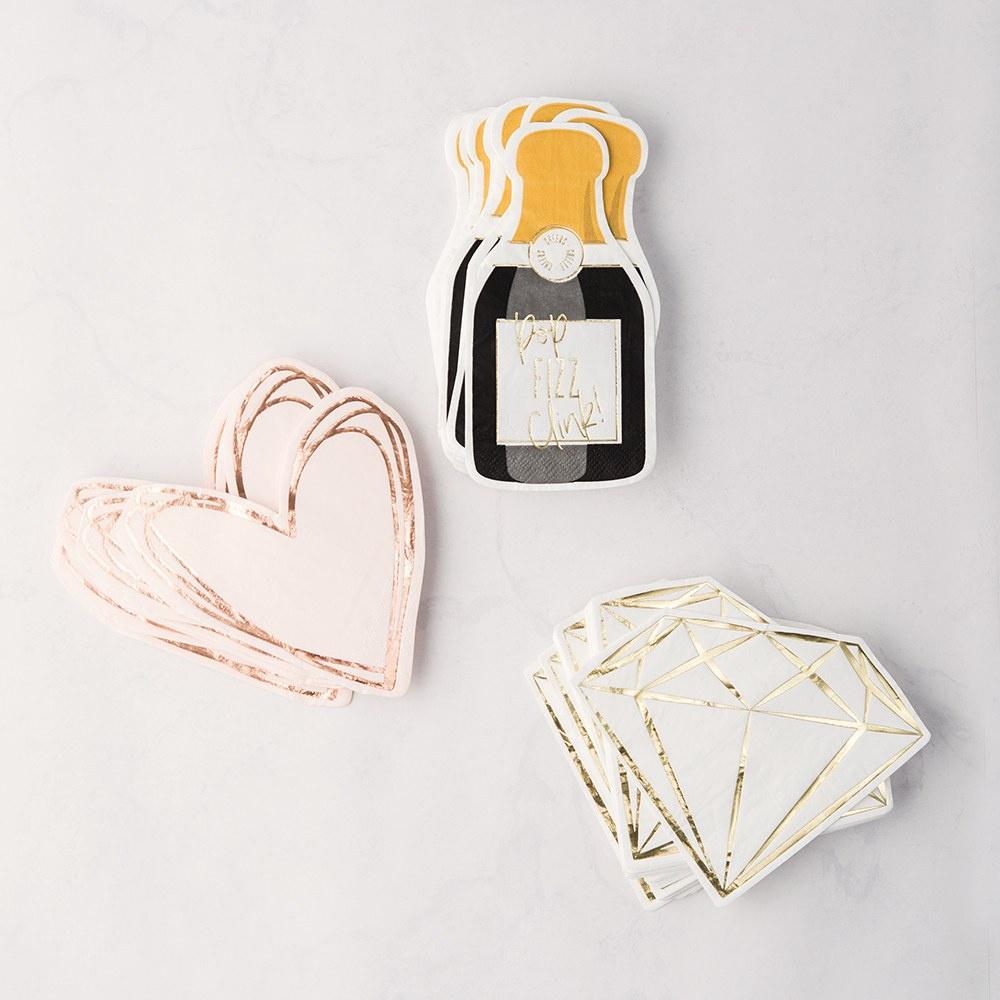 18. Cute paper napkins
Diamond-, heart-, and champagne bottle-shaped napkins will add a sweet, decorative touch to table settings or a cocktail bar.
WeddingWire Shop cute special occasion paper party napkins, $6 for a set of 20, WeddingWire Shop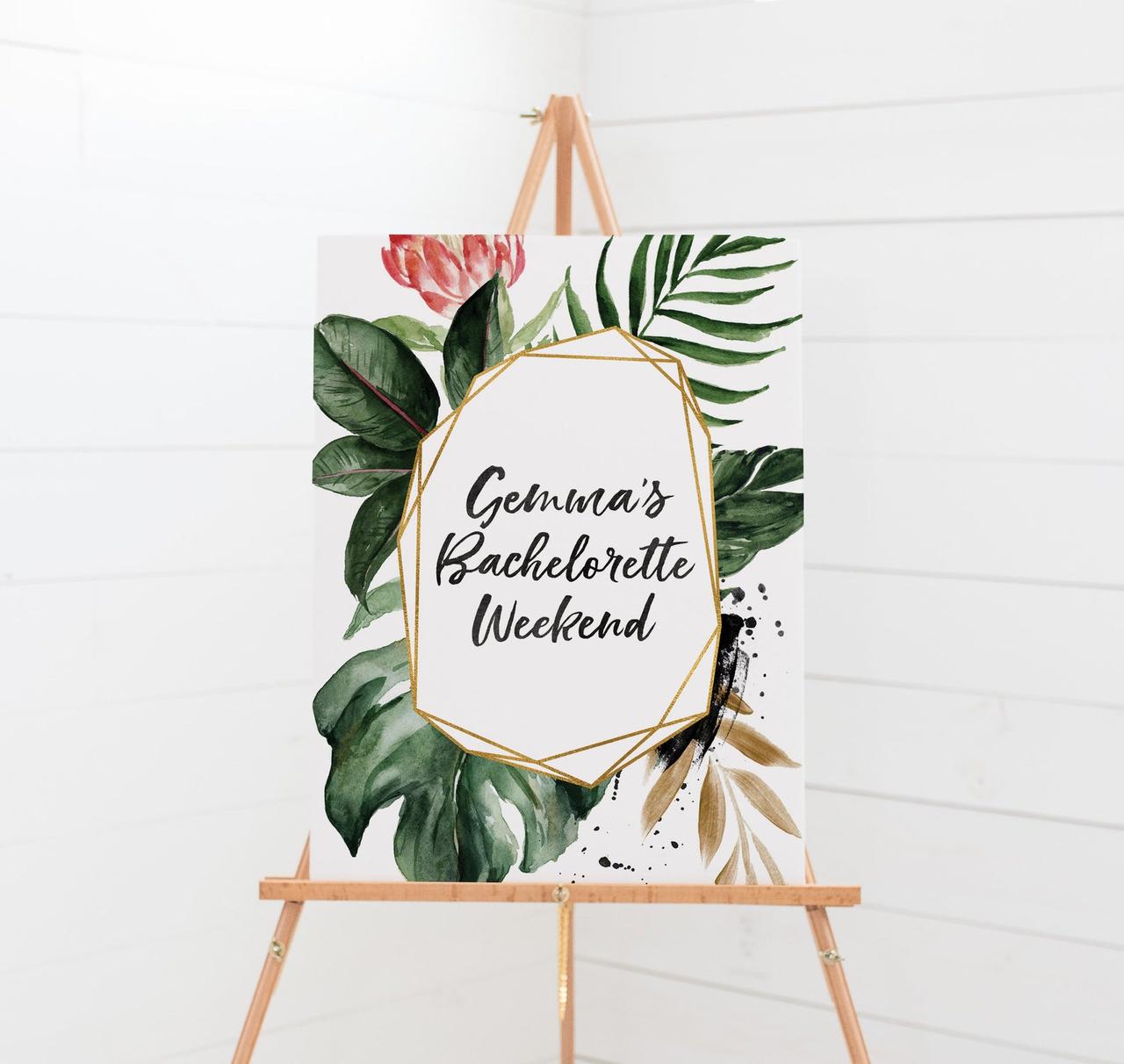 19. Modern welcome sign
This gorgeous sign pairs a modern geometric design with natural, artistic elements that would look right at home at a tropical, beach, or garden event. It's one of our favorite classy bachelorette party decorations.
Little Creek Creative beach bachelorette welcome sign, $9, Etsy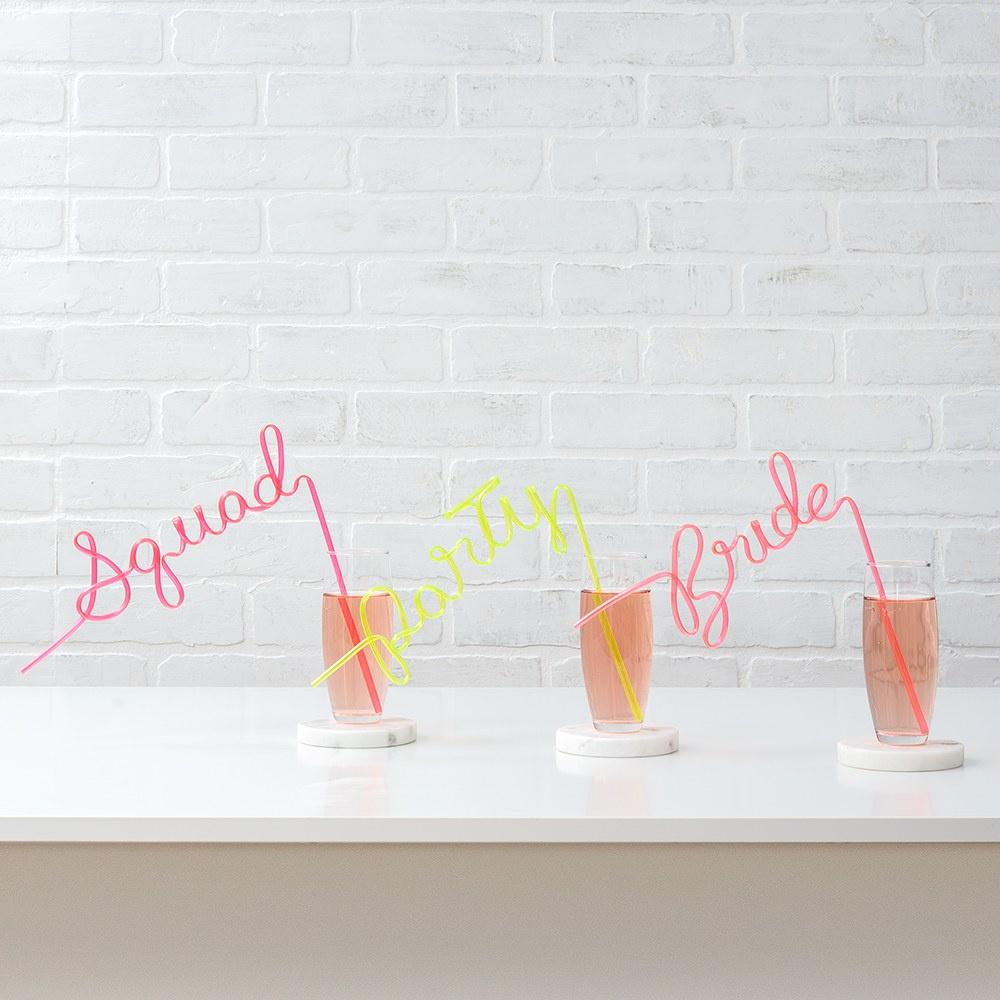 20. Neon silly straws
These colorful (and reusable!) straws double as affordable bachelorette party decorations that'll give off serious cool girl vibes in photos.
WeddingWire Shop bachelorette party silly straws, $2 each, WeddingWire Shop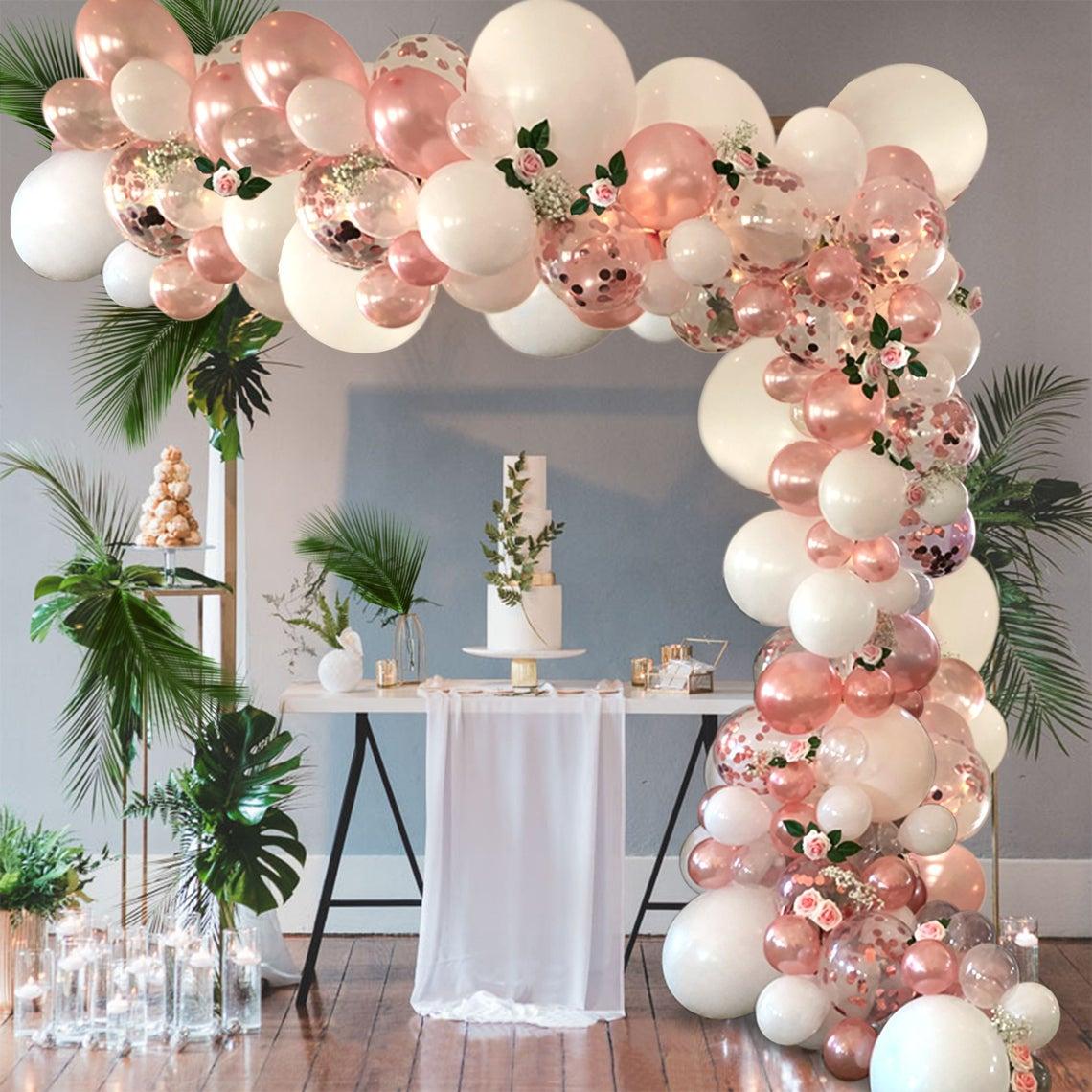 21. Elegant balloon arch
This one will take a little extra time to assemble, but trust us, it's worth it. An extravagant rose gold balloon arch is the bachelorette decor of our dreams.
Sposami Per Sempre balloon arch garland kit for bachelorette party, $29, Etsy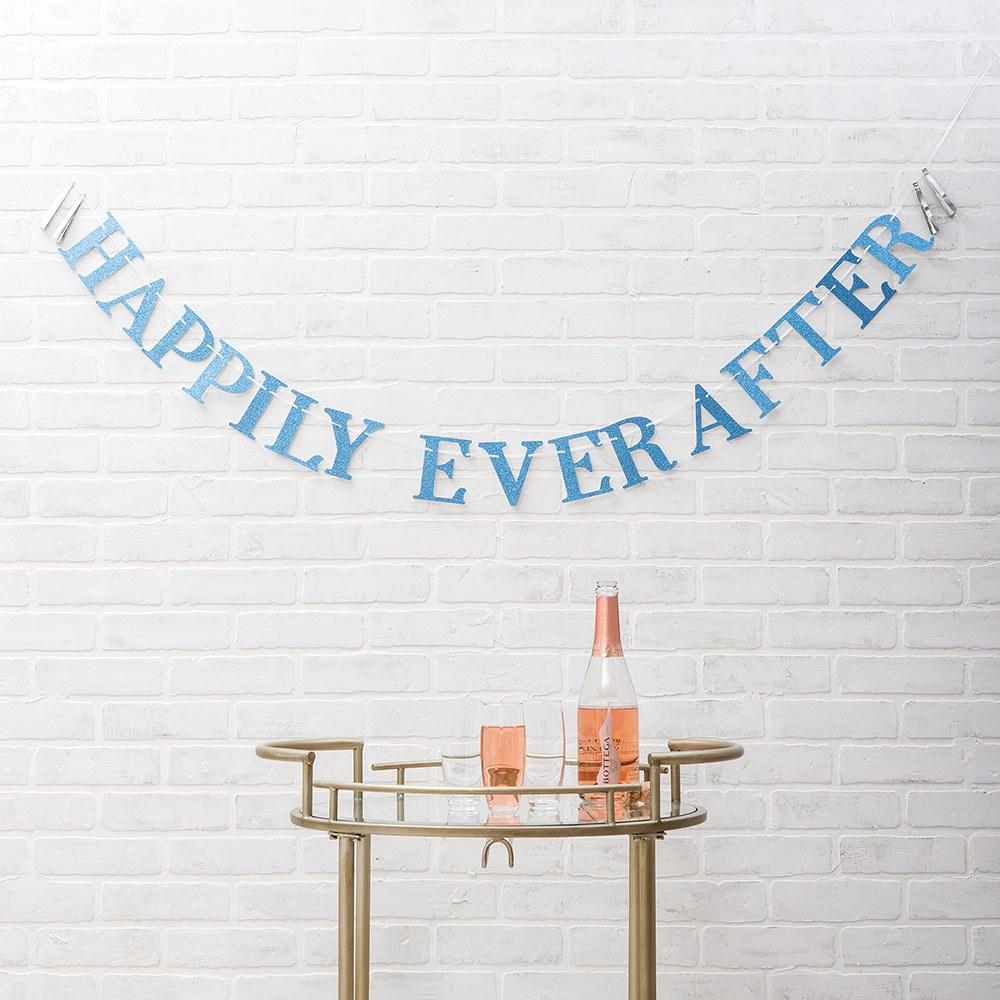 22. Blue fairytale banner
If the bride-to-be can't wait for her fairytale ending, why not throw a Disney-themed bachelorette? This "happily ever after" banner in a Cinderella shade of blue is the perfect prop.
WeddingWire Shop Happily Ever After paper bachelorette party banner, $7, WeddingWire Shop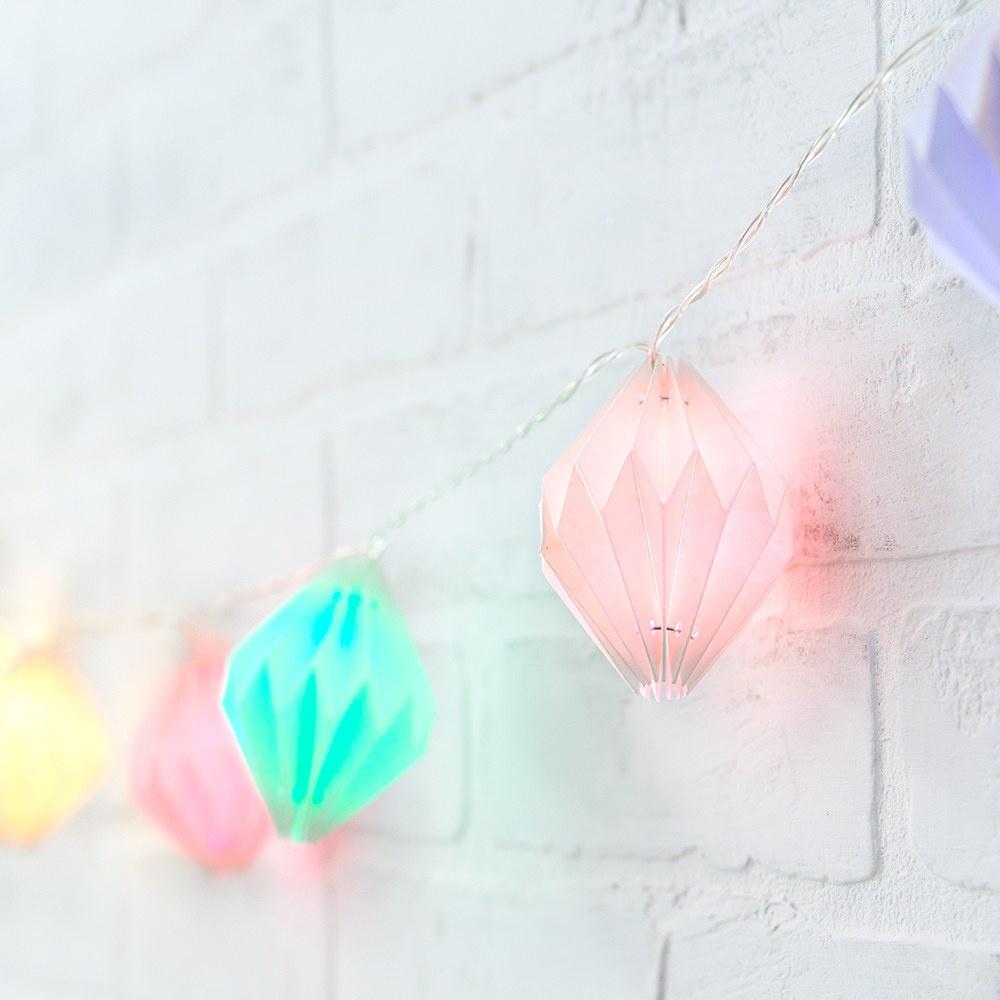 23. Paper lantern LEDs
These cute and colorful paper lanterns come in the convenient form of battery-operated string lights for a quick and easy addition to your bachelorette decor.
WeddingWire Shop geo paper lantern decorative battery operated LED string lights, $10, WeddingWire Shop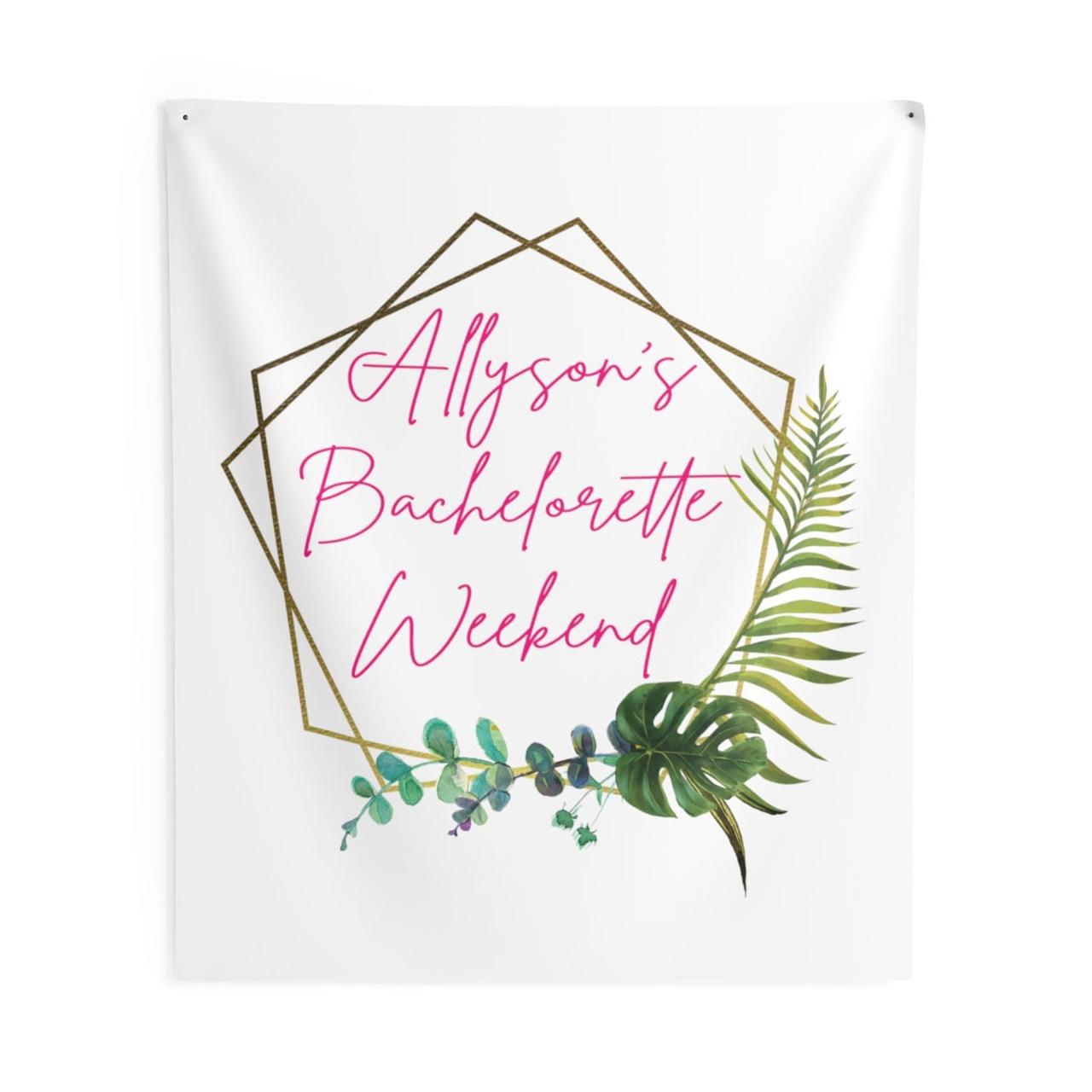 24. Personalized photo backdrop
Personalized decorations like this sophisticated bachelorette party backdrop are a thoughtful way to honor the VIP member of your squad.
Witt Designs personalized bachelorette party weekend backdrop, from $33, Etsy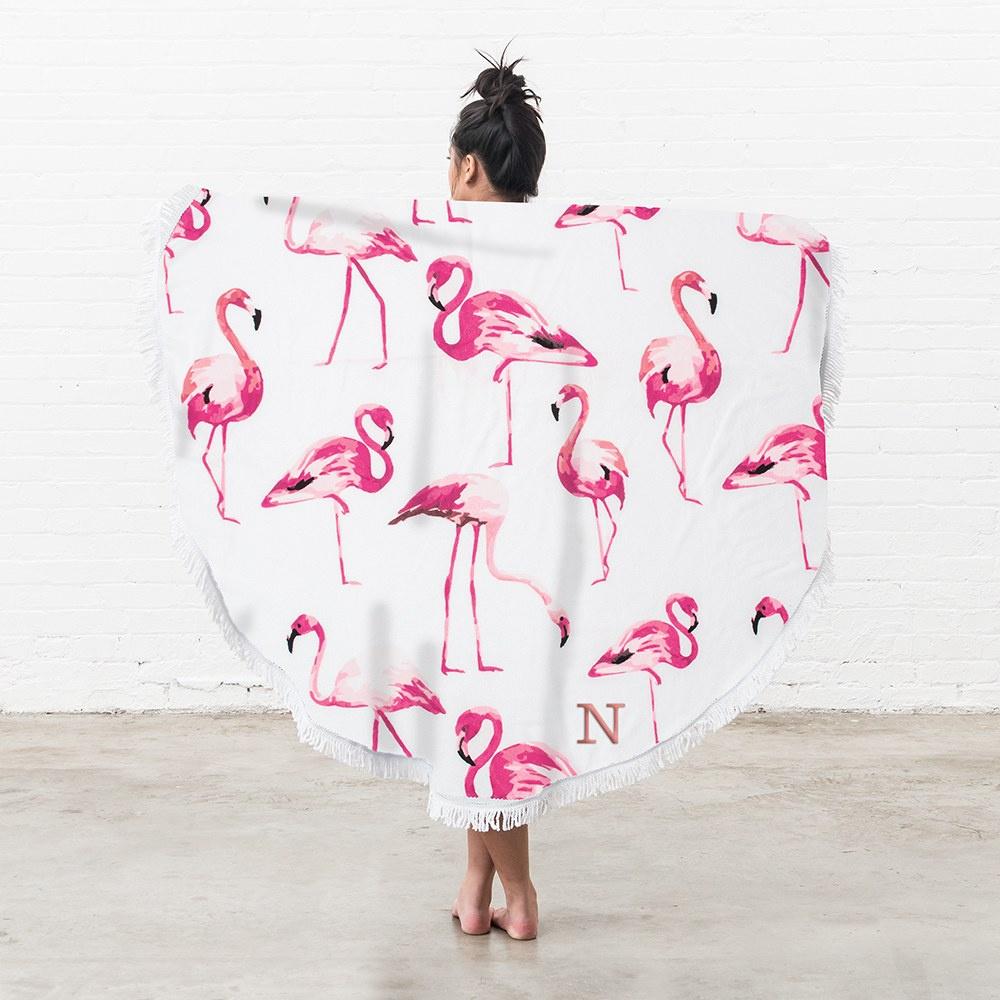 25. Flamingo beach towel
If you're planning a bach bash on a budget, get creative by selecting photo props that also work as bachelorette party favors—like cute beach towels embroidered with each person's initial.
WeddingWire Shop flamingo pattern personalized round beach towel, $18, WeddingWire Shop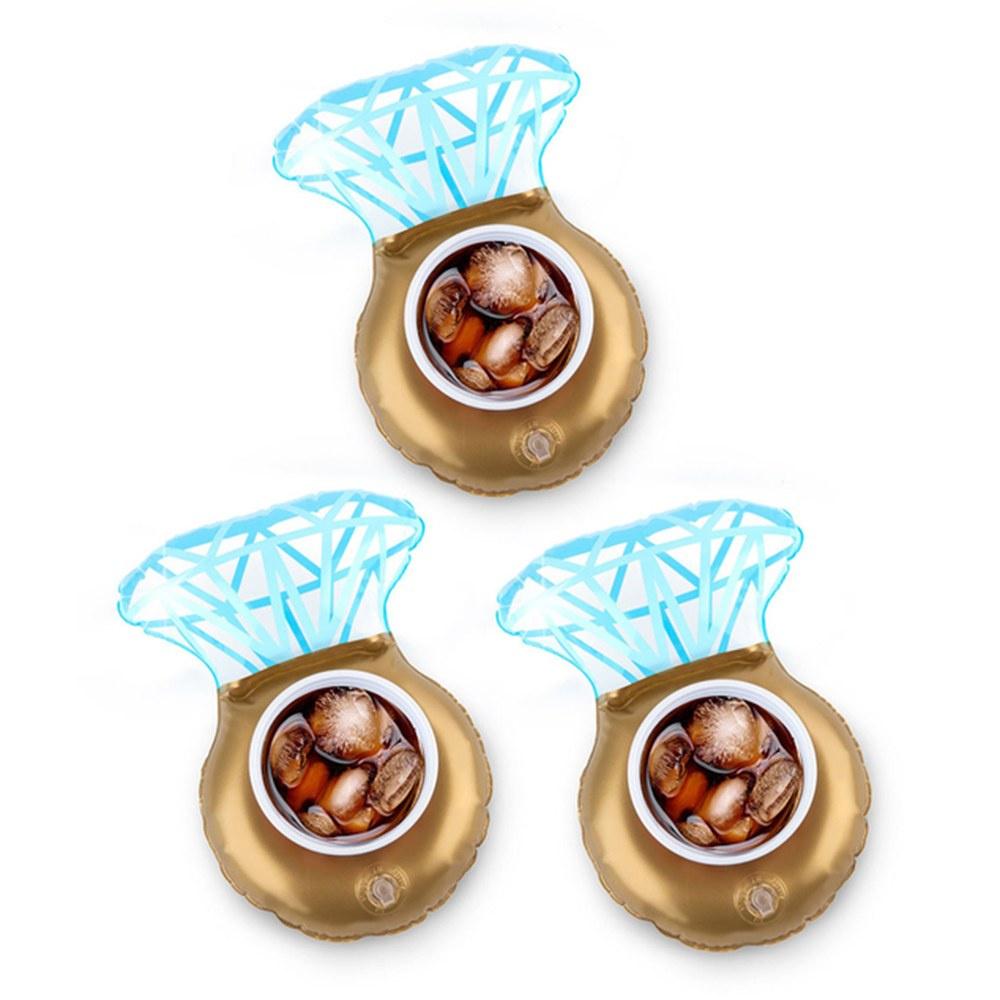 26. Inflatable drink holders
Here's another unique and functional idea perfect for a poolside bash: floating diamond ring drink holders. The best bachelorette party decor isn't just pretty to look at!
WeddingWire Shop diamond ring small inflatable drink floats, $15 for a set of 3, WeddingWire Shop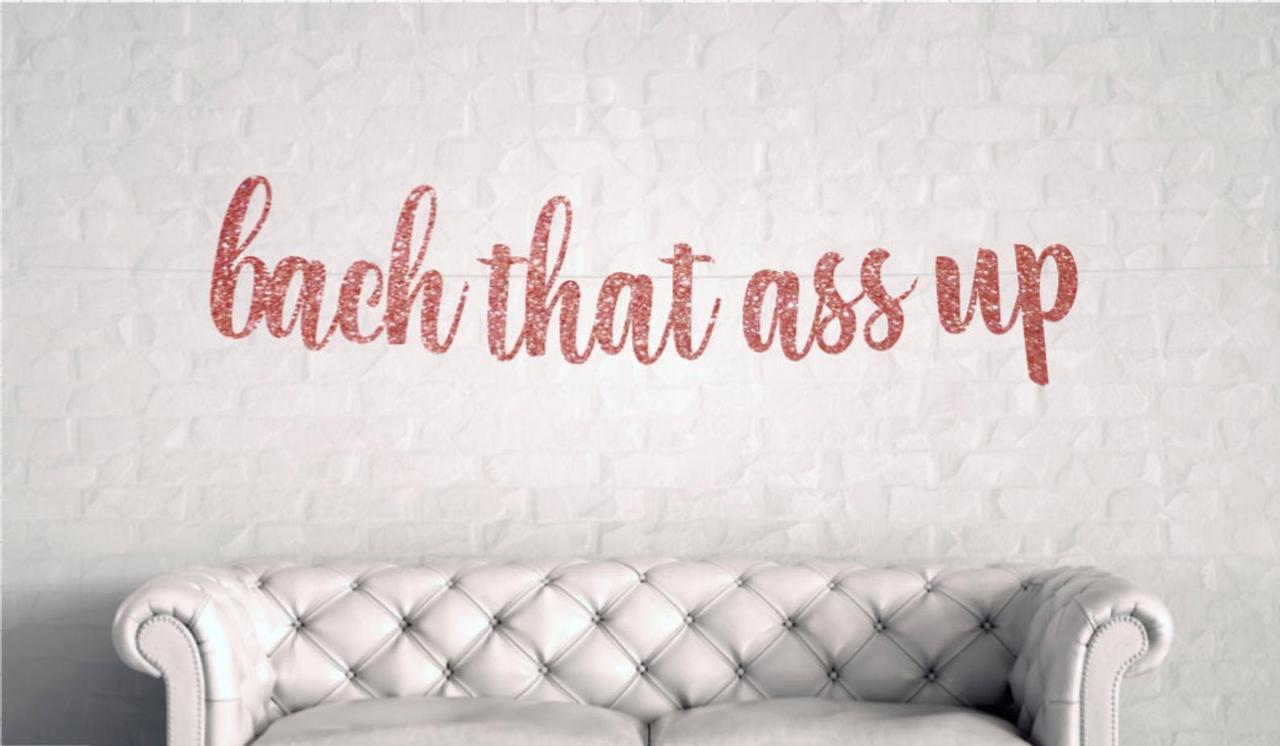 27. Cheeky bachelorette banner
What's not to love about a stylish banner with rose gold glitter and a fun bachelorette pun? These awesome bachelorette party decorations just keep getting better.
Sparkle N Shine Party bachelorette party banner, $22, Etsy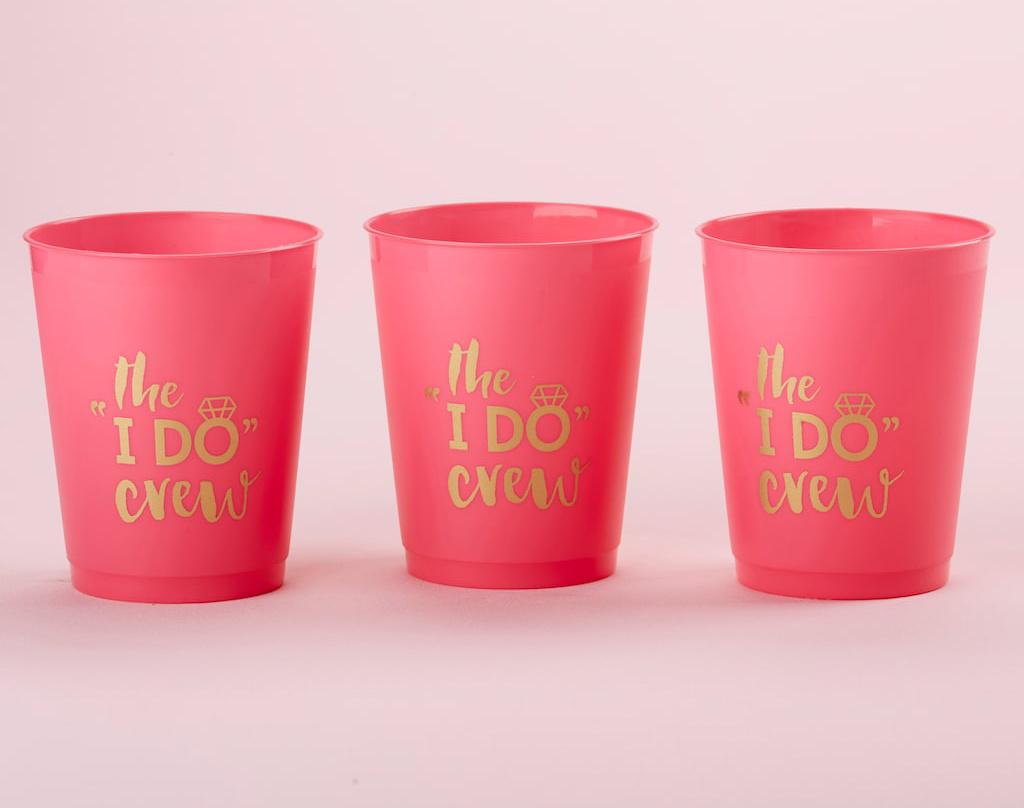 28. Bridal party cups
You'll probably need to pick up some bachelorette party cups for the occasion, so why not choose some in a stylish hot pink hue? Tableware is a small detail that can go a long way in creating a decorative setting.
Kate Aspen "I Do Crew" stadium cups, $6 for a set of 12, Michaels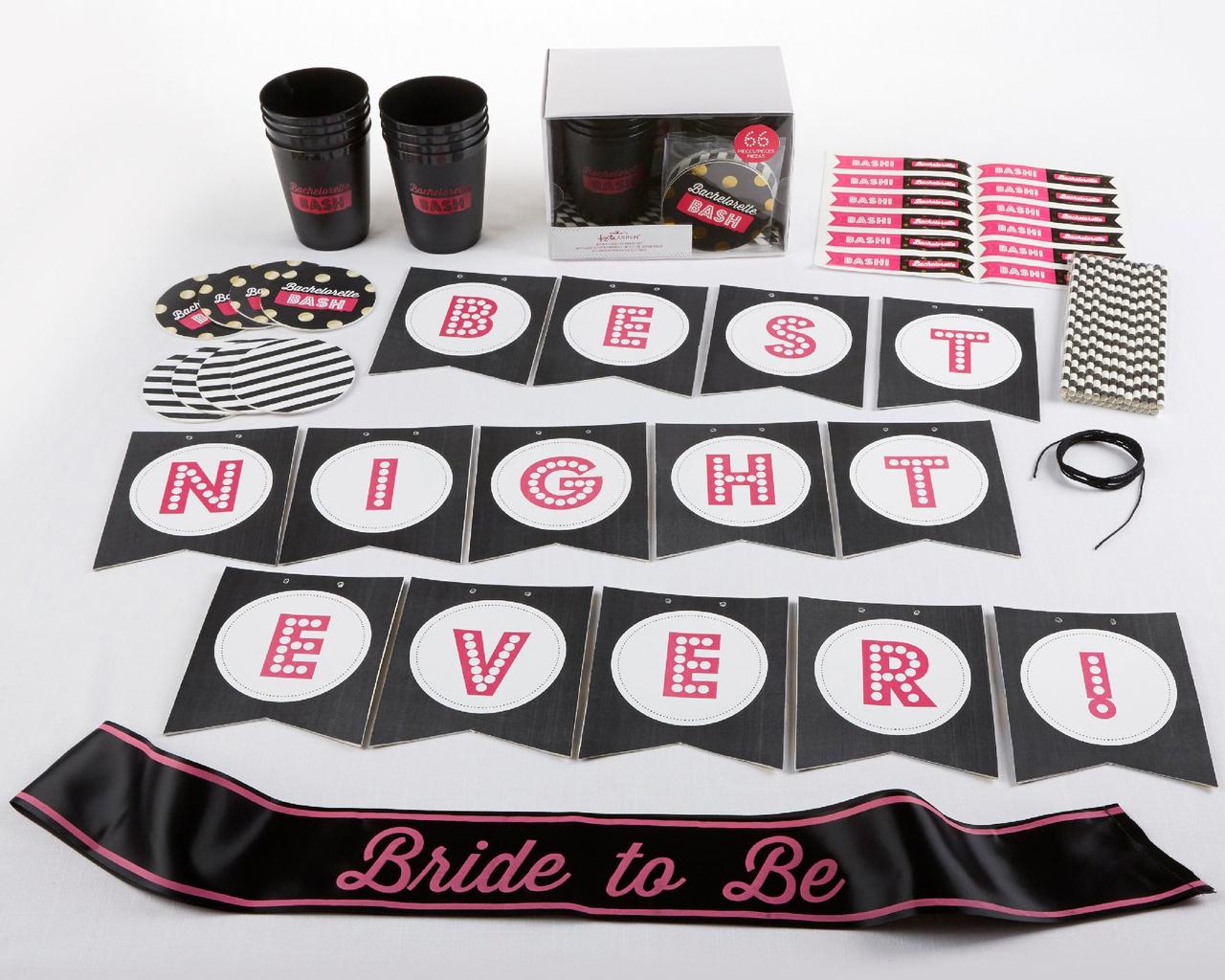 29. Bachelorette decorations kit
This 66-piece set is chock full of decorations that'll instantly amp up your event space. It includes a "best night ever" banner, a "bride to be" sash, "bachelorette bash" cups and coasters, and more.
Le Prise 66 piece disposable decoration kit set, $36, Wayfair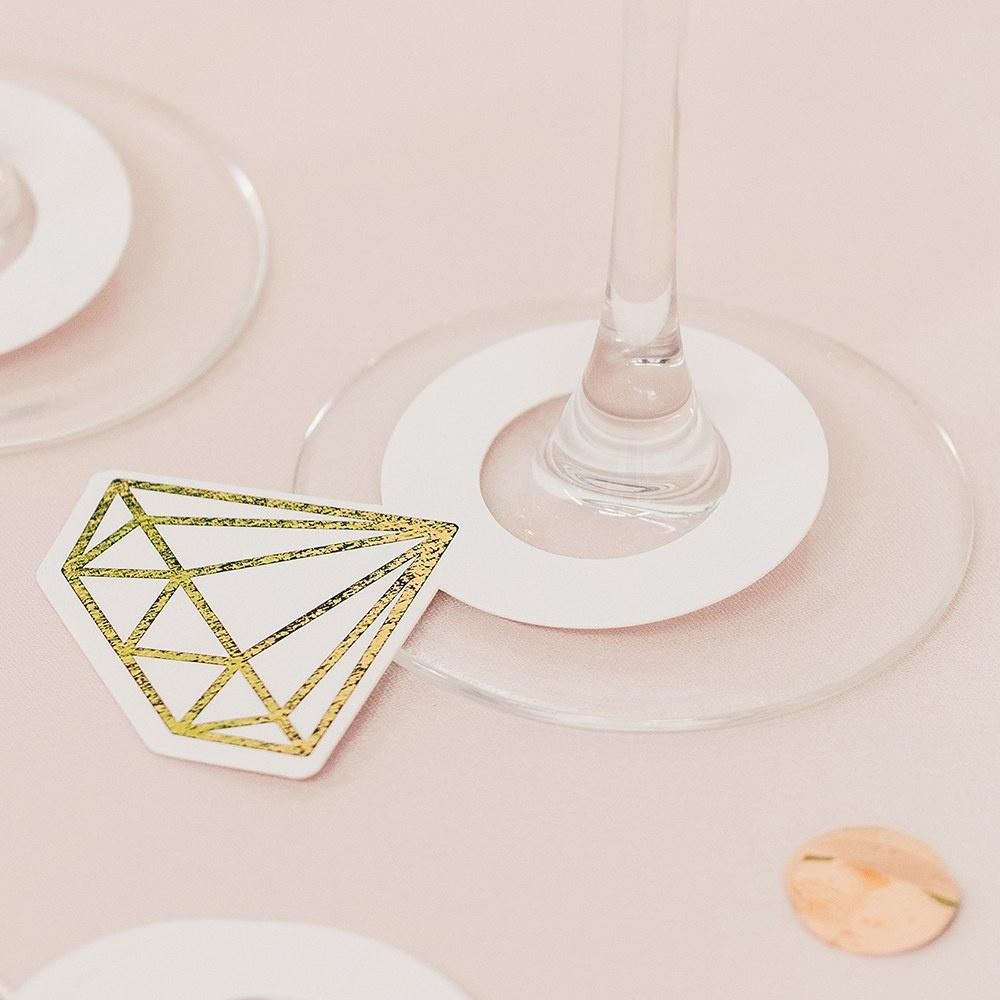 30. Diamond drink tags
Last but not least, add these fun diamond ring-themed name tags to each guest's glassware for a cute finishing touch. They're especially fitting for a wine-tasting bachelorette weekend.
WeddingWire Shop diamond ring paper wine glass name tags, $5 for a set of 12, WeddingWire Shop