Planning a bachelorette party? Don't forget the decorations! Of course, you'll need a photo booth to capture fun pictures of all your guests. And you'll probably need plates, cups and napkins that coordinate with your bachelorette party decorations. One of the first decisions you'll need to make is whether your crowd (and the bride, of course!) would prefer a "clean" party, or if things can get a little wild and raunchy without offending anyone.
Here, we've curated a list of classy and G-rated bachelorette party decorations you can use as inspiration for your gal-pal get-together.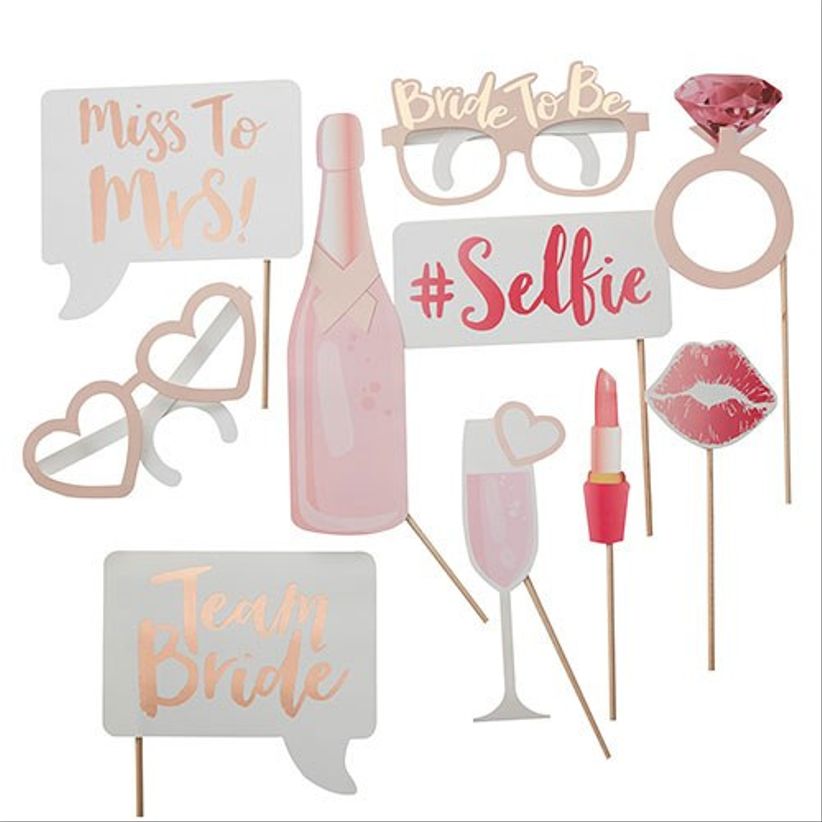 Photo booth props
These days, we can't imagine throwing a bachelorette party without photo props. This set, from WeddingWire Shop, keeps it classy with phrases like "Miss to Mrs" and "Bride to Be". The rose gold color scheme is totally on trend, too.
WeddingWire Shop photo booth props, $9, WeddingWire Shop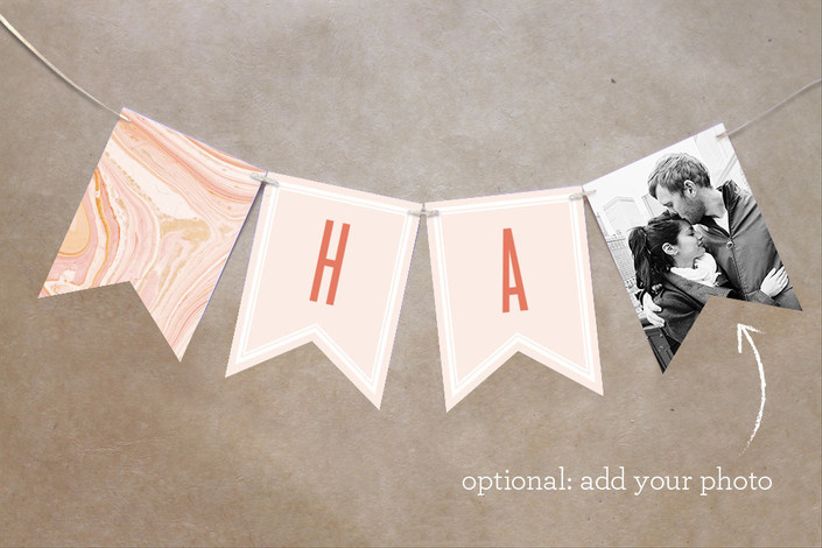 Personalized banner
If you're hosting a bachelorette fete with a classy, upscale vibe, it can be a bit difficult to find great bachelorette party decorations. We love this beautiful banner that's personalized with any pictures you choose, and any phrase you'd like too. We guarantee this will make a great addition to your bash.
Minted personalized bunting banner, starting at $28, Minted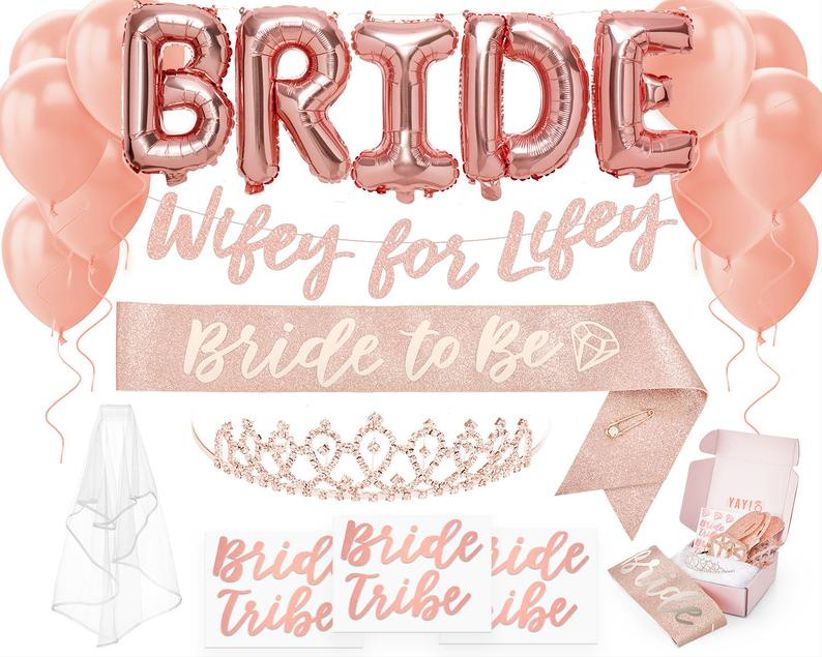 Rose gold decor
In case you missed it, rose gold is a totally of-the-moment hue for bachelorette parties this year. So if you'll be decorating with this feminine color, you've got to add this set of bachelorette party decorations to your shopping cart. It's got everything you'll need, including a "Bride" foil balloon, a sash, banners and even a veil for the bride to wear.
xoFetti rose gold bachelorette decorations, $21, Etsy
Team Bride plates
These adorable blush pink Team Bride paper plates certainly have a place at the table at any bachelorette party. With an ultra-feminine vibe, they're the perfect size for a yummy dessert!
WeddingWire Shop rose gold and blush paper plates, $8, WeddingWire Shop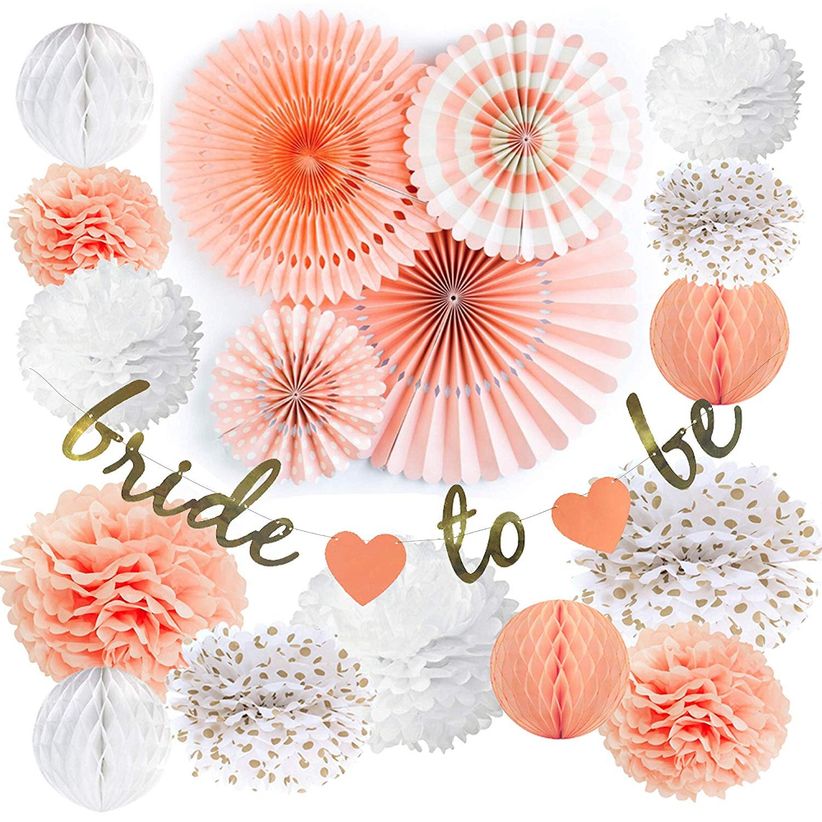 Bride to Be decor set
This lovely assortment of paper decorations in trendy gold, pink and white are the bachelorette party decorations you need to get your party started right. Paper fans, lanterns and pom poms will give your space a party-ready vibe.
Vidal Crafts bachelorette party decorations set, $24, Amazon
Fling Before the Ring napkins
Coordinate your plates and other bachelorette party decorations with these decorative napkins that read, "Last fling before the ring" in gold lettering along with the date of your fete. They're so cute your guests may not even want to use them!
WeddingWire Shop cocktail napkins, from $15 for 100, WeddingWire Shop
Team Bride rose gold banner
The perfect way to adorn the walls at a bachelorette party, this Team Bride banner in rose gold is sure to be an attention-grabber.
WeddingWire Shop Team Bride metallic rose gold banner, $9, WeddingWire Shop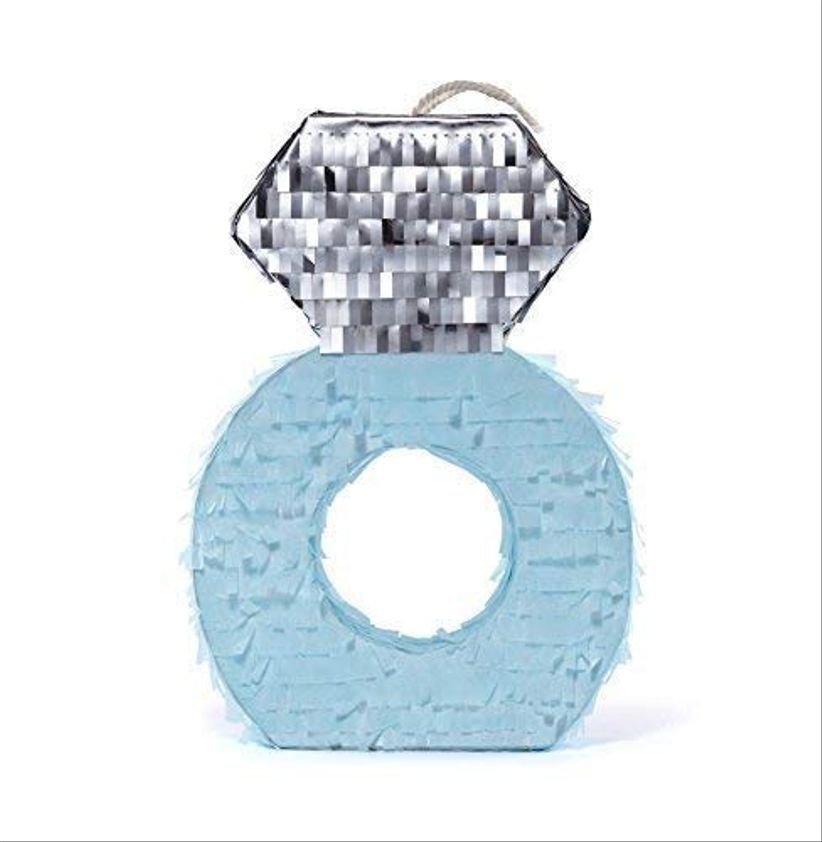 Ring piñata
If you were wondering, no piñatas aren't just for kids. Dust off your bat and give this fun ring-shaped one a good swing. It's just daring you to bust it open for some cool surprises (fill it with anything the bride would like).
Pops Party Shop diamond ring piñata, $15, Amazon
Inflatable drink floats
If you're looking for bachelorette party decorations for a pool- or beach-themed event, look no further than these super adorbs inflatable ring-shaped drink holders. Why shouldn't your libation have a float of its own?
WeddingWire Shop ring float drink holder, $15 for 3, WeddingWire Shop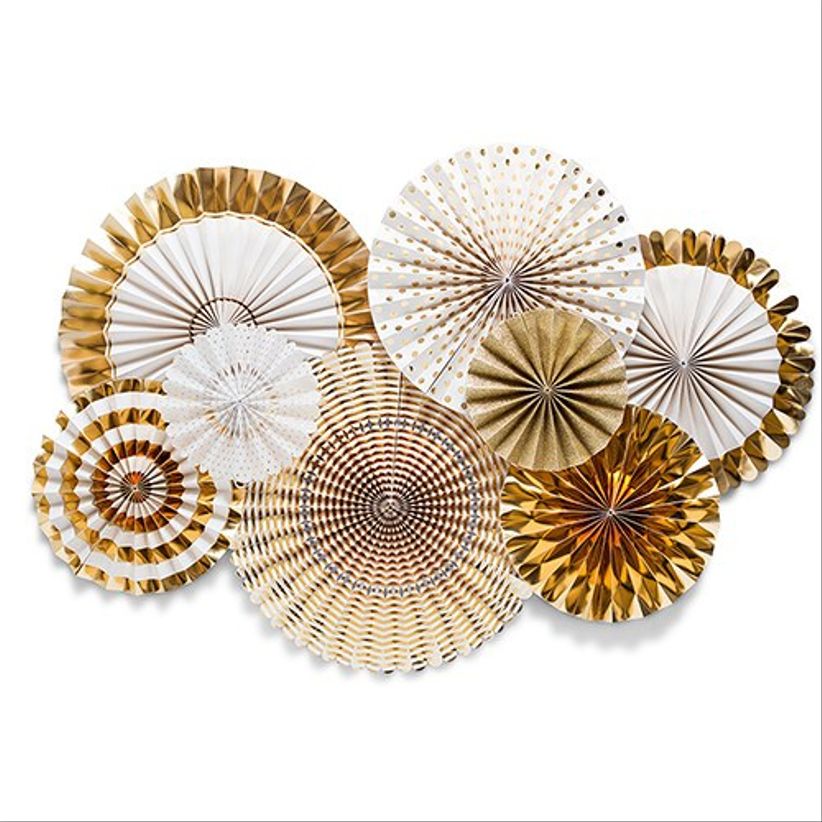 Gold foil paper decor
This collection of gold and white paper fans are the perfect bachelorette party decorations since you can coordinate them with just about any other colors you've chosen for your event for a festive vibe.
WeddingWire Shop Gold foil fan party decorations, $27, WeddingWire Shop

Paper cups
When you're shopping for your bachelorette party decorations, don't forget to snag some cute disposable cups! We love these cups from Target, which feature the words "I Do Crew" on a shimmery gold background.
Ginger Ray I Do Crew paper cups, $6 for 8, Target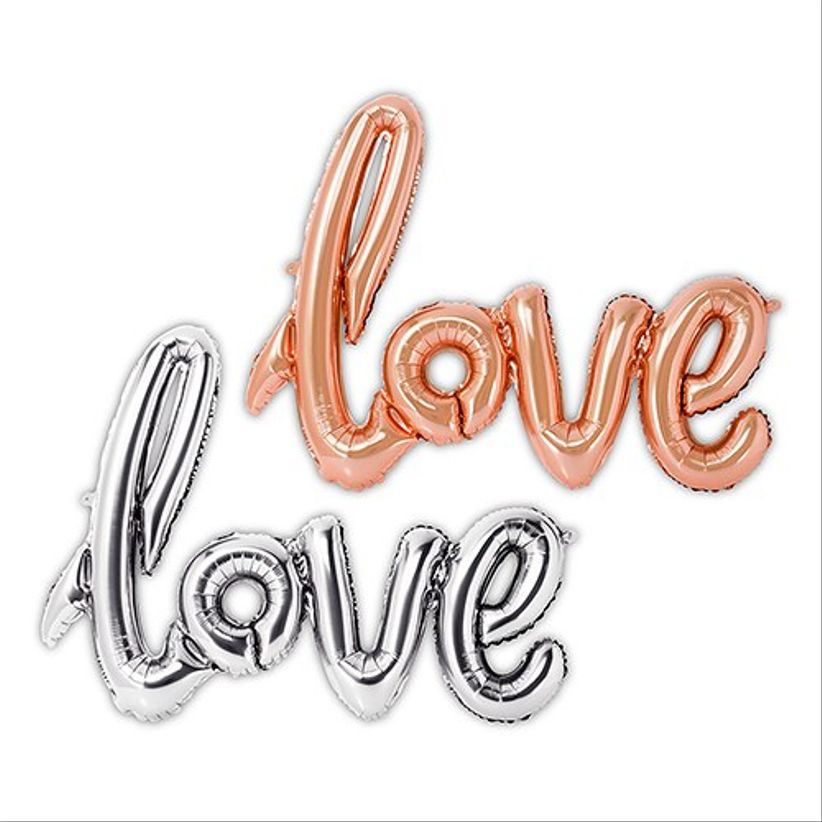 Love balloons
Decorate your space with these festive foil "Love" balloons—after all, it's the reason you're celebrating! Choose from silver or rose gold.
WeddingWire Shop foil balloon decoration cursive love, $9, WeddingWire Shop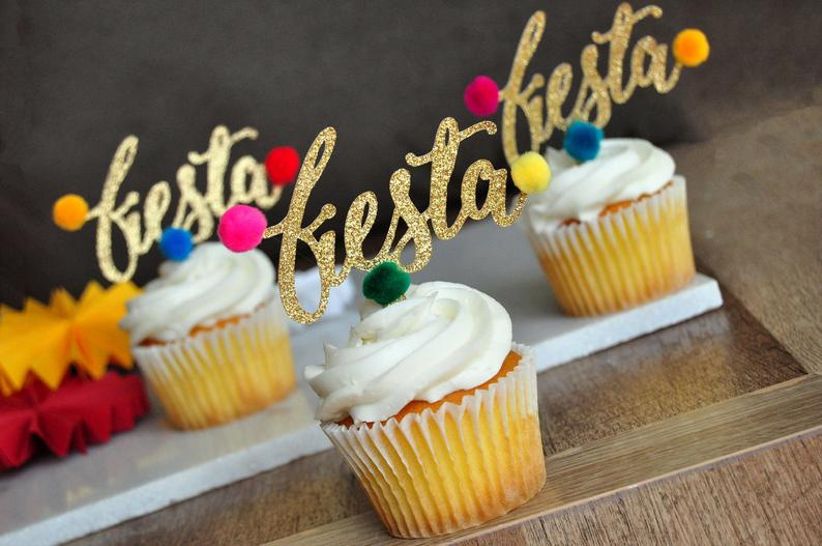 Cupcake toppers
When it comes to bachelorette party decorations, cupcake toppers without mature subject matter can be very difficult to find! Keep it classy without sacrificing the fun when you opt for these festive toppers. Multi-colored pom poms adorn the word "fiesta," featured in sparkly gold lettering.
ConfettiMamaParty pom pom fiesta cupcake toppers, $10, Etsy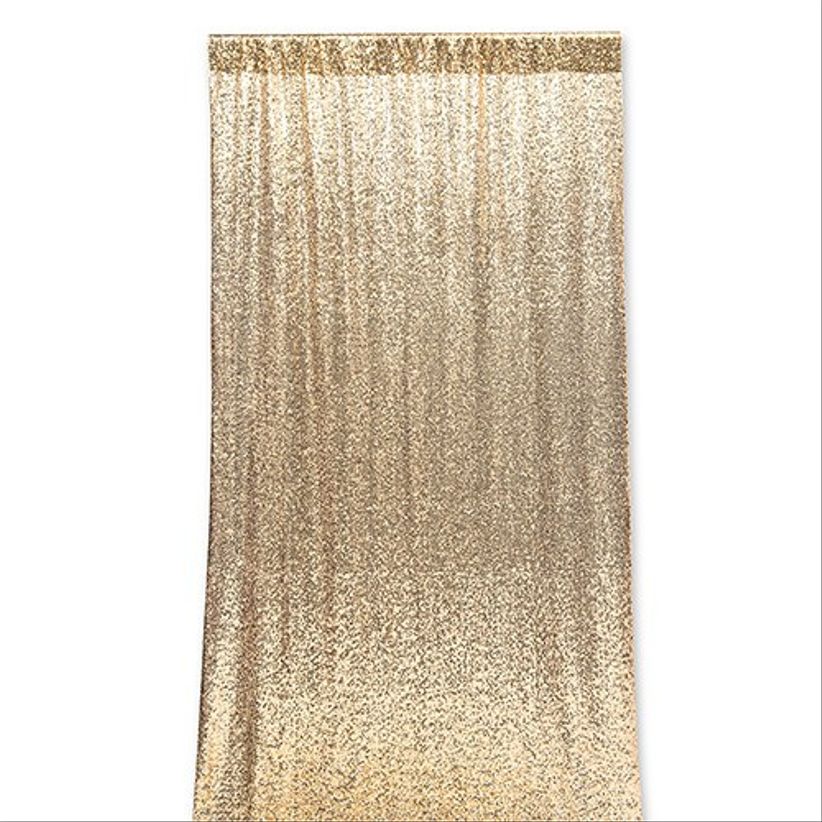 Gold backdrop
Amp up the glam factor on your photo booth when you opt for this lush backdrop in shimmery gold. A great addition to your photo props, it'll make all your pix totally Insta-worthy.
WeddingWire Shop gold sequin backdrop, $50, WeddingWire Shop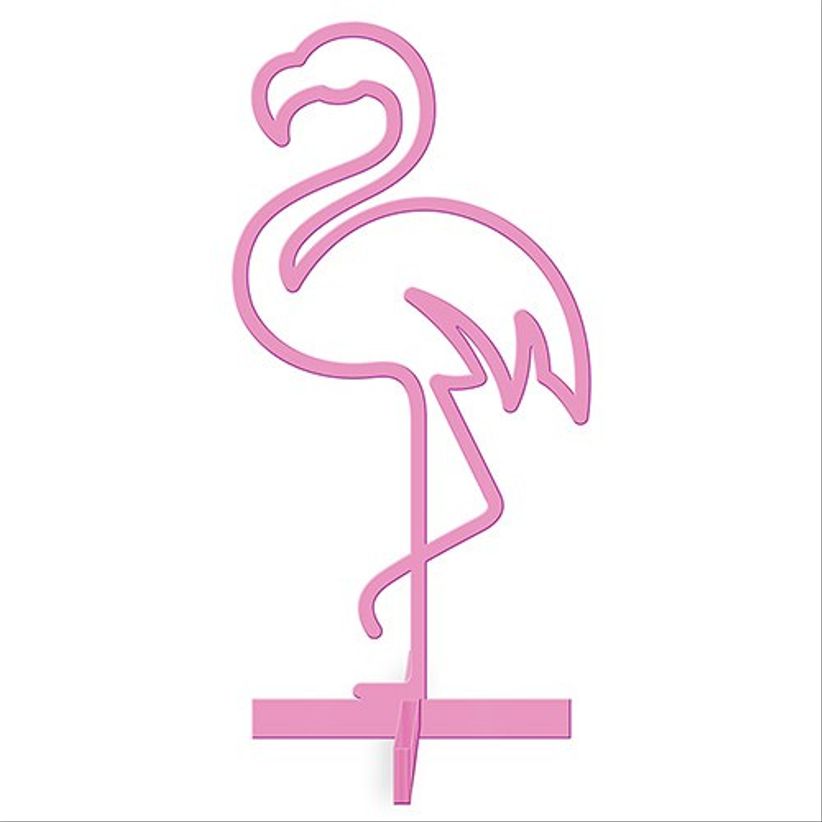 Pink flamingo table decor
Lend a festive vibe to your tables with this whimsical pink flamingo. Let these be the perfect accompaniment to your pink-themed party, or go all tropical when you pair this with the accompanying green pineapple (also available from site).
WeddingWire Shop pink flamingo tabletop decoration, $14, WeddingWire Shop
Disclosure: This post contains affiliate links, some of which may be sponsored by paying vendors.