How to Plan a Bachelorette Party on a Budget
If you're looking for bachelorette party ideas on a budget, we're here to help you plan the ultimate bash without breaking the bank.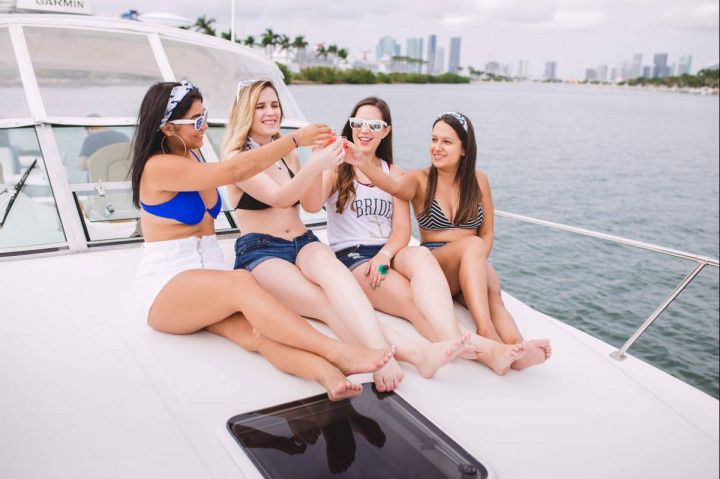 There's a lot that goes into planning a bachelorette party, from picking a date and location to choosing activities, maybe even buying décor and swag—and trying to stick to a budget in the process. If you're looking for bachelorette party ideas on a budget, you're not alone. According to a recent WeddingWire study, attendees spend an average of $350 to attend a bachelorette party and one in four bachelorette party attendees said they spent "much more" than expected on the party they attended—so it's important to be mindful of everyone's wallets when planning a "last fling before the ring."
Check out some of our favorite bachelorette party ideas on a budget as you start planning the big event.
Start planning early.
Yes, we know you have a lot going on—but don't wait until the last minute to start planning your bestie's bachelorette bash! Giving yourself enough time will allow you to research deals, compare options, and work with the rest of the bridal party to come up with an event that everyone will enjoy—and one that won't break the bank. We recommend starting the planning process about four to six months before the party.
Keep it close to home.
We know that destination bachelorette party in Fiji you saw on Instagram looked incredible, but remember this: The further away you travel, the more you'll spend. According to the WeddingWire study, 40 percent of bachelorette party attendees who flew to the party's destination spent about $1,000 on the event, and one in ten spent over $4,000! We all know that flying is expensive, so if you're thinking about bachelorette party ideas on a budget, trying keeping the festivities closer to home. Yes, a bachelorette party in your hometown is probably the cheapest option, but even choosing a vacation spot that's a short drive away can save you some money.
Limit the number of days.
While a multi-day bachelorette party may sound heavenly, there are lots of reasons why keeping the event short and sweet is beneficial. The longer you celebrate, the more you'll spend. According to the study, the majority of bachelorette parties lasted just one or two days. And those who partied for five or more days spent an average of $1,900 on the event! So your best bet is limiting the festivities to a single day, night, or weekend.
Go easy on the décor and swag.
If you're active on Pinterest, it can be so tempting to go overboard on décor, favors, and swag for a bachelorette party. I mean, wouldn't personalized bikinis just be the cutest? While yes, bachelorette party decorations and favors would add a fun touch to the event, try to limit it to just a few carefully-chosen pieces. Your guest of honor likely won't remember all the little details; the experience is what's most important. And you're looking for bachelorette party ideas on a budget, head to WeddingWire Shop to buy everything you'll need!
Choose affordable activities.
When planning a bachelorette party, it's essential to choose activities that your guest of honor will love, but also ones that are affordable. According to the WeddingWIre study, the majority of bachelorette parties include dinner and drinks. If you're going this route, do some research to ensure you don't select the priciest restaurants, bars, and clubs in town. While high-energy bachelorette parties full of drinking, and dancing can be expensive, so can more low-key bachelorette events. Yes, a spa-themed event where everyone gets massages and facials might sound amazing, it's going to blow everyone's budget pretty quickly. Instead, go for manicures and pedicures—or even a DIY spa night.
More guests may actually be beneficial to your budget.
Struggling with a bachelorette party guest list? Turns out that when it comes to bachelorette party ideas on a budget, the more is actually merrier! According to the WeddingWire study, more guests means more people to split the cost of a bachelorette party with, meaning each person will end up paying less. So if you're on the fence about inviting certain people, know that adding them to the guest list might mean lower costs for all.