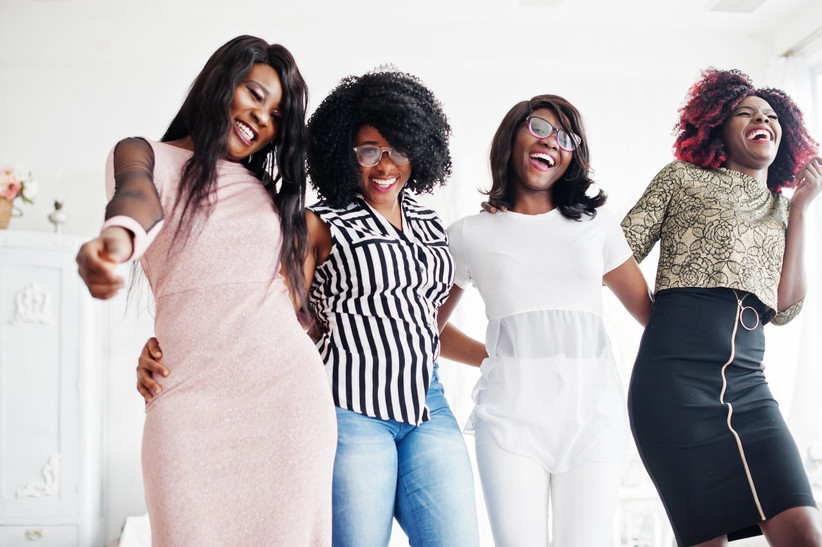 There are a few things that any good bachelorette party must have: good drinks, good times, and an even better playlist. We've put together a list of bachelorette party songs from current hits to classic sing-along anthems that make up the perfect soundtrack to the ultimate girl's night out. Whether you play these songs while you're getting ready or request them at the club, they're sure to get you and your crew in a partying mood.
Take a listen to these bachelorette party songs and add them to your playlist.
"I Love It (feat Charli XCX)" by Icona Pop & Charli XCX
As you're prepping for a big night out, kick things off with this upbeat bachelorette party song. It's a great one for getting the energy levels up!
"We Can't Stop" by Miley Cyrus
With lines like "It's our party we can do what we want," this is the ultimate party anthem for many a girl gang.
"Roar" by Katy Perry
Your bachelorette party is all about feeling confident—and this Katy Perry song will have you feeling fearless.
"Just Dance" by Lady Gaga
If your goal for your bachelorette party is to dance the night away, this Lady Gaga tune is a perfect way to start the evening.
"Hold On" by Wilson Phillips
For all those Bridesmaids fans out there, this is a must-play bachelorette party song that's sure to have everyone singing along!
"Good Feeling" by Flo Rida
An oldie but definitely a goodie when it comes to bachelorette party songs. This hit will give your whole crew a good feeling (excuse the pun!) about the night to come.
"Call Me Maybe" by Carly Rae Jepsen
Planning on hitting a karaoke bar as part of your bach party? This song should surely be on the playlist.
"Dynamite" by Taio Cruz
A great song to play in the car on the way to the evening's festivities. It will totally get your crew in the mood to celebrate!
"Side to Side" by Ariana Grande ft. Nicki Minaj
This bachelorette party song is ideal for the bridal party who wants to feel sexy and sultry as they head out for the night.
"Yeah!" by Usher, Lil Jon & Ludacris
A total throwback, but still a favorite bachelorette party song. Your crew will be up and dancing in no time.
"Disturbia" by Rihanna
A bachelorette party playlist isn't complete without at least one Rihanna song. This is our personal favorite, but there are lots more to choose from!
"Let's Hear It for the Boy" by Deniece Williams
Planning an 80s-themed bachelorette party? This song is essential for your must-play list.
"Like A Prayer" by Madonna
What's a bachelorette party playlist without a few tunes from Madonna? You and your crew will surely sing along to this one!
"Single Ladies (Put a Ring on It) by Beyonce
You're not a single lady for long! Bring out your inner Sasha Fierce while singing and dancing along to this favorite bachelorette party song.
"Dear Future Husband" by Meghan Trainor
We love the old-school feel of this fun Meghan Trainor hit. Such a fun bachelorette party song!
"Walking on Broken Glass" by Annie Lennox
Another fun singalong song for your bachelorette festivities. We particularly like playing it during a low-key slumber party, if that's more your speed.
"Oops!...I Did It Again" by Britney Spears
This song needs no introduction. A must for any bachelorette party song list.
"Country Girl (Shake it For Me) by Luke Bryan
Country music fans, add this to your bachelorette party playlist now! It's a lively and fun tune to put your crew in the mood to kick up their cowgirl boots.
"Genie in a Bottle" by Christina Aguilera
One of the best parts of a bachelorette party is playing songs from your youth and reminiscing about old times. If you're partying with your childhood besties, this is a perfect throwback to play.
"Something Like That" by Tim McGraw
If you're hosting a casual pool party or relaxed BBQ for your bachelorette, this song is a total must-play.
"Beachin'" by Jake Owens
A day at the beach isn't complete without this country tune. If you and your crew are headed to the shore for your bachelorette, add this Jake Owens song to your playlist.
"SexyBack" by Justin Timberlake
You and your crew are totally bringing sexy back as you head out for your big night out on the town. What could be more appropriate than playing this Justin Timberlake classic?
"Raise Your Glass" by Pink
Toast your leading ladies by playing this Pink favorite, another ideal bachelorette party song.
"Lady Marmalade" by Christina Aguilera, Pink, Mya, and Missy Elliott
Your bachelorette party is all about gathering your best girls for a fun night out—so play this girl power anthem by four amazing artists.
"Bang Bang" by Jessie J, Nicki Minaj, and Ariana Grande
Another bachelorette party song by a group of powerful ladies.
"I Want Crazy" by Hunter Hayes
This country favorite combines romantic lyrics with an upbeat vibe. Definitely a fun choice for a quiet night in with your girls.
"Sorry" by Justin Bieber
Were you and your crew Beliebers back in the day? If so, be sure to play this throwback song during your bachelorette bash.
"Sucker" by The Jonas Brothers
Or perhaps you were (and still are!) fans of Joe, Nick, and Kevin. Don't forget to play their new hit as your prep for your big night.
"Hands to Myself" by Selena Gomez
This bachelorette party song is all about feeling sexy, so if that's the vibe you're going for, add this one to your playlist.
"Crazy in Love" by Beyonce & JAY Z
Strut your stuff as you dance to this song by one of our favorite duos, Beyonce and Jay-Z.
"Toxic" by Britney Spears
If you're doing a little bar hopping as part of your bachelorette party, play this song in the cab on the way from one spot to another to keep the energy up!